I can not believe I am saying this, but it's week 1 of the One Room Challenge Spring 2019! The last time I took part in the ORC, was 2 years ago. When we made over our master bedroom in our last house. Since, then life has been busy as we moved last year and now I actually have tons of rooms to make over for a challenge like this. I figured I would start with a room that was a bit easier and I finally got my thoughts together for. My daughter's room since moving in 4 months ago, needs a little sprucing! It has been neglected as we have been concentrating on some of our main rooms in the house (though, those aren't done either),but I have to say sometimes when doing an entire room makeover and coming up with a design plan…it's much easier. You  have your thoughts all together and can picture how the space is going to look made over…rather then piecing it together over time. I wish I could do every room in our house like this. So, let's first have you take a look at the current room. The BEFORE pics! Without filter and all taken on my phone so maybe they look a little worse without editing too…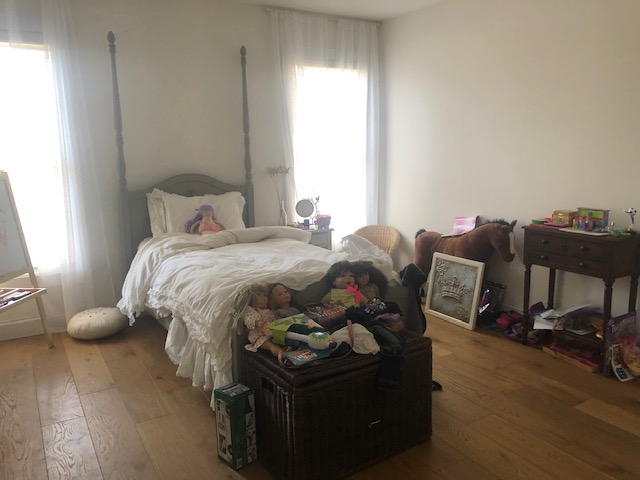 j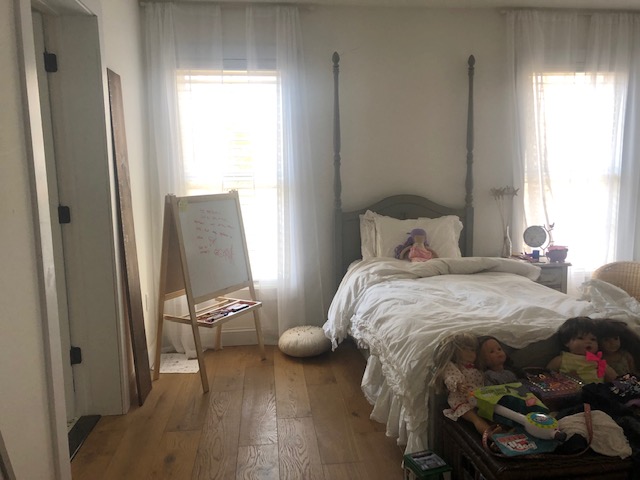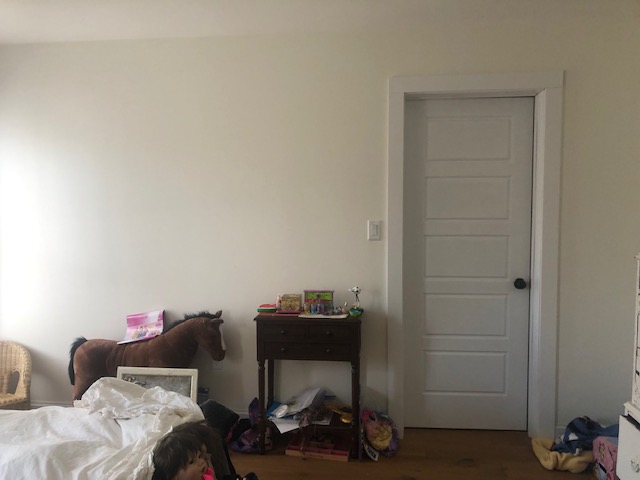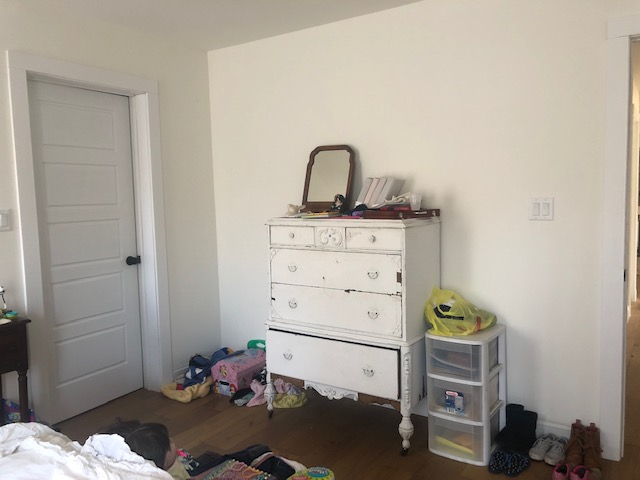 OUCH, I know this room needs help! To start…it probably needs to be de-cluttered!
As our house is a renovated new build…what I mean about that is we took a foreclosure home and renovated the original house and then did a major addition. So, it's always hard for me to explain to people. It looks nothing like what it started as and you can check out my BEFORE house tour here to see just how it looked. Well, my daughter's room is part of the original house. We just expanded it and then change her location for her closet. Also, the windows are different, and new Sheetrock and molding of course, but overall we used what we could of the original house here and made it better. My favorite part to the entire house is that it has a jack and jill bathroom that connects to my son's room. I love that detail it gives it a vintage feel and definitely added the "unique" character we wanted. So, we are kind of working with a clean slate. The room just needs some personality and a few touches, but for the most part I am keeping it clean and even keeping the wall color. The other colors in the room are changing though…
Design Challenge Details:
We are keeping the wall color and possibly adding wallpaper in the future but for now walls will be the same. We  plan to add a peg board to the side of her room so she can hang all her jacket, backpack, hand bags, etc. This will be something that will last while she is little and I am sure eventually will go away and we'll do something different as she get's into the preteen years. My daughter is currently 6 so we have at least 6 years to go before we have to totally change the room (I hope). Then her current bed though it's so adorable the gray color has kind of bothered me for years. It kind of feels a bit "dirty" to me. I wish it was lighter or wood, but instead for this makeover since we are not only working on a short timeline but also a small budget…I plan to paint it black! So, this will be the core color's of the room…black and white! I will also be painting her current dresser black and then a piece I found on facebook marketplace white for her side table. The curtains are brand new so those will stay, and then a new rug, some new bedding and throw pillows, tons of DIY artwork, and lastly a chippy barn door. So, we currently  have an issue with how they hung her closet door. They arranged it to open in and that's been a problem for storage and just doesn't work. So, to make the space more functional and to take up some of that awkward wall space we will be adding a barn door track her. I plan to keep her door, but add an antique knob to the door and then do a chippy effect to the door, to make it appear vintage and fabulous. One of my most favorite details will be adding "artwork" or interest over the bed with some straw hats that I plan to add a little DIY interest to and hang in a gathered look over her bed. I think this will just be so sweet and add that warmth from the straw and texture. Also, to tie back the colors and textures  I'll be doing a rattan rug so we can add touches of that warmth back into the space. My accent color will also be a pale blue that I plan to add in with hopefully some throw blanket, possibly painting the basket toy chest that color and maybe some pretty fresh flowers. Overall a very affordable makeover with mostly paint doing the trick!
Design Board for the Makeover!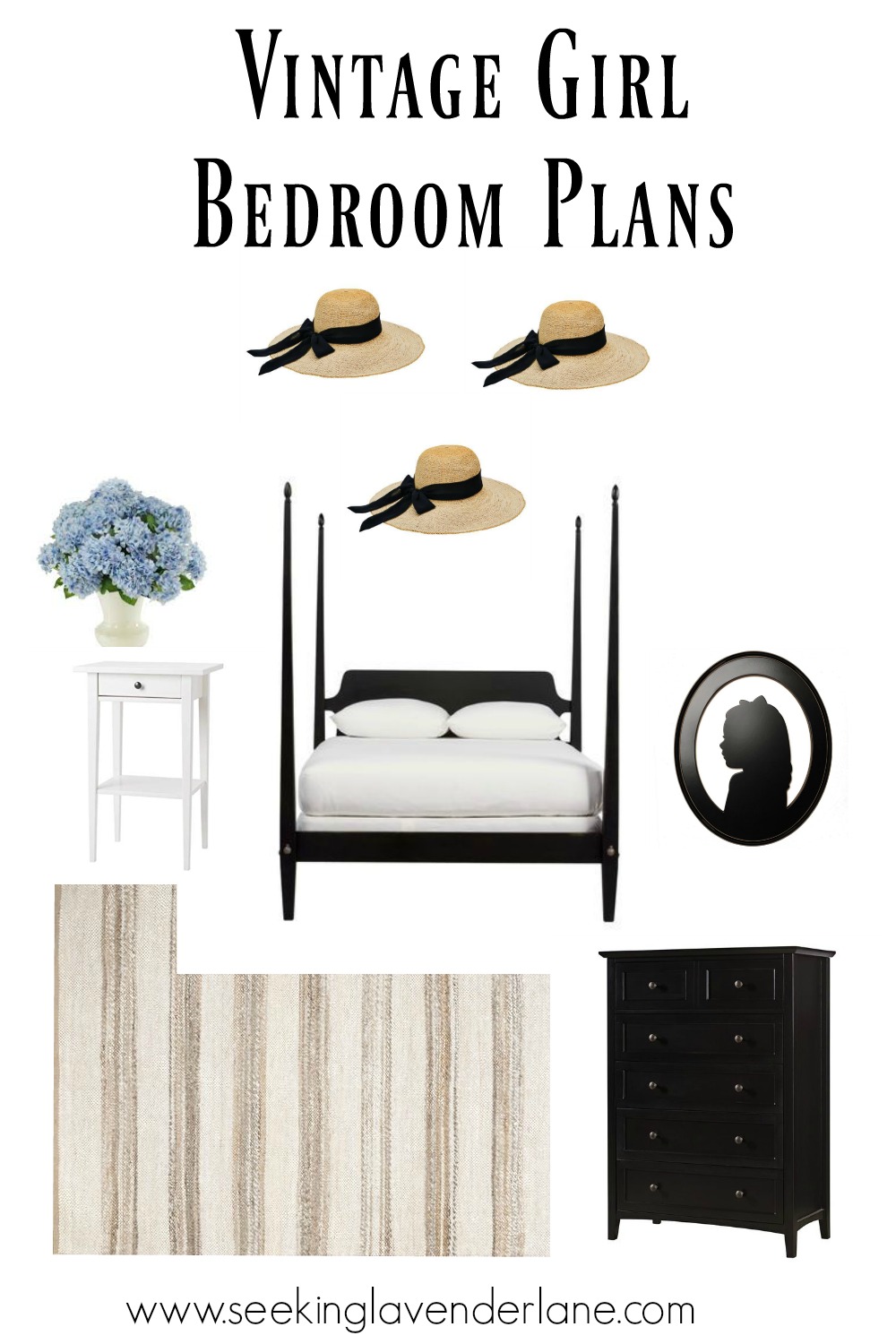 Be sure to check out all the other links for the first week and follow along every Thursday here as I'll be sharing more of the process and all the DIY's that will go into this space.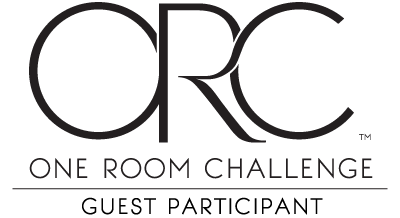 This post wouldn't be possible without these supporting brands: