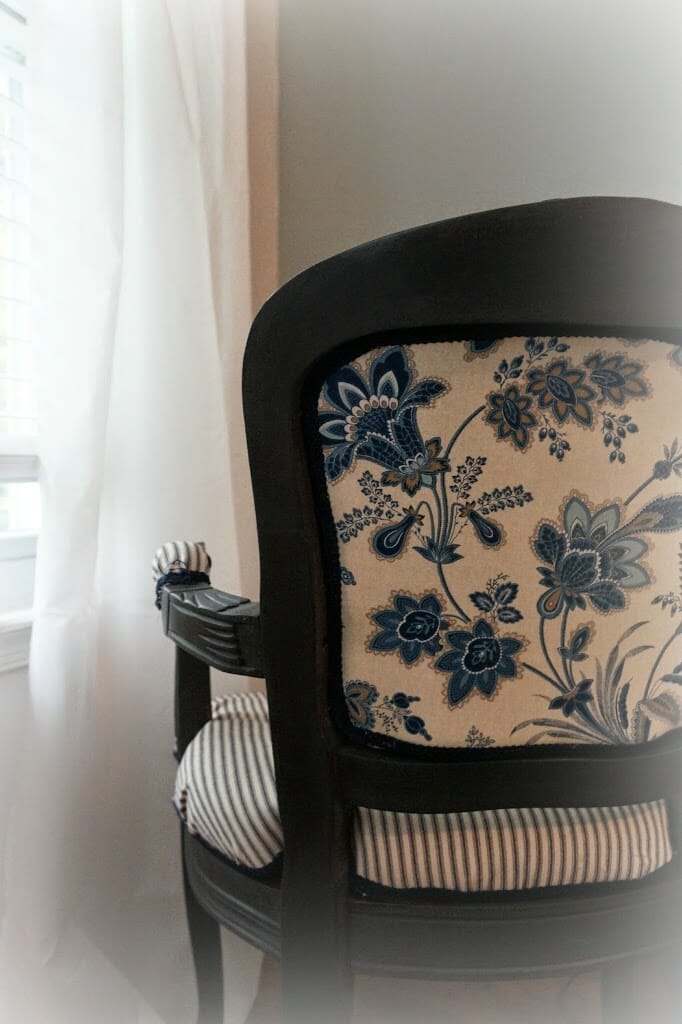 Let's just start with the my feelings on reupholstering my very first chair…yea it's not fun!
I will not lie and make this project seem like it was easy as 1, 2,3 and I now have this magical looking chair sitting in my room after a few hours of tons of fun work! lol
Yes, it was an experience and I did save myself quite a bit of money on reupholstering another find on craigslist, but I would not say the chair is perfect looking. Lets just say I probably could not sell this piece, grateful I'm the happy owner of it : )
So where did I begin with this project???
1. Craigslist!!!!!
Yep another great find for only $45.
Finding a brand new chair today I would probably spend over $350 on it! Once again…not in this girls budget.
2. Jo-Annes Fabrics had a great selection that I was able to gather two different patterns (by choice) and some trim and I paid around $30 for my materials. Grateful for sales and coupons which helped save me some money here as well.
3. Painting and waxing using annie sloan chalk paint
4. Taking on the reupholstering project.
To start I took the fabric off of the back of the seat. This took tons of time and patience especially since there are soo soo many staples. Phew!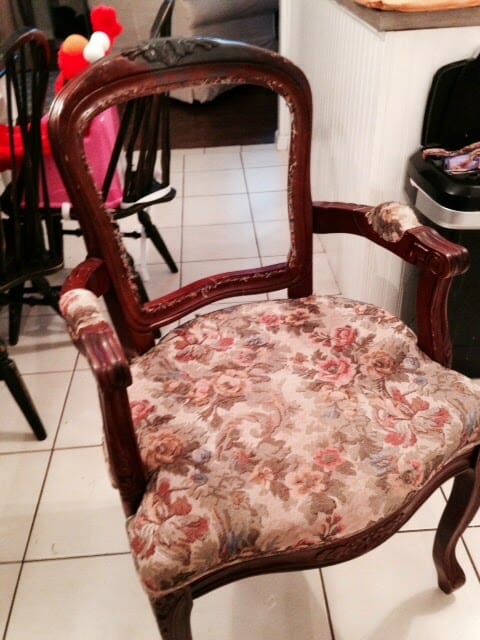 Once this is done you are left with an empty cushion. Start reupholstering the back side first, which I used my pretty flower pattern fabric for.
The best way to describe how to do this is to follow the pattern from how the chair was put together. I may have slacked slightly on this, and I was left on my own : (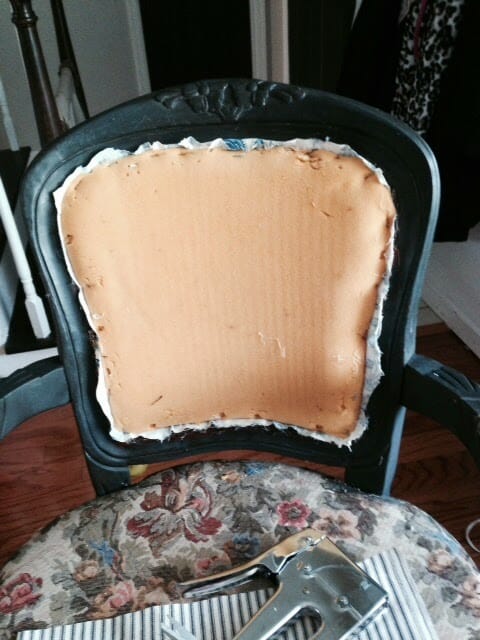 After this was in place and looking pretty decent I started adding the fabric to the front and trimming the fabric to the size and shape of the cushion.
Any mistakes the trim should cover up…even though my trim could only help my project so much. I hope you all have better luck with this if you ever decide to reupholster something. Not trying to sound like a Debbie downer but I think I may just stick to my paint brush and stay away from reupholstering…since it is a little challenging and less successful for me.
Anyway…After finishing the top I decided I was going to call my dad to help me finish the rest of the chair. He has done a few reupholstering projects years ago and I thought he would be better at this then I.
I had planned to leave the fabric on the bottom cushion since it would be less work than ripping it off and I figured I would just leave the chair in tack and reupholster the bottom cushion as is. This is why I am happy I called my dad in…the second he arrived he started disassembling this chair. I tried convincing him to leave it as is and we could make it work, but he knew best!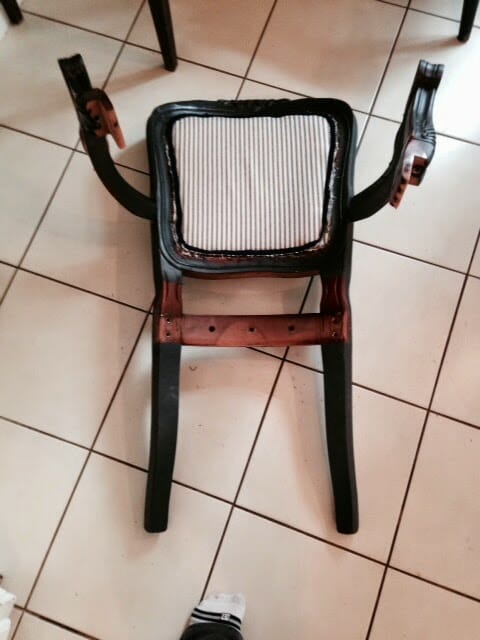 As for the previous fabric being left on we did stick to that, but we had to take part of it off to follow the cutout pattern. This helped a lot since we were starting to cut it all wrong.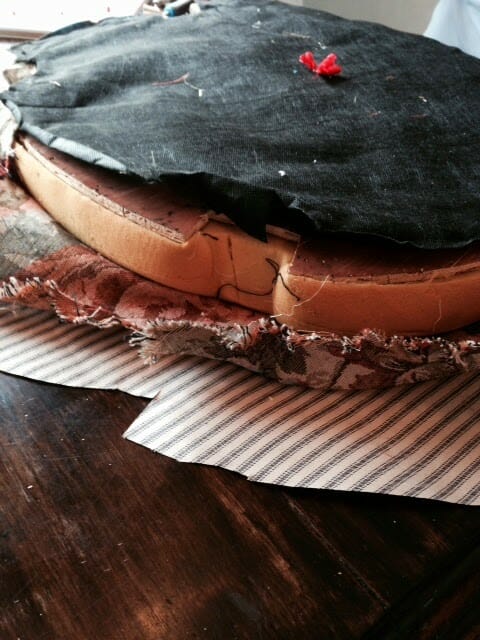 So happy my dad helped out…made my life a whole lot easier. Did I mention that my husband told me wayy more than once that this was a bad idea and that it was not going to be easy. Do you think we argued about this? of course! I guess for once I was not right!?…Can't believe I just said that haha.
He never reads this anyway…; )
So I hope this was somewhat helpful for anyone who is a first time reupholster chic…and when I say that I mean learn from my mistakes and run far far away from this crazy idea!
Proud I got it done though and from the back it looks pretty good…which is the part that you will see from the room anyway since it will be going into our master bedroom in front of a desk (another craigslist buy I'm in search of)
I do have to say I love my fabric and the annie sloan paint complements our the blue in our room and fabric so well!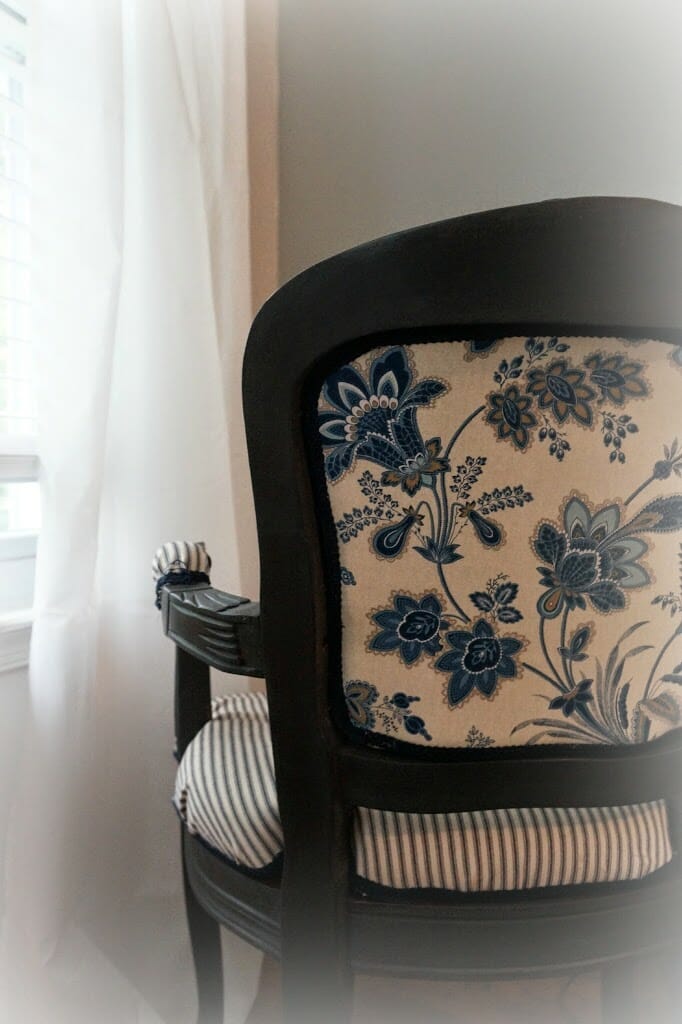 You can see both patterns here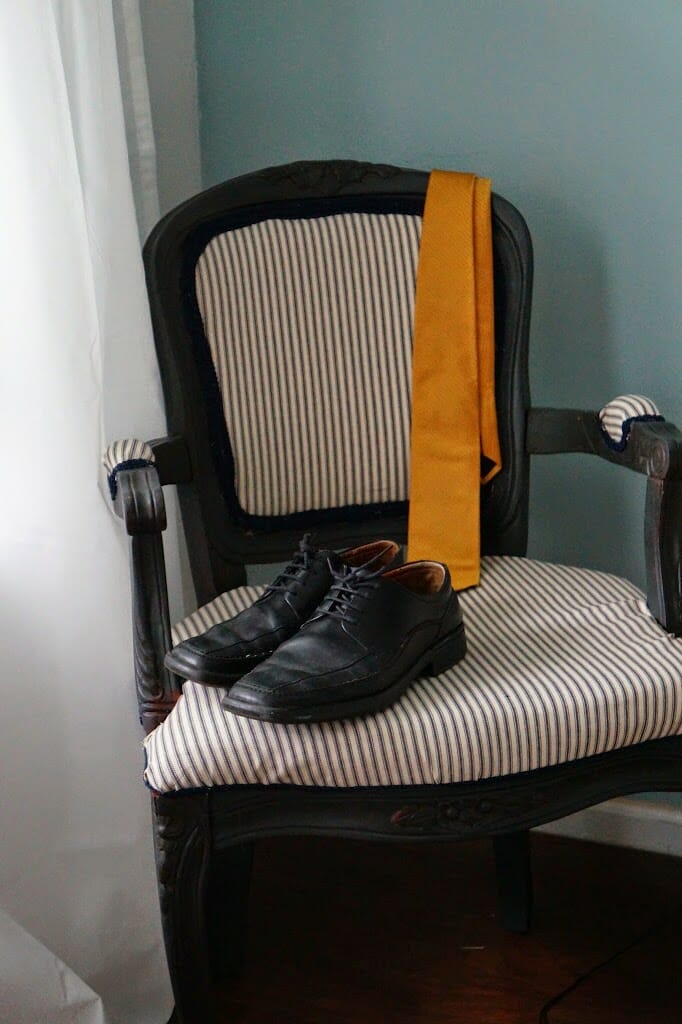 A little styling never hurt anyone!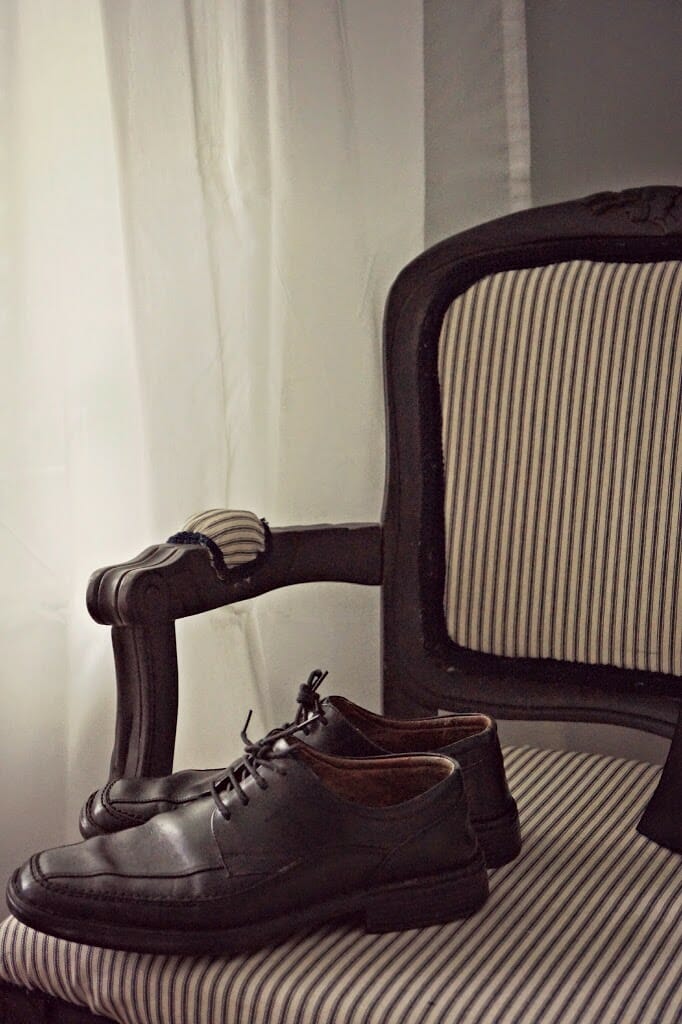 Very Handsome looking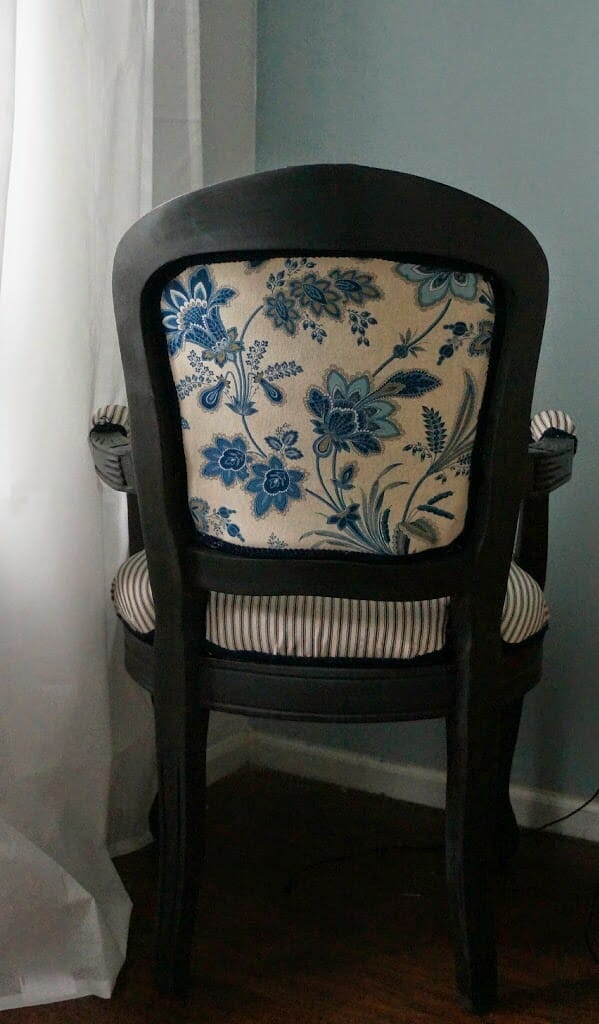 The pretty Side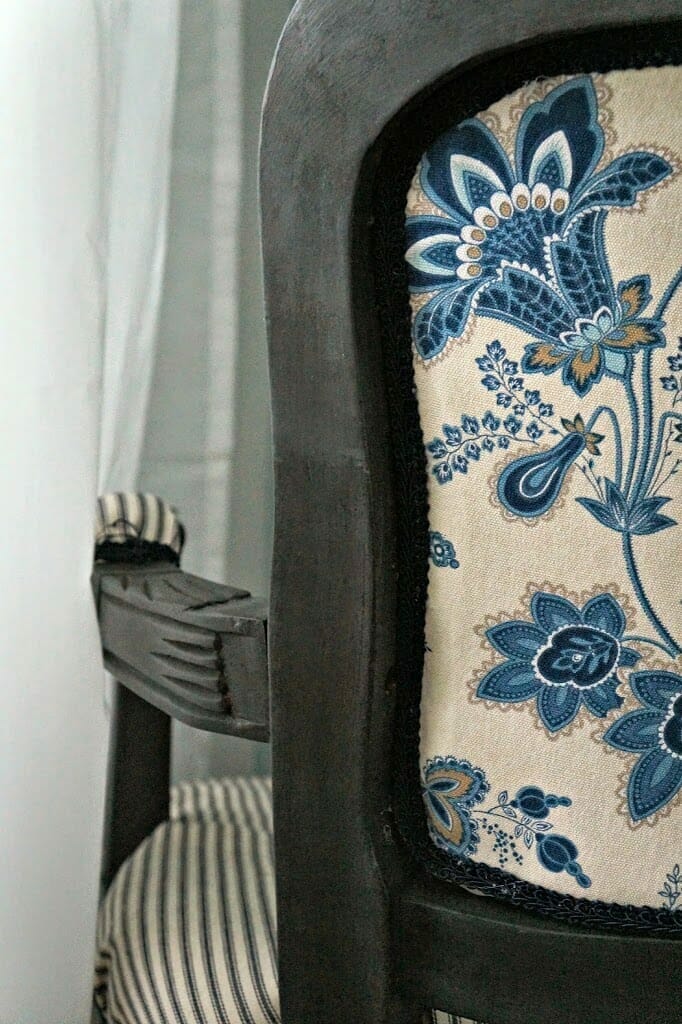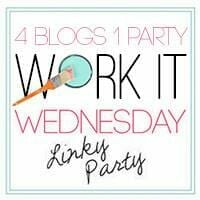 (Visited 730 times, 2 visits today)