I hope everyone is enjoying their 4th of July weekend. We have been in chill mode mostly all weekend, but are hosting a BBQ today so that of course will be busy. We also, decided to tackle our Ardex Feather Counters Yesterday. They came out really lovely this time…can not wait to share!
Had to take the kids to the fireworks last night and after having planned  to take them to one location we got there and realized that  the NJ post was wrong and the fireworks there were done the night before. We had to race all the way over to another location about a half hour away which we nearly missed, but made it work. Fortunately, that was on the beach which is much nicer than our previous location. Nothing like fireworks in the sky and sand in your toes…or in your pants from the little boy kicking sand behind you.
So I have not done a Sunday Favorite Pins recently, thought I would share some red, white, and blue eye candy for you all! Enjoy your weekend and see you back this week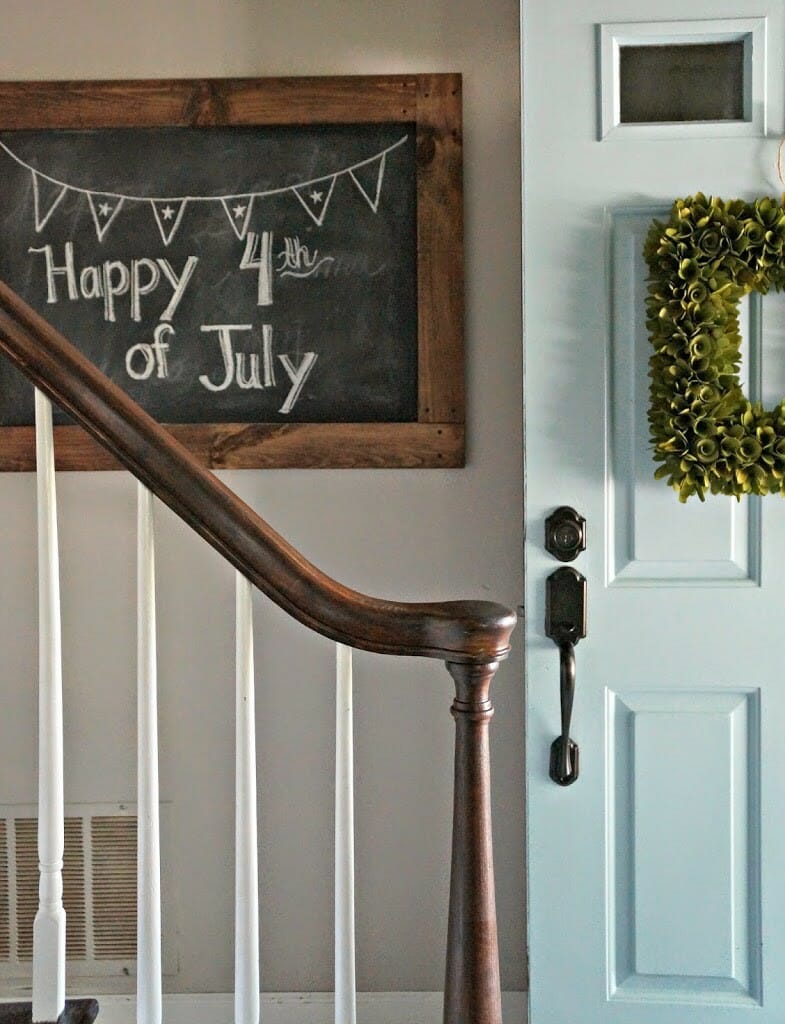 Seeking Lavender Lane 4th of July 2014
Okay you caught me, that's my own 4th of July photo and that was taken last year. I did the same this year on my chalkboard, but I have to admit it looked so much better last year…and with the blue door I love! My door is now painted Dragon's Breath with BM (which I love too) but I love it more from the outside and the blue color on the inside.
Eleven Gables 4th of July Home
What a stunning Home! I am so jealous…this would be a dream home for me! Look at that wrap around porch and the windows, columns, and brick porch. Such a classic way to decorate for the fourth on a classy looking house.
Source Originally Fetured at The Lily Pad Cottage
Liz Marie Does it again!-Total Cuteness!
Yvonne From Stone Gable, is probably one of the most talented ladies out there! Her blog feels like a Martha Stewart Magazine, but better!
The 4th is such a fun holiday to decorate for. Something about those colors and the American Pride! I think next year I'm going to go all out…this year kind of caught up to me.
Well just one more day left, enjoy every minute my friends! And be sure to pin for next year!
(Visited 142 times, 1 visits today)