Hi Friends, if you are just stopping by from Chic on a Shoestring, and this is your first time here I am so glad to have you. We all took on this fun project for #Makeovermadness and it's going to be a filled with gorgeous furniture makeovers.  Thanks so much to Velvet Finishes for donating such amazing products to us to make this makeover possible. I have to admit, this was my first time ever using Velvet Finishes and I was pumped to try a new paint product. I do not "preferred" paint product when it comes to painting furniture. I've pretty much have tried it all and I have yet to find one I have not liked. I think what I was most excited about was that this product was not the typical "chalk paint" that I am use to using when it comes to a furniture makeover. I was intrigued when the box arrived at my house and it had both a spray to prep the furniture and a creamy product to poly afterwards.
Well here is the piece that it all began with…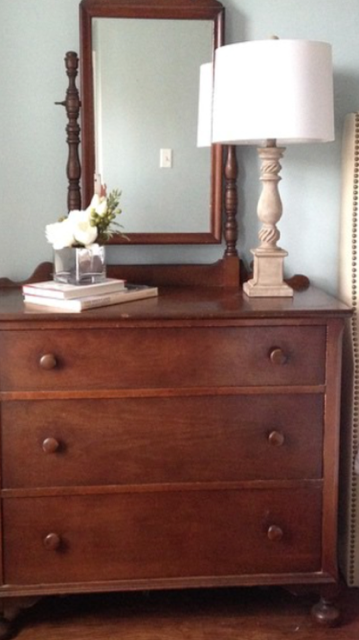 So this photo was taken, probably a year ago. I actually totally forgot to snap a picture of the dresser before I removed the drawers. The condition of the piece is not as great as it was in the above photo. Thanks to some cup rings and some new scratches and scuffs, the dresser now needed a little help.
I first got this dresser, because I loved the color and I loved the look of it and felt it would be a perfect size for the side of the bed. I wanted something that gave a lot of storage options rather then a night stand, and had a really great antique look. After some of the damage the piece had received I felt it could really use a little help without messing up the look that I initially loved about it.
Here are the products that Velvet finish supplies: Prep, Paint, and Protect! The color I chose was this "handsome" shade ; )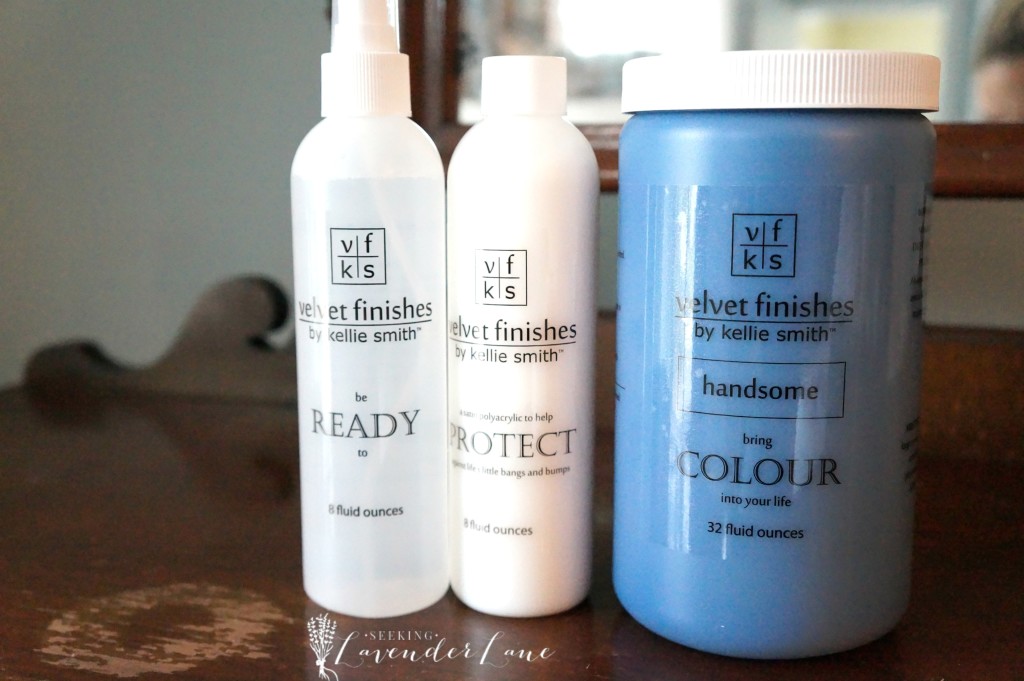 I had a few plans for the dresser, I was either going to paint the entire piece blue, or leave the drawers as is, or lastly sand down the drawers and paint the piece. I decided to paint the base of the dresser first and then call it as I go. So, I removed the drawers to prep and paint the piece.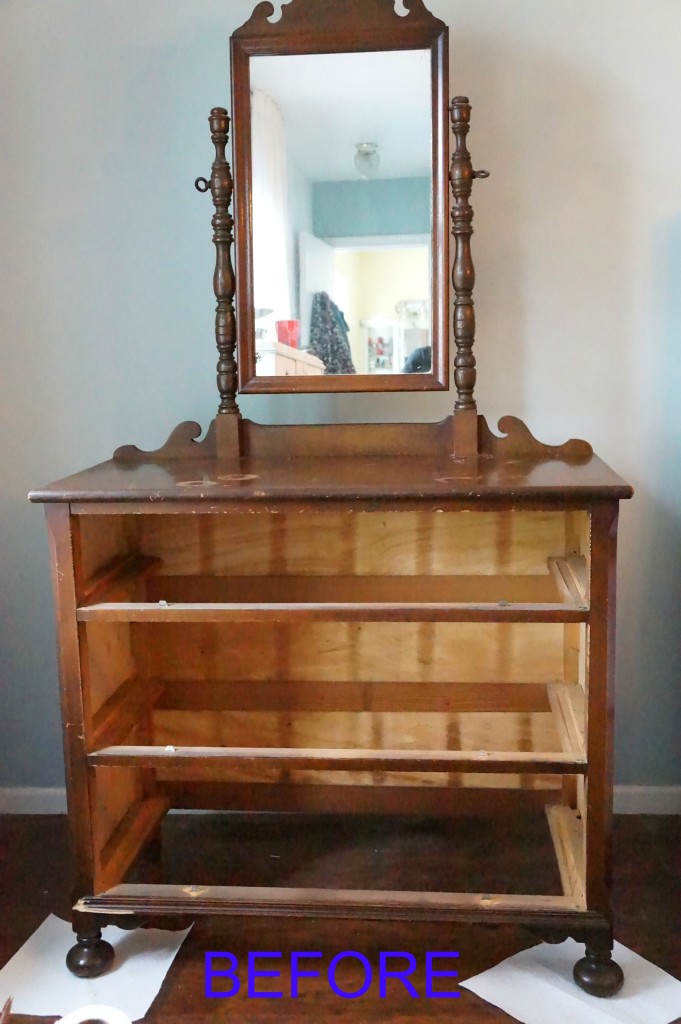 So here's a photo from today. You can see those ring marks and scuffs. This piece is ready for some love.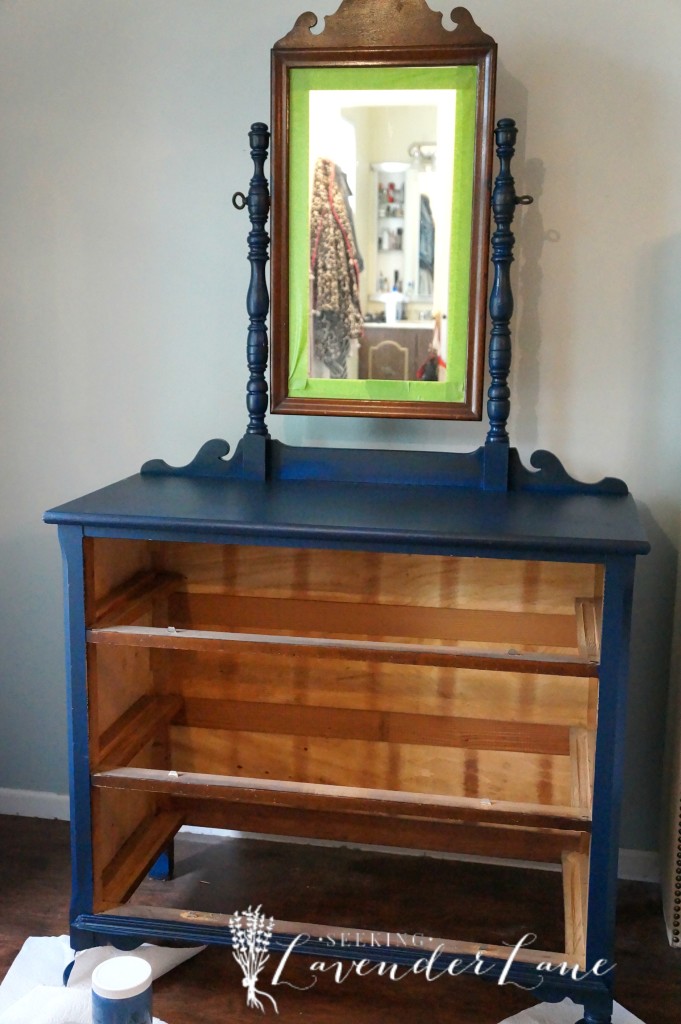 Here's after one coat of paint. As you can see the blue was a little more on the royal side, but with one other coat the paint turns to the perfect shade of blue. The process of painting is smooth and easy. I felt that the product was easy to avoid brush strokes as well as drip marks. It was a quick dry and a smooth finish.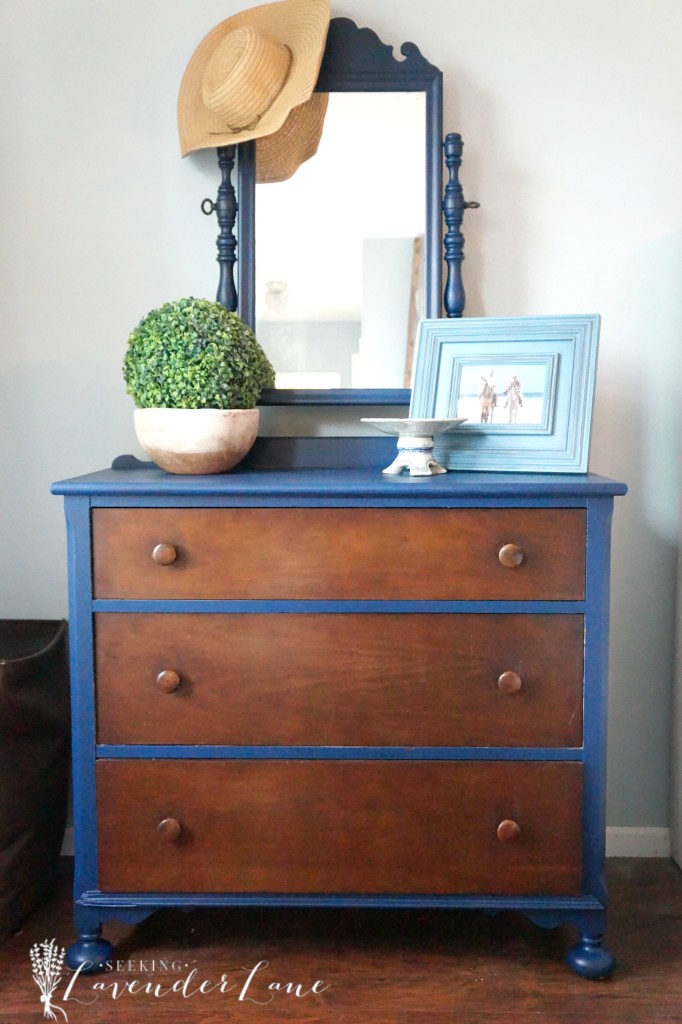 So I love the pop of color added to the dresser. I decided to test out the drawers as is, and I kind of love them. For now I will probably leave the dresser, but if overtime the drawers scuff then I may sand it down or just paint the entire piece. I was a little nervous with the blue that the dresser would look like a child's dresser so I wanted to make sure to really dress it up with adult style.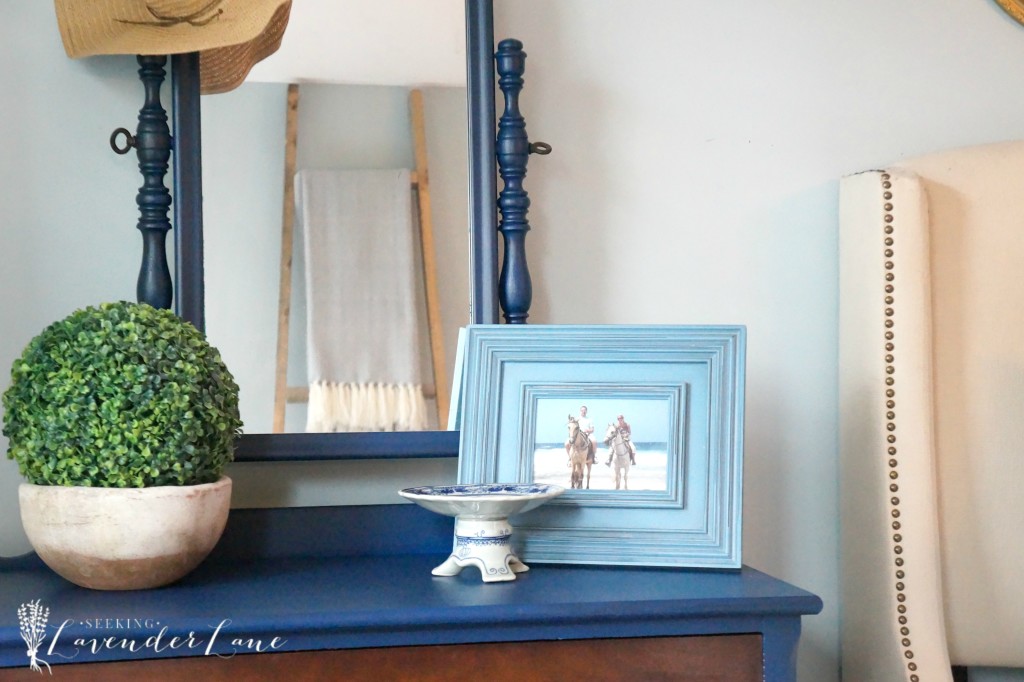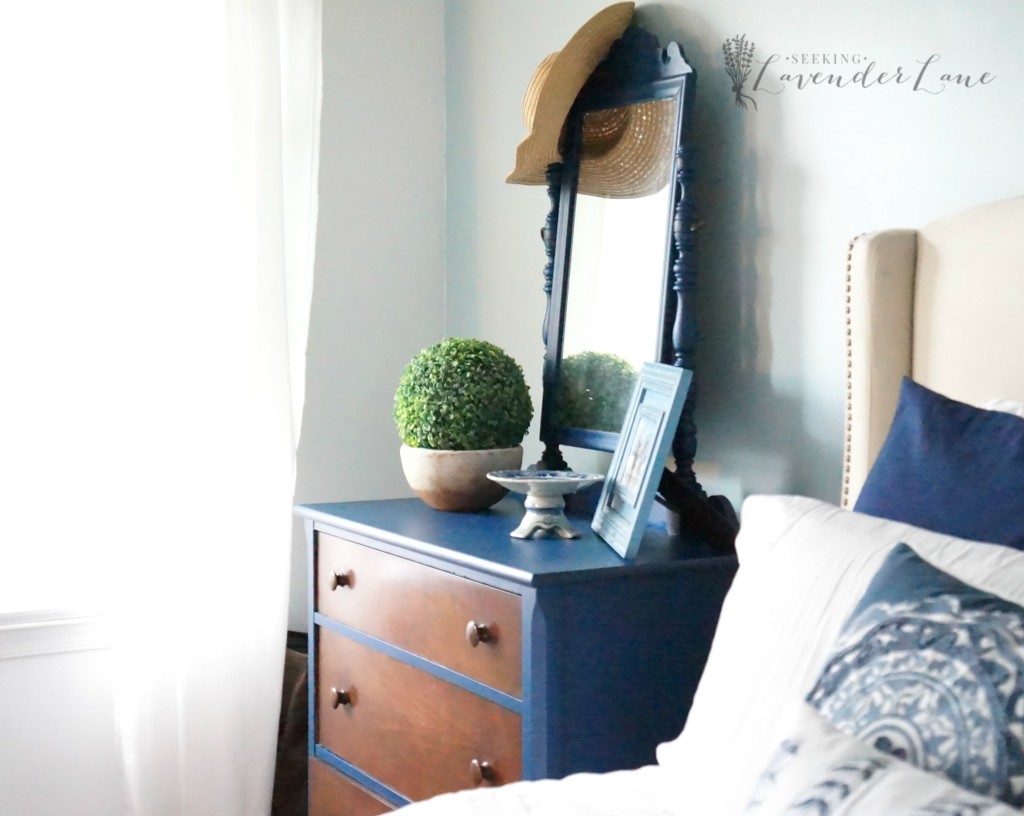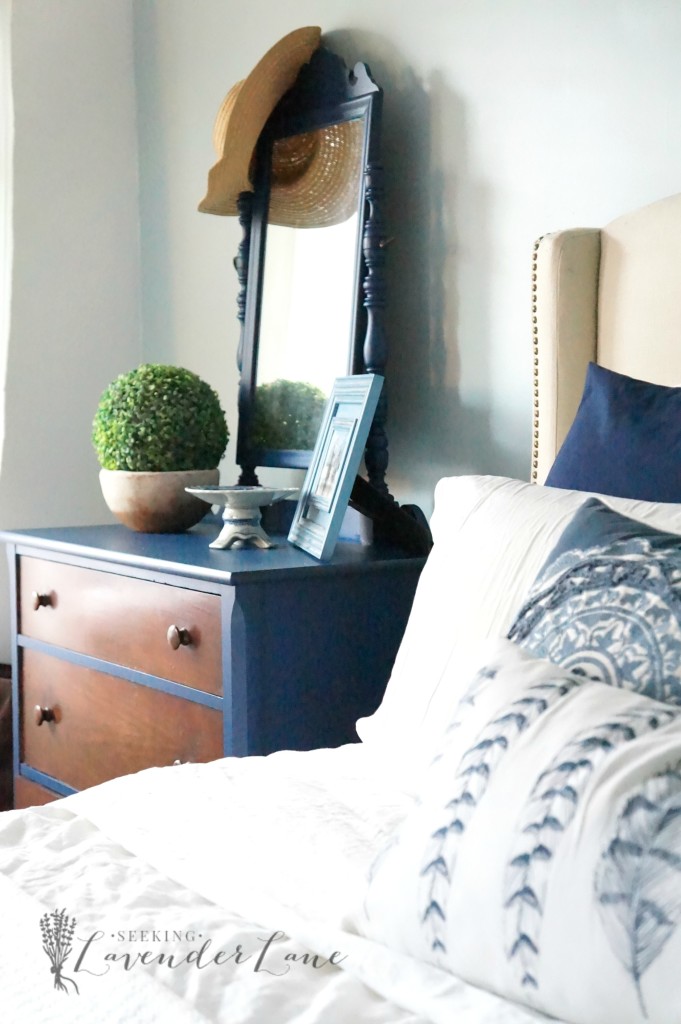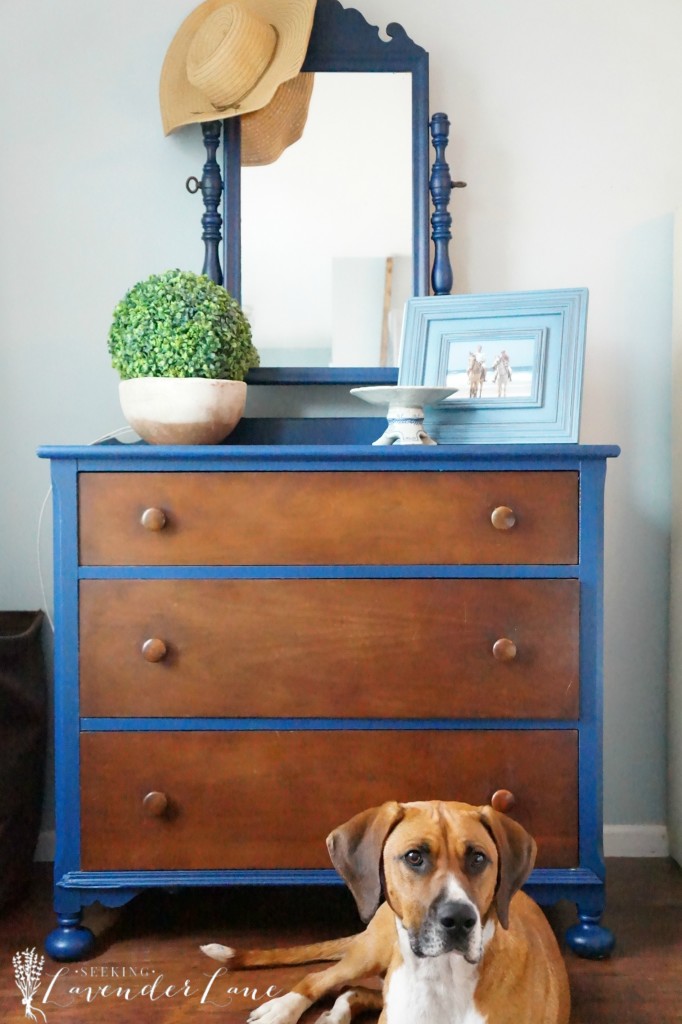 So, there is one more design choice that I am contemplating. I love the original look of these chunky knobs, but…I also love this idea.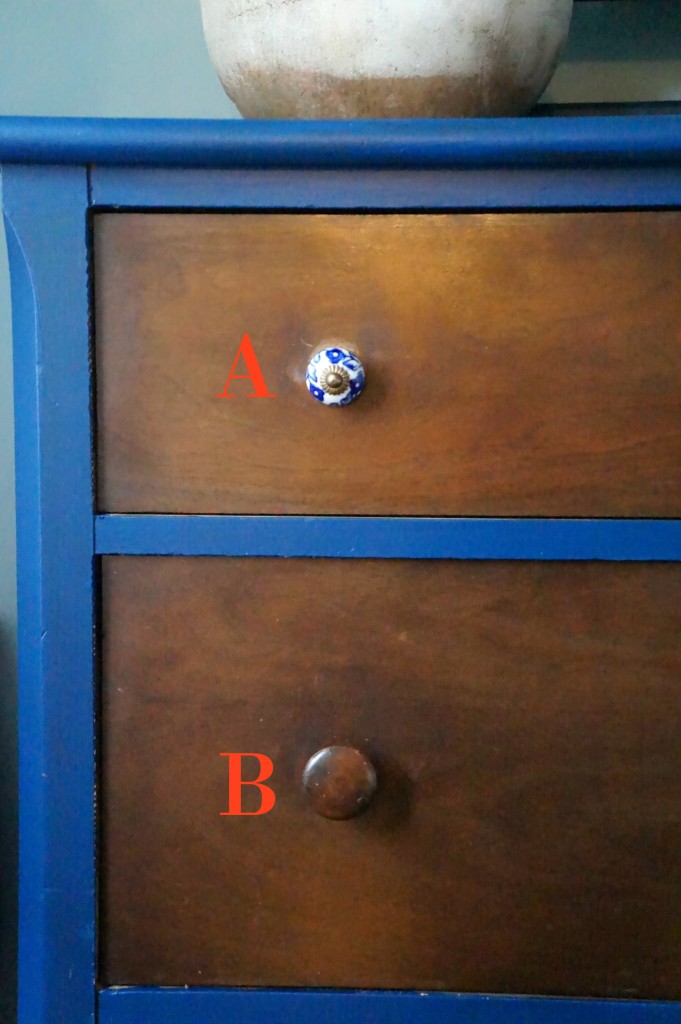 the bit of decorative touch  in the knob definitely makes this piece feel even more of a master bedroom vintage dresser. Do these chunky knobs feel slightly "kid furniture" or do you think it keeps it authentic to the vintage style? Love your votes in the comments…I'm torn!
So I am so excited to check out all my friends pages and I am hoping you are heading over there as well. Next stop on the Makeover Madness blog hop is MJones Style.
And stop by all the other participants Velvet Finish projects
(Visited 1,180 times, 1 visits today)