I am such a lover for sitting and rocking on the porch. Whether it's at night time when the crickets are out and the rest of the world is quiet around me, or first thing in the morning sipping my coffee and waiting for the bus to arrive. Either way, the porch is my cozy spot. I remember when we first started house hunting (three years ago last month) and I had told the hubby two things I really wanted, 1. was a fireplace and two. a porch. The first house we put an offer on (which turned out to be in a flood zone and we pulled out), did not have a porch. I remember thinking how much  I loved so much about the house, but I was not sure if I could get past that it did not have a porch. I grew up with a porch and I always envisioned the home I would buy one day would be the same. Well, the Lord knew best and protected us from that first house and when this one came on the market we hopped right onto it and could not let it go. It was a gem among all the other houses we had seen. The porch, the fireplace, the colonial style, and it was WHITE! You know lots of imagination and DIY later and it is for sure a cozy little home that we enjoy.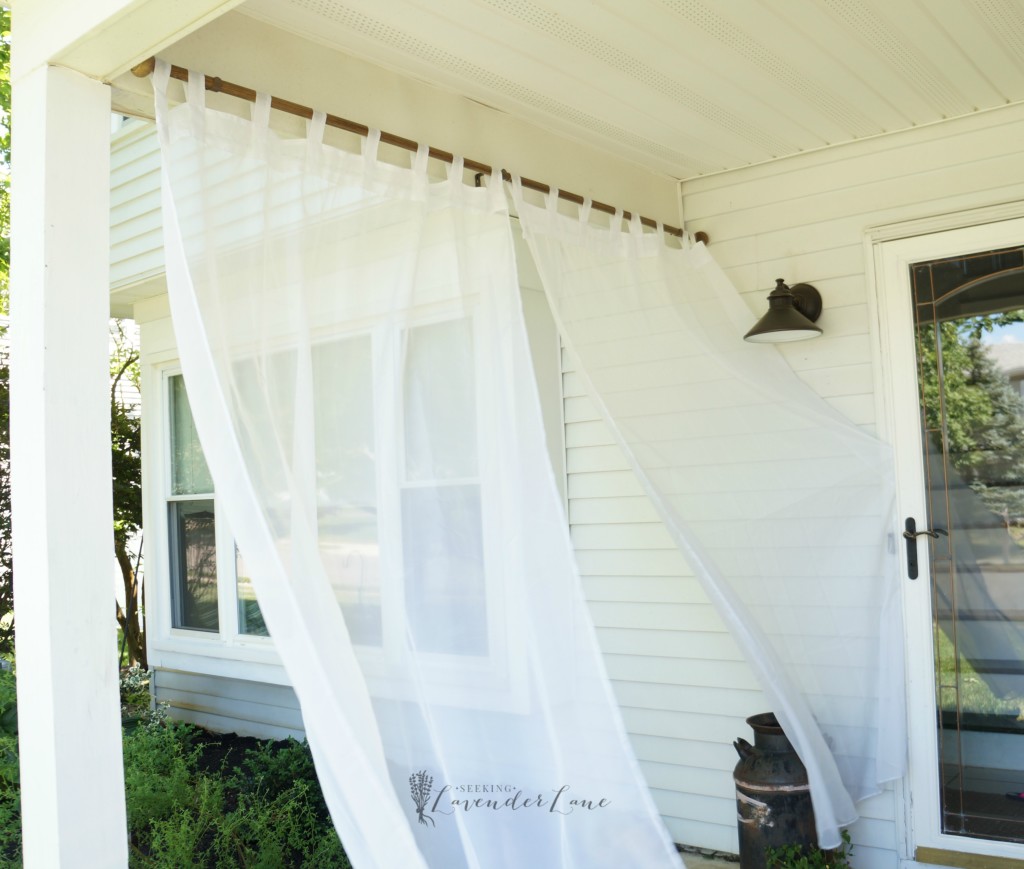 As for the porch, the first summer here I had found these two rocking chairs on Craigslist an adult white one and a child one for $35. Since I knew how expensive rocking chairs could go for I responded to the listing quickly and dragged the entire family that same day over to the house where we would be picking up our very first set of rocking chairs. Though they have been great, we for sure still need a second sitting spot for another adult and as I've mentioned before during this blog hop, I would really love to have a swing eventually. Well, we are going to hold off on that, but for now I had to make this porch as cozy as I could make it. That's when the idea of having curtains popped in my head.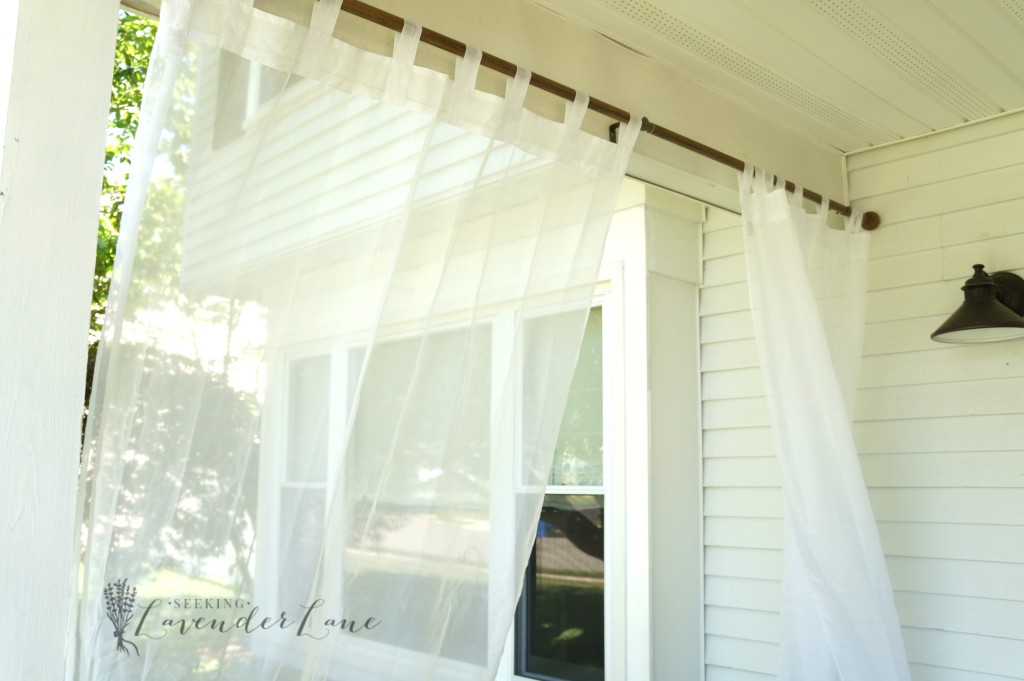 I originally thought maybe something with a print, or maybe I could make some more drop clothes drapes for out here, but I was a little afraid of how fast they would dry especially since they are in an area where the sprinklers would be getting them every morning. I happened to find these outdoor sheer curtains
and I figured they would be the perfect touch. I figured with the sheer curtains they would blow in the wind all day adding to that relaxing setting that I craved for this porch.
I found this curtain rod at Target, and had the hubby install on the side of the porch covering. Fortunately the sheer curtains had a velcro extender so you could adjust them to the length of your porch. These were still shorter then I had hoped, but then realized that it was probably best considering they would be dragging on the floor. To be honest all these curtains do is blow all day long, which is so dreamy. Though it's not something you can gather on a blog post or from some photos, the curtains add that perfect cozy feeling to this space. You feel like your in an indoor/outdoor room. I almost feel like I'm on vacation now when I sit outside.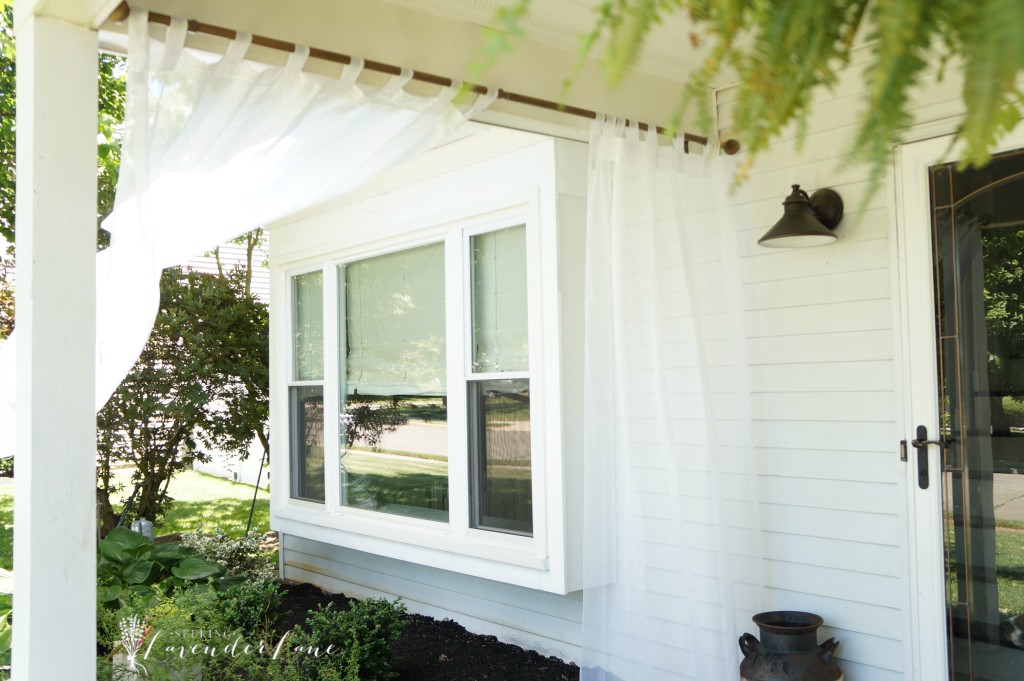 I also picked up this rusty milk jug and this cute little basket from a local vintage and garden shop. It's for sure adding that farmhouse look to my colonial black and white home. As I mentioned last week we are going to be fixing our roof sometime soon and if I could get a gorgeous tin room…I may stay here forever in my little "farmhouse" suburban home.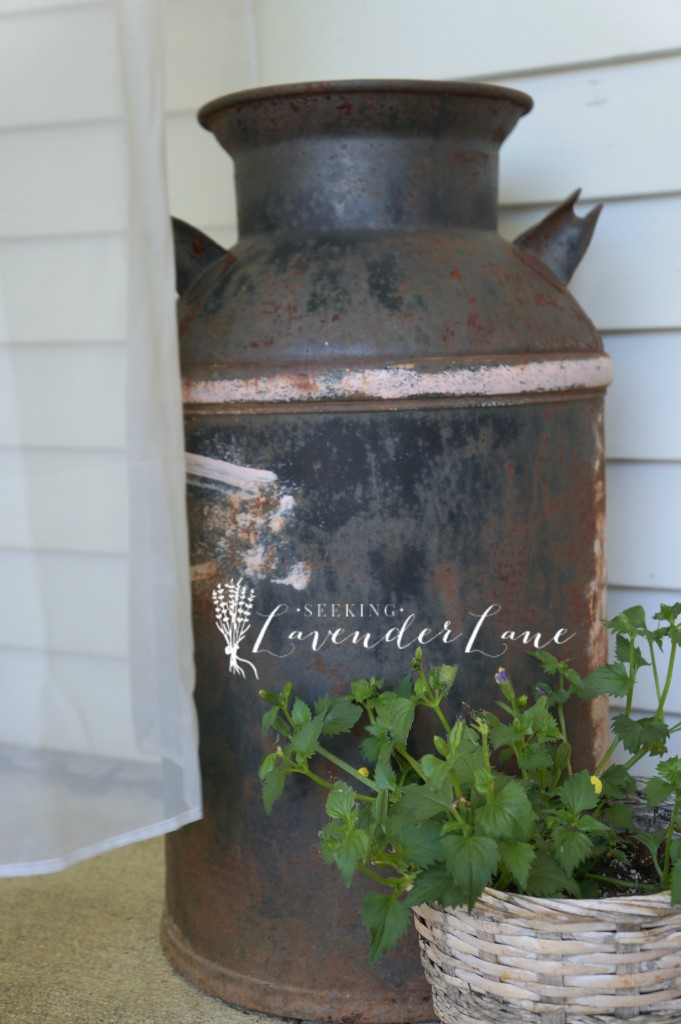 What's left on this makeover before the reveal next week?
As for the rest of the curb appeal changes, I am hoping to have a new door by next week. (We will see). The hubby is on board, but because the added expense of us having to update the roof this summer he told me I had to pick between the pergola above the garage and the door. Which would you choose? I'm thinking door because it would not only look pretty, but it would change my life. We really need more light in our house year round and keeping the ugly outdated storm door is not doing it for me any longer. I really hope that we can achieve installing it this week so I can share that with you all next week for the reveal.
Be sure to stop over at the other ladie's pages as they are sharing week 4 of their Curb Appeal Blog Hope this week.