Well, you guys I got a little switcher-oo on you all today. This is not quite my home decor…but a rustic  barn bridal shower for my best friend. It was a beautiful gorgeous day two Saturday's ago, and myself and the other lovely bridesmaids came together to plan what we felt was the perfect rustic shower.
The bride loves a rustic style setting so picking a barn was a must! And then a combo of baby's breath, sunflowers, and some cute DIY ideas was a perfect way to bring it all together.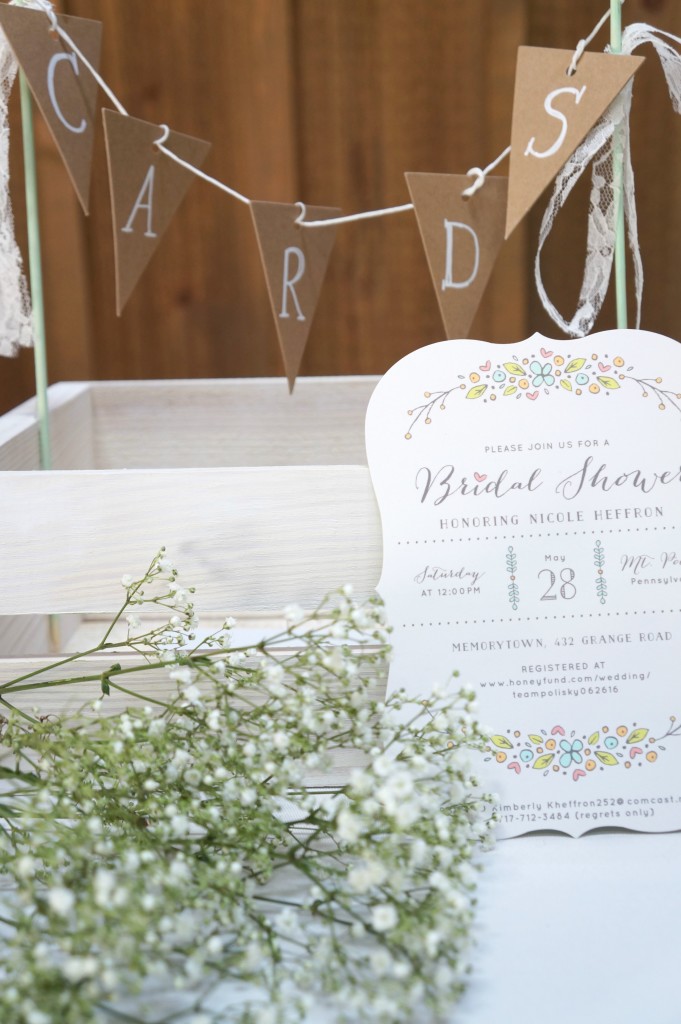 These gorgeous invitations were the introduction to the rustic party. Thanks to Minted for sponsoring this post, these invitations turned out beautiful and perfect with the right amount of elegance meets casual.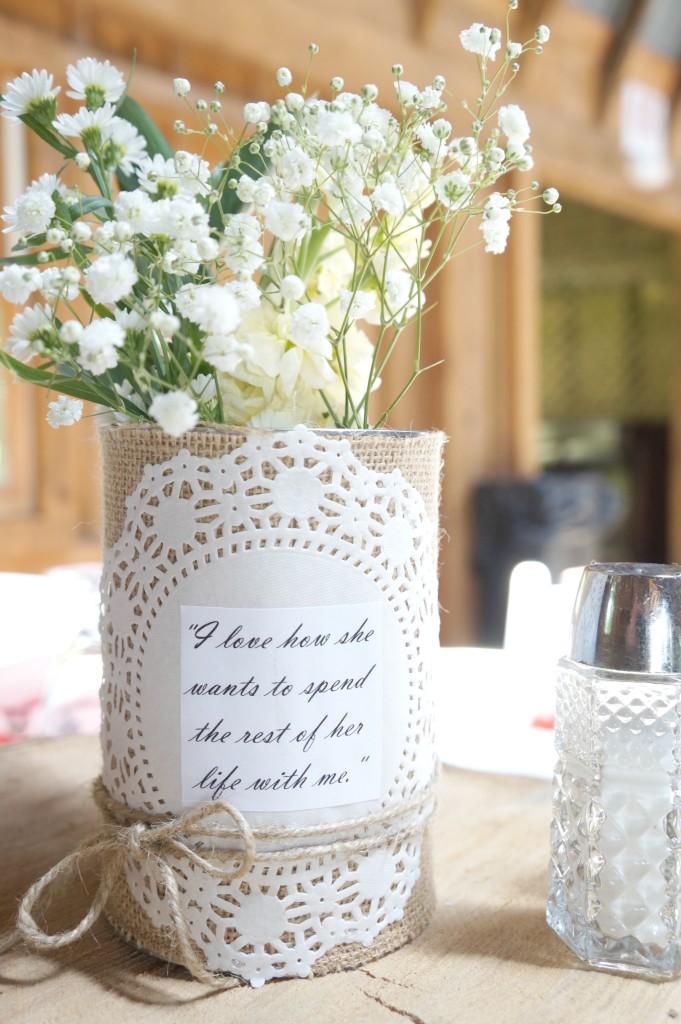 The Bride's sister had found a few great ideas from pinterest, such as these centerpieces with the groom's "reasons for loving the bride" on each jar. So romantic and a great personal touch.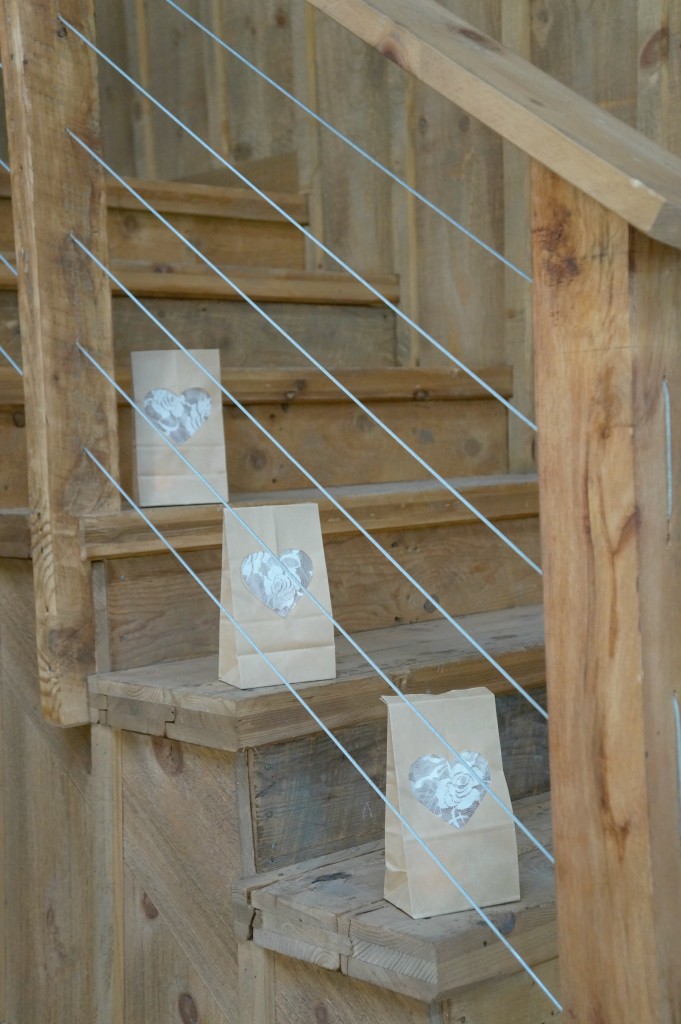 Of course, you all saw these last week when I shared how I made these Rustic Heart Lace Bags with tealight candles.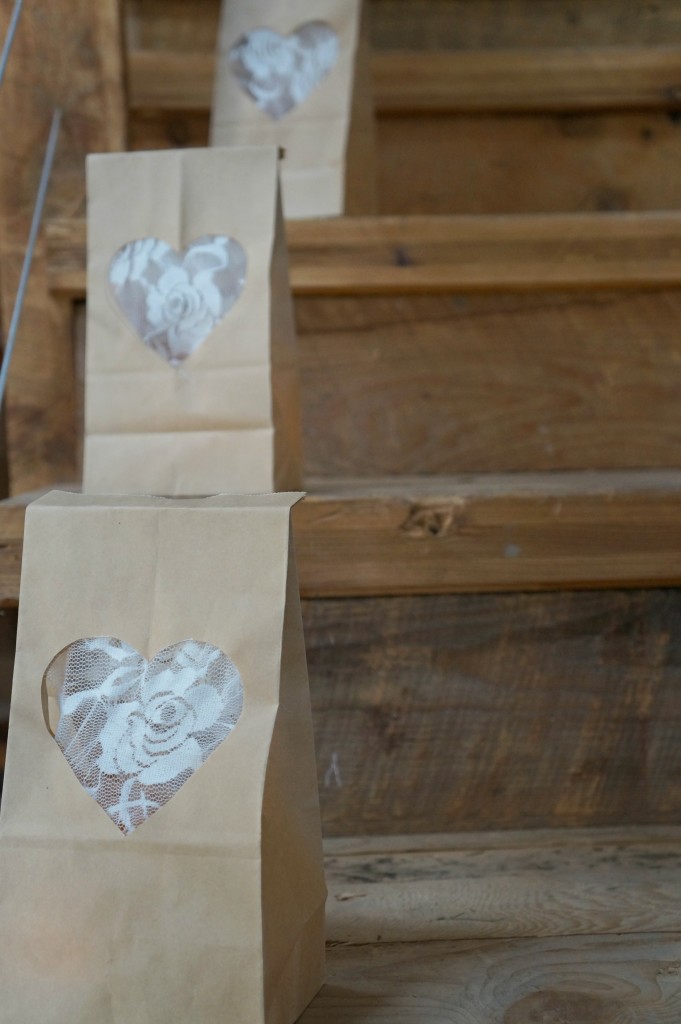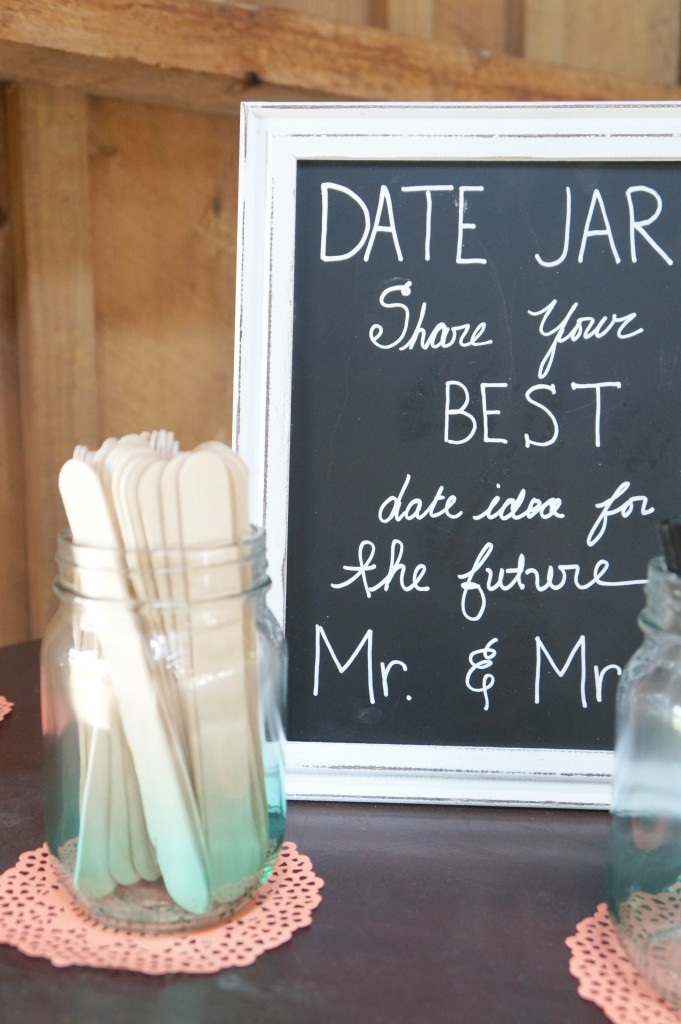 Some suggestions to the Mr. and Mrs. on great date nights to keep that relationship fun and exciting.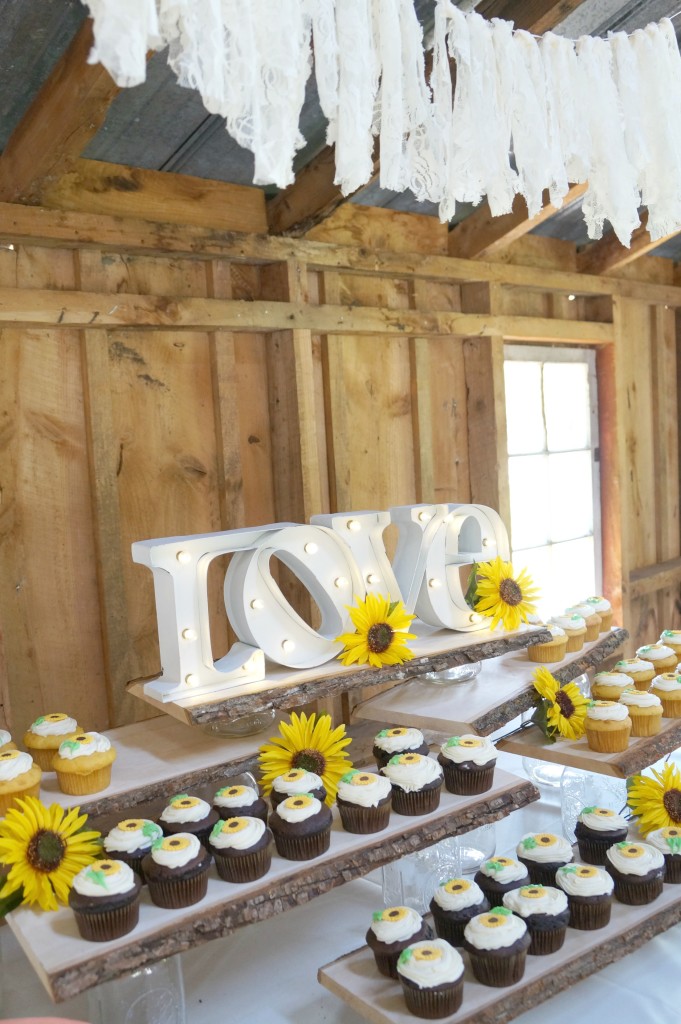 The Bride LOVE's sunflowers, so her sister got these adorable cupcakes made with sunflowers on them and I picked up this cutie LOVE marquee sign (from Michael's) and it turned out perfect. Also, that lace fabric banner I created using the leftover lace from the heart bags…just another little touch.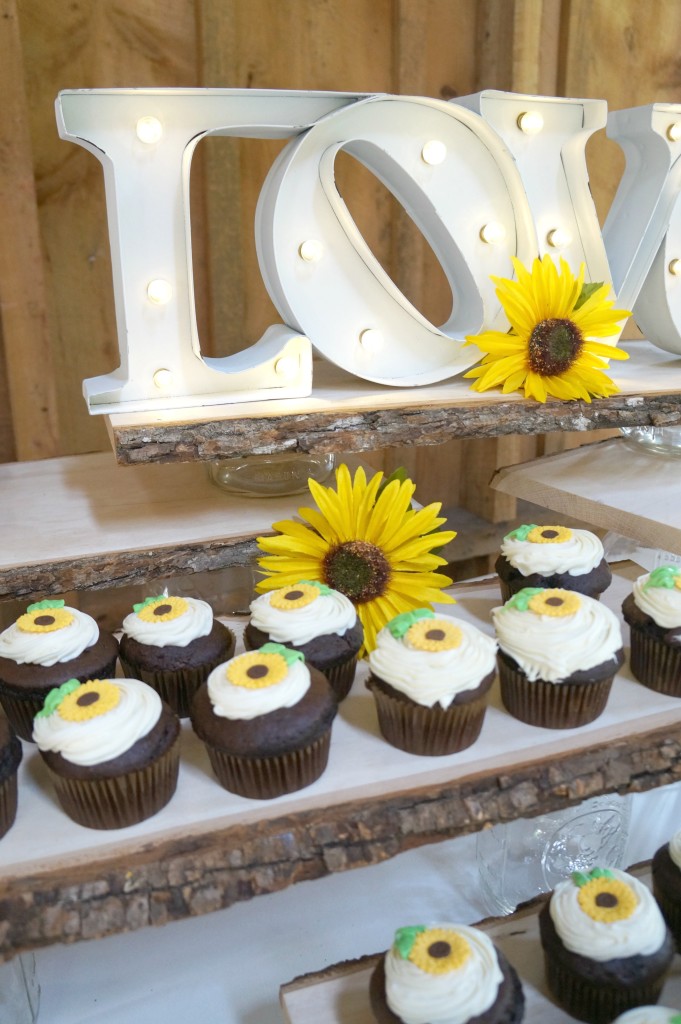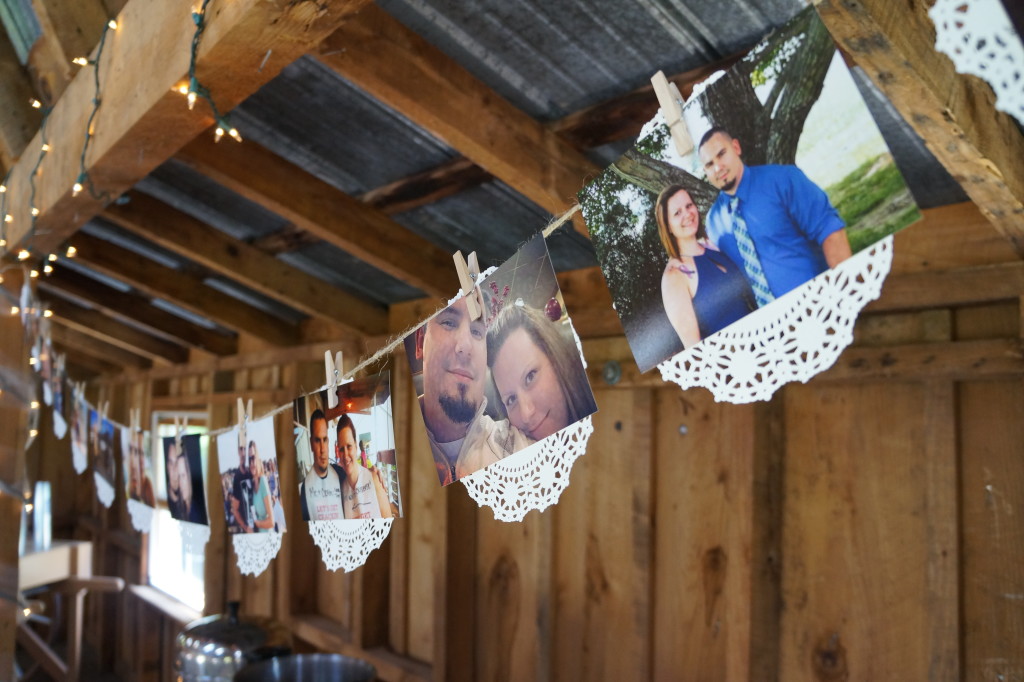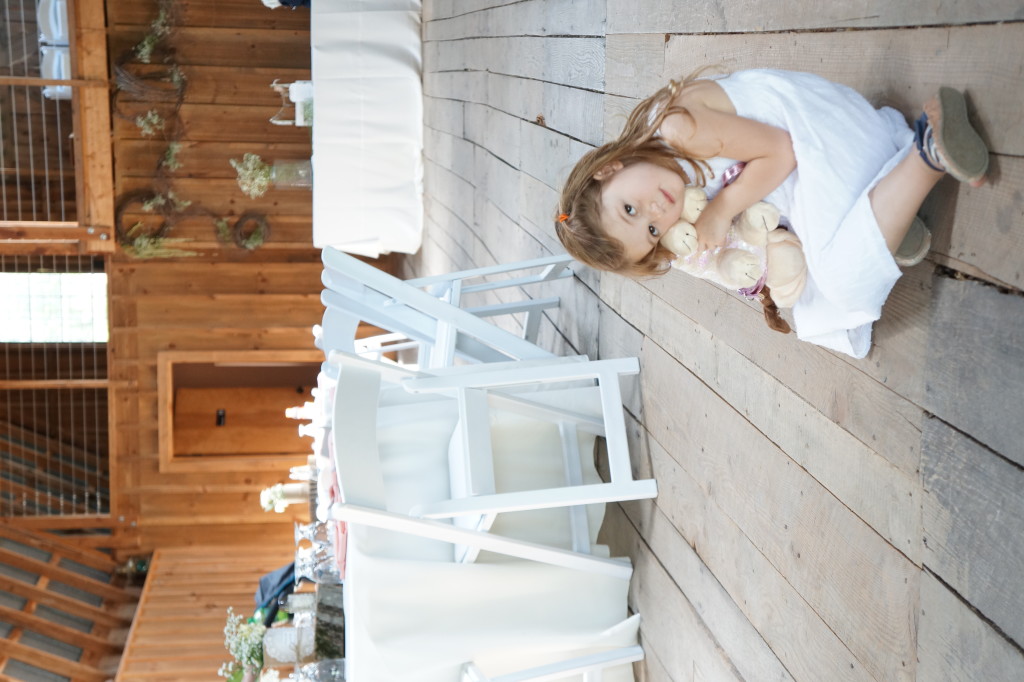 This one refused to move out of the way, when I tried snapping a pic of the interior of the barn. Look at these gorgeous floors!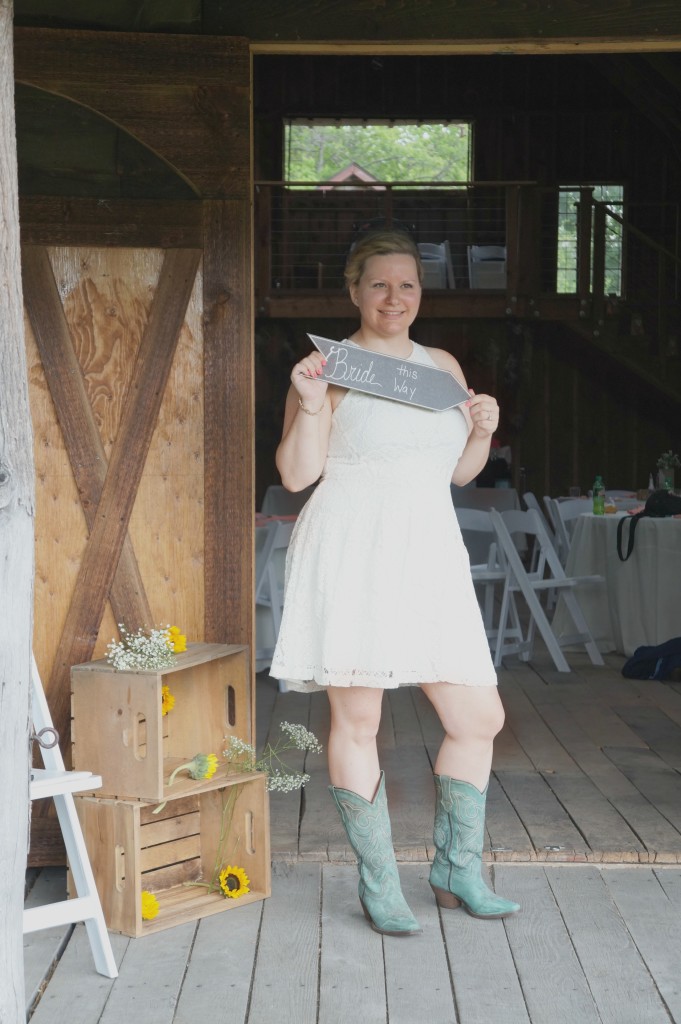 And here she is the bride, posing at the entrance of the barn.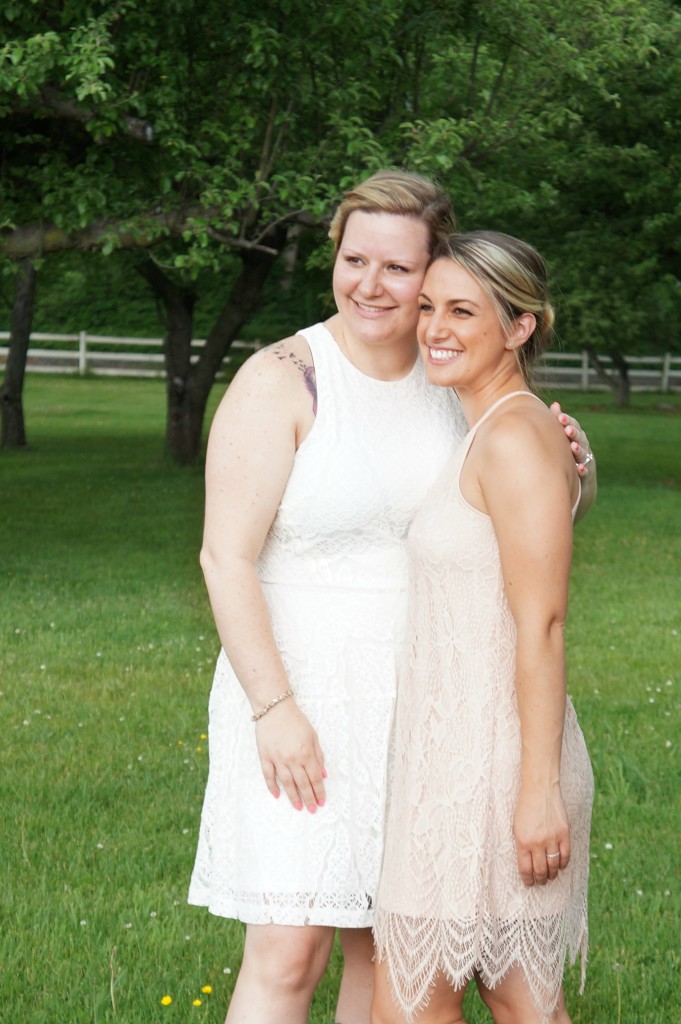 And the two of us together!
Nicole and I met in the 3rd grade, when she was the only cool one in the class rockin' a perm. We later grew to be even closer as middle school brought us together, testing out makeup and trying to snatch a "slow dance" with some boy at the 7th grade dance. Before you know it we were attached at the hip, barely spending a day apart…Summer's turned into constant sleepovers at each other's houses, and of course in the 8th grade we had to score a pair of boyfriends that were also best friends. We were inseparable, leaning on each other for everything; the good the bad and the pre-teen world! Then 9th grade rolled around and before I knew it I would be moving to a new school and new state. We swore our friendship would never fade and hung onto the summer visits as if nothing had changed. Time goes by though and sweet 16 dances were just about as much as we could make it to be together, with a 2 hour drive between us and not one of us having a drivers license yet. Though we grew apart we promised our friendship would still be constant. We believed we could have a friendship that didn't require us to see each other often, yet when one of us needed something we would be there. Surely, at 20 years old I knew that reality was the truth when I called my best friend up for advice on the biggest change my life would ever endure. And though all my "new friends" were supportive and sweet, nothing like a childhood friend that could hold your hand across a phone call and tell you it's going to be alright. Nicole has always been a friend I can rely on with her trust, honesty, and strength. A friend who I have seen struggle with her own dilemma's; broken hearts, broken bones (haha), and many "real life" battles. I've never seen anyone be so independent and strong always putting her family first and making every sacrifice for those she loves. On the day I said "I do" I could not think of a better person to stand by my side then this one. The two of us had gone from days of permed hair, to days of figuring out how to use a straightener, to now wedding up-do's. I was honored when she asked me to do the same, stand by her side and watch her marry the love of her life. Our distance in miles is the same, but our friendship and love has never changed. She is my best friend a life long friend who I can only cheer on and pray for when life gets tough. I may not make that speech for her the day of her wedding (to not steal the spotlight from her deserving sister), but I felt this was the time to share my words here as my blog is not just a creative outlet, but from time to time a heart felt outlet. Reminding you all that there is a person on the other side of this screen. With love, and friendships that are real and honest. Thank you Nic-key (Mouse) for letting me share in your special day, no one deserves it more then you.
Love you always, Deborah (Duck)