Custom Frame Dress
Happy Thursday friends! As you know we are un-decorating our house and packing, but when you get an amazing piece like the one I'm about to show you…you can't wait till the new house is ready to style it…you've got to get it up and photograph it immediately. I mean I am talking about this amazing frame I had custom done for my daughter's linen white baby dress that used to hang in her room. It felt so vintage and timeless and so I wanted to see it framed and stick around forever. I teamed up with Michael's and the ScottLiving new custom frame line they just launched and had this beautiful frame made for the dress. If you saw my IG stories then you probably saw the Live interview I had when I met the Scott brother's at their launch party for the new line and if not here's a photo from that awesome night!
(Can you tell I'm just a little excited?!)
This is a collaborative post with Michaels but all opinions are 100% my own.
So, the process for having the frame made, if you have never had a custom frame or shadow box done for any of your prized possessions, is pretty simple. Fortunately the lady I worked with at the store knew exactly the look I was going for and really helped me narrow down my options to create this masterpiece.
I chose the gray distressed frame since I wanted to go for a muted color vintage feel. It's funny because I did not even realize until I brought the frame home that it matches my daughter's bed almost exactly.
Then I had to choose the back fabric and the mat. I stuck with the neutrals and went with a pretty silk-like fabric. Once she put the dress up to it, it just felt right. I think the contrast with the gray fabric and white and then the off-white mat blended perfectly with the dress. I loved seeing the process come together.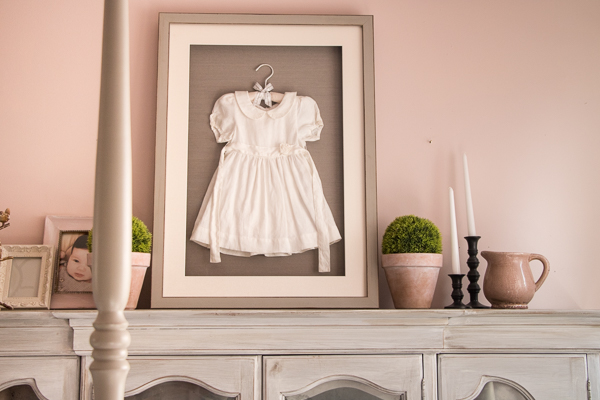 I think what I was most impressed with (maybe because I've never had anything custom framed before) was the glass that they use. Even my husband when I brought it home couldn't tell there was glass there. It is so clear and you could barely tell that it looks like you can just touch the dress right through it. It almost eliminates excess glare.
It took 2 weeks for the frame to be complete and you can tell there was a good amount of work that needed to be done to have it look as it does. The associate mentioned she sewed the dress in place and even the shadow box was glued to the frame to give it the depth you see for the dress to fit inside.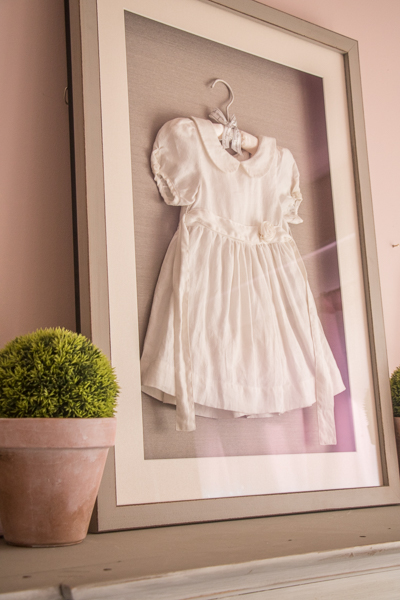 I am seriously in awe of how well it turned out and excited to have this for my little girl forever. Even more so now, because I get to design her room around it. Classic/vintage look! Just imagine some cameo silhouette and this gorgeous piece. Can't wait to share it all, for now here it is in her current princess room.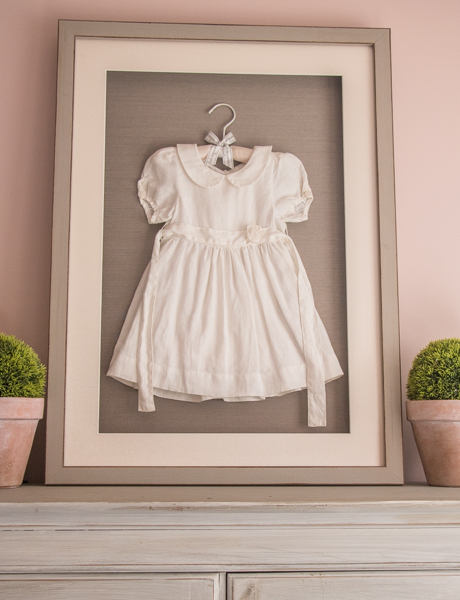 Be sure to check out the new ScottLiving collection at Michael's as it just launched and they have a great modern and current selection of frames that will work for any gallery wall or shadow box.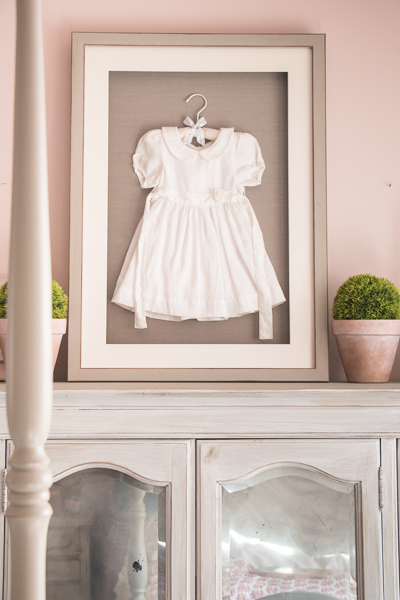 Please Pin