What a successful weekend! So glad to be sitting here with my feet up on my coffee table relaxing : )
We worked so hard on finishing some unfinished projects this weekend and am I so glad we did. It amazes me how each new project we do on our house just keeps completing this picture of a home for us even more. Always more to do and of course some projects/furniture/accessories are sometimes put on hold due to finances and time. Looking back at how far we have come from last year at this time I feel so blessed. I am really looking forward to decorating and entertaining this year for the Holidays especially now that our house is more complete.
Anyway…one of the projects on my to do list has been to complete a DIY map art for our living room. I posted about a month back some inspiration with my Map Decor Post. Such great inspiration out there and some overly pricey pieces that can be copied and done for a fraction of the cost.
I first started the process by finding maps sold on Amazon for under the $40 price point. I spent $35 for the map
and shipping. I wanted to add more of a fabric and matt feel to the map so I came up with covering the map with a shear piece of fabric.
Off to Hobby Lobby to grab a yard of shear fabric in an off-white shade to match the vintage look of the map print. While there I also picked up a foam-poster board to glue the map onto. I used Adhesive spray to paste both the map to the foam poster board and the fabric onto the map. The spray adhesive dries clear so it will not affect the map…I also picked this up from Hobby Lobby. Make sure to leave excess fabric on the side to tape on the back of the poster board to make it extra tight.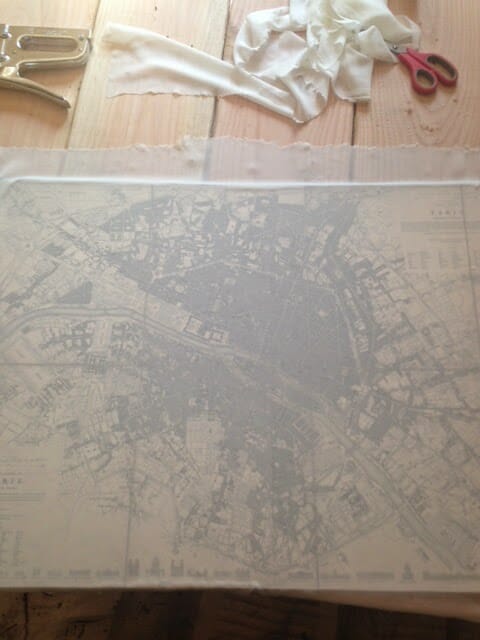 Here I added the fabric to the poster.
The next step was to pick up some molding from Lowes to create a frame. We cut the frame into the perfect size and stained it with our homemade stain mix. You can do any stain you choose, but I wanted to give the wood a more vintage look. After doing some research I thought to try the mixture of apple cider vinegar and steel wool and let it sit for a few days. After it sat for a few days it was ready to use and I applied just like a stain. Once dried I added some Annie Sloan Dark wax to give even more dimension to the trim.
To add it to the wall we first nailed the poster board with the map and then added the frame parts one by one.
So happy that I did this project I love the way it turned out and it just helps to bring this room even more together.
With the new full time job I can not post daily, but I have an upcoming post with out DIY dining room table and bench that we accomplished this weekend as well…another project just in time for the Holidays!
Please Stay a While
(Visited 654 times, 1 visits today)