DIY Clay Bowls
Today I am sharing an adorable and easy +fun project you will all love to make. It's these Easy, DIY clay bowls. Funny how I have been eager to take a pottery class lately and buy some pottery for the new home. I'm really loving the look of authentic hand-made pottery, so when I saw this project in the book French Vintage Decor…I couldn't wait to stop at my local Hobby Lobby to pick up some products and give it a whirl. So most importantly I want to talk about this new book my friend Jamie just launched, French Vintage Decor. She's an amazing blogger and shares tons of DIY's and beautifully decorating tips on her blog Somuchbetterwithage.com
This post contains affiliate links that I make a small commission from, with no added fee to your purchase. 
It's amazing how tight the blog community is. You all somehow become these co-workers, cheerleaders, and friends. I have met so many people in this community that I would have never met if it weren't for blogging. Other bloggers are your people, they understand your entrepreneurial spirit, creative spunk, and most definitely all the work that goes into it. So when other bloggers get the honor of writing books, featured in magazines, or even get a TV gig you feel like they are your bff's and you want to cheer them on. You know what it takes to get that recognition and understand the endless possibilities when it comes to blogging. So, when my friend Jamie from So Much Better with Age, needed help promoting her new book. I was eager and excited to help. Not only do I absolutely love Jamie's style and blog, but she is truly a sweetheart and I wish her all the best with her blog and her success with her new book.  Of course there's one other factor…I need to make sure its something my readers will like before promoting. I'm picky when it comes to sharing products on here with you all because I know you are here for my opinion and knowledge of the design and DIY world, so after reading through and already knowing how wonderful it would be I am excited for you to check it out too. Some of you may already follow Jamie over at her blog since she has similar taste to my own and has been blogging just about as long as I have.
Products to Make Easy Clay Bowls
Clay Softening Liquid (I used water)
Chip Brush
Craft Brush
Baking Sheet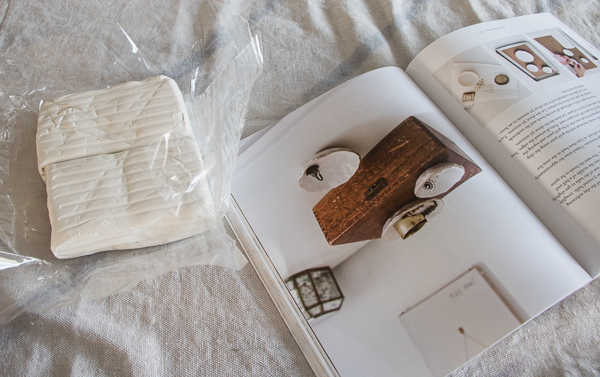 Unwrap your clay and form a ball about 2″ thick. Use a few drops of Clay softening. As I mentioned above I used water (mostly because I forgot this product).
Start to pinch center with thumb and work your thumbs around the clay bowl to create a bowl shape. Jamie recommends making bowl wide. You can also create different sizes for each bowl. I created sizes to be able to stack.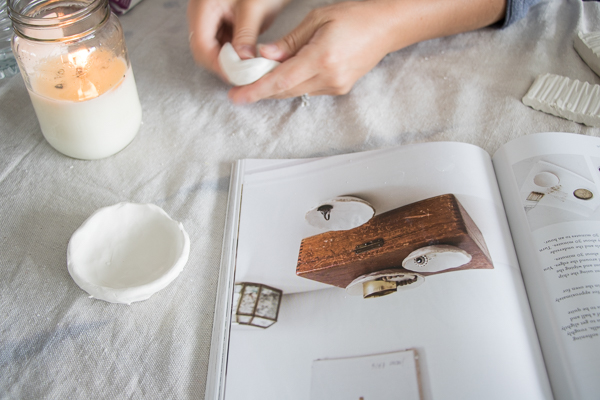 Directions to Make Easy Clay Bowls
Set oven to 275 and Bake bowls for 30 mins on a baking sheet.
Once dry, add gold paint with chip brush to edge. Be sure to pat your brush mostly dry as you are not going to want to add a thick gold rim.
After dry add glaze. The glaze takes 30 mins to dry between coats. I did two coats on each side of bowl.
Then enjoy as a trinket tray or add to a cute shelf stacked.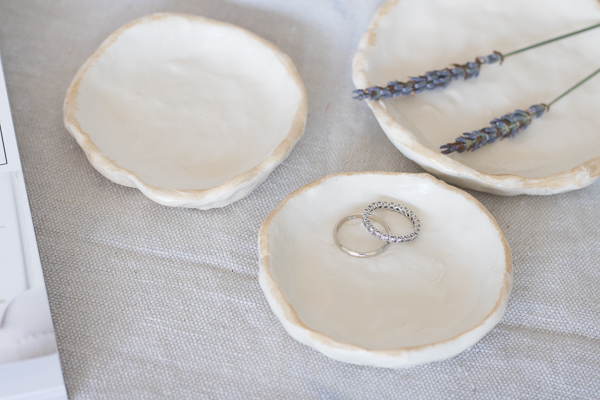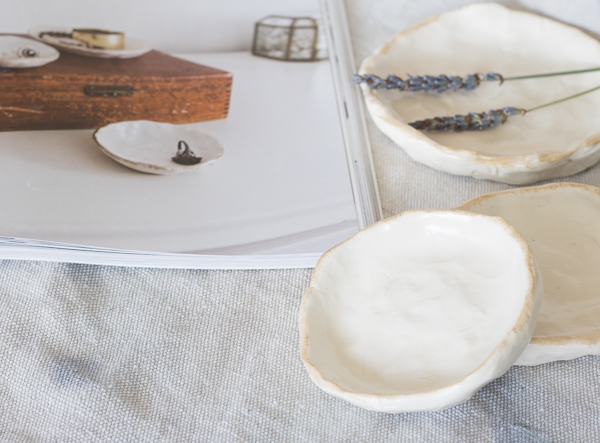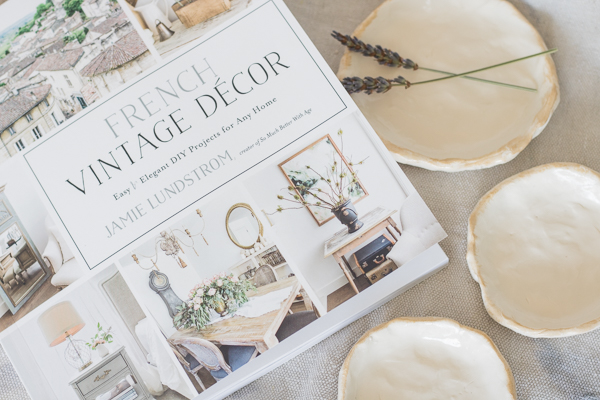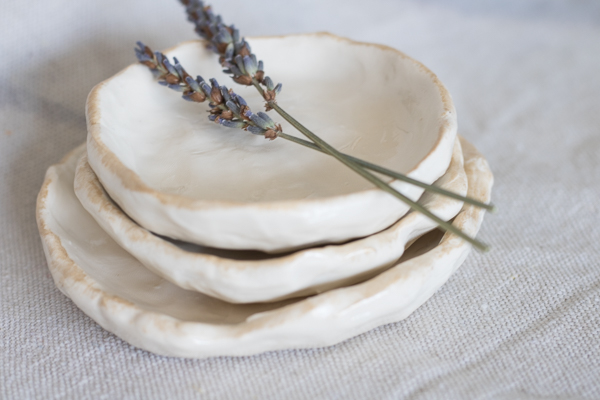 (Visited 1,057 times, 1 visits today)