RV Painting
I have been getting so many questions about our RV makeover, and so many of you just so excited for it! It seriously makes me so happy to hear all the comments and love! We are just as excited to move into the RV and countdown the days until we officially move into our new home. Though, they have yet to "break ground" (I think that's what they call it) we are getting closer to the construction as our permits have been submitted and they are probably a week or 2 away from being approved. We initially thought this week everything would be approved and we would be ready for construction this week or next…but as we have been learning everything is a waiting game and I couldn't have thought of more of a distraction then renovating our RV. It gives me a creative outlet (as I totally need) and another timeline and focus in the meantime. As we speak got a call from the hubby with more of a setback that our electric (which we really need at the RV) will not be on for 2-3 weeks so as you can imagine that makes it more frustrating that we have no running water (since we have a well) and no AC etc that we need for the renovation and once we move in. Just chipping away and hoping it all just works out!
For the decorating of the Rv, I've gone a bit astray from my normal decorating style but still finding options and decisions that will feel like what I love. I plan to only put furnishings and paint colors that I love…but I want the style of the RV to be fun and quirky. She has to have a personality and oasis kind of feel. I want it to truly feel loungy and exciting for our family when we are hanging out in there. Less serious and more fun and inviting. So, if you read on my last post that we decided to go for a pink cabinet and go slightly more modern and boho. I can't totally commit to an entire boho or modern style as my first love is the French farmhouse feel. So, I am sure there will be a nod to that style in here as well. Blending all the styles in one, but somehow making it all work!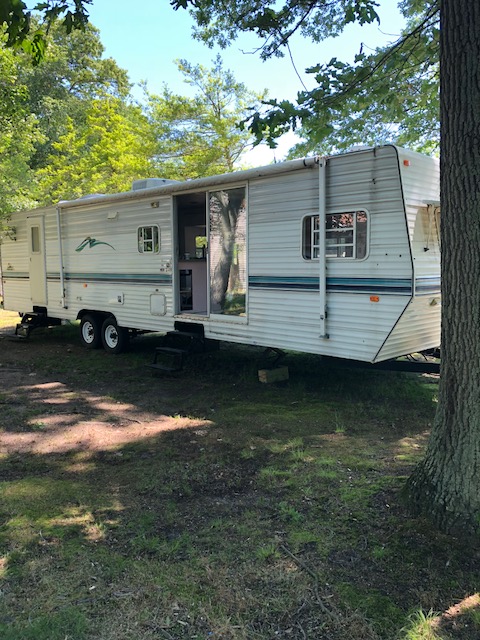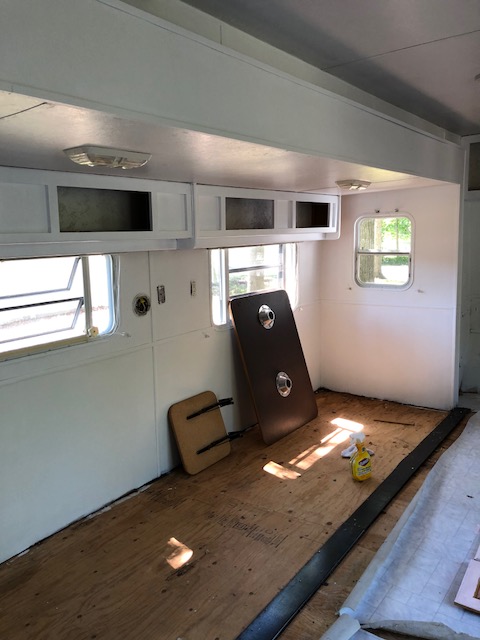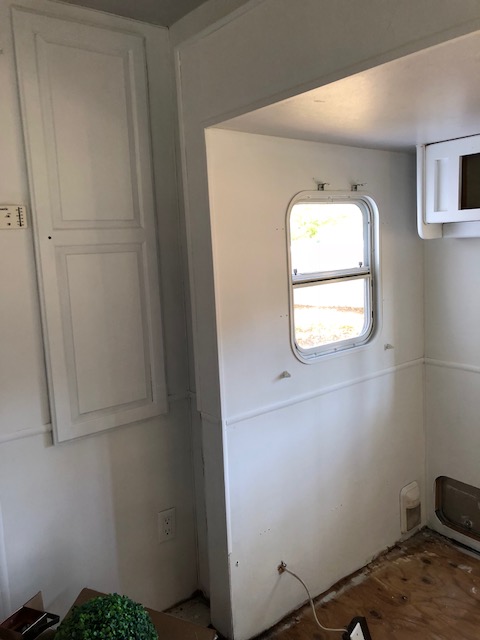 Well, for 2 weeks now after all the demo work, we have been painting! When I say we, I mean "me" I've been stopping by during the week to paint here and there and then every chance we can get on the weekends I've stopped over and painted some. I think I've been to the RV about 4 times now just to paint and I have to say I am over the painting. One of the initial things we did was paint the cabinets and walls with this an alcohol-based paint. It helped grab to the RV surface since I believe latex paint may not have done the trick. Well, we had one set back as the color I had them mix ws too yelldecideddecied to buy some more latex paint and paint over after the primer had already two coats. As you can imagine it was frustrating and more time consuming, but well worth it since the final color is a bright white as I prefer. We probably have another day or two and then we can move on to the backsplash and countertops. This may be a little tough as we probably won't have running water now like we thought we would. I guess we'll need a gallon of water to take with us before starting this. I did get the pink cabinets painted yesterday and that's when it all started getting so exciting. I can start to see the RV take shape, especially after all the boring white paint I've been doing. Though the white is just what the RV needed there is only so much excitement white paint on walls and cabinetry can bring. We also selected floors but that will probably not go in until next weekend. Hoping to get all painting done and everything else before the floors. One that is done then we have a bench to build, finish the back bedroom, DIY a table, buy some furniture, install a shelf, paint and prime the exterior, and then move in and pray we have water and electric. Prayers needed!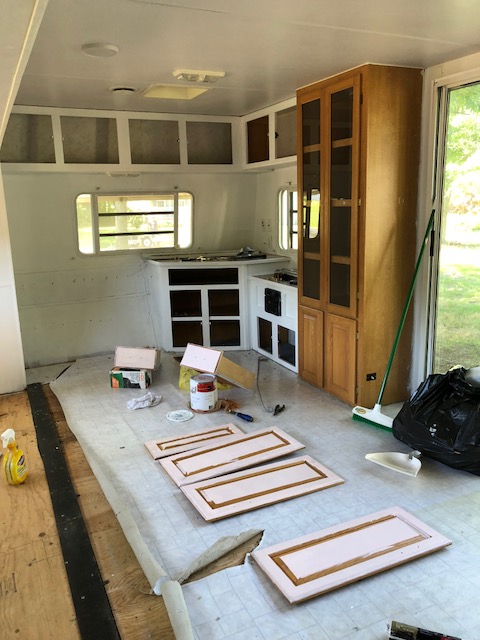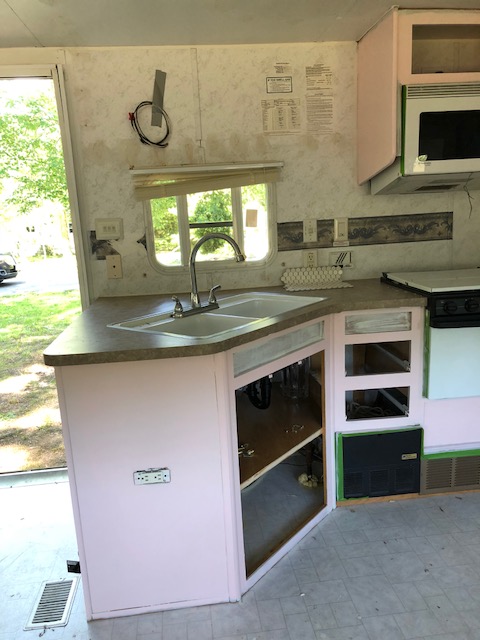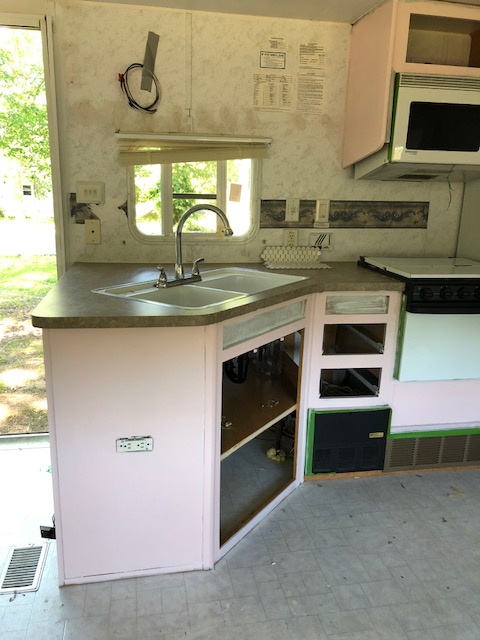 So as you can see, nothing too pretty yet as it's mostly just white walls and cabinet doors down. Also, the flooring has a bit of a funky smell that we noticed after ripping up the carpets so we plan to seal that too before the flooring goes in.
Thank you again for your encouragement, prayers, questions, comments, and all that you do! I hope this inspires you all! Oh and if you're local and know someone who is looking for a pink painted RV let me know as we plan to sell this in September! : )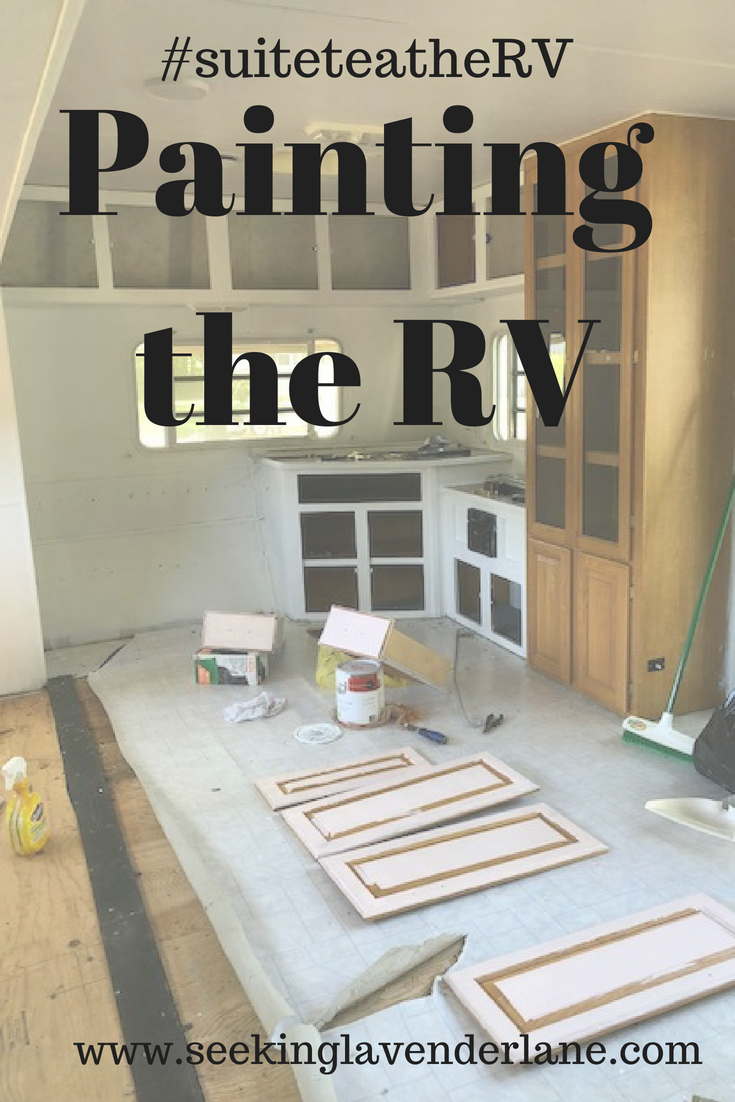 (Visited 463 times, 1 visits today)