RV Interior Demo: It's RV Demo day!
We finally got to the RV! It feels like forever that we started searching for an RV and even since I've announced it here. We certainly knew we would have our work cut out for us as the RV was waaay outdated, a little smelly, and needed a better layout and furniture options. I shared some furniture we were looking into recently as I am going for a more modern mid-century look with some feminine touches. Well, today you get a first glimpse at our Demo work…the honest truth about demo work in an RV and what plans we have for her next. Including the paint color, I selected for the Kitchen cabinets, and her name!
Well, let's take a look at what she looked like right before we started tearing her apart.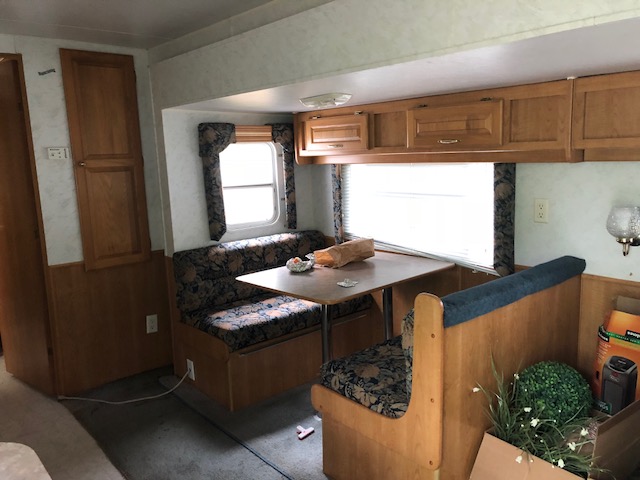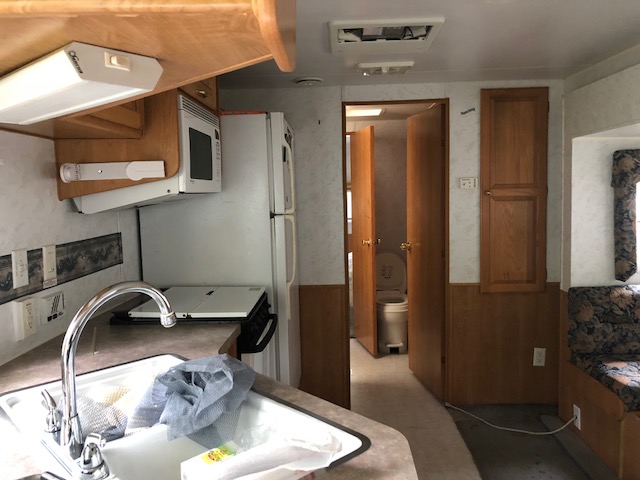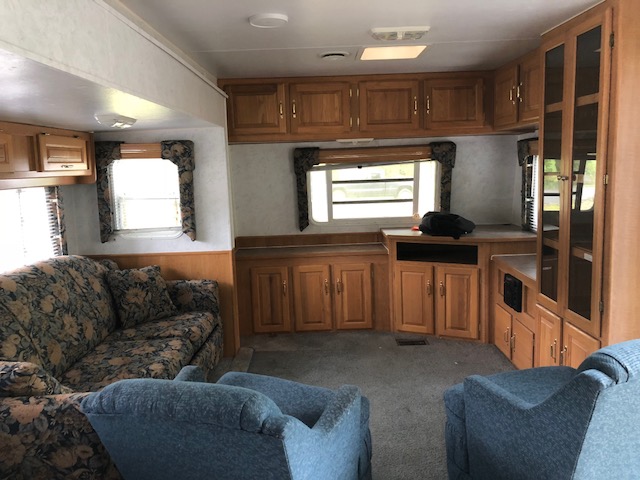 RV Interior Demo Plans
Remove All furniture
Remove Carpets
Remove Kitchen table and benches
Remove upper cabinet above the sink (to create a future shelf)
Remove cabinet on far left (for a future window seat)
Remove all window padding
So, we were able to accomplish all of this in just about 5 hours. We have more to do with finishing demo with removing staples from carpet and cleaning up debris. Once that is done then we can jump into cleaning the walls and priming.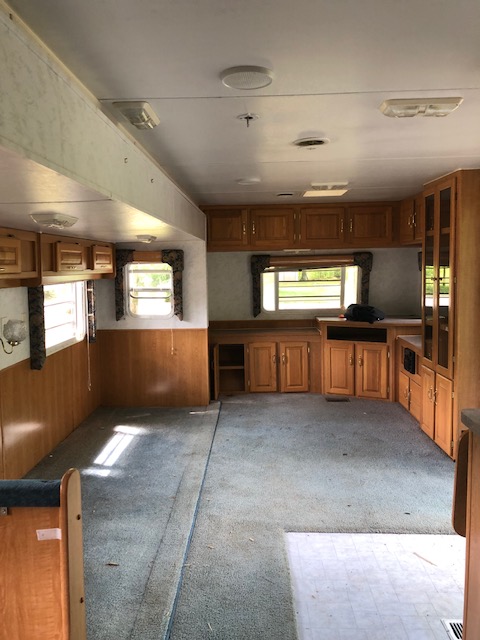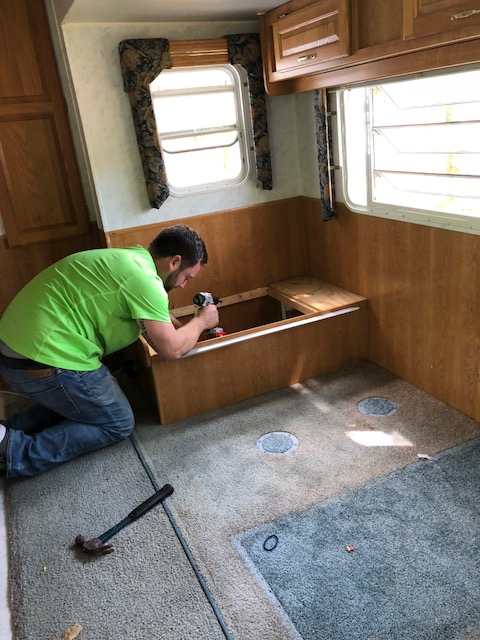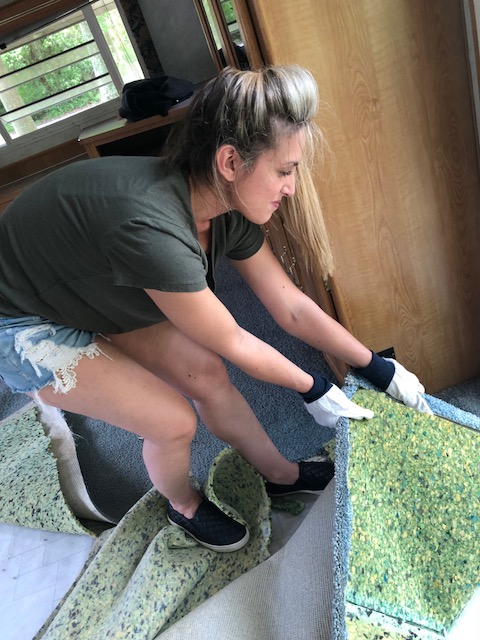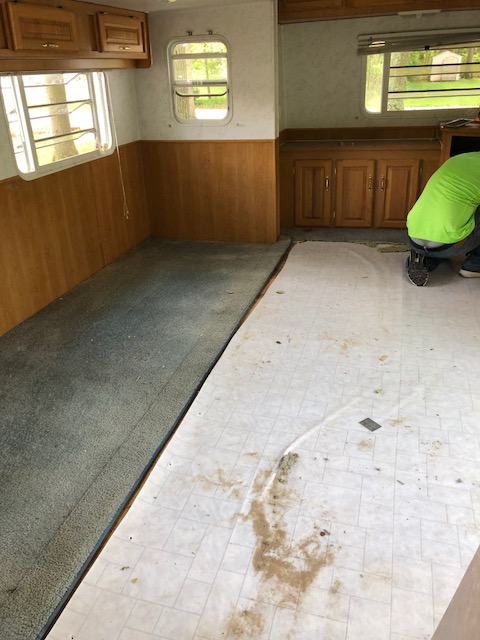 What was the most difficult part to demoing an RV?
Removing the carpet from around cabinets and corner. The way they assemble an RV, they put the carpets in first before all the furniture. So we had to really take our time removing all of the last pieces from around the furniture and cabinets. (see below picture)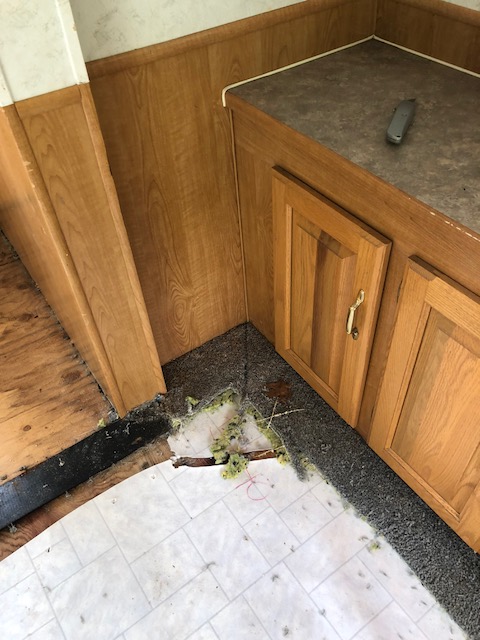 Also, removing some cabinets, since the assembly is done from the outside. We had to just use the crowbar to remove. When I say "we" I mean the Mr!
Did you get any strange or bad discoveries from removing the materials?
We did spot some mold and wet spots on some of the wood boards under the carpet. We are grateful we were able to get all the carpets out of there (as it smelled and looked gross) but also to be able to clean the boards well and insulate better before laying down our laminate floors.
What are you most nervous for, now that everything is Demo'd?
Laying down the floors! We are still a little weary as to how it will all work with the slide outs. We plan to read and watch a few more tutorials before tackling.
What are you anticipating the most from the finished project?
Definitely the kitchen and furniture choices. I'm excited to take on a different aesthetic then I am used to for the space and really create a cool hang out spot. My plans are to definitely bring in fun pieces like a chair hammock, floor pillows, and lots of hanging plants etc. My overall color scheme is going to be: black, white, pink, and gray. So yes, if you voted for pink cabinets you won! Though I really liked the idea of green cabinets, I felt I could always do that in a future clients house or a laundry room, etc…but never will I really have the chance to paint a kitchen pink again so I had to go for it. Also, as most of you said too that the color would be best for a small space.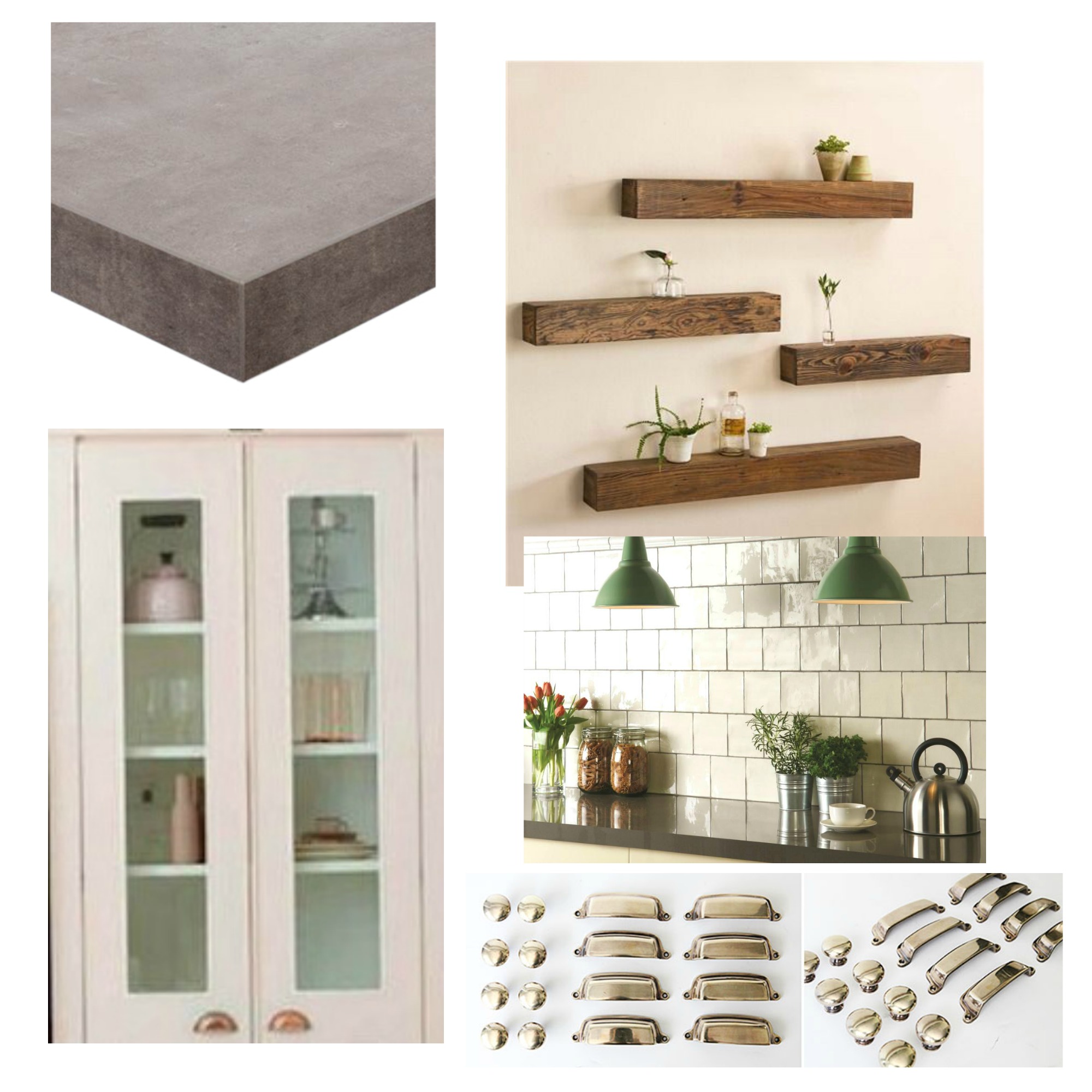 So, I guess the last thing to be discussed is now that we have her on our property, most of the RV demo'd, and a plan for her design…what is she going to be called? Let me tell you…it wasn't easy coming up with a name and I really wasn't sure…and then it came to me! Because she is going to be our Summer hangout and a place for us to retreat to while our house is getting built I wanted it to be something that went along with the idea of a hotel room or getaway…and also go along with something "Summery" so I decided to name her…
"Suite Tea"
I think that will suit her "sweet" color and style and work with the Summer vibe we are going for! Can't wait to share more with you all as we prime, paint, hang backsplash, put the floors in, and decorate!
Also, if you're not already following along…be sure to be checking out my Instagram as I'll be sharing more Rv makeover clips and behind the scenes.
Please Pin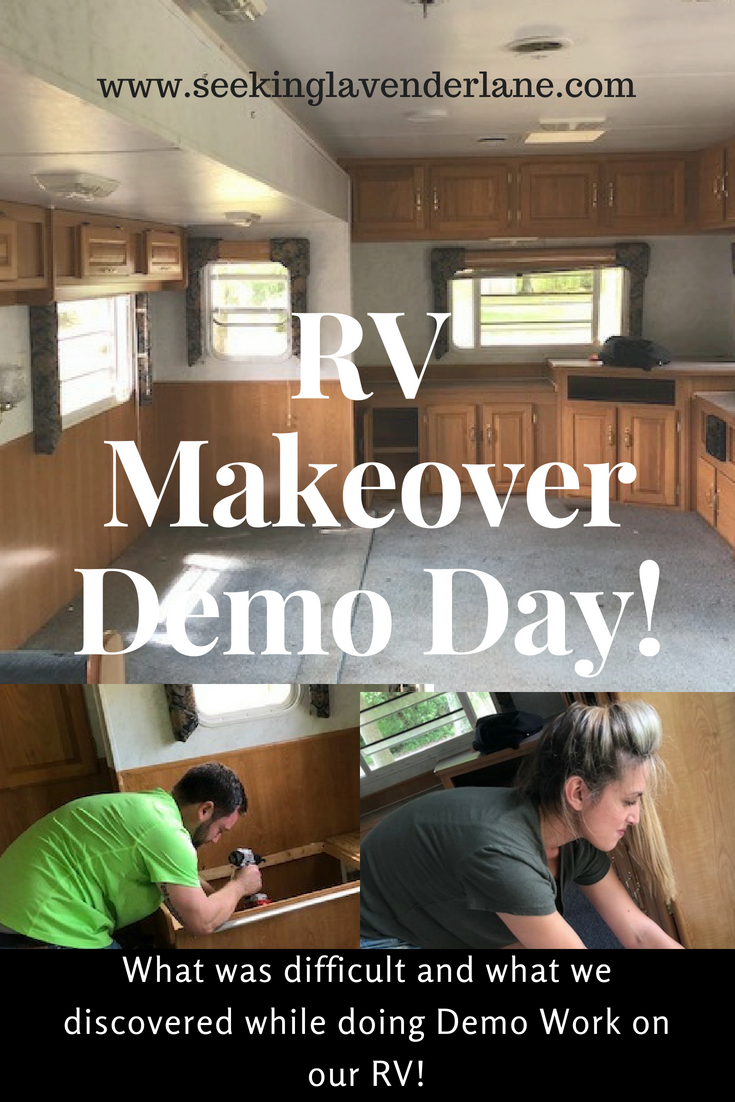 More RV Posts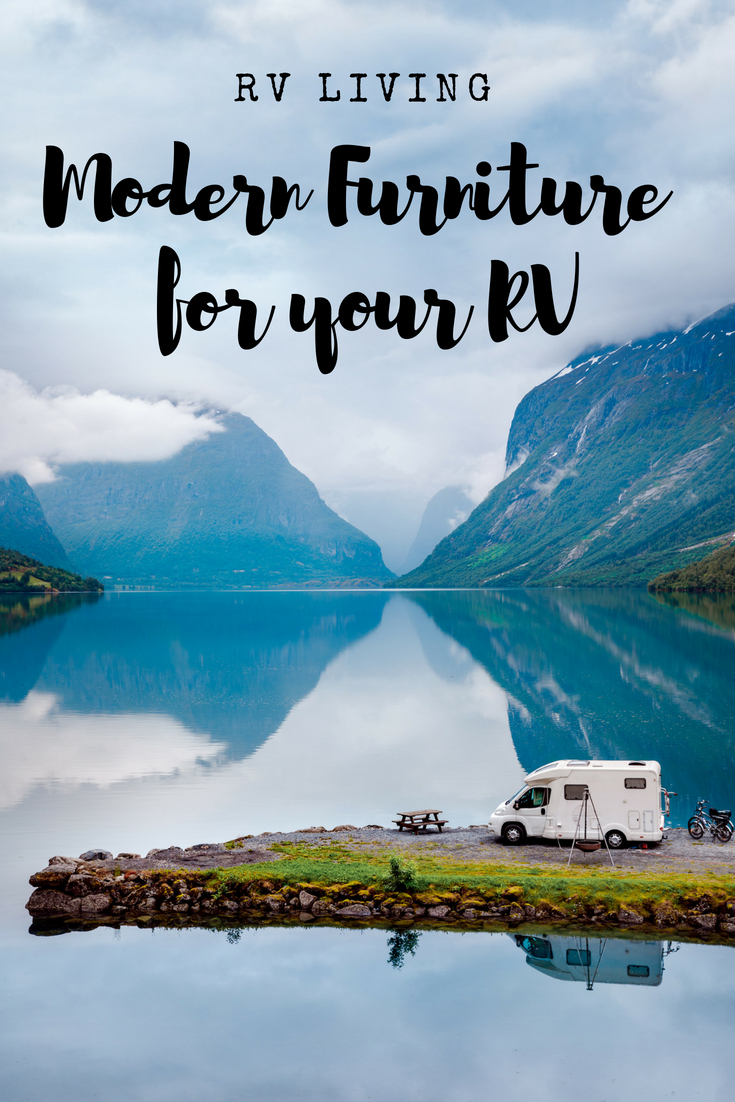 (Visited 789 times, 1 visits today)