It's been a long time coming, but I can say Gemma's English cottage bedroom is finally ready to be shared! Of course I am already imaging a few more changes, but I can always do that in the future…right now the room is done, styled, and clean!!!! Here it is, let's dive into this almost 6 month long project reveal… Eeek!
I'll be sharing all sources at the bottom for you guys so be sure to scroll all the way through if you are curious about one of the pieces in her space.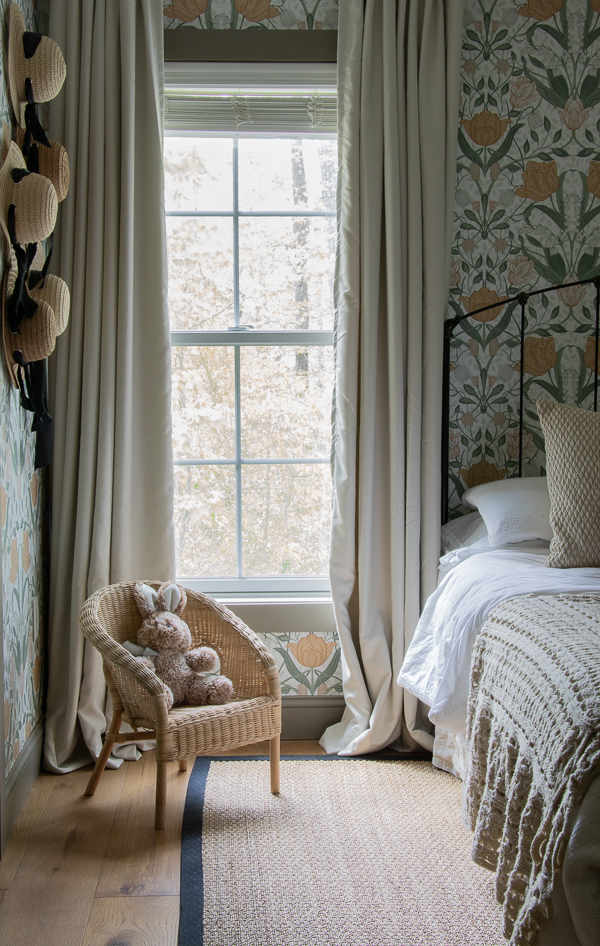 A few details about Gemma's room that I want to address first…We kept her area rug she had in here and I really wanted to continue with some of that black contrast, but we went a little sweeter and softer. Her room is very small so it was about maxing the size and making the most of it. If i had it my way there would have been crown molding and some beadboard painted ceilings…but in reality there are just some projects I have to give up on. I know where to give and take in my marriage and budget, so just imagine some pretty green paneled ceilings and a stunning green crown molding to finish it off.
What I love most though is the vintage finds that truly made this room feel curated and special. Mixing new and old is always the best way to elevate a space. That amazing knitted quilt I bought for $15 (I KNOWWWW!!!! STEAL)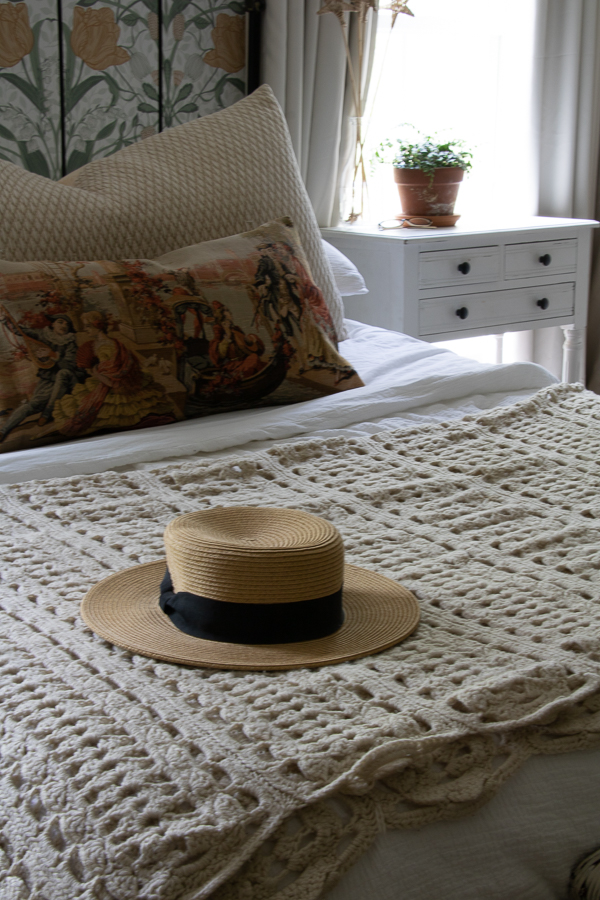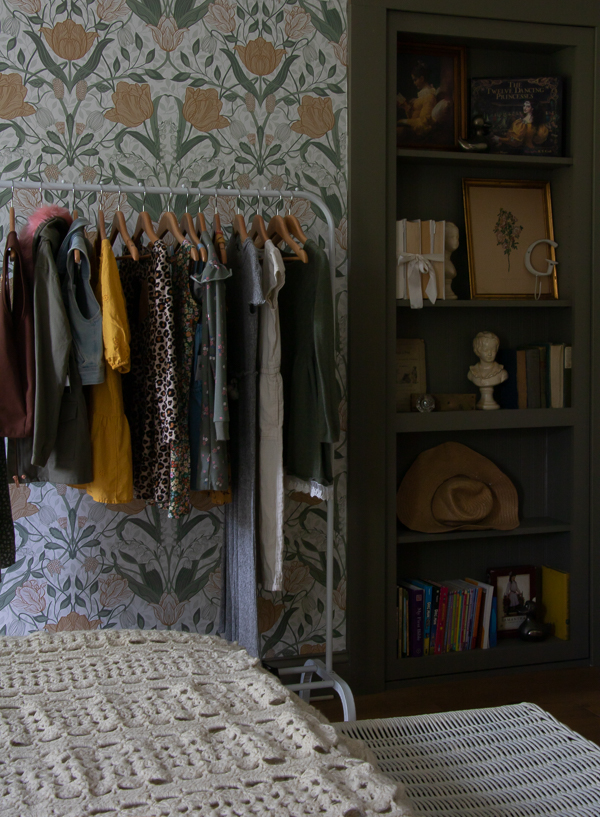 The colors in her room feel timeless but also trendy too. This moody green is very on trend right now (Copley Gray BM) and the colors work with most of her wardrobe she has. We chose to display them on this clothes rack rather then shove them in her closet since she needs a new organization system. Since she's little still and not too many items get hung I decided to go for the rack instead and I really love the look!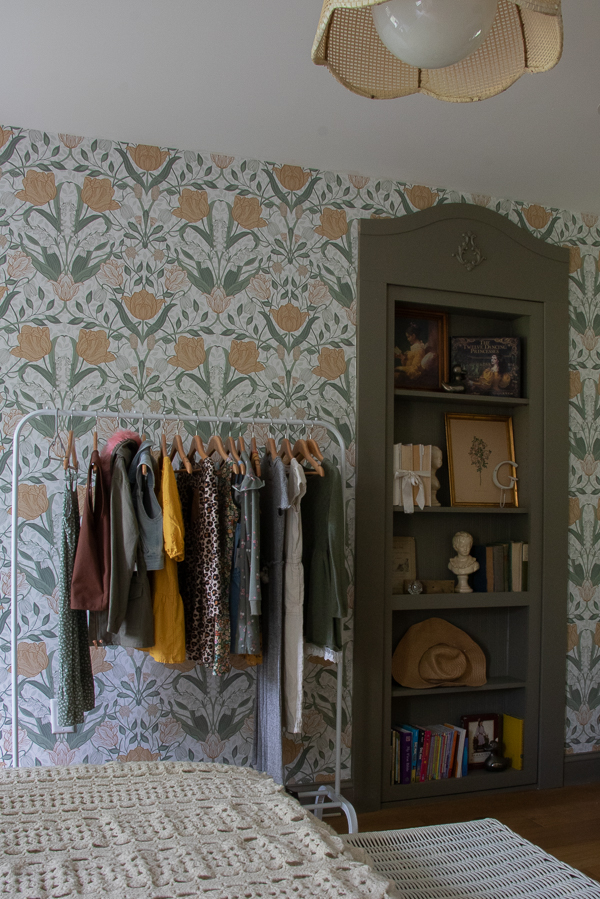 A true English cottage would have an amazing original built in probably and well we pulled this one off with this hidden door bookcase, from Murphydoor.com I shared more about the door here in this blog post.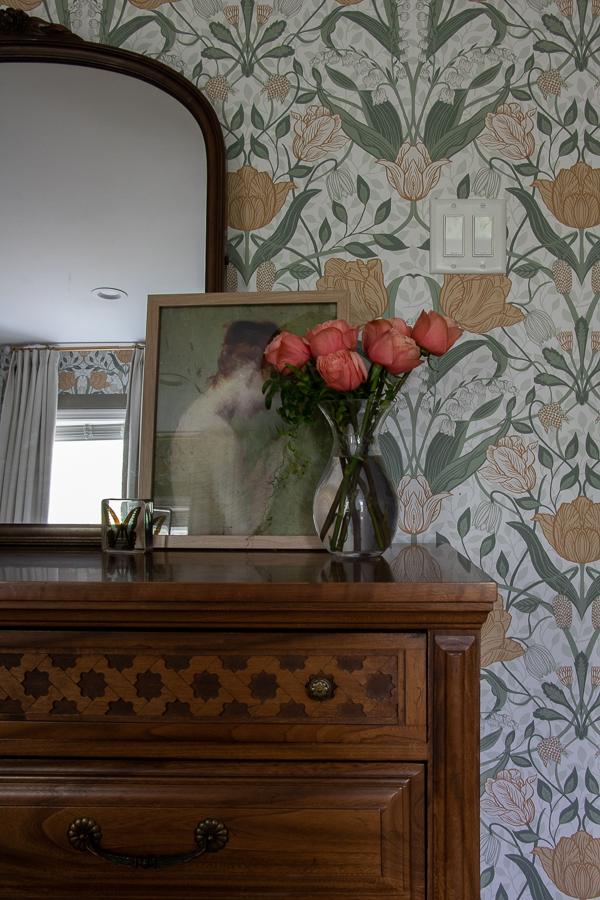 The perfect dresser took forever to find, but the photos do no justice. This $40 Facebook Marketplace pickup is perfect for my 9 year old. It won't be something she can grow with so eventually when the clothes get bigger she will need bigger drawers, but the details and the price were hard to pass up. I can see her getting 3-4 years out of it at least.
The question was if I should paint it or not, and I really wanted a wood dresser. She has a painted side table, basket, and molding and doors…so I think her room needed that contrast with some wood.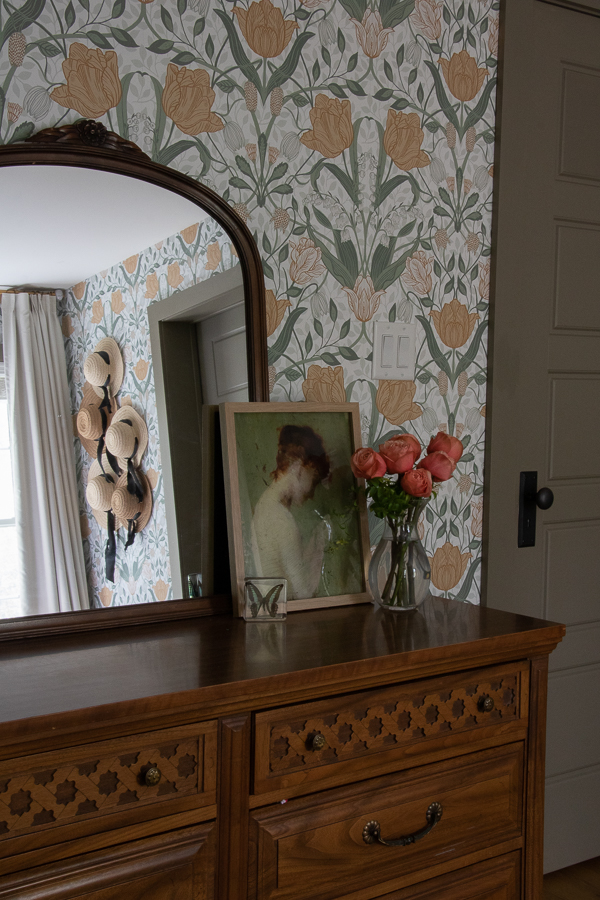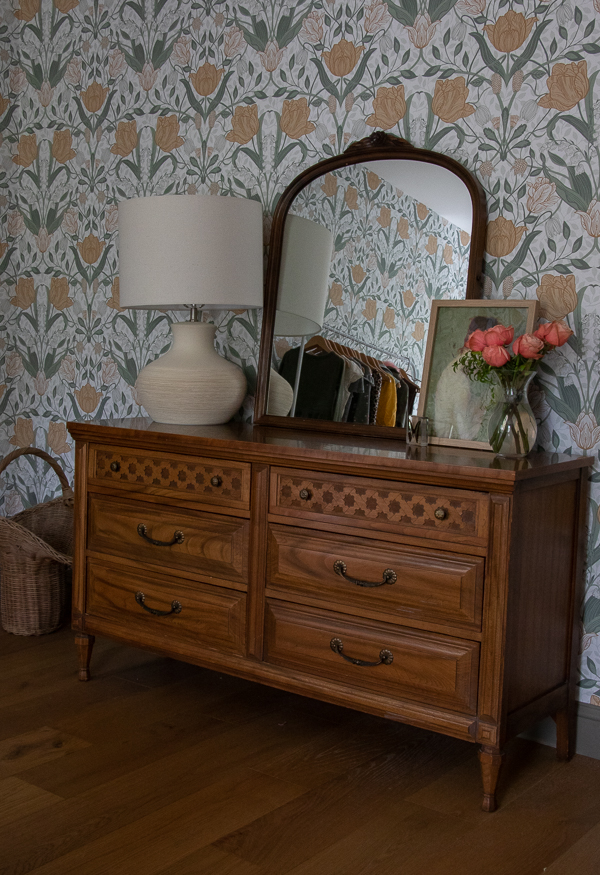 I paired it with this $15 flea market mirror or was it $5 oh gosh I can't remember, but it was a great deal and I think it looks perfect here. The lamp is temporary but having the additional lighting is great for this space. I think something a little smaller and maybe a pleated fabric shade, YES!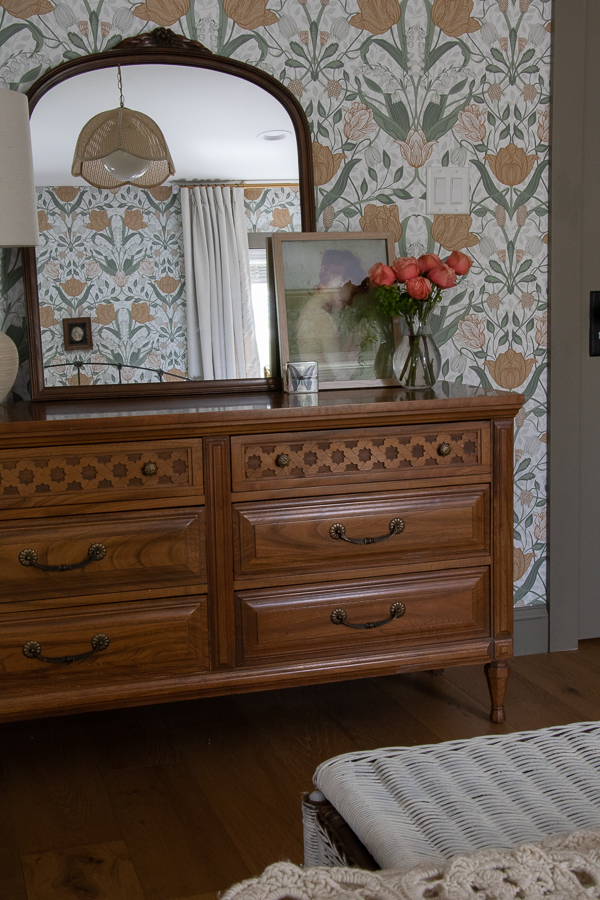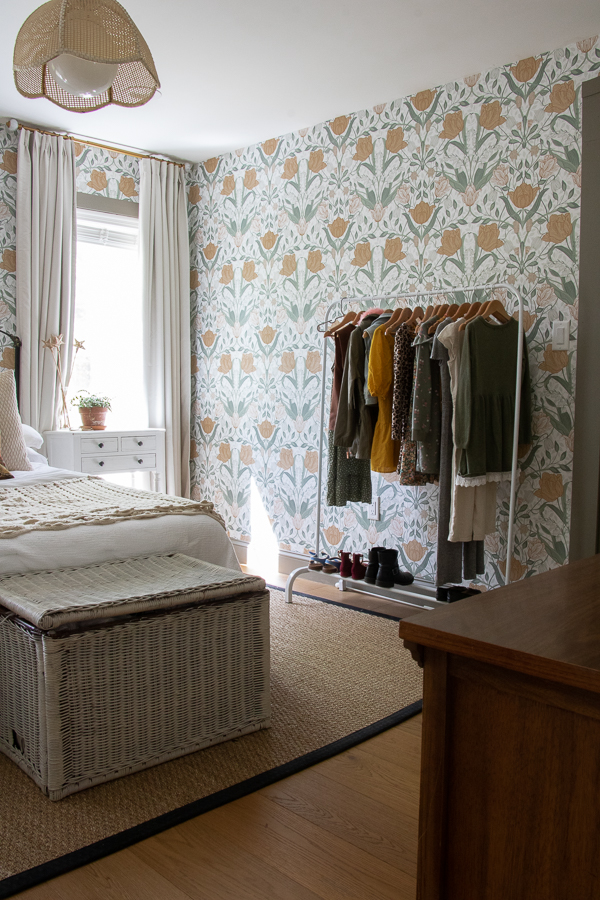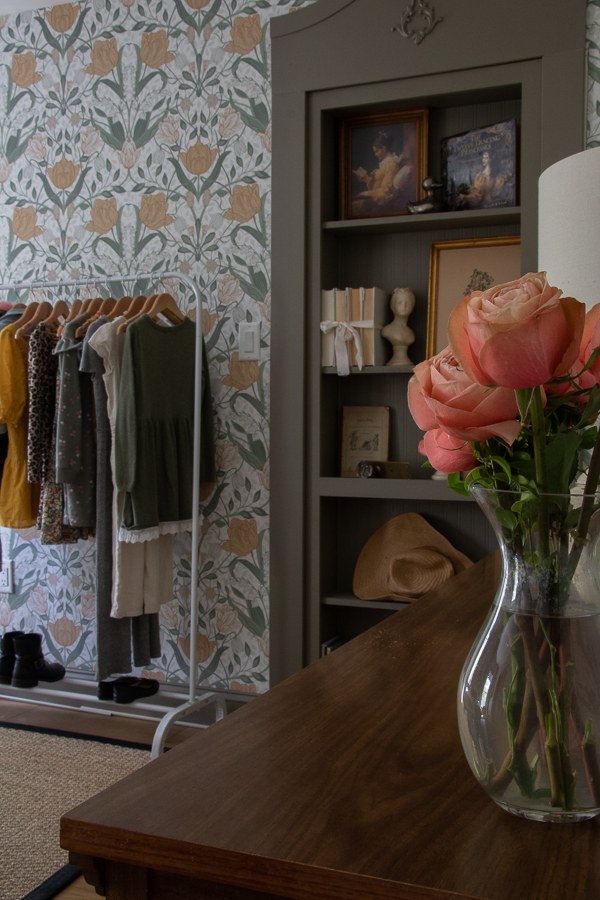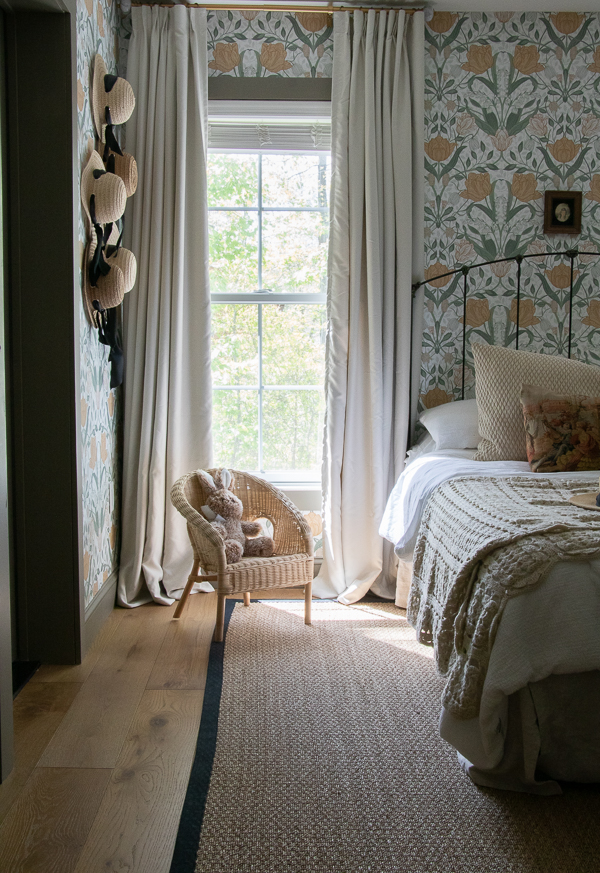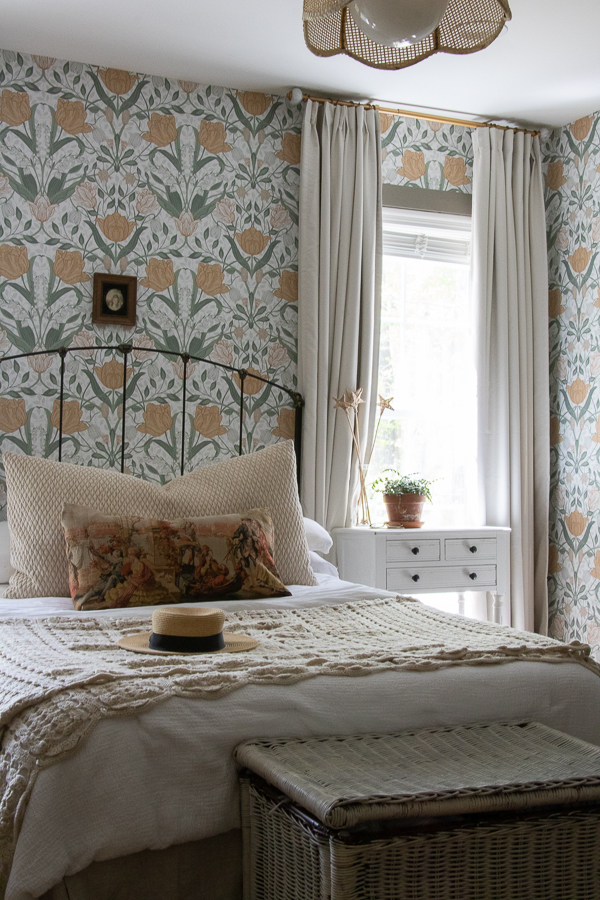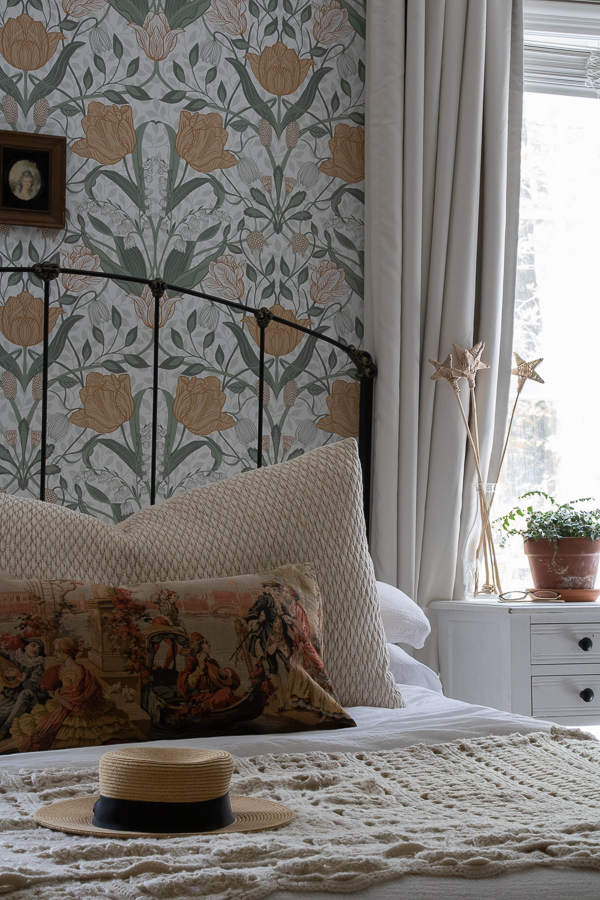 Above the bed I wanted something simple. I felt the rest of the room she had a lot of competing artwork and to create a vintage feel I went back with a small scale picture above the bed. I mean can't you imagine the English country side cottage back bedroom with something similar?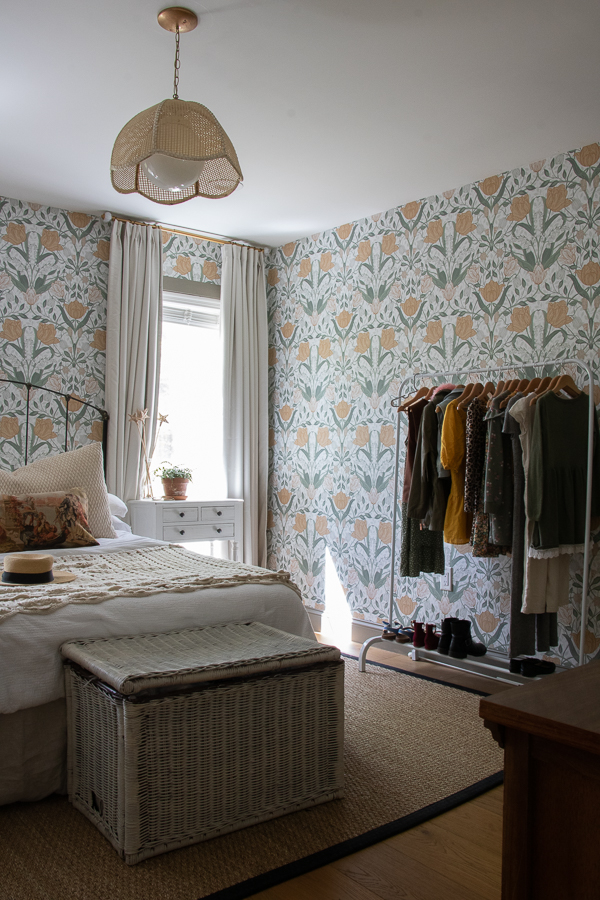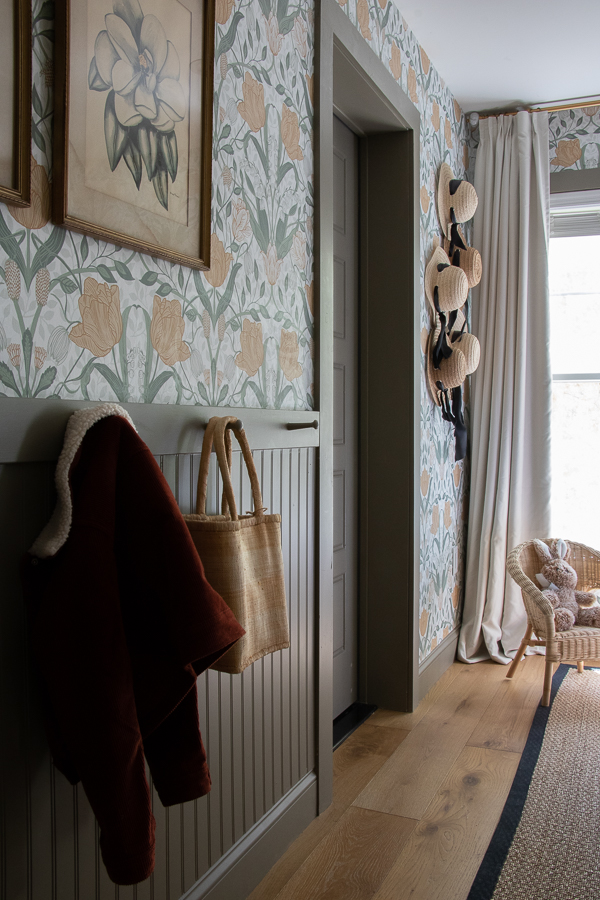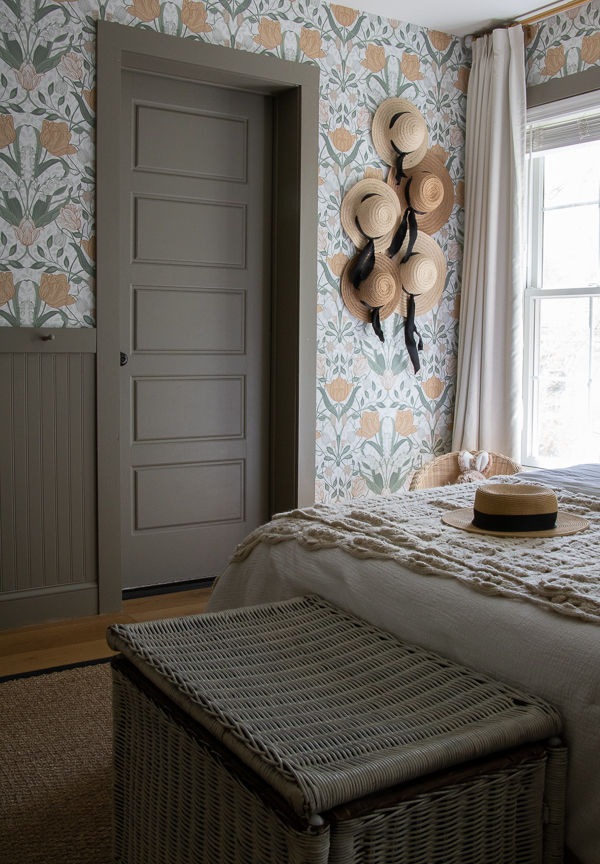 I could not give up the hat wall idea from her previous room design, but I moved it to this corner and love the texture it gives this wall. I kept the black ribbons because the contrast is just so pretty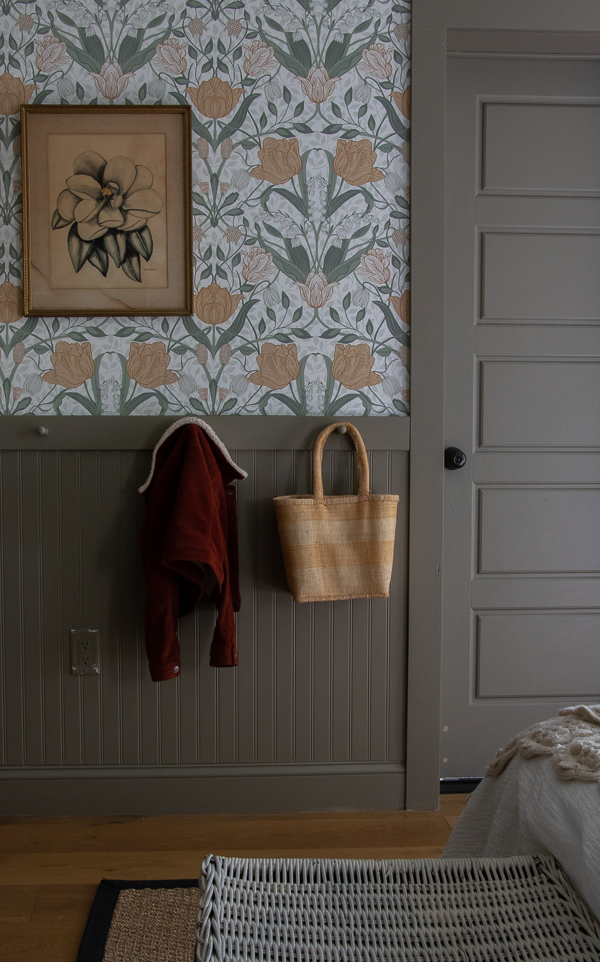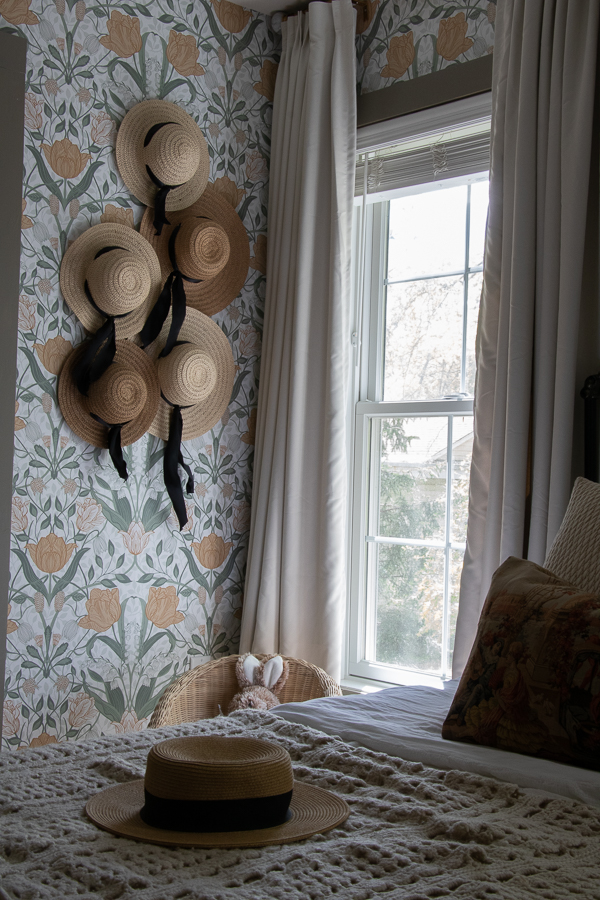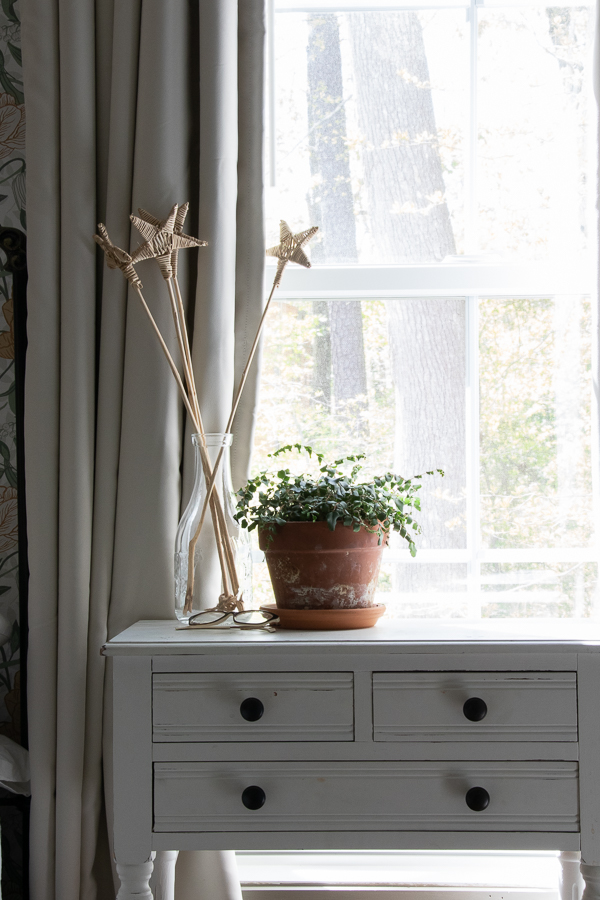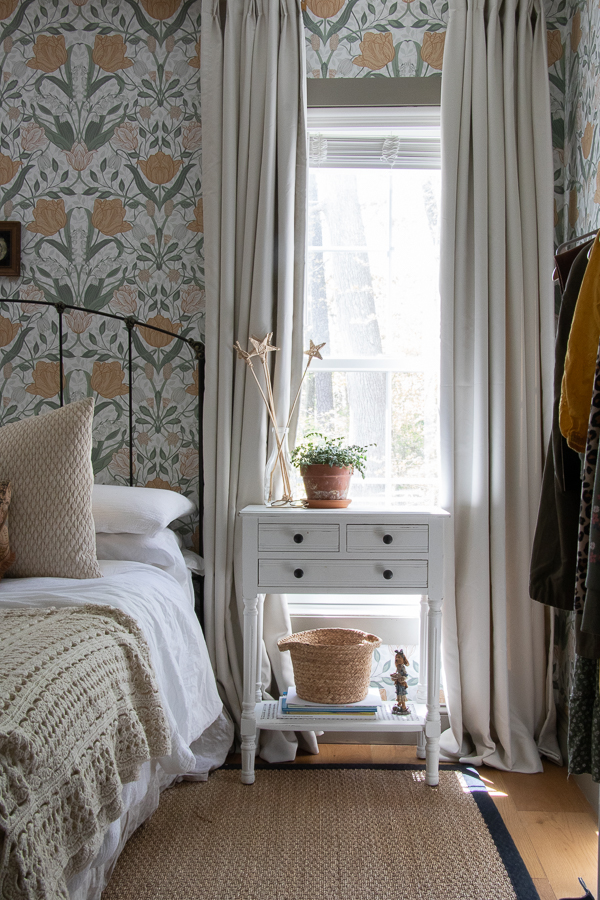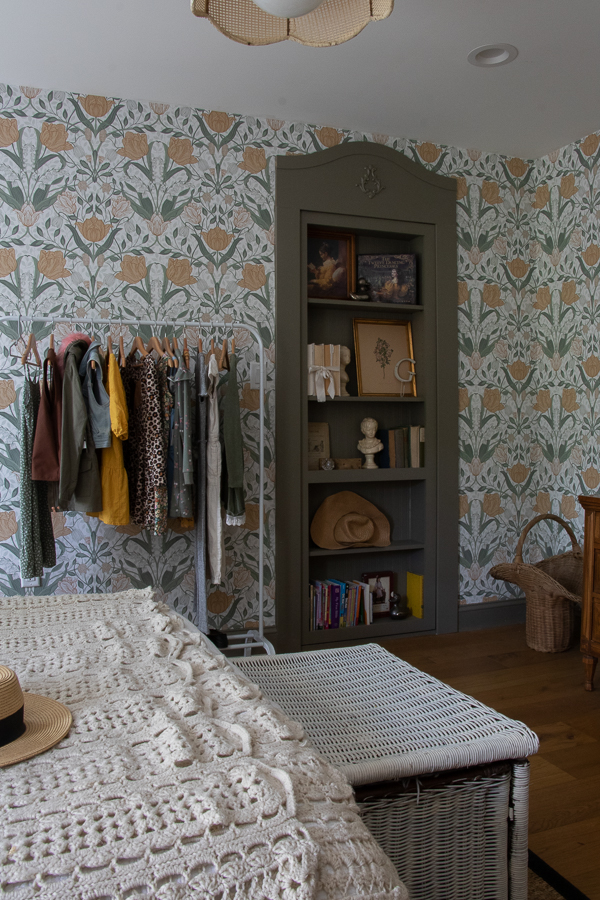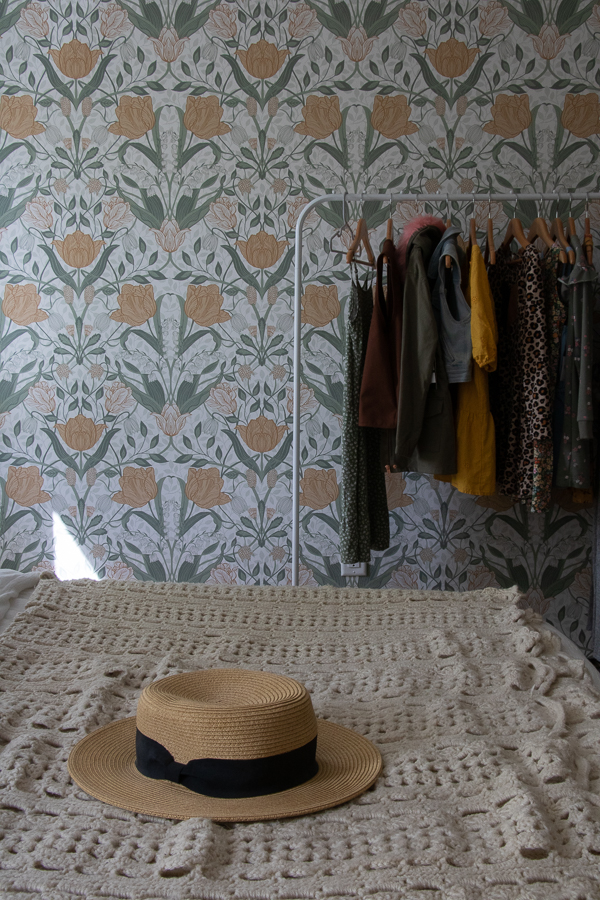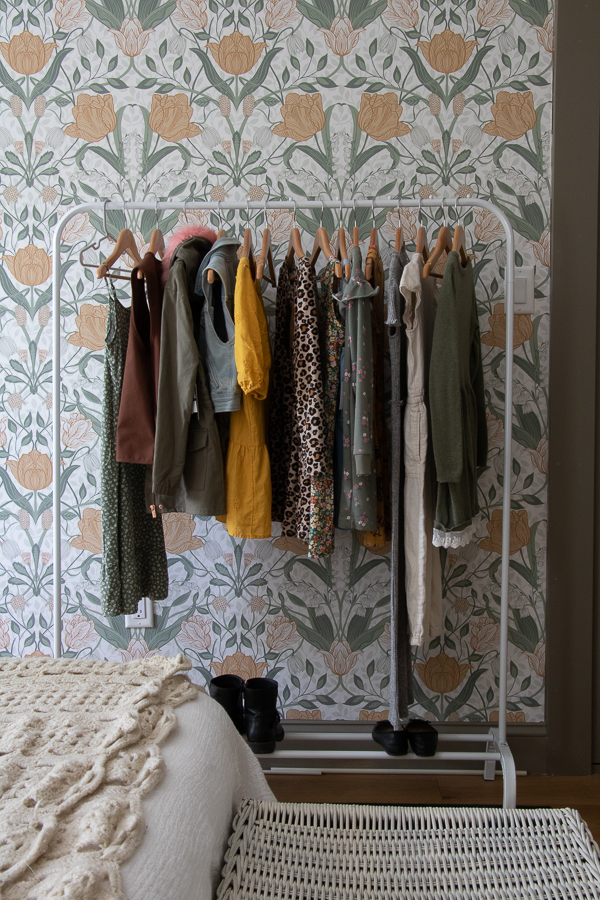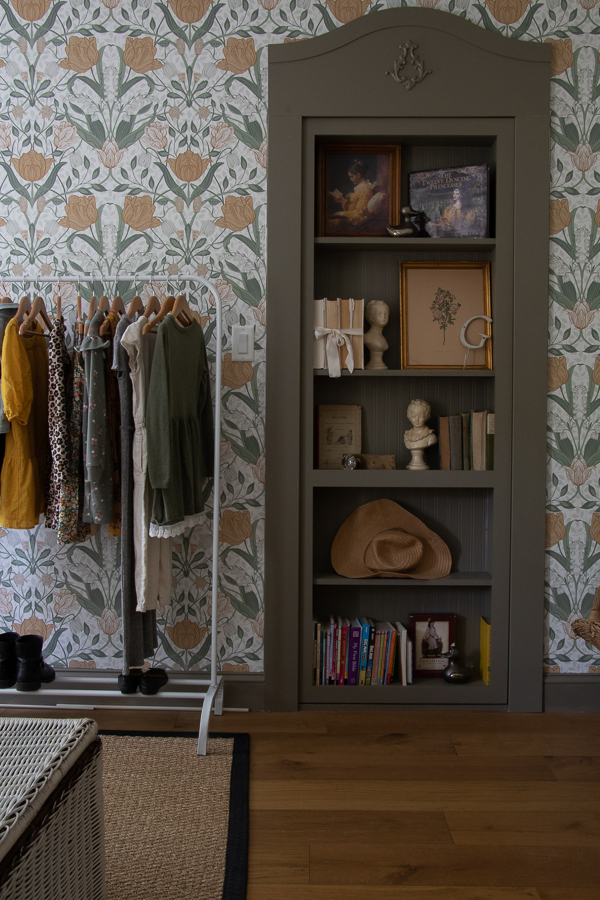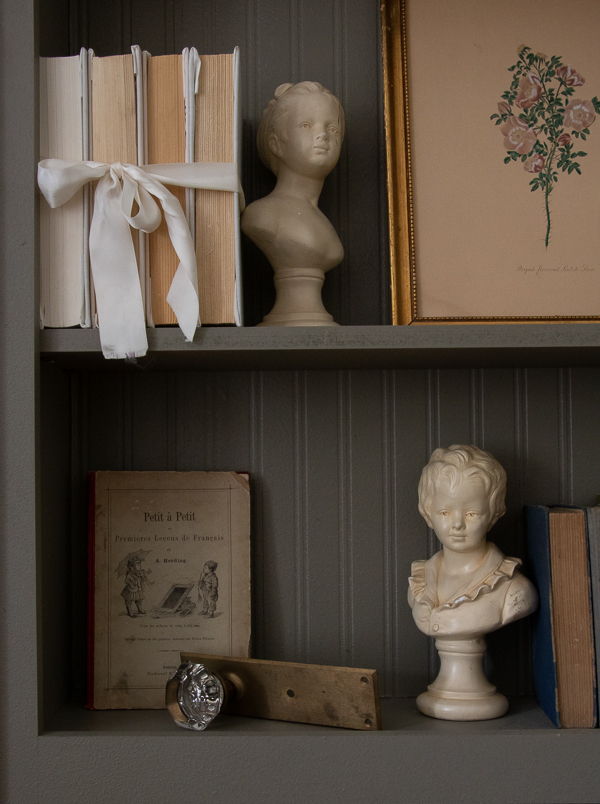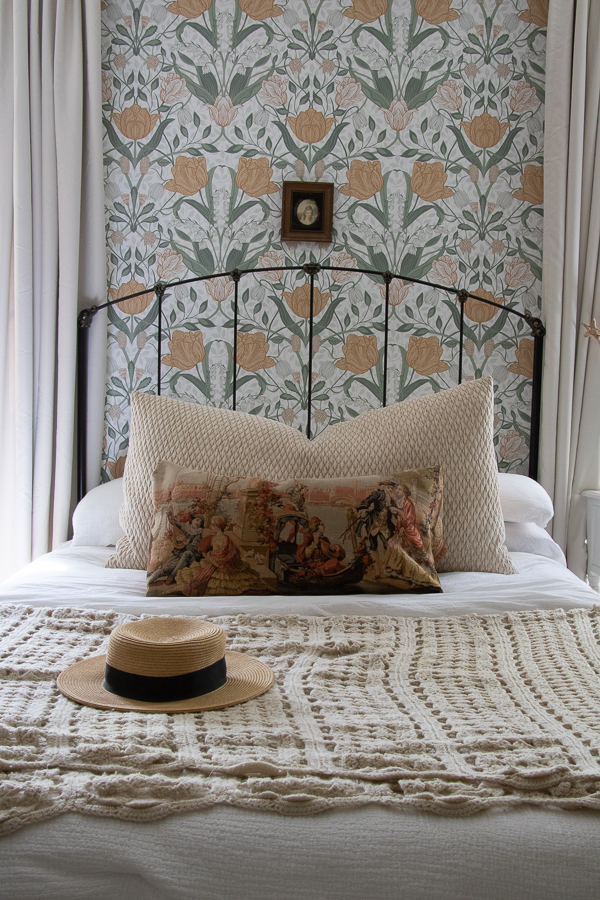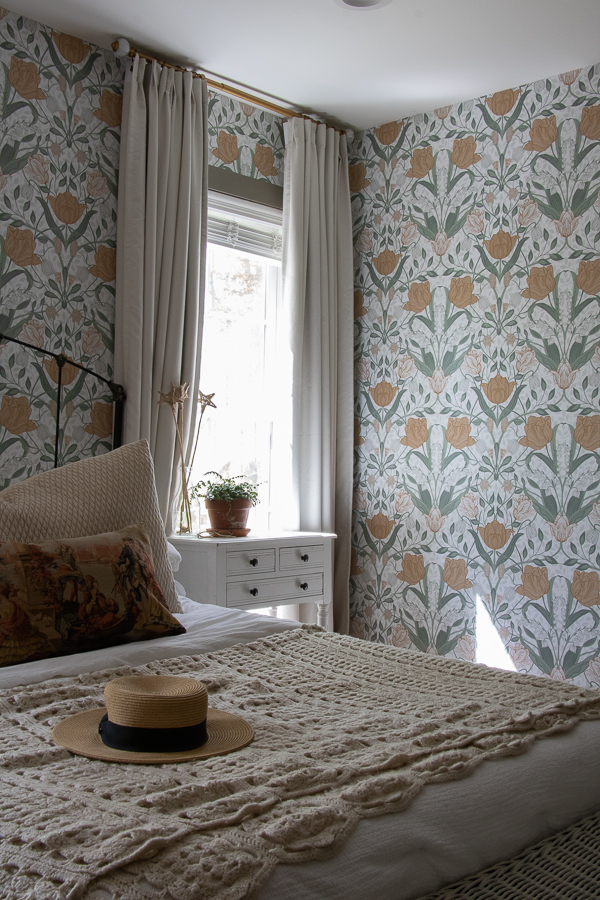 That's it! The sweet girl's English Cottage bedroom design that took 6 months to make. We had a few delays like the closet door and dresser, but sometimes projects go that way, and that's totally okay. I see so many projects being done in one weekend on instagram and the fact is, we are not ALL in that kind of position to finish a project over night. Of course impulsive me loves a good one day or one hour project, but some are worth the wait and this one definitely was. We love how it turned out and I hope its something Gemma feels happy to grow up in.
Room sources:
Trim color: Copley Gray BM
Thanks to the sponsors that helped make this makeover possible!