Have you been following along on Instagram? We have been talking about doing some yard work both front and backyard. It's been a work in progress and last year we were all about just getting our yard graded, planting grass (who remembers when it was all dirt still), and doing a little planting. We knew we needed to plant some more grass in the fall and so by this spring we could finally tackle some real landscaping and outdoor projects. Our grass is still eh, but we're going to work with it and around it until it's right. That's hubby's goal…he loves a good perfect lawn! For me its all about dreaming up the European garden!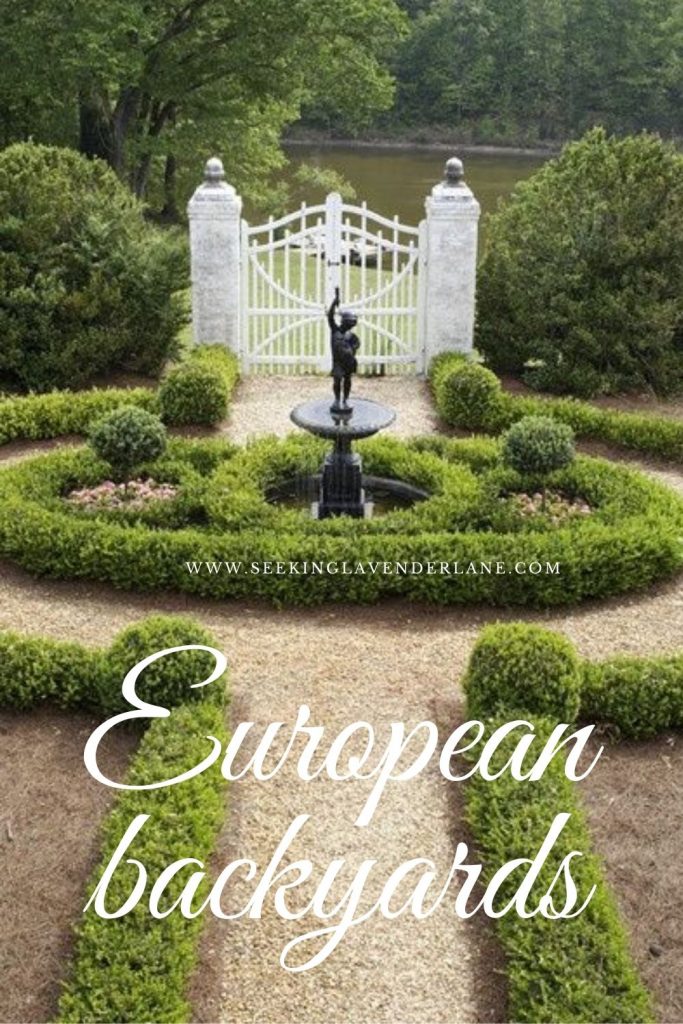 He and I were talking last night about our first summer in our rental property. We had been living with my parents our first two years of marriage and we finally were out on our own. I got a job after graduating from college and hubby was finally making a little more money since we were out of the recession and it was time to finally move out and have a place of our own. Anthony (my son was 2 at the time) and after tackling a few paint project throughout that winter, the spring came and we had our own little section of the yard (since we shared it with our landlords). We put up a canopy tent and Dan laid out some pavers. We strung some lights and added some greenery and it was the best feeling. The first time I felt the al 'fresco style come out of me. Little did I know the European Farmhouse dream was just starting to form. We spent every morning and evening out in that little bistro setting and it was the greatest feeling.
In our last house we had tackled many outdoor project but it never felt the way I had wanted. The yard and having no backyard privacy just wasn't cozy and exciting for us. We did the best we could with setting up a fire pit, and making a few pretty patio tables…but I just never enjoyed that yard space.
So, now in our new property all I am craving is those same feelings we had back in our rental. That cozy and beautiful outdoor setting that I want to spend every minute enjoying in our warmer months here in NJ. Of course I have some bigger then my budget ideas, but I am trying to scale a few of those back to really envision a yard space that feels a little like Europe and a little like farmhouse that we could actually accomplish. I mean a great example is Patina Farm, I mean for real it's all the things I love. Farm animals, pea gravel, cottage vibes…just amazing! The farm animals probably will have to wait. We've talked about getting some chickens or ducks but with Mr. Luca I am a little concerned about(our dog) and this year it's just probably not going to happen. It for sure gives us something to look forward to in the future.
So let's talk about all the pretty European garden feels that I love and would desire for our backyard. Some a true possibility and some just dreamy inspiration.
What do European Backyards have that I love?
Pea Gravel courtyards!
This courtyard with the slate flooring and pea gravel is what I dream about! I'd love to have a beautiful rock fireplace too and of course a ton of boxwoods. This space is pure perfection! I love how it feels like bringing the indoors out!
2. Garden Center point! I love the idea of having a central point, with boxwoods. I mentioned that our backyard's center has a well-head. I've been wanting to cover it for a while now and I think I've figured out a solution. I plan to add a garden tower over the well and to surround that by a boxwood hedge and a diamond made of some lumber. I think the diamond will be a great way to bring our diamond windows out to the yard.
3. Fountain!
I'd love a fountain some place in our backyard. Most likely in the "courtyard we plan to create. I had thought about making one, but I'm still not sure yet. This is one that I truly love!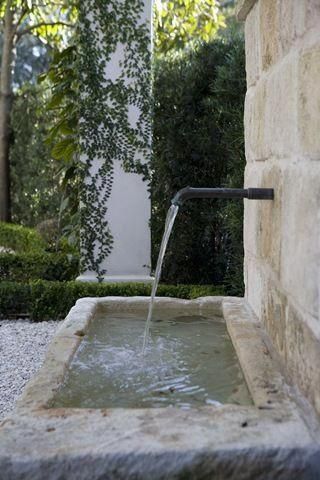 4. European Stone Fireplace- We currently have a fire-pit that we've had for the past few years, but I dream of a beautiful stone fireplace like this one. Something that blends with our wooden backyard and feels "natural" but also has height to block out some of the wooded area too. This is one hubby agrees with, just not sure it'll be a "this summer" project.
5. Wicker Bistro set, I love the feel of this setting here, it's the perfect European vibe for dining and sipping coffee.
6. Garden Planters- these cedar planter boxes are the perfect solution for adding a garden. I love how they are surrounded by pea-gravel and concrete stone pavers. See here how we ended up making ours.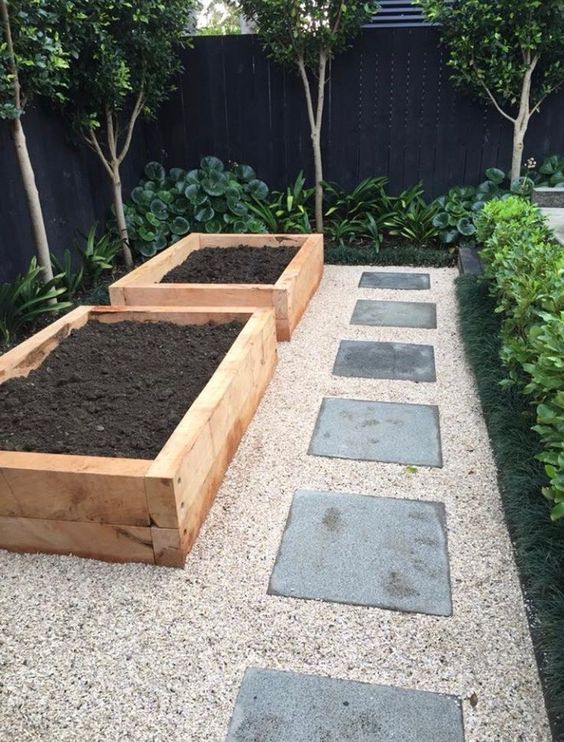 7. Chicken Coop– long term goals here, but a true European farm feel would be to have a beautiful cedar chicken coop.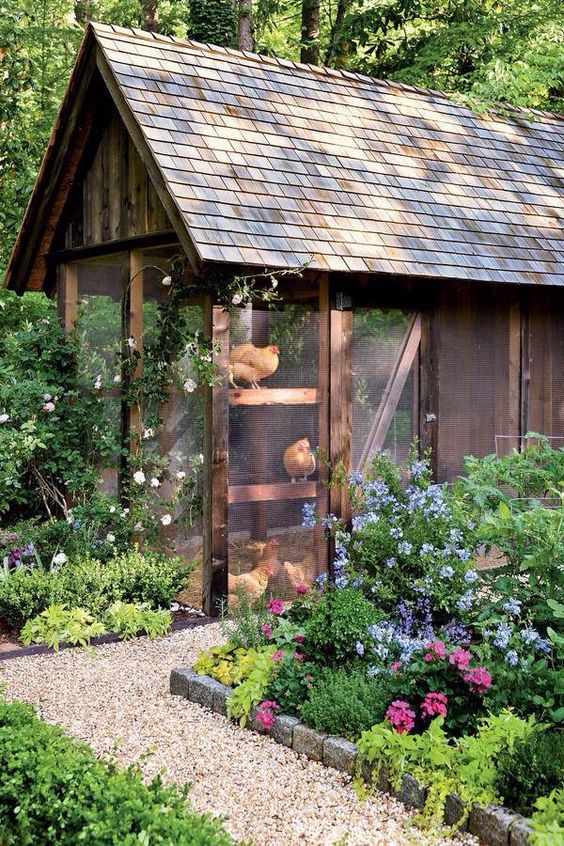 8. Pavers and Boxwoods– yes, I'm consistent, but I love this clean look. A reader of mine sent it to me, and it's perfection! I even love that sweet little bench.
9. A beautiful sleek pool would be the dream one day!
10. Vintage Pottery and Urns- finding new or old pottery that makes the space feel European aged!
Okay, so a lot of these ideas are going to take time and money, but the European garden dream is there! A little of this and little of that will hopefully form some beautiful European feels to our backyard space and I'm looking forward to some of this look, this year! I want to embrace our woods and keep with a natural feel, but I also need to be practical and know that this is a space that our kids use for playing. The way we have it planned is the yard will be divided for that quaint courtyard and garden beds, but to still have the yard for the kids to play soccer and run around. Another practical idea is that I don't have the best green thumb (yet) so selecting plants that will be hardy and low maintenance is a must…to that boxwoods will be my saving grace!
Do you have a "European" backyard or one that you desire, what do you have or want to make it even more so feel like your dining in the countryside of France?
Come see how our European Garden year 1 turned out!