I have been doing a little daydreaming here lately. I truly love getting lost in a new project idea and think of all the special touches that could bring a new space together. I've been sharing a bit about our Shed interior makeover that I have been working on. Its been a storage shed up until now and well, we need it for function and to have another creative space. So the European She-shed design plans have been surfacing.
This post contains affiliate links that I make a small commission from with no added cost to your purchase.
Since adding our little ducks to our family I have been thinking of ways to make feeding and giving them water easier. So a Garden shed idea I thought would be the best way, but we imagine using it for so much more too. Think creative space, possible workshops, a new area to advertise for our photoshoots we have at our house, and I imagine some lovely fall nights hanging here…maybe projector and sofa?!
We have a lot to think of and still decide besides having a great sink area, but in time it can evolve and maybe even change as our lives change.
I started thinking about how I envisioned the space and truly I think all the European vibes and tons of texture, but also a relaxed space that still feels like a shed conversion. I don't want dry wall and to cover it all up. Maybe if it was a pole barn it would be different, but I still feel having the shed bones are important for the true character of the space and to still keep with all the shed vibes, but cute!
The main inspiration came from this photo that I had found and it made me realized how much I desired a moody she-shed rather then a bright and airy one or even a wooden one which was kind of what I thought originally.
What I love most about this is the idea of adding vintage furniture, the vintage artwork, and using the space for formal and casual setting.
Here's some design boards I put together to achieve a moody European she-shed. I would love to know what's your favorite and what details you definitely think we should have. Just envision all the spaces having terracotta pots lined on a shelf, vintage art hung on the walls, moody paneled she-shed walls, and a marble table with a bust centerpiece.
DESIGN #1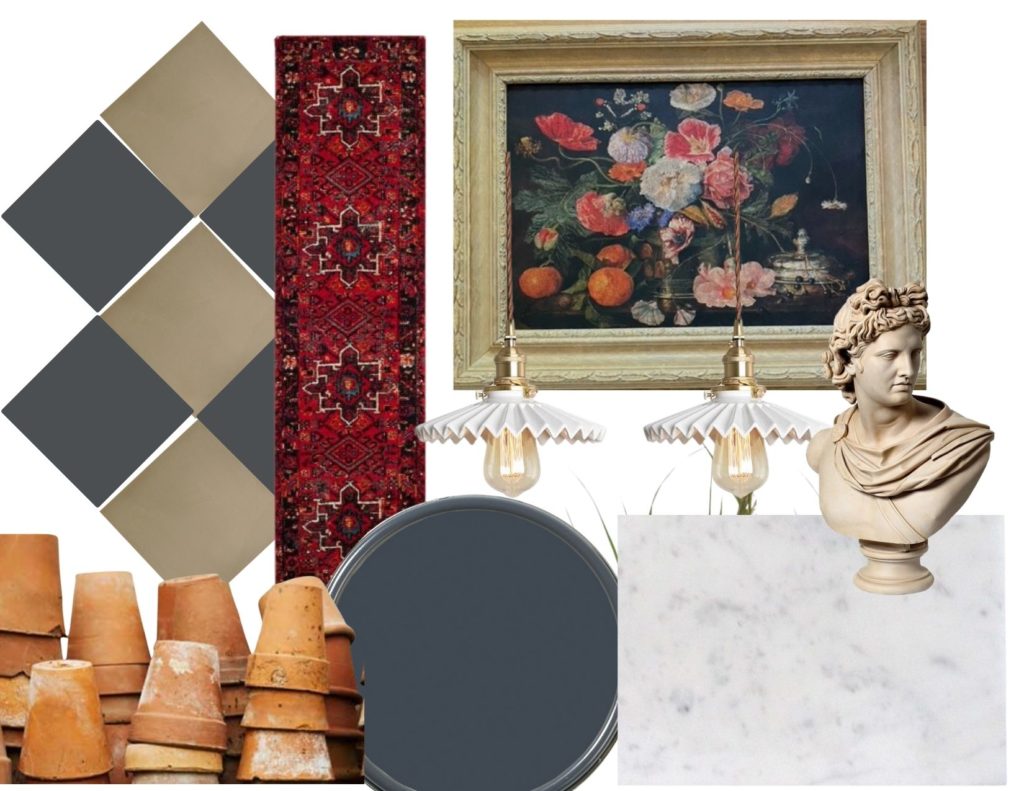 This one above was my first idea, I wanted to do a gray-blue color since the red runner I have, has touches of blue in it. It's the perfect moody color but with a touch of color, I def know I don't want to do black in here.
Source: Tiles, Lights, Paint: Cheating Heart BM
DESIGN #2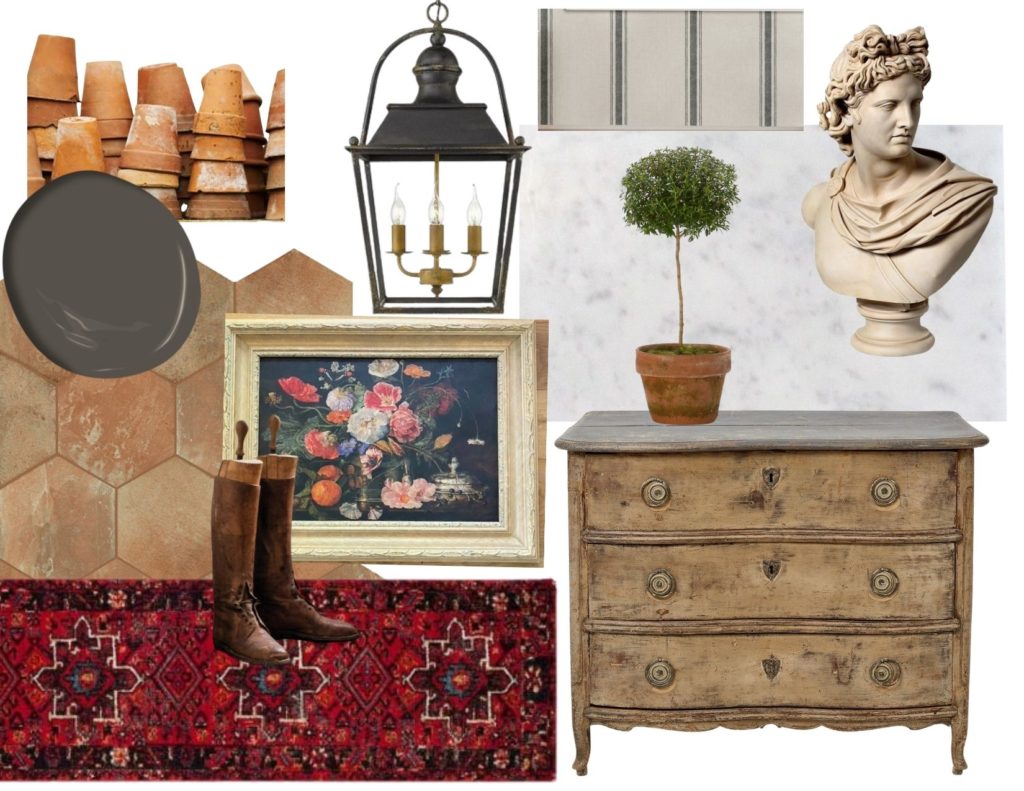 I love the idea of a terracotta tile too! It's something I desired in our house when we were building and renovating, but I was a little afraid to go that bold with a warm colored tile and glad I didn't, our hardwood floors are warm enough and it probably would feel to flat with them, but the shed could be the PERFECT SPOT, and the ones I found here were a great price. Pairing that with a moody warm paint color and I think maybe lantern style to give more of an indoor outdoor feel would be so fabulous. I think a touch of grain sack would be so classic French style, torn between wallpaper or curtain, but that simple stripe will be so good.
Source: Tiles, Light Fixture, Paint: Dragon's Breath BM
DESIGN #2B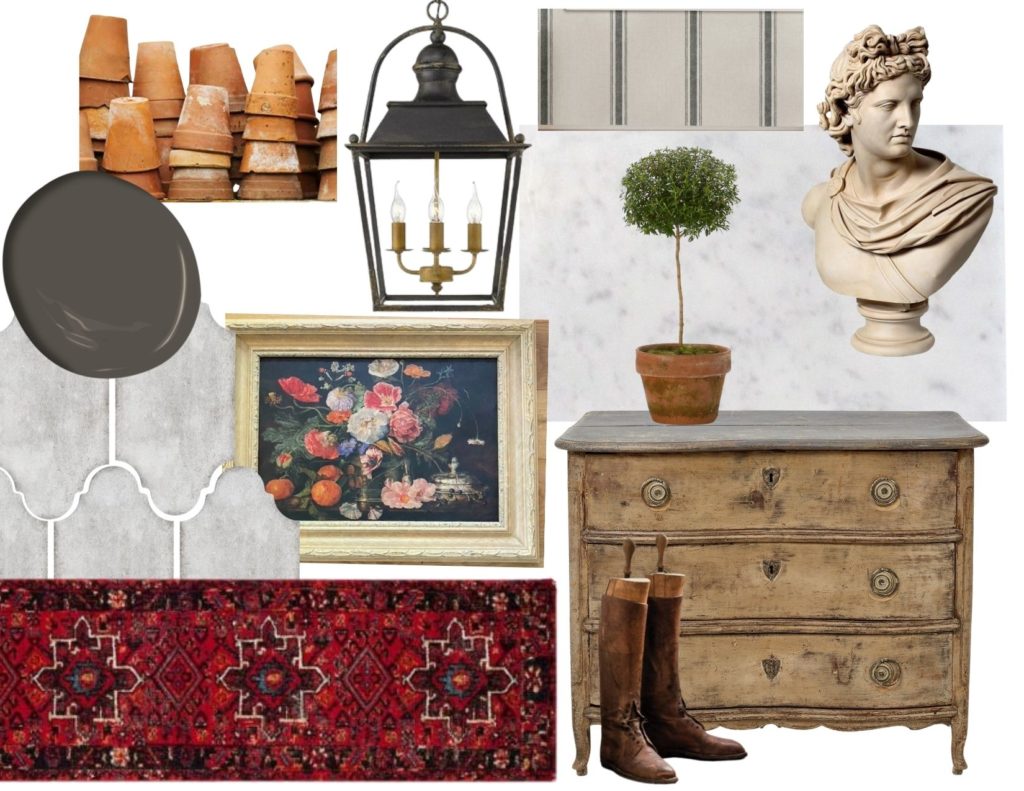 DESIGN #3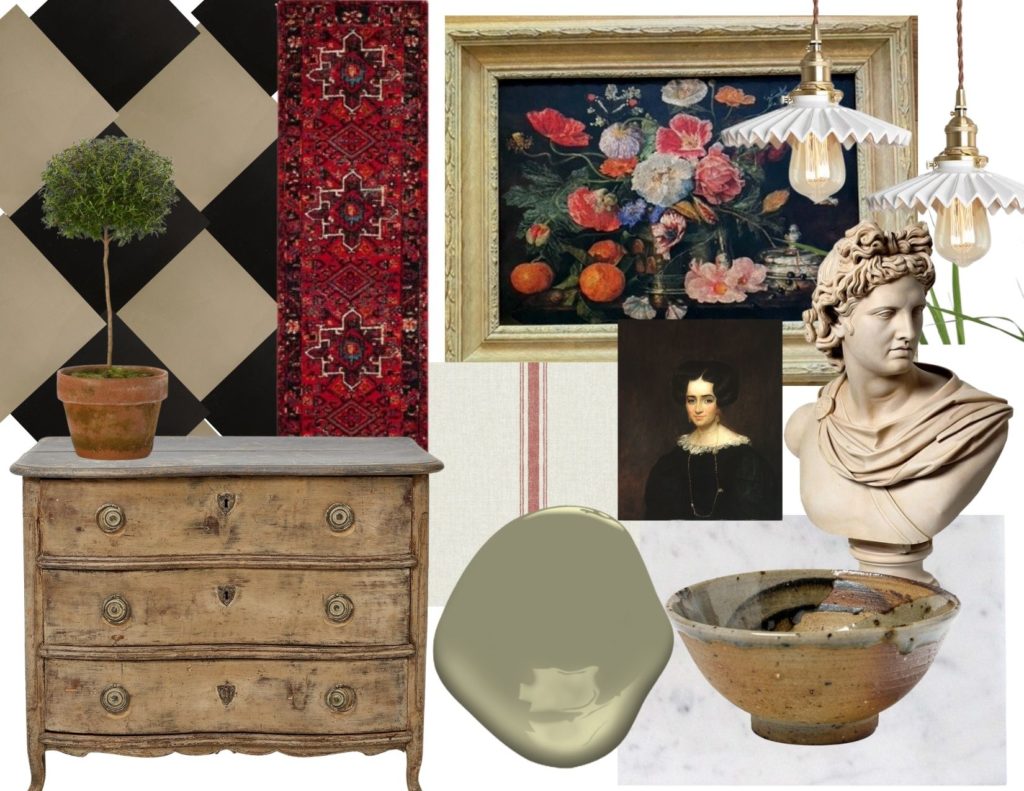 The most unexpected one was this design, I just love the idea of beige and black cement tiles either in a diamond or check styled. With a moody green paint color, and touches of red! I know I'm not a red girl, but that red grain sack with the red runner just feels like they just work! My favorite color combination in the whole world is brown and black so it would be the perfect room to see that vision come together.
Source: Floors, Runner, Paint color: Wethersfield moss BM
The idea of a cement like floor or limestone has also been a big contender too. I think it will all fall based on the flooring and maybe a little combination of them each. I'd love to know if you have a favorite design? paint color? or floor. The accessories can change, but those are the most important pieces to seeing this vision come together.
(Visited 1,885 times, 1 visits today)