We have been working so hard the last 6-7 weeks on our DIY Duck run….or maybe it was 8 weeks. Either way it took a little longer than expected, but we are so happy to say we can officially share the reveal with you all today. I have a few more details I'd like to add (like always) and I'll be sharing about that today too.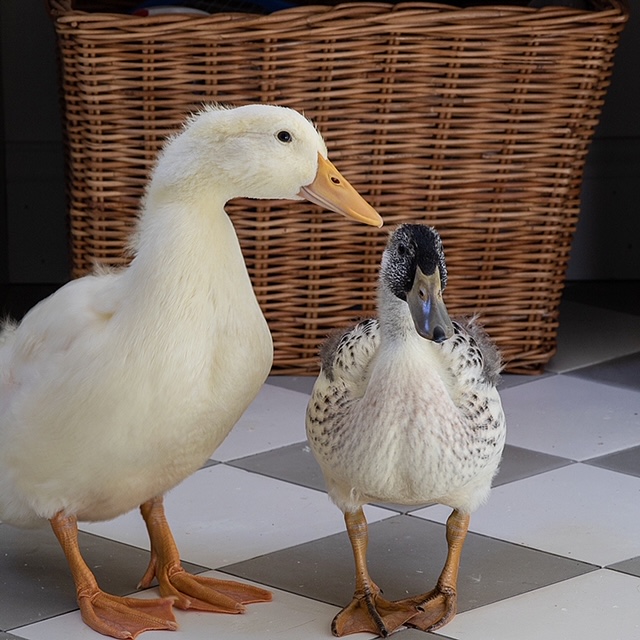 Just a little background on ducks, why ducks, and our story behind them first…
We originally ordered our ducks from a hatchery in California back in early March. Our plan was to have them by April and watch all 4 of the little ducklings grow. We were excited about adding ducks to our family and a little nervous too. Unfortunately after ordering, the receipt I received said our ducklings would not arrive until early May instead.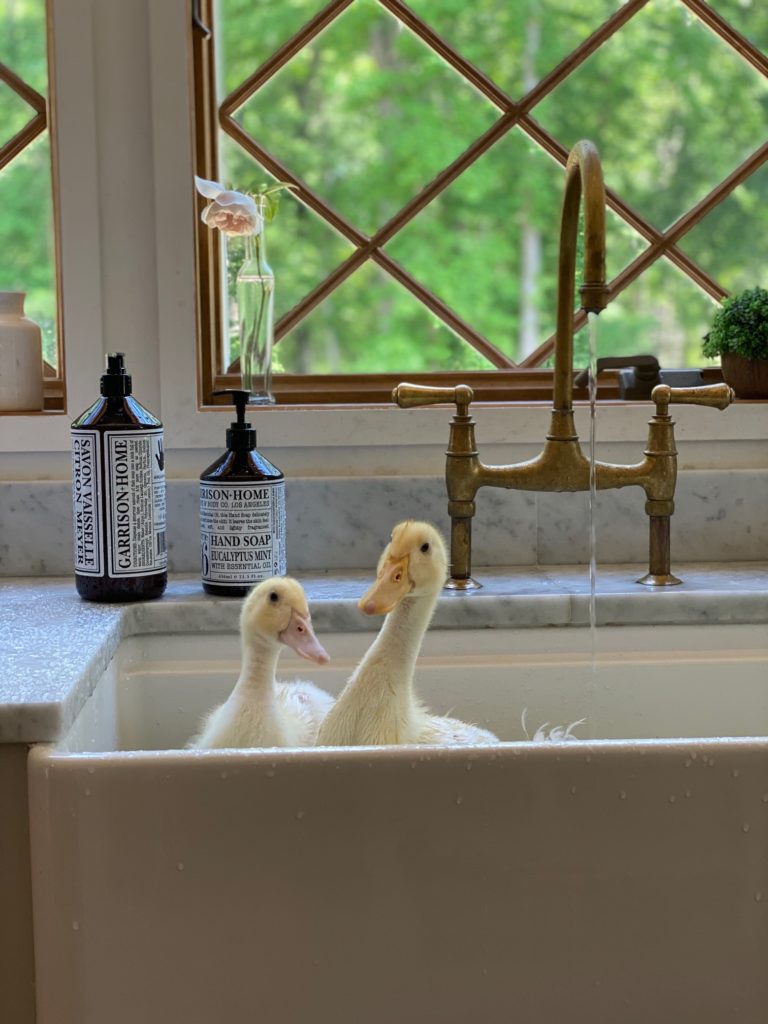 I had wanted to have chickens since we were in our last house, but because we lived in a more cookie cutter type neighborhood our property just wasn't the right kind to have ducks in our backyard. That was a big thing for me when we bought our current house was that we would have more private land and that I could possibly add our chickens to.
Year one in our house was all about getting our house together and trying to just get our property to not be an entire mud pit. Then year two we worked on our kitchen garden. I shared about that here in my blog post and you can see more of the process on my Instagram stories here. That was a blast and it added that "experience" to our yard. We absolutely love having a garden especially during the summer months here. I knew it wasn't quite right about adding chickens yet, but then I started seeing some of my favorite Instagram accounts sharing their little duck friends. That had me thinking and falling in love with their little faces. Should we get ducks instead of chickens?
I personally thought ducks might be just a cuter option and they too lay eggs and from my understanding a very delicious egg! So, I thought why not…I love that they are a little different since I'm always trying not to follow the crowd too much, I felt they carried less diseases and were also a better option in our cold winters here in NJ. So, to sum up the "WHY ducks?" Cuteness, eggs, and better option for our climate. Of course the two things I wish we had for them here is the option to free range and a true pond or creek they could swim in. Being in a wooded neighborhood we have a ton of predators in our backyard and a ton of HAWKS so to free range is just not an option, though I plan to let them out from time to time if there's a few of us hovering over them and maybe add a true pond in our backyard that they can swim in sometimes.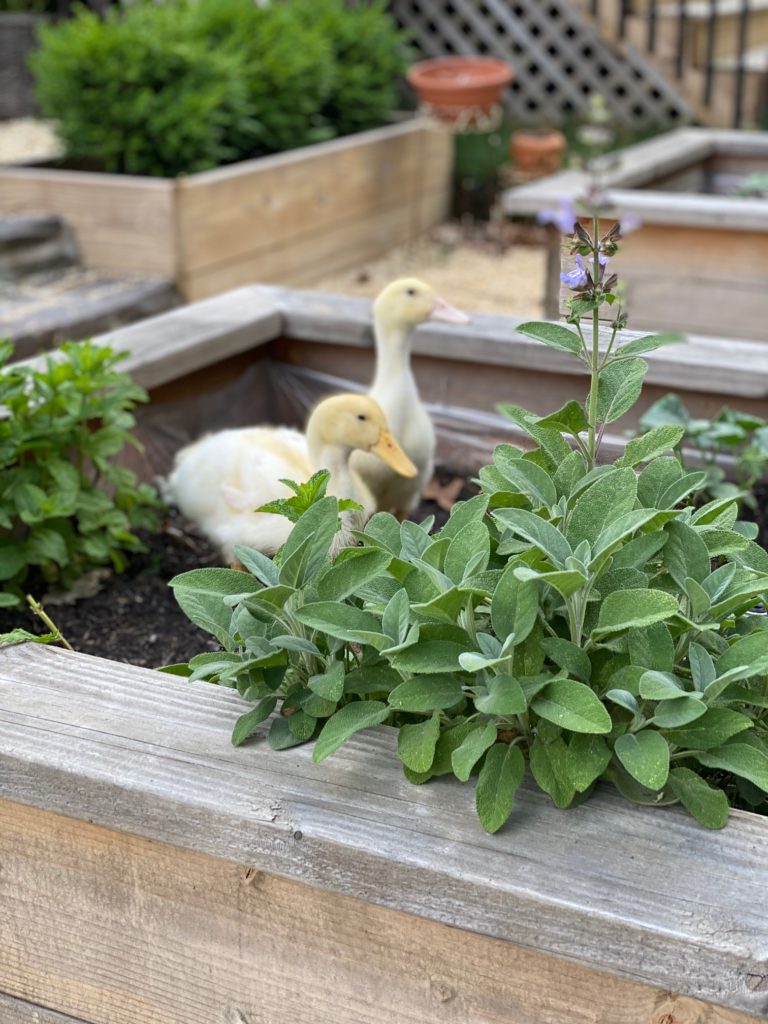 Long story short our 4 ducks were delayed until May and we just didn't want to wait that long, so we decided to pick up some Easter ducks here locally. They were 2 weeks old rather than 3 days, but they were so cute and we fell so in love. Then it was time to cancel our other order because we did not need 6 ducks…but the hatchery would not answer our customer service emails and so 4 ducks were on our way just as our two babies were all grown and ready for the coop. We worked so hard on the run to get it done in time for our first ducks to be able to move in but still needed some finishing touches that we worked on for the next few weeks.
* Pro TIP have your coop and run done before buying ducks or chickens. The stress of getting them out of the house and it not being done was a lot and I wish we had done that first.
Our 4 little 5 day old ducklings arrived in early May, and unfortunately was not a great experience. I would not personally order from another hatchery again. 3 days in a box across the US was not handled the way I had expected them too and we lost two of our ducks. So we ended up with the two healthy ones and are continuing to raise them inside until they are 8 weeks old.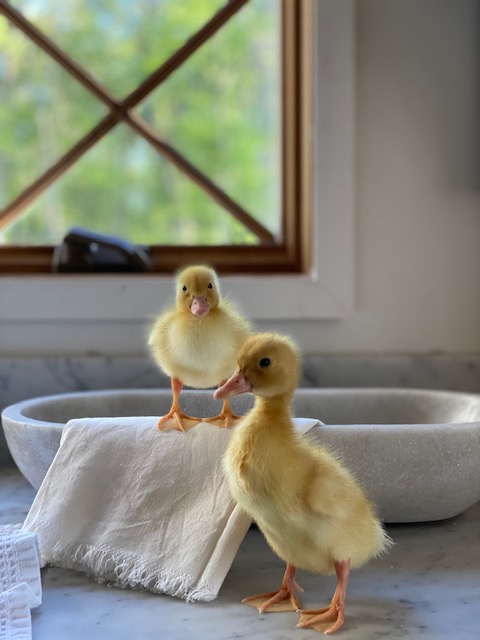 Our older ducks Pepe and Juliette are enjoying their coop and run so much and we just hope they allow the other two to join them. I've had them meet twice now but both experiences weren't great, so I hope by the time they are older it will be a better meet and greet.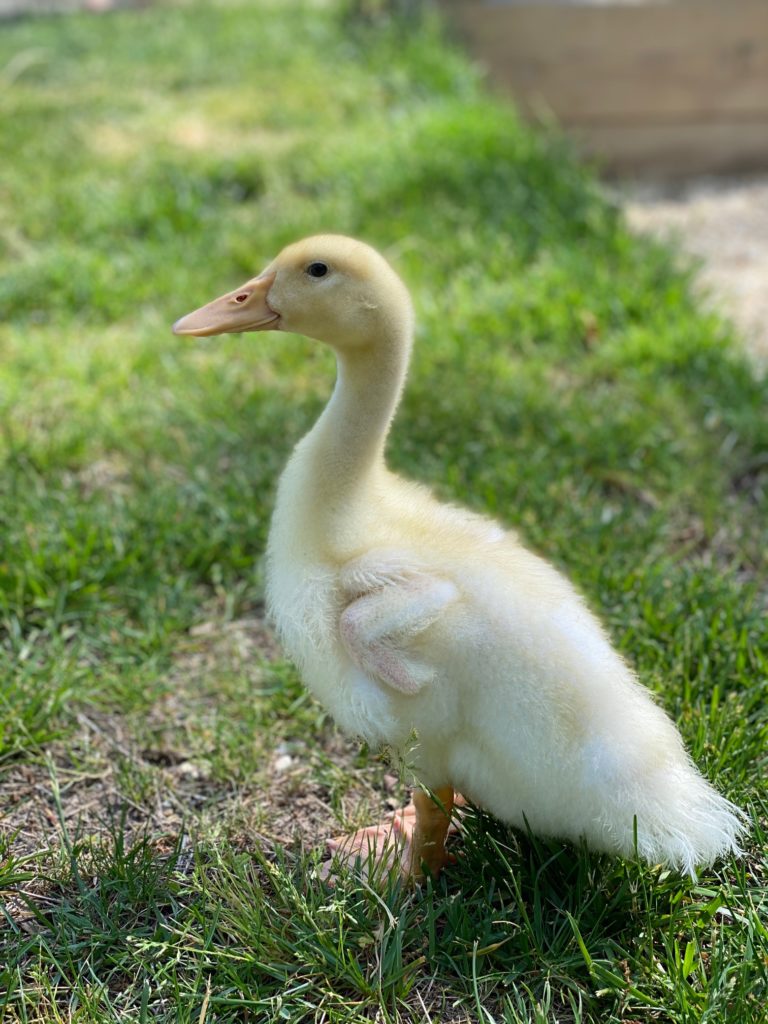 So now for the Coop details!
We decided to have our run attach to our shed. Its the perfect location in our yard for it and when we turn our shed into a she-shed/garden shed it will help with getting fresh water and food for them.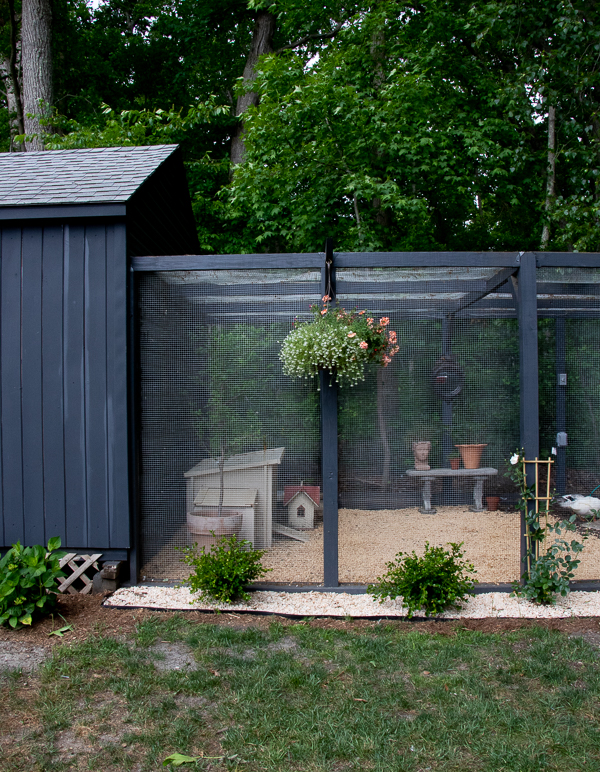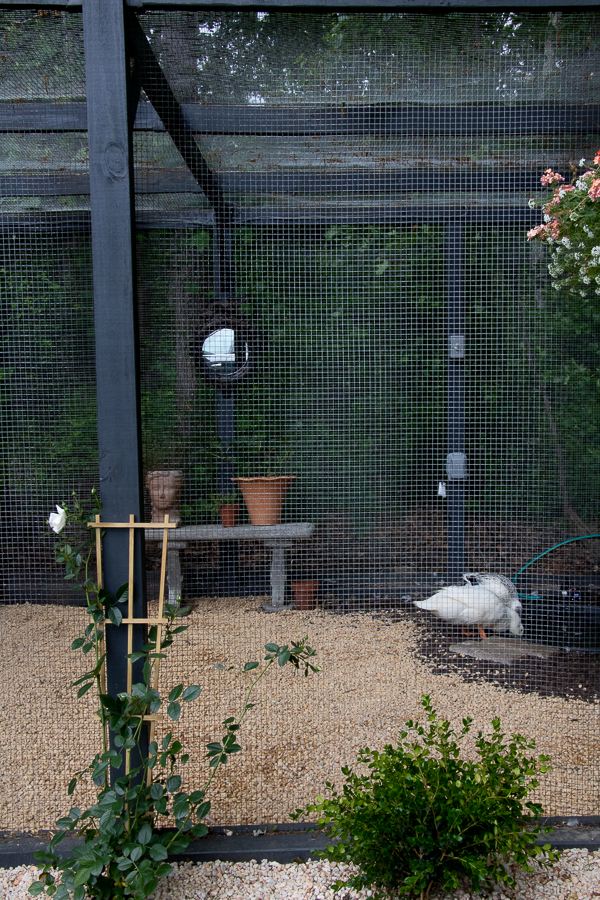 The color is graphite by BM and is such a stunning dark moody color but not quite black. We used hardware cloth to protect the ducklings since chicken wire is not strong enough to keep the predators out. We plan to add a roof before winter to cover the ducks more during the winter months and to also protect the run from collapsing if we get any snow, for now we added the hardware cloth also on top. The price of lumber going up did not help with this project either since it cost us way more then it normally would have. We made do with some scrap wood to help save some money, but lumber and hardware cloth def add up.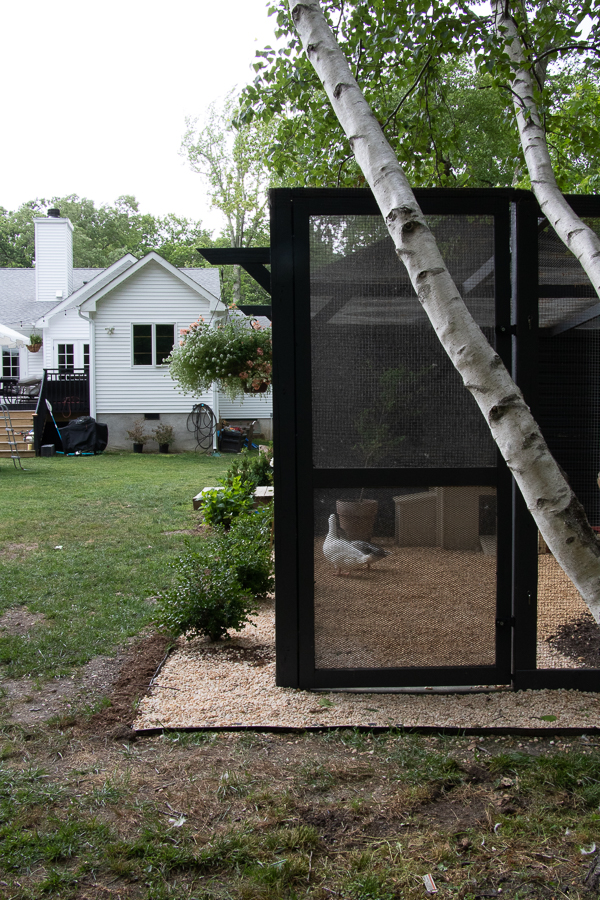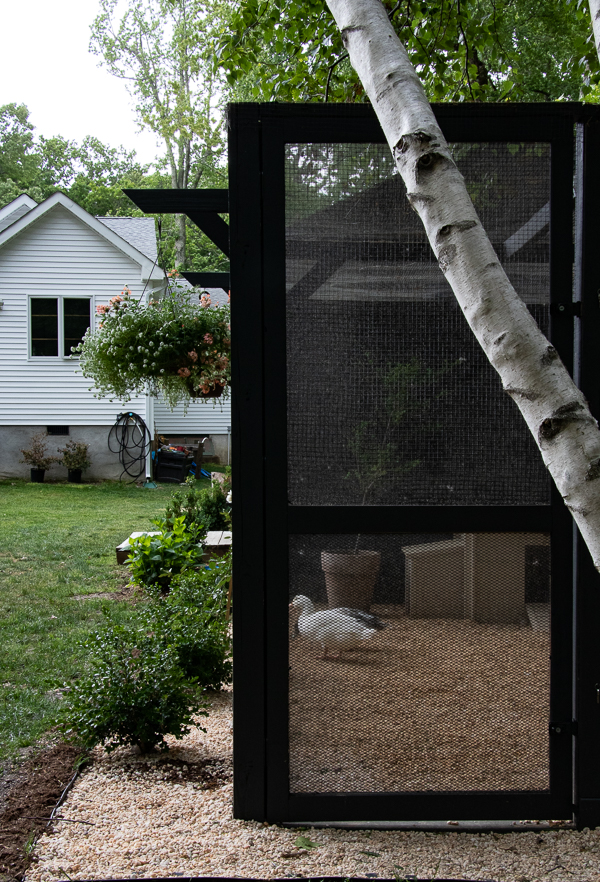 We added pea gravel to the inside and outside to create that European feel and also is a great way to keep away the mud. I'm not sure yet about smell or mess since its so new, but I can see it definitely helping. Then for the pond…we added a round pond in the corner which I love but we still have a few minor details to change about it. I'll share an update when we get there. I love the copper handle that hubby made to easily add fresh water and a switch to drain the pond with a pump. This was probably the longest process out of everything was running electric and plumbing out here, but definitely worth it!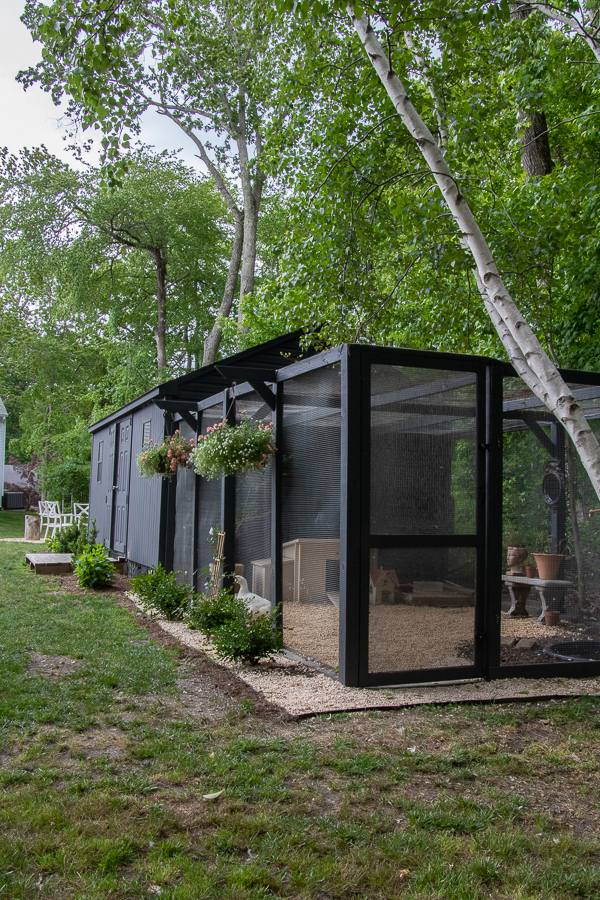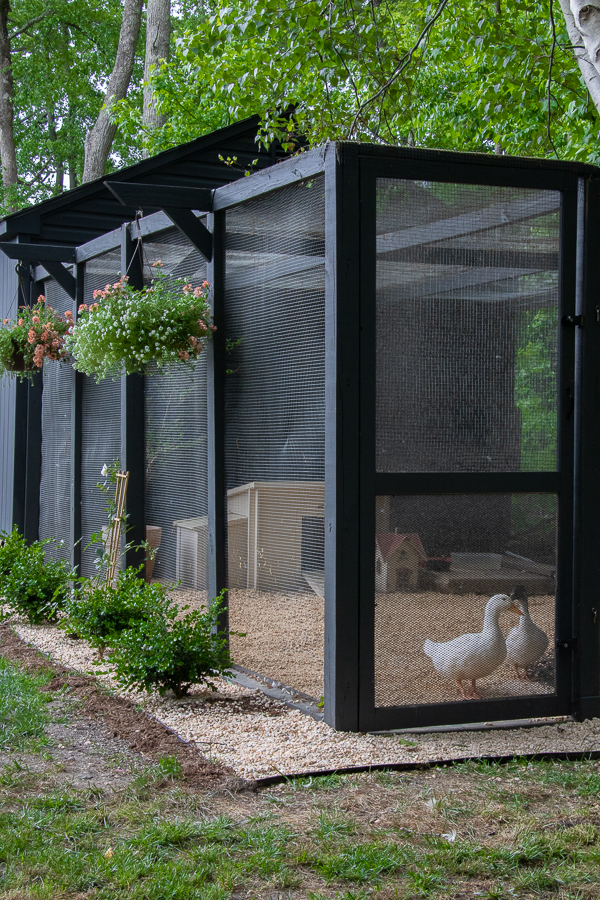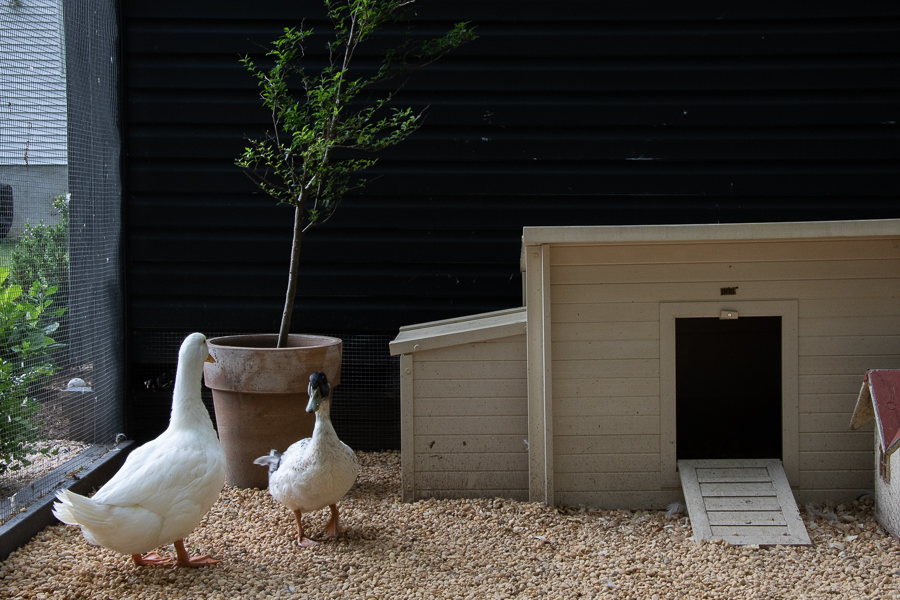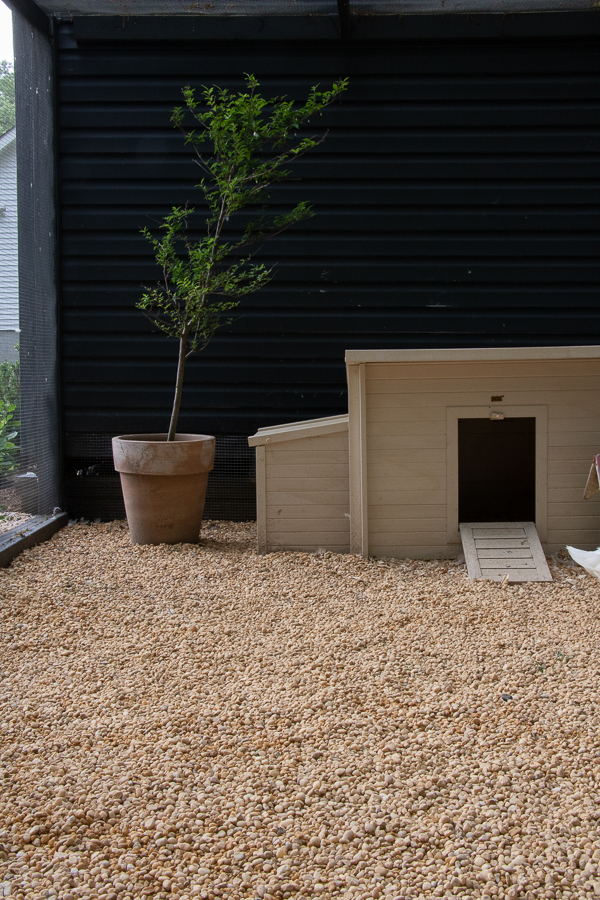 I added of course decorative touches to the inside and some greenery to brighten it up. Some hanging planters on the outside and some boxwoods and climbing roses pop so nicely with the dark structure.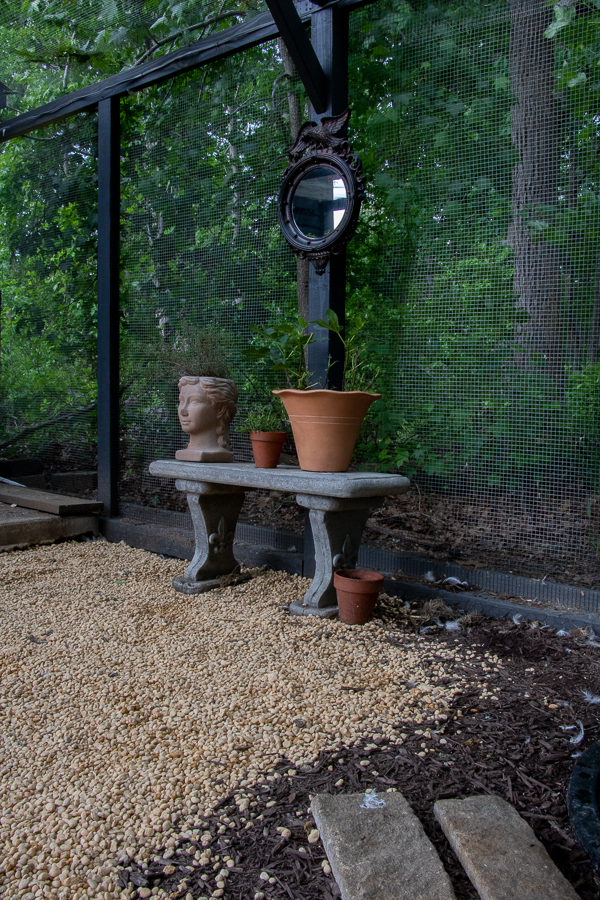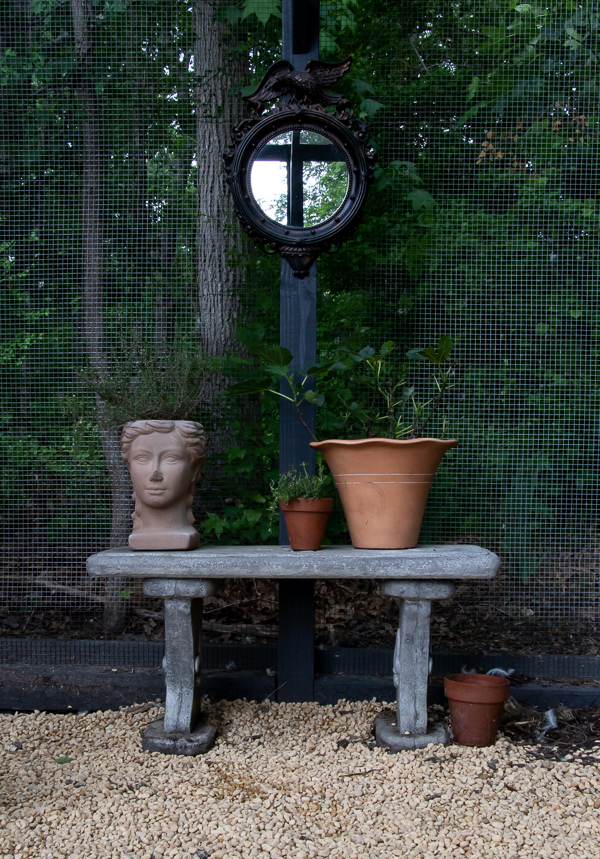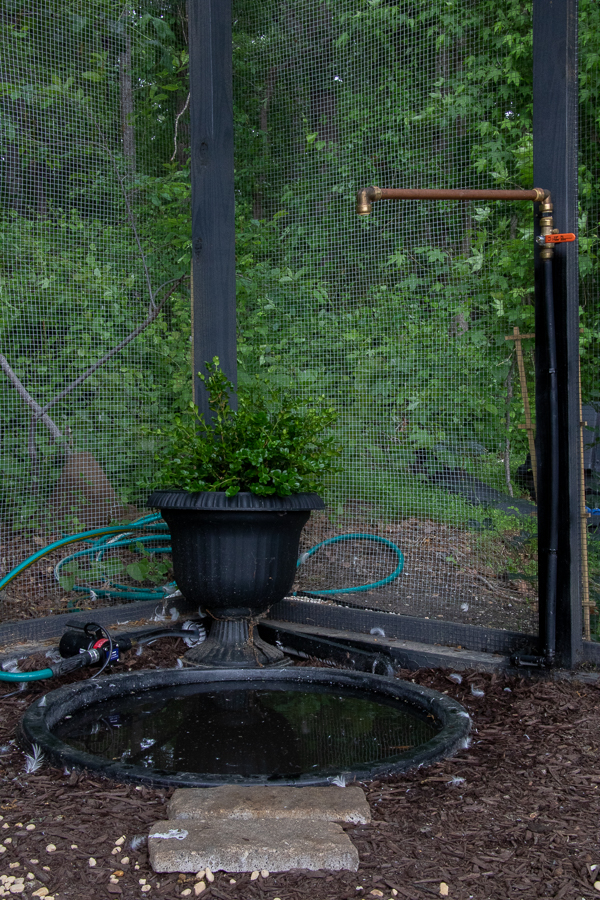 Overall we love the look and feel and hope our little ducks love it! We wanted it to be big enough to house all of them and have the space to walk around and swim. I want to add a better option for the food too and maybe some fun toys for them to play with.
Sources:
Paint Color: BM Graphite
Mirror: flea market find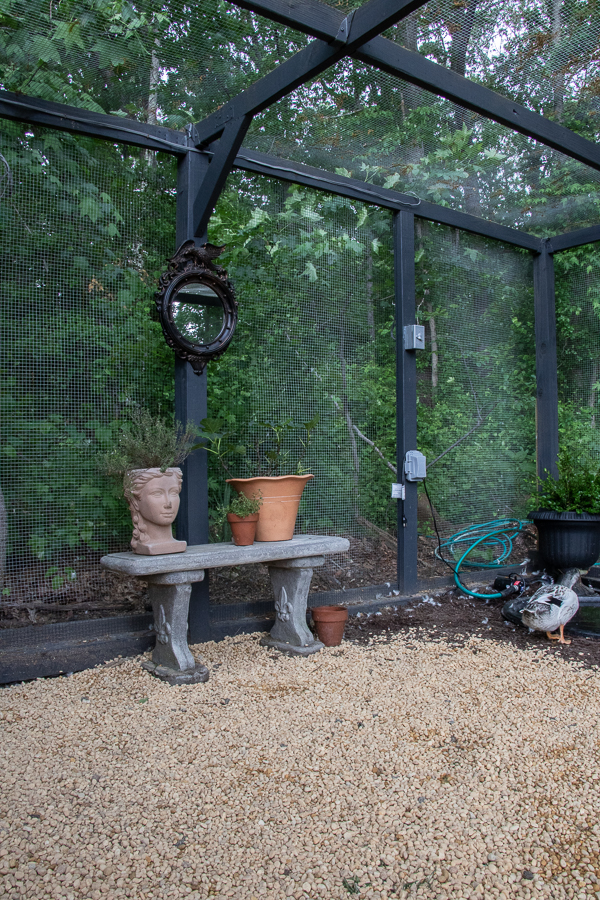 I hope this inspires you that a duck or chicken run can be beautiful and functionable for your pets.
Please Pin