New Farmhouse Dining Room Table and Chairs
I have partnered with Raymour and Flanigan and received product in exchange for this post. All expressed opinions are 100% my own. 
I know, this has been a while that I have been talking about my makeover in my Dining Room. I was so happy to team with Raymour and Flanigan and update the look of my Dining Room and Living Room. This week I am sharing all about the Dining Room, and check back next week when I will be sharing more of the makeover process and the total Living Room Makeover. The room may not look totally different if you've been here before. The walls stayed the same (not by choice), though I do like the grass cloth wallpaper…but for a girl who gets bored with design and wants to change everything constantly I think I'm over it. I know it's one of those battles that I have to pick and choose and so I gave up on asking the hubs to help me with this one. I also know that it's the one room that feels super unique so I keep that in mind too.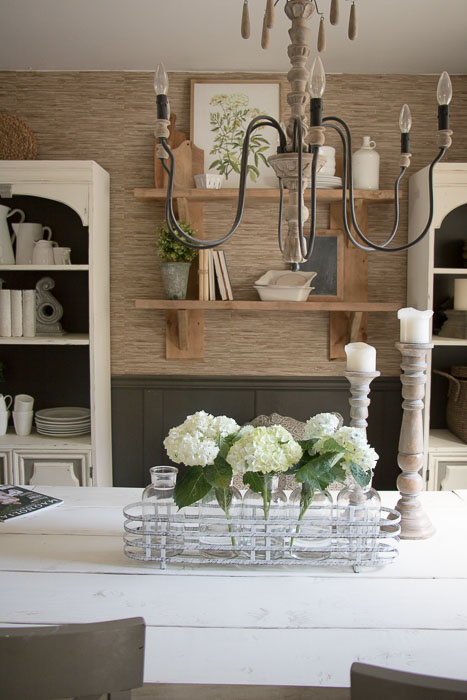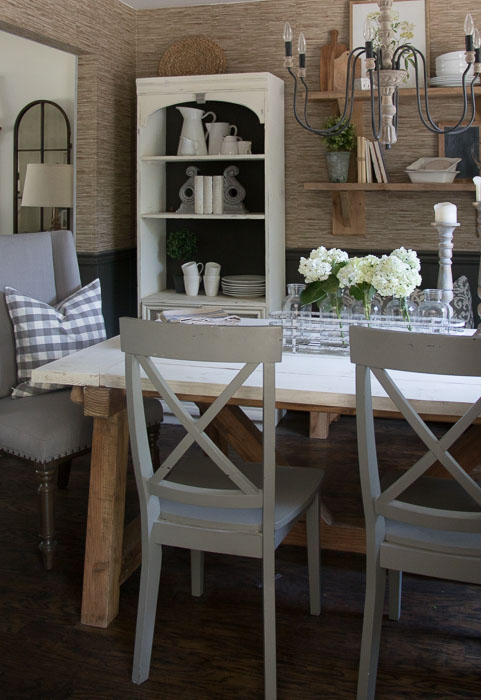 Since the living room was getting the major makeover, we moved the bookcases from there into the dining room. I wasn't quite sure at first…but now I think I like them. They make the dining room have a dining room mixed with library look. The dining room Farmhouse table was also similar to what we already had, but we re-created the top of it since the first one shifted and wasn't exactly flat. This turned out so much better and then I gave it a bit of a different look from the previous table by painting the top a creamy white. You can see more on the table instructions from Ana White's page where she has all the tutorials on creating your own.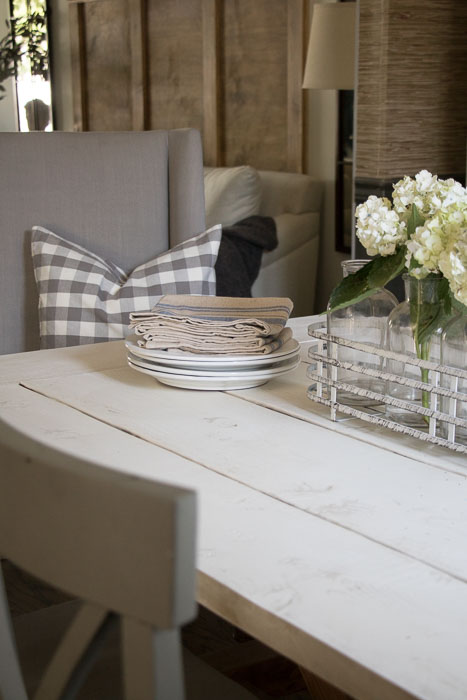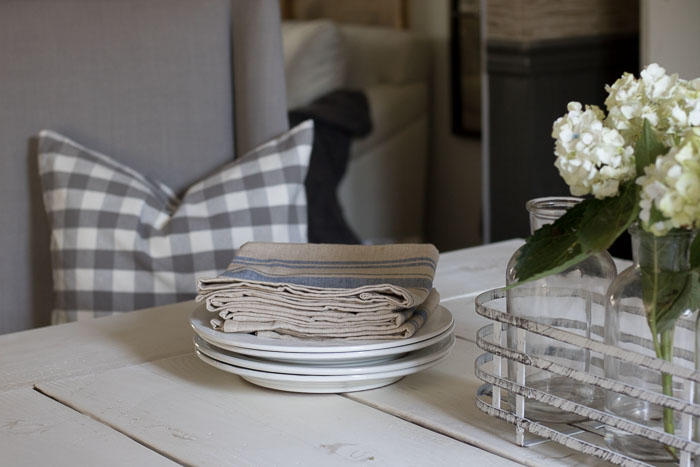 So, then the delivery of the Raymour chairs came in less than 3 days! The experience with Raymour's ordering process along with their quick delivery was impressive and made for a an exciting process. No need to wait too long for their in store pieces and within a few days you went from sitting on a chair in their showroom to having it in your home. I had no plans to purchase new chairs at this time, but then when I spotted these gorgeous dramatic dining room chairs, I knew I had to have them. I liked that the gray matched the gray chairs that we have in here…and then with the nail head detail they would be a beautiful fit with this modern farmhouse look. I think a great tip when decorating a dining space, especially with a farmhouse look..is to mix and match your chairs. You can either do a unique look with all different chairs in the same paint color, or a bench and side chairs, or for me two grand chairs on the end and a matching set for the rest of the table. Whatever suits your style and home! I also think this definitely helps with a more custom design look. I think an important tip to remember when shopping at furniture stores and decorating a space, is that you don't always have to buy the matching set. Think outside the box and decorate with similar color and style. That's why these chairs worked perfectly for the space. I knew they would be the right color and style, but I did not have to buy the matching table to go with them, knowing that I had a dining table that they would work beautifully with. It's also a great way to decorate on a budget, DIY some of the furniture to keep costs now, but then there are some furniture choices you can buy brand new.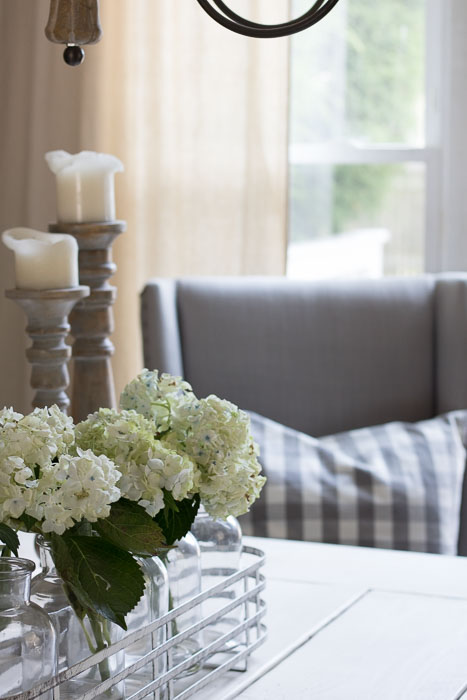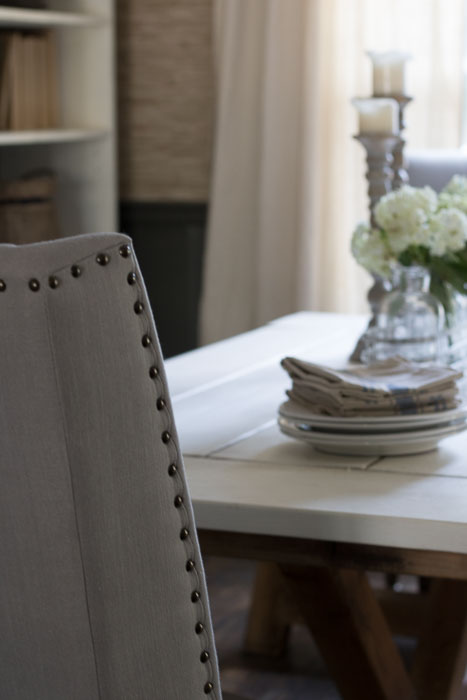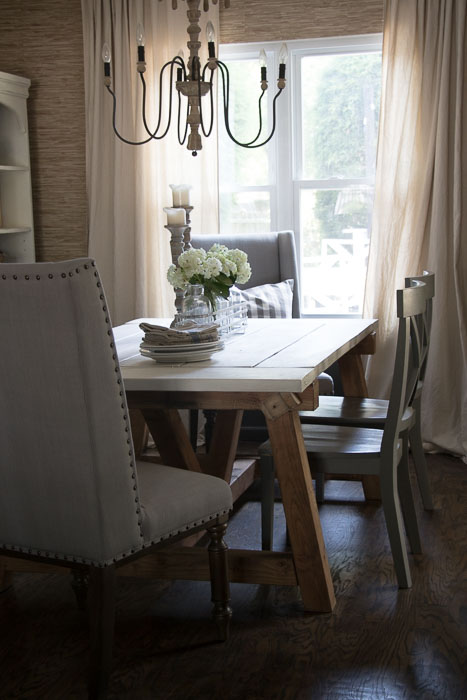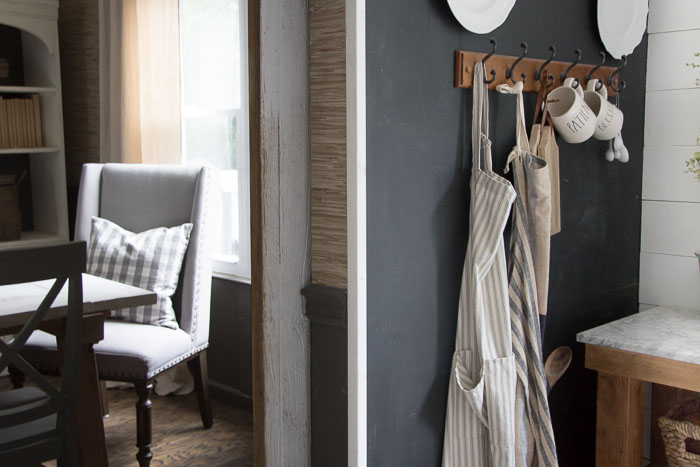 As for the dining room, it has such a different feel from the rest of my home. I love that it still had that European Farmhouse style, but with a modern twist. The neutral colors are still there, but with a dramatic contrast with the grass cloth wallpaper and the Dragon's Breath wainscoting. Also, if you notice the new dark floors…which hard to believe we sanded and stained those in April. I should have the details and my opinion on  how we sanded and stained them ourselves, next week. To shop Raymour at Home for your next Dining Room Chairs, click here!
Thank you all for stopping by, can't wait to share more of the room makeovers with you all next week and share more of my experience and shopping cart items from Raymour and Flanigan.
PLEASE PIN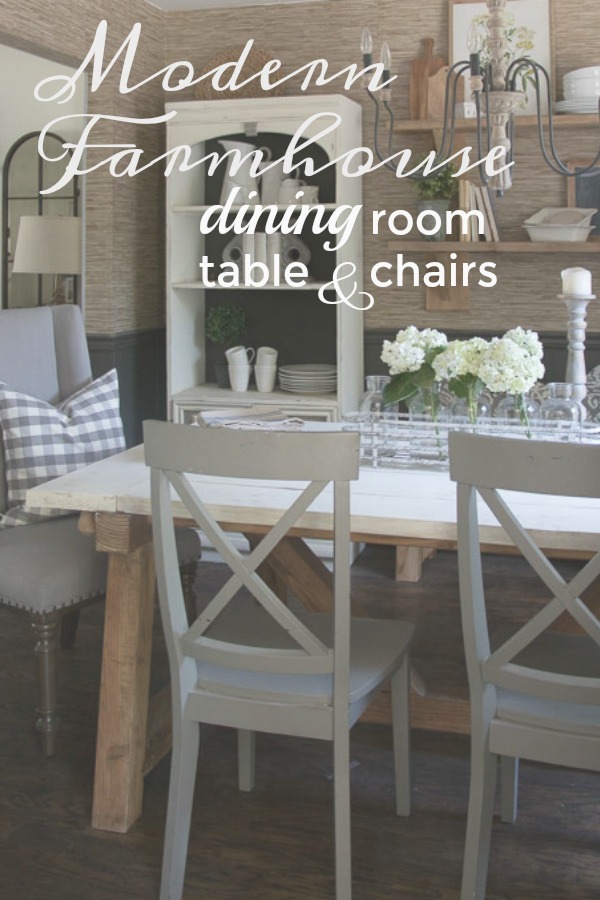 PLEASE STAY A WHILE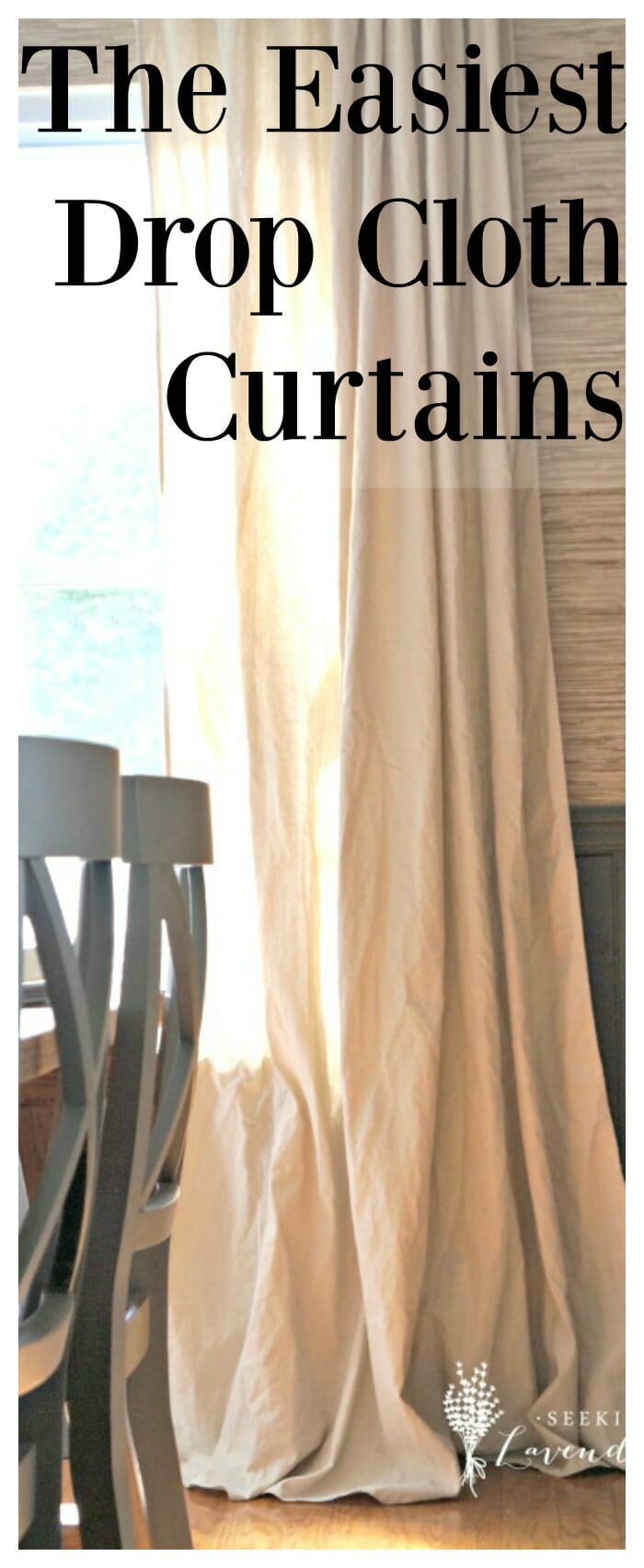 The Easiest Drop Cloth Curtains
See how my Modern Farmhouse Dining Room has Changed over the Years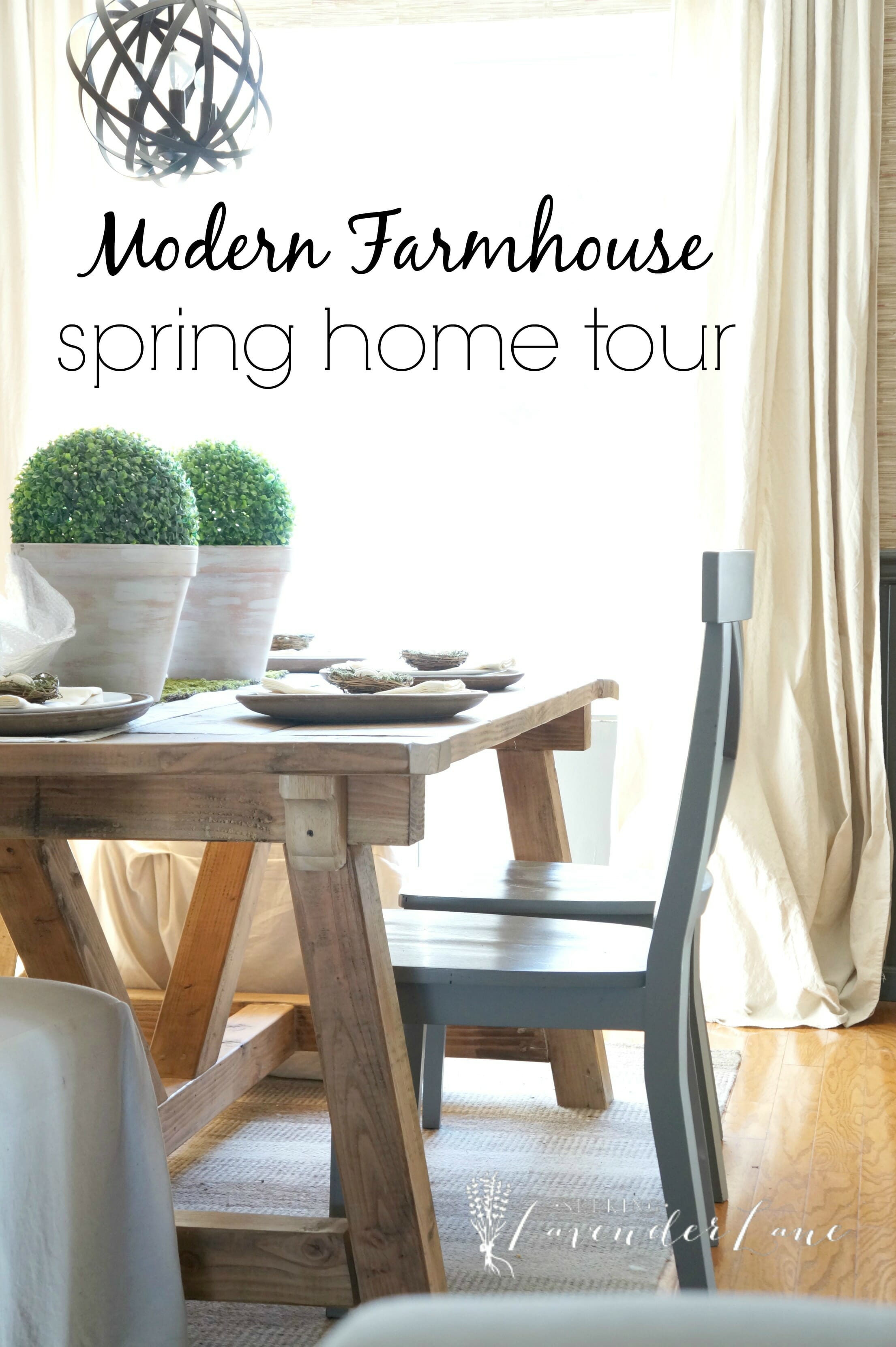 Modern Farmhouse Spring Home Tour
(Visited 1,395 times, 1 visits today)