It's no lie that herringbone is the big craze! Herringbone tiles, back splash, wood floors, tabletops, fabrics you name it! I have been wanting some herringbone in my life and the perfect opportunity opened up when my Ikea Hack fire wood holder decided to chip (thanks to the kids). So I needed a solution to cover up the top so that there was no chance of chipping again.
This project started wayy back when I turned an Ikea Toy storage bin into a log holder. Super easy just gave it a quick paint on the outside with some latex left over BM paint I had.
Here's what the piece looked like before in our old house.
Here it is with the pain only..
Looked great and I was not planning on doing anything different with it…until the climbing began and the top became scuffed up. As any of you DIY Queens out there know…paint does not stick well to Ikea furniture unless you take a few extra steps…and get off your lazy butt to make it! Well I chose not to in this case and ended up with scuff marks (should have taken a pic to show you guys)
Well of course Herringbone had been on my brain for this project or any future project for the house (may not stop at this one…we will see). I got a glimpse at Genevieve Gordor's  apartment floors and wanted something like this in my life! Too bad I can not re-do all the floors in my house…if I could they would for sure look like these.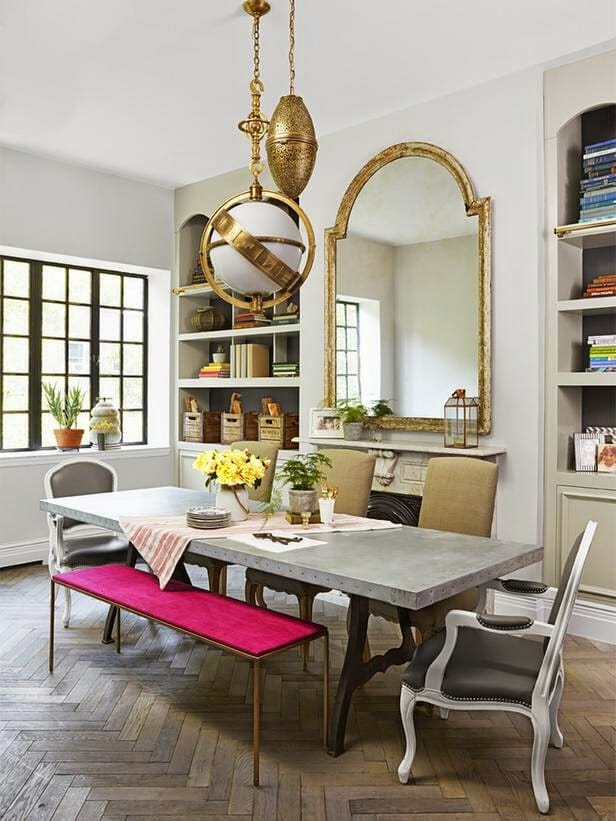 Genevieve's Floors…amazing right..I mean the whole room!
So wanted to replicate this as much as possible for the top of log holder. In a cheap and easy way. You know not  bugging  my husband too much…poor guy!
I simply lined these up on the top in the herringbone pattern starting left to right. After mark each piece with a pencil and cut as you go. I found this to be easiest or else you will become confused as to where each piece must go. It becomes like a puzzle in a way. Leave the ends last to do…this is where you need smaller pieces and the wood will not stay in place. Since the Shims are on an angle I tried pairing the thinner parts together with the other thinner parts and where it became thicker keeping that together. So this way it leaves the top as leveled as possible. Once again I totally would not recommend this for a table top.
Let dry…and thats it!
Love how it turned out, slightly time consuming but super cheap and could be great for a wall treatment as well. Can't wait to decorate this corner with some fall lovin!
PLEASE STAY A WHILE