Hi friends! I know most of you are not local and that's totally okay, because you can re-create this same chalkboard at home and I'll tell you how. First, for all my local friends I'll be doing a workshop at the Herbary in Howell, NJ and you can click this link to buy a ticket. It will be at 6:00 on Thursday, November 1st.  Also included are all the products to make the sign you see below and you will be able to take home the stencils to re-create more artwork with them. The stencils are washable and reusable which make them so valuable and fun! Snacks will be included so grab a girlfriend and bring your own bottle or coffee or cider whatever you prefer and we'll have a blast crafting together and making this pretty sign below. The best part is you can erase the stencil art and re-create whatever you like throughout the year. I have more stencils you can buy here to continue to change up the look of your custom chalkboard. It's open to only 10 people starting smaller for this one…but I'm excited and it'll be a fun and easy way to get out with your girlfriends and create something for your home.
So see my video below share how to use the stencil from A Maker's Studio. This is an easy creative stencil to use, to make your own chalk art with.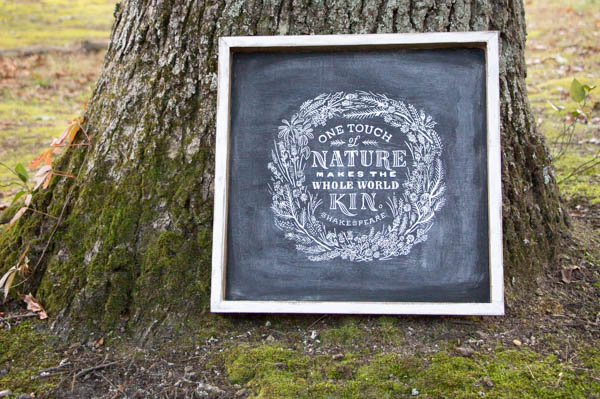 https://www.facebook.com/seekinglavenderlane/videos/523570161442651/?__xts__[0]=68.ARAIUfyaiOpnpnTuTqXvO6TWW0VYwFNV3ONvVNQz86SIg8v8X8CZj9-2CAeLO4hvEMYqQ3bDpkjgJVND1CCNrQLoML7GeAlfohoIVR94XaxKCtGHhKwp1nTJ7j2B95FFXJzwiVuK1DgrmQFECWalnhAO2FOpUGntXaRvgmPB3noP62d0yAVWSRKLRn9jCZAaYBWs60jF&__tn__=-R
I shared this the other day on my facebook and thought this would be easier to share with you all! If you don't already follow me on facebook be sure to follow as I'm trying to do more live videos to share ways of being creative in the home!
Supplies you will need to create custom chalk board art:
Chalkboard
Stain
So now for this Workshop…be sure to click the link to buy your ticket and join me! Also, let me know if you'd like me to do a live workshop on my facebook? I can share the materials ahead of time and you all can join me on facebook to make some Christmas crafts this November.
I Look forward to seeing all of you that make it out on November 1st!