Myself and my friends are taking on this new challenge for the new year and revamping one of our rooms in our home. I don't know about you all, but I get bored quickly  and I need to constantly be changing things in my house. So though I love my home, tweaking can't hurt. It just helps make things feel new and refreshed.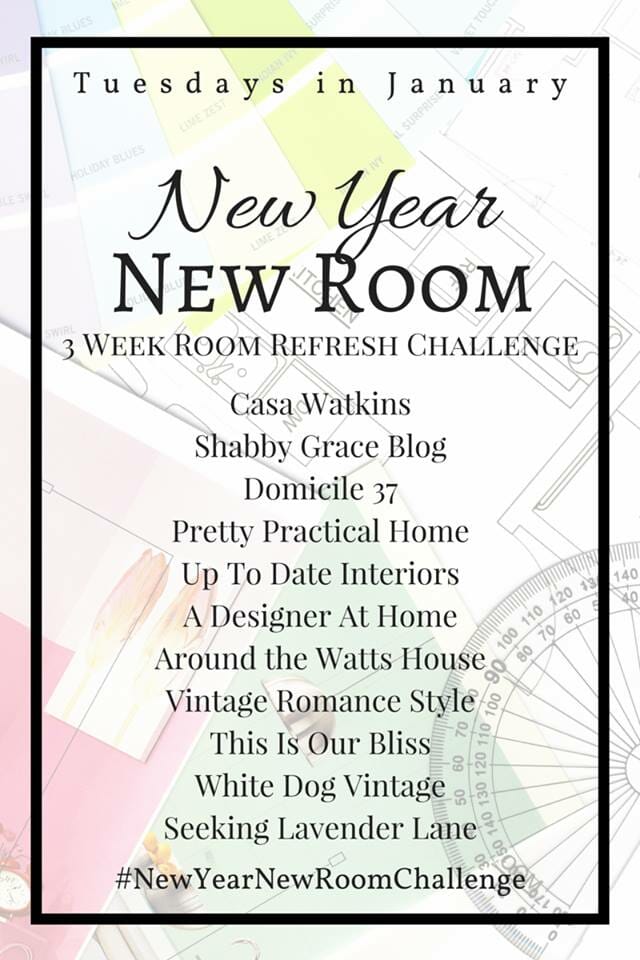 The fun part about this post is that we will be sharing each Tuesday for the rest of the month. You'll get to see what room I plan to change today along with some plans I'll be discussing. Maybe you all want to help a girl out too! In two week the entire room reveal will be done, which will be so fun to compare the before and after. I am also so excited to get to see what my friends are up to…I love a great room makeover!
okay…so I bet you are all curious which room I chose right? You probably have seen almost every room in my home come to almost a finished look.
Well, it's the Family Room!!
What?
The one that was done two years ago and you basically just finished with the Built In Picture Frame Ledge and White Farmhouse Style Sconces?
Yes, that one!
I know, you're right no need to do annything to it, but we all get a little bored and a little tired of the same thing. Now I am not changing the entire room. paint and everything is staying the same. I am just making some changes to the furniture a bit and some of the wall decor. You will just have to see what's in this head of mine.
Okay, so let me first share with you what the room currently looks like…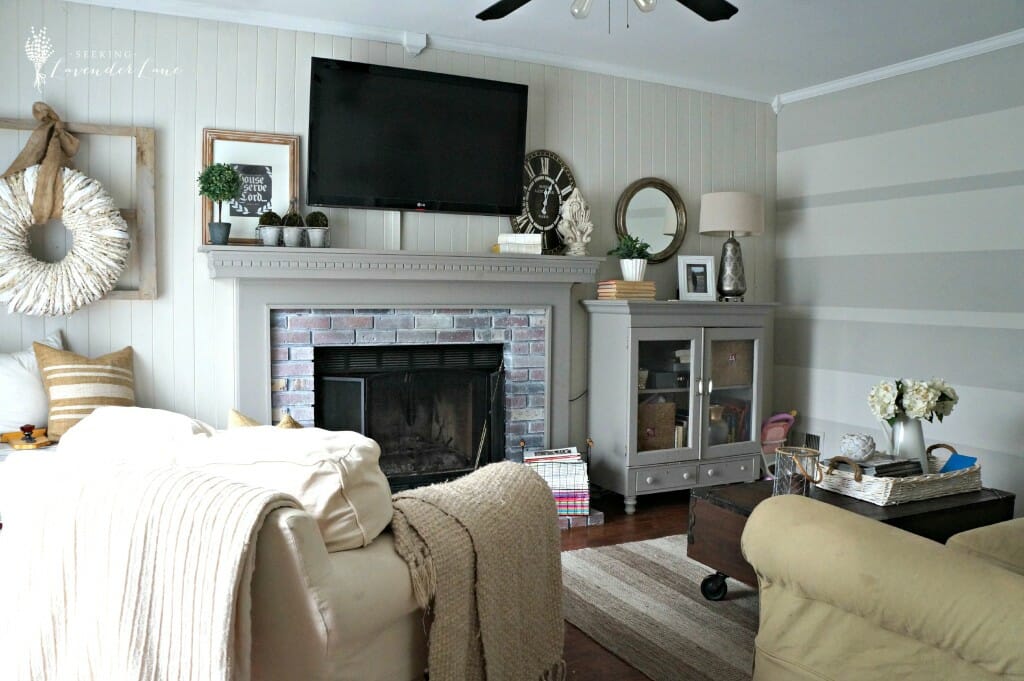 This photo was taken at the end of summer, but basically what the room overall looks like currently.
Here was the BEFORE we moved in photo.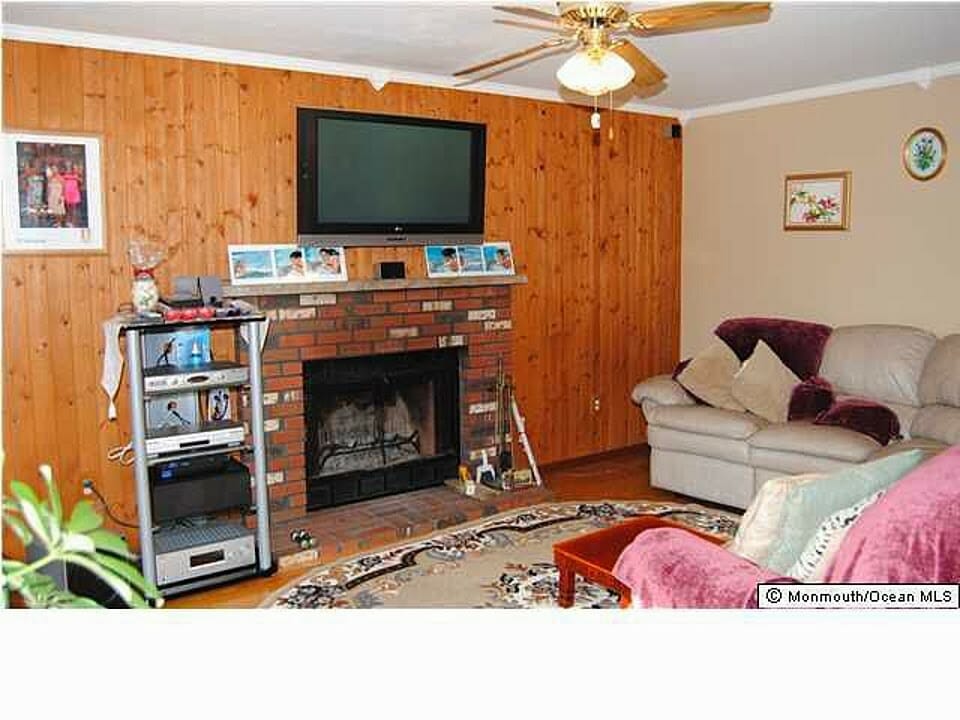 So yes, tons of changes to this room! If you want to read about how we made these changes you can check that post out here.
So here's the plan for the update….
1. Re-white wash the Brick (the brick's never seemed to be at white as I had hoped)
2. Paint Side Cabinet (This is where I'm gonna need your help)
3. Add new Curtains (I'll share a picture of what we have currently)
4. New lamp and remove the mirror above the cabinet.
5. New accessories
6. Possibly new rug?
Alright so now that you know what I'm going to be doing in this room…I'm gonna need your help next week with a color choice for the side cabinet. Also, see below photo of our current curtains. We actually already replaced these and the room feels amazingly bigger and brighter. I loved the burlap curtains, but since they were not ceiling height I always felt I wanted to replace them. They match my home really nicely, but lately I have been trying to add more white to everything and just really brighten up my home as much as possible. So I am sure you can guess which color I picked for the new curtains.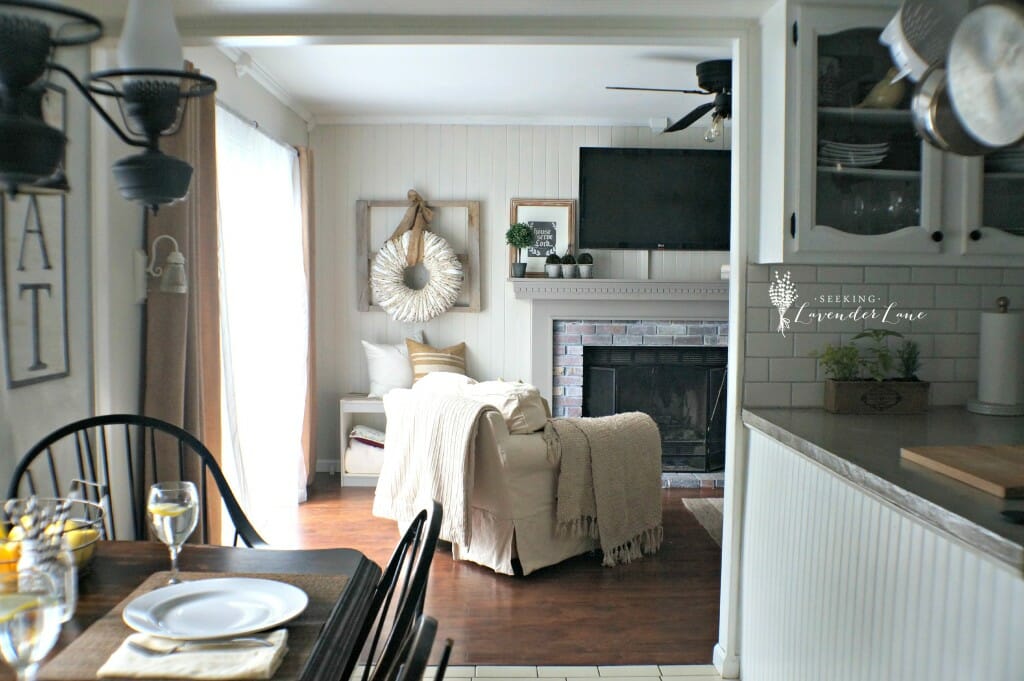 So yes, ther room really didn't need much of an update, but a bit of tweaking I think is really going to make a difference. That's all you need from time to time, especially once all the big projects are done. This doesn't even have to require a ton of money…I had those extra curtains hanging around and the white  wash paint was from an extra can of paint I had leftover. Buy a sample size of paint from the store to update small pieces of furniture and you have yourself a transformed room for barely anything.
I hope this inspires you to try to update your home when your're feeling stuck and discouraged. It always brings me happiness to make changes in the home and to just switch it up a bit. Now be sure to stop by all my friend's pages to see their design plans.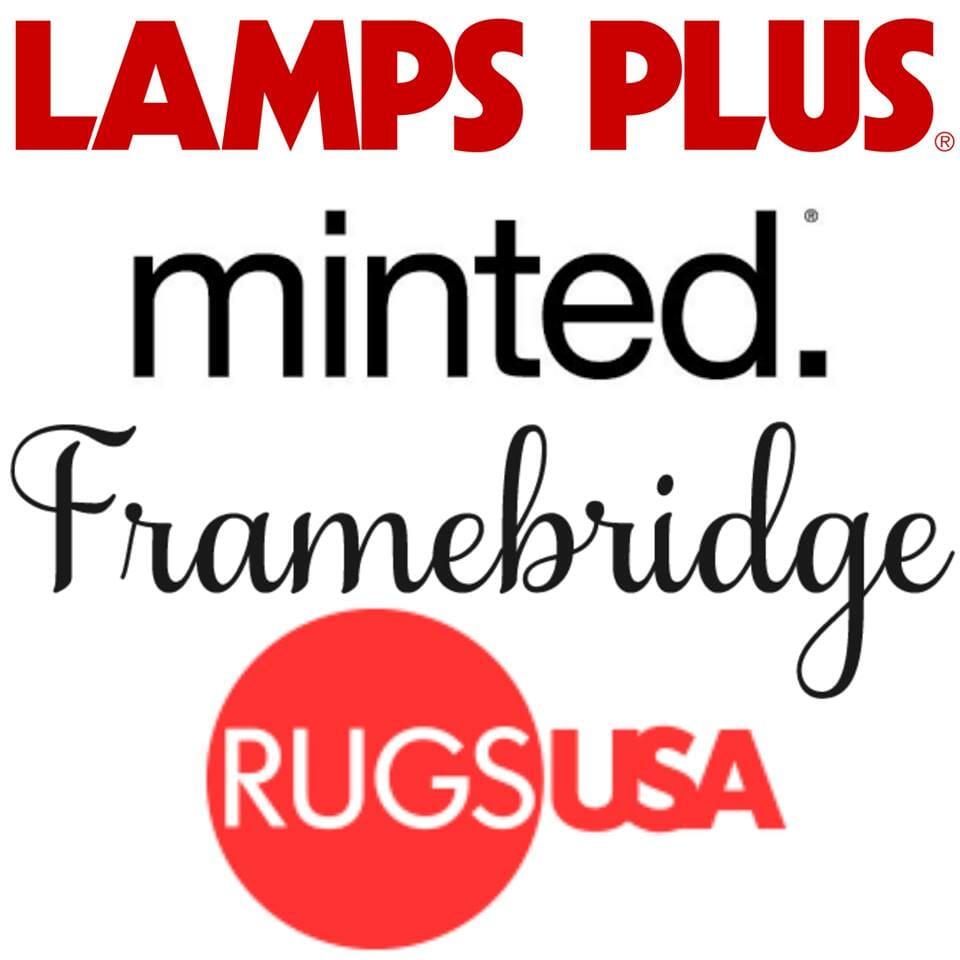 Linking with: savvysouthernstyle.net
(Visited 177 times, 1 visits today)