I am sharing all about our summer bedding and how I stick to a timeless and simple feel for our bedroom. I don't like too many throw pillows, I like some layers, and of course neutrals! I am sharing this along side some of the very best blogging ladies for our "simply home series" post, this month we are talking all about bedding.
Since I stick to the basics, I thought I would share those that I do use, and how I add in some fresher feels during the summer months. Of course with life slowly opening back up it took me some time to get new seasonal throw pillows. I wanted something a little less "colorful" for summer…just airy and fresh!
I finally was able to walk through the aisles of Homegoods the other day…have you done this yet friends? It felt a little odd and there was a ton of missing items too, but I was in need of some throw pillows to gather all the summer feels in our master bedroom. Too yellow, too texture-y, too expensive…and then I found them, the cutest pillows EVERRRR! They felt summery and special. These sweet linen bee pillows that were only $25 each! I snagged them!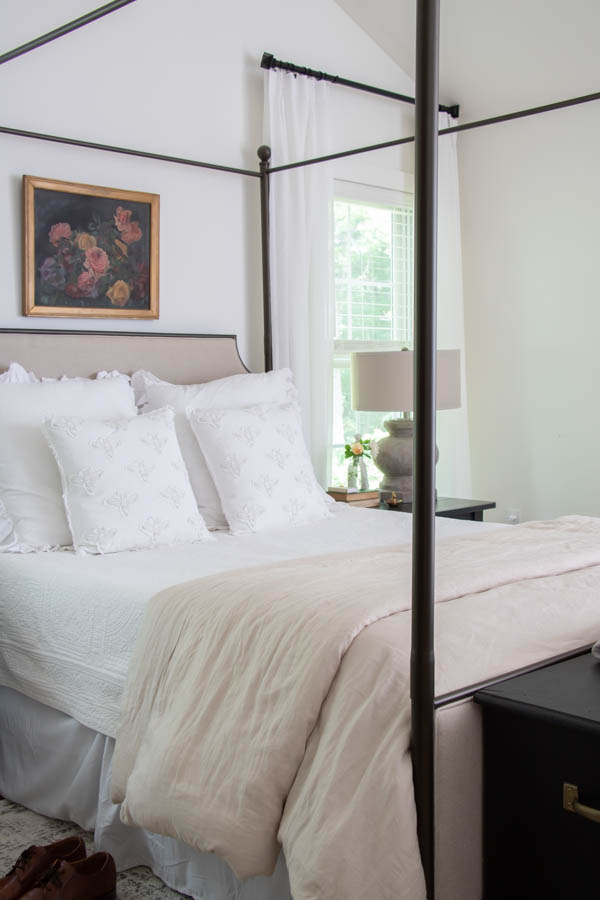 My next goal was to find a cute roll pillow, I've always wanted one of those, but I couldn't find one…so I gave up the search, was grateful to save myself some money, and went on my way with my new bee-utiful pillows.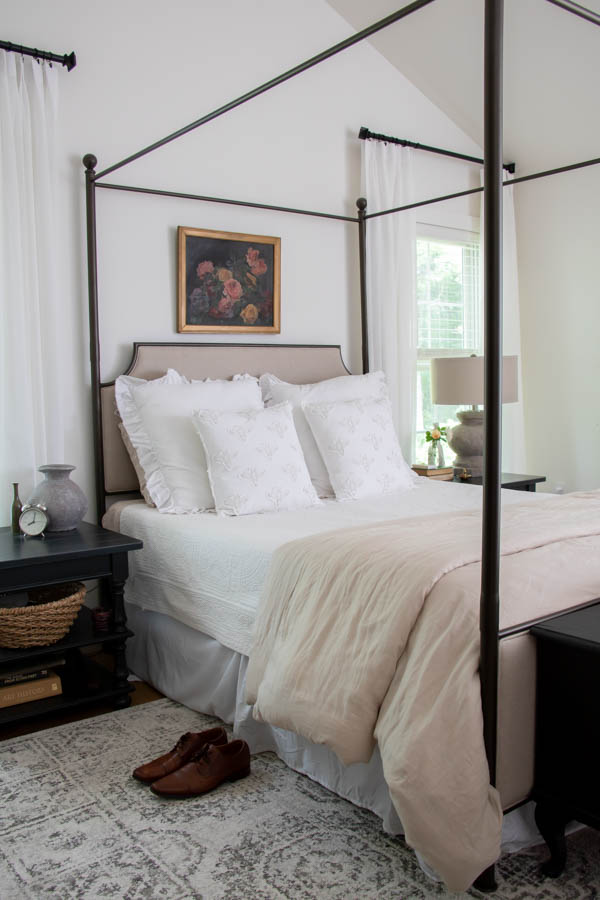 Then it was time to styling the bed…
I really love a quilt for the bed in the summer. When nights are too hot to snuggle the quilt is the perfect lightweight blanket. I just can't cozy-up in just some sheets.
Our Sheets and Bedding and duvet is from Garnet Hill.com
I've had this quilt for years and I think I shared that for spring I added it to our bed and it's usually a staple every summer.
Here are some affordable and beautiful white quilt options: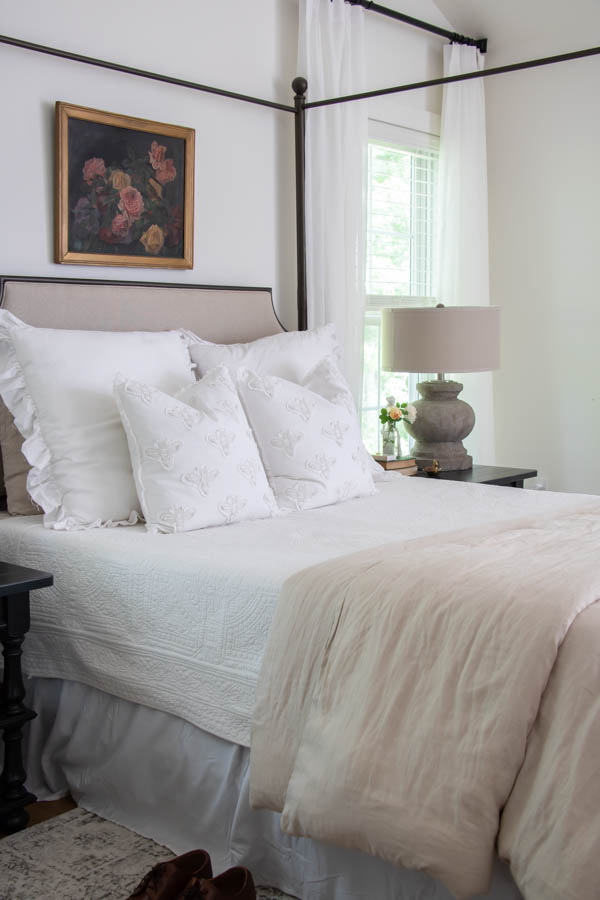 I like having my duvet at the bottom of the bed because if the air is on too high I can still use it if I get too cold. I also do not love a "naked" bed so this is good to add layers for a cozier look. This linen taupe colored duvet I got back last year when I did a room makeover in our master. It is just beautiful and I love it paired with it's matching linen sheets.
I have a confession to make…back in the winter I thought linen sheets would be so cozy, but I had to change them! In the middle of the night I was just too hot! Linen seems to either hold heat or keep you cool…so I figured I would try them again for the summer and see if they were more comfortable then. And they for sure have been! If you have never tried linen sheets in the summer, I am going to give you permission to order some. They are so comfortable!!!!
Then my staple items like these pretty ruffled over-sized shams (also a Homegoods find) and then it was time to add the bee pillows…
I was hoping it would not be too white, and they are….PERFECT! The simplicity of it truly made the room feel so summery. Especially since we have a lot of dark accents in the space, having the all white pillows made all the difference.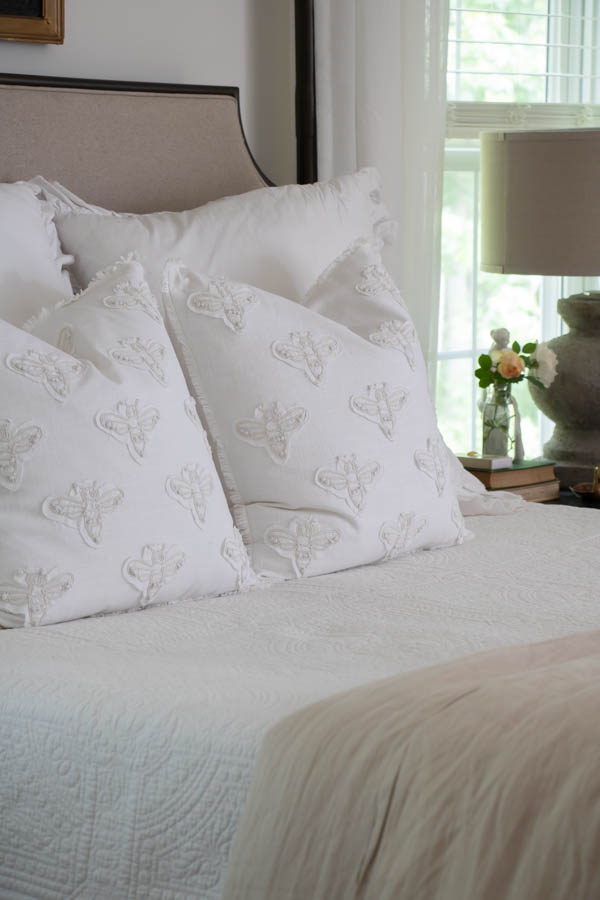 *Pro Tip- when adding your duvet at the bottom of your bed fold back the top layer one more time for an extra cozy layered look.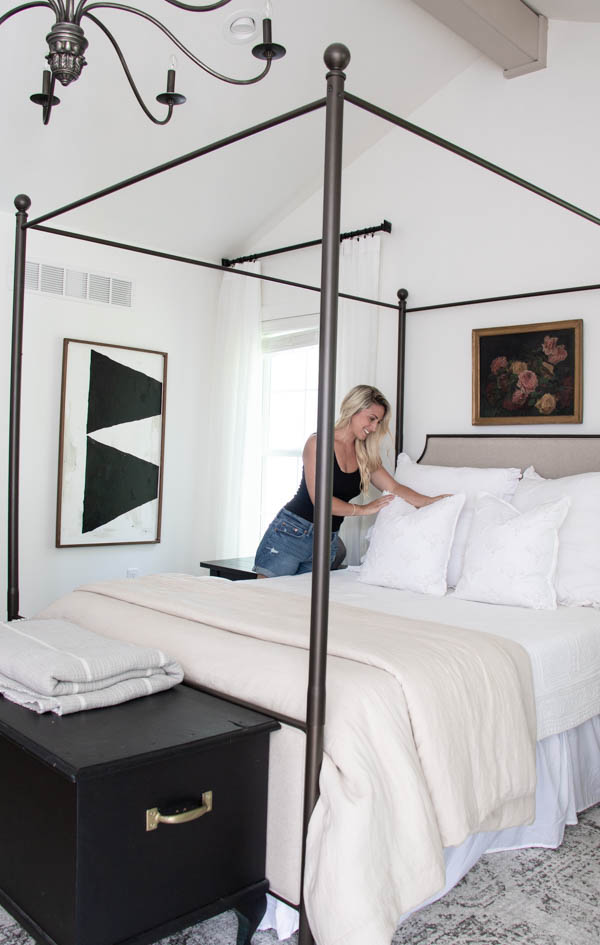 That simple…no throw blankets, not a ton of throw pillows…just simple! Feels French and comfortable.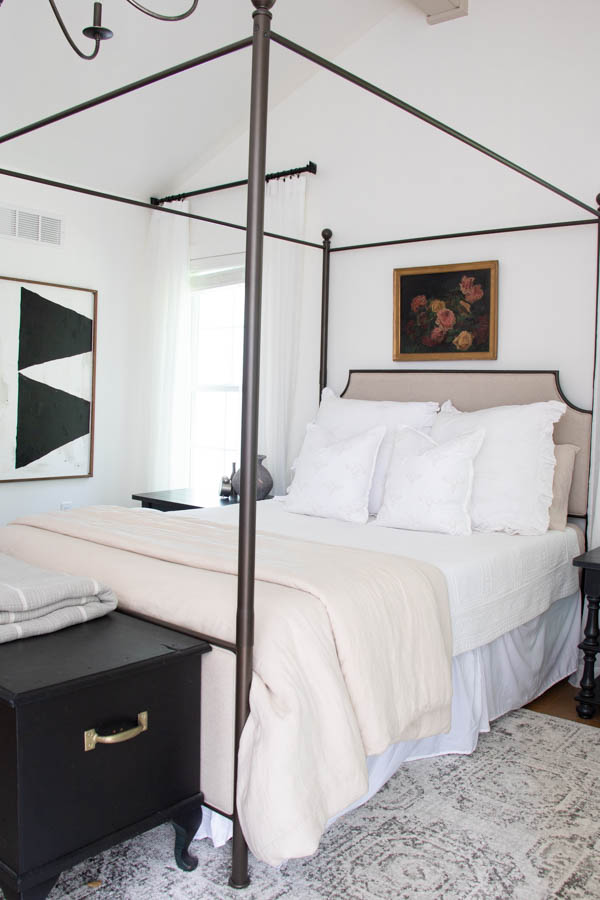 How do you style your bed for summer? Does this feel summery to you? I think you can't go wrong with white bedding. Though I love an all white bed our room just feels better with that splash of taupe. So neutral bedding wins again!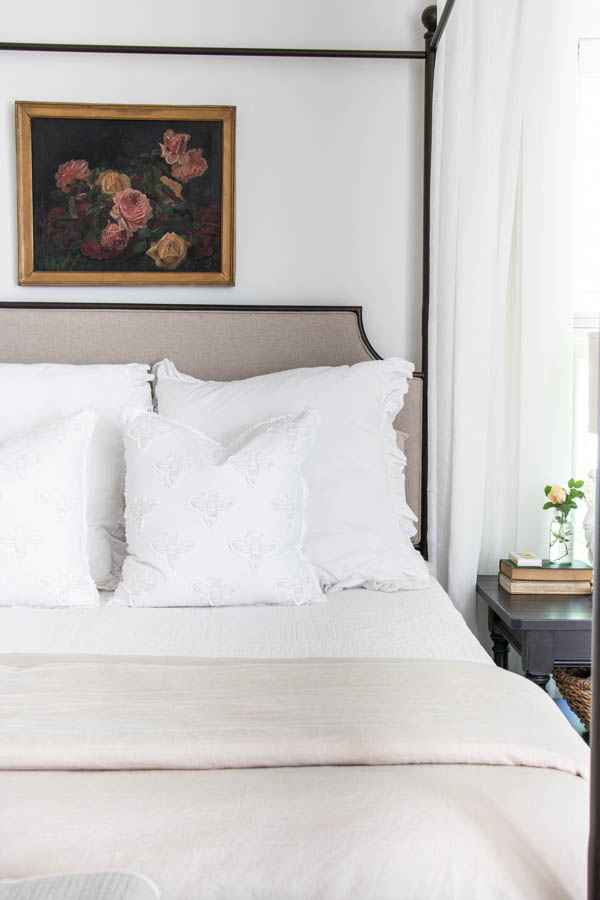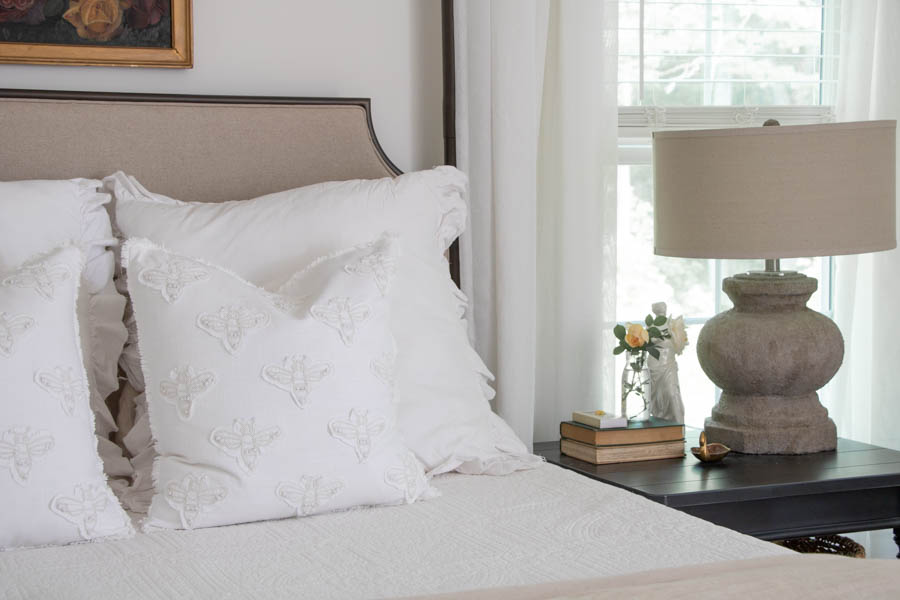 Let's go…take a look at what the other ladies are sharing!

P.S. Don't forget to pin!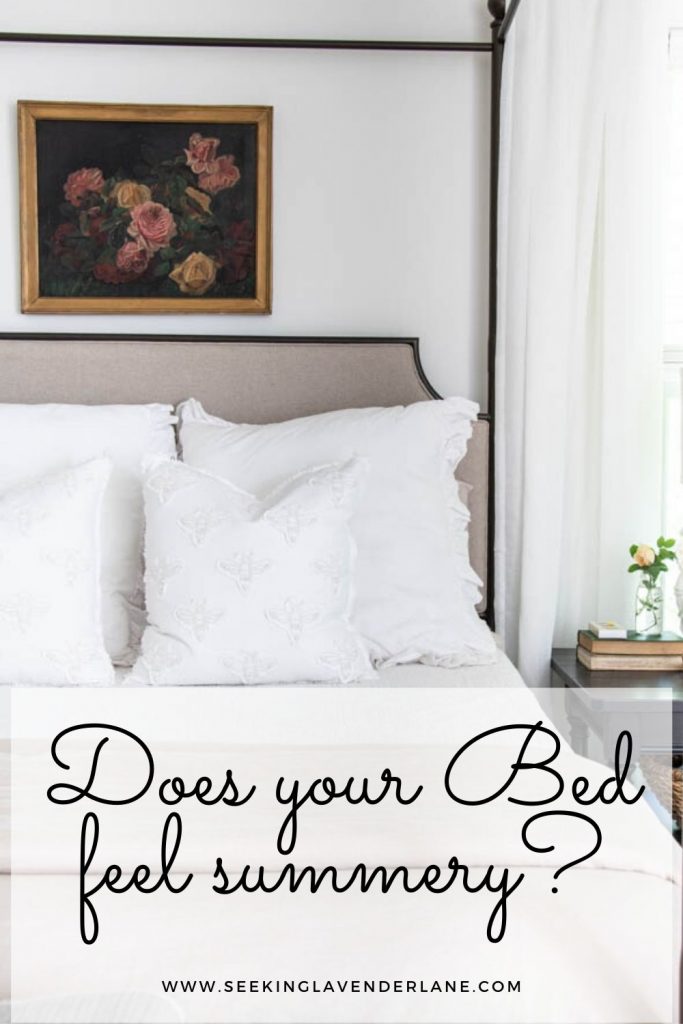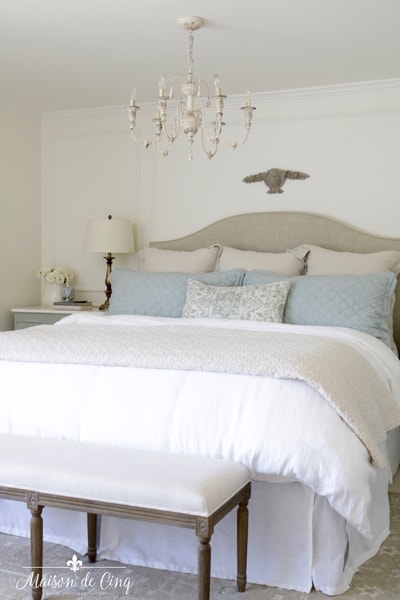 Maison de Cinq: How to Make the Perfect Bed
Seeking Lavender Lane: Neutral Summer Bedding
Shades of Blue: Lighter Bedding for Summer
So Much Better with Age: How to Style a Bed
Thistlewood Farms: Favorite Bedding Combinations
Tidbits: 20 Stunning Bedrooms with Beddy's Beds
(Visited 2,445 times, 1 visits today)