Well, the journey has been fun, but I am excited to say we are DONE! The last 6 weeks certainly felt super long. I thought our Master bedroom would be done quicker, but with a few design hiccups, additional design decisions, and time restrictions, it took the entire 6 weeks. I want to break down our room for you all with all the products selected that truly made this a unique space that I was surprised how it came together.. I initially thought when building our house I would go more classic white on white but as the room evolved I took a left turn and made some bold and non-safe decisions. It was a fun room to design, make traditional yet modern…and have fun with! But…before we get ahead of ourselves, let me remind you what the room looked like BEFORE and share the links from each design week. Especially, if you are catching this at a later time. ORC Links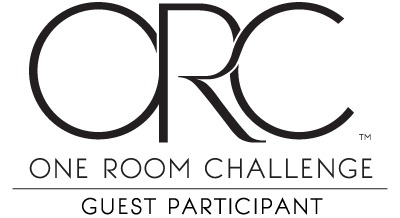 BEFORE picture: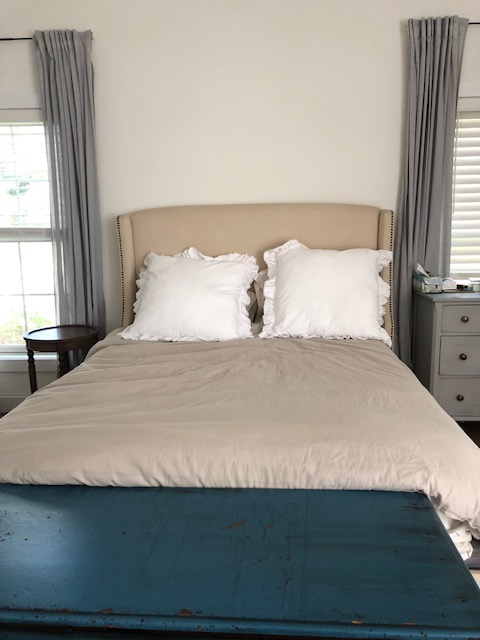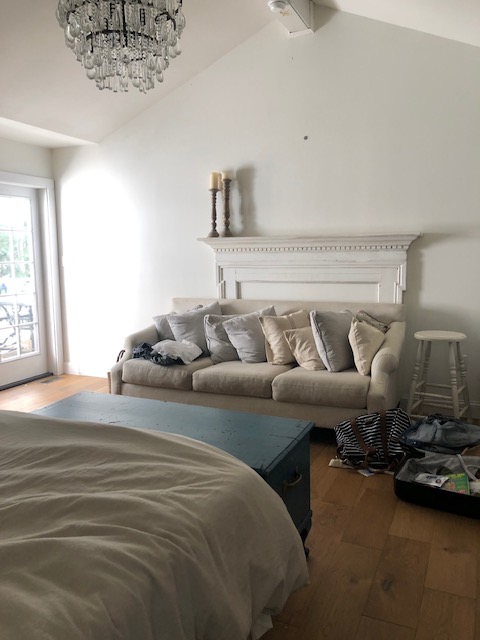 I was able to sell our chandelier and headboard which was great! I love that they found a new home and I could put some of that money I made towards the room.
Master Bedroom Design Reveal
When I started gathering inspiration for our bedroom what I knew I wanted most was a Canopy Style Bed. This one was the perfect look and price. It had that French Country feel, but also felt modern all the same time. Exactly what I wanted for the space.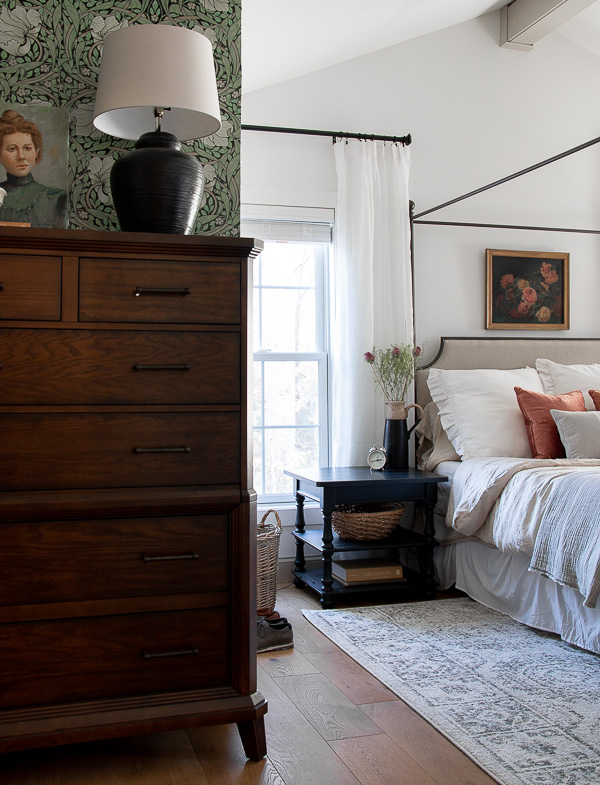 When shopping for the additional furniture I partnered with Raymour and Flanigan and though the first dresser did not work, the one that I replaced it with, was PERFECT! This dresser greets you when you walk into the space and you can see it from the living room with the door open. I love how it brings a masculine feel to the space and so much about it worked out even better then I could have thought. The best part there is a secrete jewelry drawer and my daughter is obsessed with that. She tells all her friends when they come over, check out this secret jewelry drawer-lol-.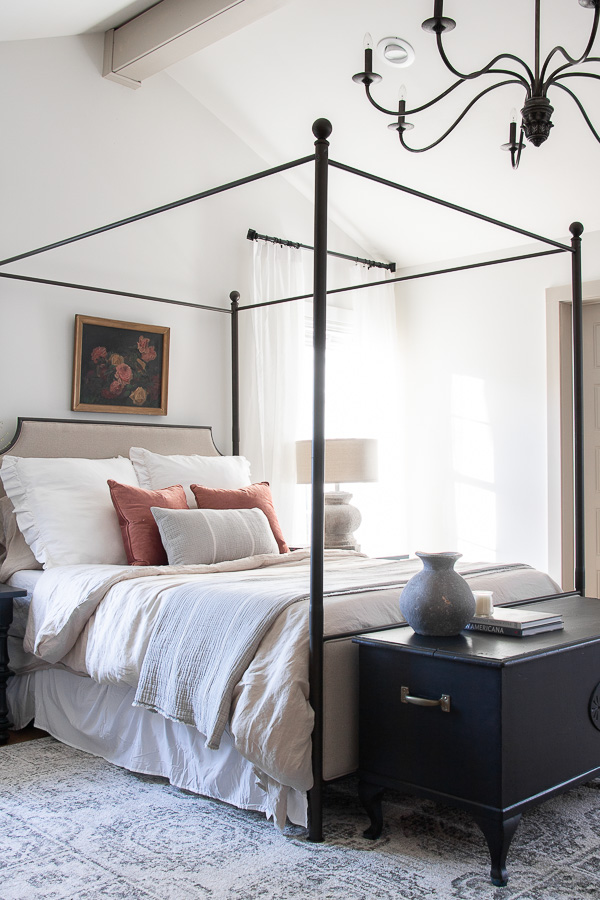 We decided to paint our beam the same as the trim and I love how it brings warmth to the ceiling. Nothing better then that amazing chandelier from Hudson Valley Lighting. It took my breath away when I took it out of the box. The color, style, and size just brought the room together. I mean the ambiance alone is so good!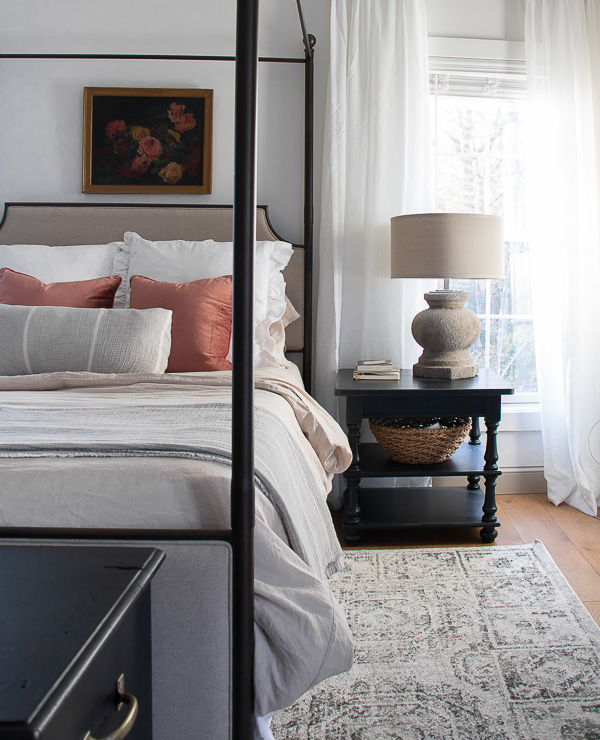 And then there was this rug from Loloi…it brought a modern pattern and some touches of black to the space. I knew I wanted a rug that would have black in it, to bring all the black accents together, and this one was just perfect because it did not make the room too dark having still a mostly white background. Also the plushness getting out of bed is so good. We needed something to warm up the space.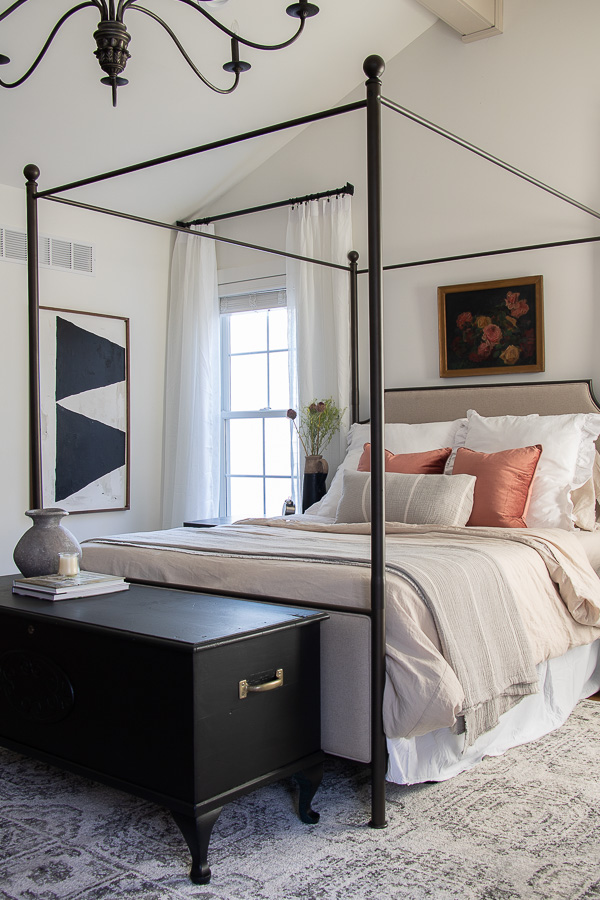 The wall art to the far left was a DIY project that I put together and the chest was a hand-me-down piece that I painted black.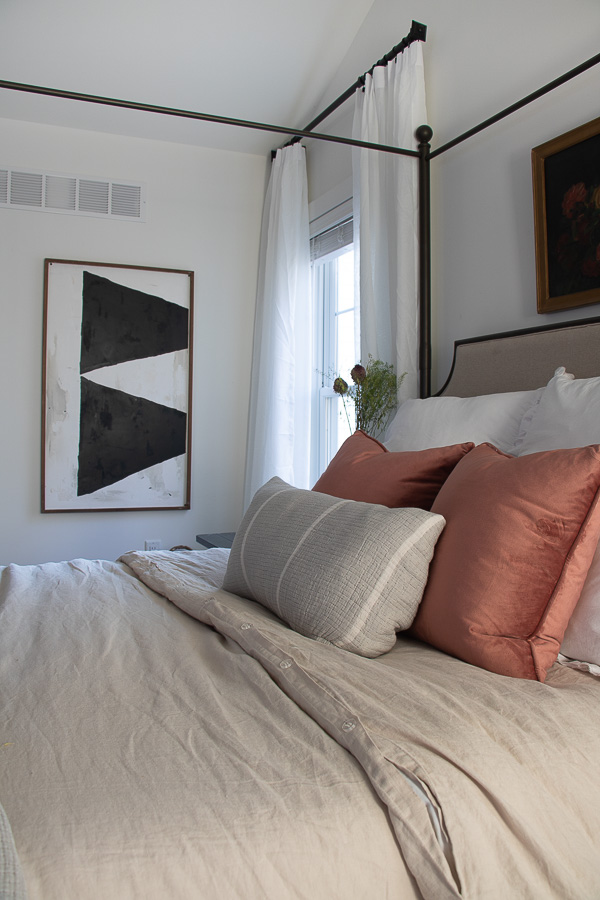 What really makes the space cozy and feel like a luxurious tream every time I jump into bed is the bedding from Garnet Hill. The linen is so soft and we matched the linen duvet with linen sheets- Ahhh-mazing! The throw and pillow cover were also just so perfect I love making the bed now.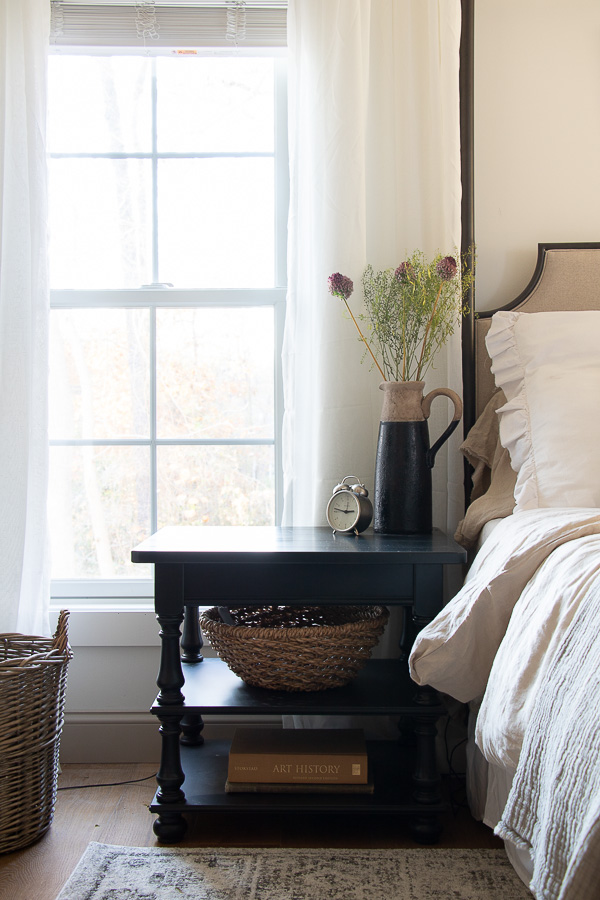 These side tables are better then I could have pictured too. I love the open shelves as they allow to have decorative storage options, and the height is perfect so we can see our elongated windows.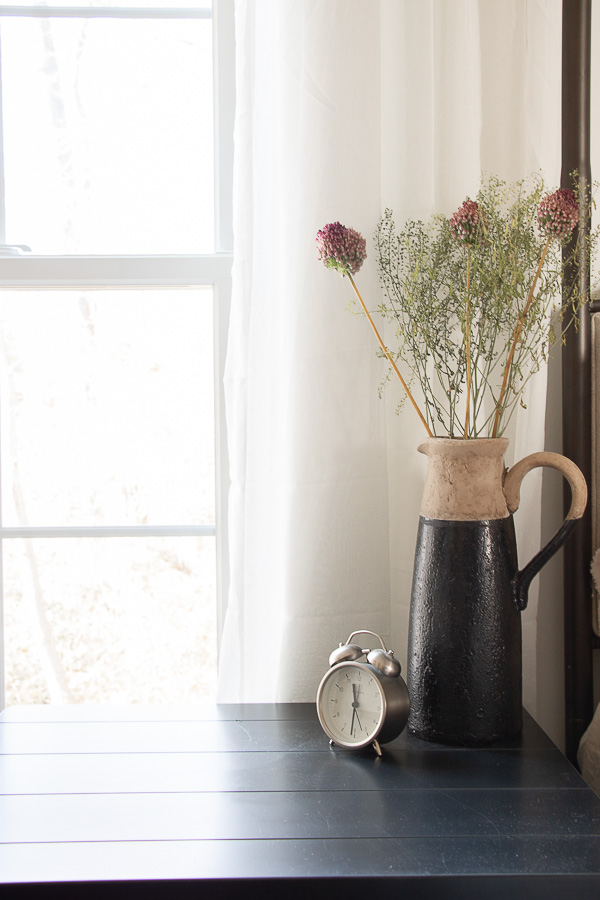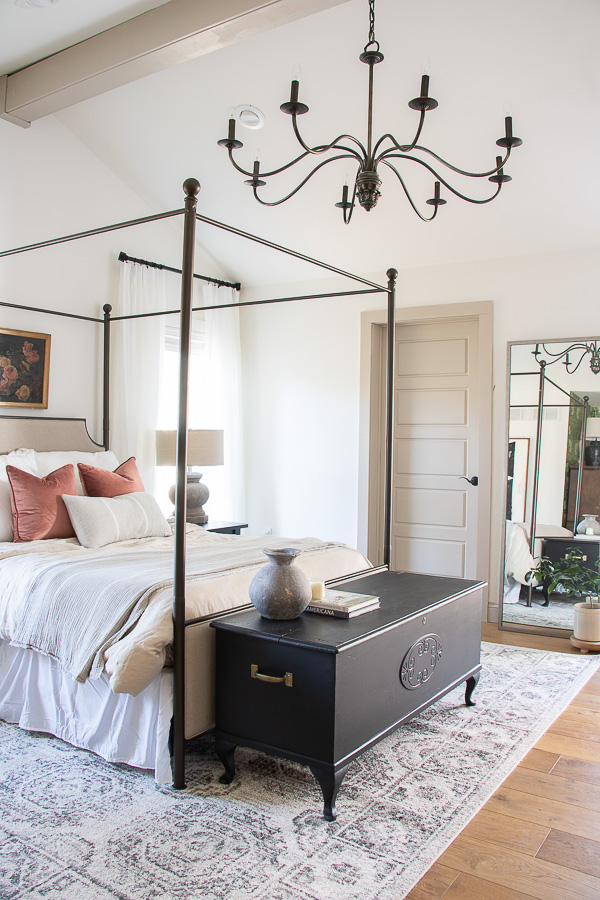 Oh and the other side of the room…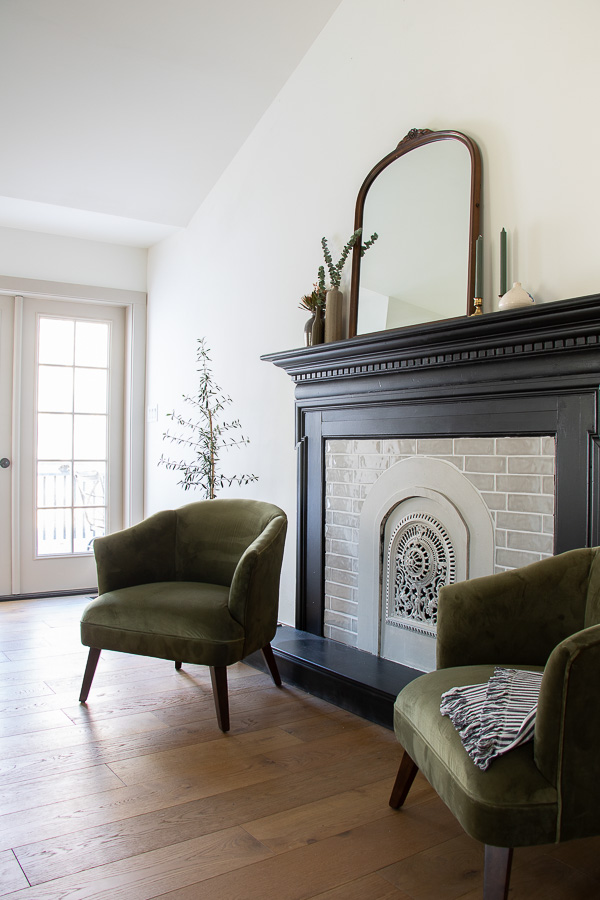 We can not miss the opportunity to talk about these green velvet chairs. They brought the green out in the space and they are perfect to sit and have coffee in or a place to put your shoes on in the morning.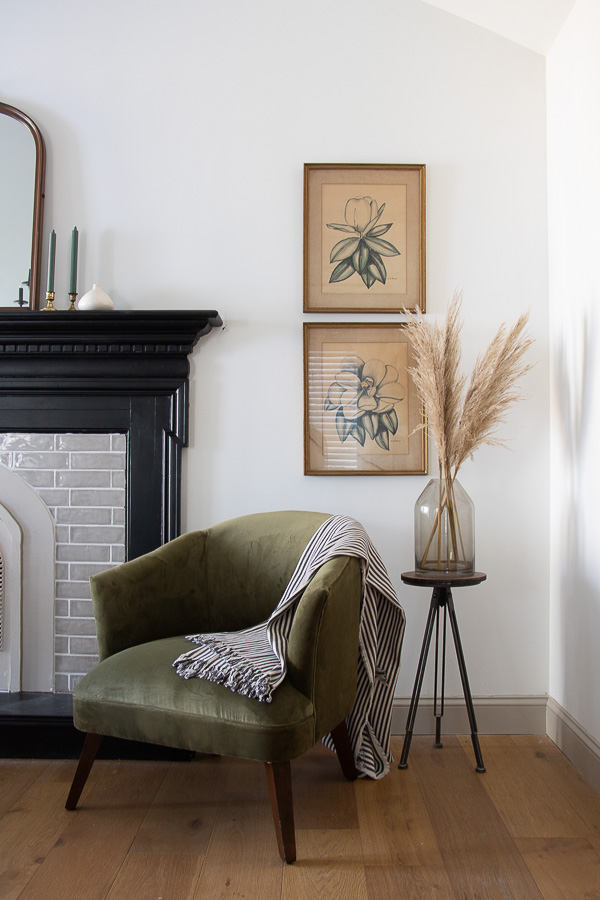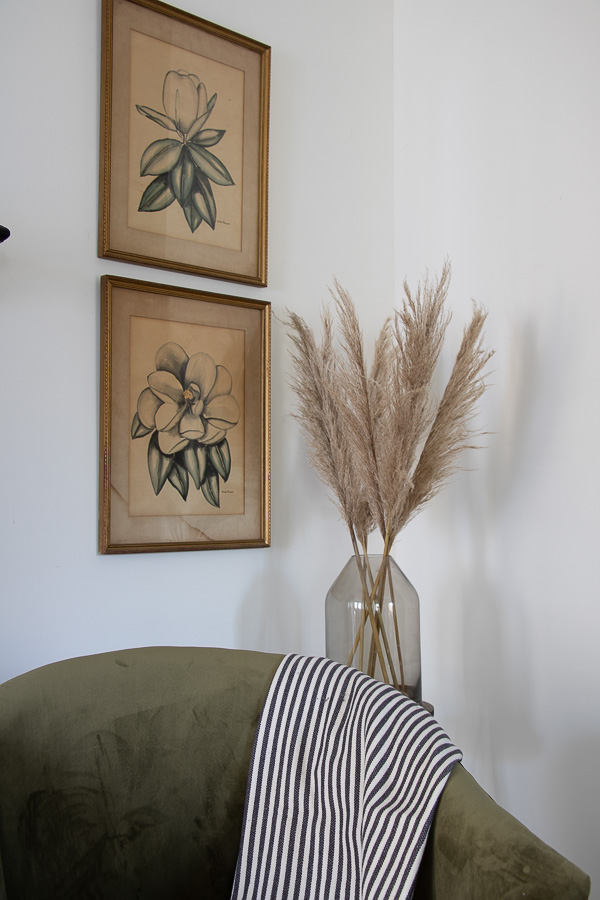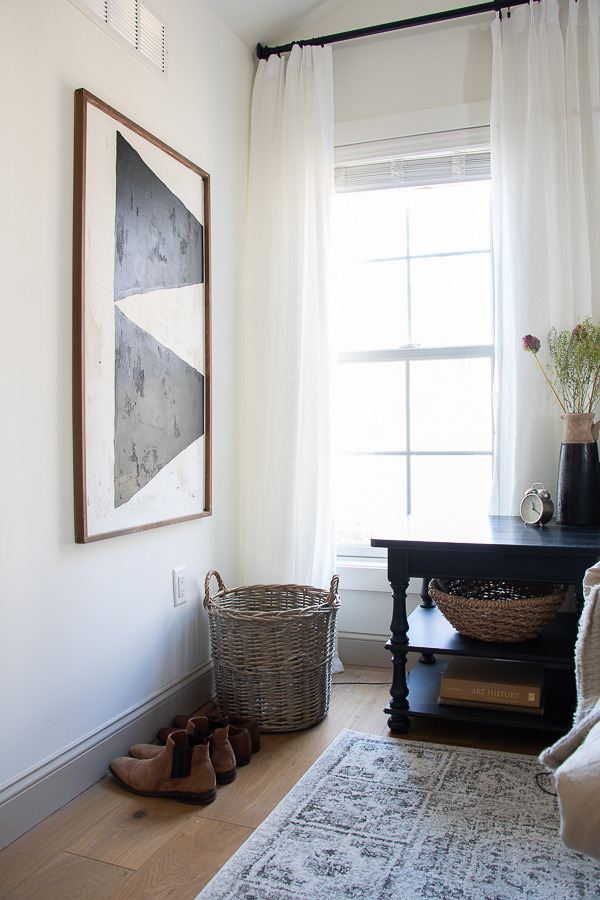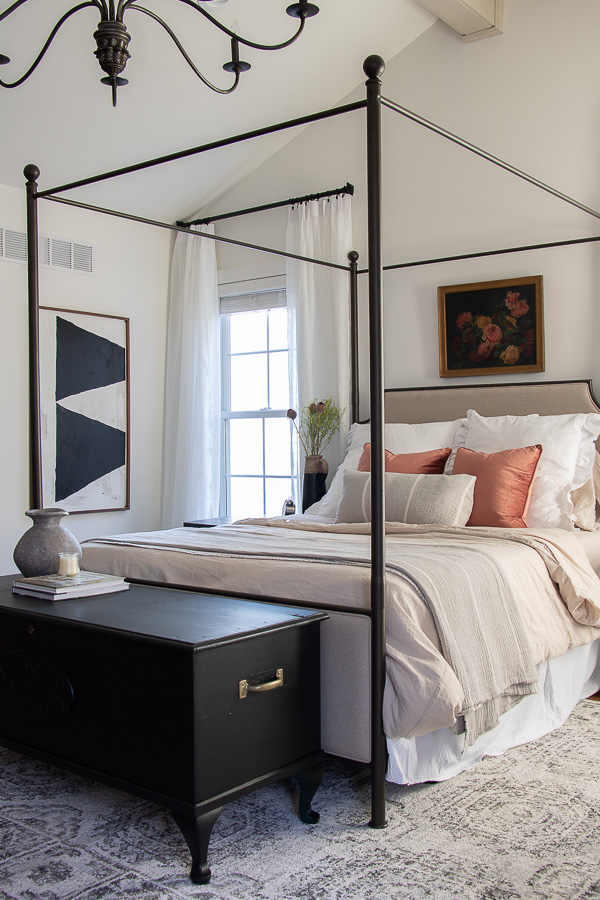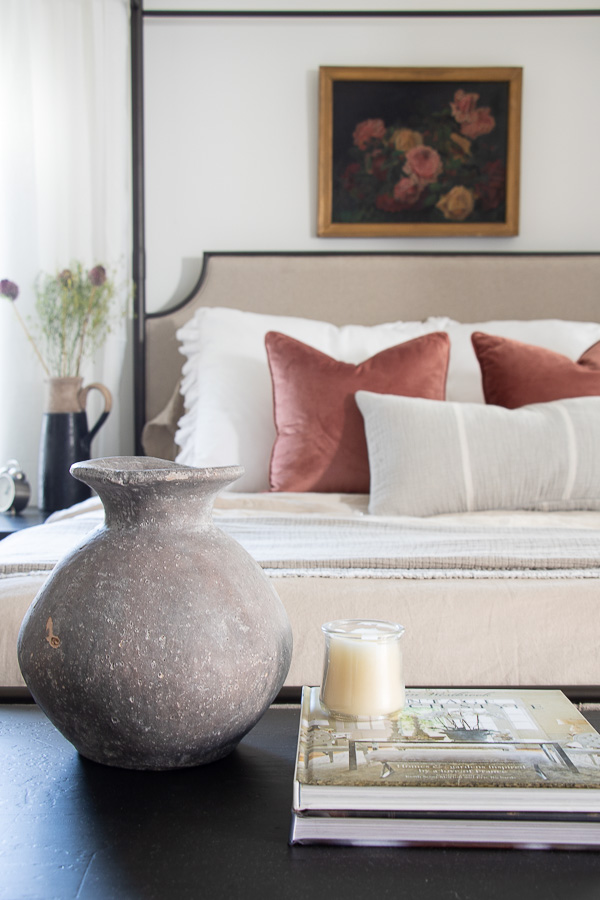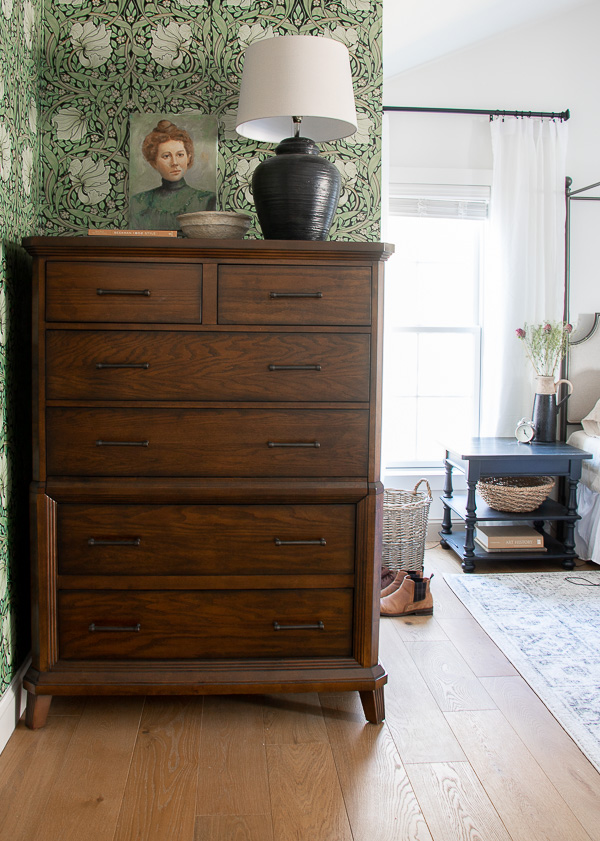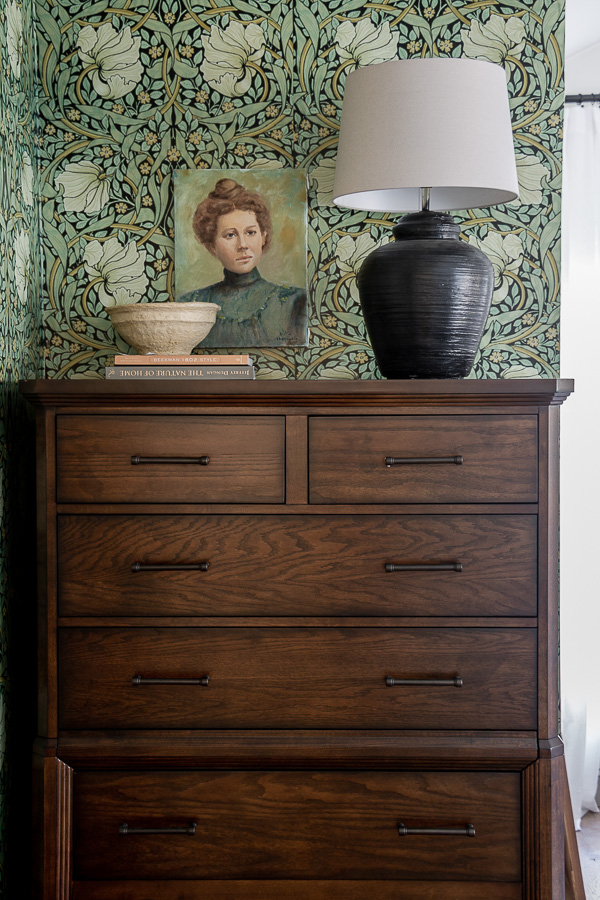 Well, that's that! I am excited to be done and cozy up in this space all winter long. Not to mention decorate for Christmas in here! Thank you to the amazing sponsors that helped make this makeover possible.
Source List:
Side Tables– Raymour and Flanigan
Green Velvet Chairs-Raymour and Flanigan
Area Rug-Loloi Rugs
Bedding (color pebble) Garnet Hill
Throw Blanket-Garnet Hill
Pink Pillows- TJMaxx
All Artwork thrift-ed or DIY'd
Wallpaper-Spoonflower
Tall Mirror-Homegoods
Black lamp- Thrifted
Chandelier– Hudson Valley Lighting
Hardwood Flooring- Avalon Flooring
Paint Color: Benjamin Moore White Dove, trim: Stone Hearth
Thanks to these amazing sponsors!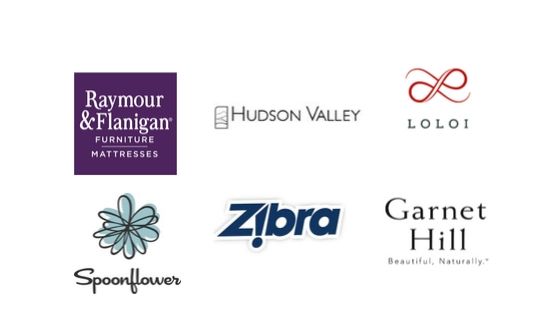 Please Pin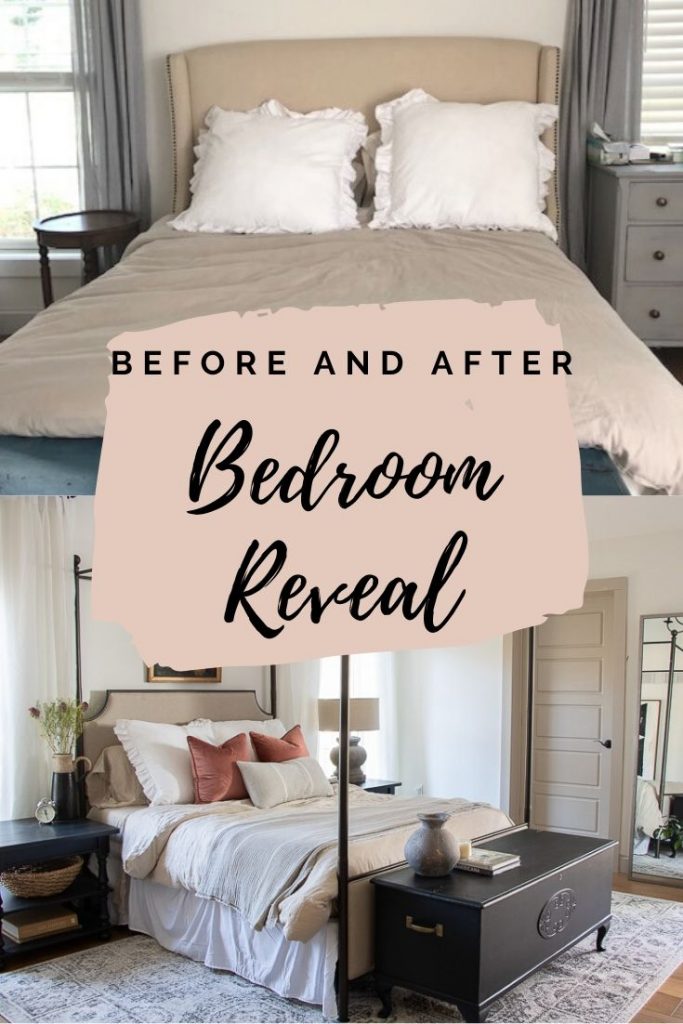 (Visited 6,647 times, 1 visits today)