Well, behold the master bedroom faux mantel is officially ready to share. Week 4 of the ORC and I still have so much to do, but we are getting there! We installed our wallpaper tonight, received our bedding, and I've been starting to even add some final decorating touches to the parts of the room that are done.
Ok, lets talk about the mantel that gave me a run for my money. The piece that is a focal point of the room, and may have made me cry. It's still not 100% done, I plan to add some molding at the bottom of the platform and also around the tile, but who can wait for that…I wanted to finally share how the mantle turned out.
If you all remember how the mantel started…I'll share the BEFORE once more.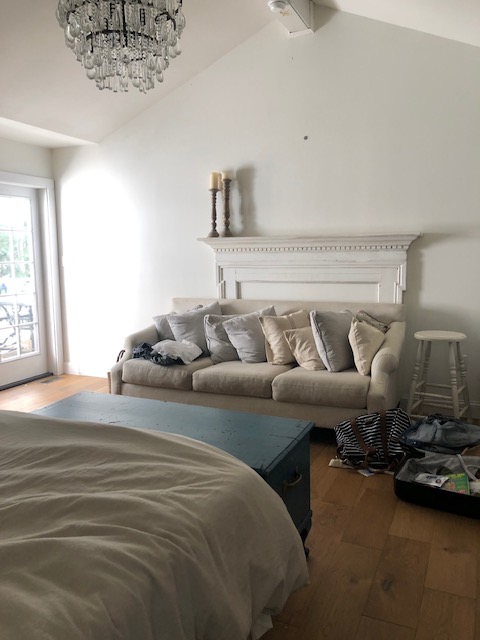 Also to catch up on… Weeks 1, 2, 3 of the ORC!
Okay, it's kind of hidden behind the sofa, but you get the idea of it. I got this mantel from a neighbor from our last house. She was so kind and had the best vintage decor and pieces. I knew I wanted to hang onto it, and when we had to scratch the gas fireplace from the plans in the master, I figured we would add the mantel to this wall for a dramatic feel. Well, we gave it quite the makeover.
Lots of confusion, compromises, and eventually a finished look that I am pretty happy with.
Black paint
A platform (to fix the awkwardness of the floating mantel)
A vintage arched wrought iron piece for the mantel
A DIY arched cut out
Tile
We bought some particle board to create an arch for to go around this metal piece we got from flea market.




I thought painting the entire piece black was the way to go…but it was awful! Onto the next plan…

We bought some tile that was close in color to the trim color we used. Then painted the arch with Stone Hearth to match the trim in our room.
I'm not gonna lie I was pretty frustrated on this one. I thought about throwing in the towel so many times, but I kept at re-imaging how to make it all work. I think a few of the issues were, the size, the addition of the arch, and I really did not want the end result to look too DIYish if that makes sense. I was hoping it would look like a working fireplace or like an old fireplace that once existed.
Here she is!!!!!!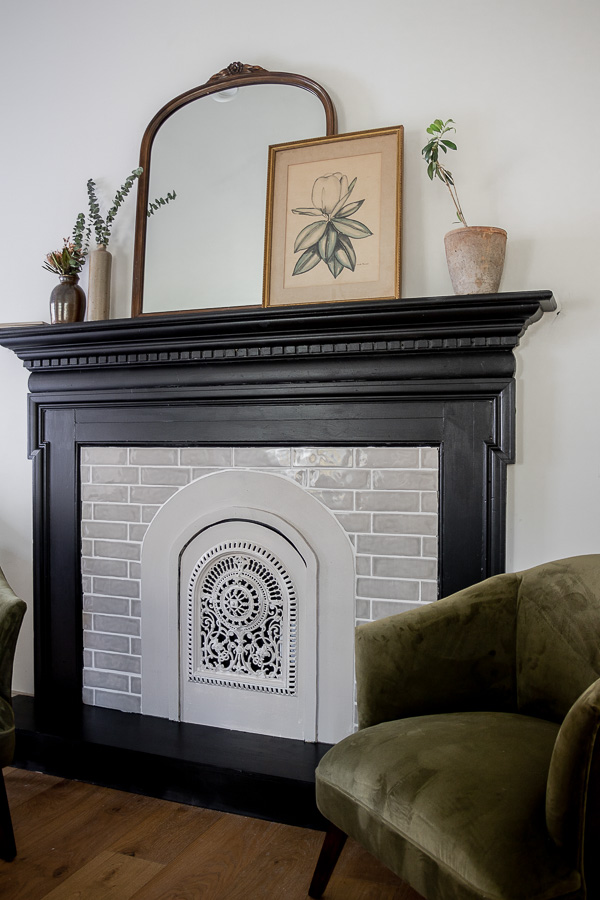 The tiles we picked up at Lowes, they were a great price and I loved how they matched the color of our trim. At least they were pretty close in color. At one point I did not think we were going to do tile at all and I had an idea to fill in the space with molding. I'm not sure how that would have turned out, but we could't find the right molding that I needed. So, we went back to the plan with using tiles. That's how the entire process was…it was lets try this, no lets try this instead….until finally something worked.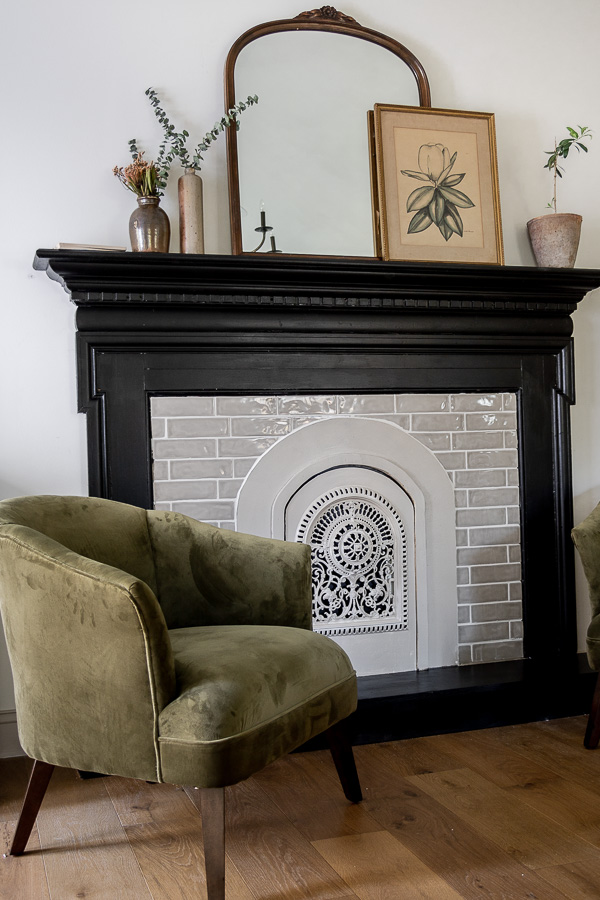 The green velvet chairs arrived this week (first look at their pretty-ness), but we still have a few more details to go, before we can call this room makeover complete.
I should add that we also painted our beam in stone hearth this week too, which made such a difference. You can see a bit of it in this last picture.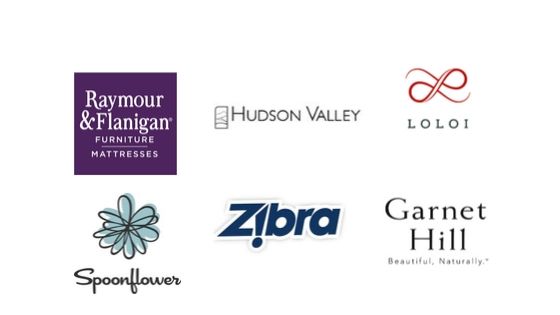 (Visited 2,460 times, 2 visits today)