A $400 Kitchen Makeover
It's time to reveal my kitchen makeover!!!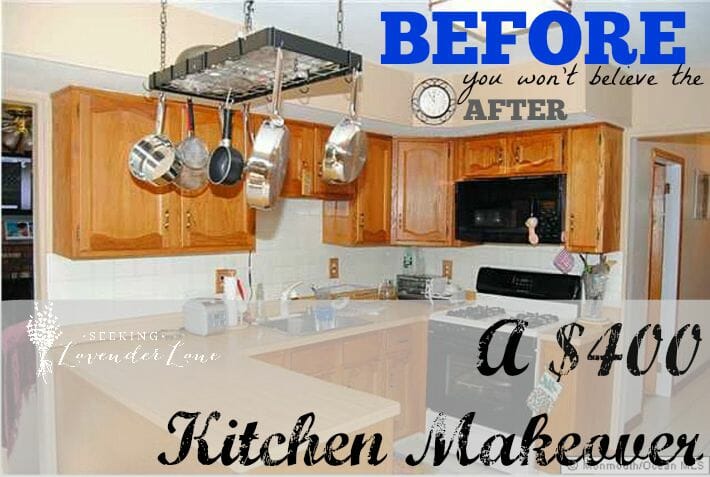 .
This by far has gotten so much attention and compliments from all our family and friends that have seen the before and after. We are so proud of all the hard work we had put into this project. It's not all perfect, but knowing it was more than money put into the project we are so proud to call it ours. Everything here we did ourselves…I'll take you step by step
1. Sanding the cabinets ugh…the most annoying part to the process. I think When I told my husband take the cabinets off week 2 of moving in, he thought I was crazy. I told him no time could be wasted…which he agreed, but once the reality set in and the sanding begun there was no turning back.
What did I care, those cabinets were so hideous I couldn't wait one more day.
2. Next, Priming the cabinets using white primer from Benjamin Moore.
3.Painting the cabinets (3 times) We used Benjamin Moore Advance Paint. We felt it was a great product, but by the 3rd layer we felt maybe the priming was not necessary since it still took us 3 extra coats. We chose the color simply white which we were very happy with and continued to use this color throughout the house for other projects.
4. Once the Cabinets were done, we chose some "black finish" hardware. This cost us about $100 dollars probably one of the most expensive parts to the upgrade.
5. It was time to decide what type of "cheap" countertop finish we wanted to go with. We had a laminate countertop that looked like "OAK" it just was not working and kept the Kitchen looking dated still. My design plan was to go for a cottage/farmhouse kitchen. So we thought lets try the Ikea butcher block countertops, which I LOVE! This unfortunately fell through due to the amount of inventory they had and our lack of time to get this done. So we researched a couple other ideas and found a great product, Ardex Feather Finish
which is a type of cement. Such a great product that allows you to apply this right overtop of the current laminate countertops. It only costs around $15 (update 8/6/15 $35) and can be bought right on Amazon,com We were thrilled with how easy it was to use. We unfortunately could have used a second bag with some of the imperfections that we had, but since once again we were in a hurry and on a budget I bought some cement paint from Sherman Williams and blended the countertop together. We finished it off with 3 coats of cement high-gloss sealer from Home Depot.
PHOTO BELOW: Pre-countertops, backsplash, and sink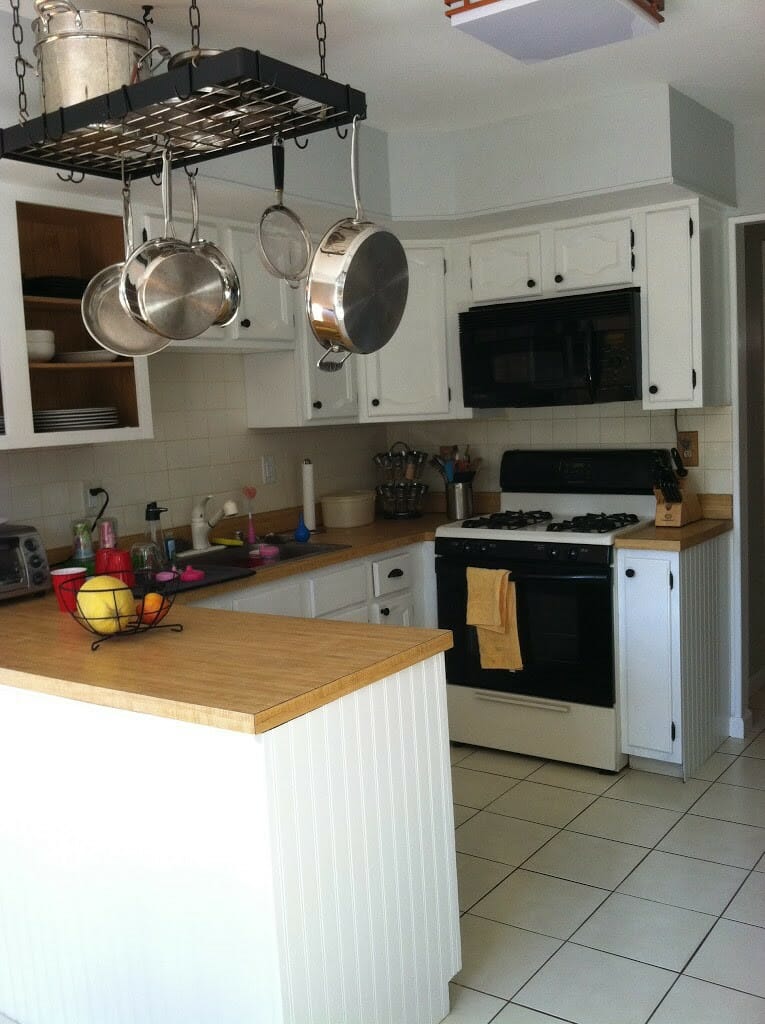 BELOW: We removed the backsplash and started a layer of Ardex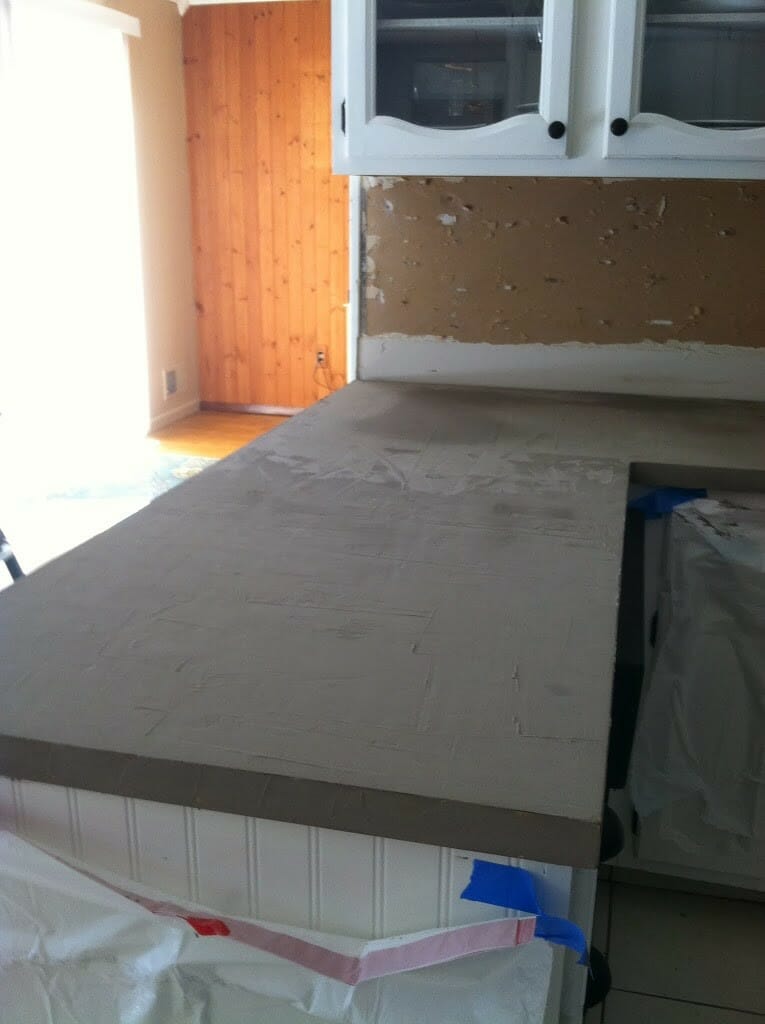 UPDATE: SEE post for new layer of ARDEX with out painted layer, click here for post.
6. The sink I thought I would never have, came next! This is the an amazing priced farmhouse sink from Ikea. I was sold on this idea for years now planning for the day we bought a house. After researching farmhouse sinks and realizing how pricey they could be, I did not think it was going to be possible. Then we researched Ikeas products and could not believe how affordable the sink was. Paying less than $200 on it and after cutting a very large hole into our cabinets my husband managed to place the sink in and it just created the farmhouse kitchen of my dreams. We also added trim around the sink where sink and cabinets meet.
7.We then went shopping around for tiles for the backsplash. My original plan was to go with the very classic and currently trendy subway tile.
I feel we could not go wrong with this look especially since it is incredibly affordable. I just have an eye for clean lines and I am really not into a busy backsplash at all. My husband was not keen on the subway tile and thought he could convince me to go with a different look. I of course felt that I did most of the deciding for the overall design and would be open to some of his ideas. Well, that fell short once we realized how costly other tiles could be. So the classic white subway tiles were bought for a whopping $40!!! We chose a grey grout to match the countertops which was perfect for the soft color pallet we were going with for our kitchen. We had some trouble with the tiles especially once we realized our countertops were uneven, so in the end they may not be 100% straights once staring at them for a while, but at first glance they seem pretty great haha. No one notices unless we point it out of course.
8. Last was  accessorizing! I knew I wanted to continue with the very clean look of white so I picked up a few great pieces from Target and bought a few clear canisters to keep it from looking to cluttered.
9. Oh and I forgot to mention the glass door we created. We needed to open the space up slightly since it is a U-shaped Kitchen so instead of just leaving shelves or removing the cabinet (which we really need for storage) We cut out the center of the cabinet and added glass for an additional $16. This really made quite the difference in the overall design.
Hope you enjoy the photos of our "new" Kitchen. I just really want to share that with a little bit of money and a lot a bit of hard work you can really create a "dream" kitchen for yourself. This was what I envisioned the first time I walked into this house and I couldn't be happier cooking meals for my family and spending time in this space.
BEFORE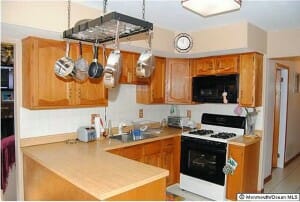 AFTER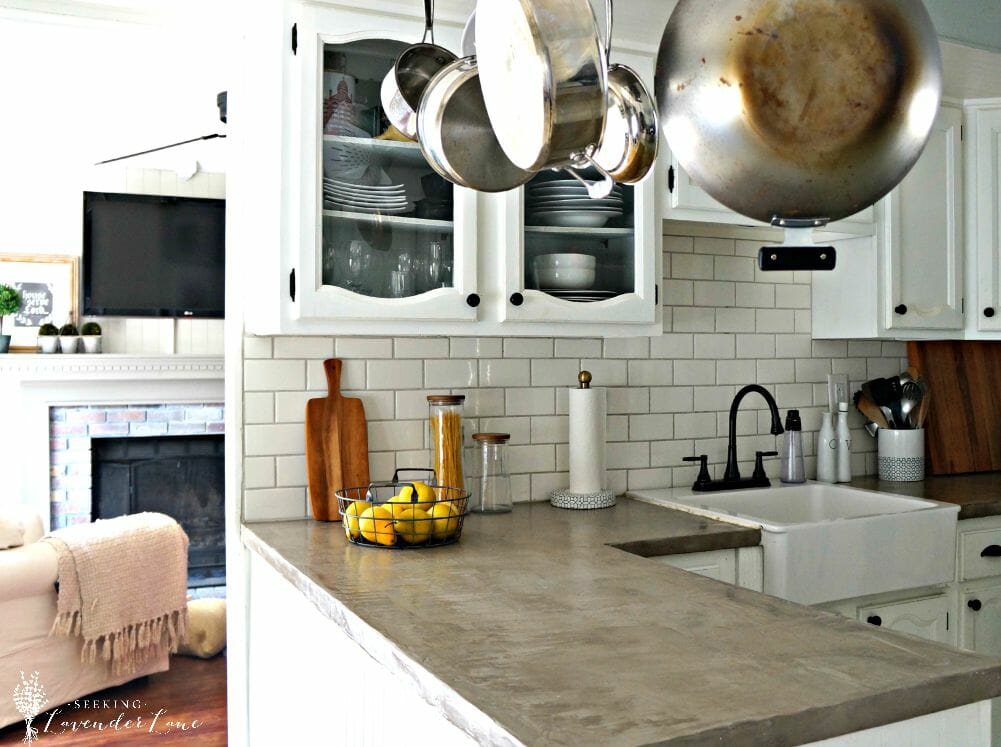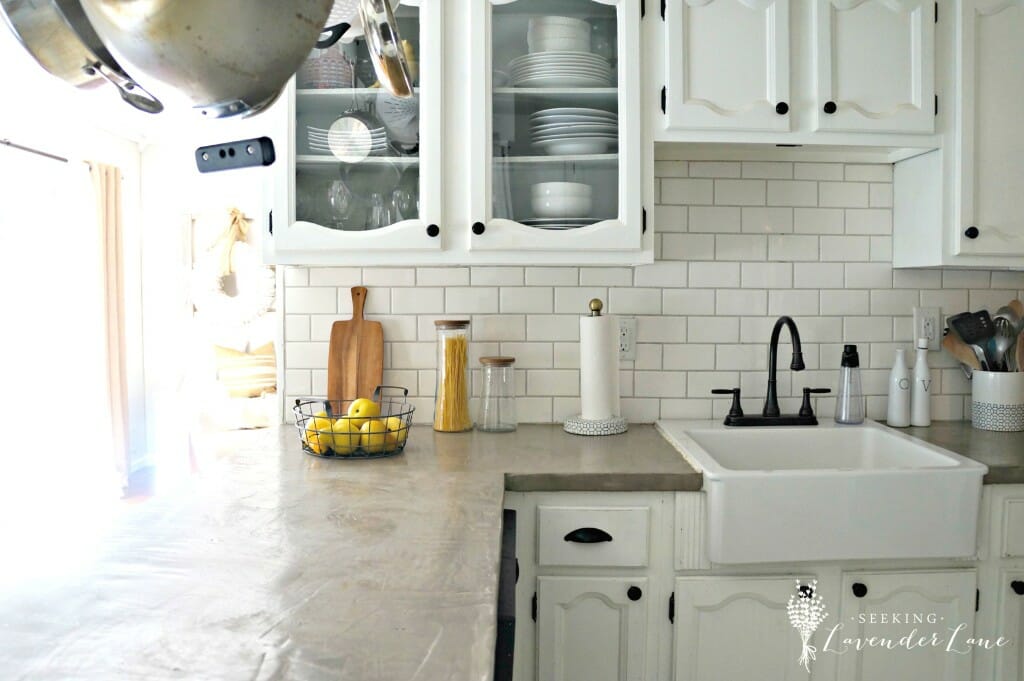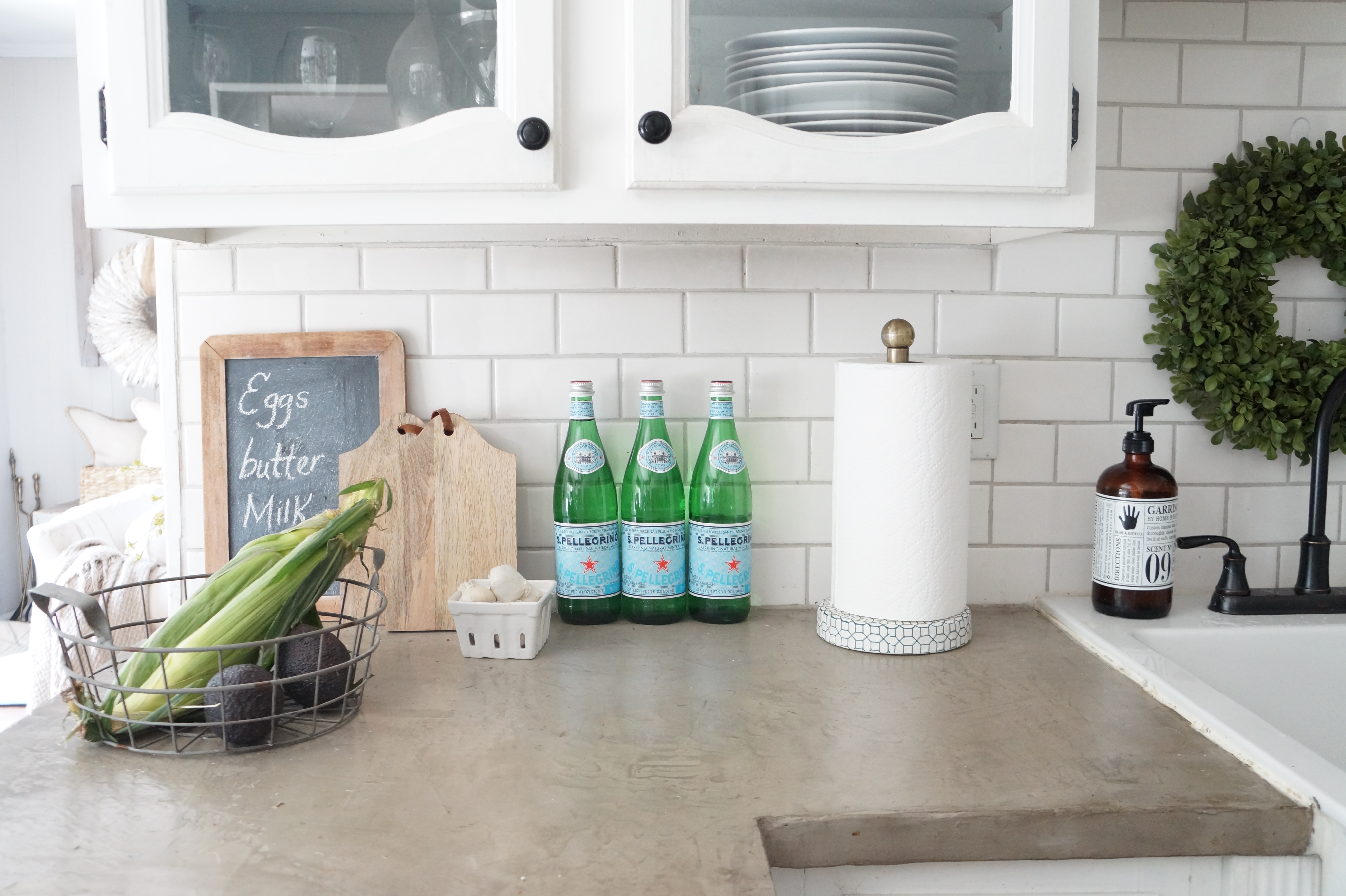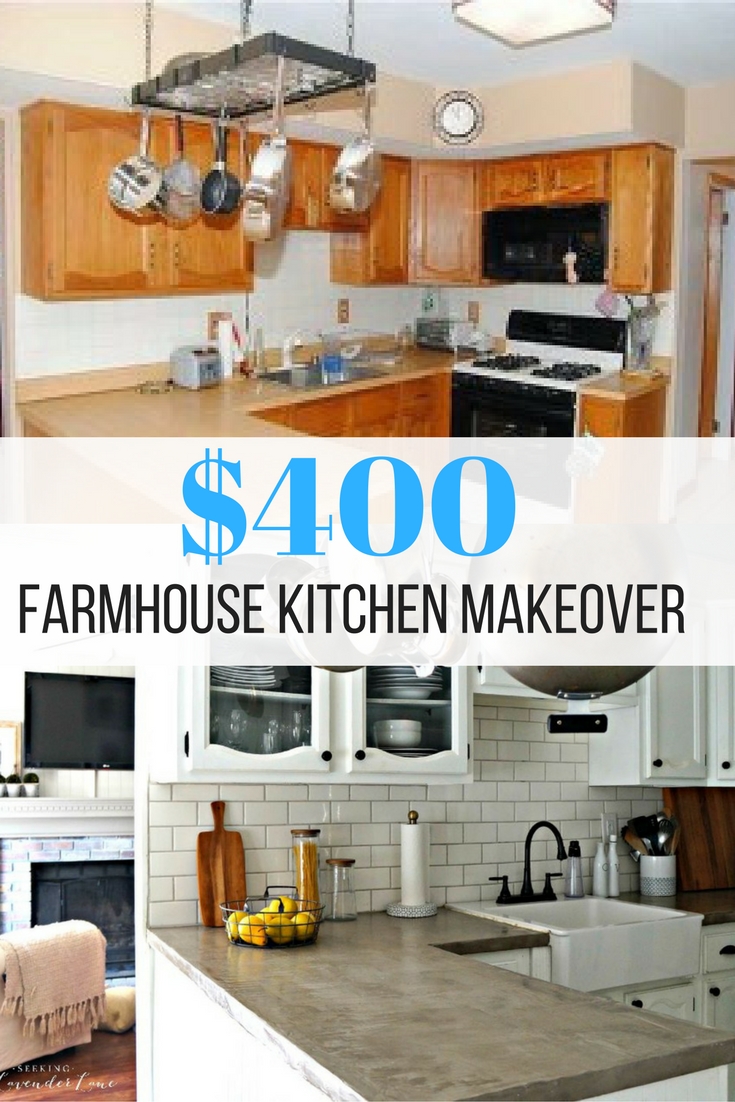 PLEASE STAY A WHILE