See these Top 10 Farmhouse kitchen makeovers on a budget.
If you all love Farmhouse style and of course the beloved Fixer Upper, then of course you love a Farmhouse kitchen. I think farmhouse kitchens are so popular now, that people even without farmhouse taste, want a farmhouse kitchen. Whether it's all white cabinets, a Farmhouse sink,  that classic bead board, butcher block counters, or rustic shelving. Whatever your style is, you can not deny that the farmhouse kitchen is stunning! The best part is I have the top 10 Farmhouse Kitchen's on a budget to share with you. These were all kitchen's that were inspired by farmhouse design that kept to a small budget to achieve it. Be sure to check out each of their tutorials and learn how to achieve your own Farmhouse style kitchen without breaking the bank.
This beautiful bright white Kitchen Makeover has a clean pallet with beautifully collected vintage accessories. You can find more details of this beautiful makeover from the talented Liz Marie Blog.  
Amazing what a little paint can do! Thanks to Timeless Creations for sharing her beautiful bright and airy makeover.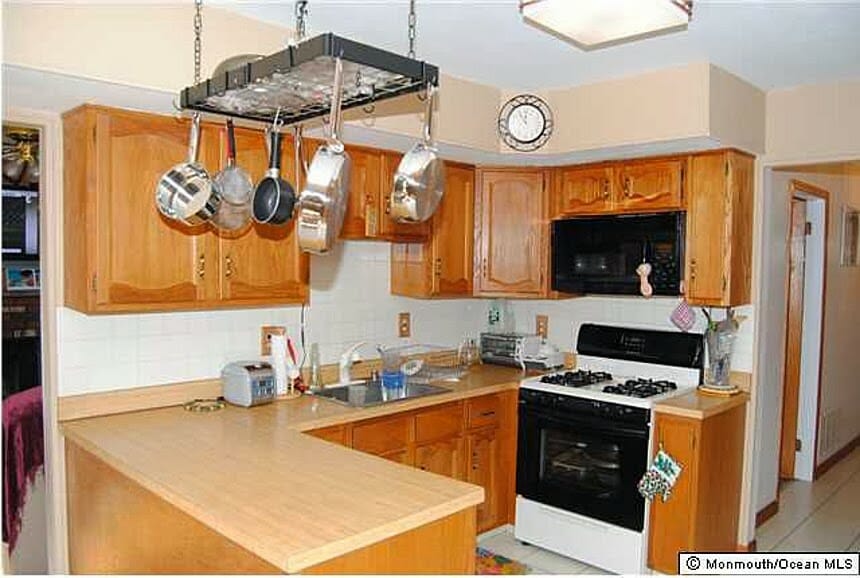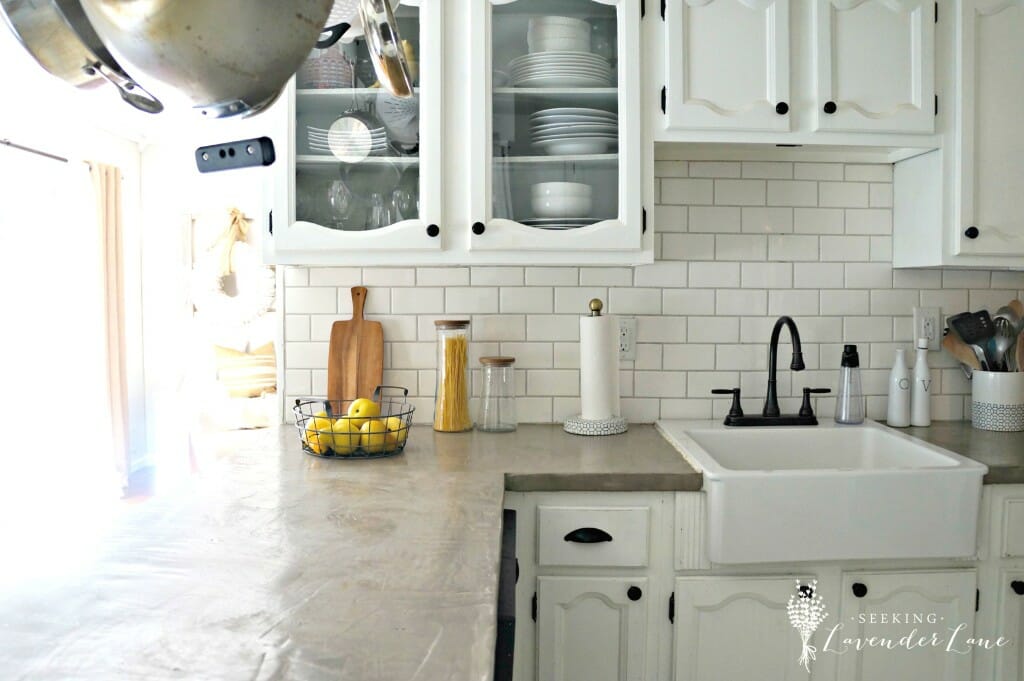 Can you believe that these are the same cabinets in the kitchen? I added Some paint, an apron front sink, Farmhouse Faucet, subway tile, concrete overlay counters,  and the right kitchen decor. It really turned this outdated kitchen into a Farmhouse dream.
This kitchen, from Cherrished Bliss, is almost unrecognizable! With the island put in place of the peninsula, it totally changed this space! Not to mention those beautiful butcher block counters and the freshly painted bright white cabinets.
Not all Farmhouse kitchens have to bright white…loving this off white cabinet color and the charcoal colored island from My Creative Days.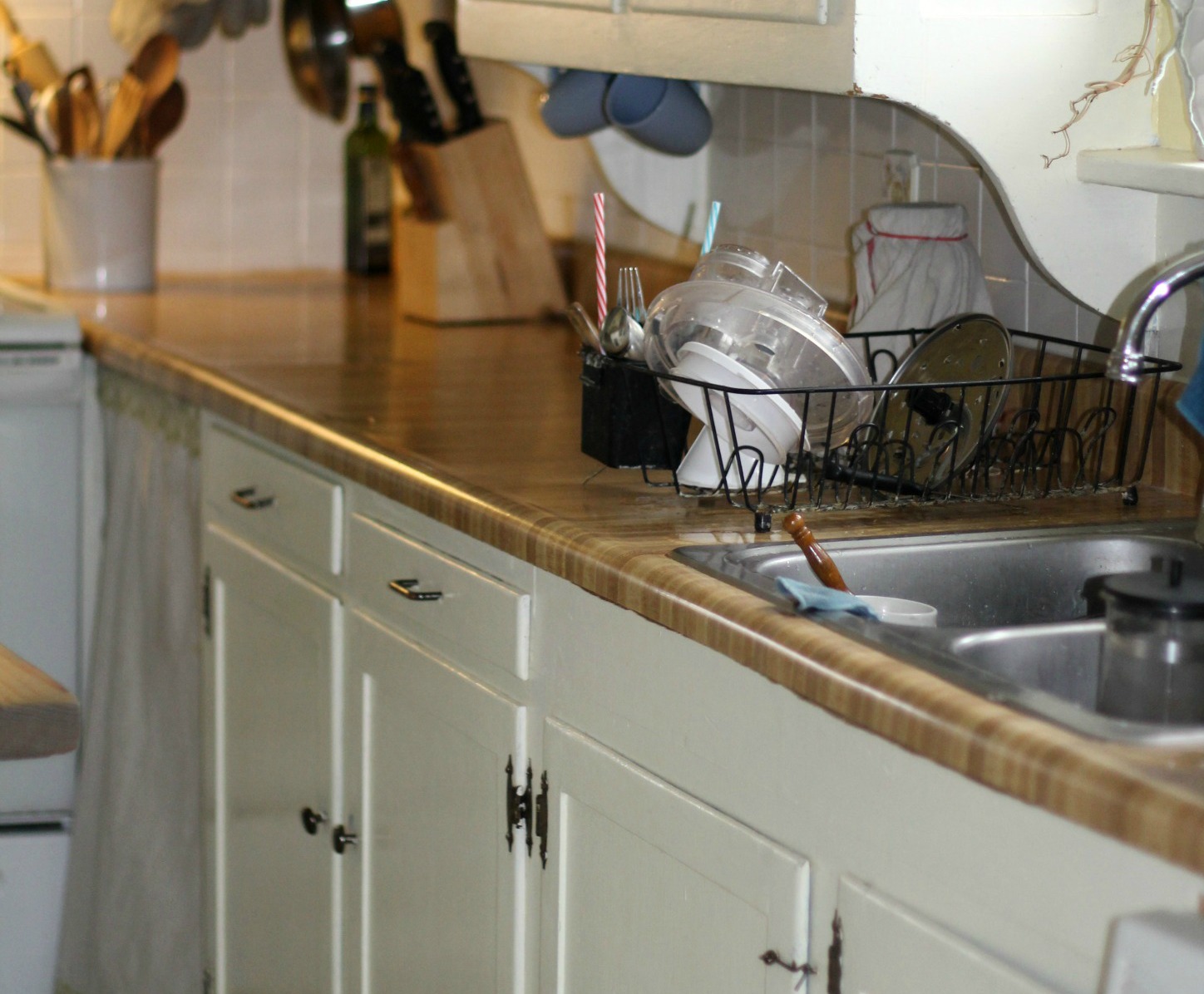 Now, this vintage kitchen, from Farmhouse on Boone had all the bones…just some love, new backsplash, sink, and counters…made it the pretty Farmhouse kitchen it always wanted to be!
This transformation is amazing from Sincerely Sarah D!!! I love the two-toned cabinets and those beautiful stools.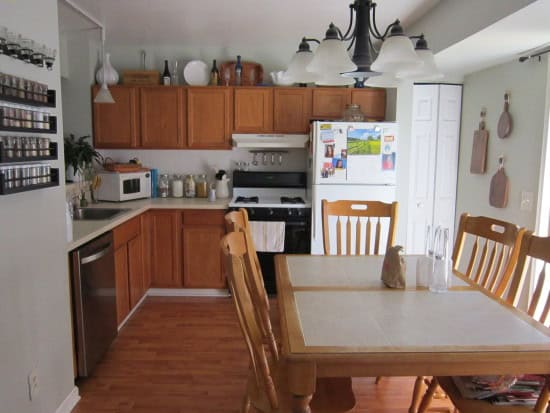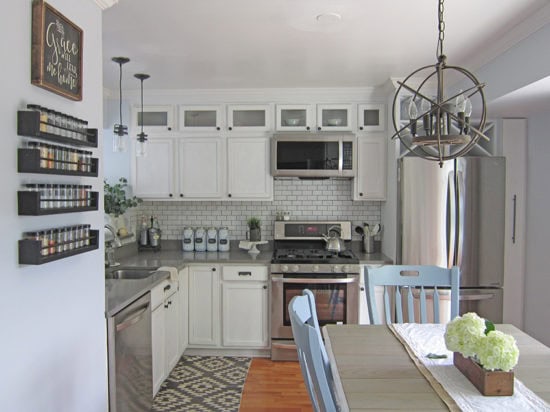 From outdated oak to bright and neutral…this Kitchen has all the farmhouse charm a girl could want. The honeycomb home really brought this Kitchen to life with some beautiful DIY and budget-friendly upgrades.
LOVE me some subway tile! It's amazing what an affordable tile with a classic style can do to a space!!! This beautiful DIY farmhouse kitchen, from Jennifer Rizzo, has all the charm you need including the classic subway tile backsplash that stepped this kitchen up a notch.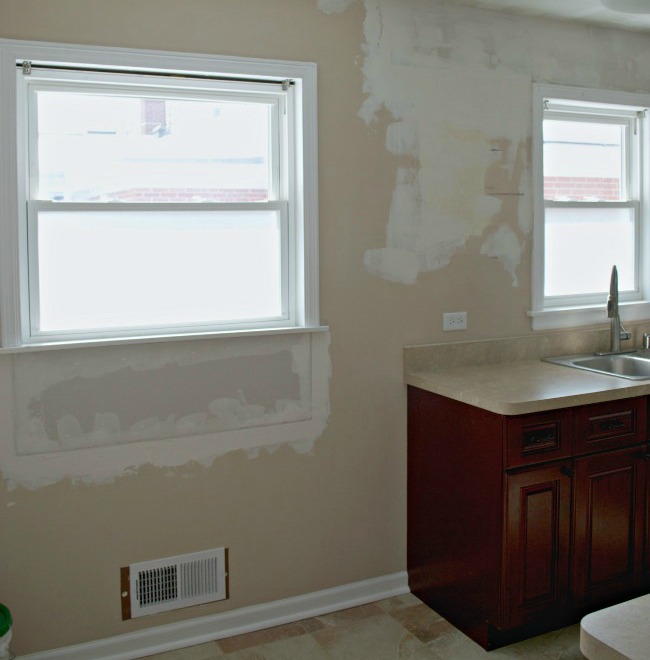 Talk about drastic and beautiful!!! This stunning bright beautiful white farmhouse kitchen is from Chatfield Court. Love that wall of subway tile and the floating shelf.
With all the right Farmhouse plans such as paint, backsplash, sinks, counters, and farmhouse kitchen accessories, these kitchen spaces turned into the perfect top 10 farmhouse kitchens on a budget.
Shop the Look

PLEASE PIN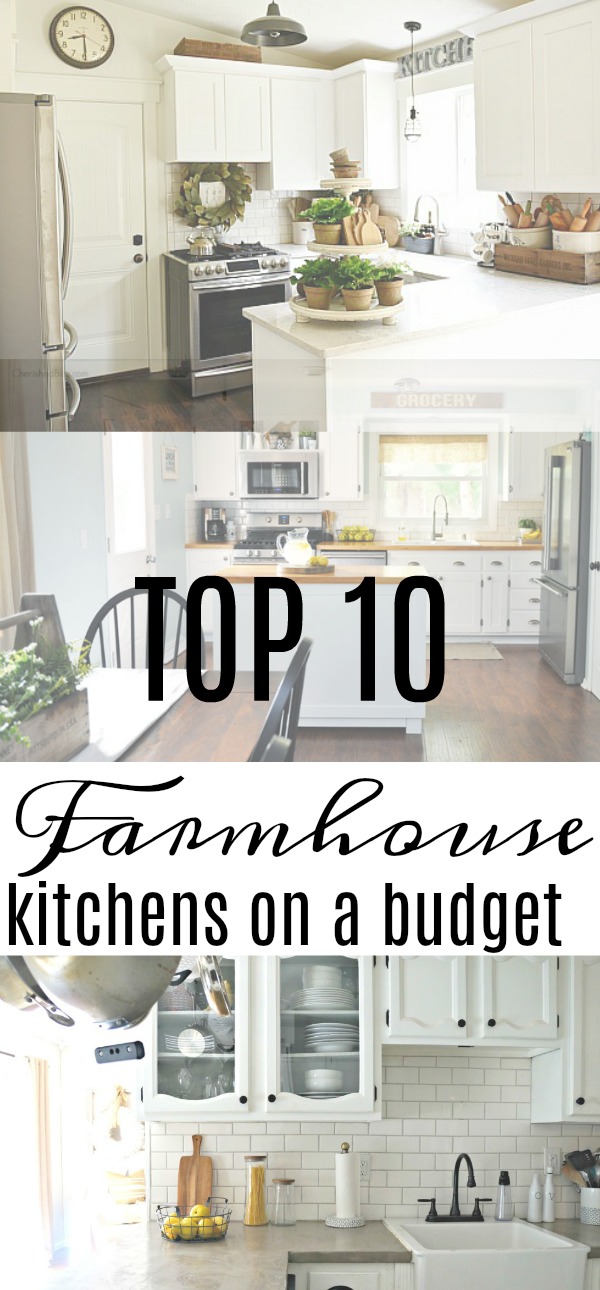 More Farmhouse Style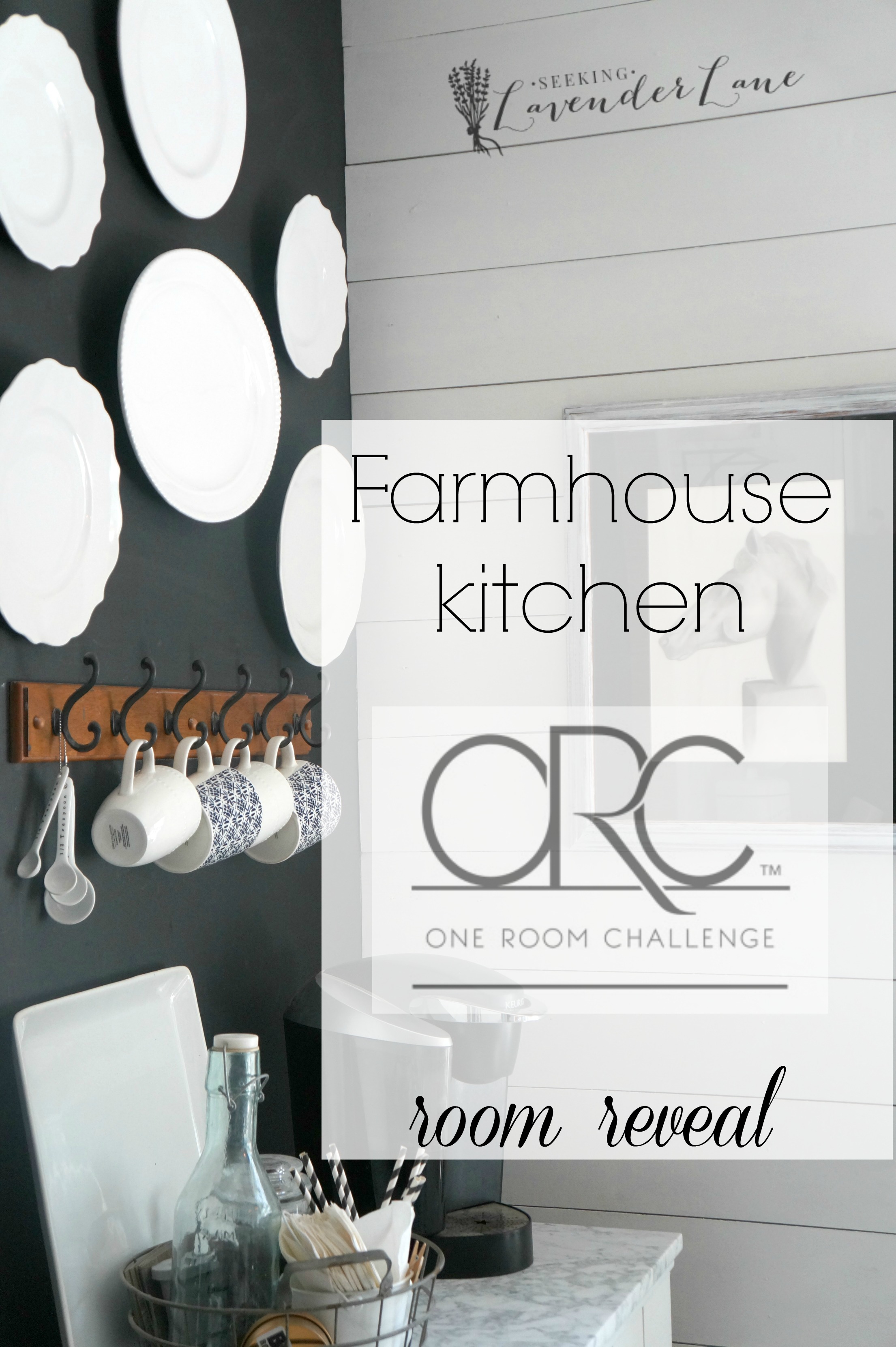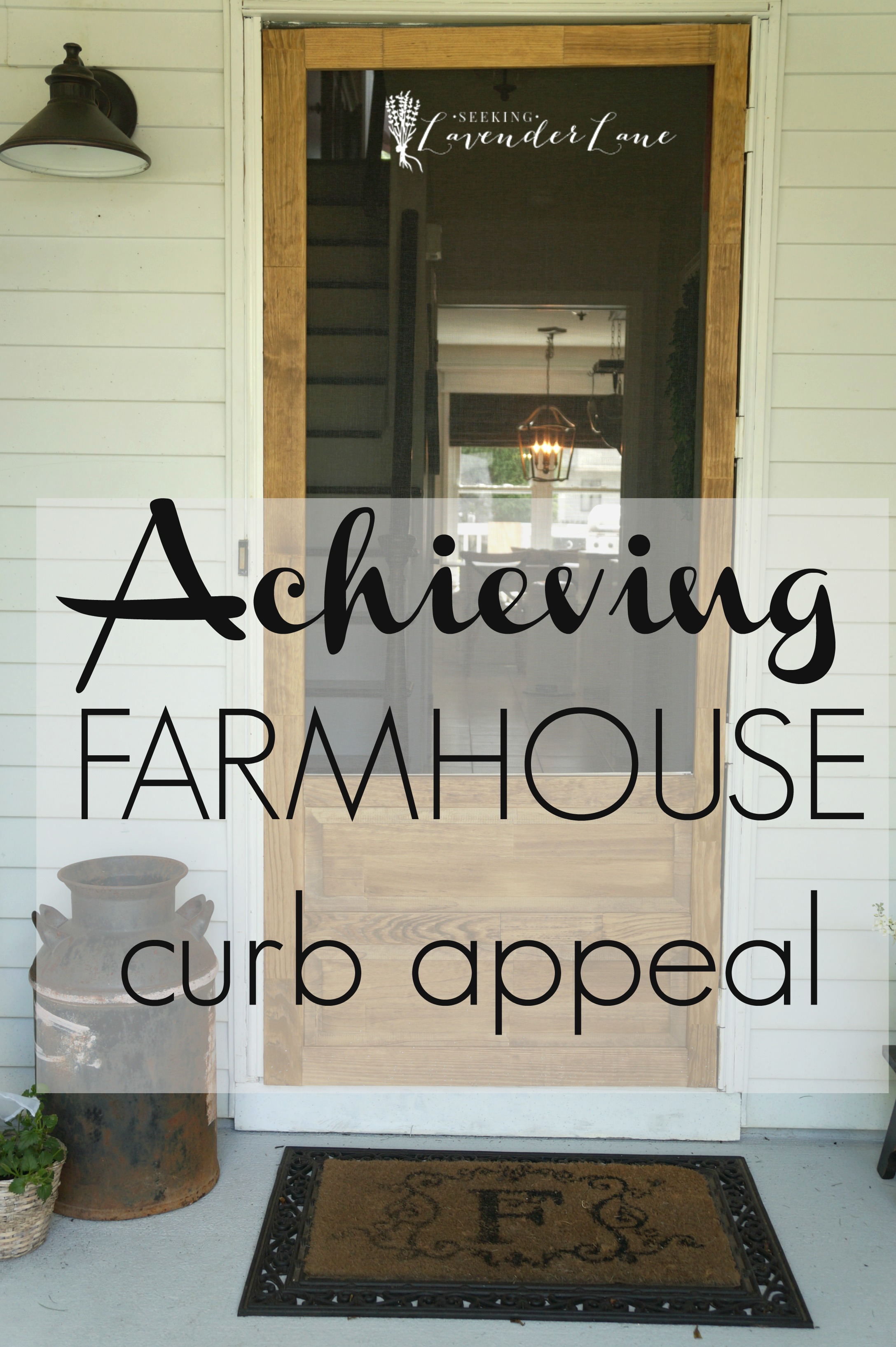 Achieving Farmhouse Curb Appeal
(Visited 41,054 times, 1 visits today)