Our homes for the most part are meant to reflect our own aesthetics but taking a look at what is trending in home decor is fun, refreshing and can bring something new to our homes that we love. There has been an increase in unique styles, custom looks and antique revival that will continue for 2022. Here I have rounded up the top 10 ways to style your home in 2022.
I shared a few weeks ago Top trends for 2022, and How to accessorize a home in 2022...check that out to learn all you need for a 2022 home!
#1 Tonal Accents keeping with the theme of the room accents that are tonal. The colors of the vase bowls and branches are all on the moody and neutral vibe with this kitchen.
#2 Vintage paintings are hotter now than ever! I love watching designers bring these styles in their clients homes because you can see such character and drama with a beautiful painting paired with a beautiful room. Go large and oversized or a small scale piece of art for an unexpected feel. I also really love the off scale feel of some paintings.
When in doubt, add a vintage painting for a pop of character and style!
#3 A simple table top with fresh flowers in a glass vase is the perfect way to keep things simple and classy. Allow the rest of the room be the feature! Sweet daisies are something I have been seeing many designer use in their room reveal photos.
source
#4 Styling with natural elements and oversized branches is a great way to style your home. It adds just that touch to make a room feel alive
source
source
source
#5 Styling with fresh produce In photoshoots and magazine you always see produce laid out for the shot, but why not live daily like this??? Displaying the produce you plan to use and cook with that doesn't need to be refrigerated.
#6 The collected look, keeping collection and items on display, especially in a kitchen! Jars, plates, glasses. When designers are styling homes today they are keeping more on display and arranging them in a organized fashion that looks practical for everyday.
#7 Plates and platters on a wall is back!!!! Catching designers, European accounts, and vintage lovers style walls with some of their favorite dishes. I just shared our dish rack the other day here, but how about on a kitchen hood, above a doorway, or even in a less expected way like in our office makeover.
#8 A Collection of flower arrangements– This is just straight up dreamy, especially while we anxiously await spring here.
#9 Styling with books! Has been around for a while now, but I am noticing more design books and coffee table books styled to elevate décor and accessories.
#10 When all else fails add a basket- This is a styling solution for clutter or texture, its been a great styling tip for years and it remains popular and impactful.
I hope you all enjoyed this post, with all the eye candy and tips on how to decorate your home in 2022 like an expert. All these designers are truly adding elements that make a room feel elevated and stunning. The design is not finished until the styling is complete. Maybe your home is lacking some design elements but you can definitely wake these rooms up with some of these styling tips above to help make an impact.
PLEASE PIN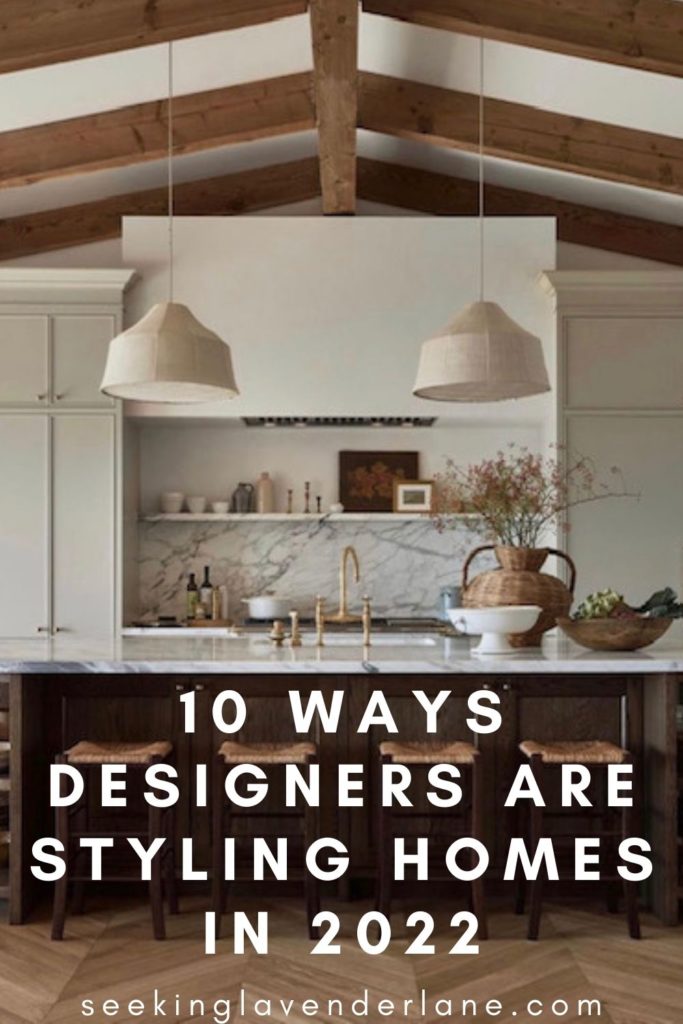 (Visited 3,679 times, 1 visits today)