Cottage living room makeover with small living room design.
Living rooms are some of the toughest rooms to design for when you have a family to design it for. I have to admit, I have the sloppiest children and the most snuggliest ones too. You can count the dog in that one. We just love our time together as a family, and sometimes those chill moments at home are some of the best. Let's start at the beginning of our family room/living room/den or whatever you want to call this room. It's just a super small space that has a fireplace..basically 2.5 walls, but it sure had the potential to be cute!
We had this sofa, that 1. my hubby never found comfy and 2. just could not fit us all on comfortably. I bought it initially because I felt with our small room, having a sofa would be a better practical piece of furniture. Throughout the 4 years we had it…it proved me wrong. We barely sat in the extra chair (the dog claimed that one) and we just ended up squished together during movie night. Forget trying to relax on here too…you just ended up getting trampled on by little feet.
This post was created with a sponsored agreement with IKEA. All opinions and designs are 100% my own.
Observe the reality of our sofa dilemma and family room.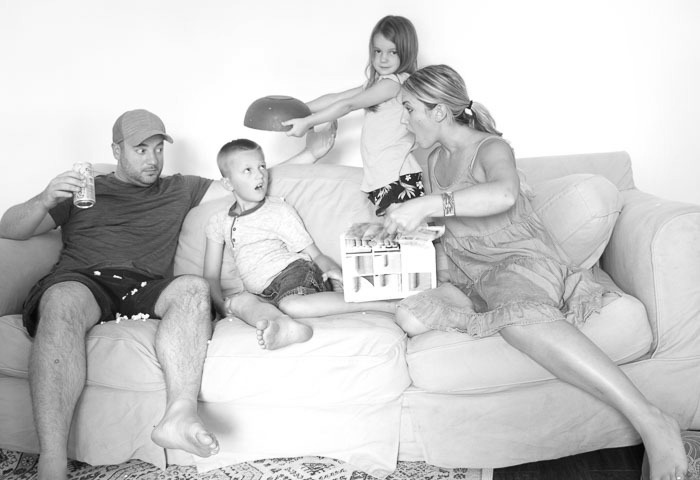 How to achieve good design in small space with Cottage Style
1. A sectional with the right dimensions
2. Furniture Placement
3. Slip covered furniture
4. Great Accessories
5. Affordable furniture options
Inspiration Board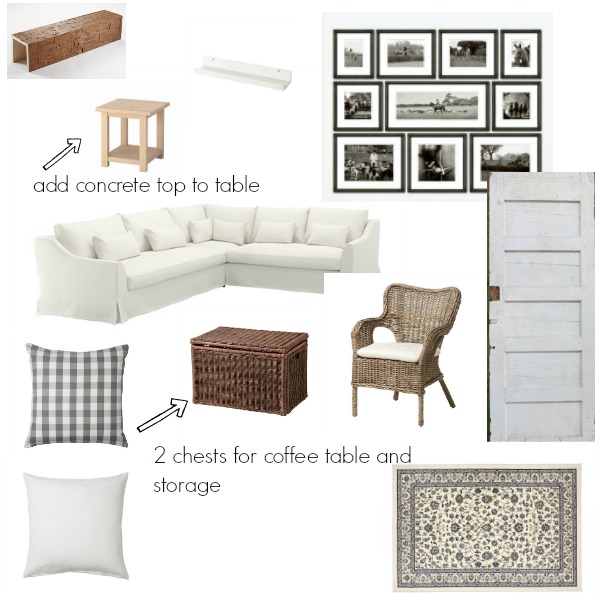 So, this was my initial inspiration…of course things change here and there as you decorate, but you can see that European Cottage feel to the room…just from the furniture pieces and inspirational look.
So the first step was to remove all of our old furniture and paint! With the cottage style in mind, I knew I wanted to go all white in here. I originally had plans to add beams or a wooden ceiling, but that didn't quite work out (always leaves room for future projects). I chose simply white by benjamin moore and instantly the room felt brighter and more "cottage-y" then every. You can read more about my favorite white paints here.
Then it was time to select furniture, we needed something more practical, but with great style. We chose the Ikea Farlov Sectional. It's a new sku and has a high end style for a great price. It also has the slipcover which makes washing easy. Yes, I went with the white color, but I am achieving a cottage style here, so it was necessary. I've decided this time around to cover my furniture with blankets when the kids are sitting on it. I know that sounds so impractical, but it works for our family. I love a pretty house with light colors so I have to find ways to work with light furniture with a family.  Also, if it does get stained…I can always toss it in the wash machine.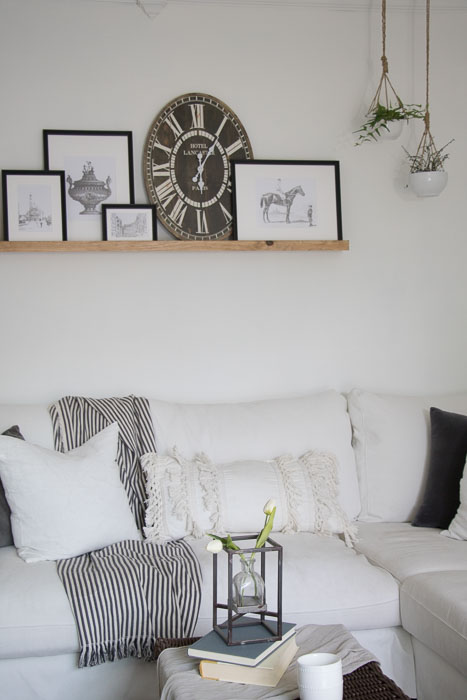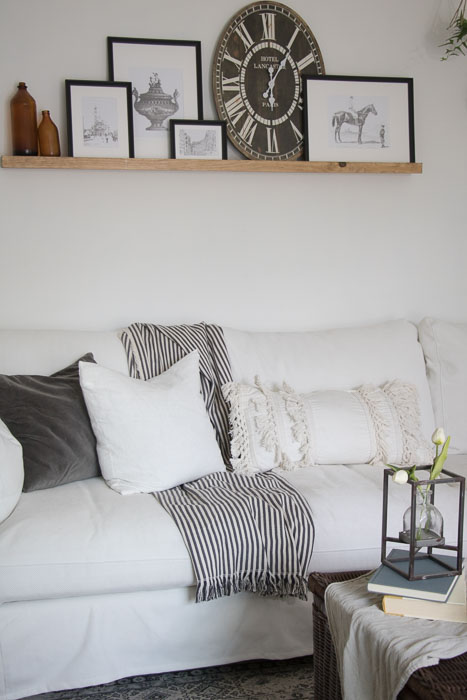 I was super impressed and surprised with how well the sofa fit in our space. I thought that I would be disappointed with the look, but to my surprise I think I was missing out all these years. It was perfect and created more functionality for our family.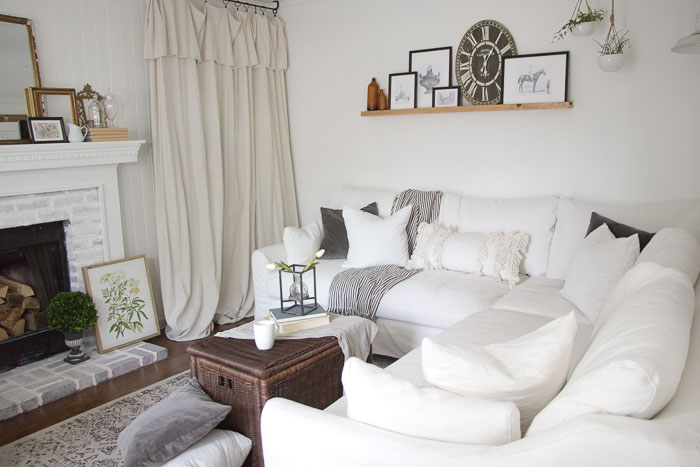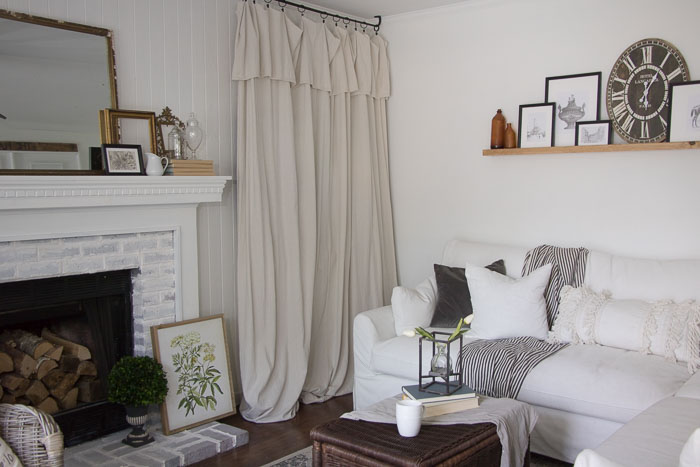 Of course next came storage, we needed something to be able to toss our throw pillows in and blankets, so my craigslist makeover piece which I shared on Saturday was the perfect stylish solution as well as this wicker basket from IKEA, that I am using as a coffee table too.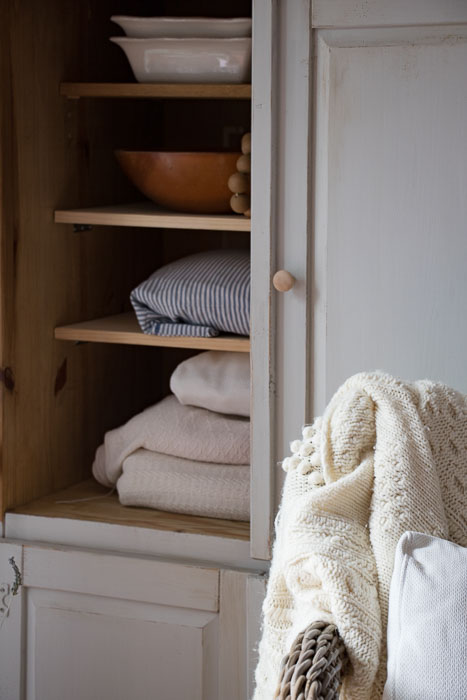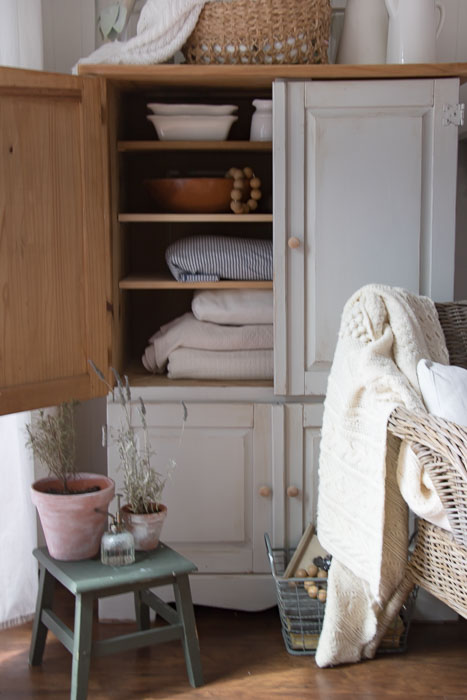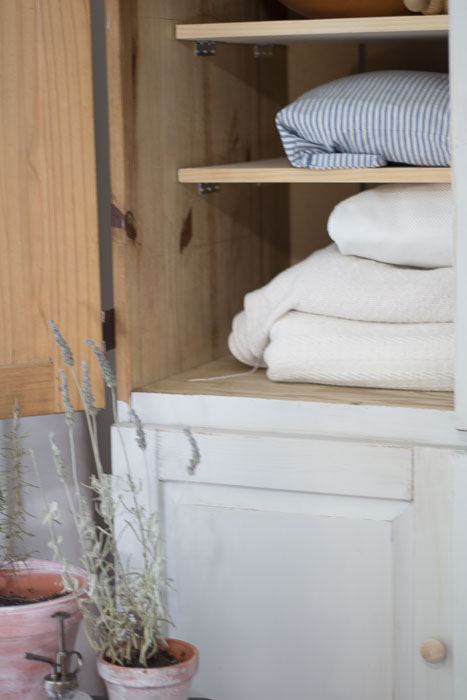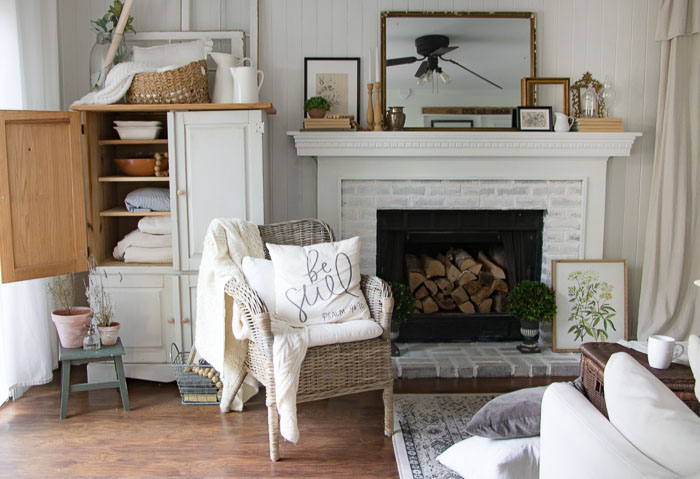 This time around with our makeover, I knew I wanted to take our TV down from the mantel. It was always such an eye sore, and to be honest it was quite uncomfortable to watch the TV from that high up. So, with lots of thinking on it we decided to put it on the wall. More to come on that this week!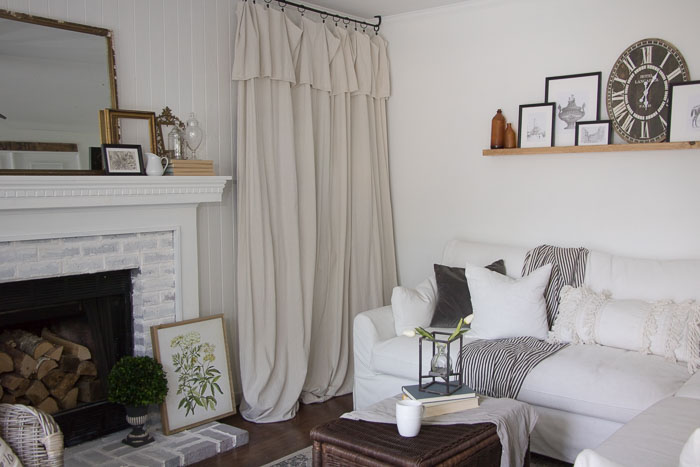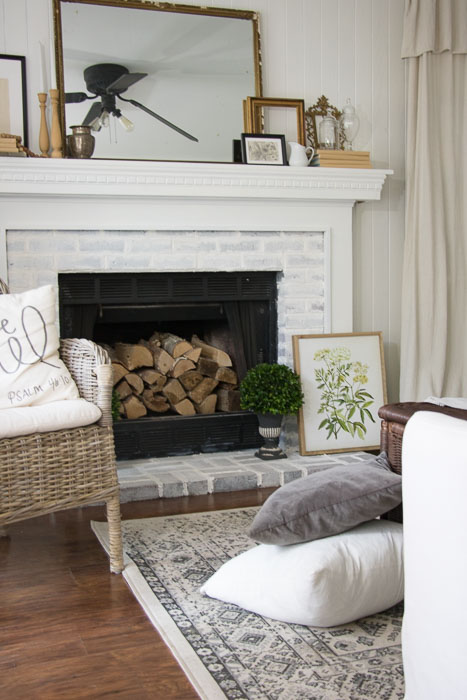 I decided that I still needed a wicker accent chair from IKEA, for the room, just to add texture and give the fireplace a little something extra in front of it. The problem with our small living room is that you can not see the sofa when you enter from the kitchen because it hides against the wall (due to the 2.5 wall issue), so adding a chair, makes it visible that there is seating in this space.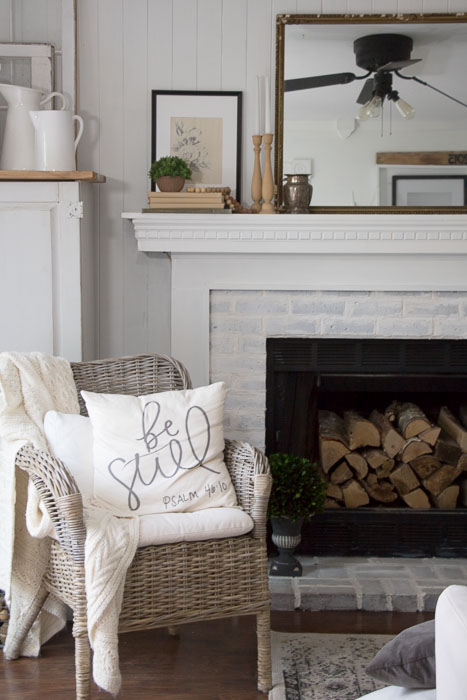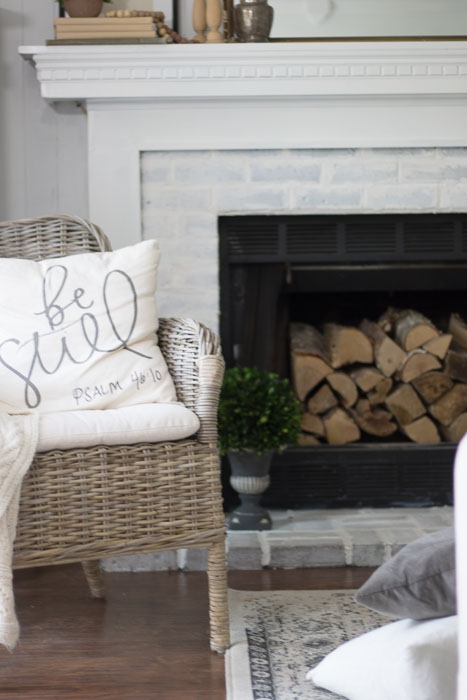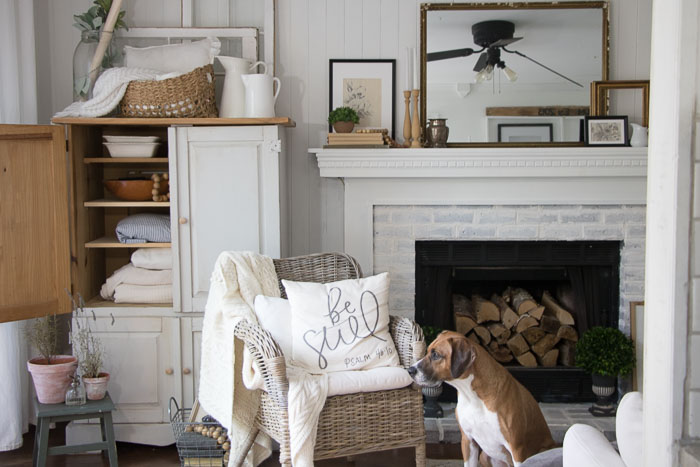 Luc most definitely misses his chair in here…sorry bud.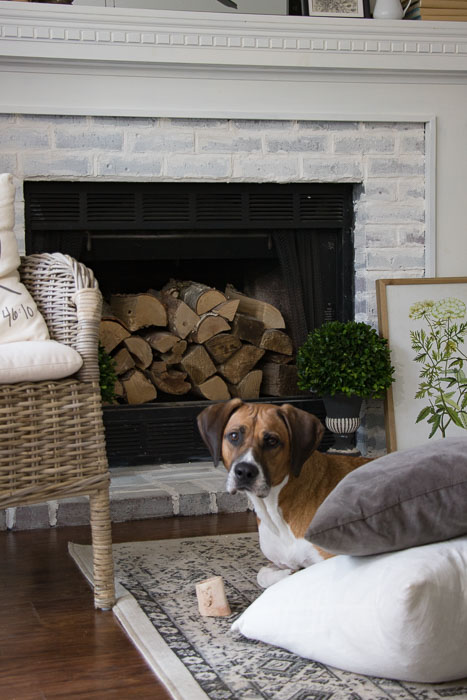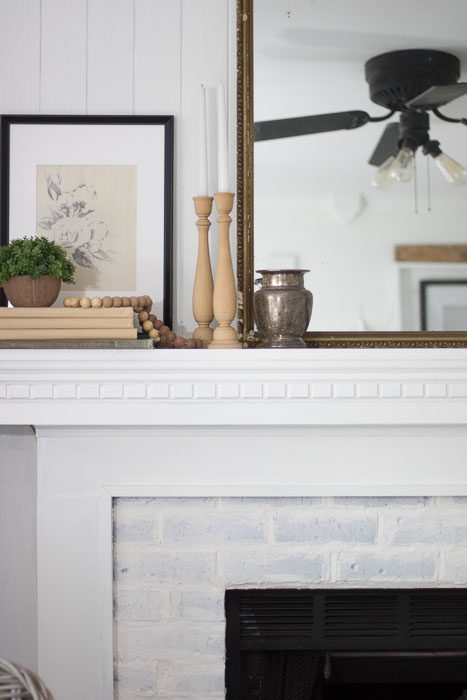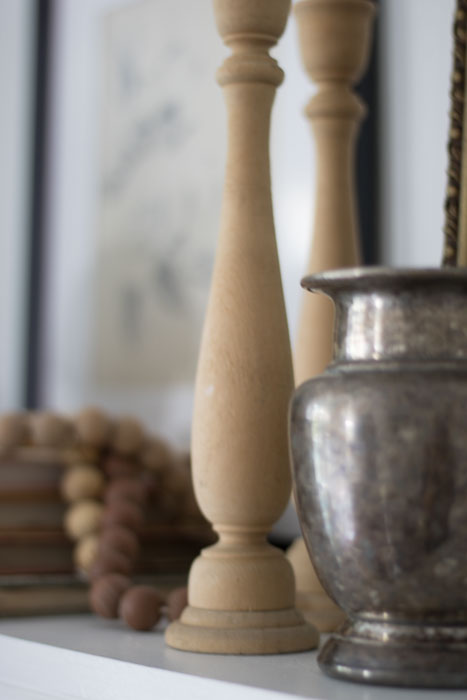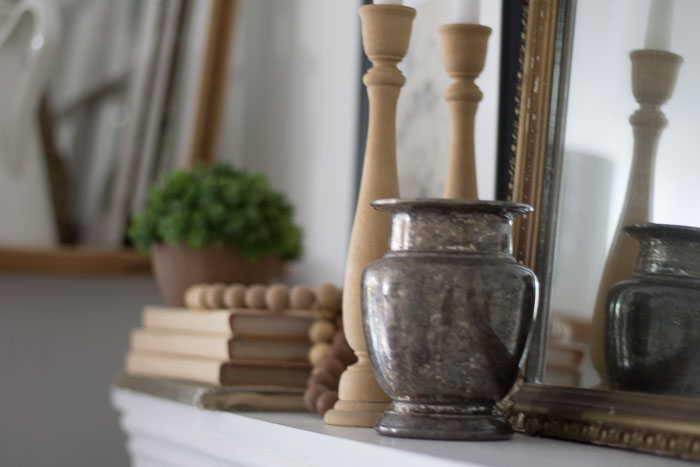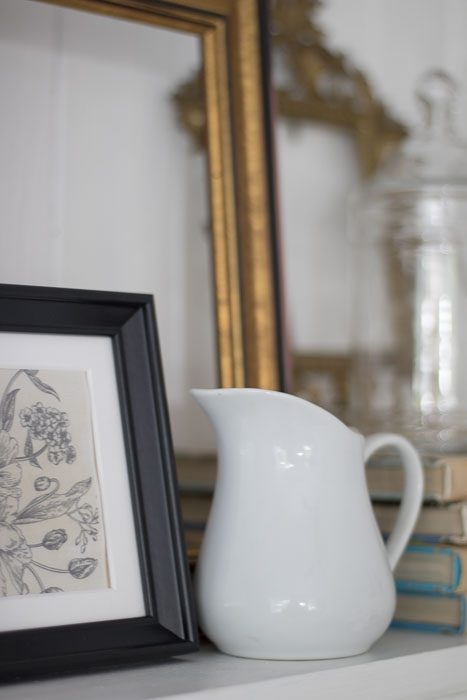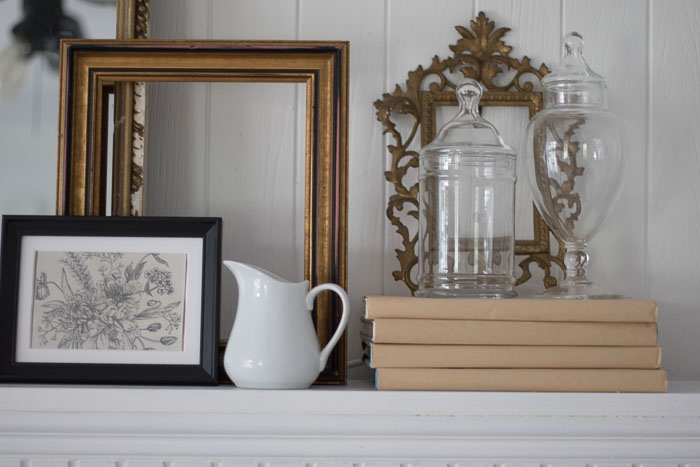 And of course the accessories for the room. Since I had already had the gallery wall of photos on the one side and had no plans of taking it down, I knew I needed to add something similar but with its own style to the other side of the wall. Fortunately, the IKEA picture frame 8 pack, was just what we needed, and we added a little DIY shelf to the wall so it would have dimension. The prints I downloaded (download some at the end of the post). I like how they add more of that vintage style. oh and those DIY hanging plants I made from some Target bowls. I planned an entire video on them, but unfortunately, it did not come out good…so I'll figure a way out to share that DIY with you all soon.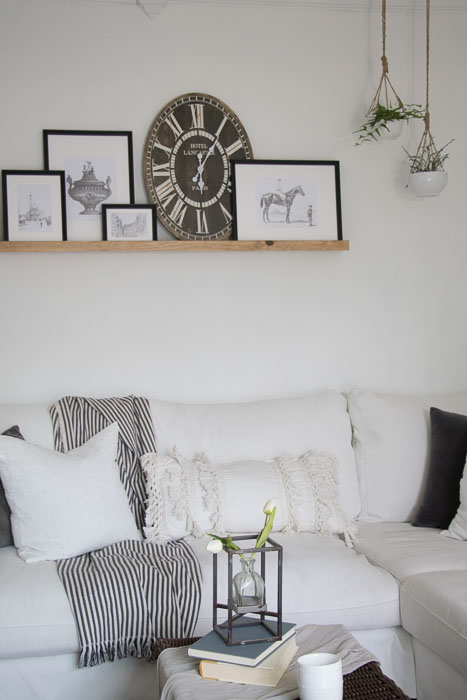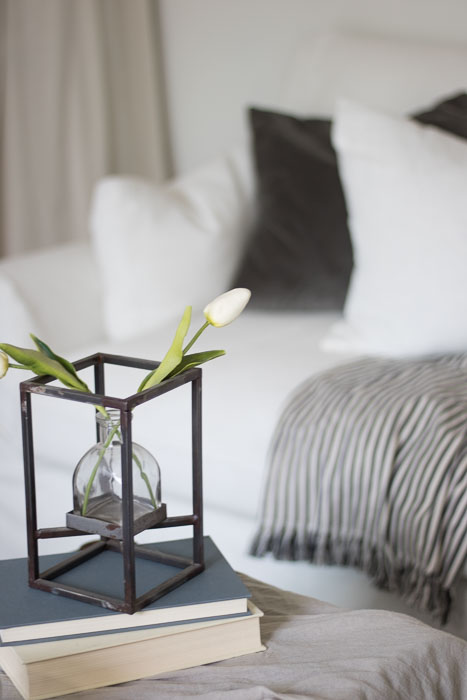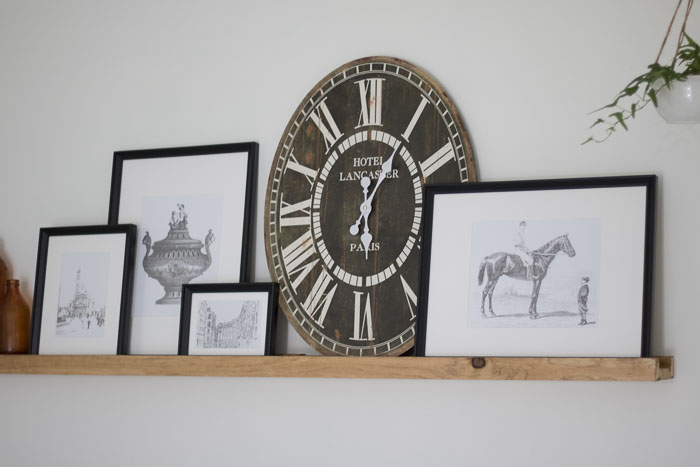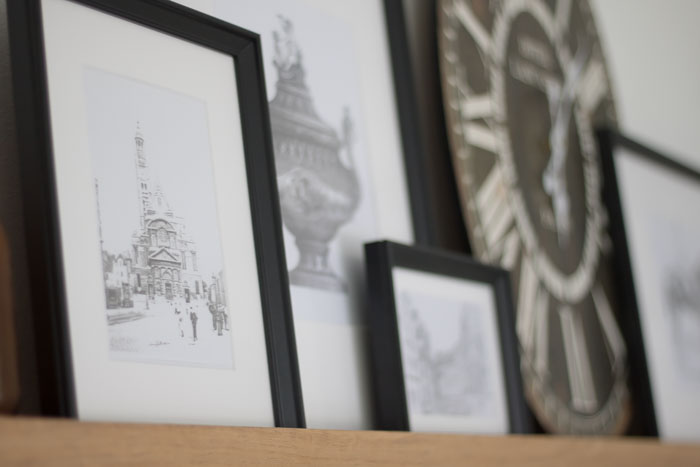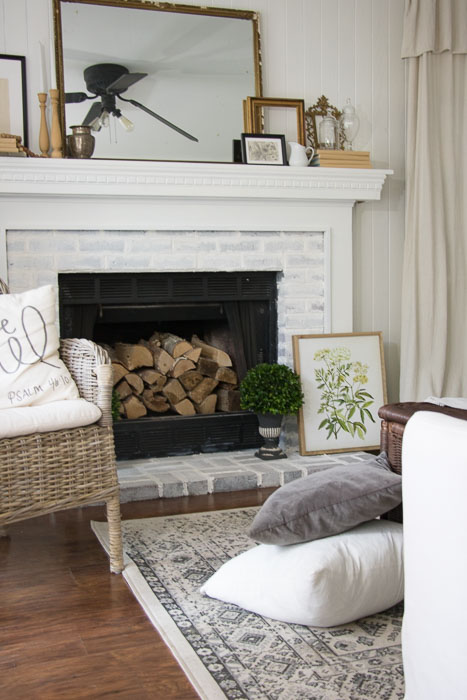 All that's left for this space is some new lighting. The light I ordered is on back order for a few weeks, so of course, when that comes in…you will all be the first to know!
SOURCE LIST
this post contains affiliate links for your convenience
Sofa: IKEA
Chair: IKEA
Wicker Chest: IKEA
Black Frames: IKEA
Throw Blanket: IKEA
Area Rug: Target
Mirror: Craigslist
Blanket Cabinet: Craigslist
Hanging Plants: Target bowls/ DIY project
Gray Throw Pillows: World Market
Be Still Pillow: PCB Home
Clock: Antique Farmhouse (a few years ago)
Sharing is Caring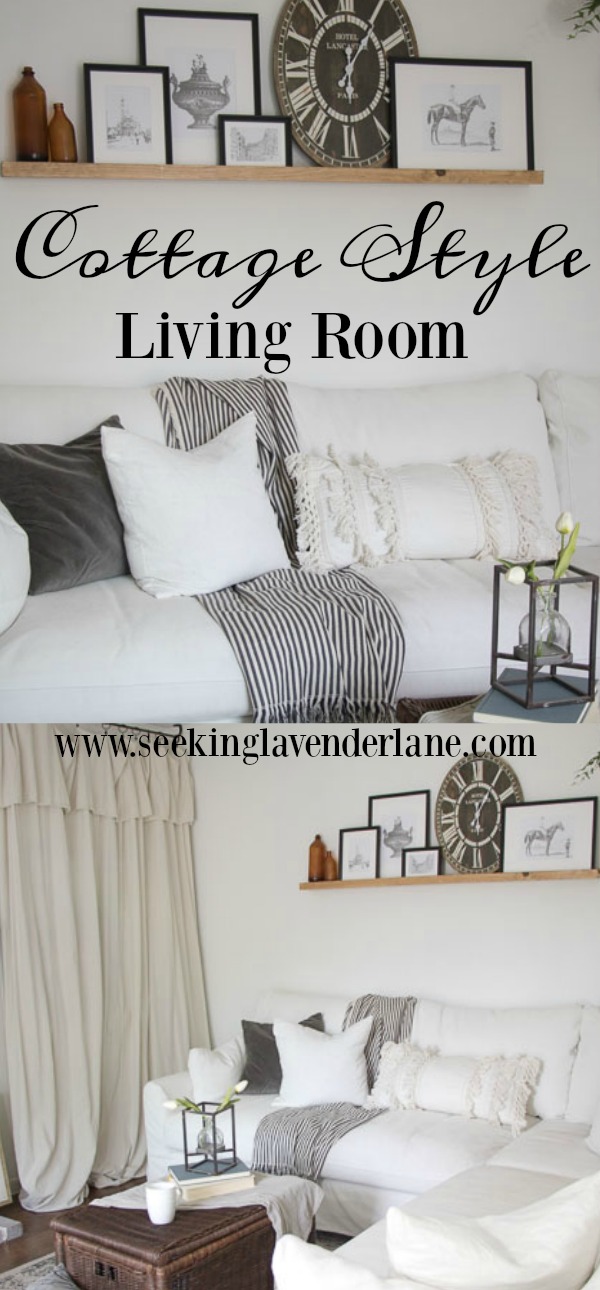 Download These Prints, but for personal use only!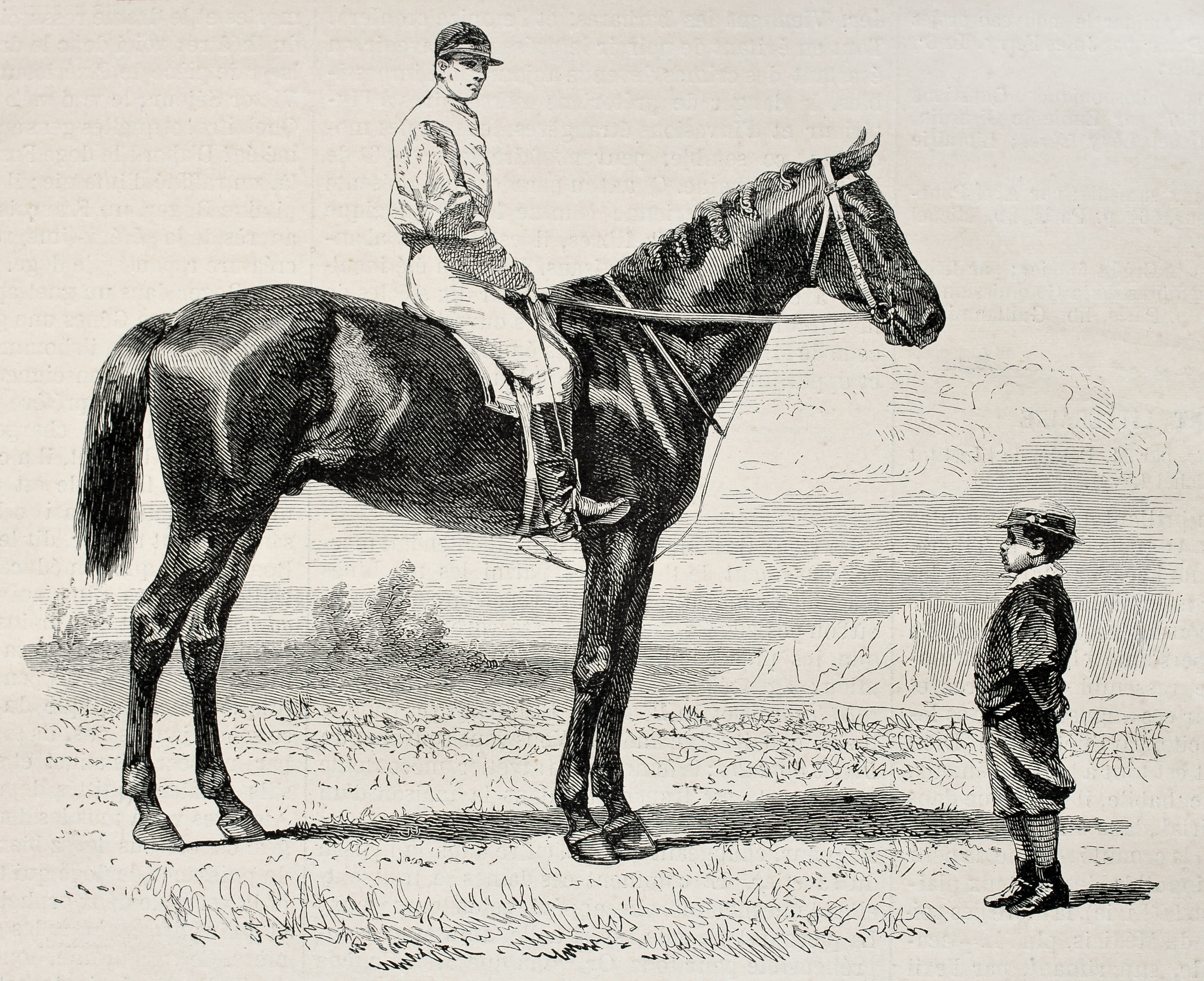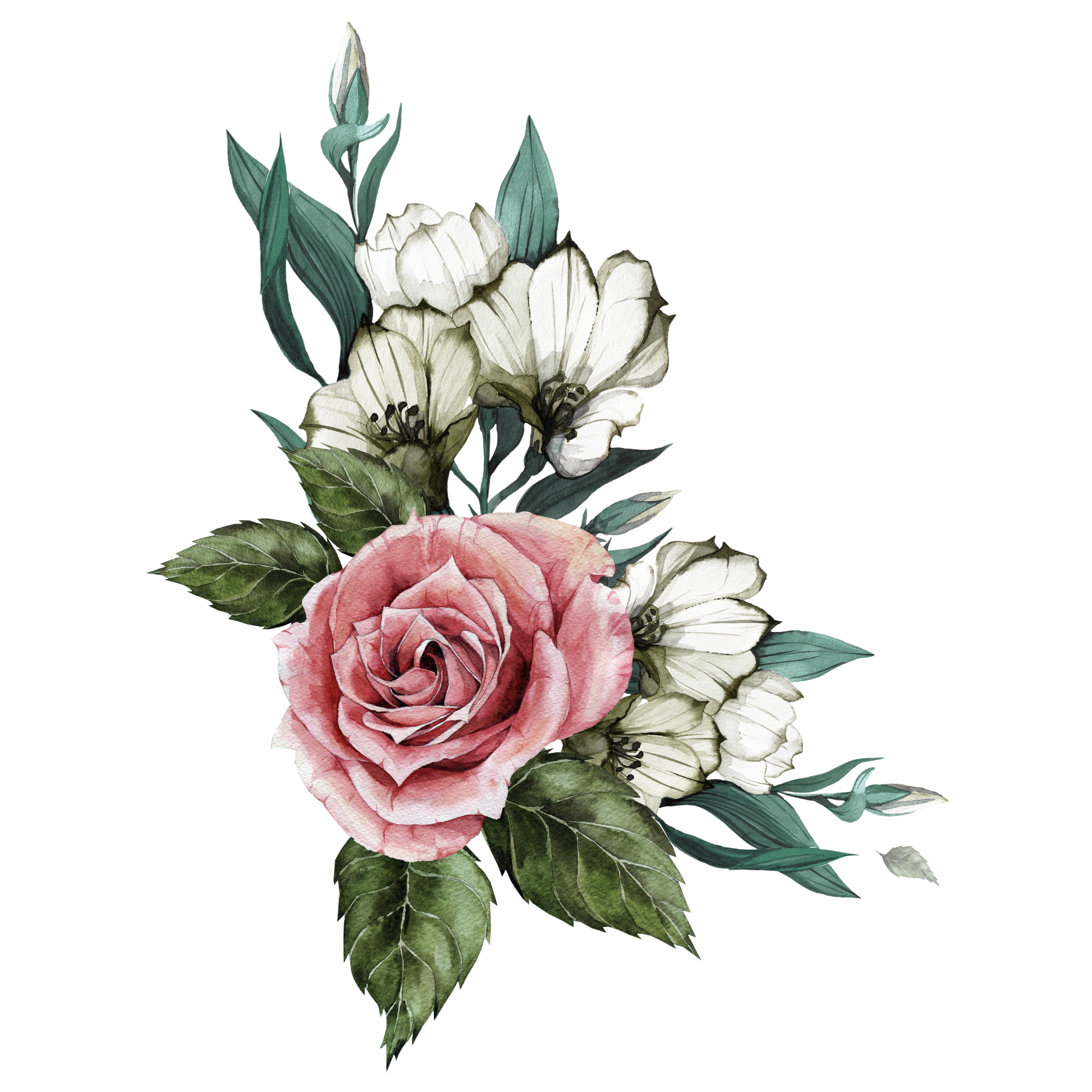 (Visited 2,367 times, 1 visits today)