Are you excited for Halloween? I feel Halloween is a holiday that a lot of people really get into. For me Halloween always seemed a little too spooky and intimidating. I do enjoy dressing my kids up and as a kid I've always enjoyed dressing up myself. I remember as a kid though.I would always avoid  the spooky houses. We had  this one house around the block where I grew up, that terrified me. It had a siren when you stepped onto it's first step that would go off every few people. My cousins and I would be shaking going up to the house and most of the time I would just run back to the car. I think as I got older I ended up just hanging out in the car waiting for them to return. I have always been that way with haunted houses and suspenseful movies too, I'd rather laugh then be scared.  I just like everything bright and cheery and my Halloween decor is usually the same. I keep all the decorations classy and maybe one jack o-lantern we carve as a family.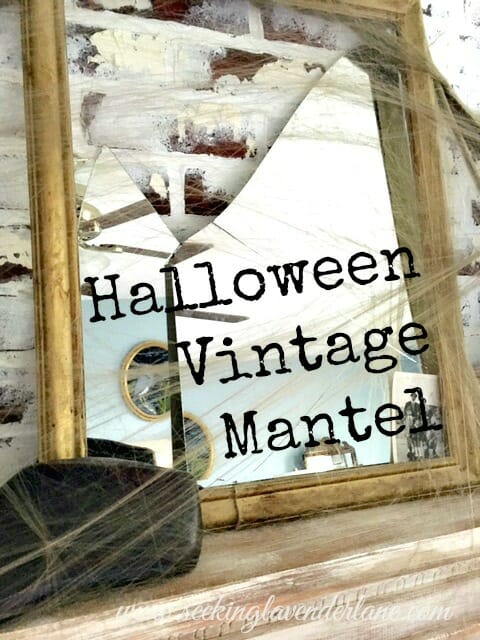 This year my son has been begging me to do some Halloween decorations, and to be honest what's not classy or scary is usually just tacky to me.  So since my son was really wanting to see some Halloween decor I thought I could possibly pull one part of the house off in Halloween and leave it at that. So I thought how about a Vintage Halloween Mantel. Fortunately, my DIY mantel already has a vintage look. Unfortunately, it's in my room, but hey it's somethin'….he enjoyed seeing the spider webs when he got home from school last week.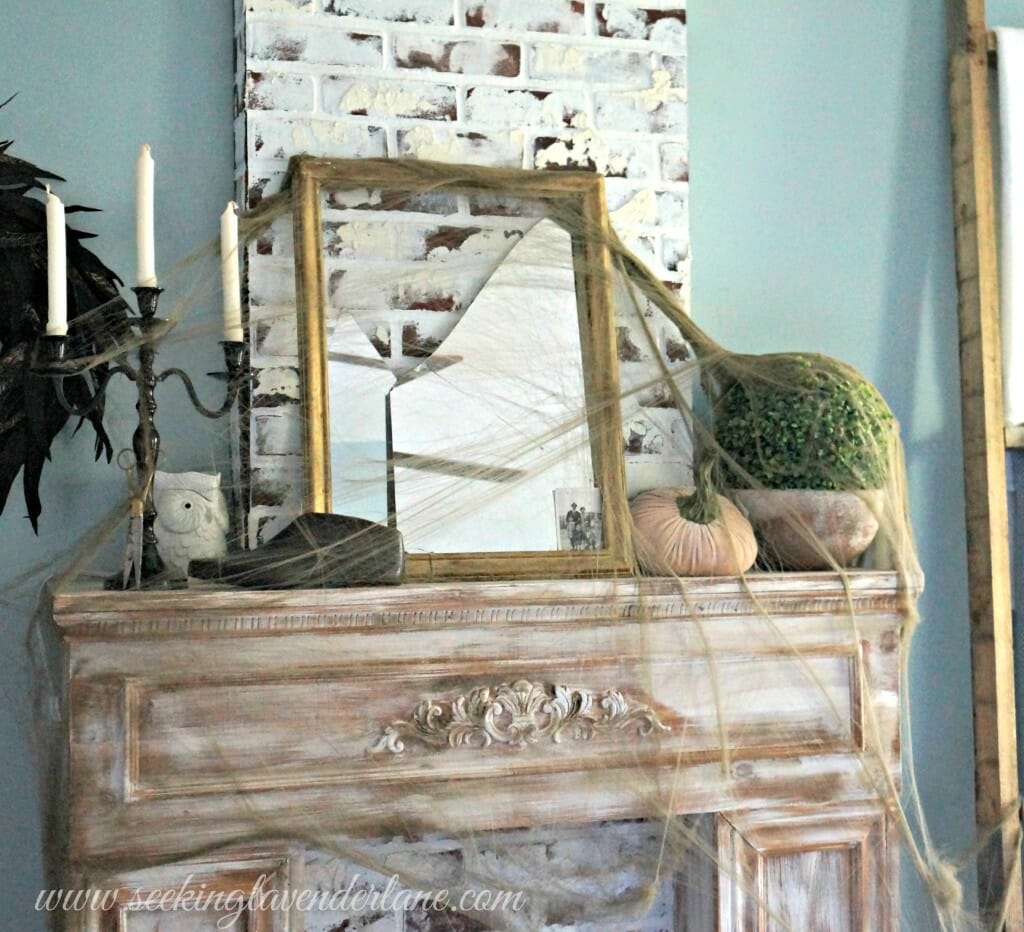 The spider web that I found was a gold-ish color  and knew it would give it more of an authentic or vintage look (like it's been sitting there for decades) rather than the bright white ones. I have to say it was fun getting this set up. I remember when I was a kid one year I begged my mom as well to put up Halloween decorations and that one year she let me put spider webs all over the front porch and I thought for once I had the cool Halloween house on the block too! So maybe I should just cave in and let my son do something to our front porch ( a week before Halloween and then tear it down) to make him happy.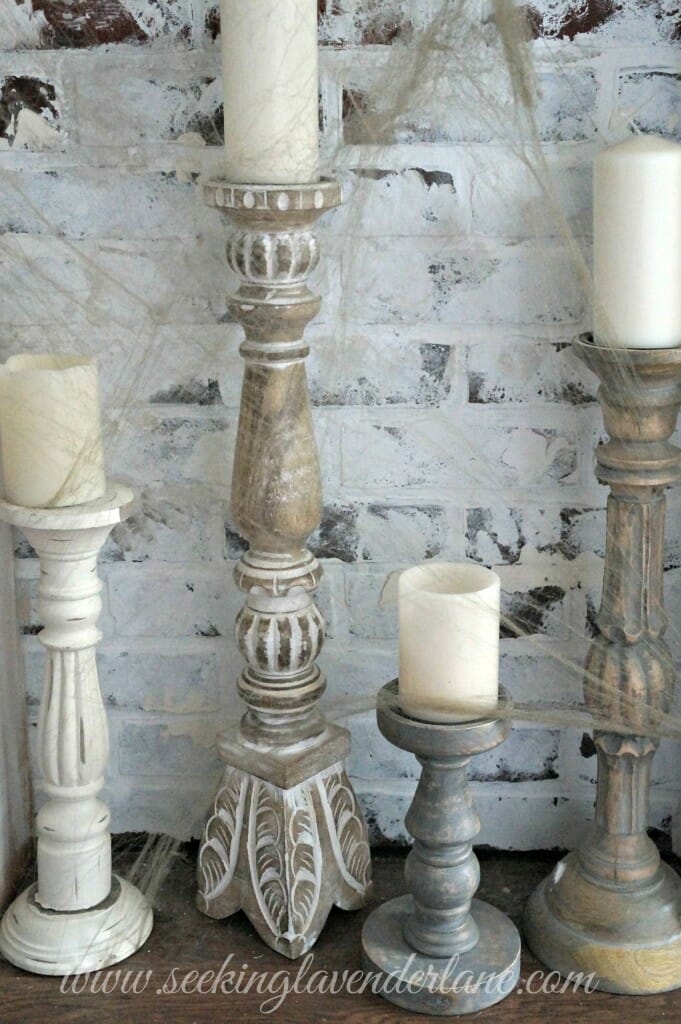 The spider webs really came out neat. I really love how they look paired with my candles here.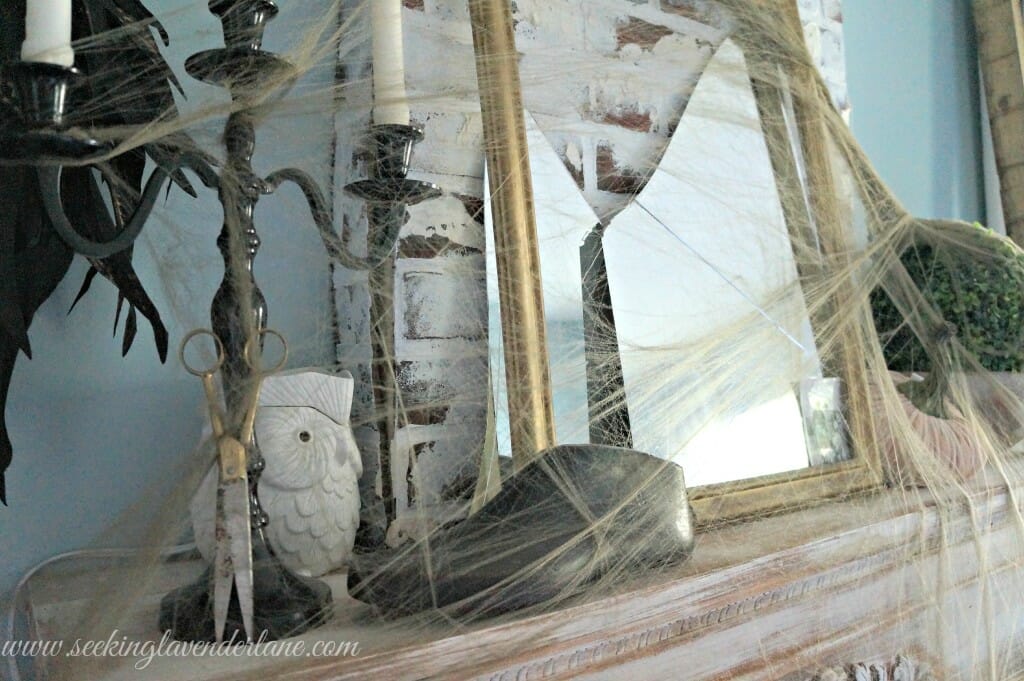 The look of the rest of the mantel was simple with just a few touches. I picked up this candelabra from Hobby Lobby and tea-stained the candles to give the ordinary white ones an aged look.
Instructions here:
Boil 4 cups of water
Add 3 tea bags to water
Let water cool a bit letting candles melt slightly in water but not too much
Keep candles in over night and instantly a few shades darker.
(I had photos of this and my poor SD card broke so no visual here)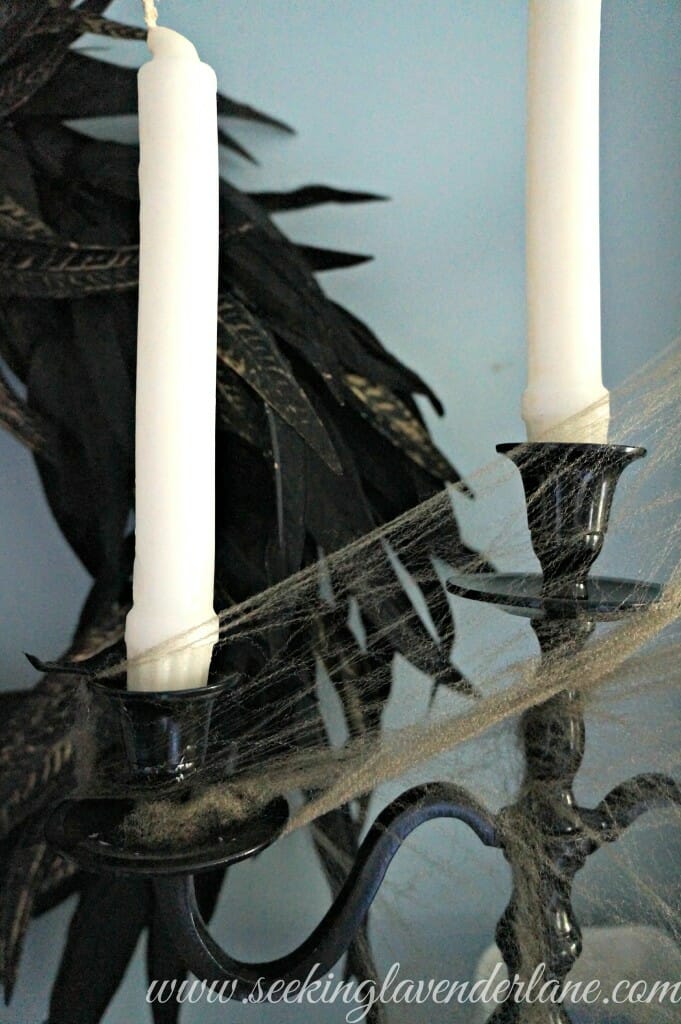 Next, I took a broken mirror and added to the frame. I love the way the broken mirror looks even more in person.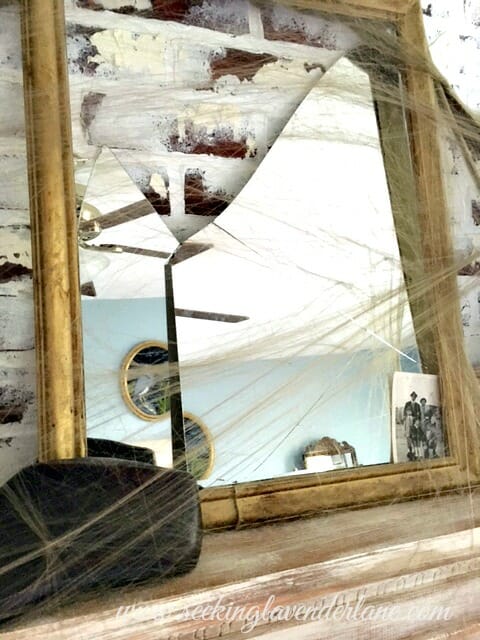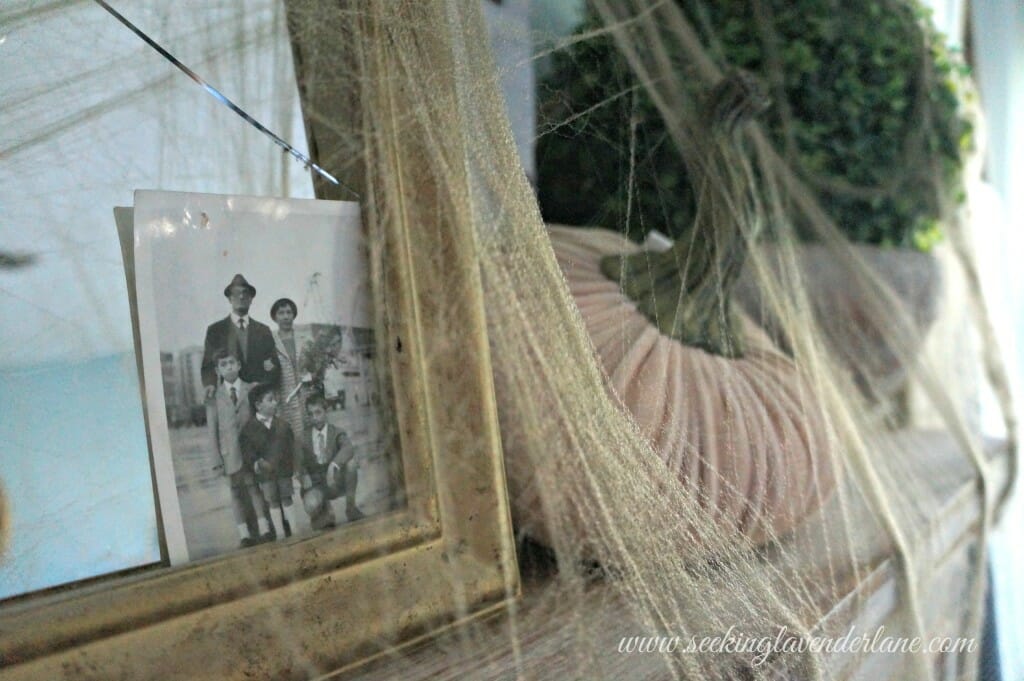 And last, an old black and white photo of my dad, grandparents, and uncles to add more vintage flare. I don't know about you all, but black and white photos are instantly spooky right? It was a fun little project to do, dress up the mantel differently then I'm use to yet not too spooky for my liking. A perfect combo of Vintage meets Halloween.
And just to make it a little more creepy I added this Vampire effect from Picmonkey. How fun would that be for party photos!
Do you all go spooky with your decor, or do you prefer Fall decorations?
.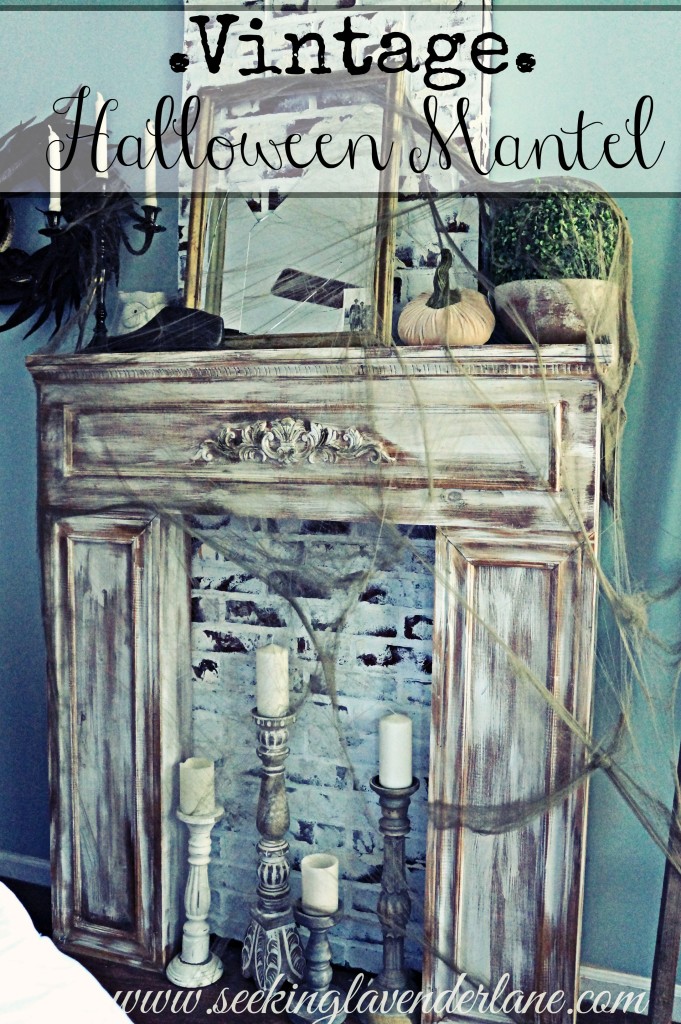 Linking with: http://savvysouthernstyle.net
PLEASE STAY A WHILE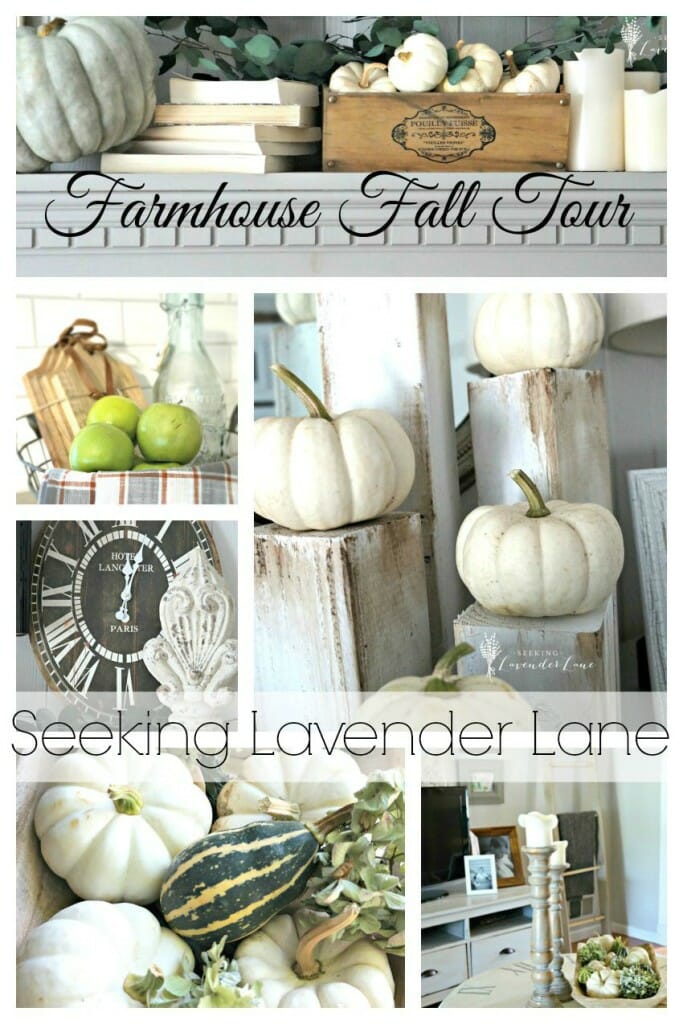 (Visited 730 times, 1 visits today)