Are you ready for another Behind the Blogger series? Last month I shared about me and why I started blogging and things like that, you can read about that here. This month it's all about my Man!
This guy who makes all my projects on this blog possible!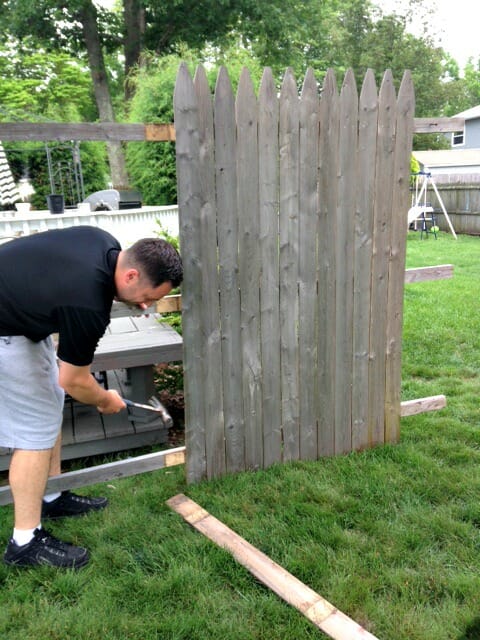 Luckily, he's being pretty amazing right now by making all these pit stops before headed home by picking up pizza, milk, and dessert. Making my life a lot easier on this rainy day that I spent home with my sick little one and my crazy new puppy/dog.
Well, where to begin about this guy? I guess at the beginning. We met 9 years ago at college while I was in the middle of pledging for my sorority. Dan was in a fraternity and came to introduce himself to us pledges that were not quite dolled up to be meeting our future husband. Let's just say looking like an oompa loompa with pig tails and probably had not showered in a week did not make the greatest first impression. I was briefly introduced to him by a Sorority sister who let him aware that we were not allowed to speak with boys until we crossed over so the conversation was basically one sided and I had to speak through my sorority sister to talk to him. It basically went like this (corny and a few too many deep will explain this)
Dan: "Who's this?"
Sorority Sister" "This is Deb, she is not allowed to talk to you"
Dan: "Ask Deb who her favorite Fraternity on campus is"
Deb (to sorority sister): :PKA
Dan: (A Surprised freak out kind of reaction) "Oh yea…tell me Deb do you want a boy or do you want a man."
I think my eyes sparkled with power tools and building me projects in the future and I knew that was it (not quite)
Of course it took him a little while to sweep me off my feet you know a perfect game of beer pong and his oh so smooth ways of picking me up in his 1985 Cougar (piece of not so nice word car).
My mom probably would not like this post lol…but that's reality…life has changed a lot for us but we were just two college kids that met in the most non romantic way and fell in love, and have been inseparable ever since.
Here's a photo of us a few months into dating at college. This was at our Cotillion. We were such babies.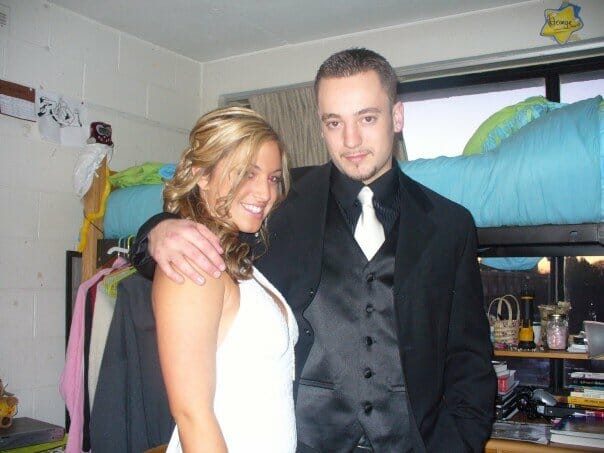 Now my man is not perfect and neither is our relationship, but we work hard at it everyday. We love being together and being together as a family. We honestly are the best of friends and are definitely the couple that miss eachother throughout the day while apart. It's tough sometimes since we work opposite schedules. He works the Monday-Friday shift and I work Friday-Sunday. We do what we have to at this time in our lives as we both have careers and financially are not super stable. I unfortunately do not have the opportunity to only work on the blog at this time and not work another job. So our relationship is fully team effort…we split our time with the kids, working hard, and making the most out of small moments.
Here we are on our wedding day 4/24/09. I barely have any photos of our wedding since our photographer never released them to me except for my album, so this is pretty much is the only one I have.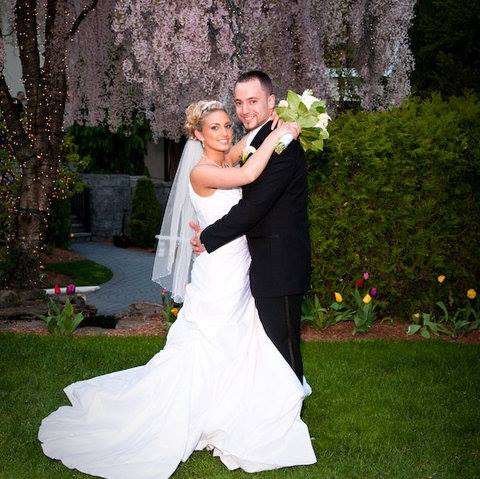 So how is he involved with my blogging?
He is my handyman!
Not quite the guy behind the blog mostly the buy behind the DIY. He is the one that makes all my projects possible since I am scared to death of power tools. I know hard to believe right? I am hoping to eventually over come this fear and be able to do some of the projects myself.
So, is he enthusiastic about me blogging and doing all these DIY projects? let me turn to him and ask him now… "NO! why would I be excited about that? what do you mean about that question."
Oh…no he caught onto me writing this out word..for…word!
Ok  seriously…he doesn't really love it, but he loves the completion of the projects. It does take a little begging and I do try to space out my projects the best I can so I don't feel like I am overlapping him with them. After all, he is superman (yes he is reading this as I am writing this, sucking up a bit) he works all day at his job, he works a  second job seasonally, and he has to play Mr. mom on the weekends. I don't want to overwhelm the guy, but he knows how much it means to me and we do have fun with our projects from time to time. I do think sometimes he does get excited to work on a new project with me even if he won't admit it.
I'll be honest I am no Shanty to Chic or Anna White I need a sidekick. If I could be Joanna Gaines and Chip that would be the ultimate lifestyle for me. I'm not sure he's so game unless we made tons of money then he probably would be. See I could do this for free (as I do) and enjoy it just as much. It's fun though that I can give him an idea have no idea how that would work to assemble and he comes up with the production of it all. We are a great team and though it may not be something he wants to do all the time we still get it all done.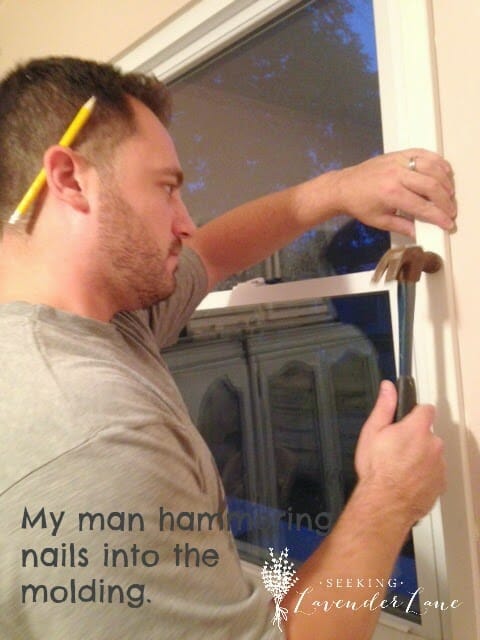 Now, the fun part is all the fighting and mistakes we make while doing the projects. Did I mention we are both Italian with tempers?  If you've been hanging around here for a while reading my blogs, you would remember some of the mistakes I've shown that we have done. We are not perfect and that's not what I am here trying to show. We make tons of mistakes because we are your typical husband and wife just trying to make this work. Dan of course is pretty handy and knows how to work each power tool and has knowledge of using certain materials, but he's no contractor. Me? I have an eye for a design with a background in fashion studies with the biggest passion for decorating and designing, but we are just figuring all of this out too.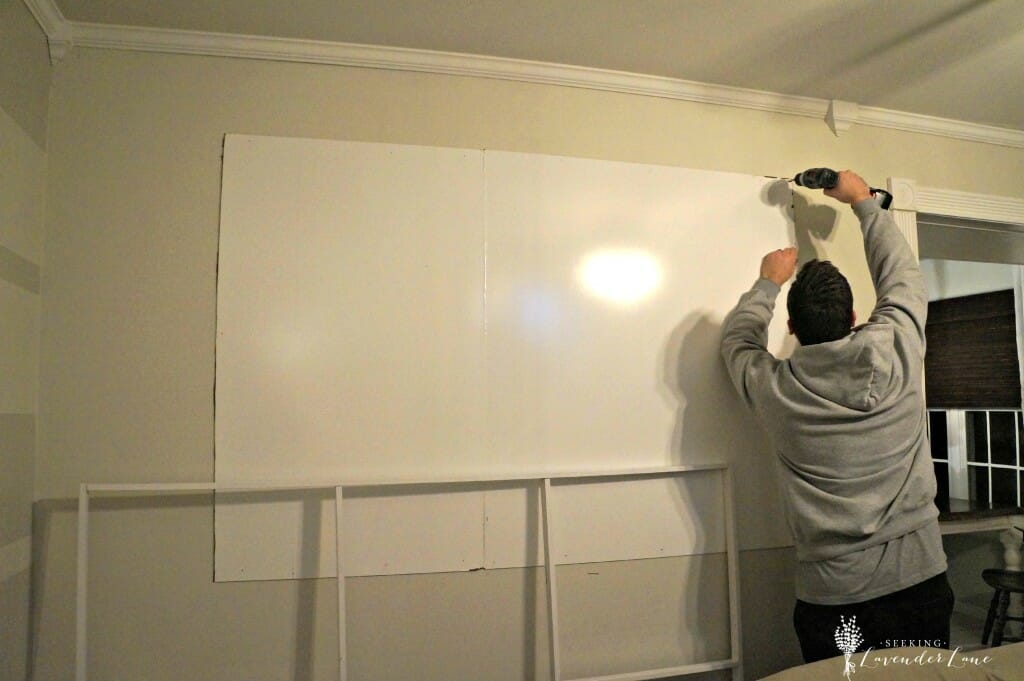 So now you have a little glimpse of our life together, the behind the scenes of our blogging life together, and how it all began. Thank you so much for stopping by and taking the time to read a little bit about my life here. You make my day every time you stop by!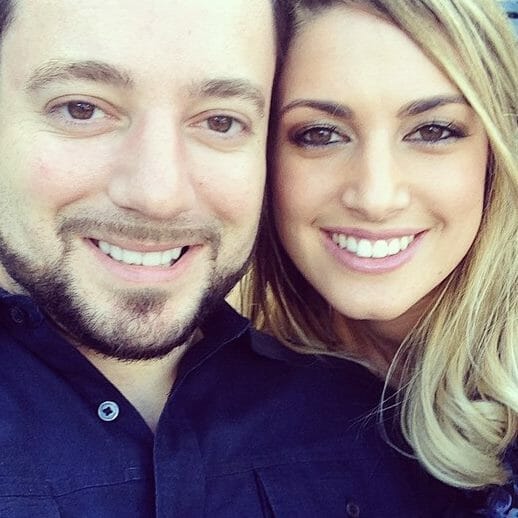 P.S. he hates this photo and probably going to hate me for posting it on here. This was from his 30th B'day at Citi field, one of the very few photos we have of just us recently.
Now don't forget to stop by at all my girl's blogs! They are sharing all about their man as well today See below for links to their pages, can't wait to check them out myself!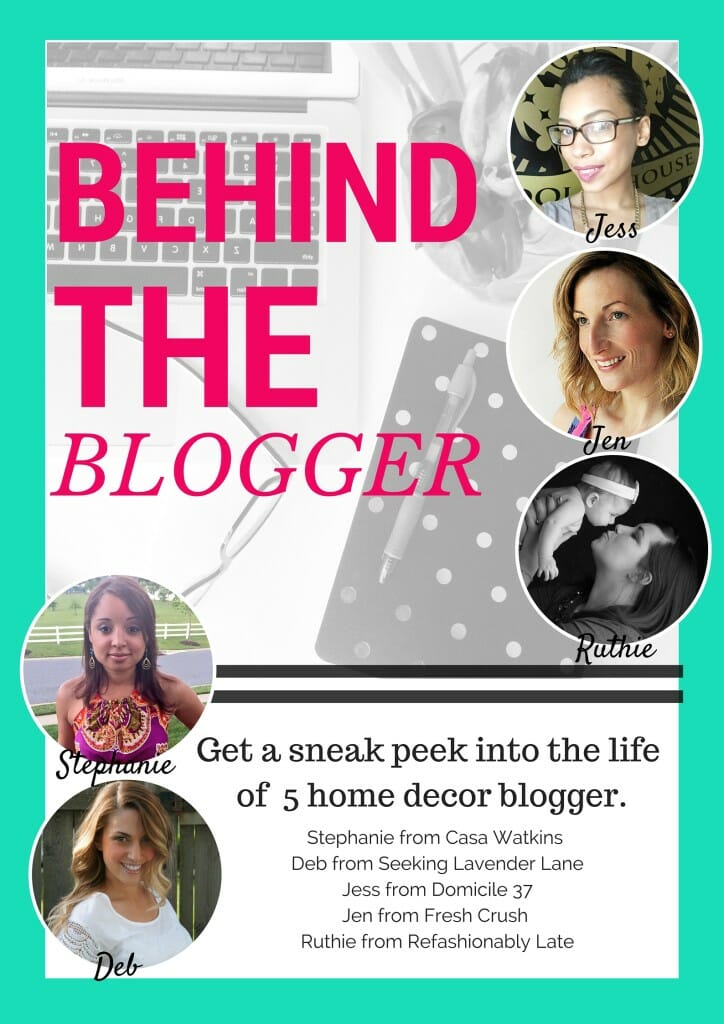 Links:
(Visited 75 times, 1 visits today)