So, it's officially 23 weeks of construction and we are getting closer to the Finish line. We know it mostly likely will be another 4-6 weeks before receiving a CO, but as the finishes are going in we are getting more and more excited to see this construction zone turn into a HOME. Weeks and weeks of drama, stress, excitement, planning, tears, and God knows what else we've been feeling. We can see that light at the end of the tunnel, finally! Never in my life did I think this process would be this stressful, you could have told me every bit of what was ahead and still the things that stress you out through it all are things you never thought would be a problem. I'm not going to get into it all but if you follow along on IG then you probably have seen my moments of freaking out and my moments of joy but of course there are also things that I haven't shared or tears I haven't showed. This process you need more patience and thicker skin then you can imagine. I have to say one of the hardest parts to this process is dealing with contractors, I like to say they are their own species. Most of them think the same way, act the same way, and are not the easiest to deal with. Anyhow all that aside, our home is nearing the end and before it's all complete I wanted to share some photos of what the house looks like currently.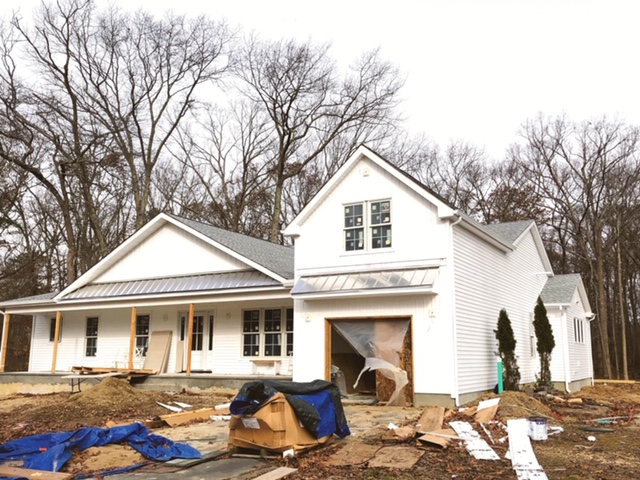 YES, the yard is a mess and the exterior is not quite finished yet, but it look a house!
Walls-check
Paint-check
Hardwoods-check
Siding-almost check
This week we have tiling getting finished, moulding going up, deck being finished, and electrician should be back to tie a few things up. We also have septic going in and our deck being finished on the outside of the house. There are a ton of things we still need like our porch/steps and our garage door, but that may take a bit longer then we initially thought. Our garage door won't be in until after the new year and my contractor is dragging his feet a bit on getting that. So, focusing more on the inside because our hope and plan is to be in next week to start adding closets to bring our clothes inside and start unloading some of our furniture. It's been 7+ months since we have seen our things and I can not even tell you how excited we are to see it all again.
Disclosure: all photos were done with my cell phone so not the prettiest pics quite yet.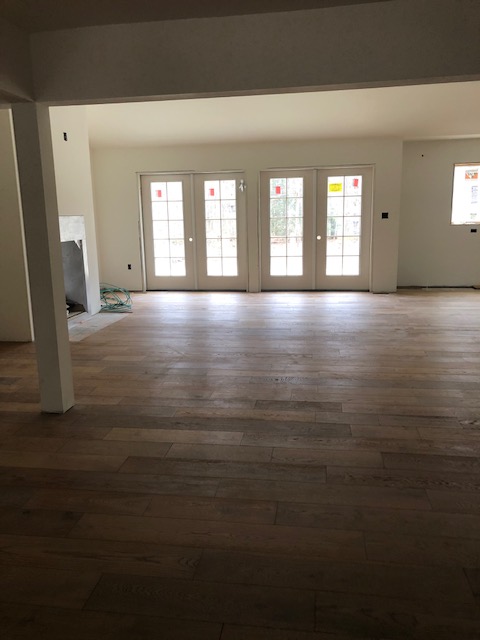 What I am most excited about at the moment are the gorgeous Floors that were installed this past week. As I mentioned the tiles are still going in and should be done by the end of this week, but our hardwood flooring from Avalon Flooring are installed. They are absolutely gorgeous and everything I had hoped they would be. What is my absolute favorite part is that each piece is different. They truly feel like old world flooring and brought so much of that warm Farmhouse look to the house. I love the matte look and the gorgeous grain together. They are just perfection! I know I have been getting a lot of questions on the flooring and you can read more here about all the choices we went with. The floors are Engineered hardwoods and the color is called Thornbury.
j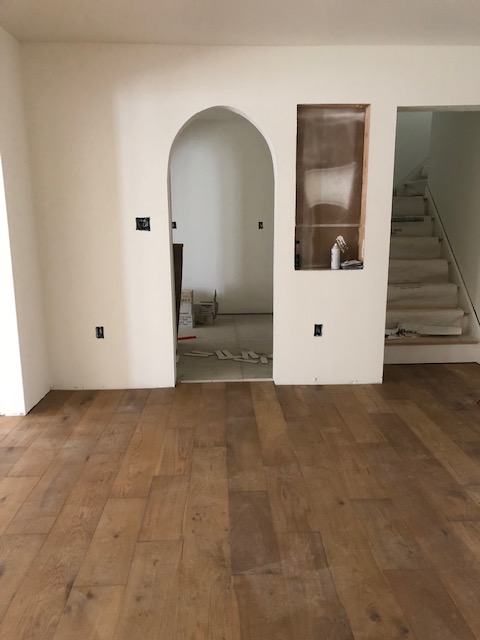 The walls have also been painted and we went with Dove White by Benjamin Moore. I do feel the color is a little warmer then I had hoped, but I do think they look beautiful with the flooring. I plan on having a lot of other cool tones in the house so hopefully that brings down the warmth a tad. I plan to update some of the rooms with other colors so I'm not too worried but the main room with it's vaulted ceilings and all I don't think we plan to touch that for a really long time so hopefully once all is done I will love the color more. Initially I thought about going with the color Swiss Coffee which I had used in our last house and that is really warm, so I'm glad I didn't go that warm.
j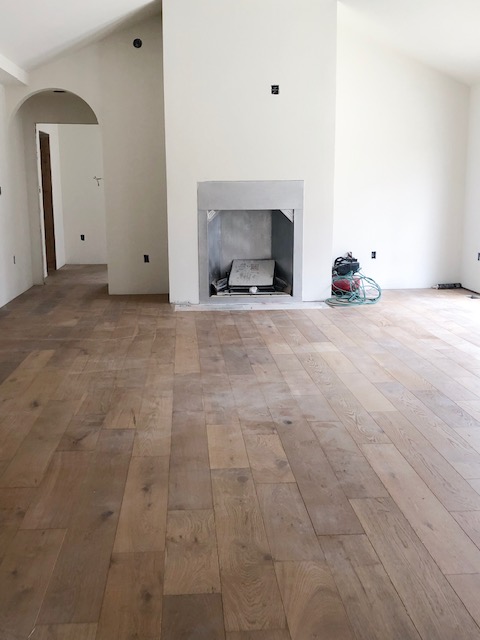 Anyhow, we are just eager to get in and excited for this stage of the process…as it's my favorite part seeing all the design elements be installed and start thinking about furnishings and decor. I know our home may be a bit bare for a while as a lot of our furniture and decor from our last house is not going to fit well with the style of the new home…but I look forward to finding budget friendly decor and shopping vintage, new, and curbside as I have always done.
I thank you all for following along on this journey and if it's your first time catching our home process, check out my page where I have multiple posts about Weeping Willow Home. You can also follow along on IG @seekinglavenderlane and #weepingwillowhome
(Visited 178 times, 1 visits today)