No need to create a bare home now that Christmas is over, how about some Winter Decor Ideas to get your home stylish for the next few months. Some of these design choices are linked with affiliate adds, but all are chosen by me because I love each "pretty" idea. First I want to wish everyone a Happy New Year and and a spectacular 2016! We spent our time New Years night just the four of us and really had a mellow New Years. It was nice just being home and kissing my babies after the ball dropped. I think one thing that stood out to me the most on New Years was clinking our champagne glasses to having the best year yet. Though this is all in the Lords hands, we are truly looking forward to getting on our feet and reaching some personal goals of our own this year. Weight loss and being in shape would definitely be a great goal to make, but not quite sure that is so realistic yet. I think personal goals, and faith driven goals, as well as gaining financial stability is really where we are hoping to be this year.
Anyhow, now for some decorative advice to get your homes feeling pretty and cozy for the next long winter months. Not sure about you all, but our winter/ December has been pretty mild so far and I would love it to stay that way, but having a cozy home to come to is my favorite with the shorter days and chilly weather. Here's to maybe one snow storm this year and a quick spring!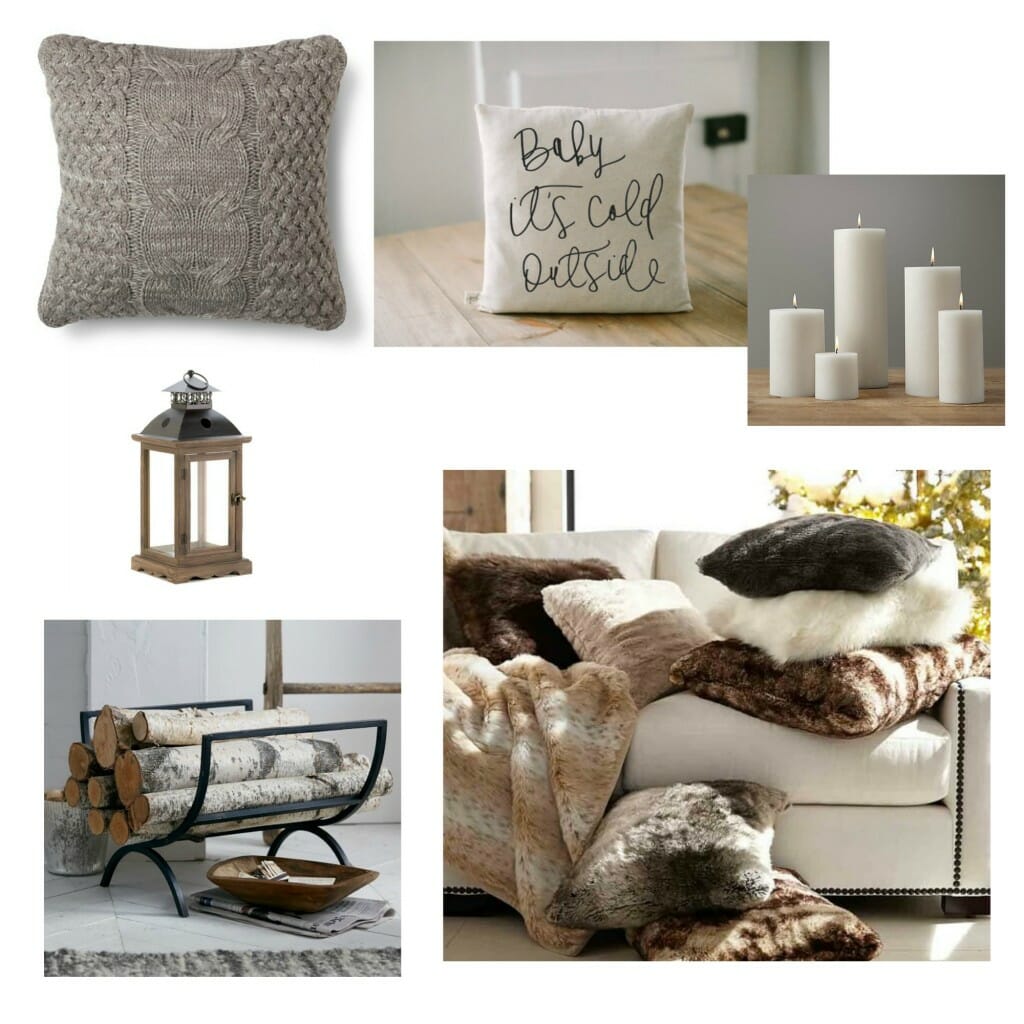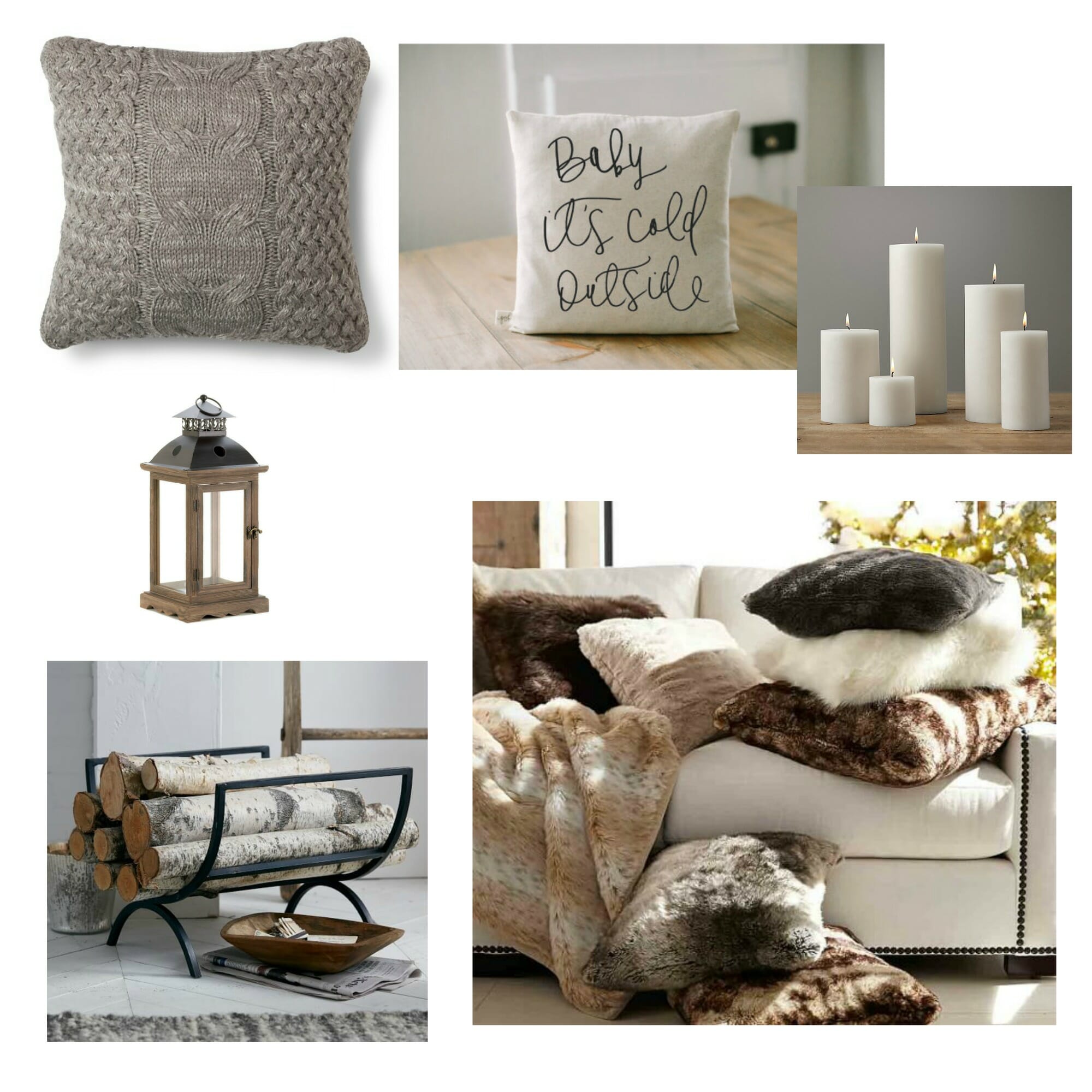 Sources: Throw Pillow "Baby it's Cold Outside"  Pillar Candles  Large Monticello Candle
 Fur Throw  Fireplace Log Holder
  So first, I think the hardest part to transitioning from Christmas to Winter is the color scheme. We want to get back into our neutral tones and take all that red out! At least in my house. I was especially loving red this Christmas, but ready to go back to my neutral scheme. Tons of red plaid this year, but that doesn't mean you have to take the plaid out. Build in some neutral plaid tones which works exceptionally well for the layers and cozy look but with a color scheme that works without it looking like you left your Christmas Decor out. I found a few great affordable options.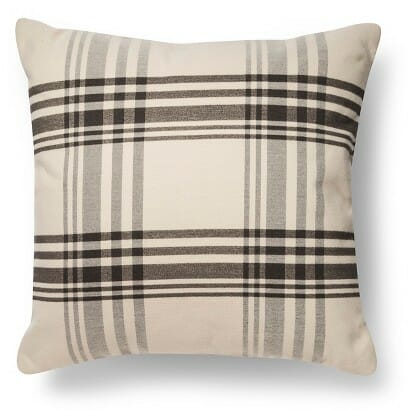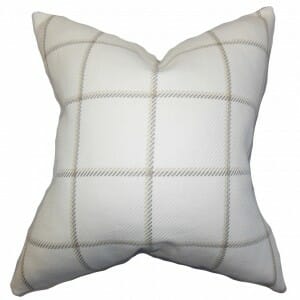 Wilmie Plaid Pillow
How about your fireplace, and mantel? We are going to need that stacked wood even more now then we did in December. Leave it out displayed on a decorative log holder and maybe get some of that decorative birch wood for what your husband won't understand…because it's "pretty"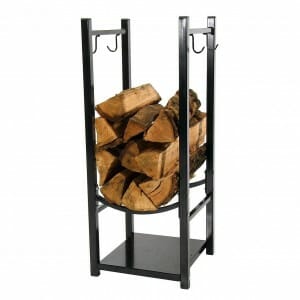 Sunnydaze log holder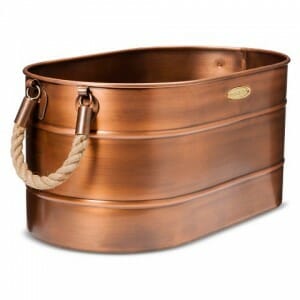 Throw blankets I keep on my sofa all year long…especially since it covers some of those unwanted stains that the kids make on my sofas. But in the winter you know the thicker the blanket the better for movie night and afternoon naps. I love me a great fur throw or cable knit (though cable knit tends to get pulled pretty easily in our house). A great fleece blanket wont hurt either…I still think that works for style and comfort though fur and cable knit are slightly more appealing.
What better way to add warmth and that cozy feel to your home then with candles! I love a great pillar candle display and you can even add one to a set of lanterns. I have a few flameless ones in my house for safety reasons but I truly love a great real pillar candle. Candles are the ultimate way to add that warmth to a space and romantic winter nights. Along with the pillar candles stock up on some great winter smells for your home. 1809 Candles has a great collection and they sent me a delicious Christmas scent in December that was probably one of my favorite scents yet. I can't wait to try out some more by them for January and February.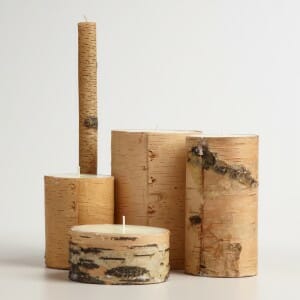 Of course another great way to add comfort and warmth to your home is with a great throw pillow. Add some "Baby It's Cold Outside" sayings or just a really cute knit pillow. This pairs especially nice with those plaid pillows that you busted out. A great combo of layers for the winter months is what it's all about, don't be afraid to mix patterns and textures.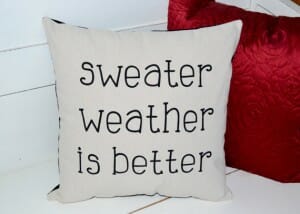 Sweater Weather is Better Pillow
Lastly, add greens! Don't be afraid to add green back into your decor. Choose wintery or year round greenery and mix them up! I am all about the eucalyptus this year and I think the fern leaf is making it's way back as well. Adding a combo of the two will make for a nice centerpiece or garland. Dress up your table top or add a great wreath to your interior doors. I don't mind a little pine, but be selective that you're not over doing the winter theme that it becomes Christmas all over again.
I think my favorite color scheme over all is creams and grays and that works exceptionally well for the winter months. If you're not a gray girl…choose some blues and creams that also declares winter and comfort.
I am so excited to get this Christmas decor down today. Ready to dress up my home for winter but declutter and get organized. I feel an organizational post coming to SLL soon. Not that I am the most organized, but gosh I totally decluttered this week throwing out bags of garbage from our upstairs closets.
Wishing you warmth and a cozy few months with great design and tons of snuggles! Thank you all for your support this year looking forward to what 2016 brings!
(Visited 596 times, 1 visits today)