Simple Winter Mantel
I feel I've been so preoccupied with projects outside of my home lately, that I'm excited to share this simple and sweet winter mantel that I decorated. It did not change much since Christmas except a little more simple and the branches that I just adore for the extra winter feel. I think one of the best parts of this room not only is the winter mantel but the new chandelier that we added that made all the difference in this space. I was so happy when I teamed up with Lampsplus with this mantel wayyy back when we did this room makeover in August, but with a few setbacks like the chandelier being out of stock initially and then we needed an electrician to hire and then the Holidays hit, I am now getting around to share it in my space.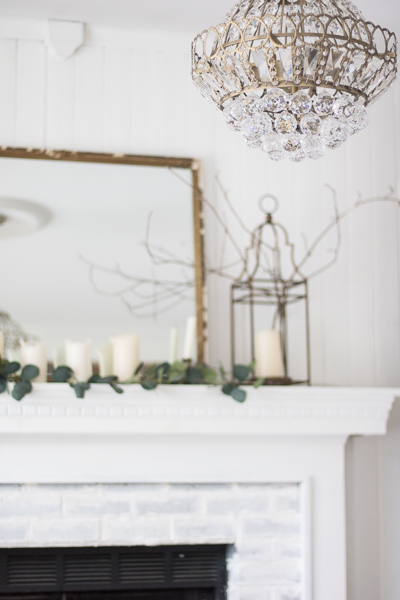 The mirror above the mantel has definitely found it's permanent home since I just absolutely LOVE the look of it especially paired with the chandelier. The lanterns (and they are 50% off) I bought back for my Christmas mantel, from Kirklands, but I removed the mercury glass insert (which felt too fallish/holiday-ish). I added some branches from the yard and then some faux eucalyptus. Some candles completed the cozy winter mantel look.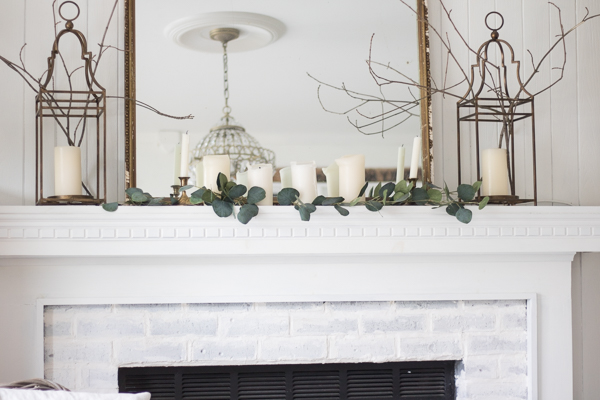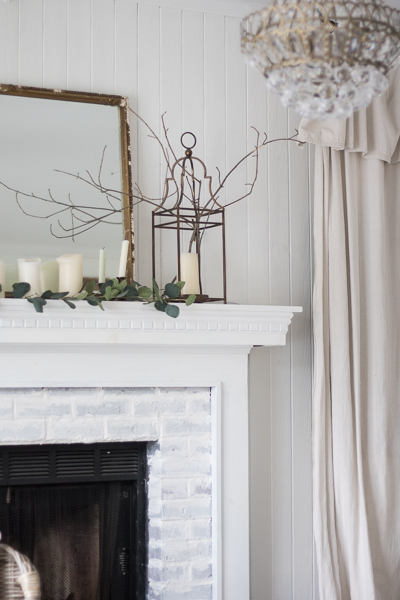 I think to keep it simple especially after all the clutter from the Christmas months but with touches like the branches and candles make the mantel feel cozy for that winter look. Of course, you know this will be probably coming down right after Valentine's day as I'll be starting my Spring decor to share with you all soon. Have you been eyeing up those bunnies too in the craft stores and favorite shops? I've been getting that spring itch…but living in the North East we know we still have a long winter ahead and I don't want to totally jump the gun quite yet. If our Spring is anything like last years we won't see warmer temps til June. I can't even think about it! But for now…cozy cozy winter. I think one of my only favorite parts to winter is cold Sunday naps with the fireplace lit. Other than that…yep I'm a warm weather girl.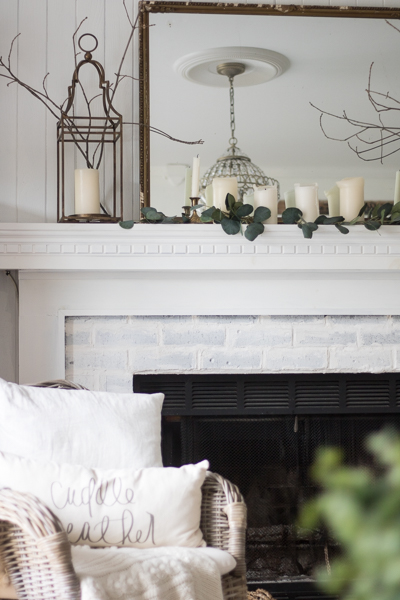 Tips for styling your mantel for Winter: 
Add some branches trimmed from the yard
Eucalyptus is a nice fresh greenery but with a deep green shade that feels less like spring and more like winter.
Lanterns and candles always add a cozy feel to any space
Even adding some winter artwork above the mantel will help to change up the look for the season.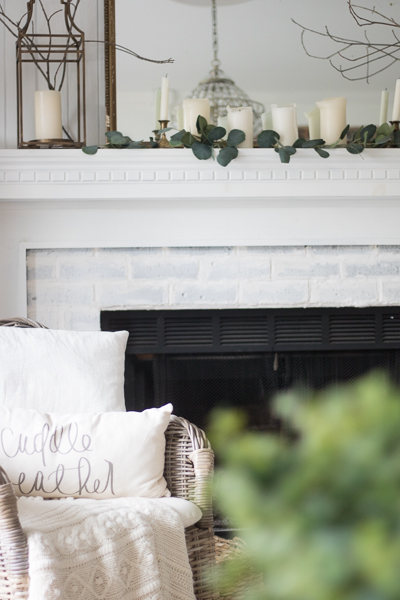 Please Pin