It's European Christmas week here! Talking about different European Christmas Decor all week long and ideas to enjoy the season. If you missed it, Monday we shared a round up of European Decorating, Tuesday I shared my European Christmas Cottage, Wednesday was all about yummy European Christmas recipes, and today I am giving you a look into my European Christmas Kitchen. Of course things are always changing here and they probably will until Christmas, but the kitchen is fun to switch the décor around if you use fresh fruits, vegetables, and flowers. Some staples this year in the kitchen is the hood wreath, fresh greens above the windows from (lynchcreekfarm.com) and our little faux Christmas tree on the counter.
I'll be sharing an entire video tour over on Instagram tomorrow, so be sure to check that out too! We have a GREATTT giveaway going on along with that.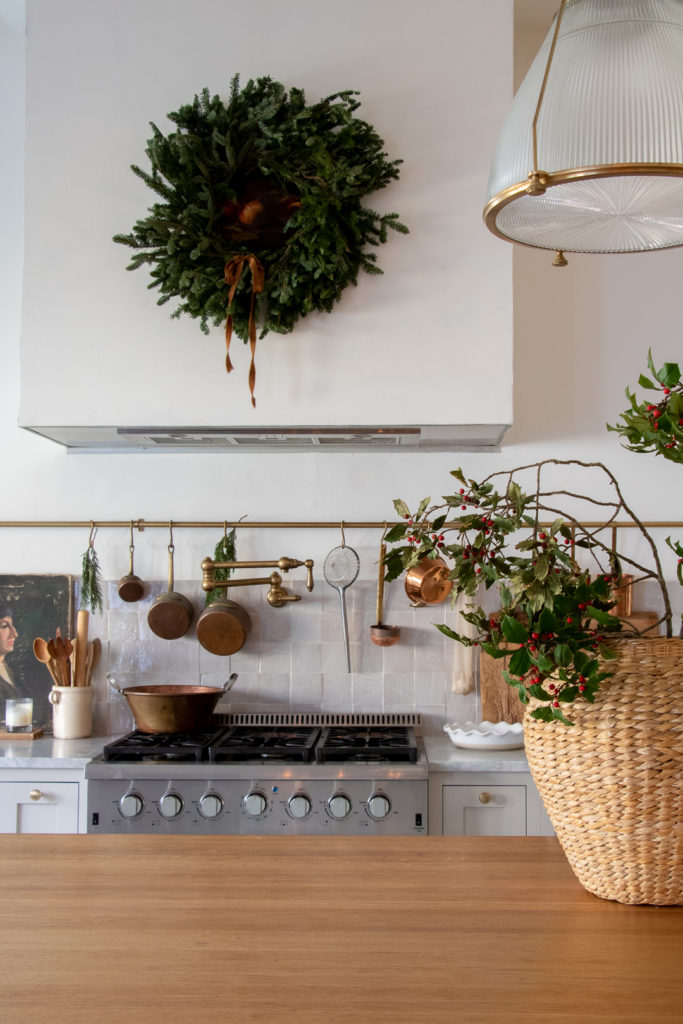 I recently bought this basket at the flea market and its such a good size for branches, the texture on it is great too! Our island can be a bit overwhelming sometimes, so by having a large piece that gives some balance to the island and ceiling height is always good. What's fun is, we actually got these branches from our backyard. We have so many holly trees in our neighborhood.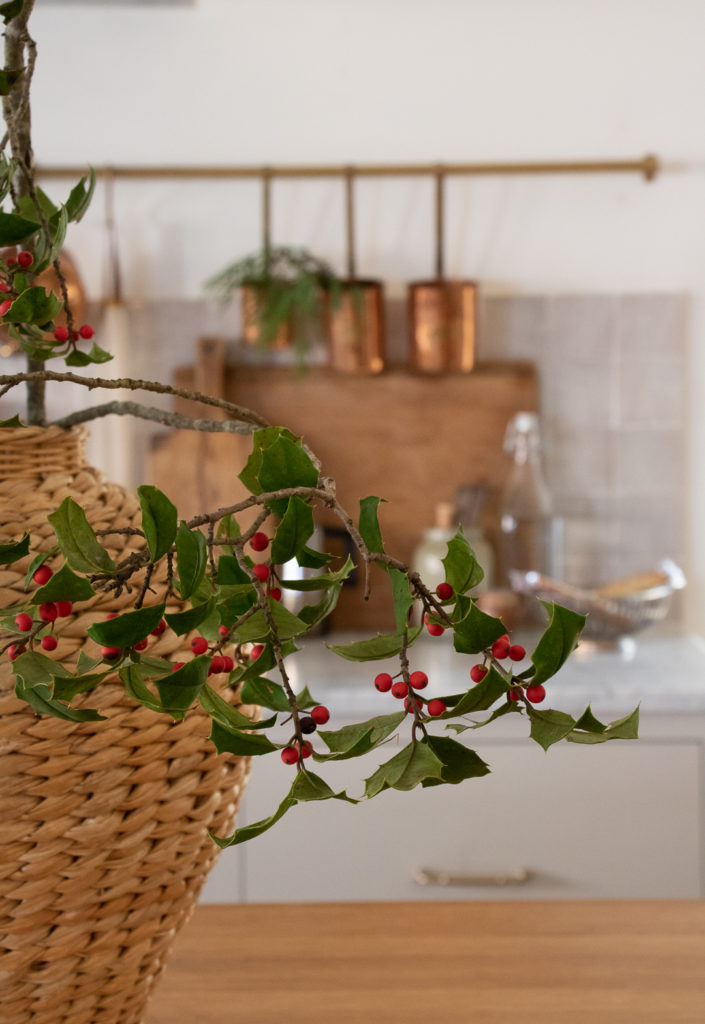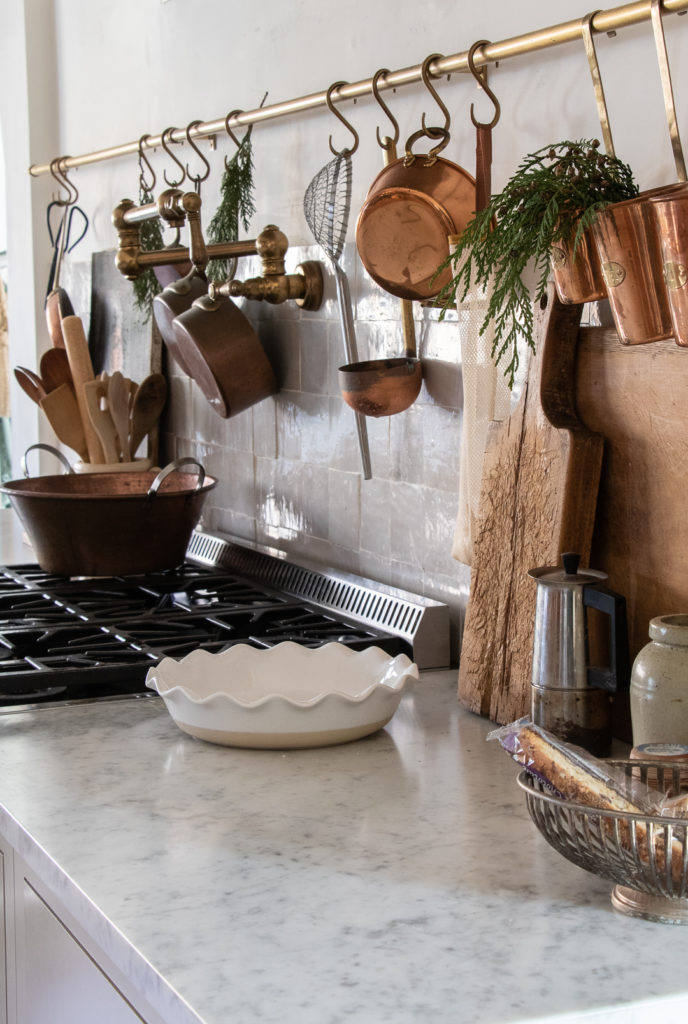 Some fresh greens hung from our pot rack and of course copper is extra cozy at winter!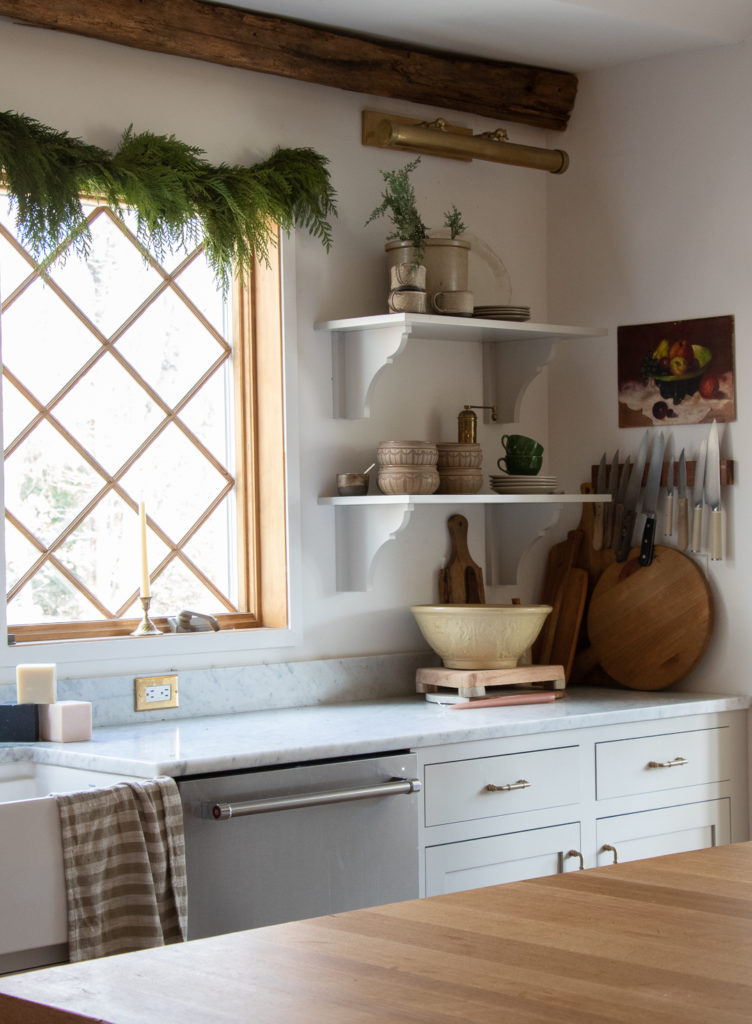 I think sometimes it's fun to add something that might not feel "Christmas-y" in a natural way to your home. What I mean is, the red background from the still life painting was the perfect way to add that Christmas color without having to put a Christmas painting. So, think about ways to address your home's style with maybe that seasonal color/s but not having to be A typical Christmas look.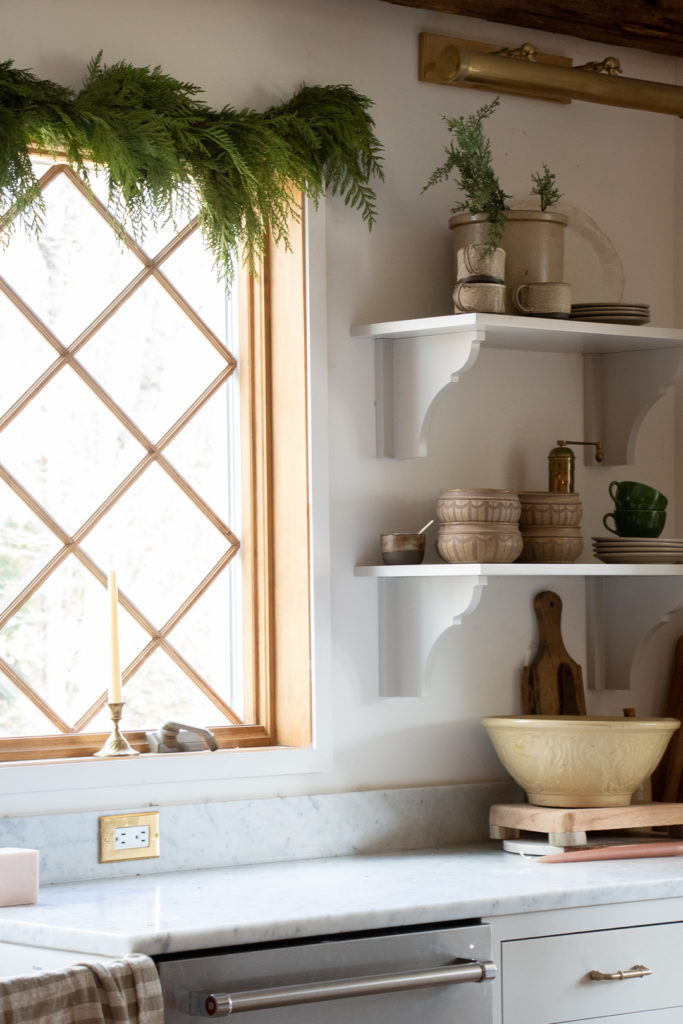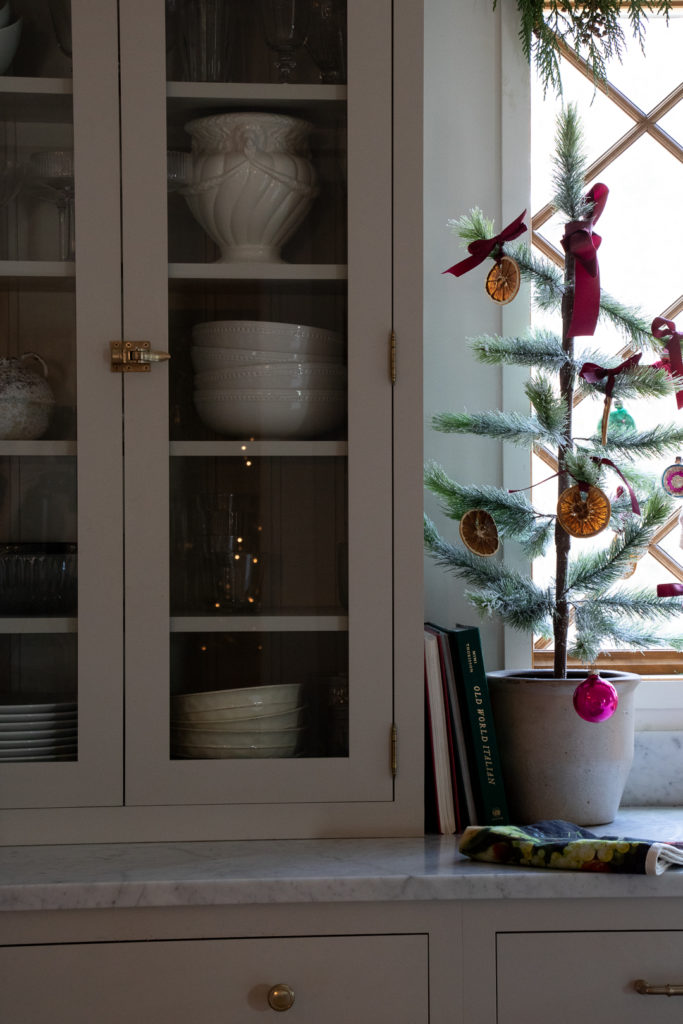 This sweet little tree I decorated with some vintage ornaments and orange slices! It feels so much like some of those stunning European trees that I shared in the round up post the other day.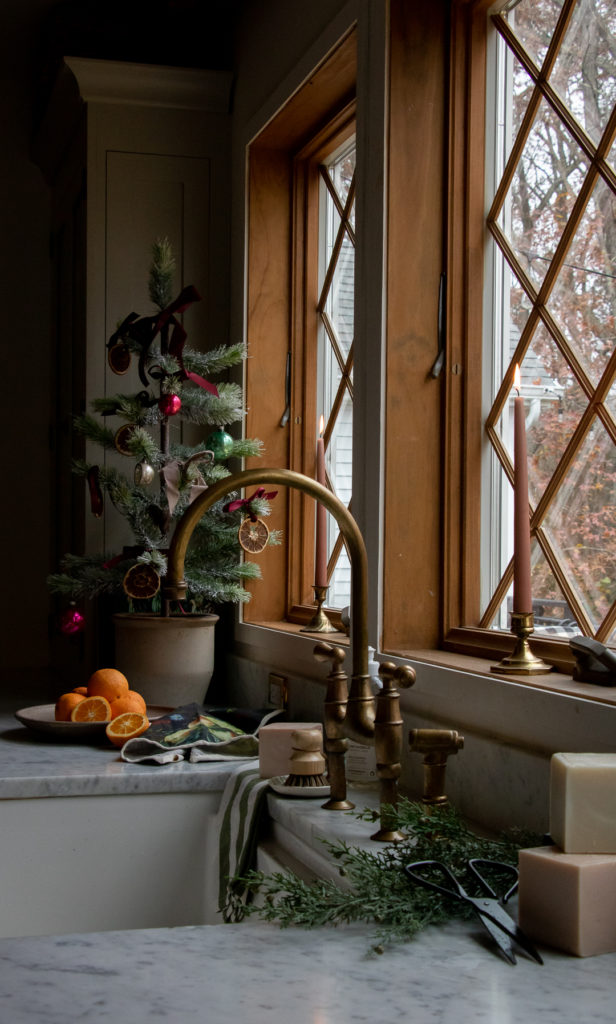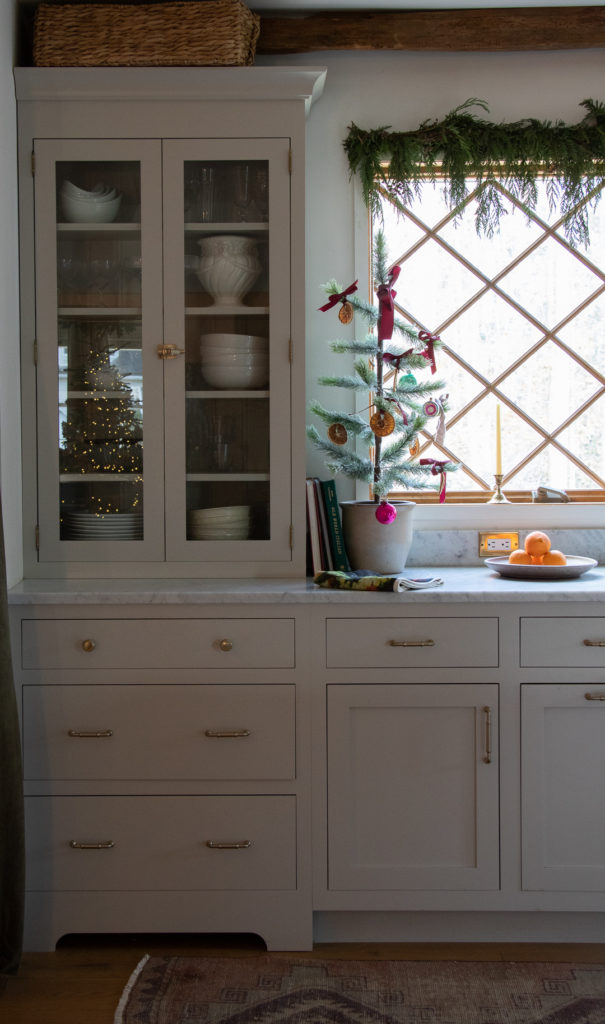 I love the pops of red that flow from this little painting to the red poinsettia in the laundry room. I definitely embraced red this year which flowed so beautifully and gave our home an even cozier feel.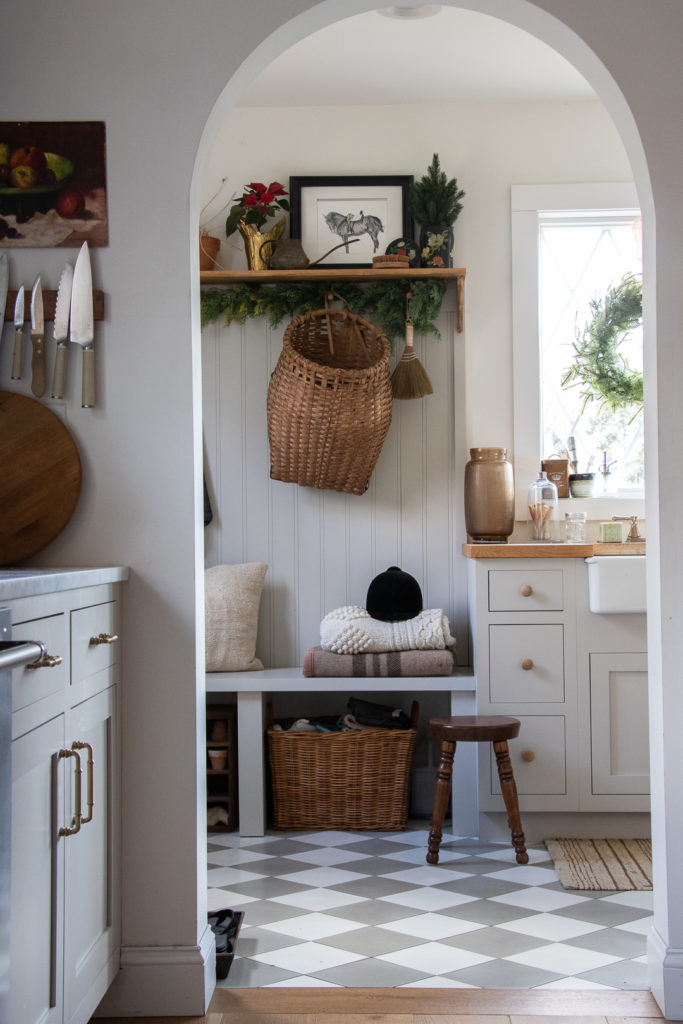 Hope you enjoyed our tour! If you hear our house was just shot for the 2022 Christmas issue of Country Home Magazine. I am beyond excited and honored. The photos will be a much better version thanks to the photographers and the styling is top notch with the help of the amazing stylist and editor. So, just giving you a heads up there will still be a lot more to see come 2022 of our Christmas Home from 2021. It was truly a special experience and blown away just seeing the non-edited versions of the photos that were taken here that day. Can't wait for you all to see…but we do have to wait just about a year. Hope this inspires you all for your Christmas kitchens this year.
Please Pin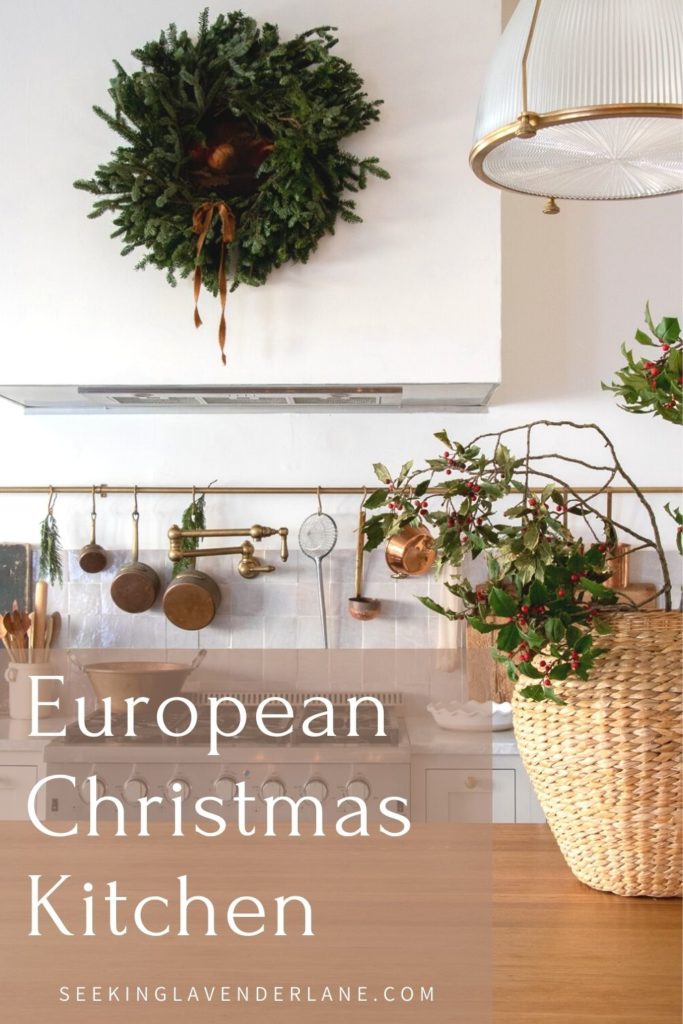 (Visited 4,789 times, 1 visits today)