So I woke up this morning as I was clenching my teeth from this dream that just hit all the nerves in my body. It was one where I was walking all alone and a bunch of girls passed me and felt the need to tear me apart. One dirty look and bad comment are all it takes to break down someone's world. It brought back all kinds of memories and feelings from High school and I felt that this was God telling me that I need to share this story here. This is the second time this has happened to me that I woke up and  I felt the need to write about something personal in my life. The first was about my decision to not have an abortion at 19 years old, and this one here about my experience being bullied. I feel these are those moments that God is telling me to write my story it will touch one person's life. When I wrote about my abortion story it did affect someone's life…months later I had a girl write me about her decision as a Christian to keep her baby and that becoming an unmarried mother was never her plan. She got married and just had her sweet baby in November the same month that I had my unplanned baby. It's amazing how God can use you to touch someone's life like that. I think when we have something that weighs heavy on our hearts we have to speak about it. I think sometimes I don't do enough to serve and how I wish I had more time or more ideas in ways to really touch people's lives and be able to share God's message. Well, here is one other way that I felt the need to wake up this morning and share something about myself that I don't usually do. Decorating is my love and sharing that here fulfills so much for me, but sharing something personal is scary and overwhelming but if it can touch one person's life that's all that matters.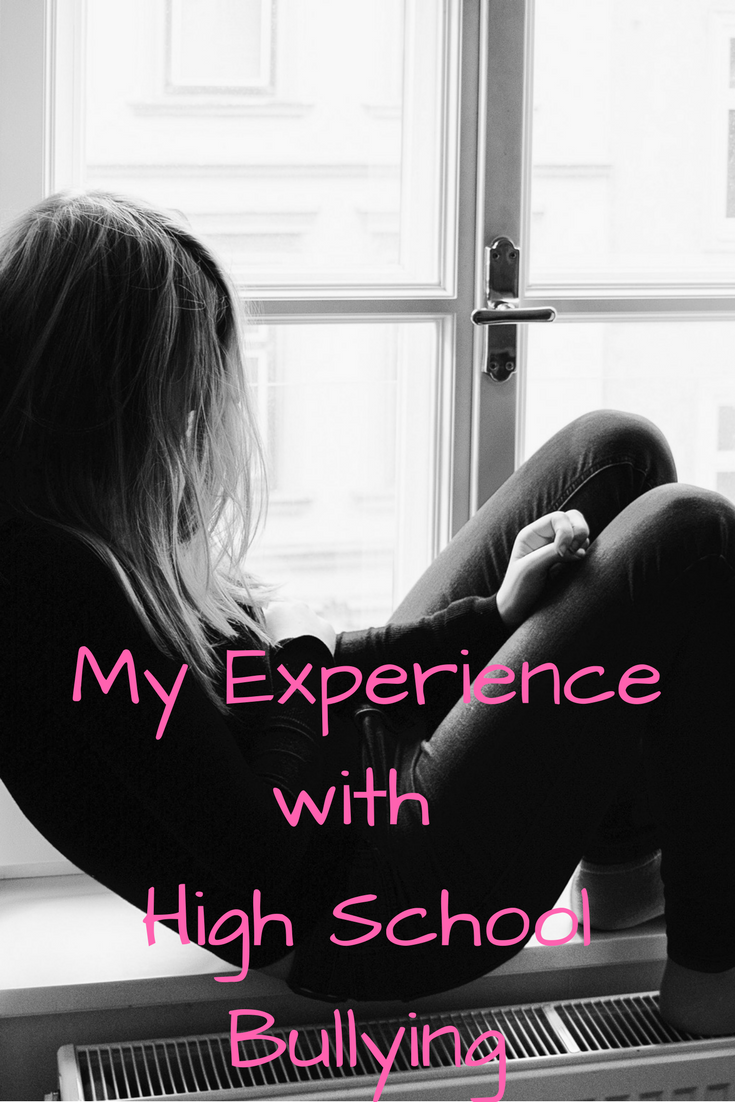 This is about dealing with bullying and how no matter what, it never leaves you. Though it can leave scars and be painful when going through it, you need to be strong for yourself and that you are not alone in this. PEOPLE can be MEAN!  I hope someone who is being bullied or chooses to bully can read this and see how much of an impact it makes in someone's life and though it happens you need to be strong in who you are and love yourself.
Well, I guess it starts off saying some women are mean and more unfortunate young women can be mean. I guess it never quite goes away. No matter what the age people still have the tendency to make fun and try to break people down. It can be some immature teenager to a jealous co-worker. Mine starts in April 2003! I had my whole life just comfortable before the day my dad announced his promotion and that we would be leaving my little home in the rural setting of Pennsylvania. At first, it felt like something that wasn't going to really happen but then as our house sold and I had to say goodbye to my friend's it all became a reality. This was the house that built me, the home I knew since I was born and the friends and people that I knew my whole life. I grew up with most of the kids in my school that I remember playing blocks with, in preschool, to watching them become class president and grow into their teenage bodies. My school and neighborhood were so different than anything else, it was Dingmans Ferry a place where most people never heard of and just a few short miles from New Jersey over an old vintage bridge that jiggles when driving over. My plans were good though, I would still come back to visit and my new school which was close to the beach and only a two hour drive away from home wouldn't be so bad. It would be new opportunities and a ton of fun since there would be so many more things to do than being in our rural house in the sticks.
Well, to my surprise my first day of school was nothing like what I had imagined…I did not have friends immediately, and cute new boys to look at, instead, this was a "beach" town people at the Jersey shore that thought they lived in California. Girls were different guys all had long hair that I couldn't quite get used to. The first day of school nerves I will never forget and though I had a few nice faces there were plenty of dirty looks that cut you deep. Moving to a new school just a few weeks shy of your 15th birthday was not easy. It just wasn't….not only was it a scary situation to start all over again, but then the rumors the comments and the hate started. My first few weeks at my new school turned into long drives home crying to my mother…who felt helpless since she couldn't change any of it.
The bullying started with girls and then guys and then my own friend's who I thought were friends. It was a long search to find good people, but I wasn't going to give up. I wasn't going to spend the next 3.5 years in this school and town and not make any friends. And so that is exactly what I did…I went out of my comfort zone and found girls that I could connect with. I never was about being "miss popular" I just wanted to have friends that I could laugh with and be myself around. Just a few weeks ago I had a Christmas dinner with these girls and I teared up just telling them how much their friendship meant to me, and how I will never forget that day that I asked for their phone number and went out of my "uncomfortable" way to be sure I would make friends…because they felt like "normal" girls that I could be friends with. I know God brought these special women into my life (he always has a plan). Here we are 15 years later and still making time to get together and celebrate our friendship. Months can go by with our busy schedules, but when we get together it's like nothing has changed. We route each other on in our career and relationships…and we laugh like crazy about old times and new.
Well, I definitely made friends along the way and during those remaining years in High School, but I also made some pretty good enemies too. Let's say girls are gonna hate…especially if you like "their" man. I wish I could tell you the ridiculous list of moments that they tortured me during those four years. It went from wanting to fight me over some guy, to making jokes at me for selling tickets to the prom. I heard rumors like they would come up with a trivial test game and name their team after me…to singing the "camel toe" song in gym class on top of their lungs as I ran past them on the track. I know that's a tough one to write about…but it's all the truth and I think this is what girl's today need to hear. I was called a slut, threatened by someone who claimed that she wanted to "shoot" me, and people who I thought were not my enemy even made me feel like I didn't belong.
Some people want to take you down and break you down. There are all kinds of reasons for bullying, one is jealousy, the second is insecurity, and the third is just straight hate! It broke me down and it affected me into my young adulthood. These girls I still know their faces and names and gosh I can say that going into Brick-town makes me cringe every time I walk into a Target or Costco just hoping I won't run into one of them. It cuts deep still and I had to do some counseling over it in my young 20's. I went through a stage where I had social anxieties because I thought people weren't going to like me…and to this day I think people are automatically not going to like me when they meet me. It's a tough thing to live with at times, but it hasn't stopped me altogether. I still know who I am and I was to accomplish my dreams and have friends. Not to mention my family…becoming a mom in my early 20's and marrying my very best friend in life has made life so wonderful. You realize those moments of bullying in High School are so small compared to what a big world of Love you live in now. Like I said those moments still stick with me from time to time, but it made me who I am. I believe sometimes we have to go through tough times to come out stronger. It builds our character and makes us wiser and interesting. Take those moments and build off of them. You will have your moments of weakness, but to cave into them…will only make them win. You have so much more life past those small moments of bullying to live for. Surround yourself with what made you, you, and what will continue to make you, you. That's what I did…I remembered all those moments of me growing up and how they didn't know that Deb and I planned this big future for myself of working in Fashion and moving to the big city. Of course, God had other plans, but it got me through those tough times. Just like that Taylor Swift song, (which was not around when I was in High School)
You can take me down
With just one single blow
But you don't know what you don't know
Someday I'll be living in a big old city
And all you're ever gonna be is mean
Someday I'll be big enough so you can't hit me
And all you're ever gonna be is mean
Why you gotta be so mean?
Life goes on and people grow up and you grow up, and at the end of the day, you have got to be you and do what's good for you. No one else is going to do that. Seek help, seek friends, and build dreams. When all else fails, get on your knees and pray. For those being bullied, I pray that this helps you realize you are not alone, and for those that have the tendency of bullying to make yourself feel better..remember that he/she is a person. This does more than just making you feel cool. I think today we are weakening our generation…when I was in High School bullying wasn't so focused on as it is today. So I had to do my own thinking and be strong for myself. I think this is what the message is we need to spread, don't be weak…bullying doesn't make you the weaker person. Getting through it will only make you tougher. When I see these stories how young people are killing themselves for being bullied it just breaks me down. This moment is so small in this big Life you are going to live. Write your experience down and put into a box and then twenty years later read those letters back to yourself and see how far you have come since those small moments. See how strong you became from it all…and turn that hate into love.
I know most of you that follow me here are probably past the bullying stage…well into your adulthood and not dealing with teenage games. I would still love for you to share this with a young person that needs to hear this. Bullying can happen to any of us. Whether it's one person or multiple, a month, a year, or most of your life. Please leave me a comment if this has helped you in any way. God's hand be over this post and let it touch that special life that just needed to hear that it's going to be okay.
(Visited 131 times, 1 visits today)