Farmhouse Furniture: European Farmhouse Living Room Makeover
Do you all remember what my living room looks like? I know it's been forever since I've even shared a photo. I think I can date back maybe to March the last time I shared a photo of my living room. Well, that's because ladies and gentleman we were going to sell our house…remember that? and then we decided to stay…so then we decided to do a million makeovers  in our house…and that included the slow process living room makeover, thanks to me. Last week I shared our Dining Room Refresh and this week it's all about what's new in our Farmhouse Furniture and European Farmhouse Living room makeover sponsored by Raymour and Flanigan.
I have partnered with Raymour and Flanigan and received product in exchange for this post. All expressed opinions are 100% my own
It's been an exciting time though to be able to do these beautiful changes to make our home feel fresh and new for us again. After not being able to move this year (sad and relieved at the same time) I felt like there were things we needed to do to make this home a house we love again. And don't get me wrong…I love  a good makeover no matter what, but I felt a few things were definitely necessary for us to love this house. One of which was updating the Living room by refinishing the hardwood floors (blog post for another day), and switching out the furniture and the layout of the space.
So, let's chit chat about the process of making over our living room. The before definitely had that "french farmouse" look. which I loved. I wanted to keep to a neutral color scheme (of course) but I wanted it to feel slightly more elegant in here, and also had to be more comfortable so we could actually sit and hang in this room. It's still not the "family space" but if the hubby and I want to hang out in this room while the kids spend time in the other room, then it's at least comfortable for that. To be honest, it's kind of become my room! I spend a lot of time here on the computer and if the hubs is watching something I'm not loving on TV, I just hang out in here alone.
Okay, let talk about creating a European Farmhouse Look!
Update hardwood floors! We chose to go dark , but light wood also is beautiful for the European look.
Farmhouse Furniture: (New) Sofa, TV Stand, Chair, wall mirrors (all from Raymour)
I purchased a new coffee table, and bought a vintage desk that I gave a makeover to (you can read about that here)
Neutral Paint Color: Benjamin Moore Swiss Coffee (the perfect warm white)
Farmhouse and Vintage Accessories. I used some old accessories and bought some new pieces at my trip to the Country Living Fair last month.
What still needs to be done
We still have to purchase blinds for our window and possibly add another window seat cushion.
Maybe purchase a new rug down the road.
New desk chair that fits underneath my vintage desk.
Purchase a few more throw pillows (but that can always be done seasonally).
I think what is so wonderful about the Raymour company and furniture is that they have an affordable price point for the family $, their prices are not only reasonable, but their styles are suitable for a family but with style being just as important. I noticed this, just with our shopping experience since we were looking for something that suited my design eye but my hubby's bottom (hahaha)  You can definitely feel the difference when you are sitting on a good quality sofa. Our previous one (though I loved the style), was uncomfortable to really sit and lounge in. I think we were truly able to accomplish everything that our family needed and wanted for our European Farmhouse living room with Raymour's selection. They also have tons of suitable sofa's for the Farmhouse look, with nail head design, neutral colors, and tufted details. I went simple with my sofa choice, because I wanted my pillows to stand out and "the chair" (wait til you see) to be the piece that makes the biggest statement.
So let's take a look at the space!!!!!!!
BEFORE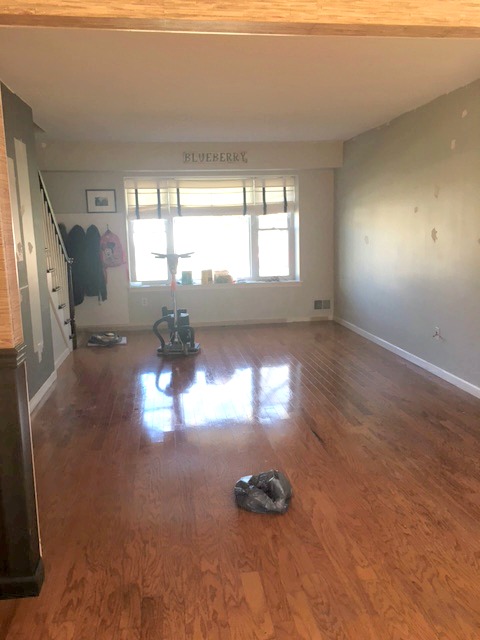 See, the orange glossy floors? This was right before we tackled that weekend long wood floor refinishing process. As I mentioned above, I'll be sharing our opinion and steps we took…to do this on ourselves. If anyone is interested in it, please send me a comment.
AFTER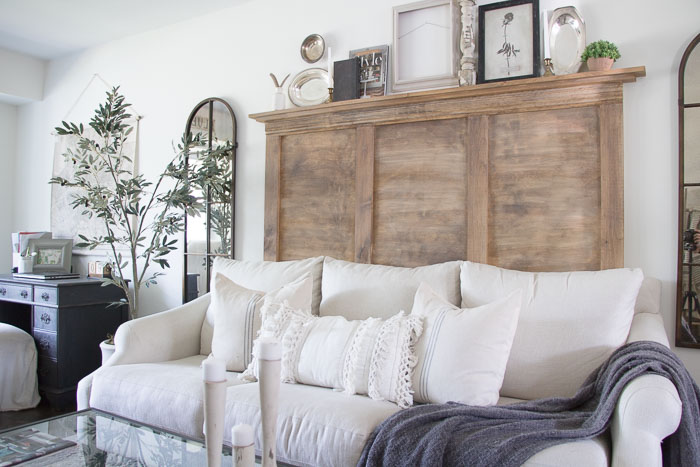 We hung the two beautiful "antique" mirrors which were also a Raymour find, symmetrically on each side of the sofa.  Our initial plan was to place new windows here, because surprisingly this room is actually very dark most of the day. That didn't quite cut the budget, so we added these pretty mirrors to bounce more light in the room. I knew I wanted something to take up the space along this long wall, so we built this DIY Shelf to give the space character and dimension. It's a great spot to change up the accessories seasonally.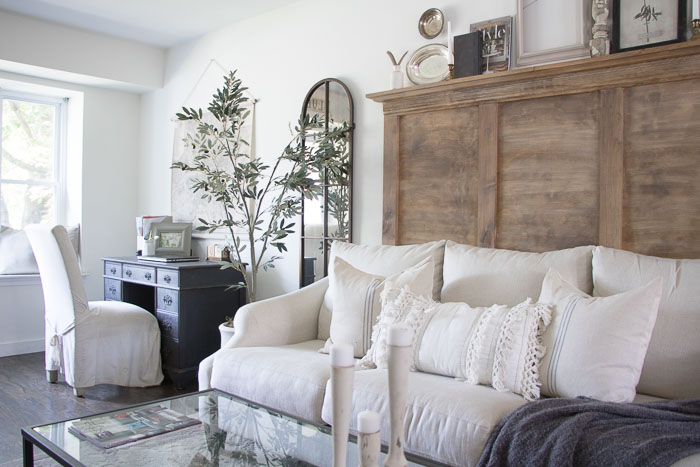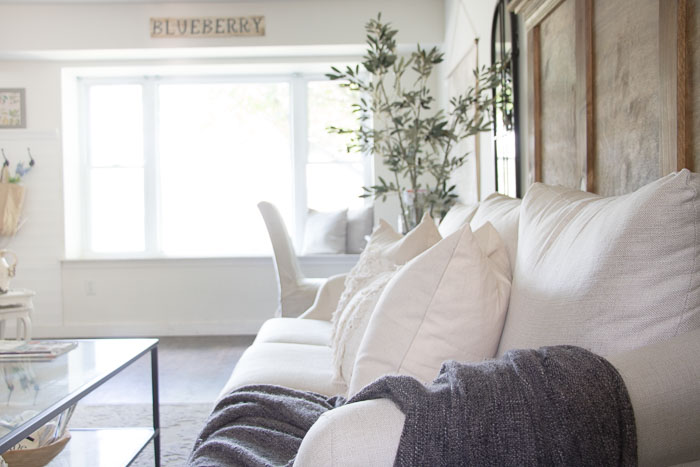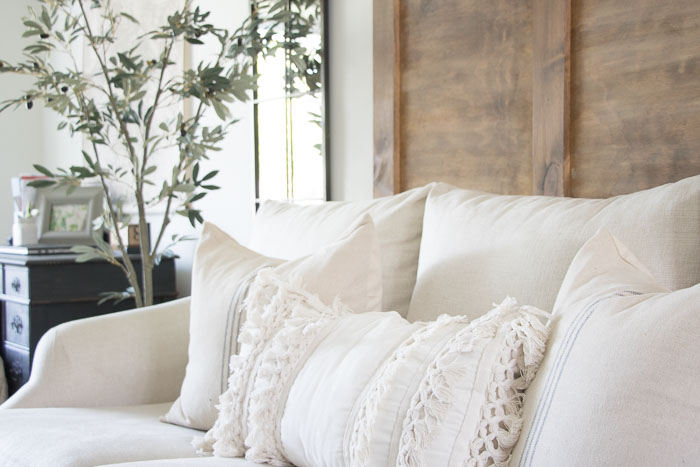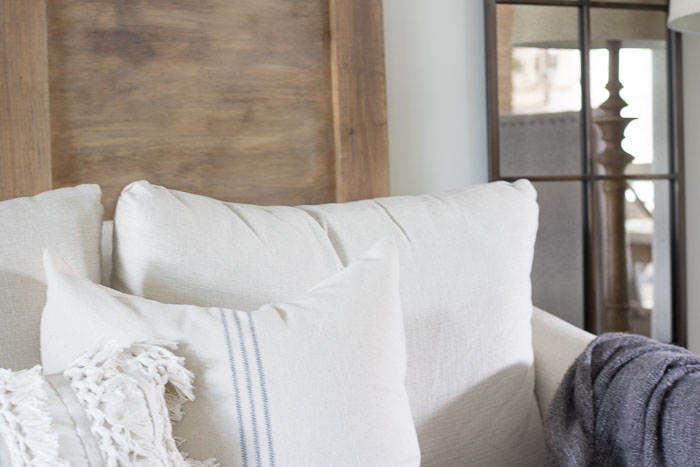 Just loving these beautiful pillows! They definitely gave this sofa that European Farmhouse look. Having a neutral colored sofa as I chose, helps to switch the accessories and throw pillow easier.  I initially ordered it in the grey but then changed my order before the delivery. I knew I wanted to stay neutral, but then when you have the hubby bug in your ear…you lose your design focus haha. It turned out beautiful and you can shop these pillows grain sack pillows at my friend Lisa's etsy shop here.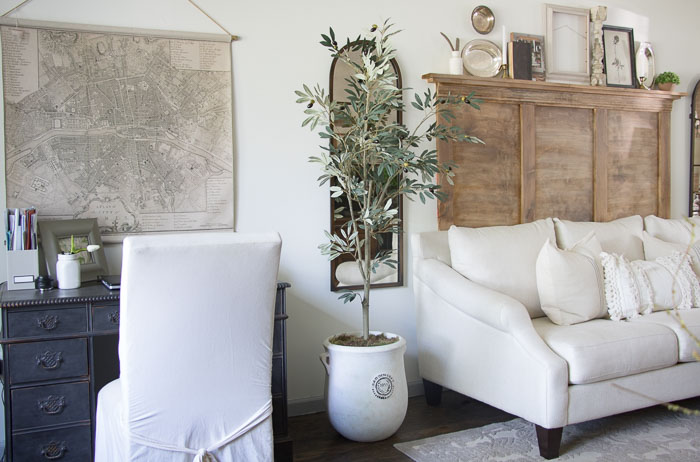 What says European Farmhouse more then an olive tree??? which by the way stole my heart! This  gave this awkward wall and space another dimension. There's only so many lamps and tables you can put in a living room, so I love the idea of adding a tree or plant to a space to give it some color and life. Though this is a faux tree it looks beautiful and better for my black thumb.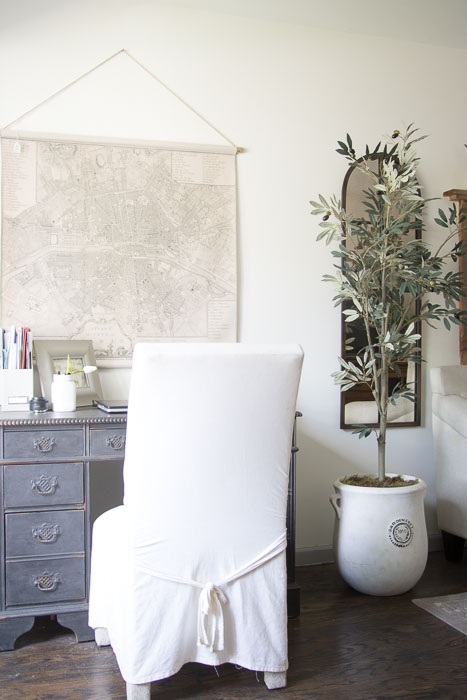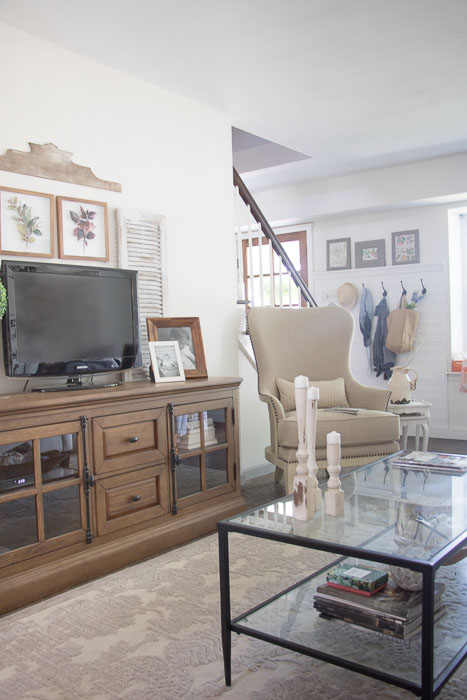 This TV stand was a game changer when we went shopping. I had no plans on buying a TV stand since we were thinking of maybe doing built-ins or maybe another faux mantel, but I could not stop thinking about this TV stand while we walked around the showroom. I felt it would be not only an easy solution for the room but a really sophisticated piece. The amazing knobs and color just made it a wow without stealing the show here. I also love the warmth of the wood with the creamy white walls.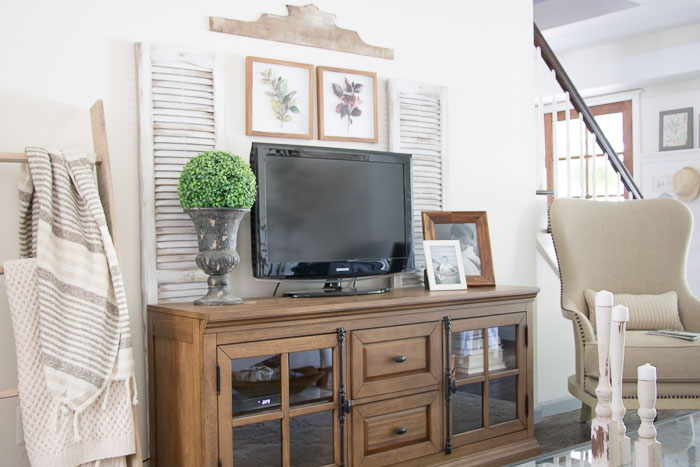 I spy…the to die for Woman chair! You heard me, woman chair! The hubs still has yet to have his man chair, but I've found my ultimate woman chair. It's where I sit and pray, read, dream, and hide (from the kids that is). I am loving it so much and the placement of it is perfect since it helps extend the living space more since the room can definitely be an  awkward layout. The quality is amazing and the style represents that European Farmhouse style more then anything in this space.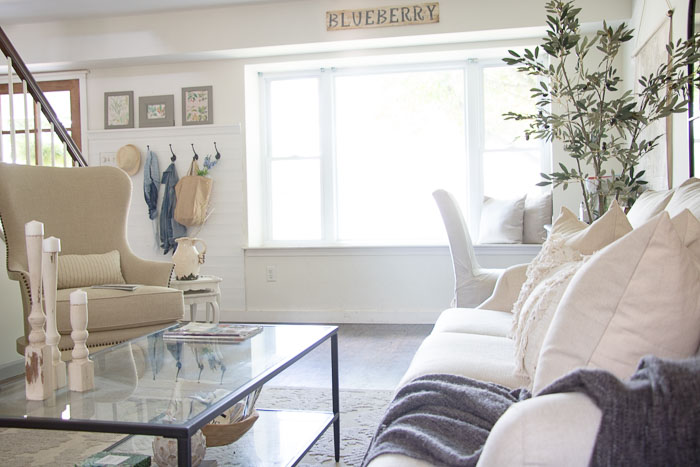 The shades are next in this space, which will definitely warm up the room more, I can't wait to pick some and share that with you all soon.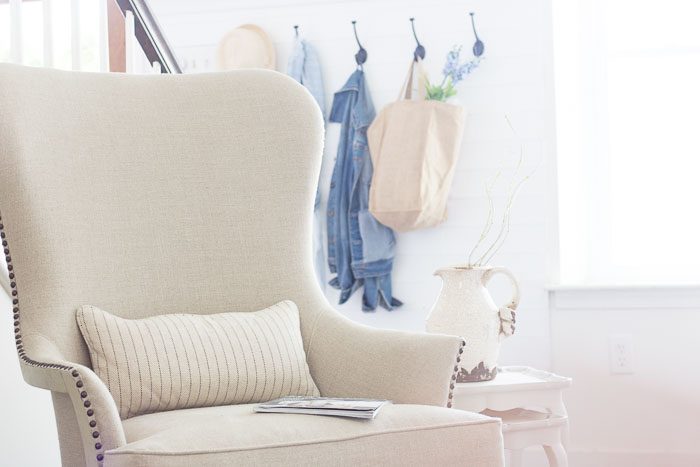 Thank you to the amazing Raymour team for trusting in my design and blog, it has been an amazing experience and I am grateful to have their beautiful and comfortable furniture present in my home.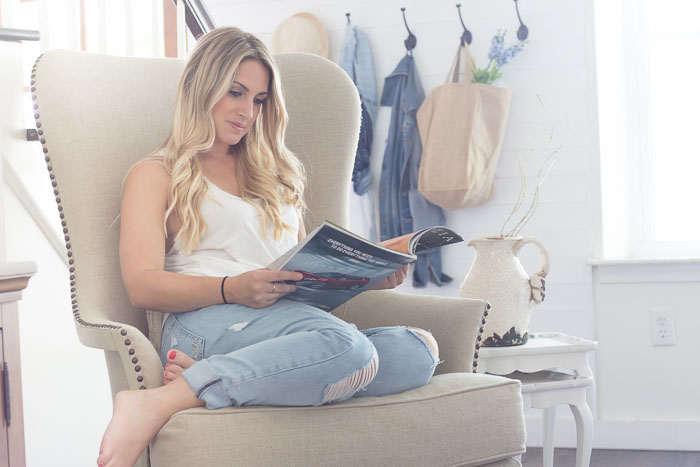 Shop the Look

Love For you to SHARE!

PLEASE STAY A WHILE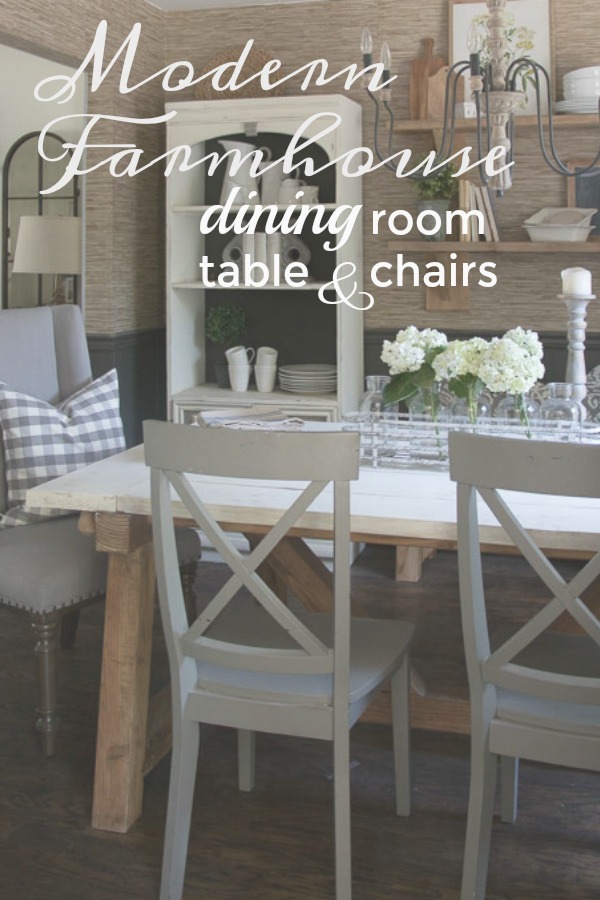 Modern Farmhouse Table and Chairs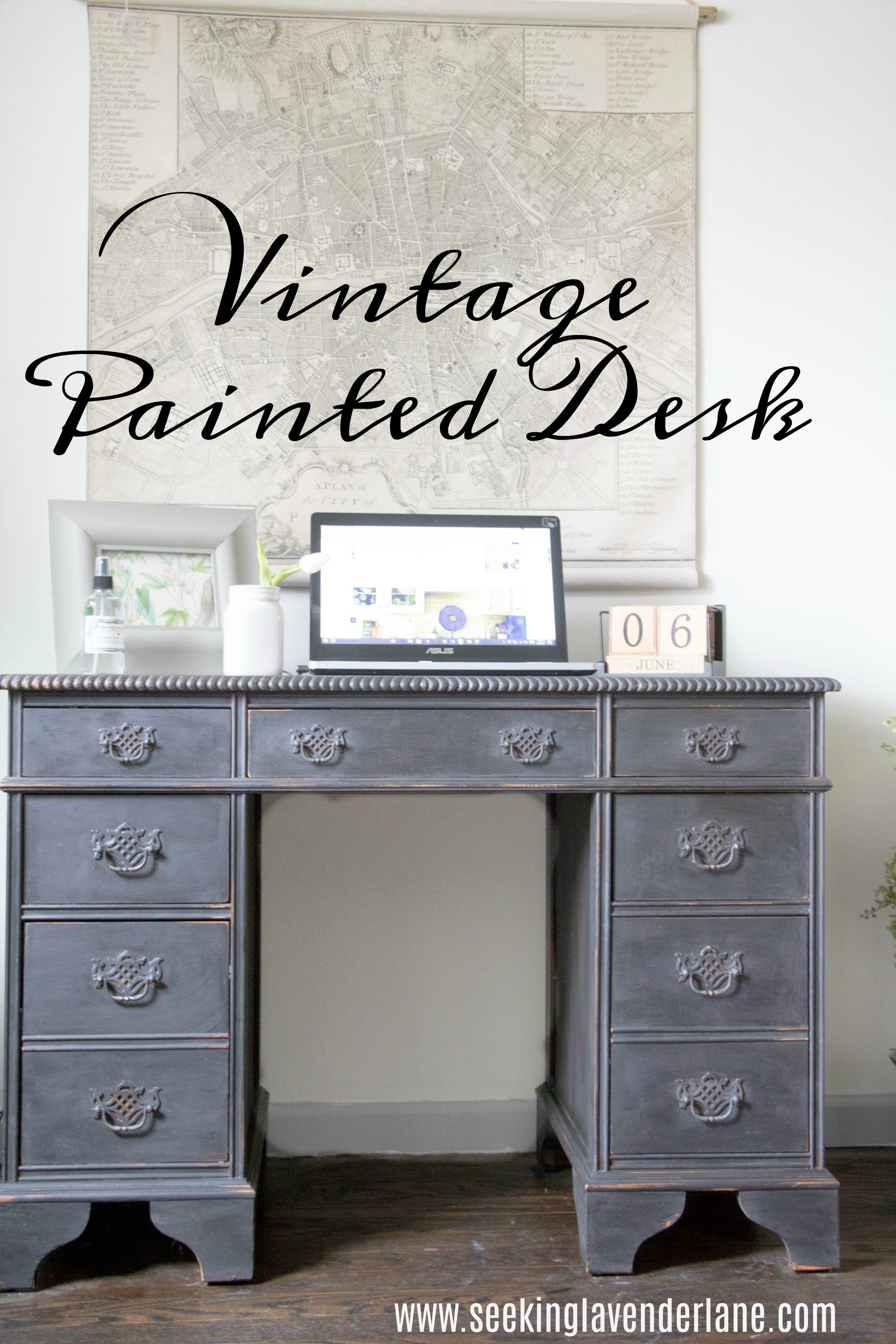 (Visited 3,568 times, 1 visits today)