If you're a fan of DIY then you're a fan of decorating on the "cheap".  Our society today likes to achieve beauty in everything. Whether it's in our style, makeup, food, parties, or homes, we love to make everything have that little extra kick. We like to impress and we have come to realize that we no longer have to wait to become "rich" to do so. It may very much have to do with the millennial generation. We just love nice things, we hate waiting for it, and we are all about looking the part. Even non-creative people want to find ways to be creative in their daily lives. First birthday parties have become themed out from top to baby toe. Thanks to H and M and Forever 21 we no longer have to skip out on trendy outfits because our wallets won't allow us.  We want to cook more then mom's meatloaf thanks to the food network and pinterest recipes.  And the best part, we can achieve it all!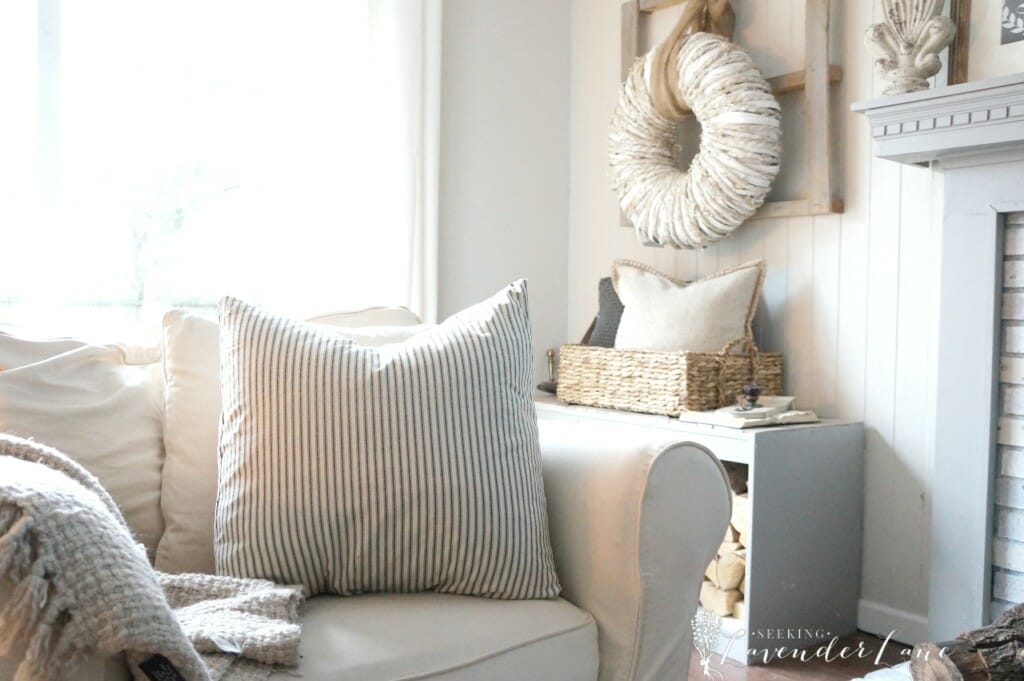 So our DIY blog niche not only does it fit in with the times, but it's helping those that want to have a beautiful home at the snap of our fingers. Can't afford a Restoration Hardware table, no-problem Anna White has that solved, no chance on replacing the ugly outdated 1970's brick on your fireplace, no-problem we got "white-wash" for that. And fancy decorative accessories are being showcased from top websites like Wayfair and even your local affordable stores such as Target and Homegoods. So lets keep up with it! Let's not hold our breath for the day we win the lotto. Lets embrace whatever financial class we are currently in1 Take on those DIY projects, rock a $50 outfit with confidence, and continue to add those free monthly printables to your babies first year pictures. Embrace the pretty touches that make every situation better.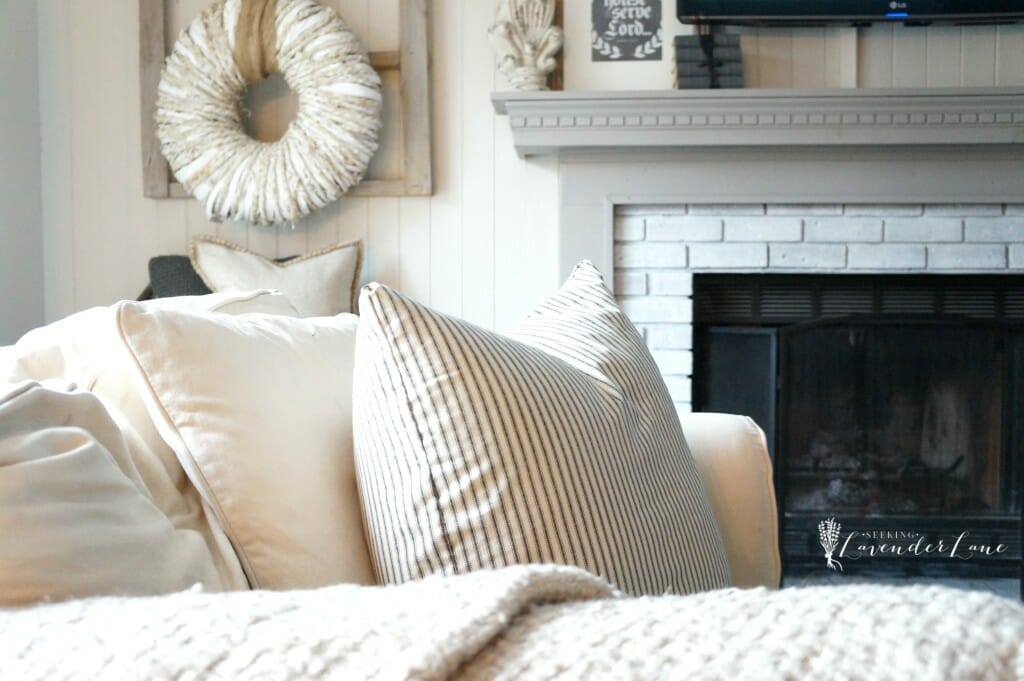 Here's a simple way that I'm adding that "pretty" touch to my home without spending tons of money. It's just another one of those ways to DIY your way to Pretty. Back in December I shared my easy "Ho-Ho" pillows. they were an easy way to achieve a seasonal pillow without breaking the bank. I even managed to do so with my no sewing skills. I decided to make some more recently, with the same instruction as those pillows. These pillows were for my family room, and I wanted something that worked year round and that would add more farmhouse charm. I picked up some ticking stripe fabric from Hobby Lobby and went to my hand sewing skills.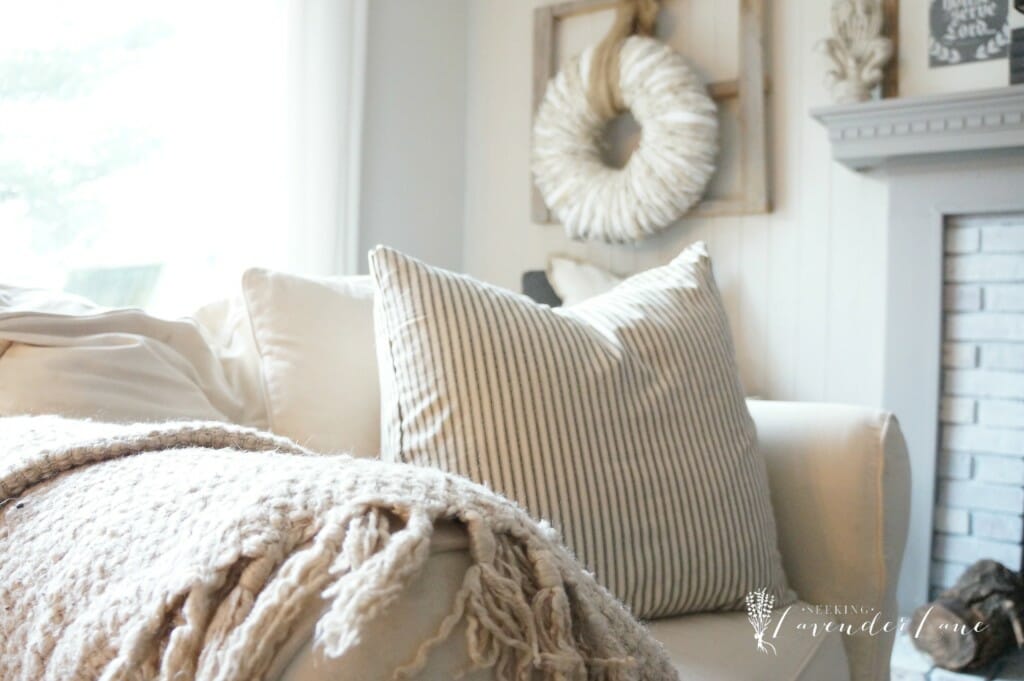 I covered some old pillows with the new "fake"  pillowcases. The fabric cost me less then $10 (for two pillows, plus extra fabric) and I had thread and  needle already. Here's the best part…buying a brand new pillow would cost me anywhere from $30-$40 and that's at Homegoods. I just hate the idea of splurging on throw pillows since they add up so quickly. This cost me less then $10!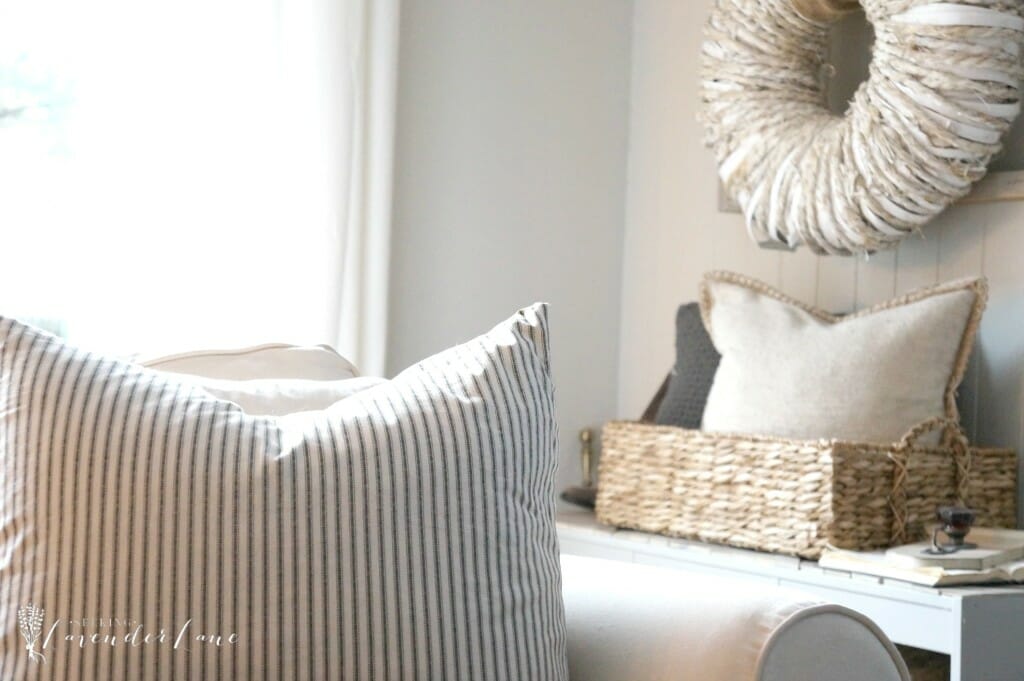 The pillows were an affordable way to decorate my couch without breaking the bank. They are great as a year round option or as I did with the Ho-Ho pillows, they can be a seasonal option. Mix them with your expensive pillows or when it's time to throw out your good pillow cases add these to the existing ones.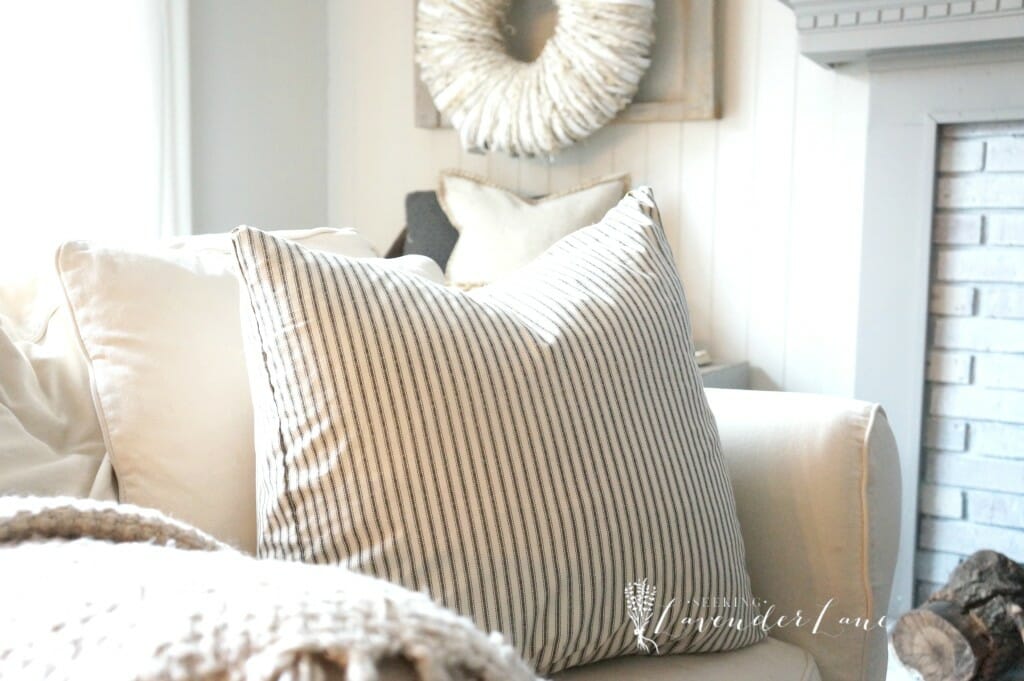 Make sure to have a down pillow to really achieve the plush and elegant touch.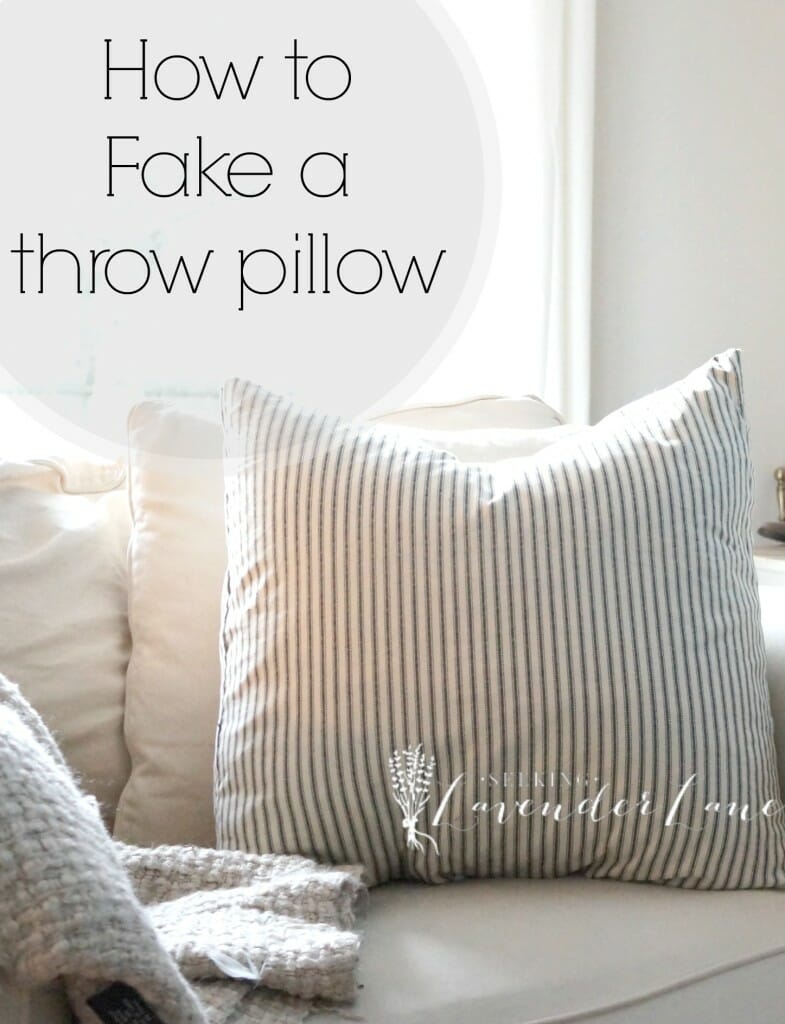 Here are some affordable options for throw pillow covers, if you skip the hand sewing method ; )
PLEASE STAY A WHILE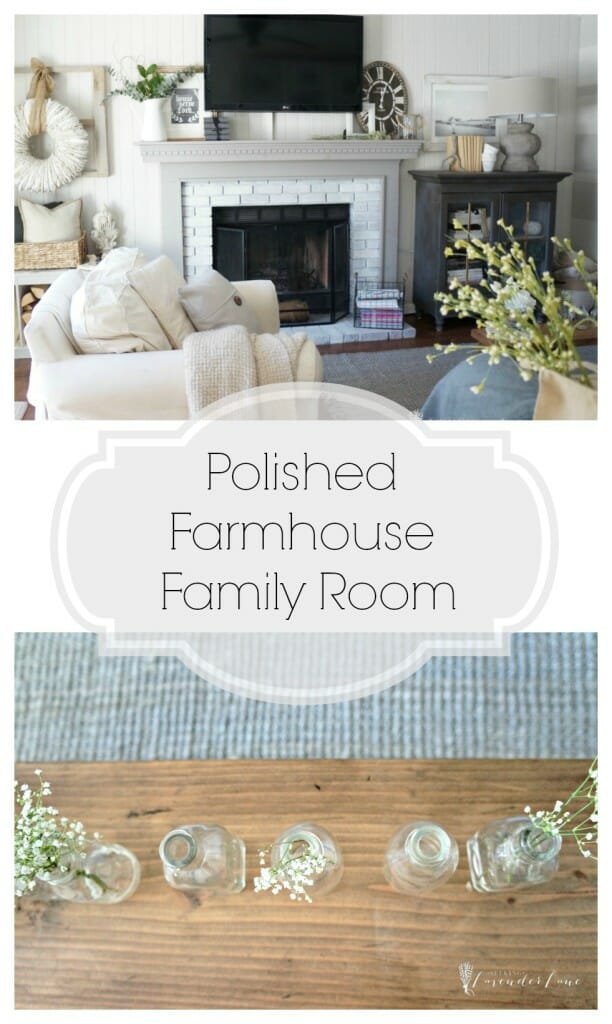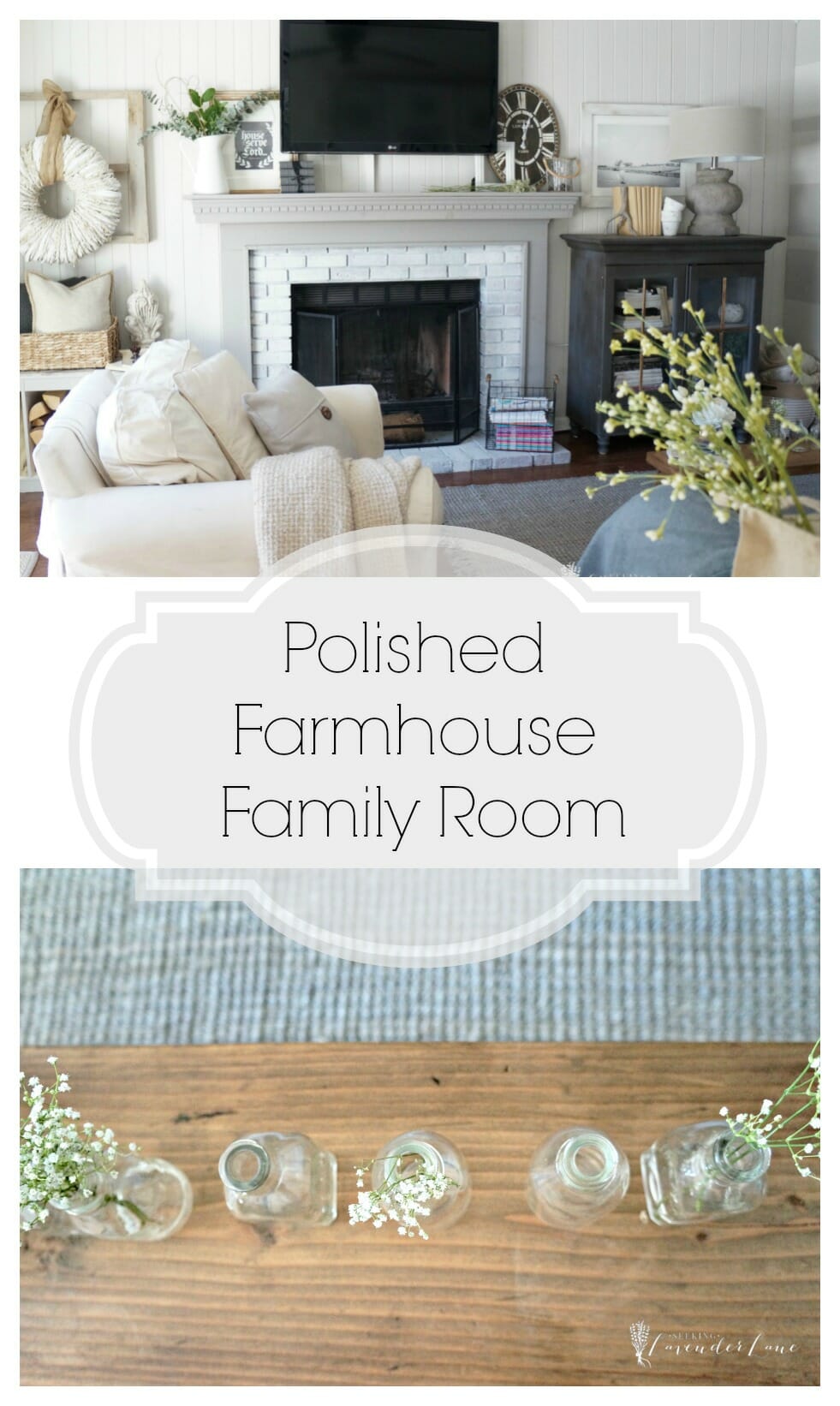 Polished Farmhouse Family Room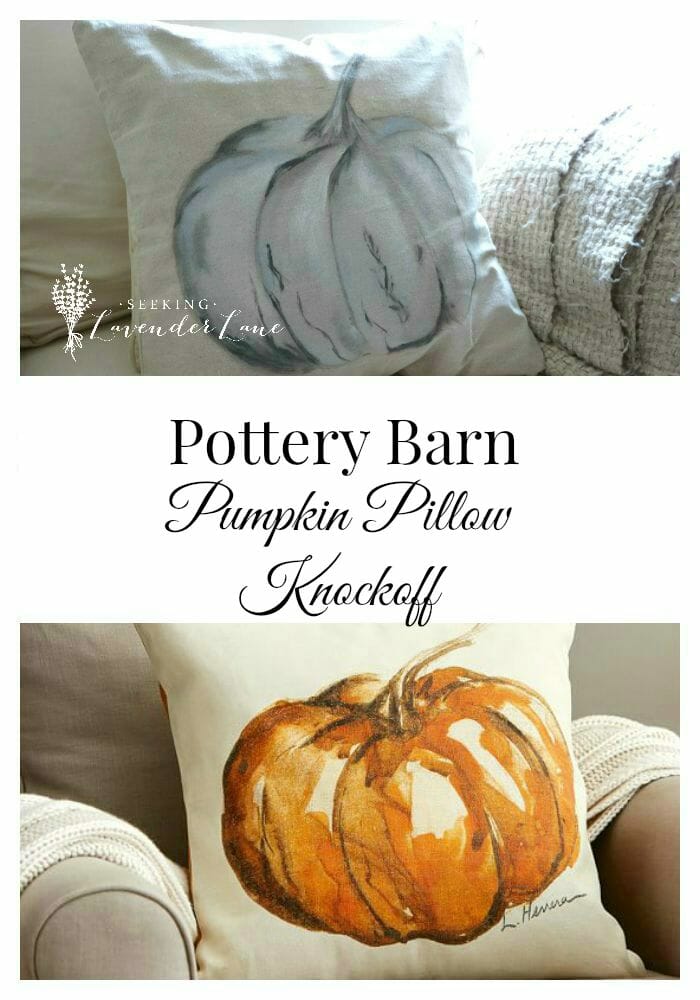 Pottery Barn Pumpkin Pillow Knockoff
(Visited 825 times, 1 visits today)