Neutral Farmhouse Family Room update on a budget. Just a few changes to give the room a refreshing look for the New Year.
Happy Snowday! how about that snow, east coast people? did you all get a lot? I think we hit that 2 feet mark maybe slightly more. Been shoveling and playing outside with the kids all weekend…and of course the dog! How much snow did you all get? Well, if you're snowed in…I've got the perfect little reveal for you all of my refresh of my Neutral Farmhouse Family Room.
I am so stoked and so excited to be sharing our "new" room with you all. You will recognize a lot of similarities from the before, but the after feels more polished and slightly more farmhouse style that I love.
First, I have to say a big thank you to Stephanie from Casa Watkins for arranging this challenge and rounding up some amazing brands that were so wonderful to work with. Lamps plus, Minted, Framework, and RugsUSA were generous to work with us. That being said this is a sponsored post, but I can not rave enough how amazing their products are and how 100% satisfied and happy I am to be sharing their products and brands with you all today.
The first week here I shared some of the plans for the room.
 The second week I revealed our white wash brick makeover.
 Today you'll get to see all of it come together.
I want to share once more a BEFORE photos of how this room look prior to us moving in.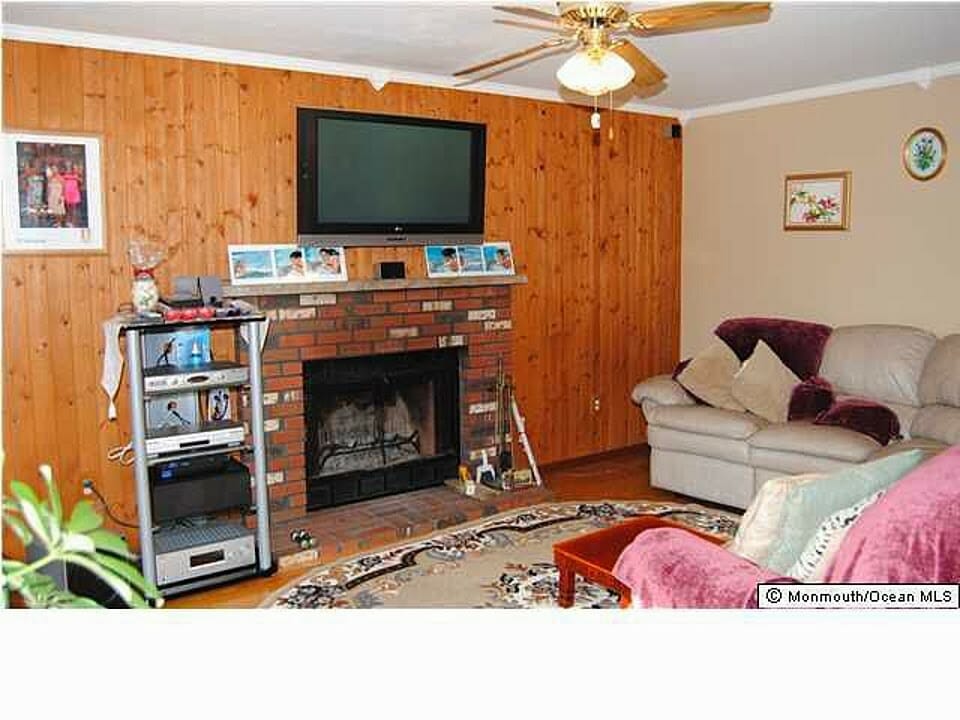 Then we made over the room. The below photo is what the room looked like prior to the new changes. A lot of DIY, paint, and affordable furniture options.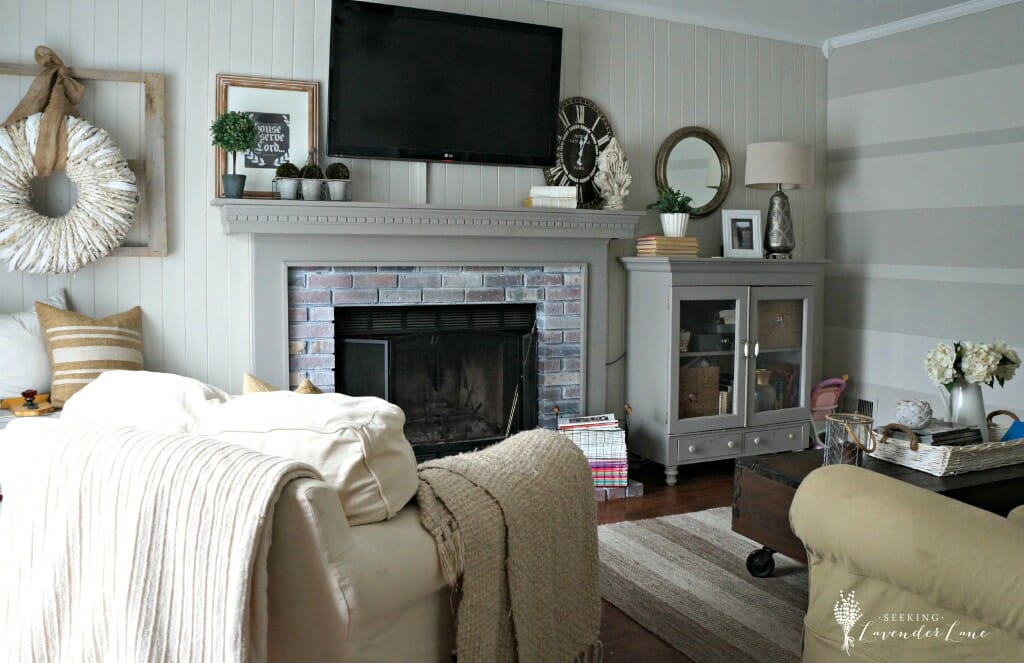 And now…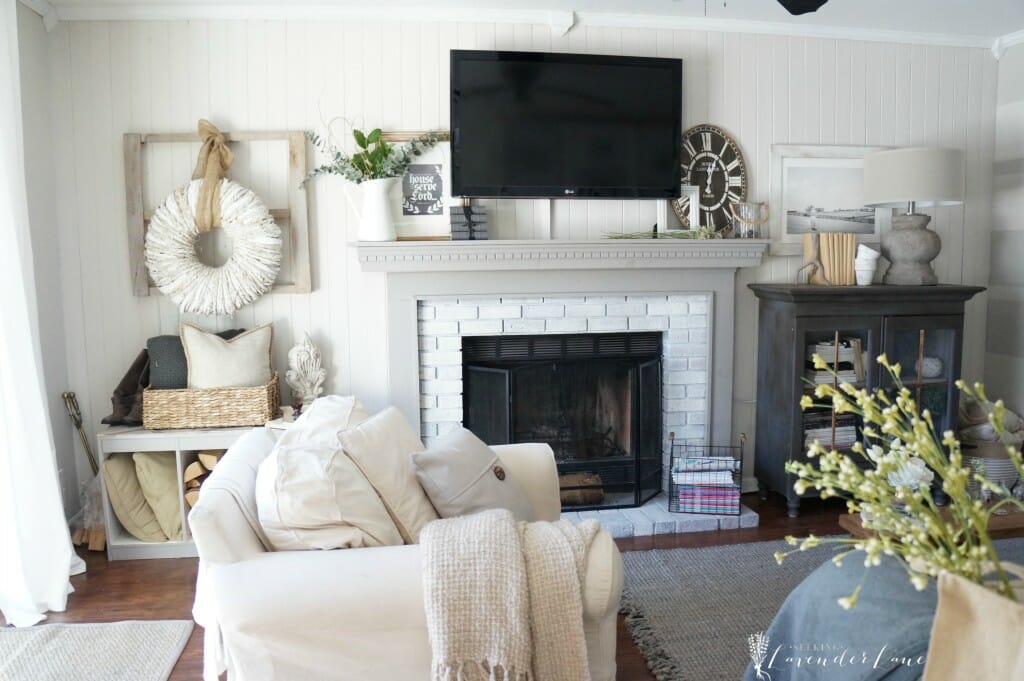 So the color stayed the same and so did our left side of the room. I had to keep that wreath of mine and the log holder works out perfectly for now. I would like to eventually switch that out and hopefully put a beautiful antique bench (but that's in the plans for another time).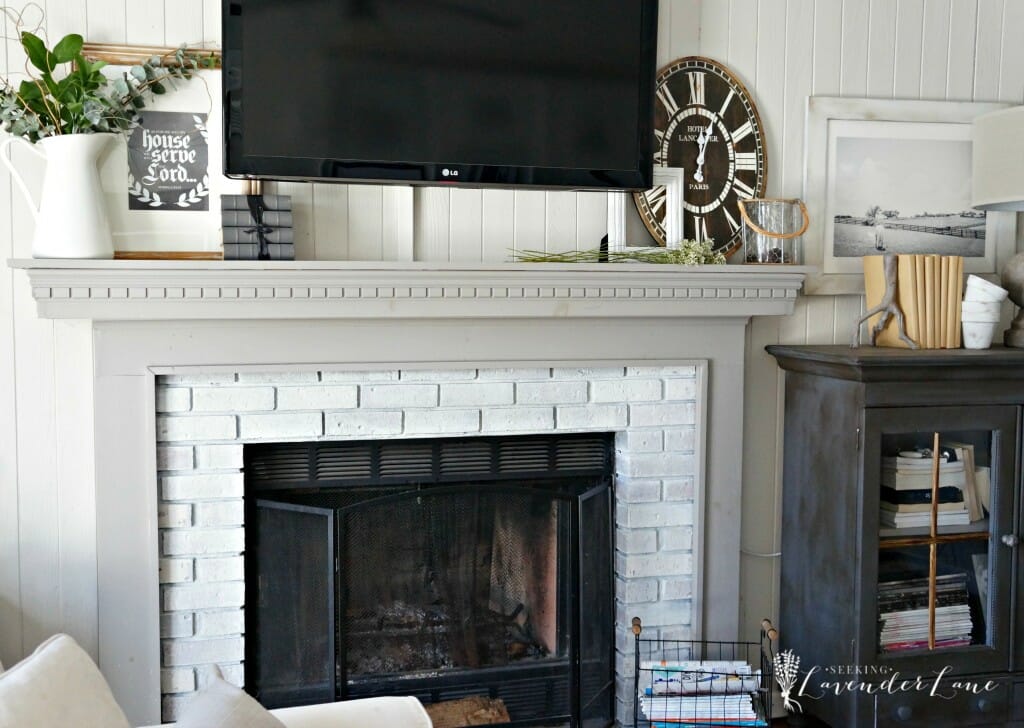 As you remember from last week we re-whitewashed the bricks and they look and work much better in this space now.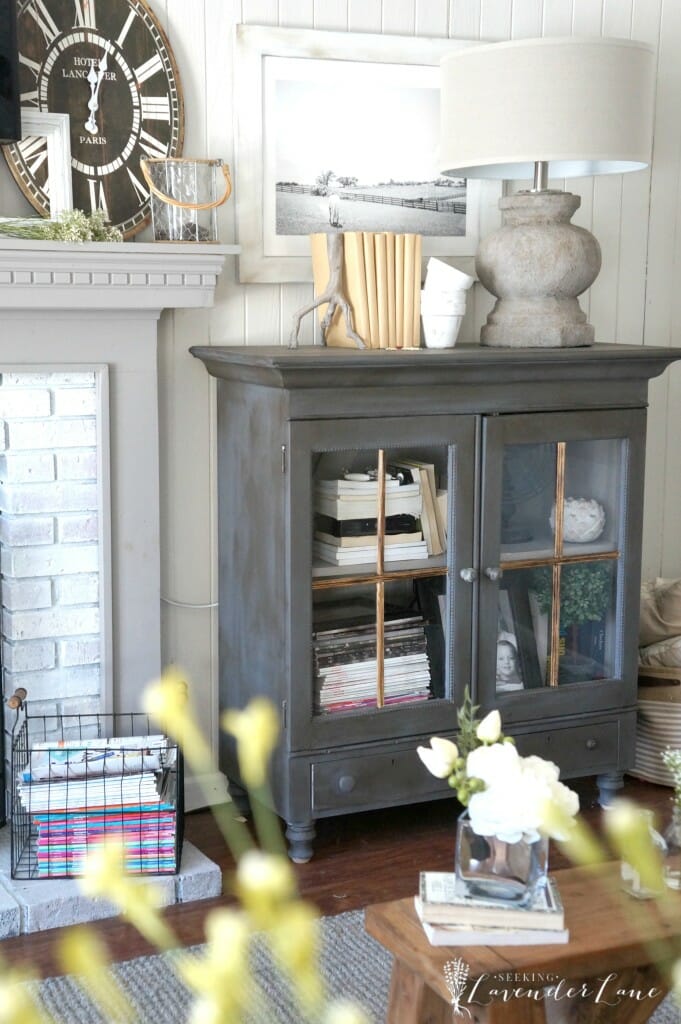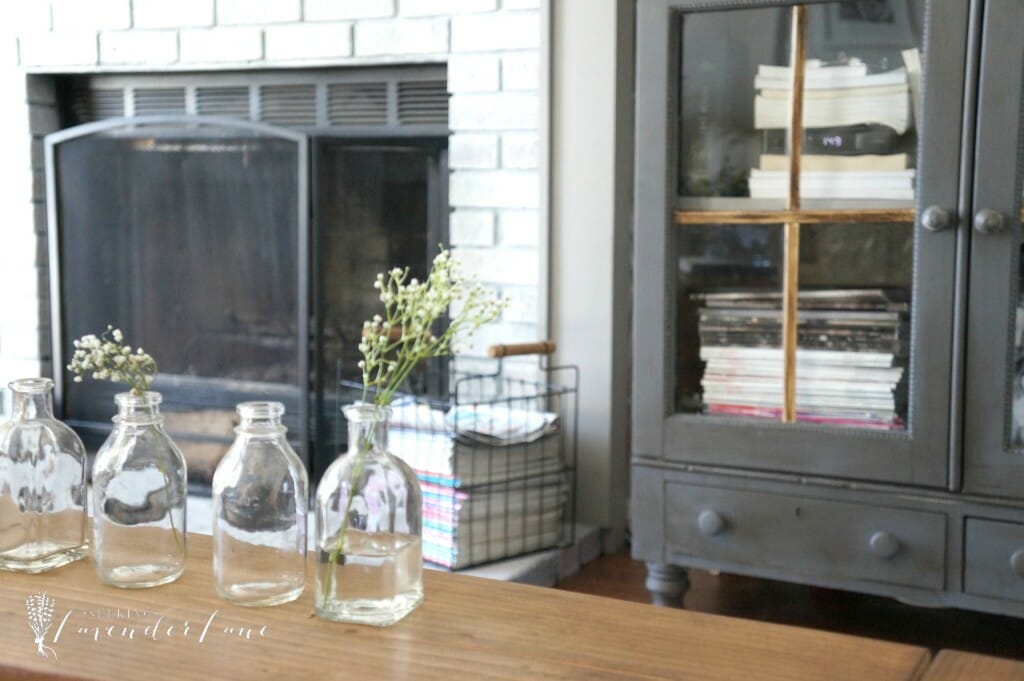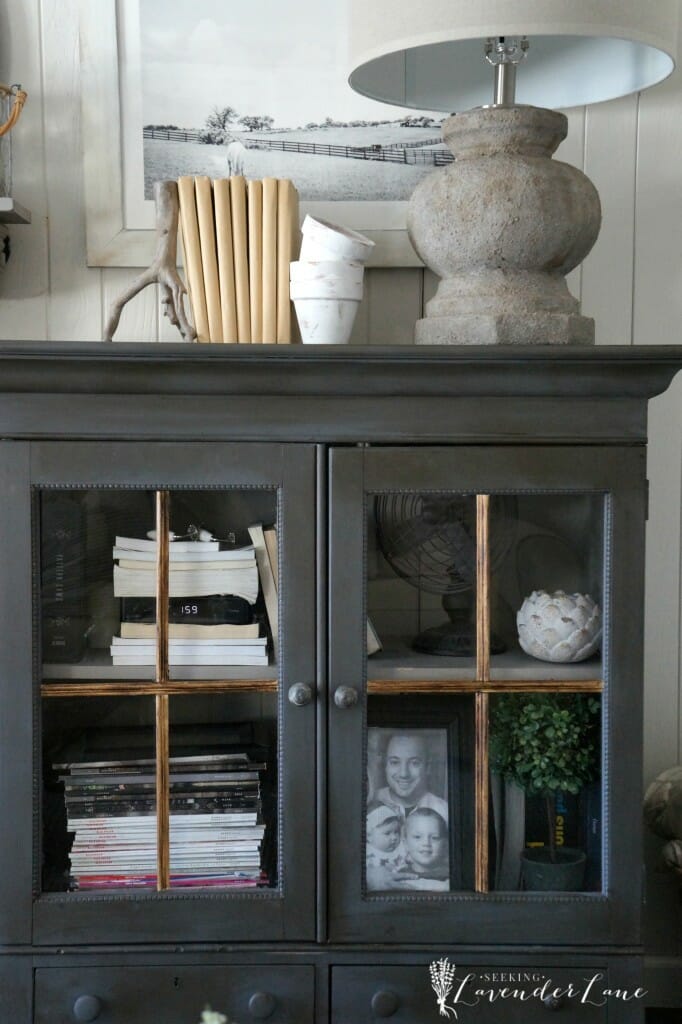 Notice this beautiful dark and dramatic cabinet? I know I originally mentioned having your help on choosing the color…
Well, I thought really hard about this and then got a little afraid with time. So I decided to go dark and bold! This color is Graphite by Benjamin Moore. After painting the cabinet I went into panic mode that the color was not suiting the room. I felt it had too much blue undertone and then not sure if the dark and dramatic was a good choice. Anyhow I decided to work with it a bit and came up with this design. I'll be sharing more on that next week.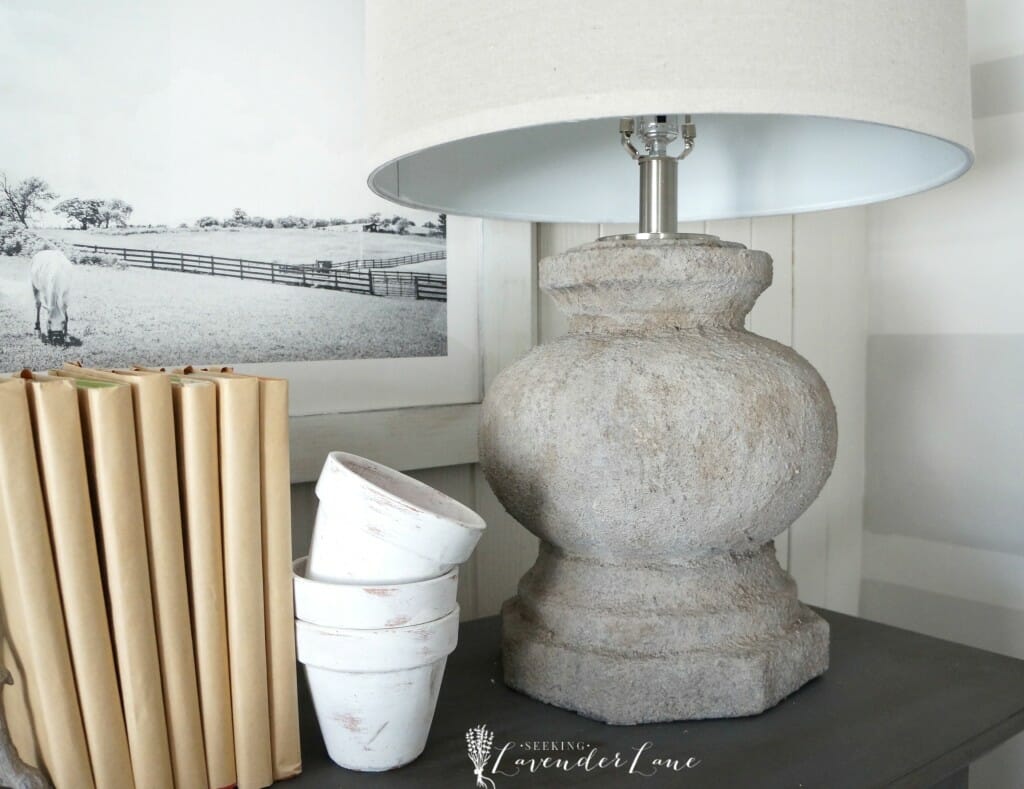 Most importantly in this corner of the room are the changes I made with the lamp and this gorgeous photograph and frame. I really needed something more dramatic and stunning here then the lamp that I had…and something that touched on more of the farmhouse look. This was a gorgeous find at Lampsplus! I squealed a whole lot taking this one out of the box.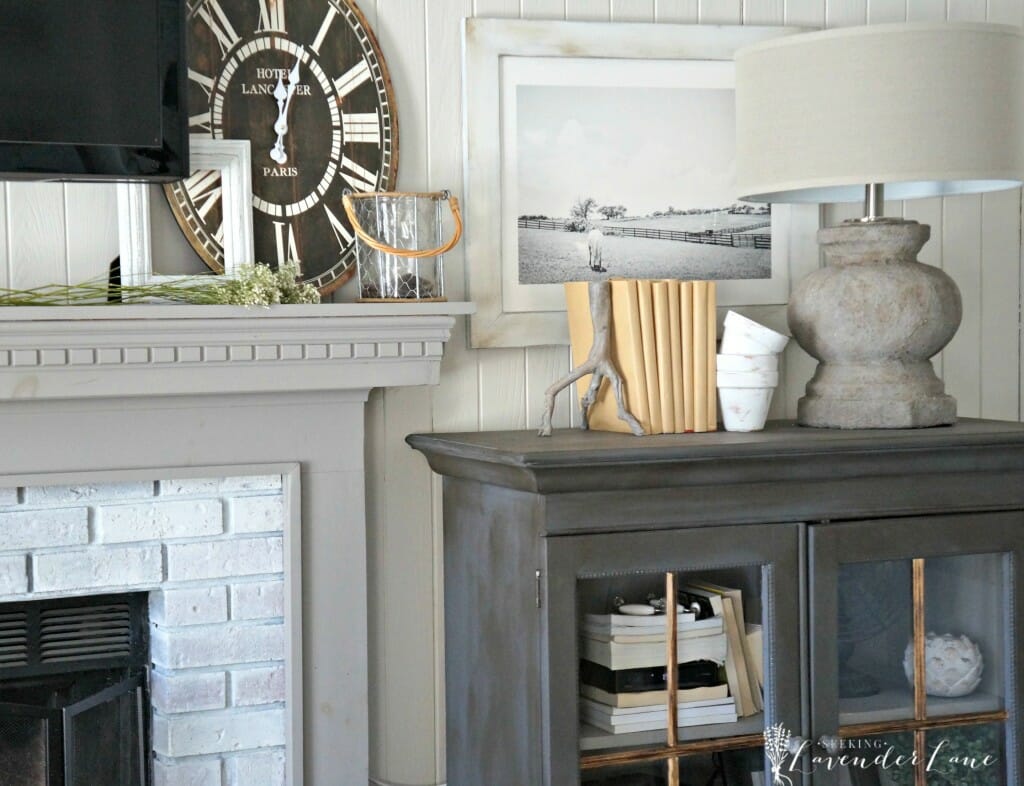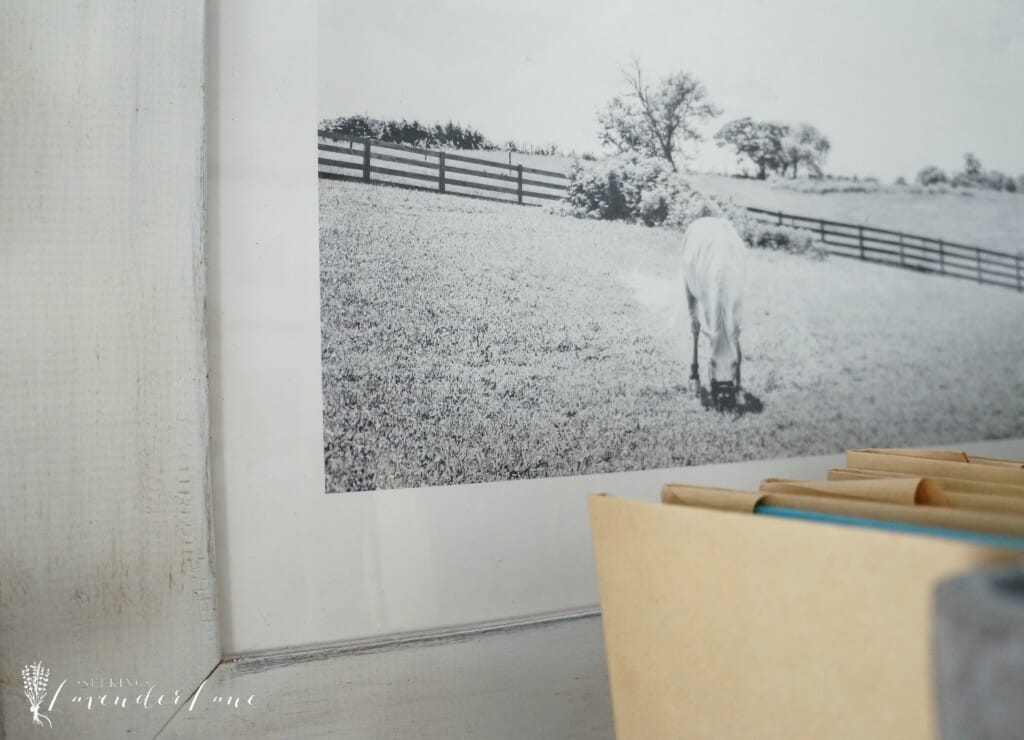 This photography and frame is from Minted. They not only made beautiful Christmas cards for me to send out this past Christmas, but also offer stunning home decor options. This photograph was the perfect nod to the farmhouse feel. I especially loved taking out the mirror that was here. It felt  less proportionate in the space and I think I was getting a little overboard on the "circular" shapes that were on this wall starting from the wreath-clock-and mirror. This really finished this corner the way it needed to be finished. After receiving the print though the frame felt slightly white in color then I had thought. The one hard part about ordering products online. Fortunately I had a little dark wax that gave the white frame the warmth it needed to suit this wall.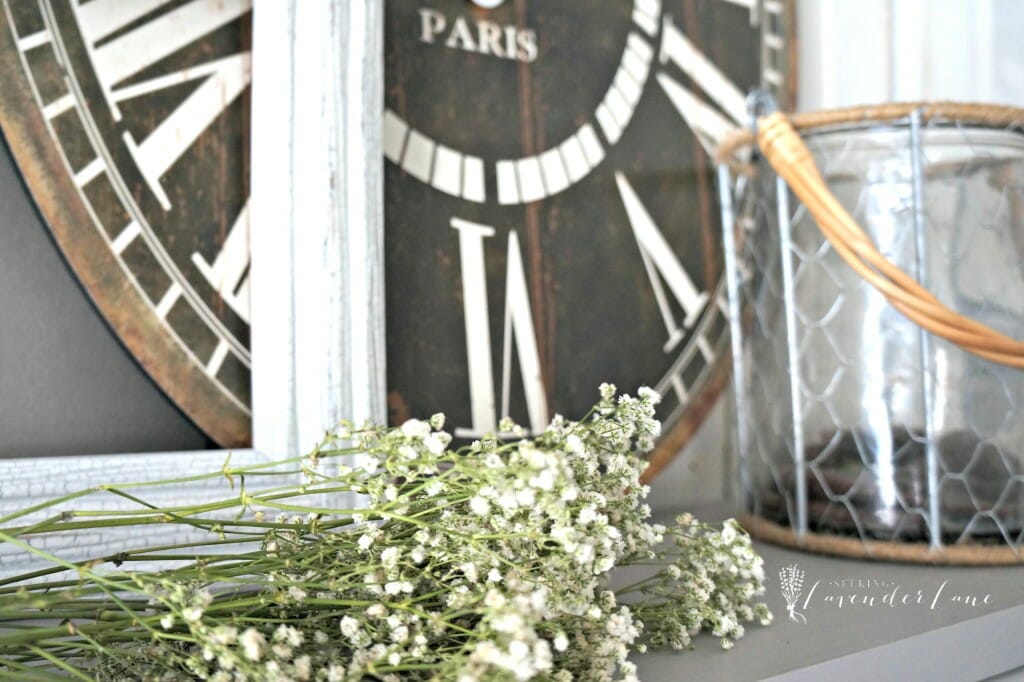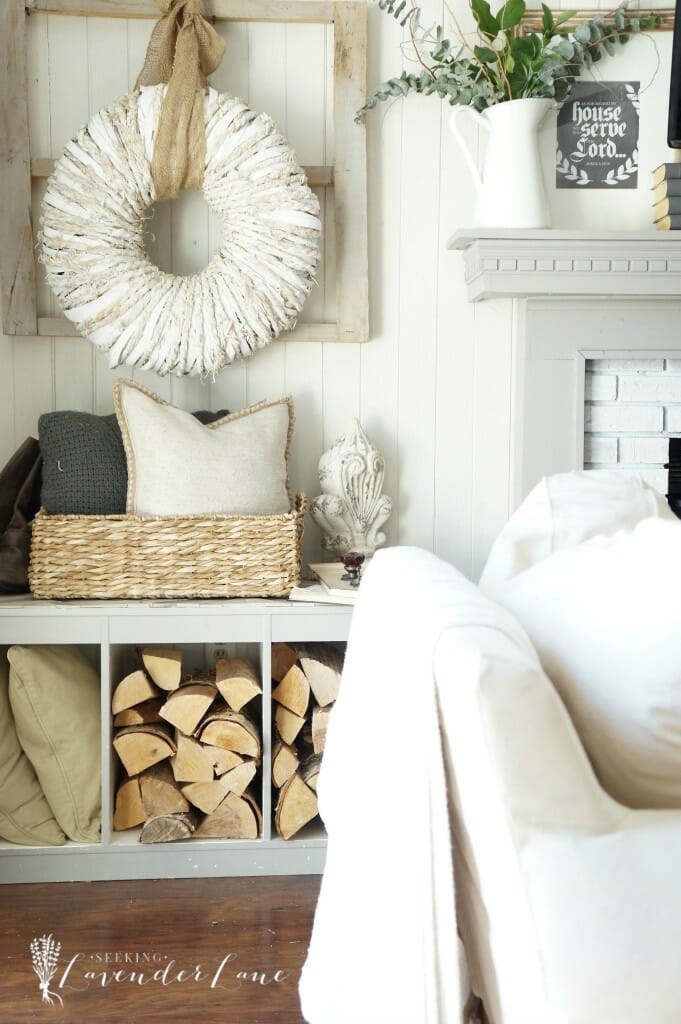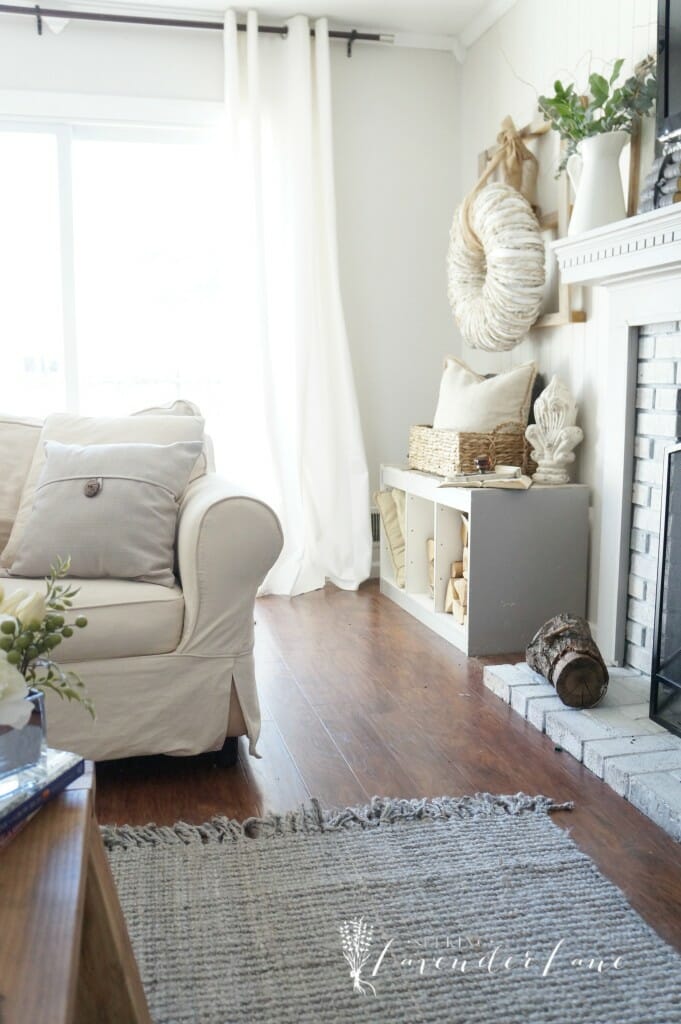 Notice something else new on this wall? The white curtains! Loved adding this here! It completely changed the room and made it feel brighter and taller. I added the curtains to the tippy-top of the wall to create that drama. The last ones I had in here were much shorter and though they matched well, the white and bright just feels better.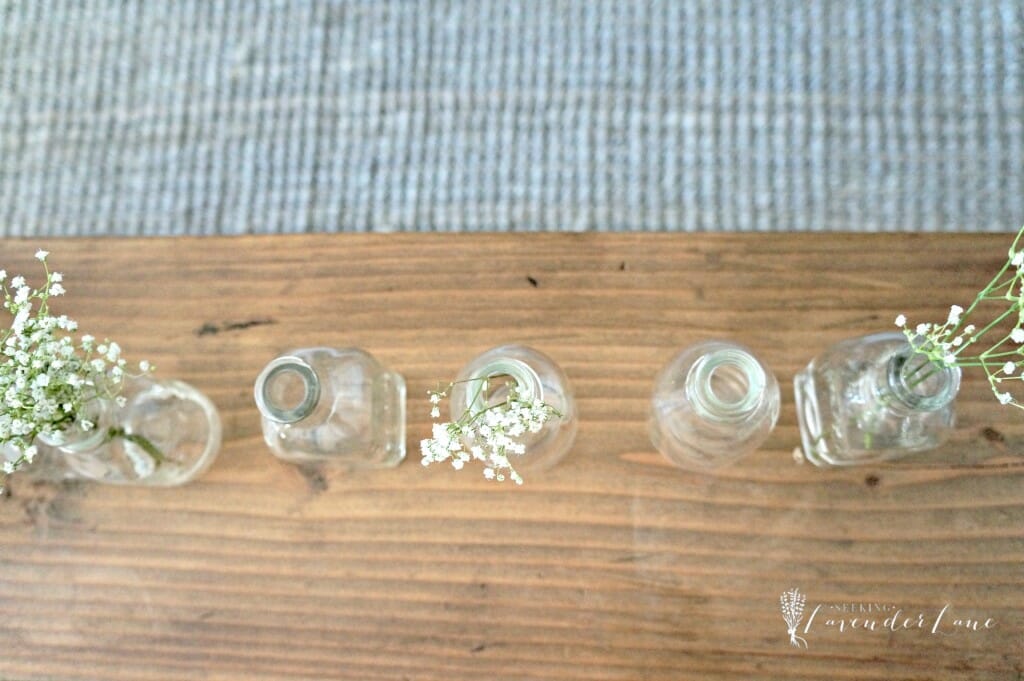 We temporarily added my dining room bench in here as a coffee table since due to the snowstorm this weekend I have yet to receive the new coffee table that Lampsplus is sending my way. Of course I will update you all on that next week (for our last New Year New Room Challenge post). Although I am totally loving the look of the bench coffee table style in here, especially with these adorable glass jars I picked up with a touch of baby's breath added to them.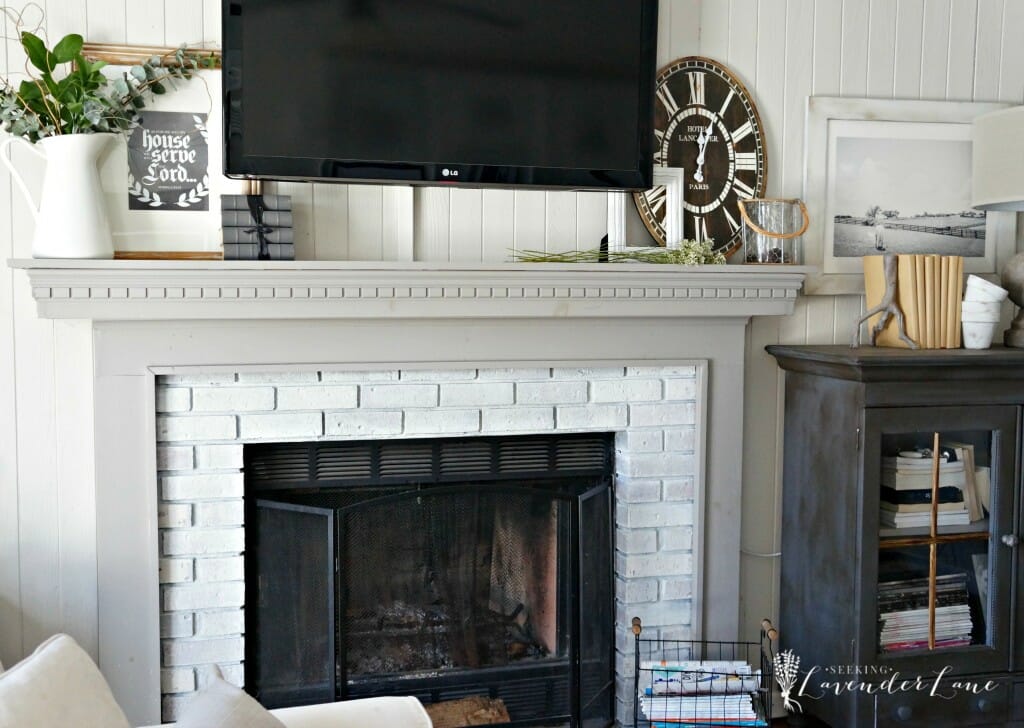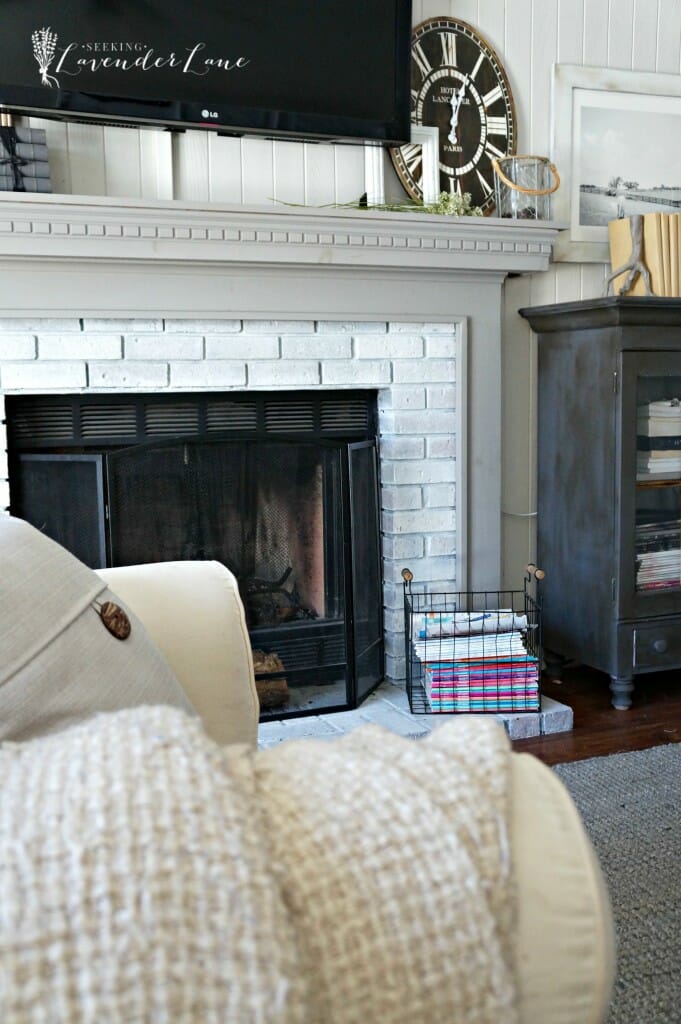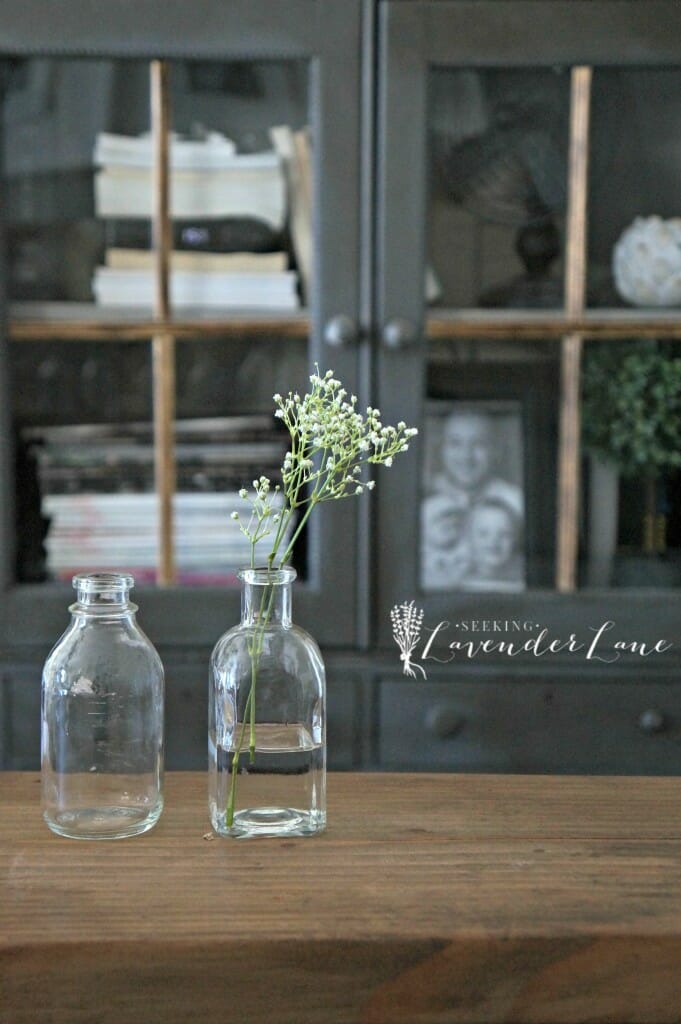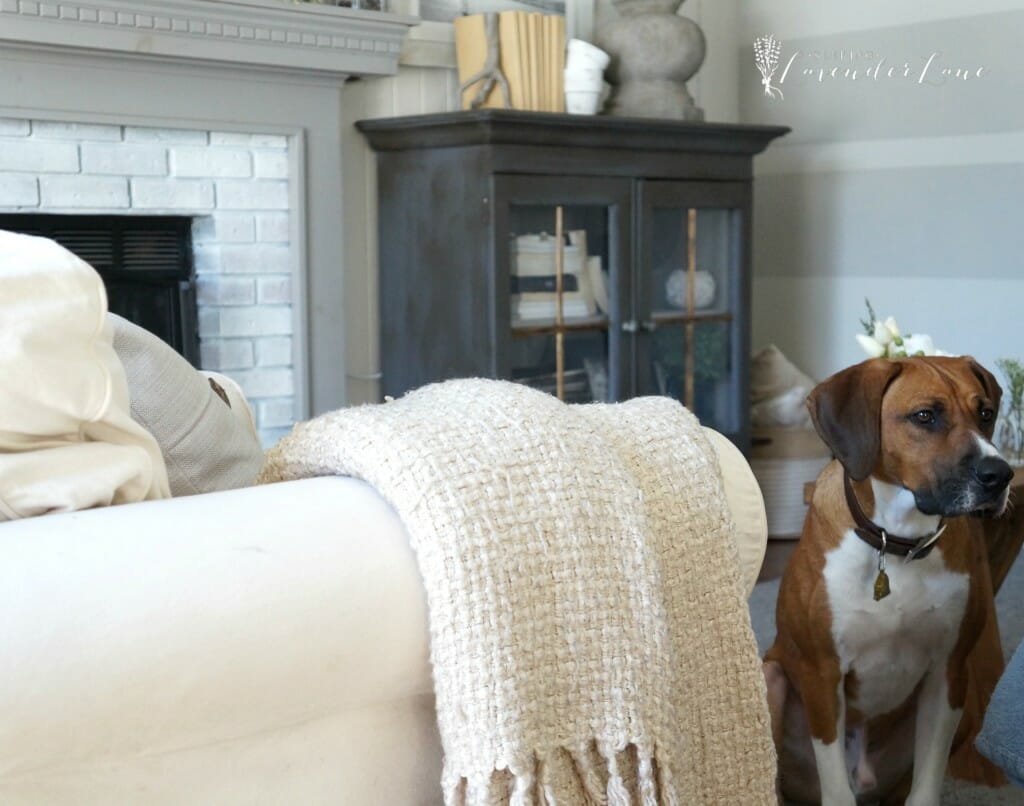 Look at this ham he had to be in the way while I was taking these photos.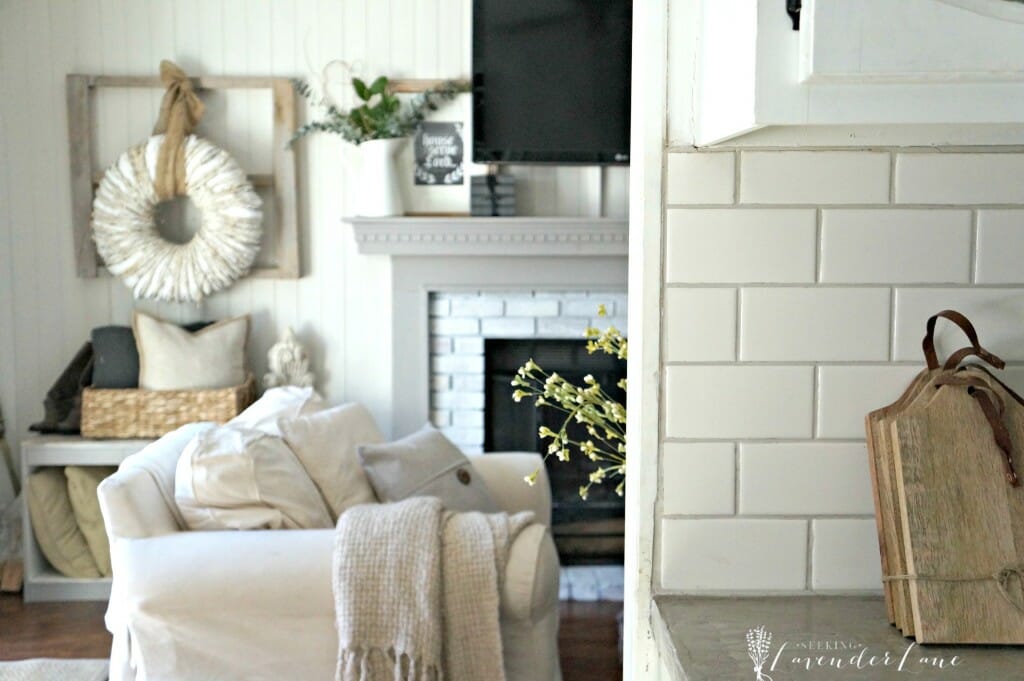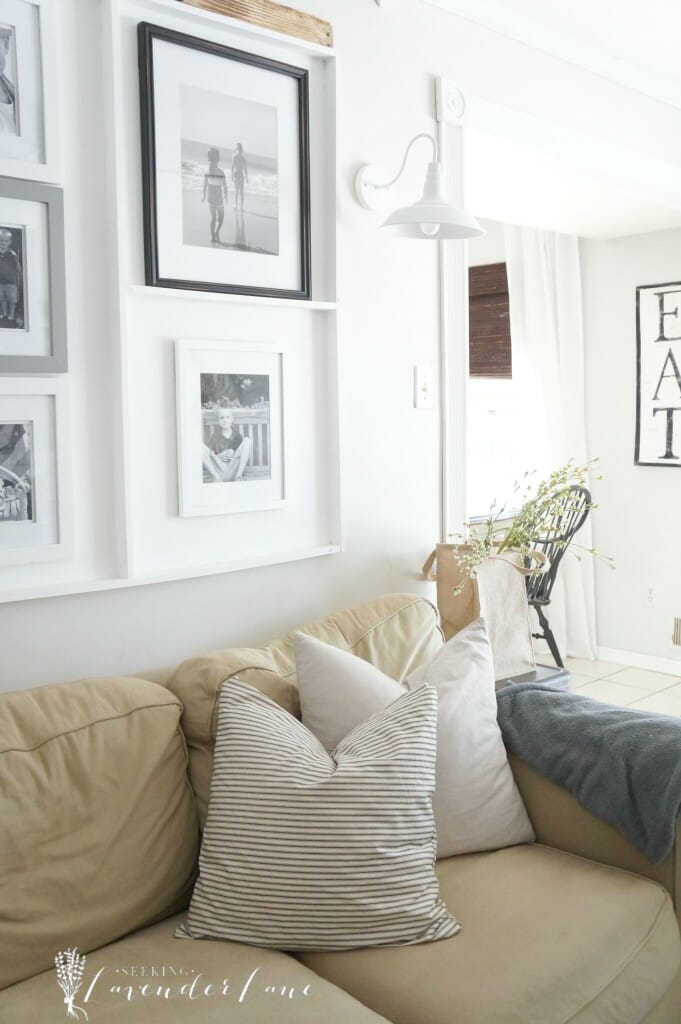 Notice my new DIY pillow cases? That's another blog post in the future here. The ticking stripe suites my taste perfectly since it declares vintage farmhouse all the way!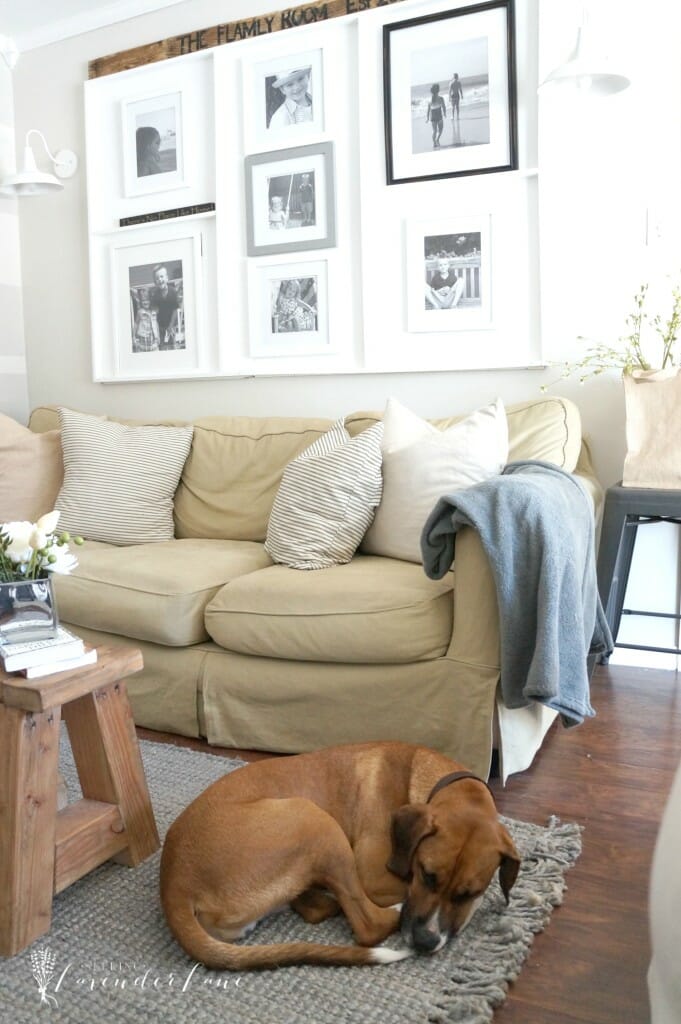 Last, but certainly not least…that gorgeous rug Mr. Luca is napping on. It is my favorite piece to this entire room. Though I really liked the previous rug, this one definitely has a polished, luxrious touch and a stunning-stunning look to it. It for sure brought the colors in the room together too and I love the solid color and natural fabric about it. My favorite part of the rug is how it has a fringe finish.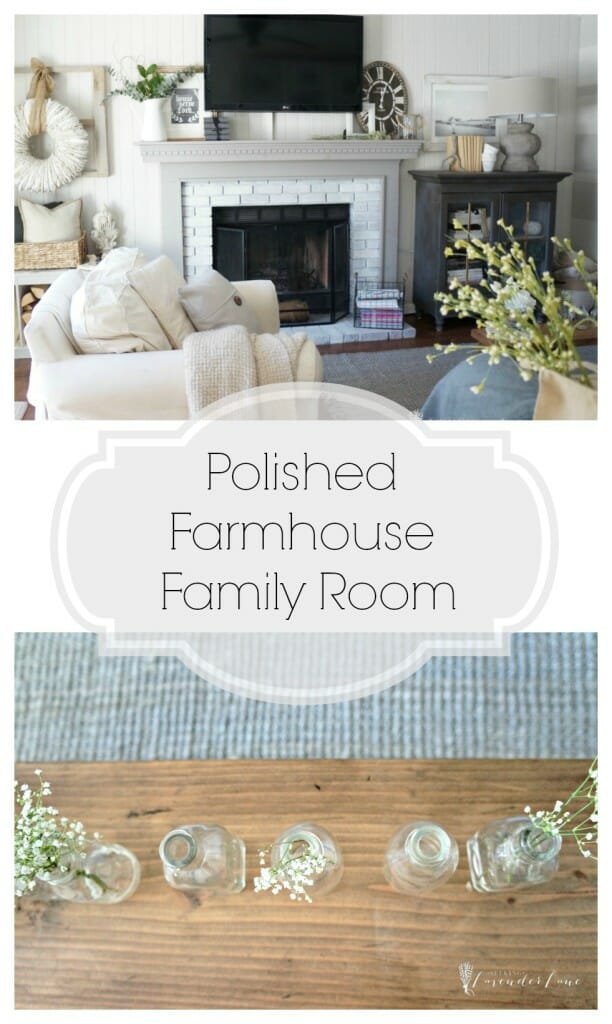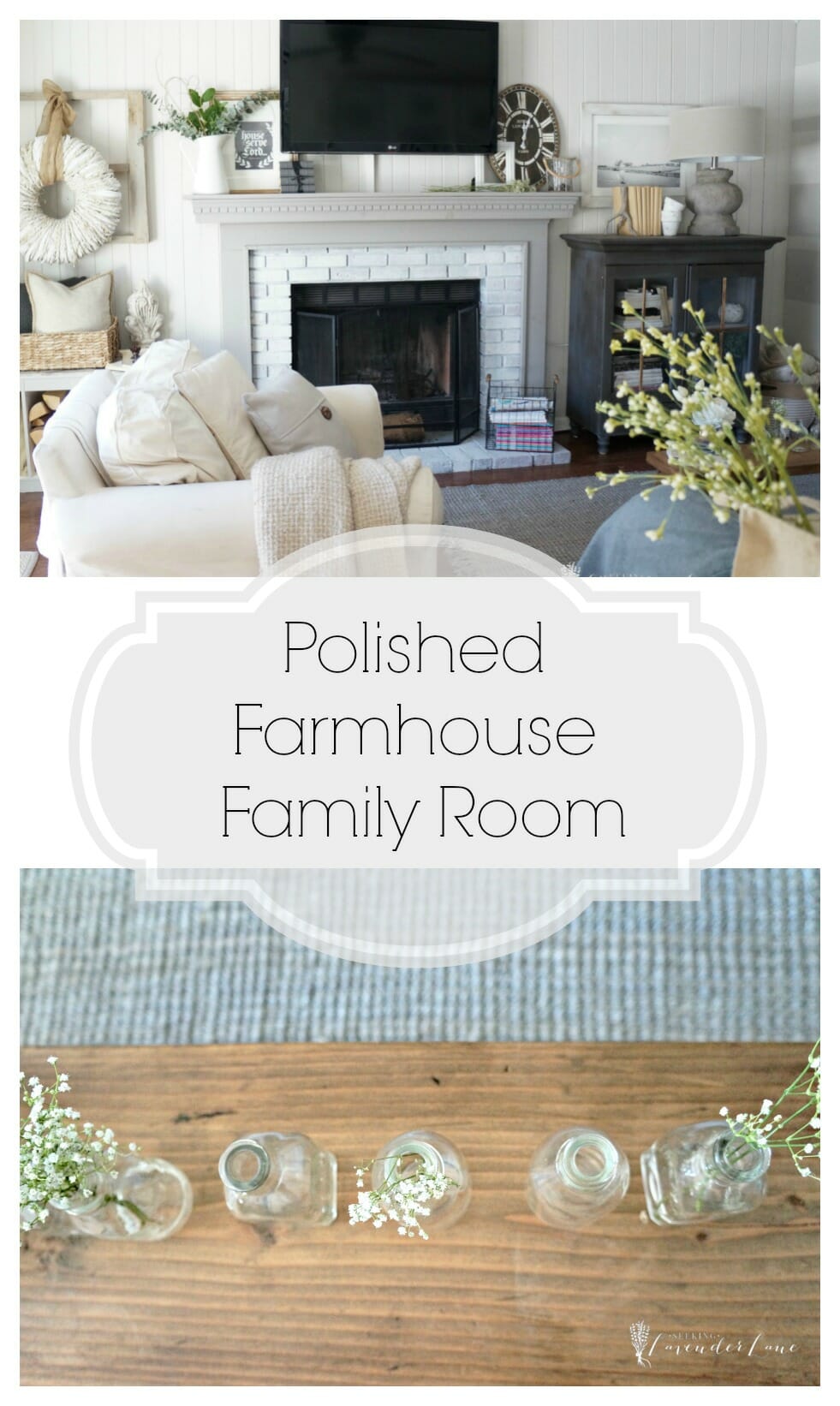 Source List:
Horse Photo: Minted.com
Lamp: Lamps Plus
Rug: RugsUSA
Clock: Antique Farmhouse
White Pitcher: IKEA
Wreath: Homegoods
Logs: Birch logs
 (mine are from stop and shop)
Colors: 
Walls: Pale Oak
Mantel: Winters Gate
Cabinet: Graphite
Stripes: London Fog
Get the Look

As for my friends some are reversing the challenge…sharing more tips and tutorials this week and revealing their rooms next Tuesday. There were some shipping delays with the snow that most of us received so they chose to share their reveals when their rooms are complete! Please be sure to stop by their pages see the tutorials, round ups, and of course the other Room Reveals!
New Year, New Room Refresh Challenge Participants:
<
PLEASE STAY A WHILE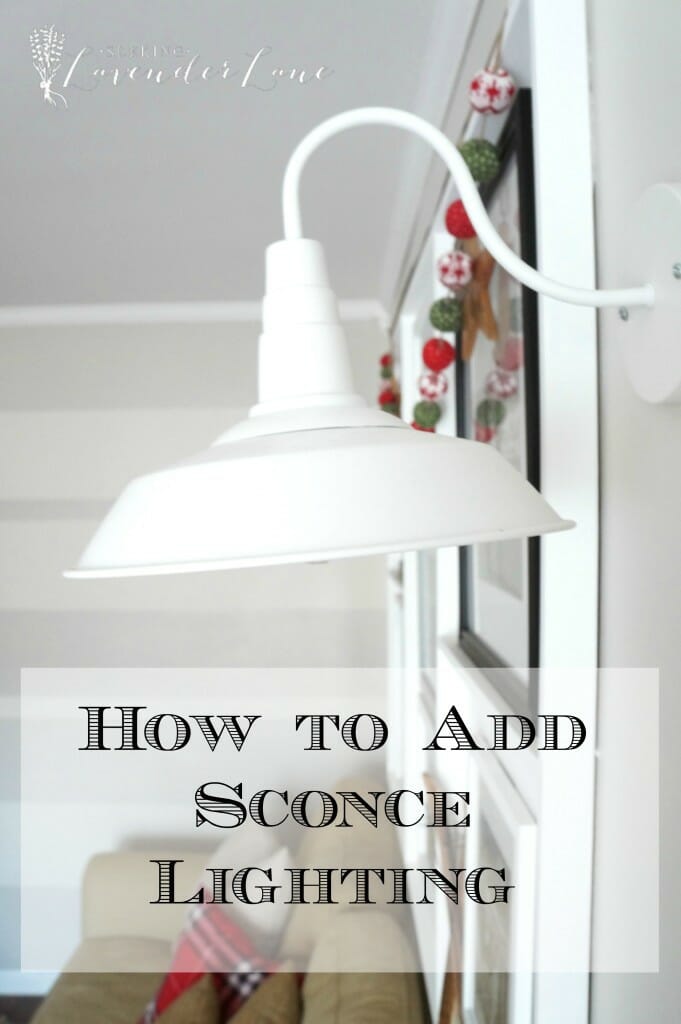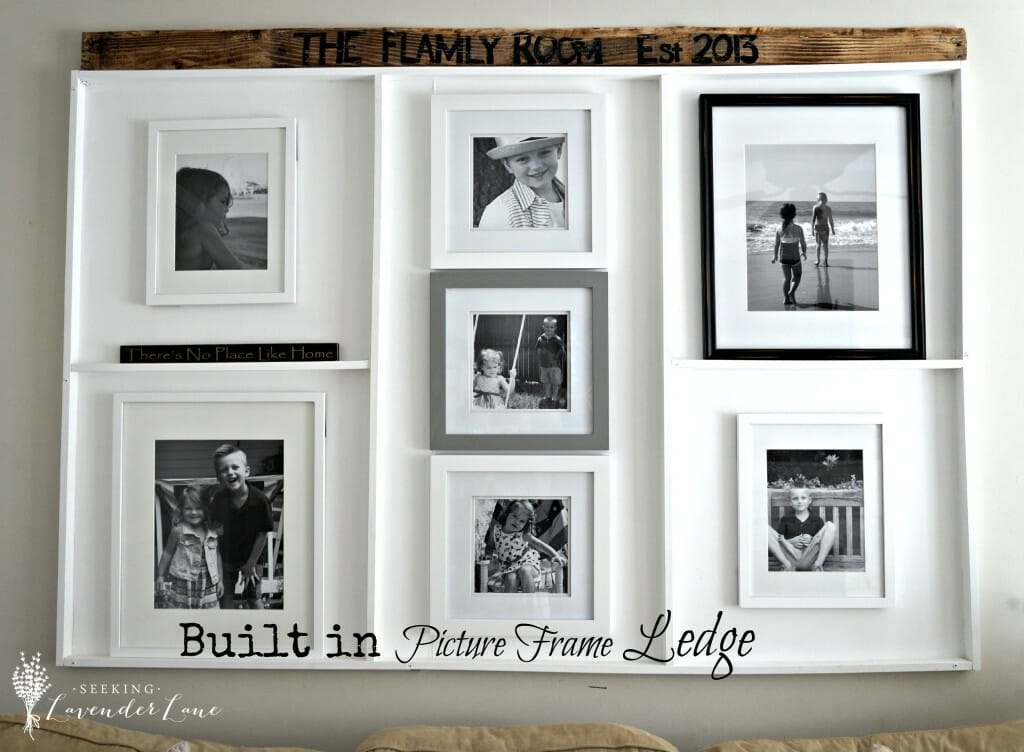 (Visited 2,019 times, 4 visits today)