A new year and a new challenge of making over a room with a little help from some loyal brands! I am so grateful that 2017 I am still here blogging and still giving my current home some new love and an all new room refresh.  I mentioned last blog post a little about our journey of starting to look for a new home. Well, amazing how much has changed since I last shared. Especially since I am re-doing this post right now. I had a totally different draft, but after getting word tonight that the newest house we fell for got 4 over asking price offers, we are no longer thinking of moving. We feel that God just does not have this as our plan at the moment. The house we had put an offer on was a fantastic fixer upper that sat on the market for over 6 months and the second we put an offer on the house amazingly multiple offers came flying through the door. As much of a disappointment it was, it also seemed to close this door temporarily. It probablyis just not in God's plan for us to move on right now. I am content in knowing this is his will. We will see what is next, but for now doing a little makeover to my home has my spirits lifted. I needed a distraction from being so bummed. So, lets talk about those not so hot rooms in my house and how they are in desperate need of a New Year Room Refresh.
Well, I have to thank my good friend Stephanie from Casa Watkins who is a fabulous coordinator and talent. She arranged this challenge last year and got us all on board along with some brands that were amazing to work with and a few that were new to me! See the next 4 weeks as each of us bloggers taking part in this challenge are going to take a room or a few rooms in our house and give them a little new life with some 2017 help!
Today, is the not so pretty post…the before pics and then some of the plans for what I plan on doing in the two rooms I selected to makeover. The first is my son's room. I think you all probably have heard me say a few times now how his room is a mess and I just usually keep the once styled vintage transportation room, behind the curtains. Well, you will see why in just a second. 3 years after his room makeover my son has used and abused his room, including breaking the door to his room that was been taken down a few months now. That leads me to the next makeover space, the upstairs hallway. With hopefully new doors to come (lets hope the delivery of these doors make it to this makeover), and some paint, and  a new linen cabinet to store some more of our linens and decor, this makeover will create function and beauty for the new year.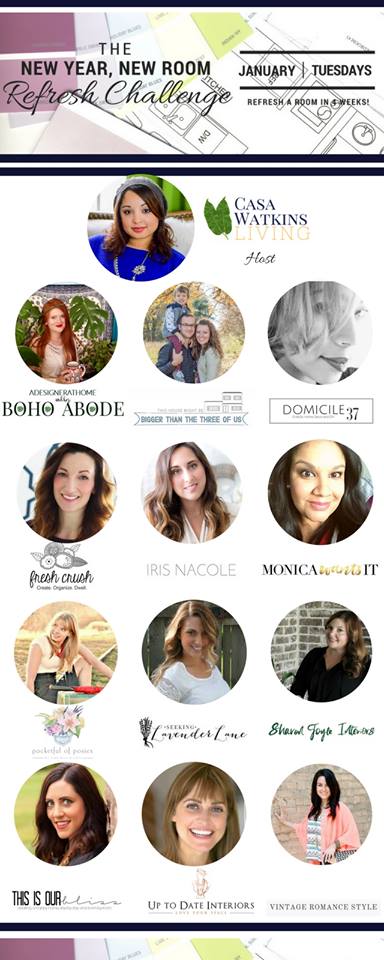 Okay, you ready for these dreadful photos. I apologize too I took these with bad lighting, but either way the rooms were in need of help.
Lets start with that messy kid's space,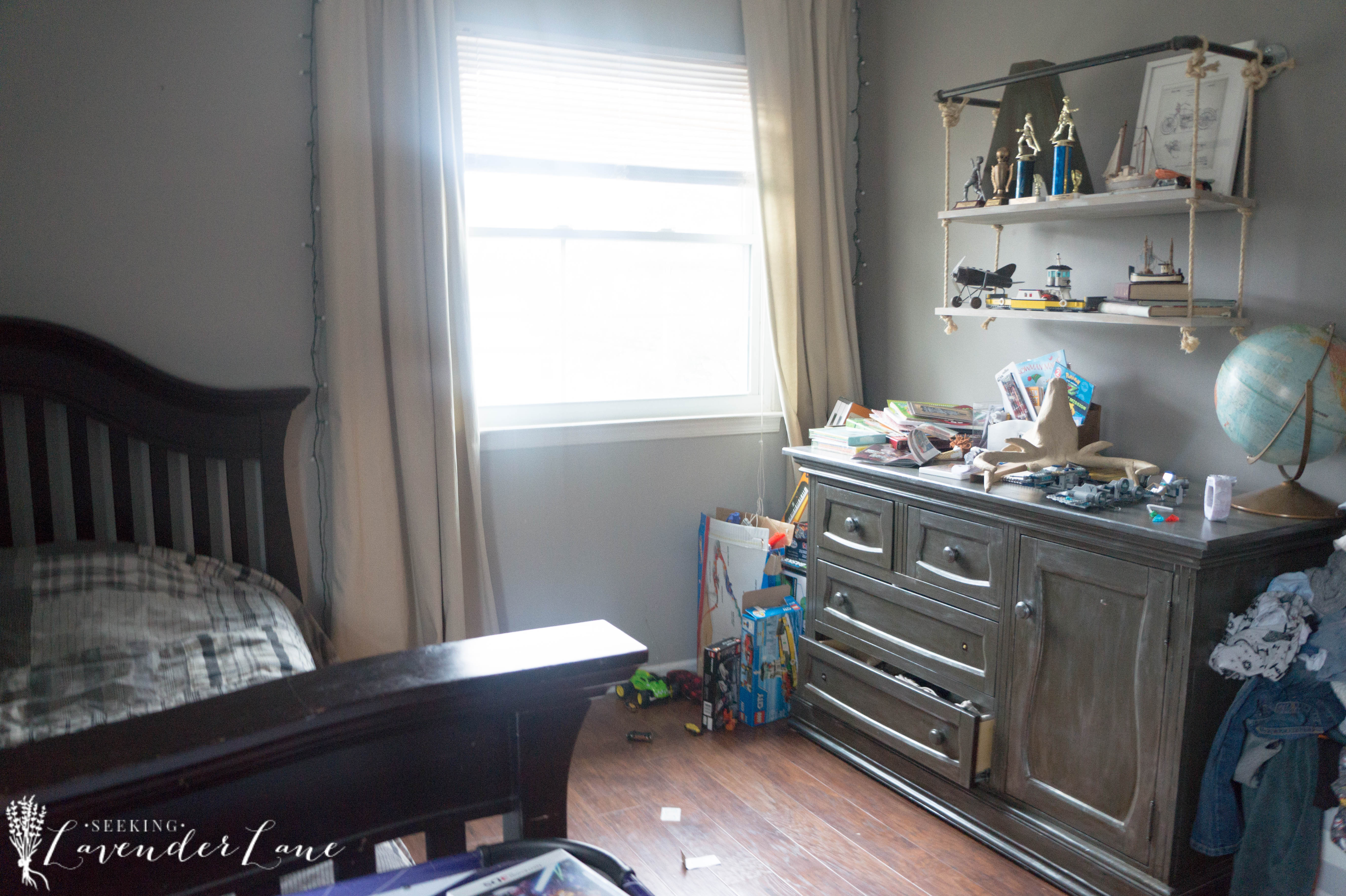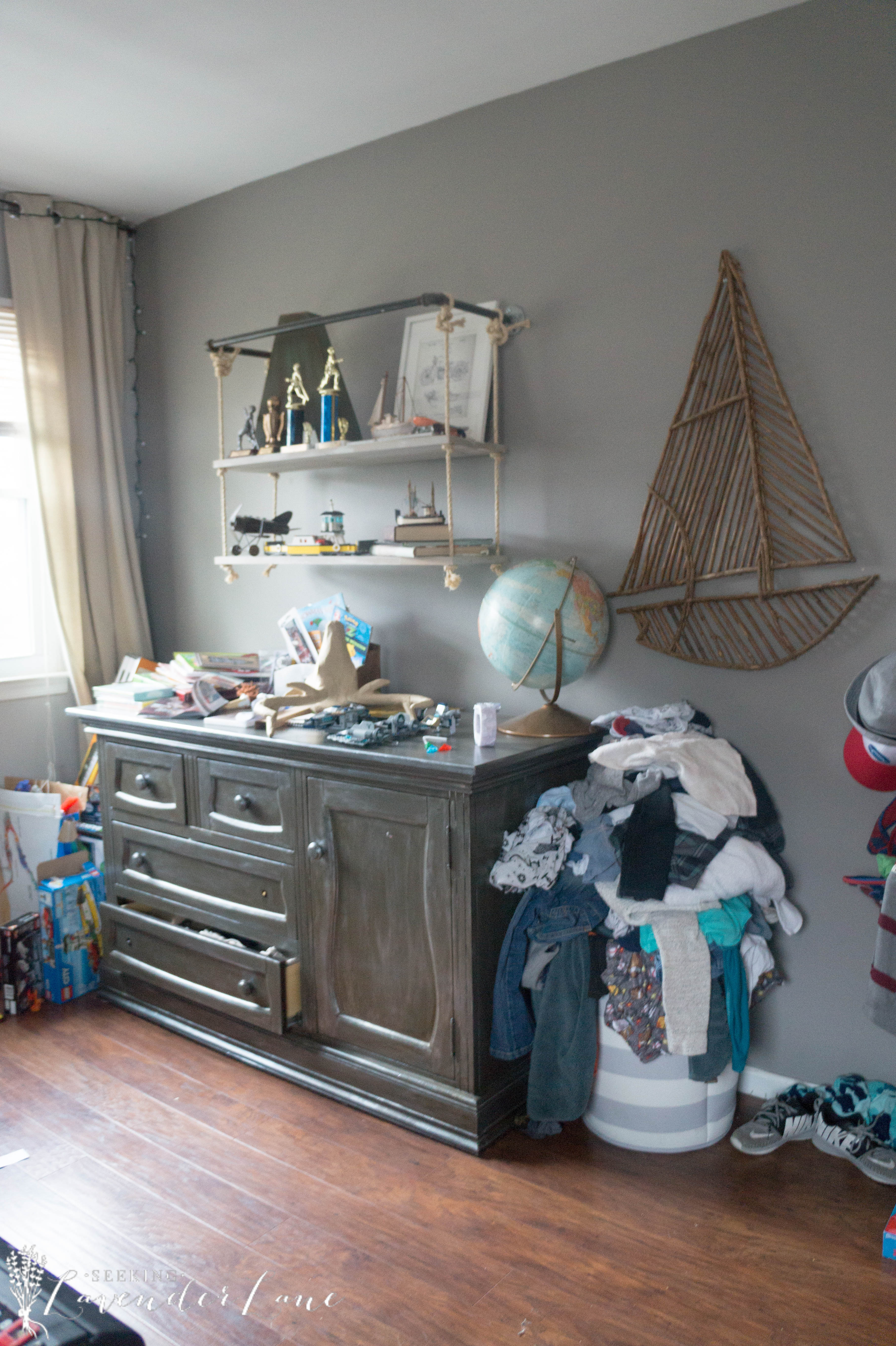 I know you thought I was being dramatic, haha I wasn't joking! Well, the good news it's not messy anymore. I took these photos a few days ago and started the makeover process by cleaning the mess and really de-cluttering. I ended up with 5 garbage bags full of all kinds of stuff. I probably would be happy just stopping there, but I do have a vision for this space and plan on giving it a new look for the new year.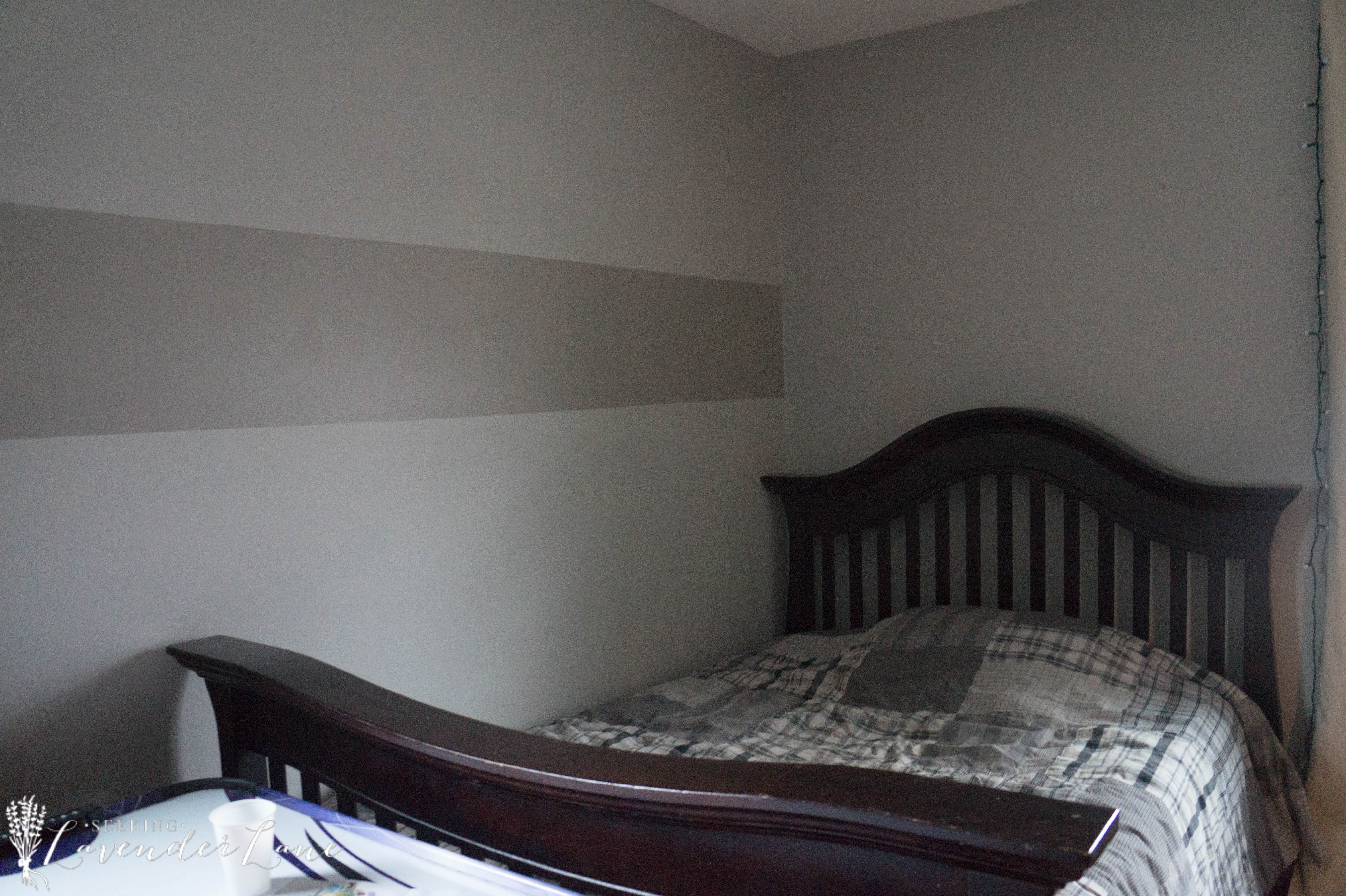 These two walls did have some wall decor, but with time they have come down and have been looking a little bare for too long. Not to mention his bedding (though it was a great find from RH baby) has seen it's days and is headed to the garbage. The bed is still up in the air at the moment. I would really love to get something less bulky in here, but not quite sure I can get the hubby on board for this budget. So, that may have to wait a bit. The bed, was his crib-toddler bed-and now full bed. A great piece, but it's bulky and quite banged up.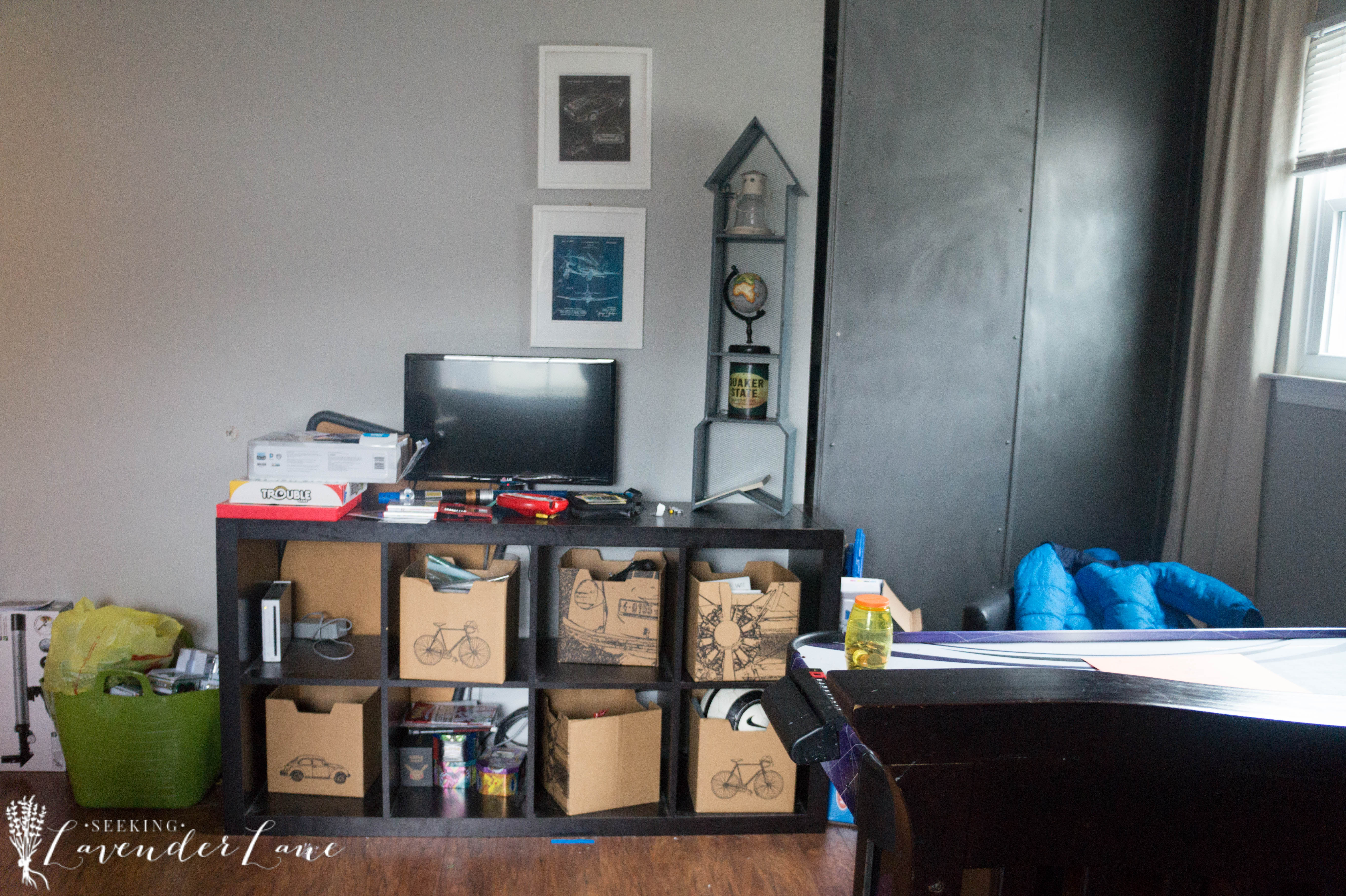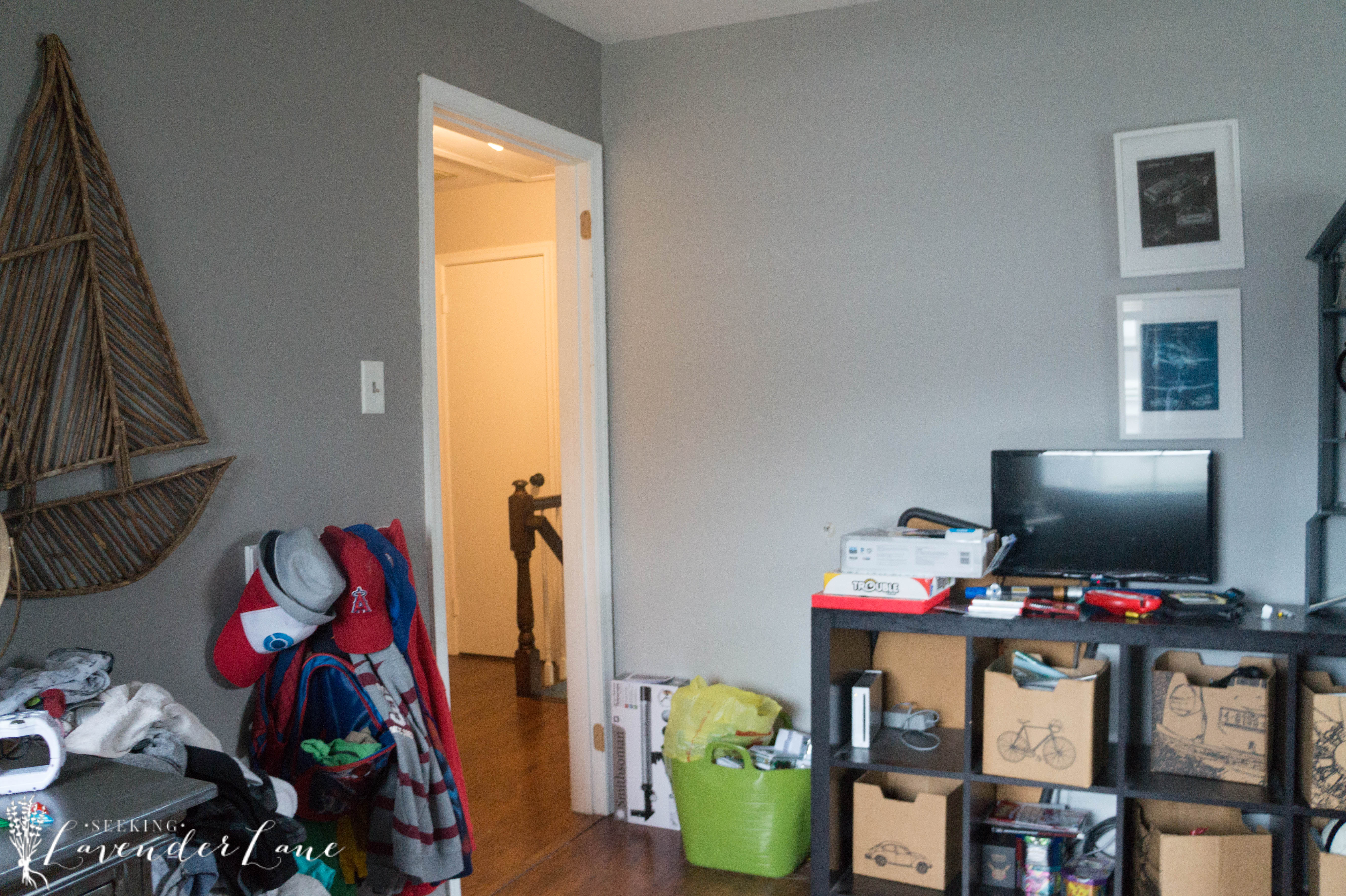 Now, these photos are also taken after the Christmas season, so more toys and more dirty laundry that needed to be done. The current room with that major clean up the other day, feels much better already. So, what do we plan on doing with this space?
New Paint on the wall where the bed is.
Wall Decor over the bed
Maybe some skippy lap
New Shelf and Desk where the cubby is
New Storage Solutions
Bedding
New Dresser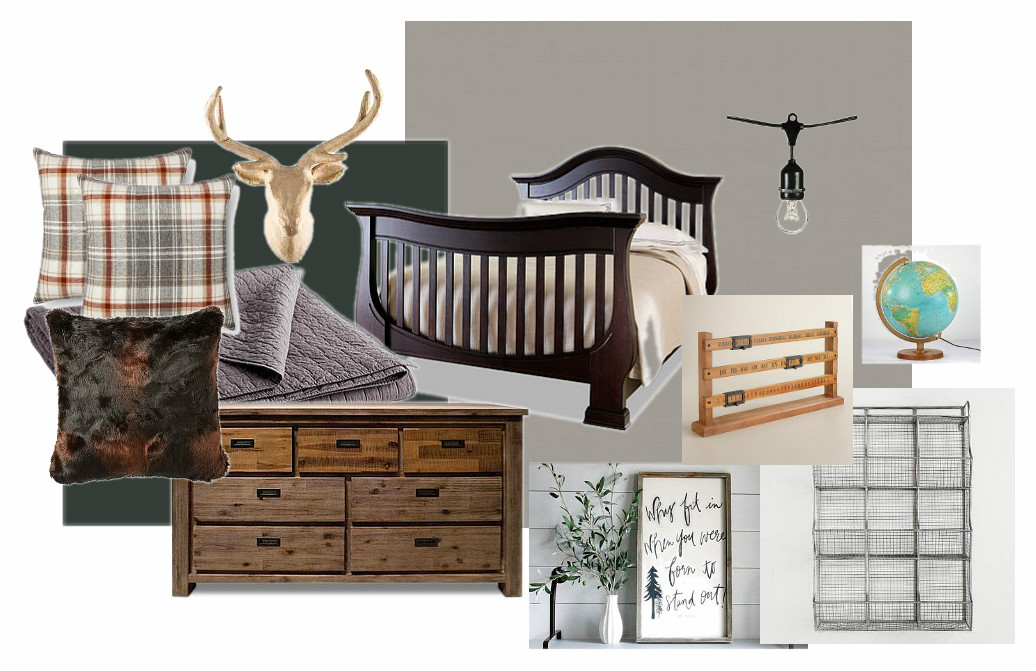 Next, is our Hallway space. See how that last photo had no door on my poor sons bedroom. Lets just say the existing doors were awful and I've been wanting to change them since we moved in. I finally convinced my husband when Anthony's door broke and he agreed. We ordered the doors about a week ago, but it's possible that they may take longer than this challenge to arrive. If so, I'll share them when they arrive and are installed. Other than that, our hallway is very very small! We have never done anything to it and it has always been something I wanted to do. When I decided to join again for this New Year Room Refresh Challenge, I decided that would definitely be one of the rooms in our house that could use a little love. So basically it was a blank slate.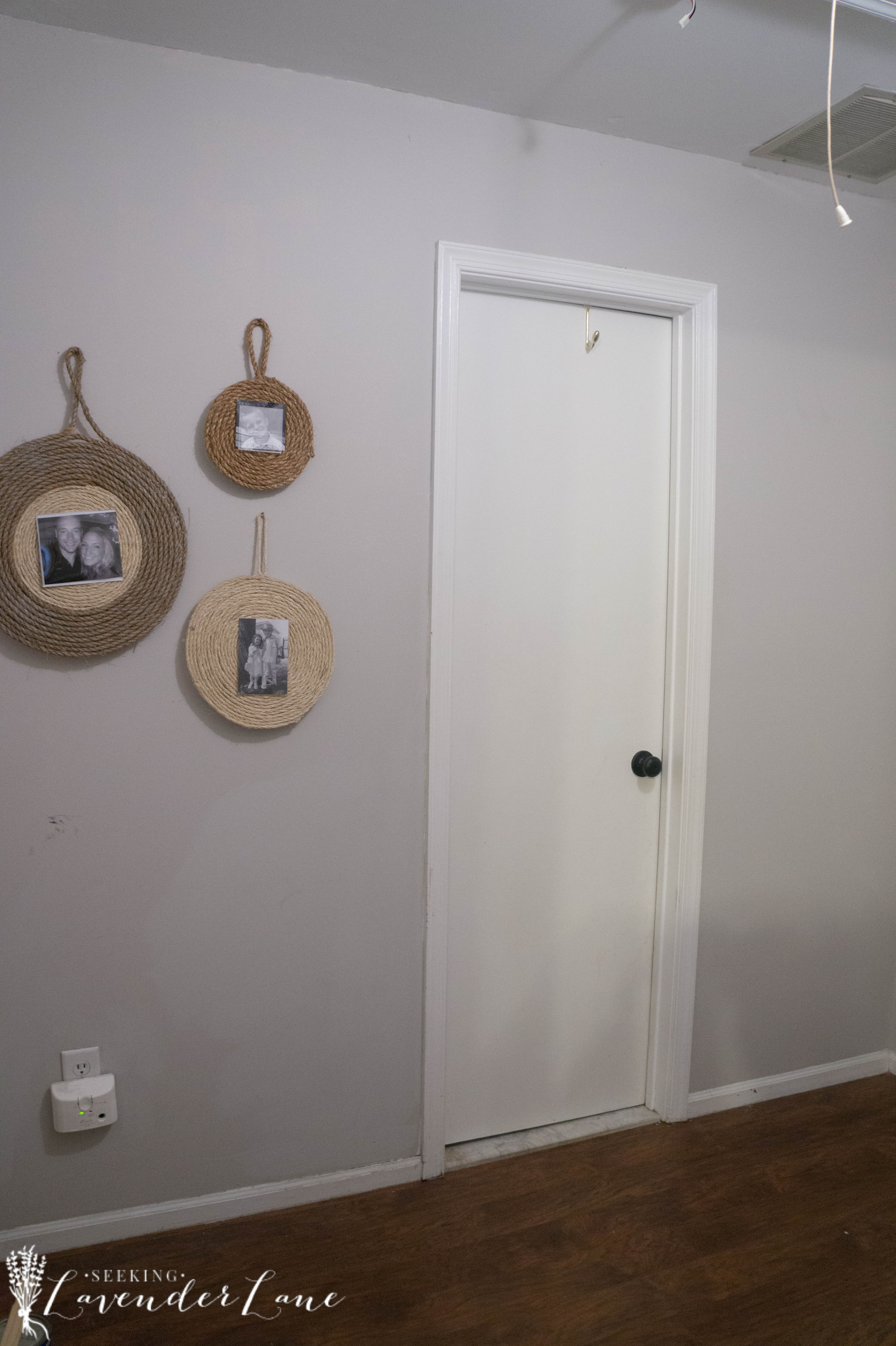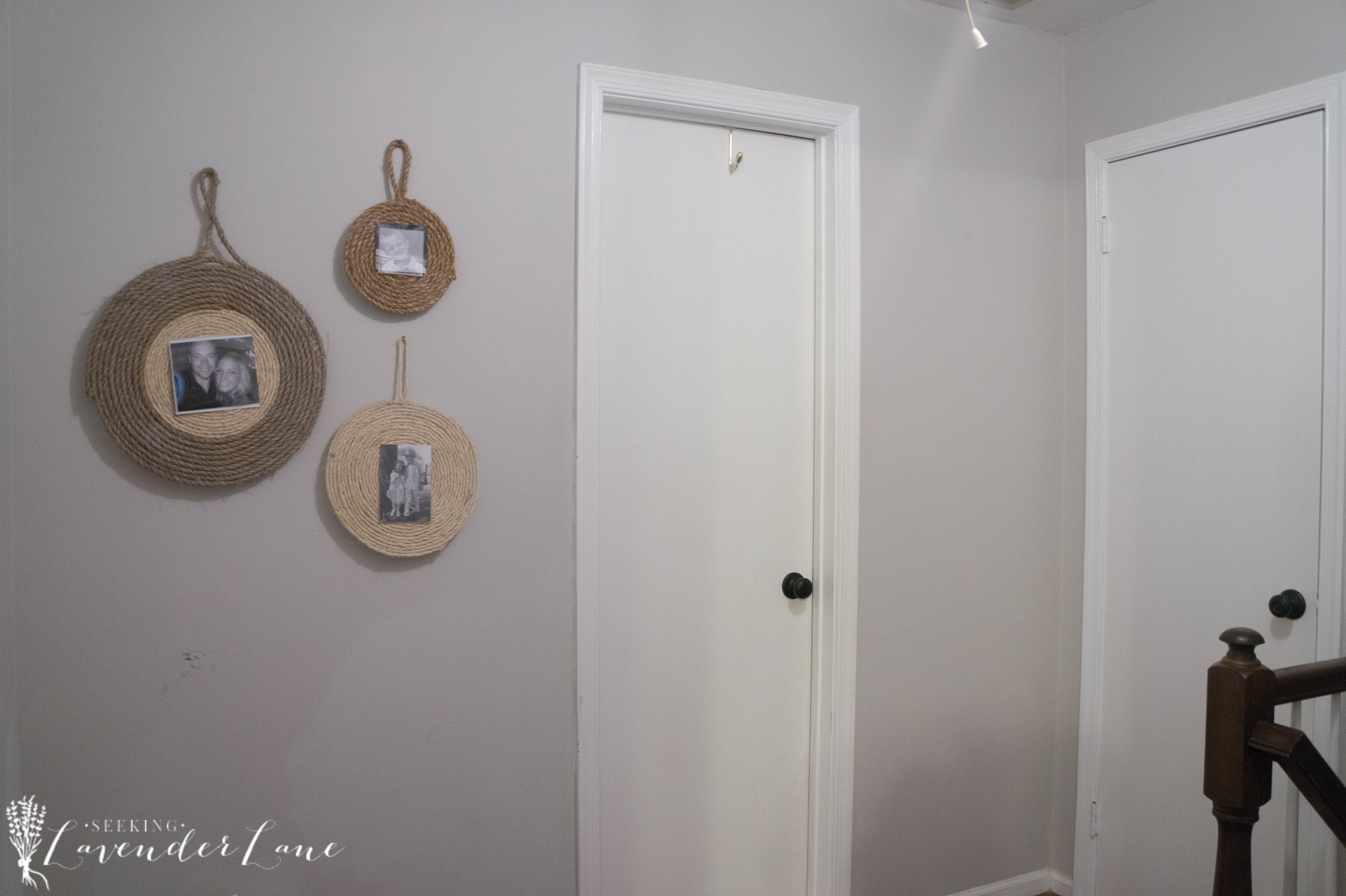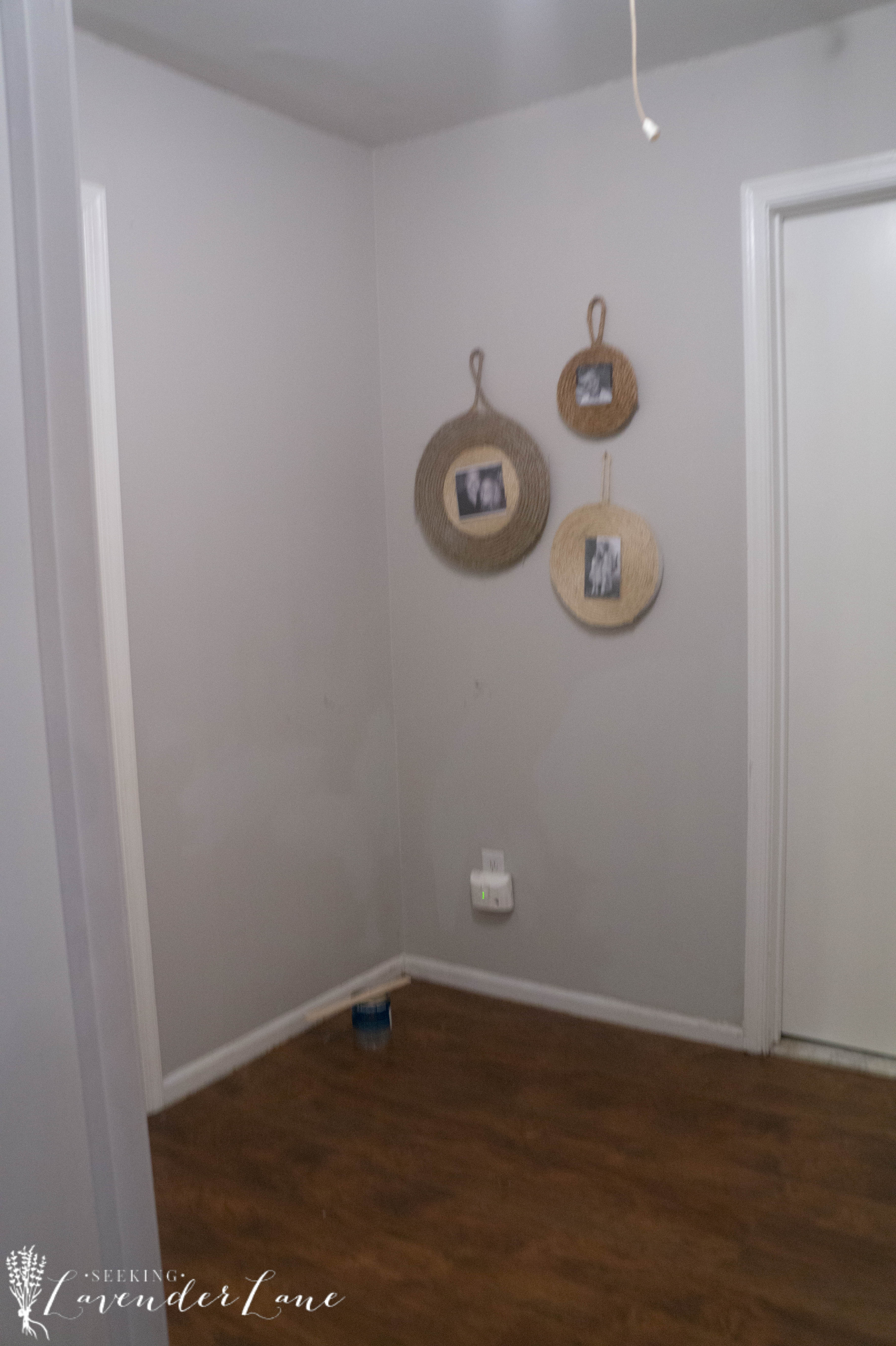 The only cute thing in this space are those Rope picture frames I made two years ago. Not sure if I'll keep those, for this space, but they were a cute touch to this bare hallway.
Plans for this space:
Dramatic paint color on back wall
Linen cabinet
Wallpaper in cabinet
storage solutions
new doors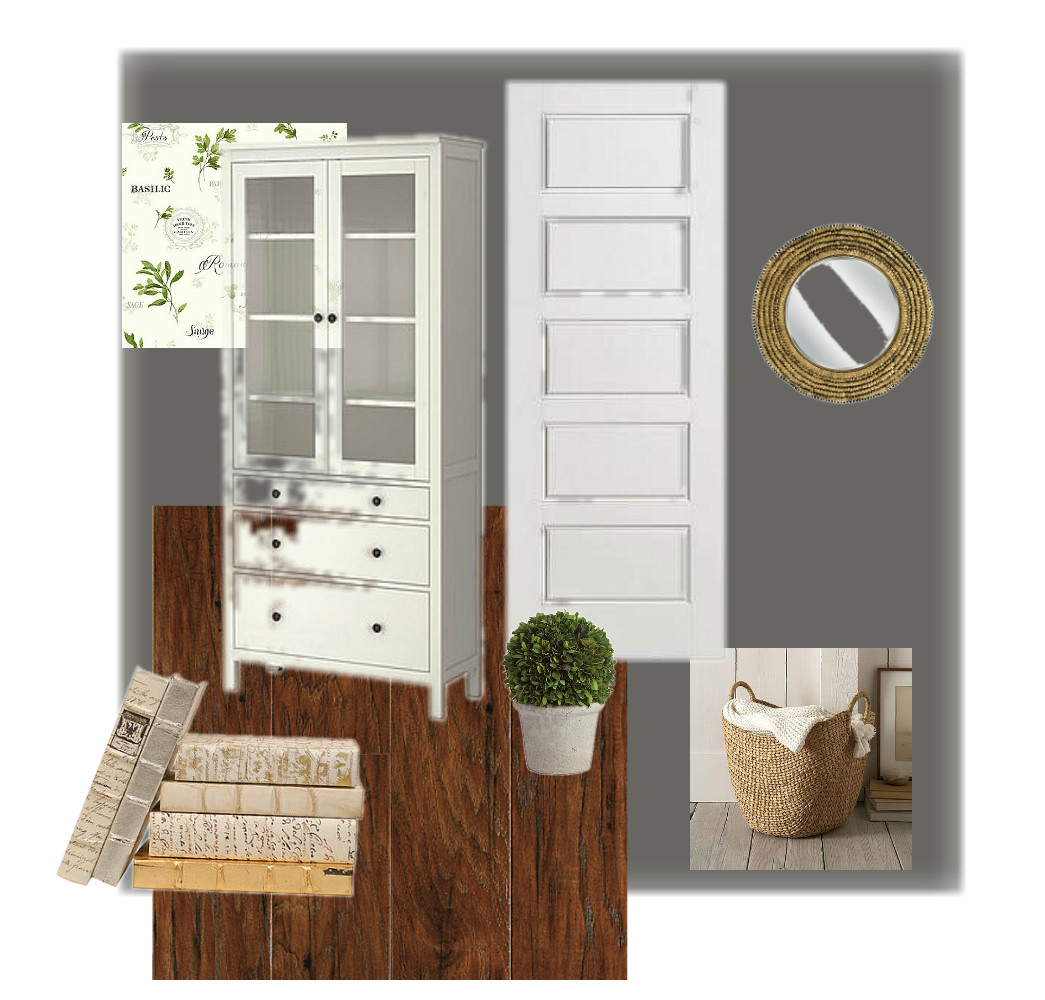 That's about it, so I'm excited to share the changes here the next four weeks. Be sure to pop over every Tuesday as I'll have new tutorials and details of this space.
I have to thank the brands that have helped make this makeover possible: World Market, Home Right, Urban Home, The Summery Umbrella, Sherwin Williams HGTV Paint, Purdy, Wallpaper Boulevard.
And be sure to stop over at these New Year Room Challenge going on at my friend's page's
Code Week 1 Casa Watkins Living // A Designer At Home // Bigger Than The Three Of Us // Domicile 37 // Fresh Crush // Iris Nacole // Monica Wants It // Pocketful of Posies // Seeking Lavender Lane // Sharon Joyce Interiors // This Is Our Bliss // Up To Date Interiors // Vintage Romance Style