Painting the RV Exterior with Rust-Oleum Turbo Spray System
This is a collaborative post with Rustoleum, but all opinions are 100% my own.
I have been back and forth about our RV makeover with deciding whether or not we should add pink stripes to the exterior and that's kind of what has delayed this post! We painted the RV exterior back during 4th of July weekend and it made our RV look so much cleaner and more like a "house" sitting on our property. I really disliked the original look of the RV with it's dated lines and the white was dirty and aged and truly needed a bright finish. I was provided the Turbo Spray System from Rust-Oleum which they just launched and it was the perfect solution for a large surface area such as the RV. The product works better for Large size projects and covers more surface area then their average can size. Spraying 10″ Wide. The bottle is 24 oz so it has more paint in one can then the average for those larger size projects. Six can of Turbo is approximately a gallon in the same amount of paint. It also stops rusting which is perfect for my RV!
 The BEFORE of Suite Tea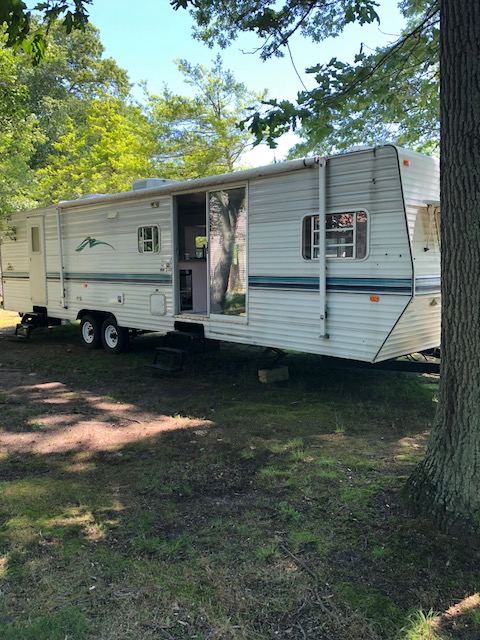 I believe I got the RV done in about 3 hours which was surprisingly fast! The one perk to delaying the post was to see how well the paint held up. We skipped the priming (because I am a lazy painter) and 2 months later the paint is still holding up beautifully! However priming first is recommended for best results. The exterior is bright and clean looking (minus the AC drip line..but I can't do much about that) and I think my neighbors can thank me for making this eyesore appealing while it sits on our property during the renovation of our house.
So, I had tossed up the idea of painting a pink stripe on the side of the RV but honestly after seeing the clean white look I really did not want to cover it up. I felt for re-sale and also for the "home" idea of the RV having it all white felt more like a home then if I added some funky colors. Also, my IG follower voted and they too agree white was the way to go! Maybe one day we will take on another RV project and do a funky exterior.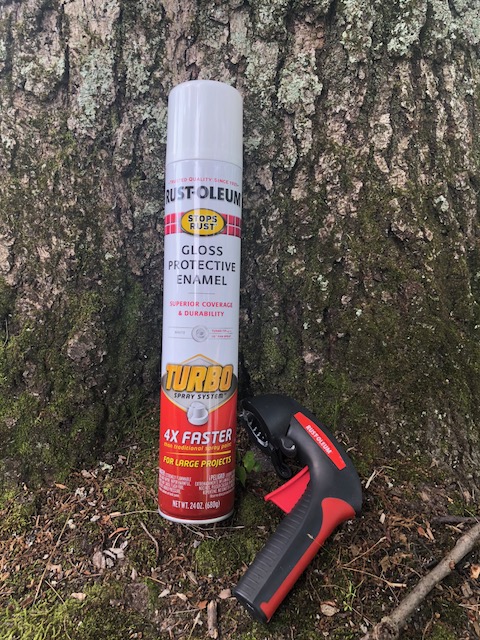 Materials: this post contains affiliate links for your convenience
Power Washer
Rust-Oleum  Turbo Spray System in gloss White (I used around 24)
Tape and plastic to cover wheels and steps
Rust-Oleum comfort grip (my go to for spray painting projects)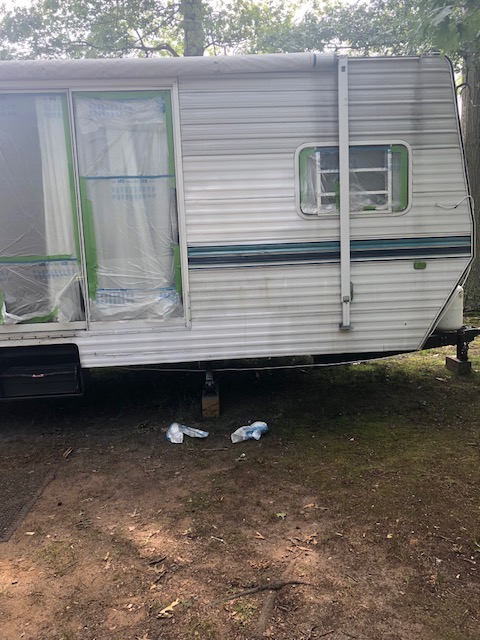 I taped everything off including the windows and doors.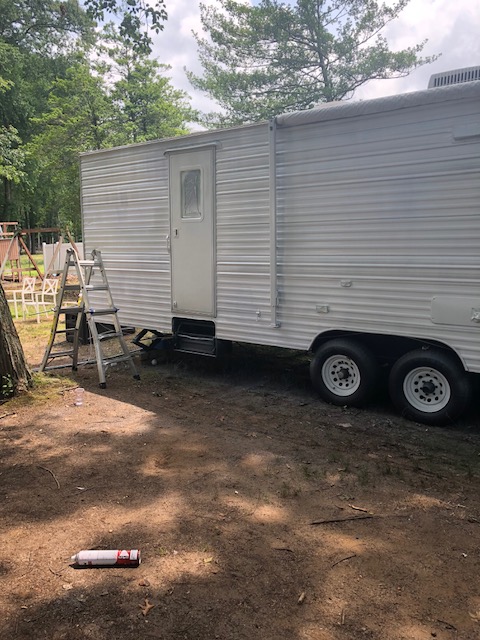 The AFTER of Suite Tea the RV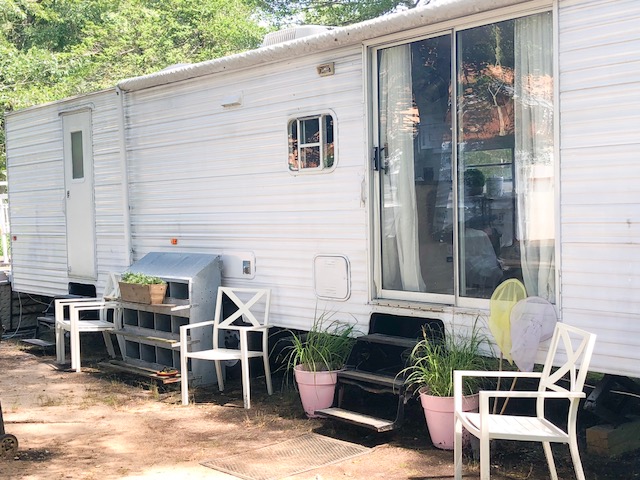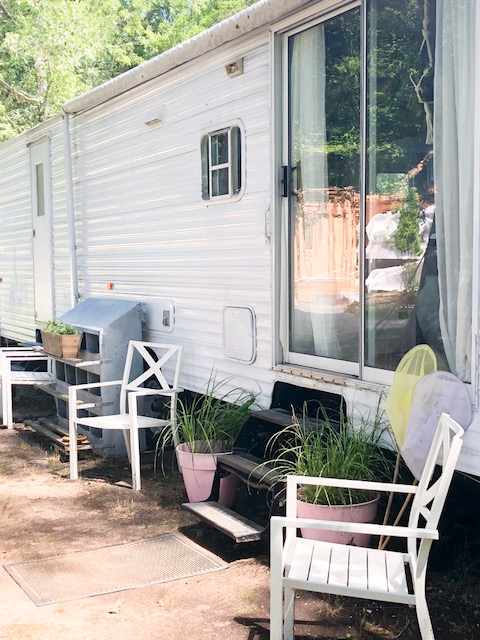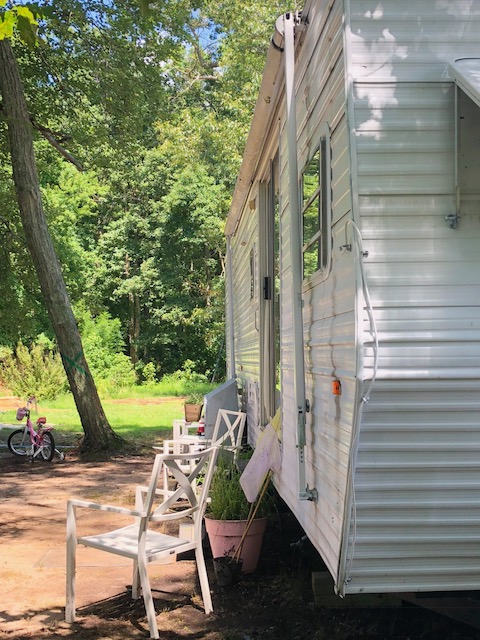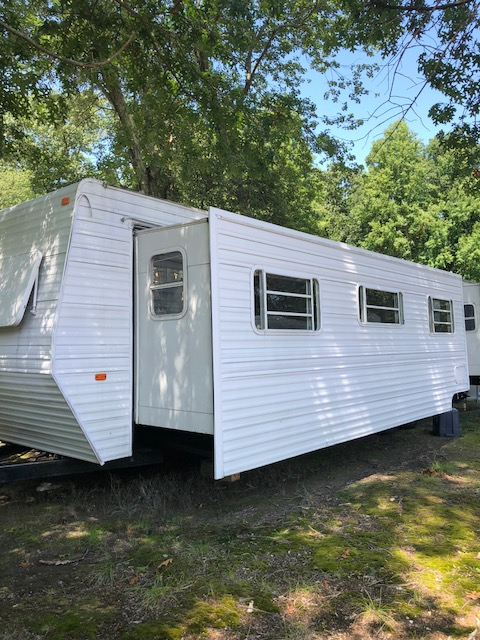 Doesn't she look so much better! So bright and you know I love white! I do still want to create a cute decal with "Suite Tea" for the front and one for the side, but you know how fast Summer goes all these plans and then you only get half of them done. If you want to read more on our RV progress click here to take you to my RV Makeover Page.
(Visited 2,845 times, 2 visits today)