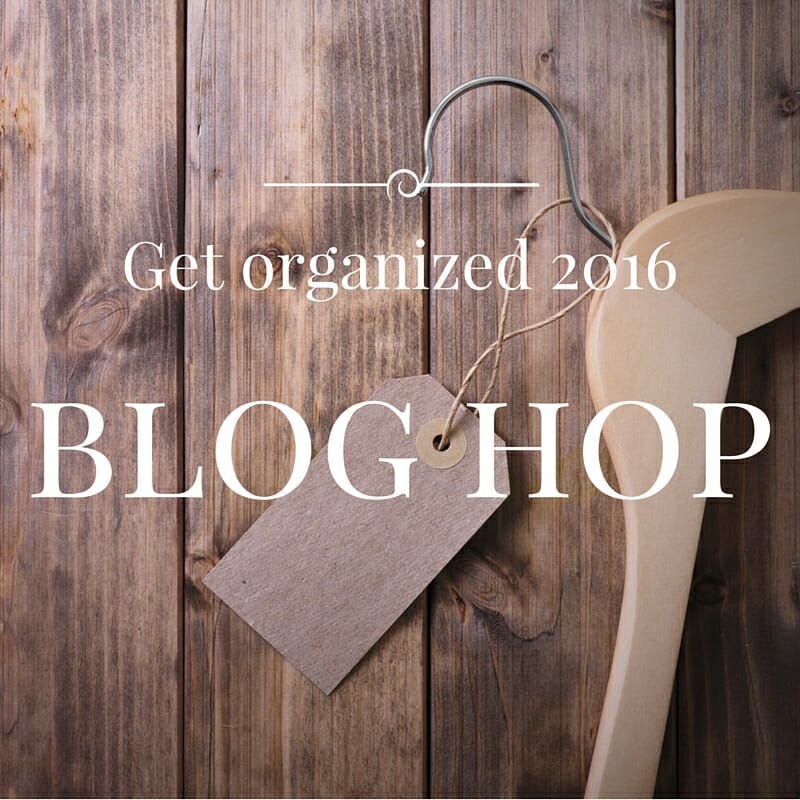 Running through a field of lavender flowers and white sheets and towels hanging by clothes pins on the french country side with nothing but sunshine and greenery all around. The perfect picture of what I would love my linen closet to feel like. Can you smell the lavender and feel the warm rays of the sun as you gracefuly run through the never ending field of flowers and the smell of lavender aroma. That's what I would like to feel like every time I open my linen closet. Instead…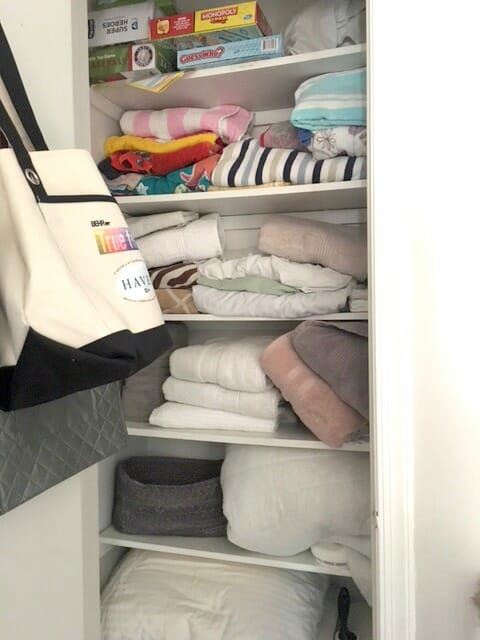 Woof!
That's just bad, I am so embarrassed I am even sharing this before. I have to admit I lived like this with a messy linen closet for just about 3 years now. The day has come where I can't take it any longer. I am ready for that makeover I've been wanting, and for sounds of angels awwing  rather then the horror music that goes off in my head every time I open up the door to this closet.  dunt-dunt-dunt-dunt! (picture "JAWS" sound effects).
So how do you achieve this Perfect Pretty Linen Closet Makeover?
STEP 1:
Take everything out of closet!
STEP 2:
Remove anything that does not belong in a linen closet and find storage for it elsewhere.
STEP 3: 
Shop for pretty decorative baskets and items to hide away "ugly" towels or sheets or anything that creates a cluttered feel.
STEP 4: 
Categorize everything!
First I put all my extra sheets and pillowcases together and put them into a storage container that would store the sheets.
I removed one of the shelves to make room for the large basket to store towel. This also makes for a pretty focal point in the closet.
Then I hid the beach towels in a basket that would be stored on the highest shelf (since these we use the least of)
Fold all the white towels for display- See how easy it is to fold a perfect towel here.
Place cleaning products in basket to keep together.
Add pretty containers for extra cotton balls, clothes pins, soaps, etc.
Roll some towels to create interest in the closet (maybe Sheet towels that you use less of, or just any kind.
STEP 5:
Paint inside of closet either dark color or add stenciling, wallpaper, or even something bright. I wanted my baskets and towels to have contrast so I chose to do a dark gray that I had left over from a previous project.
Add lavender scent to closet for the ultimate refreshing feel to the Pretty Organized Linen Closet experience.
AFTER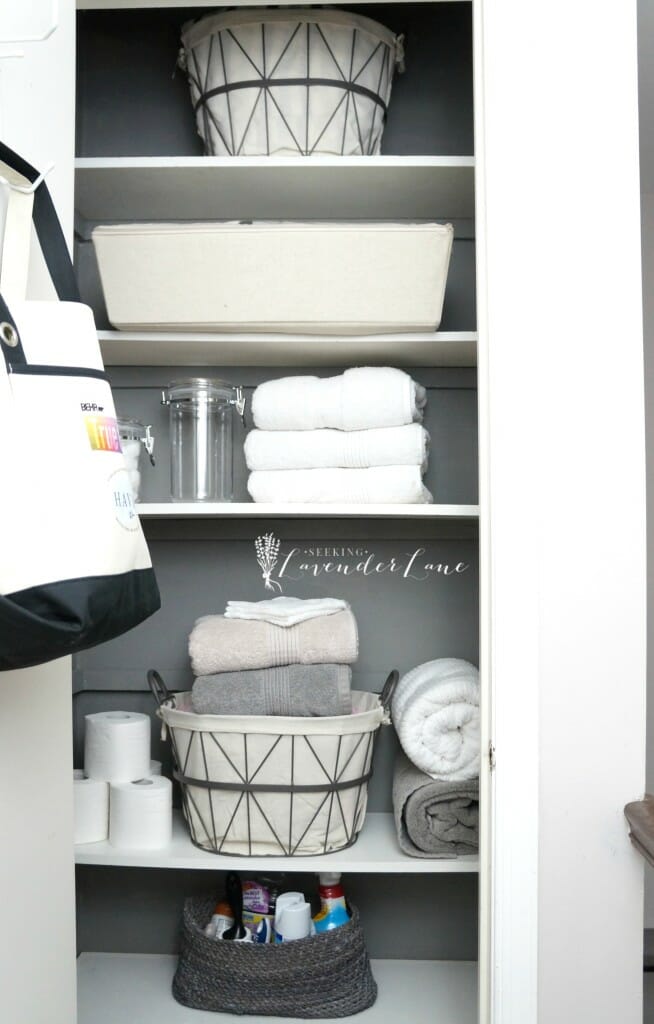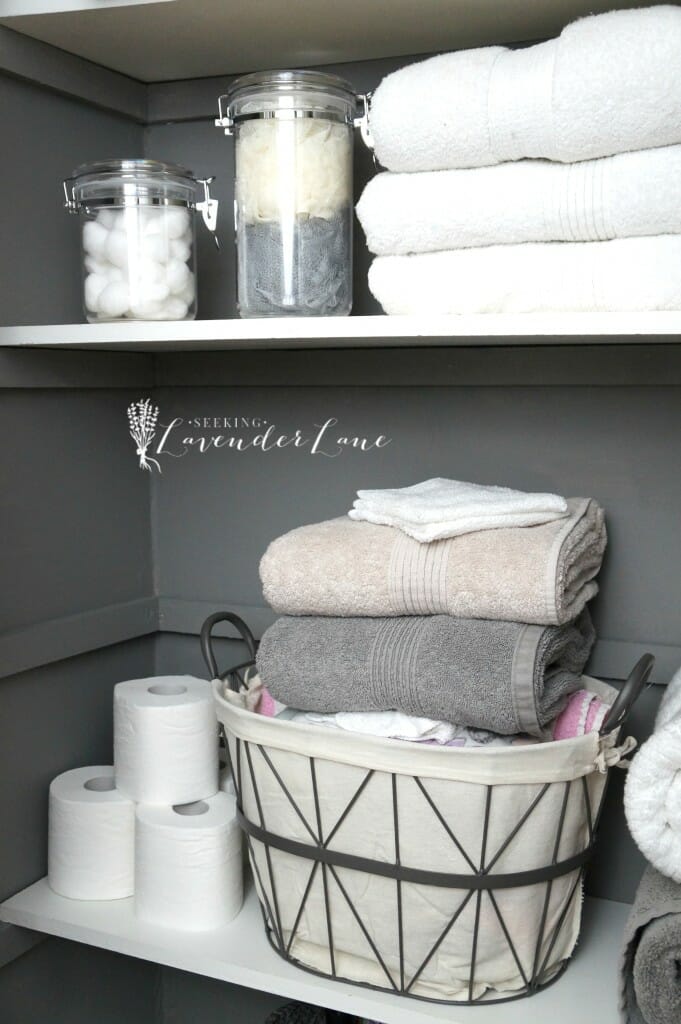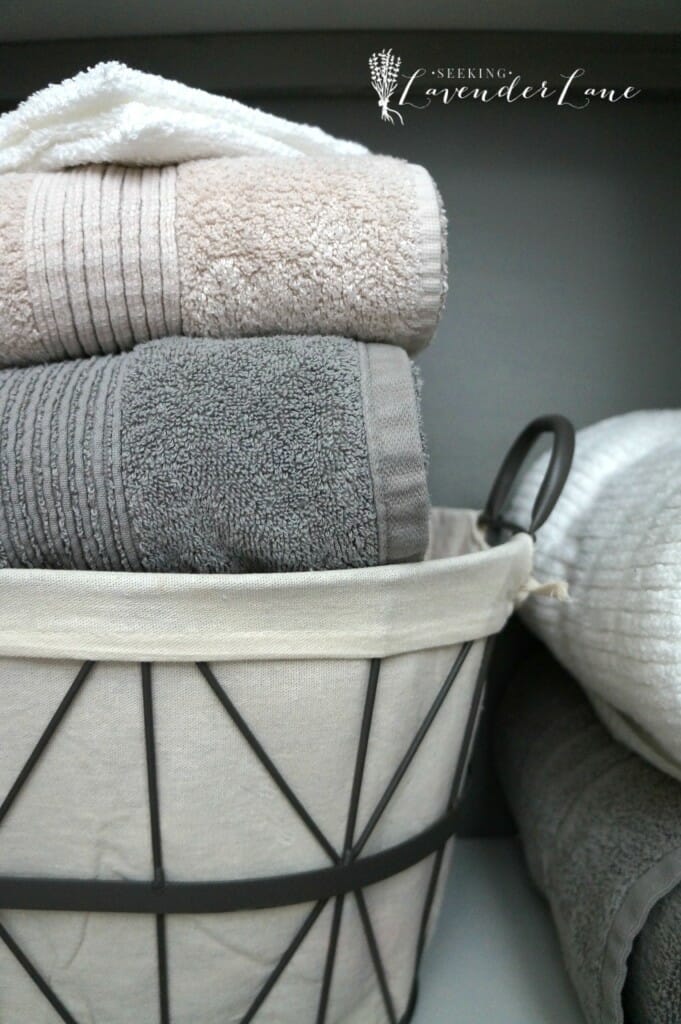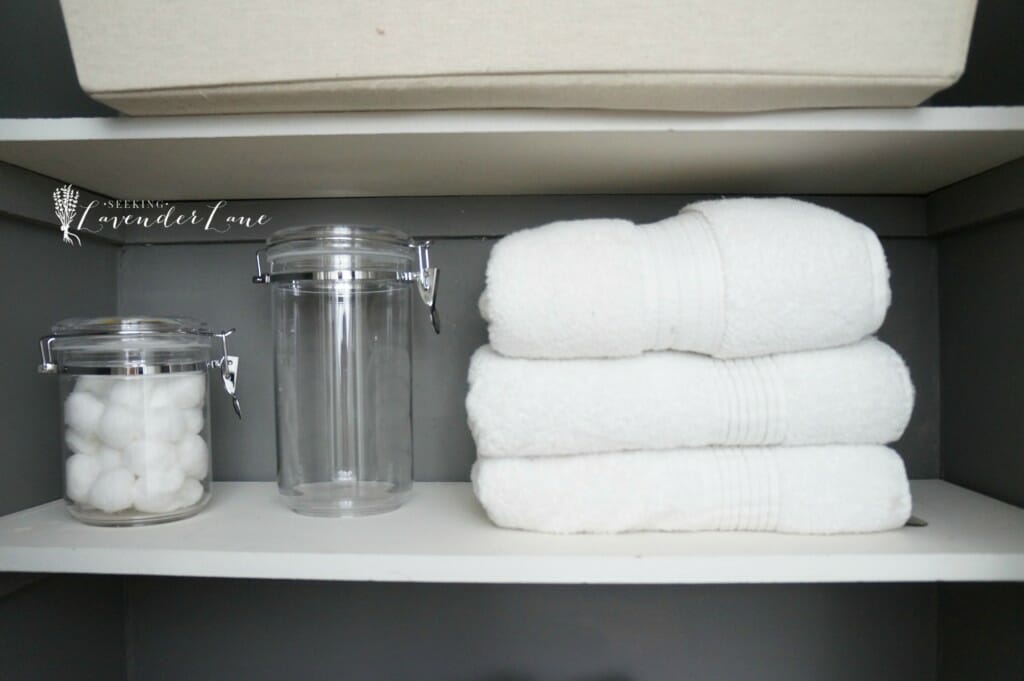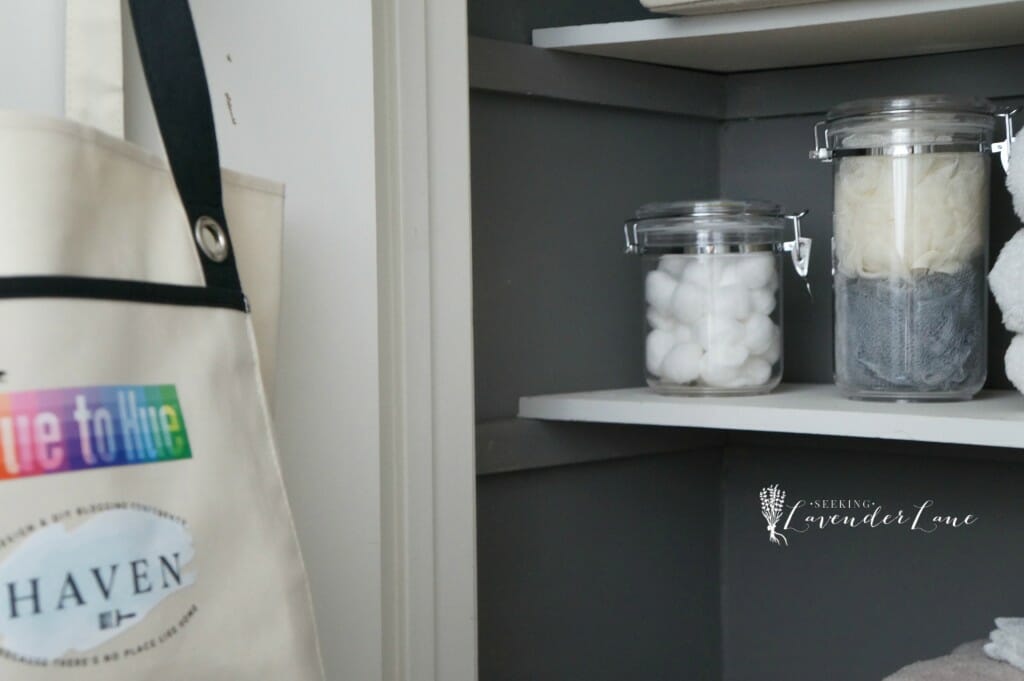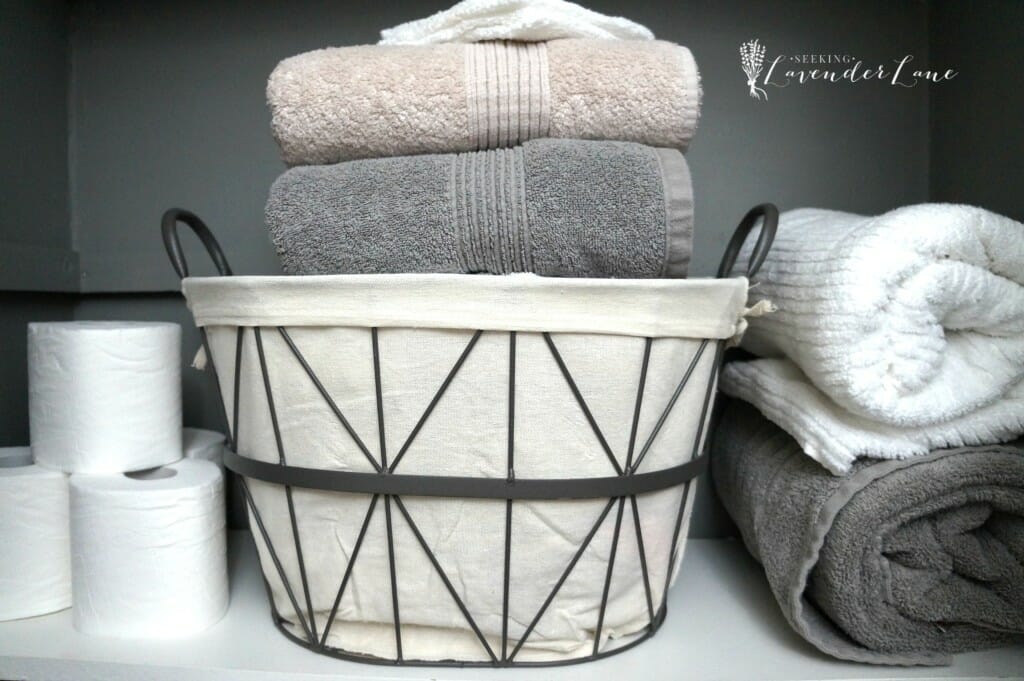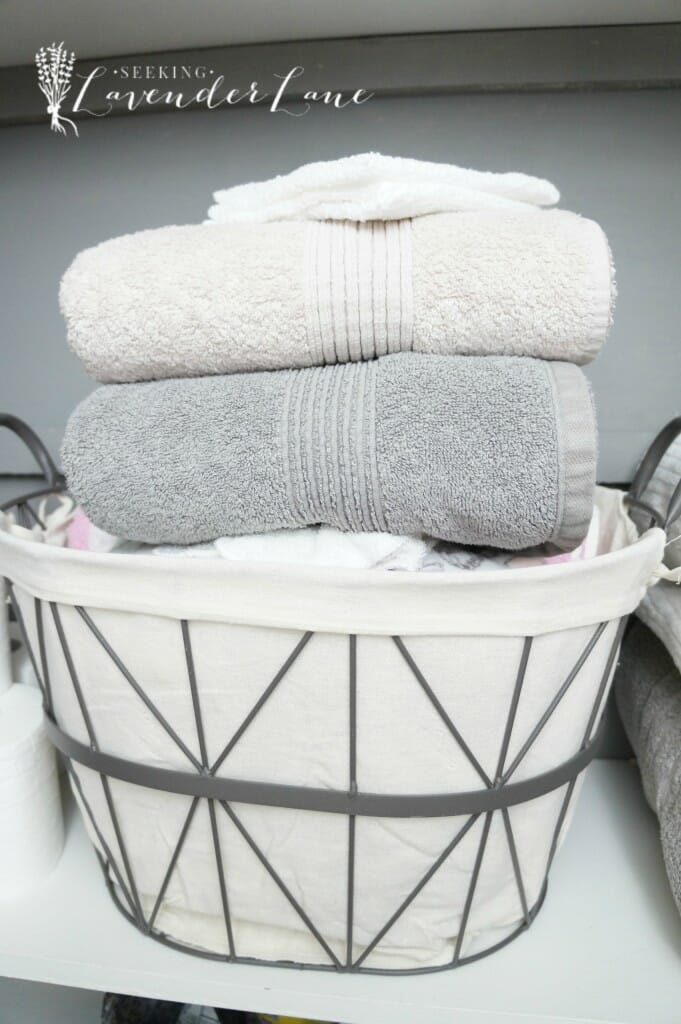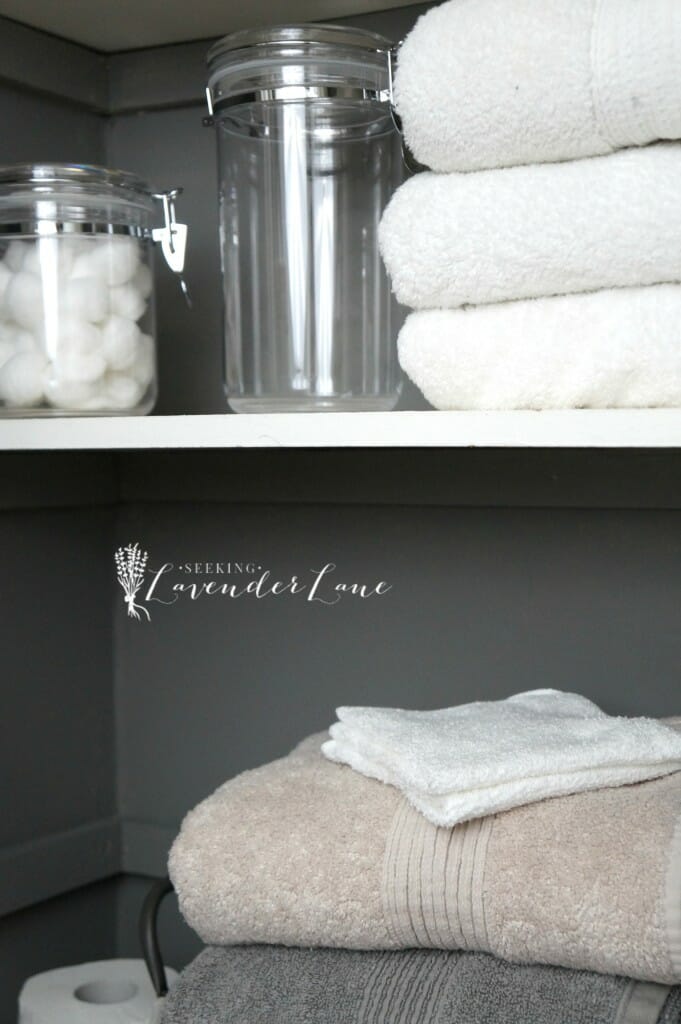 Here is the break down of the linen closet makeover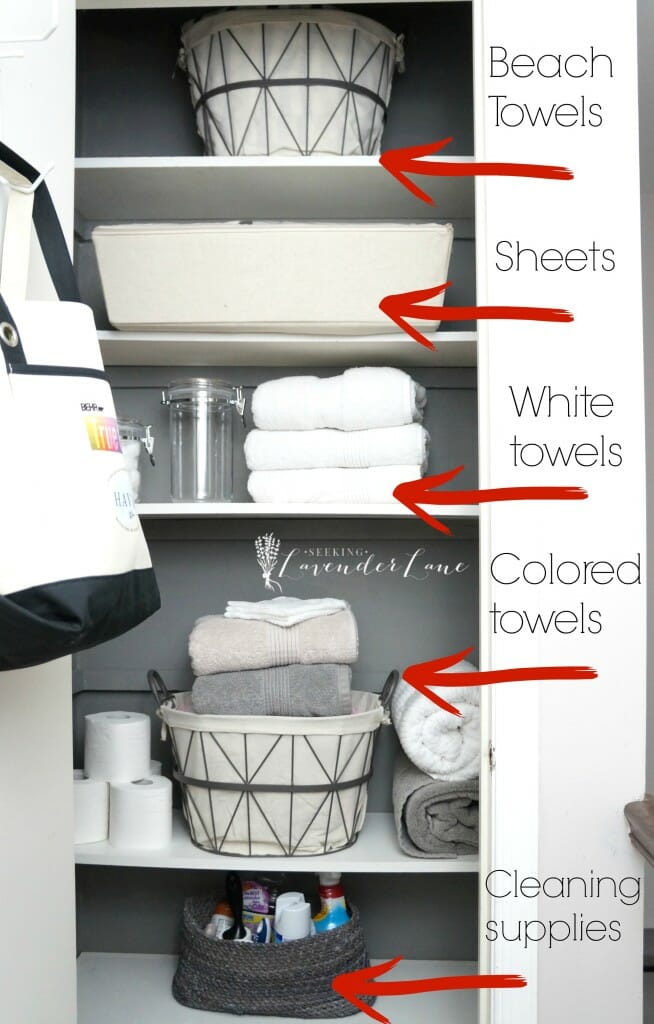 Have you got a closet that needs help fixing? Start with a color pallet and go about each step that I shared to work on the organizing part. I was really close to stenciling the closet, but chickened out. If you have a stenciled closet love to hear about it!
Source list:
Canvas and wired baskets: Homegoods or
Flat linen container for sheets: Homegoods
Towels: Bed Bath and Beyond
Cleaning Supplies Basket: Target
Acrylic Containers: Homegoods
Back to galloping through my field of lavender and sheets!
Products I LOVE
Acrylic Containers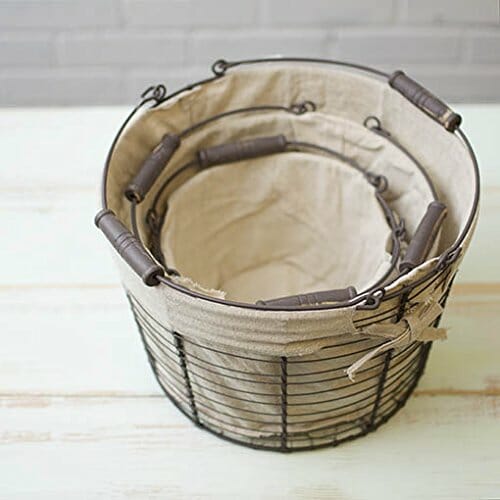 Round Wire Baskets
If this is a post that could help you or a friend out please share!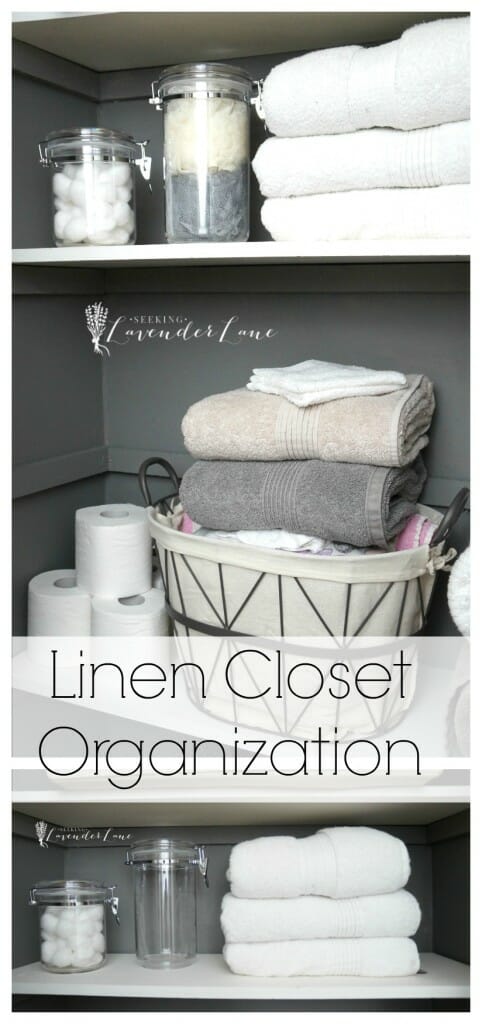 Now to stop by my friends pages and see what brilliant organizing makeovers they have done!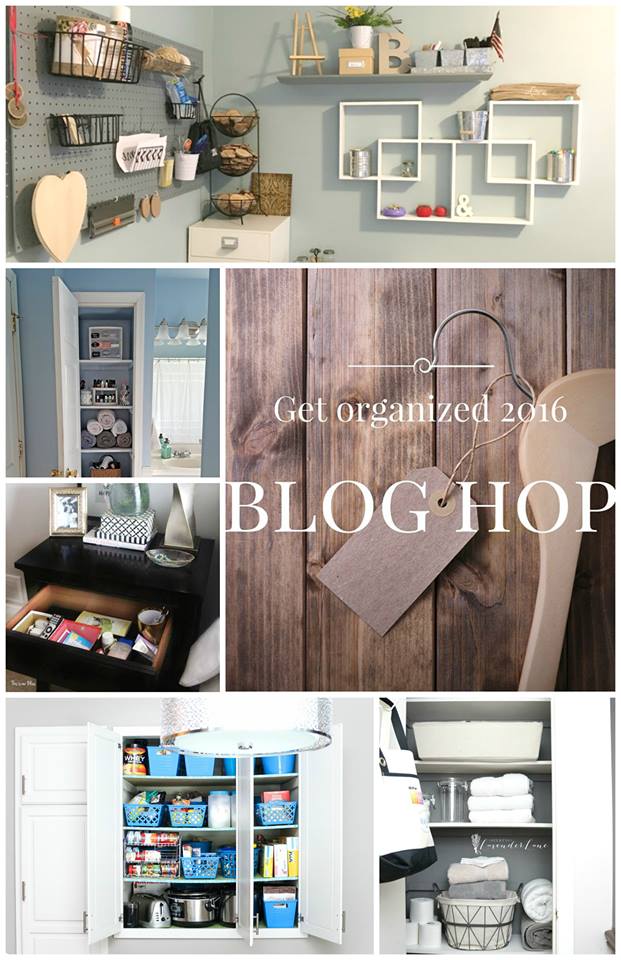 (Visited 822 times, 1 visits today)