Creating affordable farmhouse Christmas decor is must, and these Dish Towel Christmas Stockings, were definitely an easy way to achieve that look.
I know I got a head start with Christmas decorating this year, but for some reason I feel like I am running out of time. I have all these ideas for decorating and projects for the Christmas season but yet not enough time in one day (story of my life). This one that I am sharing today, happened to be one that I just had to tackle. I've been a big time hand sewer this year! haha I have no clue how to work a sewing machine and not sure I am ready to learn just quite yet. So my childhood hand sewing skills have come in handy lately as I've been creating homemade pillow covers by hand, and now  dish towel Christmas stockings. These are not durable enough for Santa's unloading, but a great way to add a little Christmas decorative touch with the pattern of your choice.
I found these cute little grain sack printed dish towels the other day at TJ Maxx and I knew they would make cute stockings. The best part about dish towels, is that you can get a pack of 3 for like $5. That beats a yard or 2 of fabric and they are easier to get your hands on then having to get to a craft store and have your fabric cut down. Since I truly love the feel of a French Farmhouse, the grain sack printed towels would for sure bring that touch to my current Christmas decor.
MATERIALS
Thread and Needle
Paper (for tracing)
This post contains some affiliate links for your convenience. I make a small commission from the clicked link, but this does not have any added cost to the product. 
STEP 1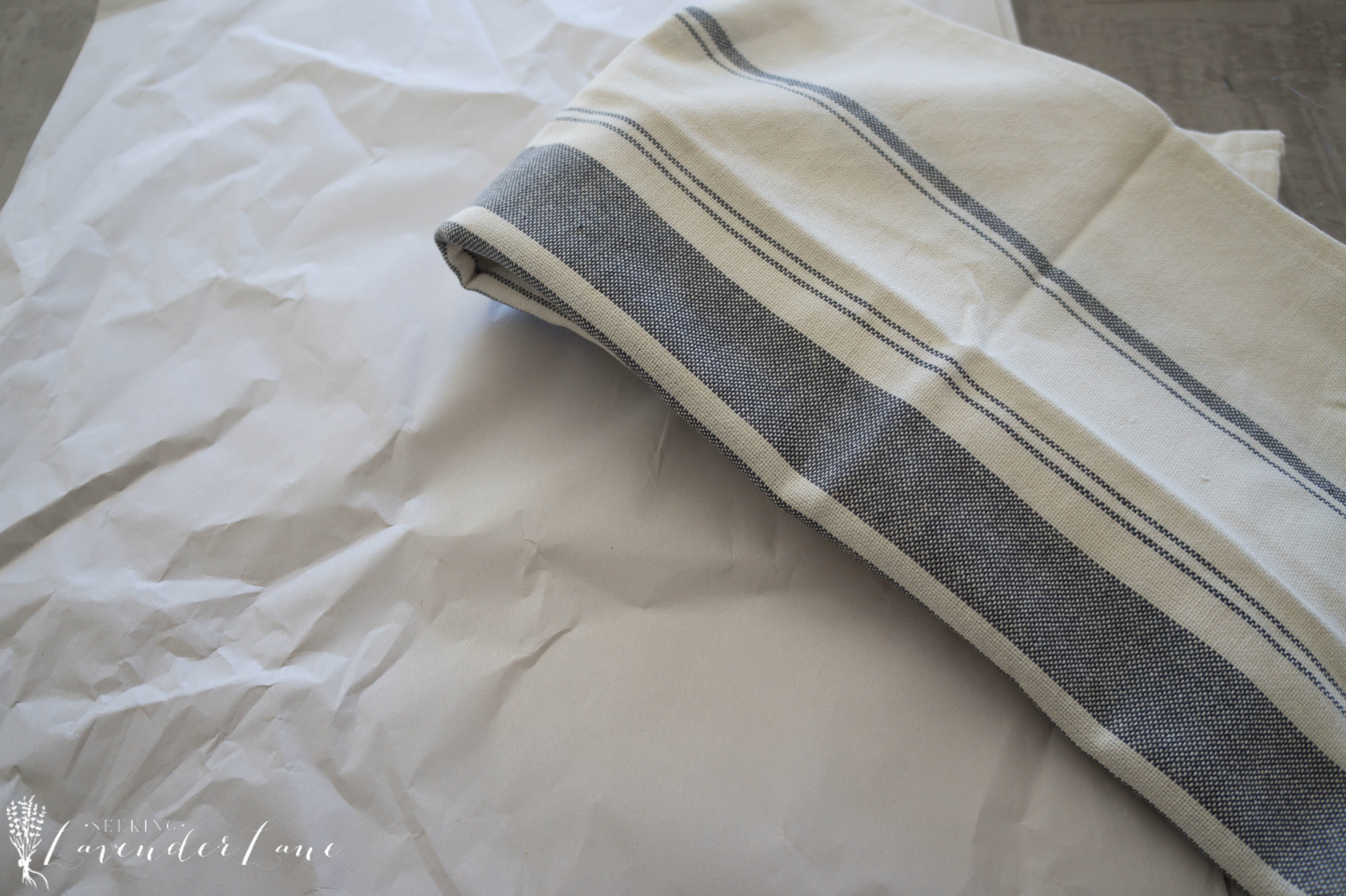 Create stocking template from paper. I chose the paper that they usually protect your fragile items with from Homegoods. It's large enough to use and would just become garbage anyway.
I created my own template of a stocking, be sure to make a template larger then actual size since you will be flipping the stocking inside out once complete.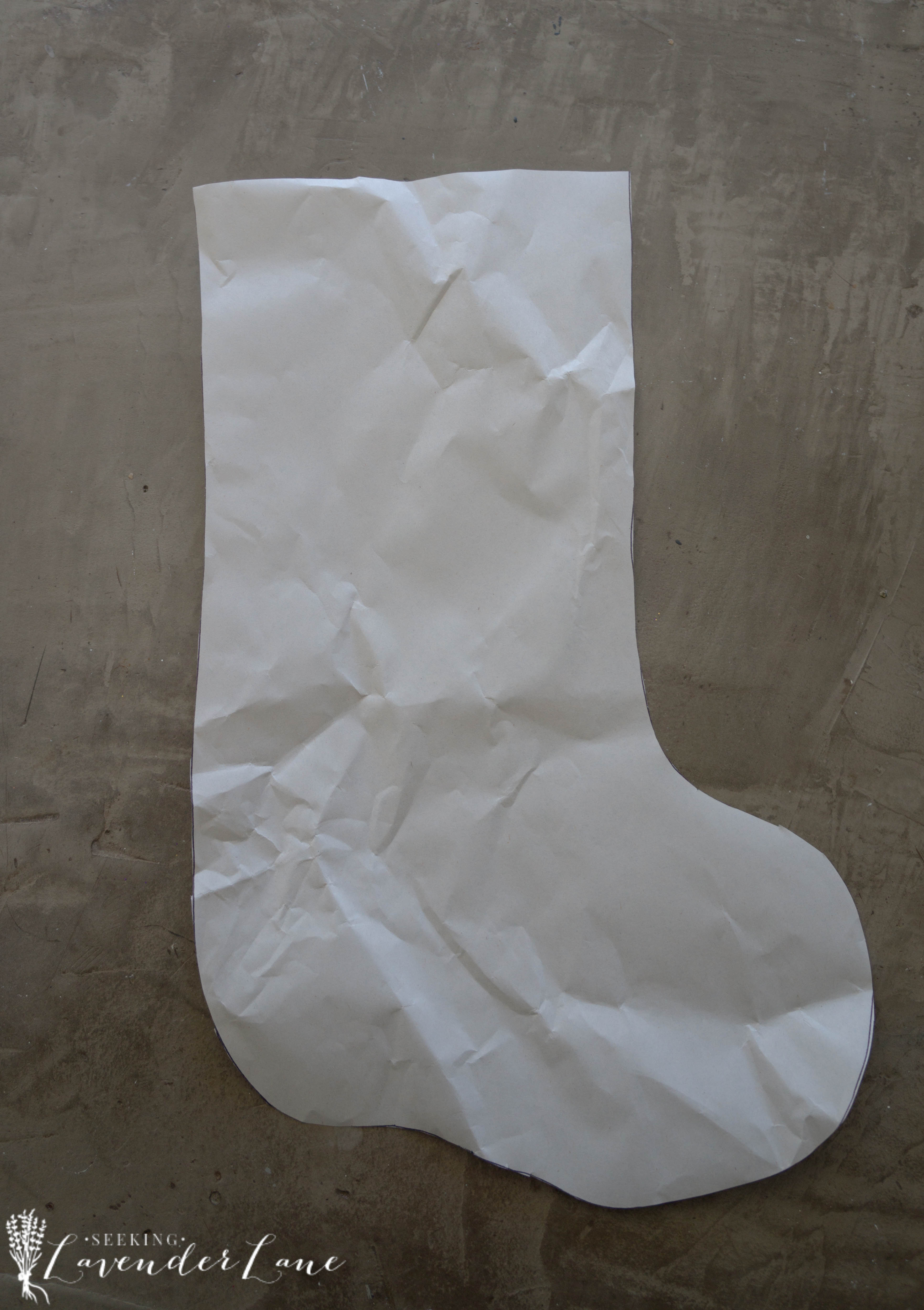 Once you have your template drawn and cut, then us this on your dish towel. I guess an important detail to add is that make sure the template will fit your dish towel size, so measure before.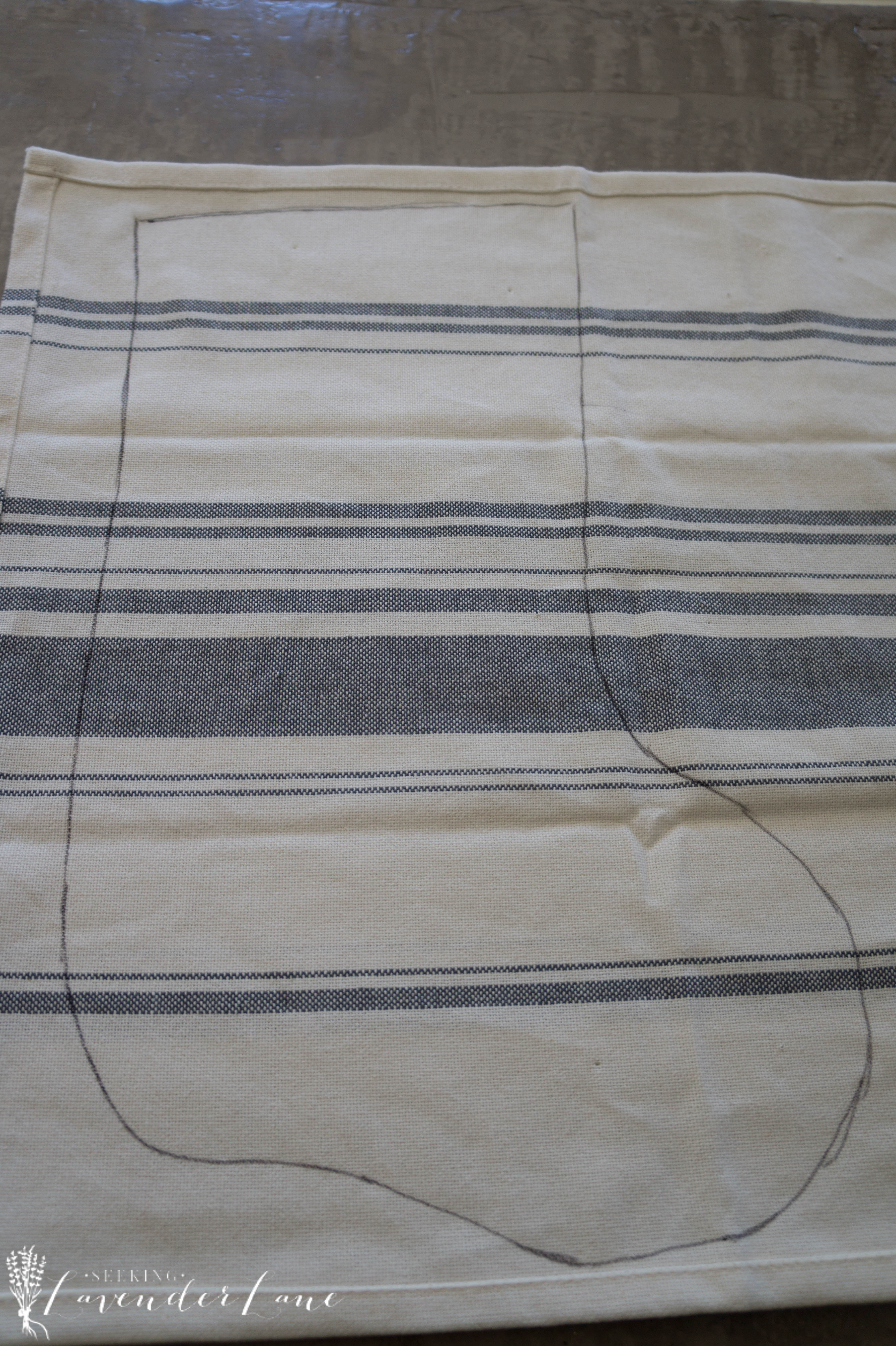 Trace and cut stocking.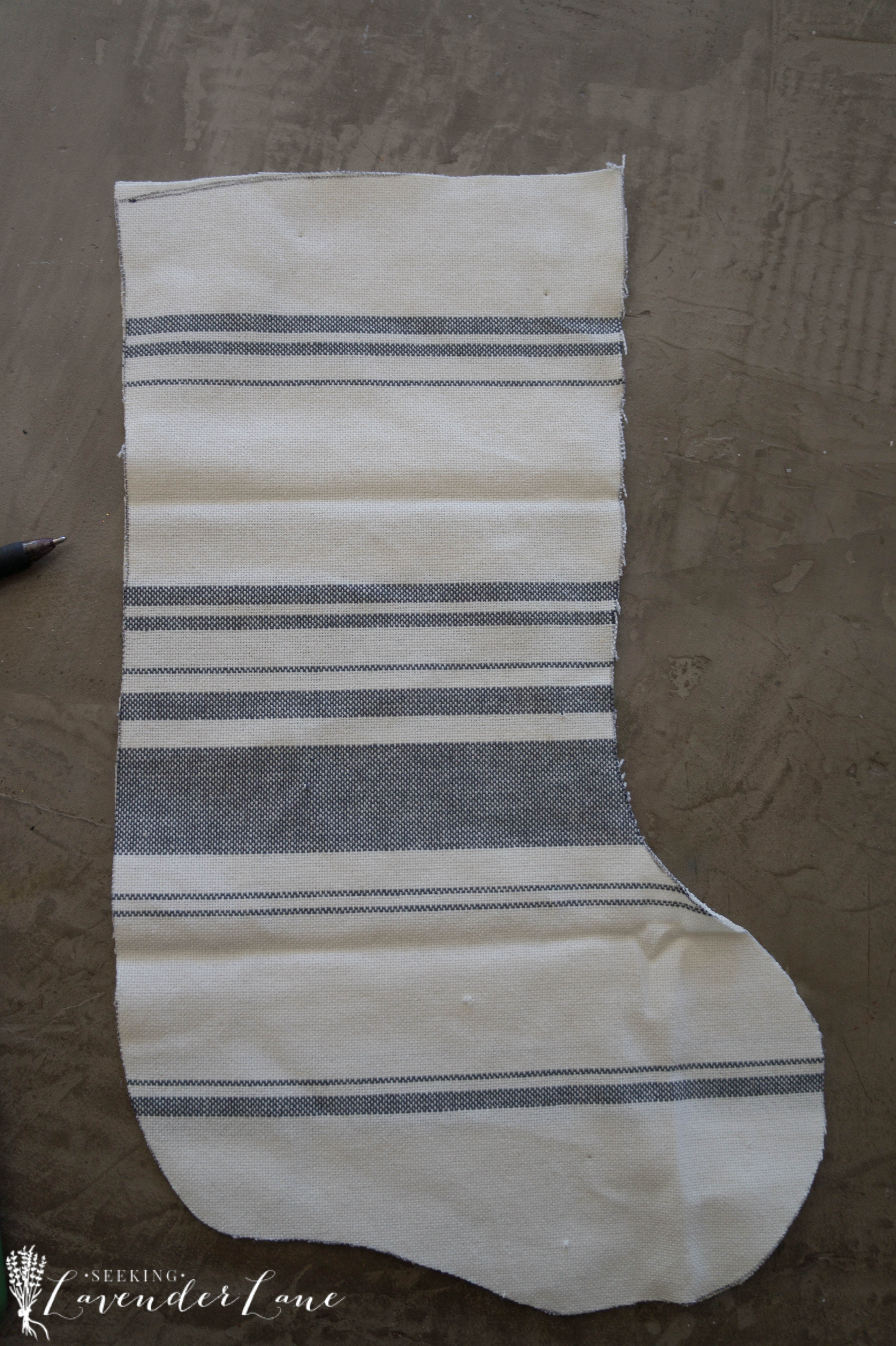 Repeat process on other side of towel to create the back of Towel.
Then sew together, I chose to hand sew…of course using a sewing machine is a better option if you are a skilled sewer.
Flip fabric inside out to hide sew line.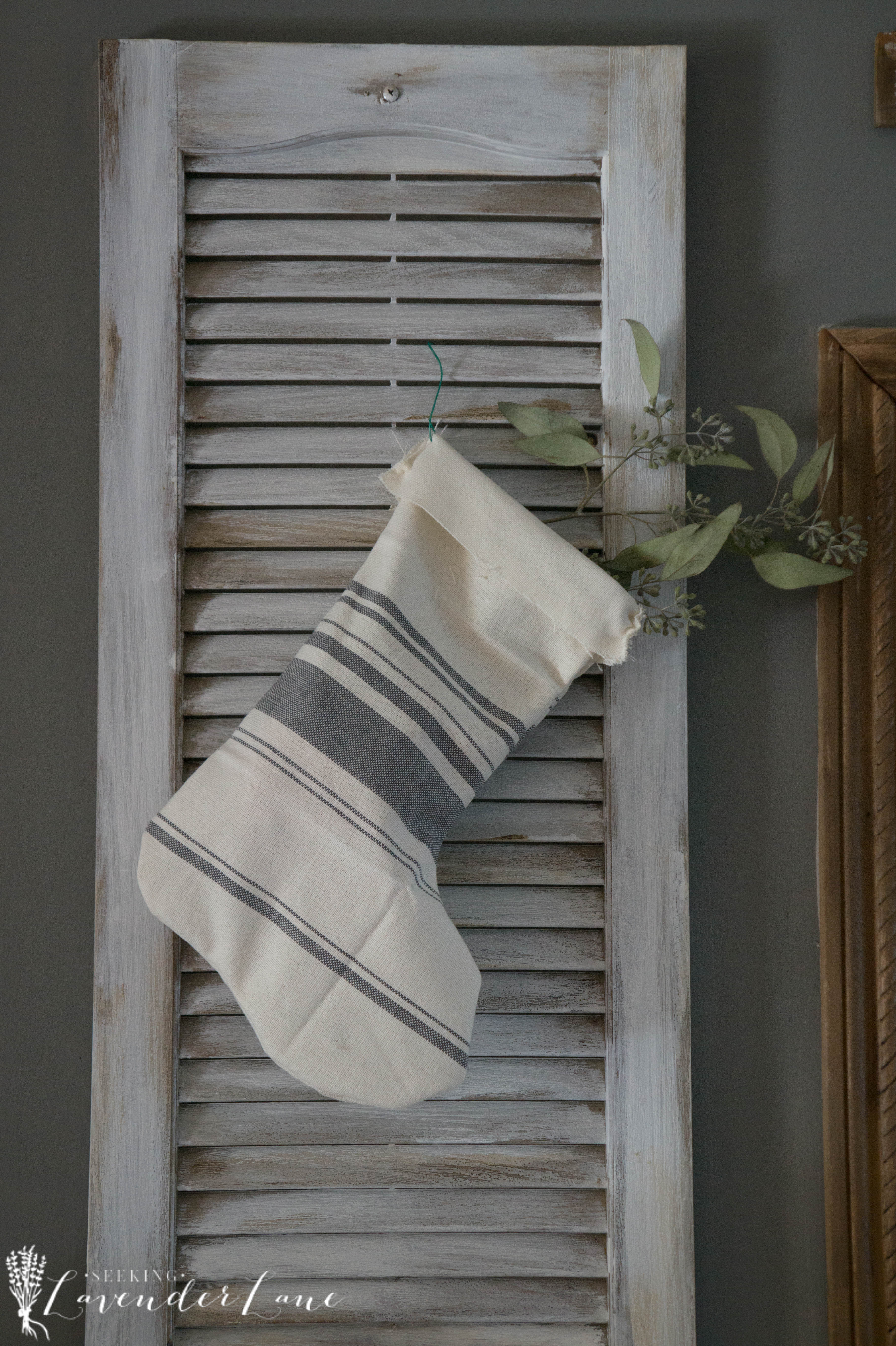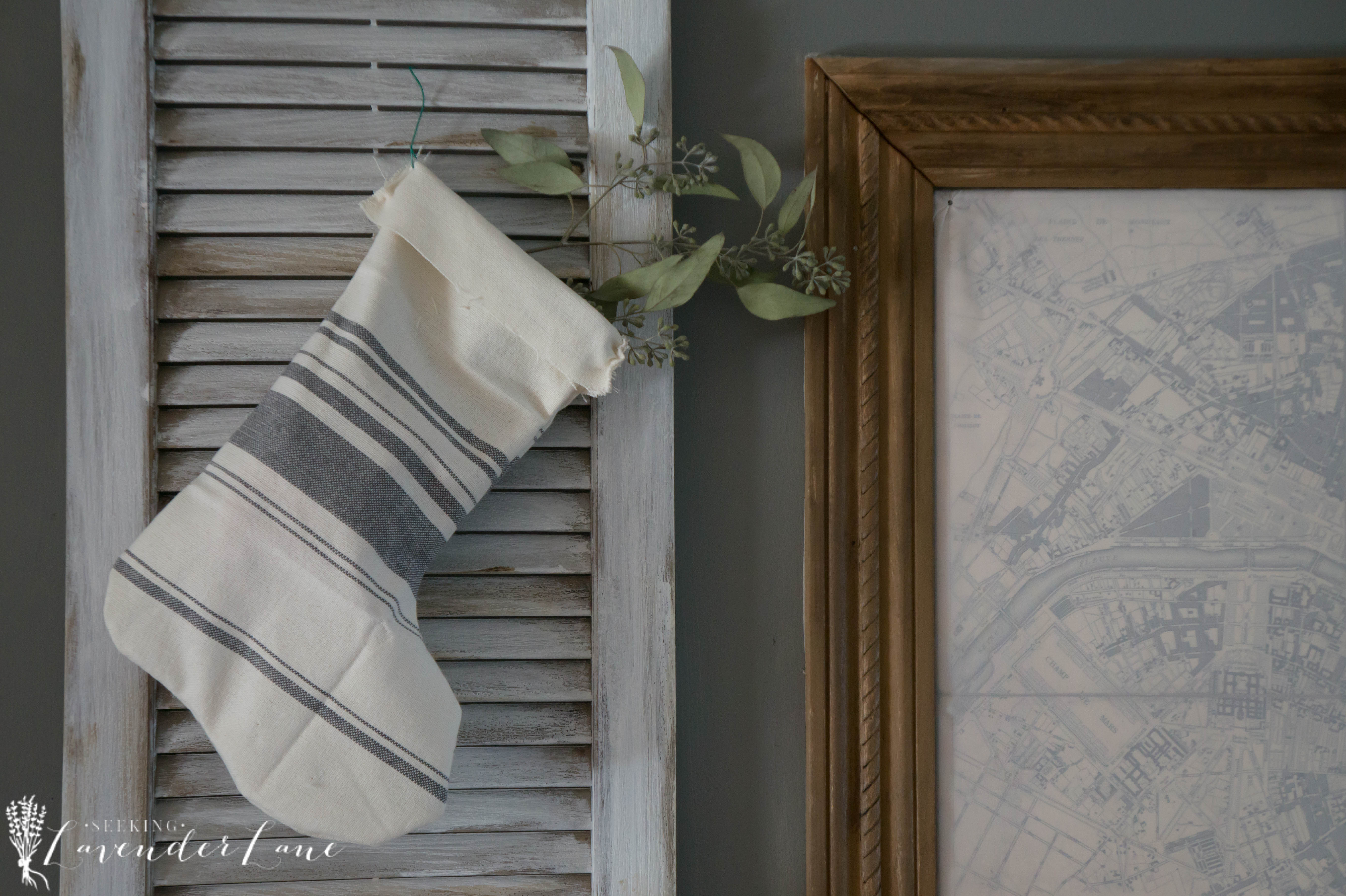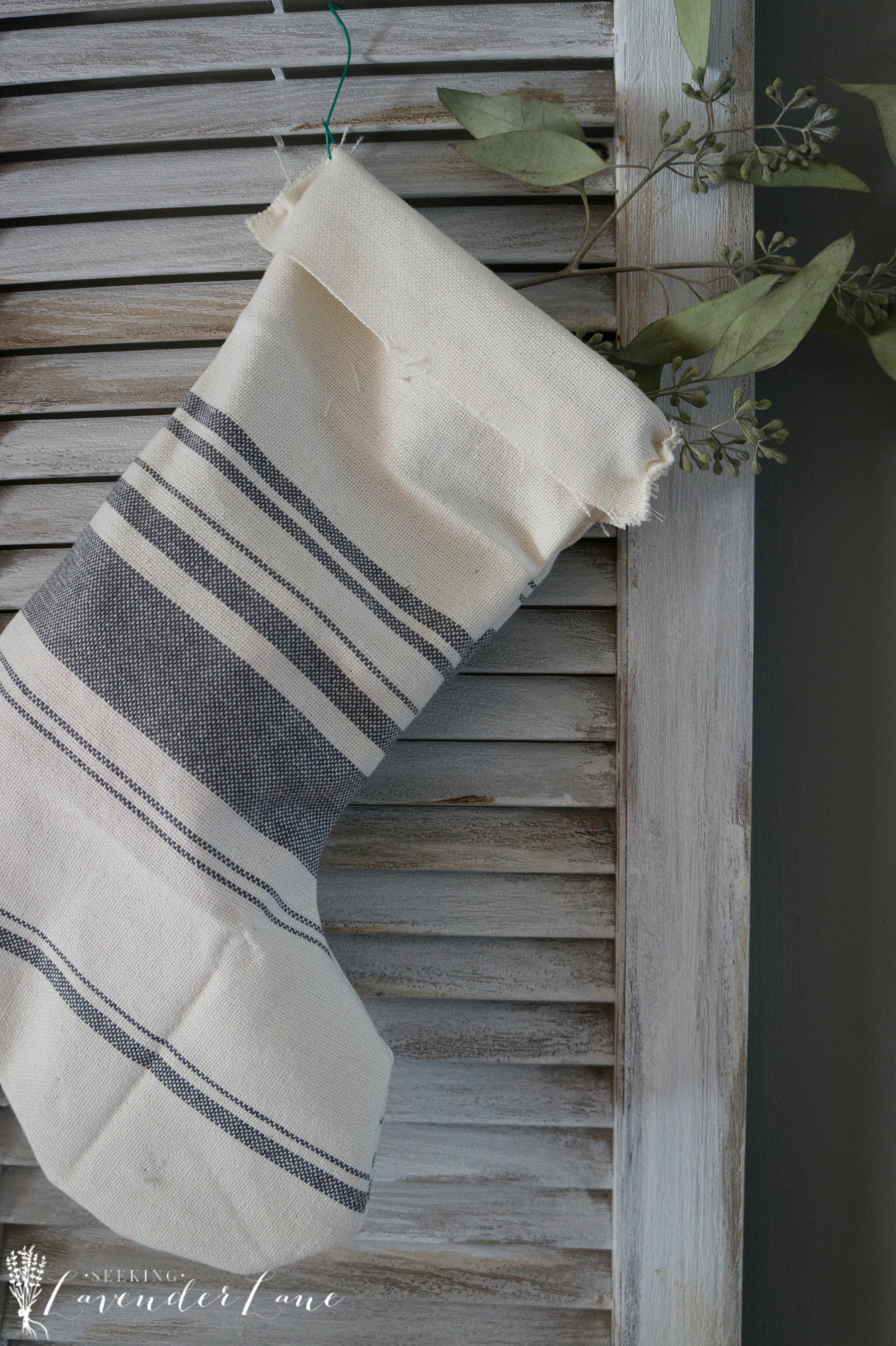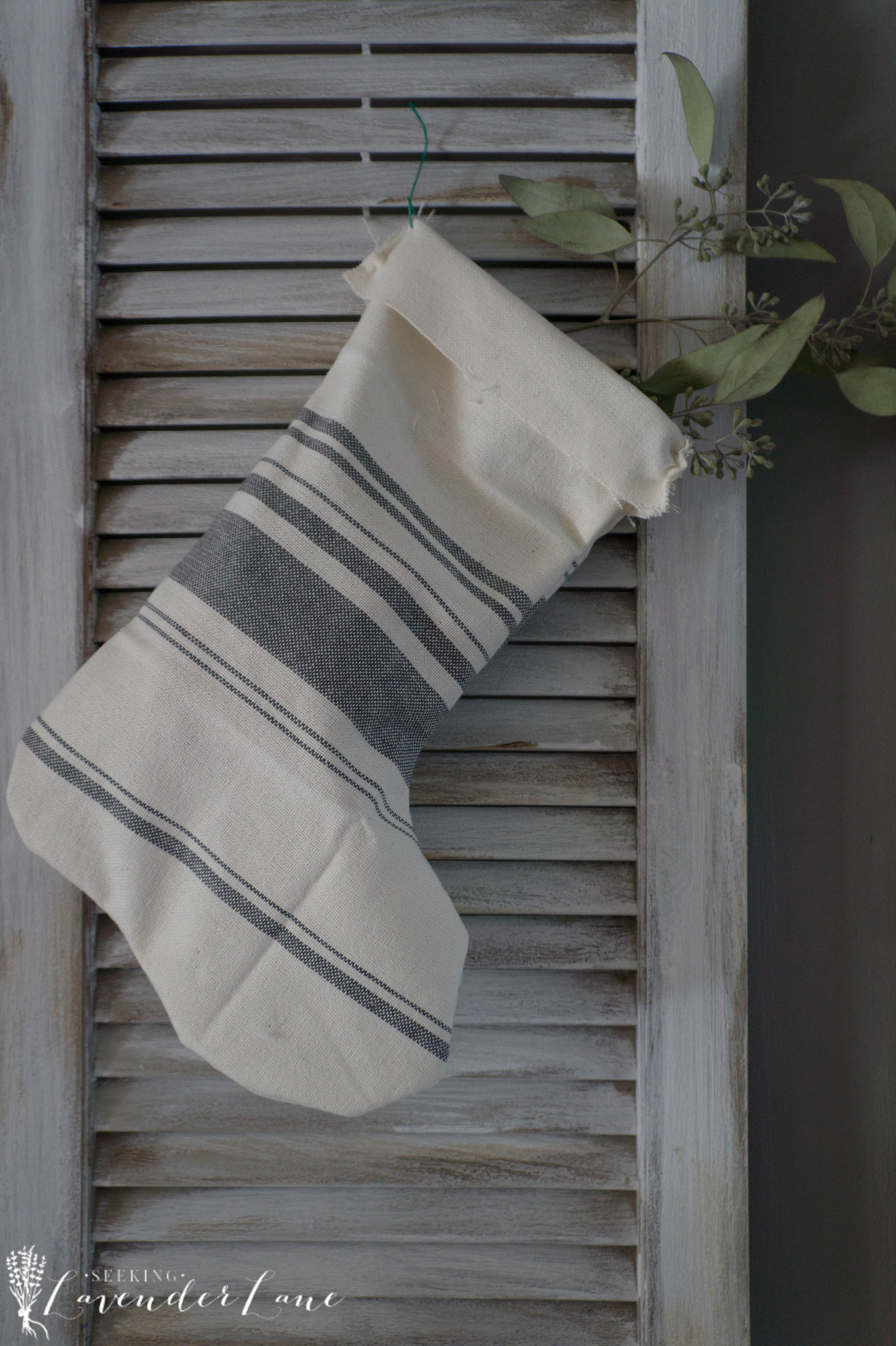 These were seriously such an easy project that any one could do. I love that they were affordable and a cute way to add some neutral Christmas style to my French Farmhouse living room. Use color of your choice and pattern of your choice. I could even see some fun color dish towel and create a stocking for your Children's rooms. Much more affordable then the $30 stockings they sell at the store.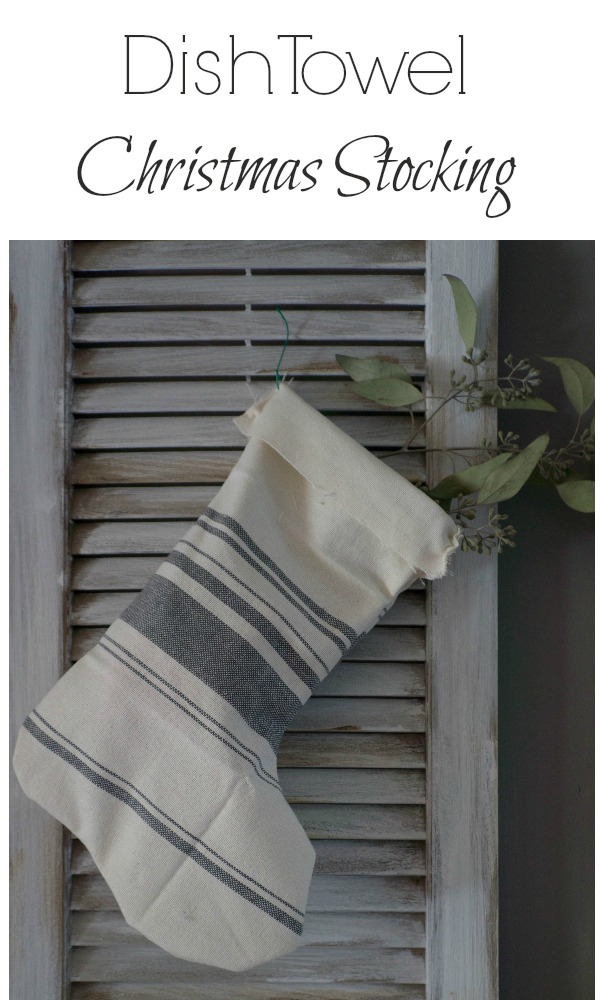 More Christmas projects to come this season, so be sure to subscribe and follow along for more affordable decorating ideas.
PLEASE STAY A WHILE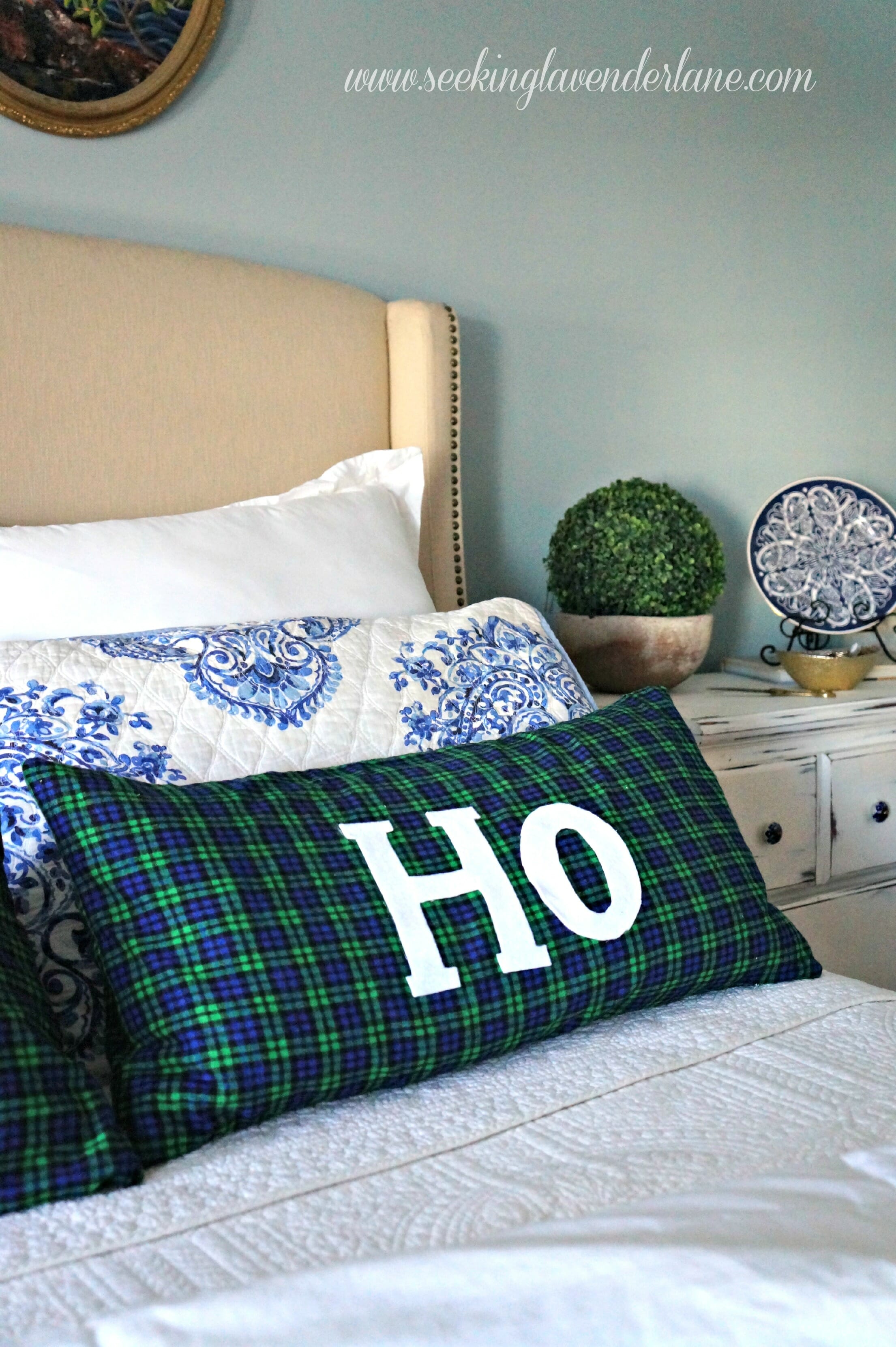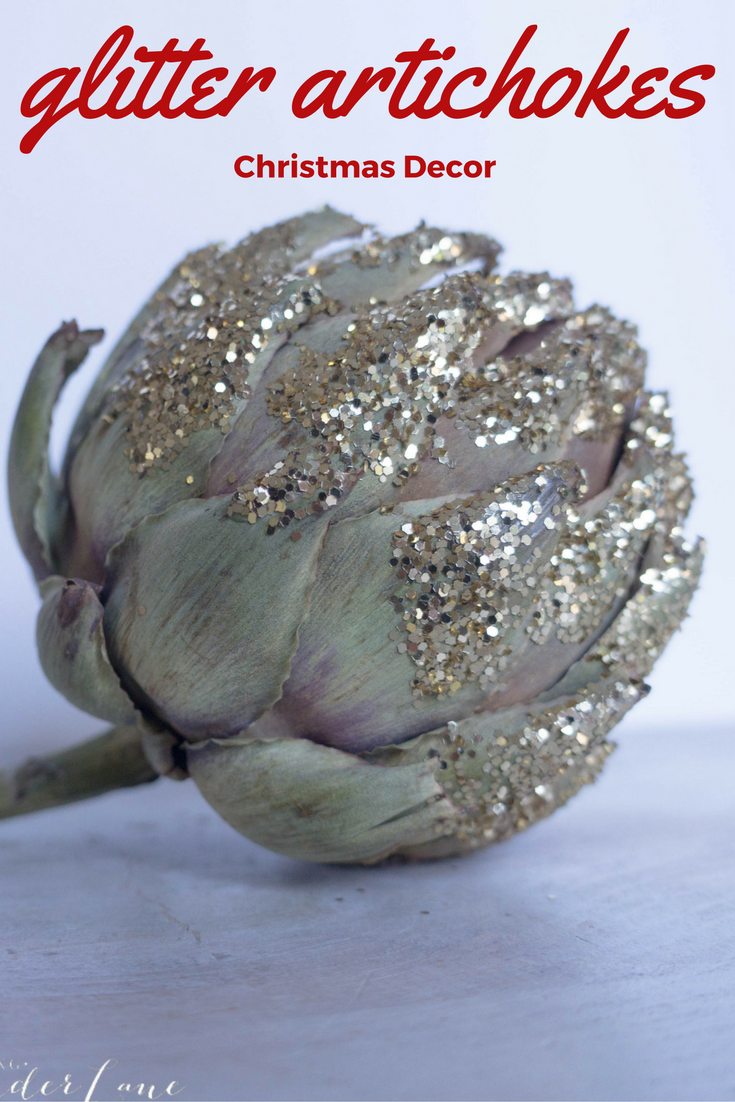 Glitter Artichoke Christmas Decor
(Visited 396 times, 1 visits today)