Cheap home decor with a rustic wooden sign:
Happy Tuesday after a long Memorial weekend. Ahh who's dreading it? I'm grateful to be home, but gosh it's for sure hard to see my hubby have to leave for work again and sending my son off on the school bus. Just love spending time together as a family! I work every weekend, so to have this long extended weekend off and be able to spend a lot of time together just makes me so happy, but then again hard to only have a small dose. Anyhow back to routine and back to kicking my butt into this Curb Appeal Blog Hop! This week we start sharing our progress, and I tell ya I did not get very far. I thought even with having some time this weekend with the hub we would knock out a big project or two, but turns out we cleaned the garage instead-boo!!! So here's one I did get to before the weekend hit and I just love the charm and presence it brings to my porch. This post contains affiliate links for your convenience. A great way to add some decorative touches is with a rustic wooden sign. I created a DIY porch wooden sign that definitely becomes a focal point.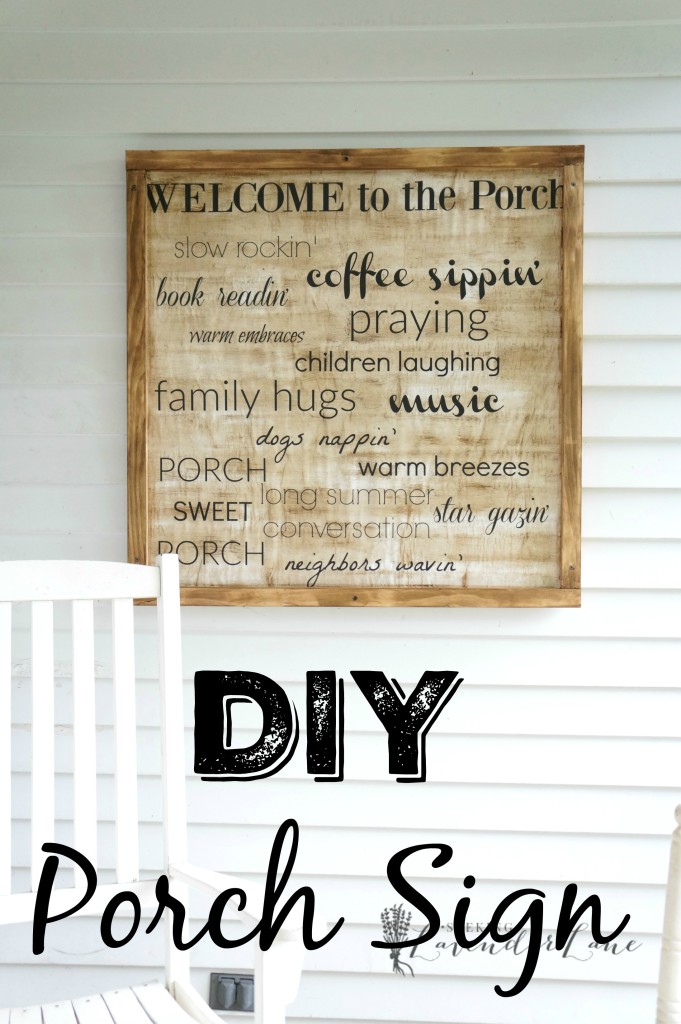 Well, let's walk you through the steps here…
So, I can't take full credit on this one! I stopped by my friend Lauren's page from Blesser House, where she shares a really easy tutorial on how she made this indoor sign. I love signs, but gosh I just hold back from purchasing since sometimes they can be a little pricey. I've always wanted to know how to make my own but figured I just did not have the right equipment. So when I saw that Lauren printed hers out from Staples and used Mod Podge to create this…I knew I had to give it a try. I thought this had to be easier than stenciling.
Materials
print out from Staples (3'x3′)
Wood (cut to the desired size) 1/4″ thick plywood
wood for the frame
stain/dark wax (annie sloan)
mod podge
Step 1: 
I created my own words using Picmonkey for a great sign print out.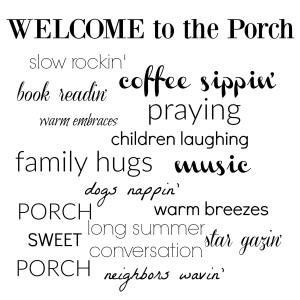 Step 2:
I stopped over at Staples, where I had the ladies print out my sign on a custom size sheet 3'x3′
Step 3:
I then ran over to Lowes where they cut a 3'x3′ size board for me, and I picked up some wood for trim. (I realized afterward that going slightly bigger on the wood, would have worked best).
Step 4: 
This is where you get your Mod Podge out and apply in small sections to the wood to apply the paper. This was the first time I have ever used Mod Podge, even though I had a bottle on hand I had yet to ever use it. Be patient and take your time, this can be a bit of sticky situation…and bubbles and creases are really hard to get out.
Step 5: Embrace the creases and add Dark Wax for more of a distressed look (my Plan B)
I decided to really add some "vintage" flair to this wooden sign…the creases were harder to get out than I had hoped and when I realized I had to work with them…I figured adding dark wax and embracing the wrinkles was going to work in my favor. I then added some mod podge over some areas of the wax which resulted in taking some of the wax off, I love how it gave more of a "distressed" look. My goal was to truly try to achieve a rustic wooden sign look to the paper as much as I could.
Step 6: Add Frame and stain or use dark wax as I had.
P.S. I thought I had photos of these steps, and somehow I guess I totally skipped taking photos.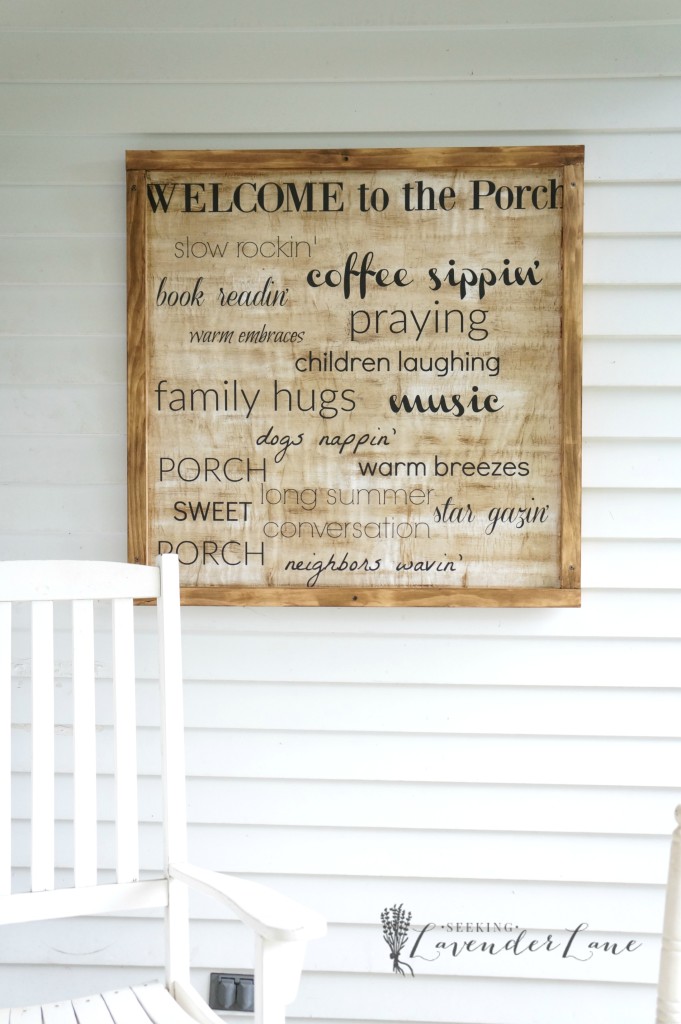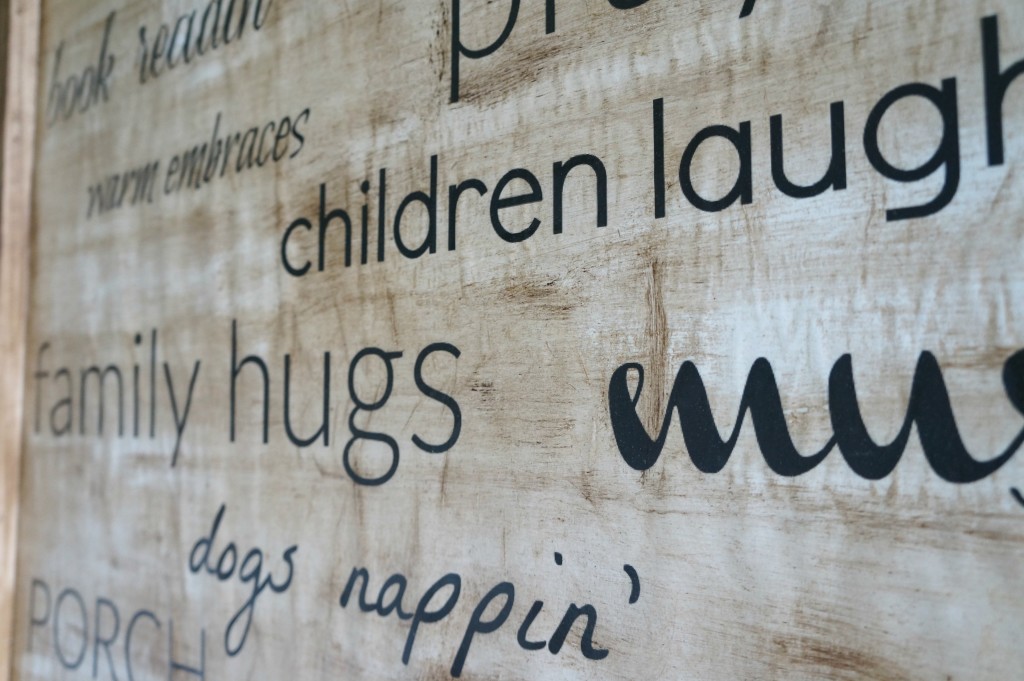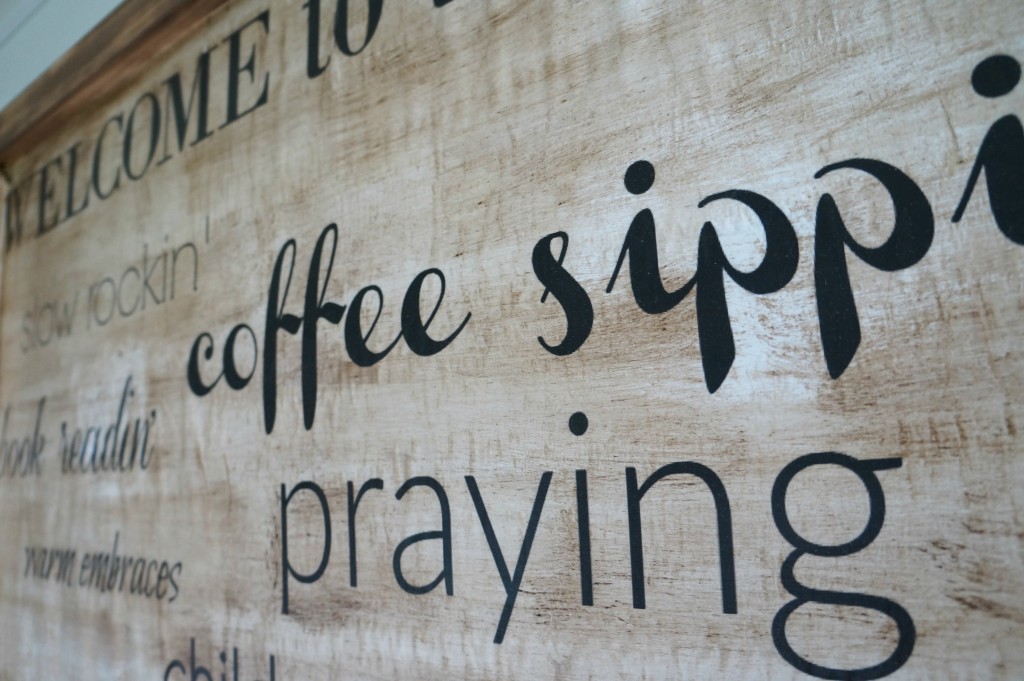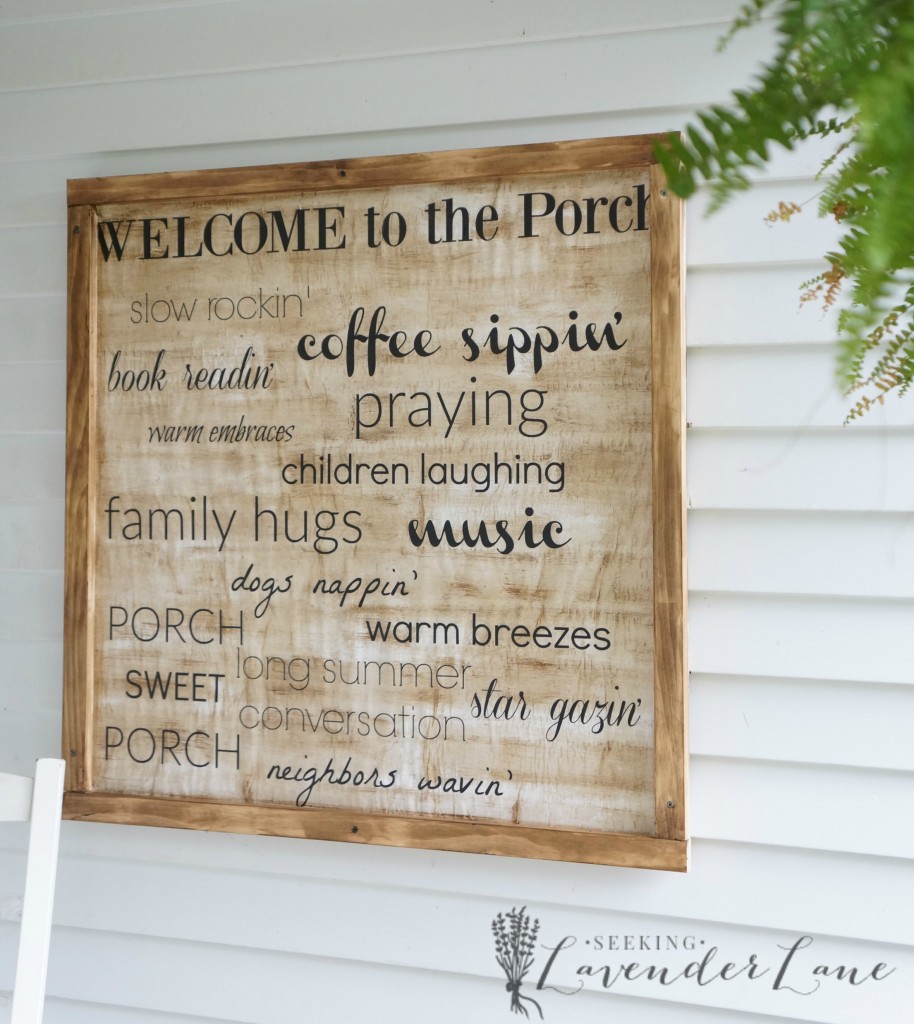 So a few tips:
See how my frame overlapped the top words a bit, use a larger size piece of wood to avoid this from happening.
Embrace the wrinkles if you are going for a more "distressed" look, if not take your time and be sure to use a medium amount of mod podge when working on pasting the paper. If you have dry areas in the paper this will only create bubbles adding more creases than desired.
Also, don't use this method if you have an area that will get wet. I am fortunate that where this is hung under my porch really won't have any direct access to rain or sprinklers.
3 Weeks to go until the Reveal, last week I shared my plans for the space. I know we are going to have to skip some of the projects I would like to get to since we just found out our roof will need replacing. We will see how it goes. I'll keep you filled in. For now making the most out of what we are doing to the exterior space.
Stop by my friend's page's and see what progress they have made on their Curb Appeal Blog Hop
Create a  Farmhouse Porch

PLEASE STAY A WHILE

Outdated Patio Set Rustic Makeover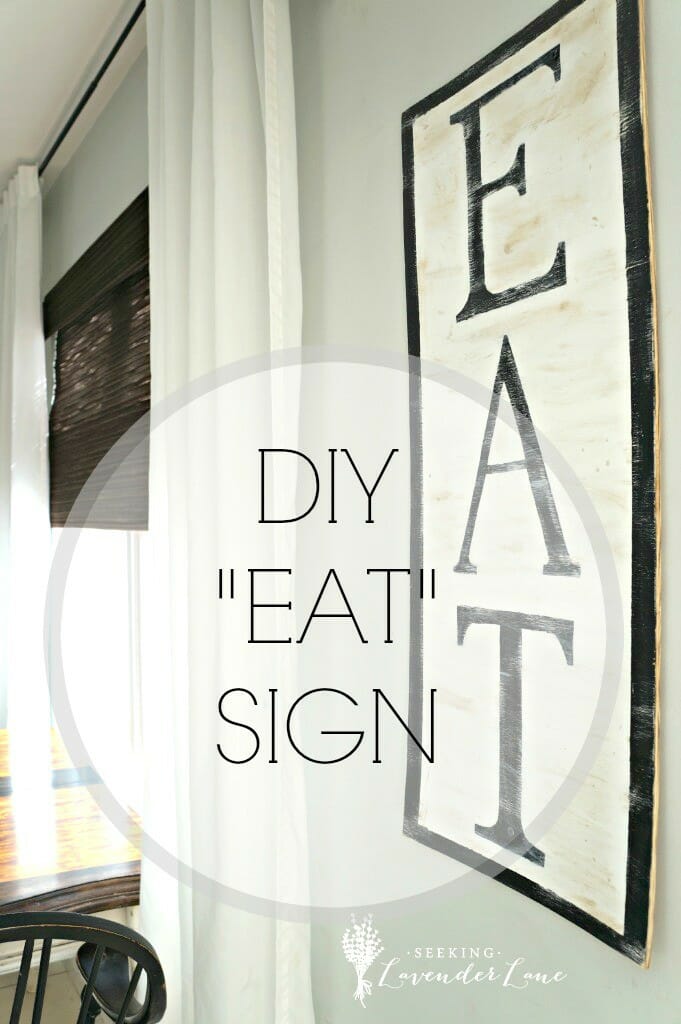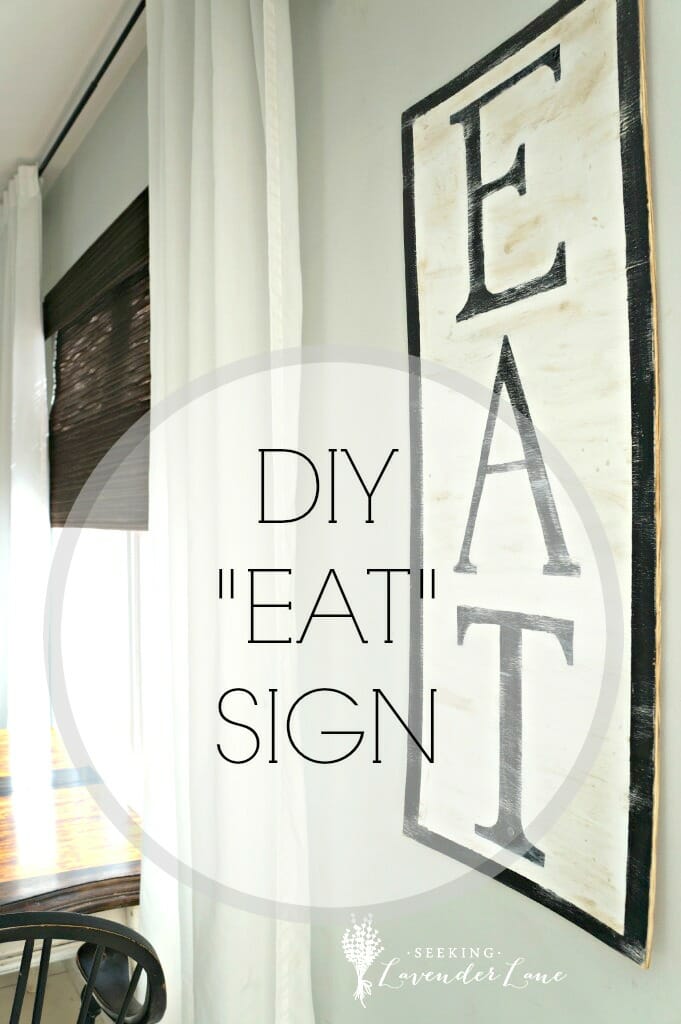 (Visited 7,853 times, 1 visits today)