Steps to creating an anxiety free hosting with Thanksgiving Ideas
This is a collaborative post with Ocean Spray, but all opinions are 100% my own. 
It's one week until Thanksgiving are your ready?  Thanksgiving can be stressful enough with having extra guests in your house, planning out the recipes, deciding on what to wear, and of course thinking about not burning the turkey. Then you add in the idea of being a first-time host…and all the anxiety goes up! Well, I've created an Inexpensive Thanksgiving table setting to help keep the stress down of planning your first Thanksgiving. Not only that, but an awesome and easy recipe to serve for dessert. I'll share some tips too on how to make a great presentation when serving to impress!
Last week I was in Rockefeller Center® having Thanksgiving Dinner with an amazing group of people enjoying a delicious meal, learning from the Ocean Spray "CranMa's" (Cranberry Farmers and Thanksgiving experts) how to prepare for the Holiday and I got some great tips and tricks from them. Not to mention an unbelievable memory of having Thanksgiving Dinner in the middle of NYC in a cranberry bog! I say I can check that one off the bucket list!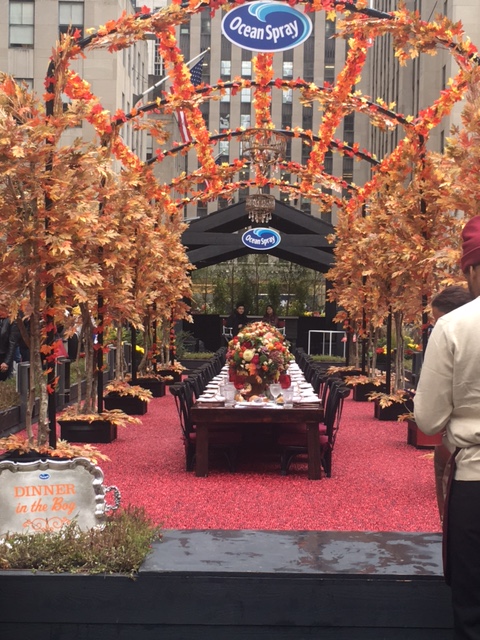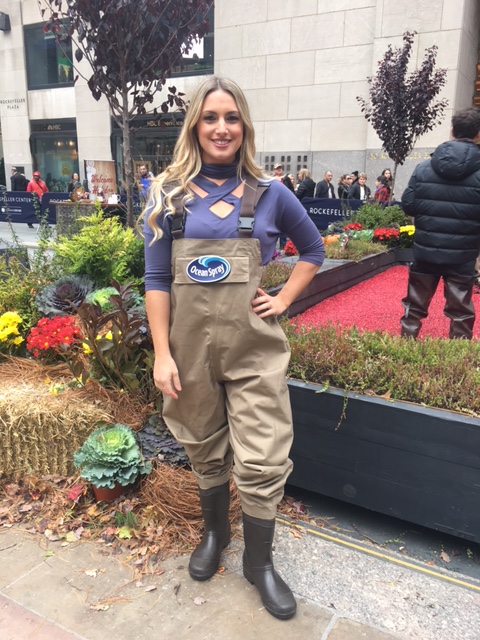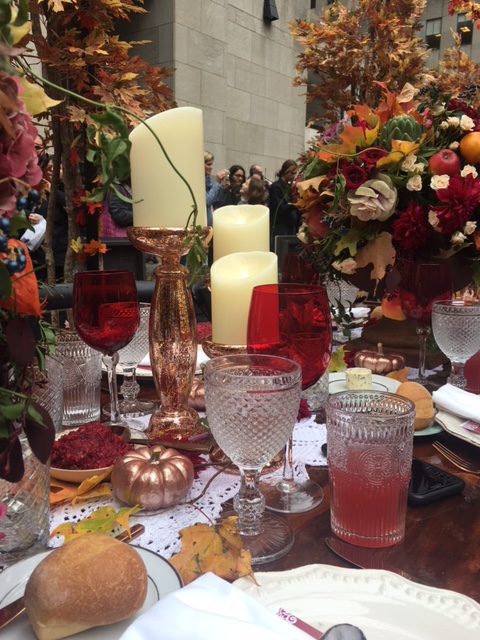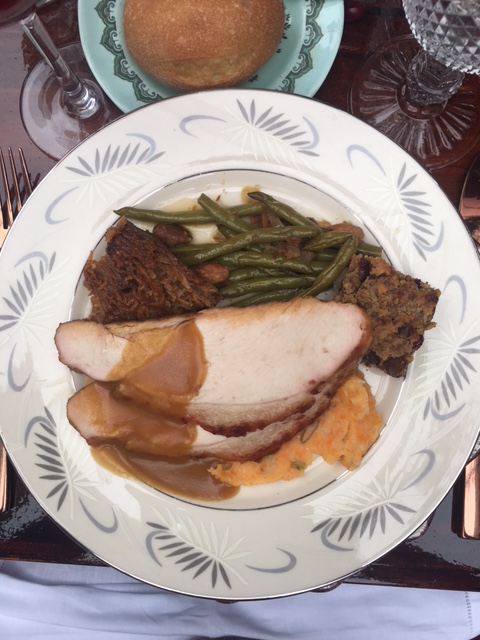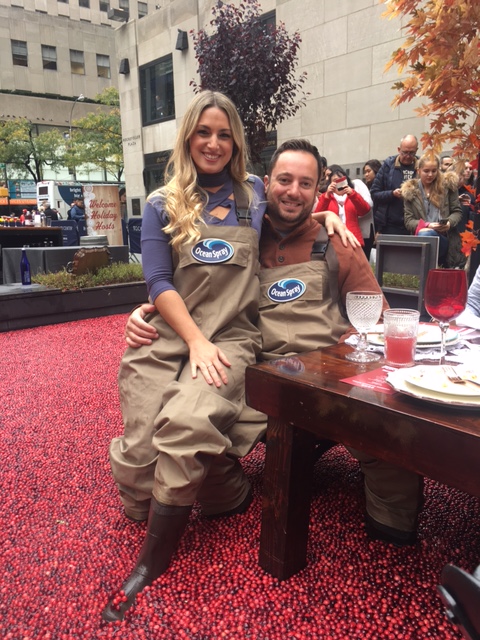 Now, let's start with how to create a perfect "Cranberry-cute" Thanksgiving table and how to keep costs down. Well, it all begins with the dishes. Last week at the Ocean Spray event in Rockefeller center, I learned from the CranMa's and the design expert Ty, just how trendy and easy it is to mix and match dishes. Since I already had a set of white dishes I chose to use them since they always look presentable and are easy to change up my table settings. If you do have some of Grandma's china or collected dishes over the years from thrift shops, then this is the perfect excuse to mix and match and not have to run to the store and splurge on all new dishes. Add a pretty charger to make the plates pop and a fabric napkin with a print or solid. I used what I had with the napkins, since they were neutral, but a pretty buffalo check pattern or stripe would have been pretty as well.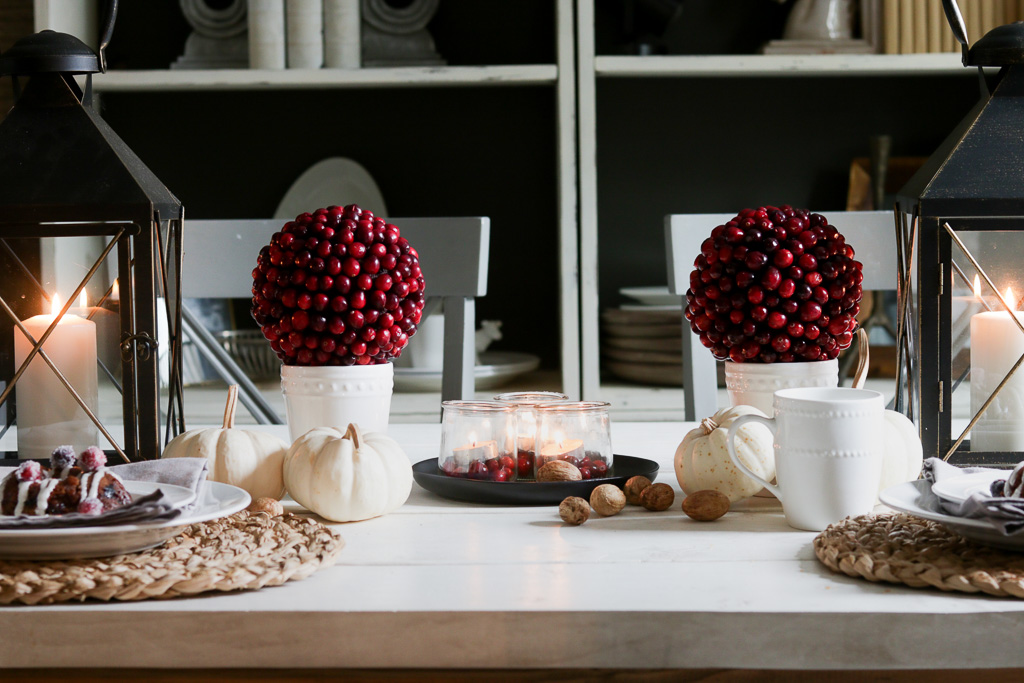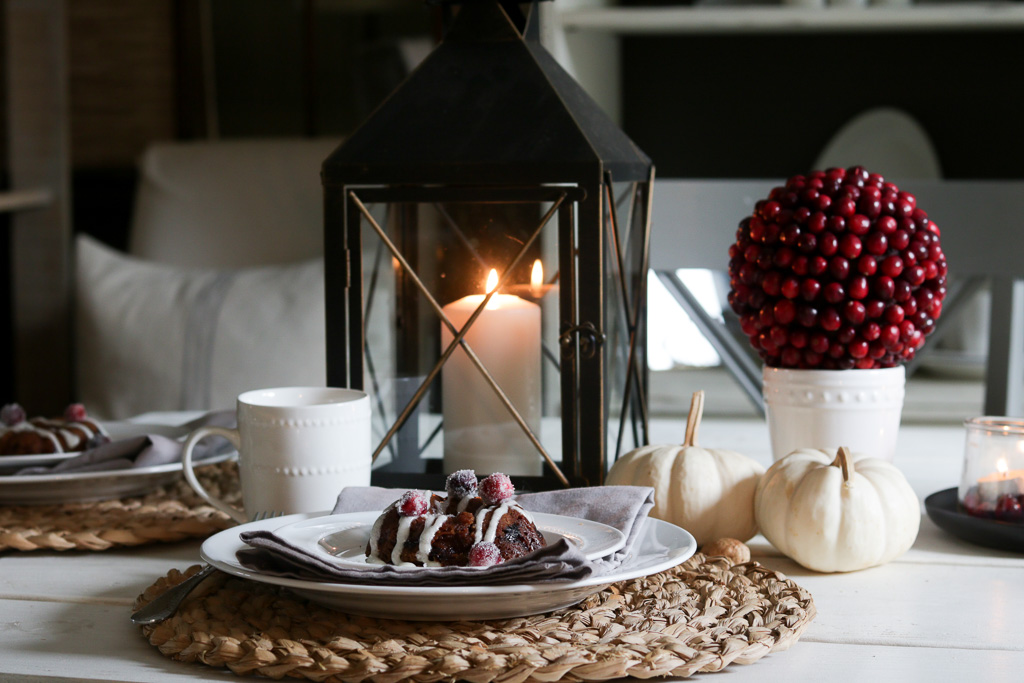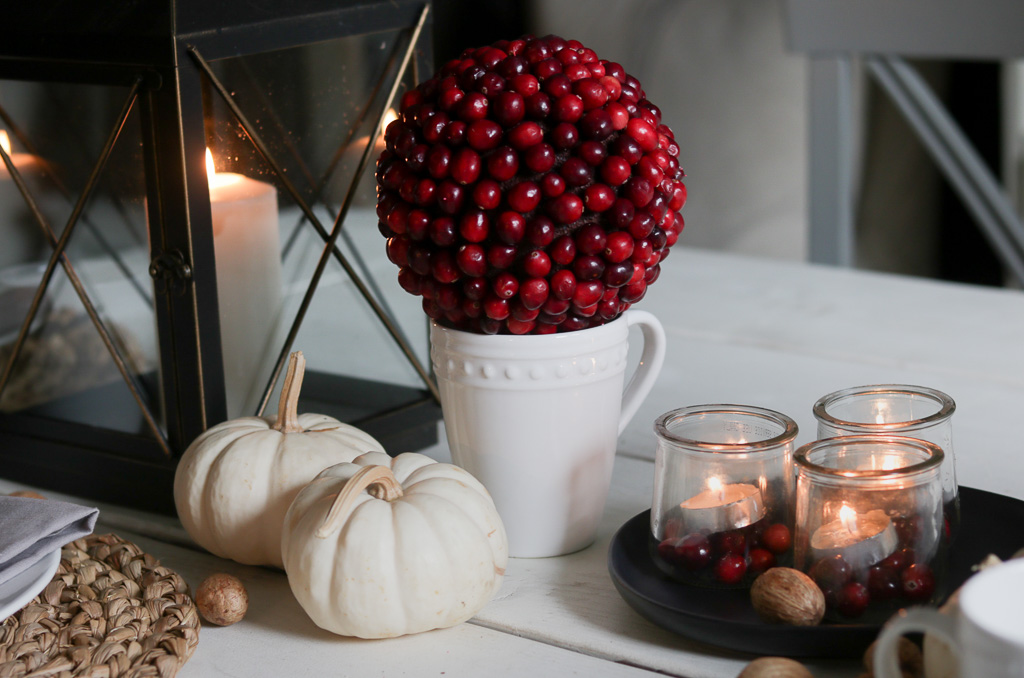 Create a centerpiece that will impress, such as with these Ocean Spray Cranberry Topiaries (which I will be sharing more about tomorrow and how to make your own), and some simple yogurt jars filled with loose cranberries with some tealight candles. Adding lanterns to a table always adds drama, and these from Pier 1 are just stunning  for the Fall season which can transition for Christmas. Light some candles or choose some flame-less to create a beautiful ambiance.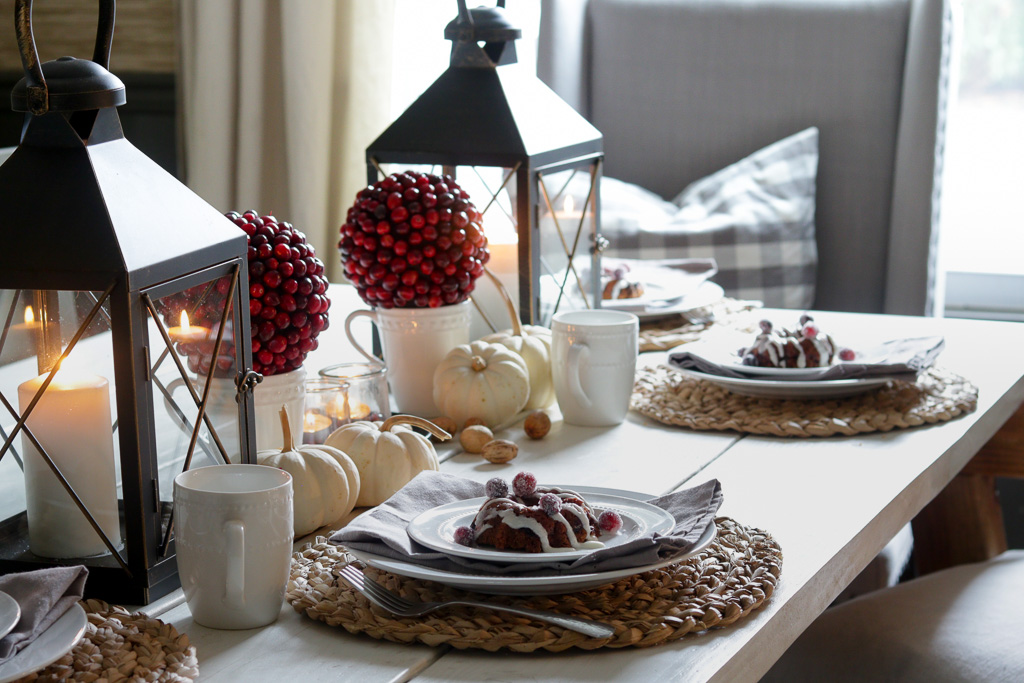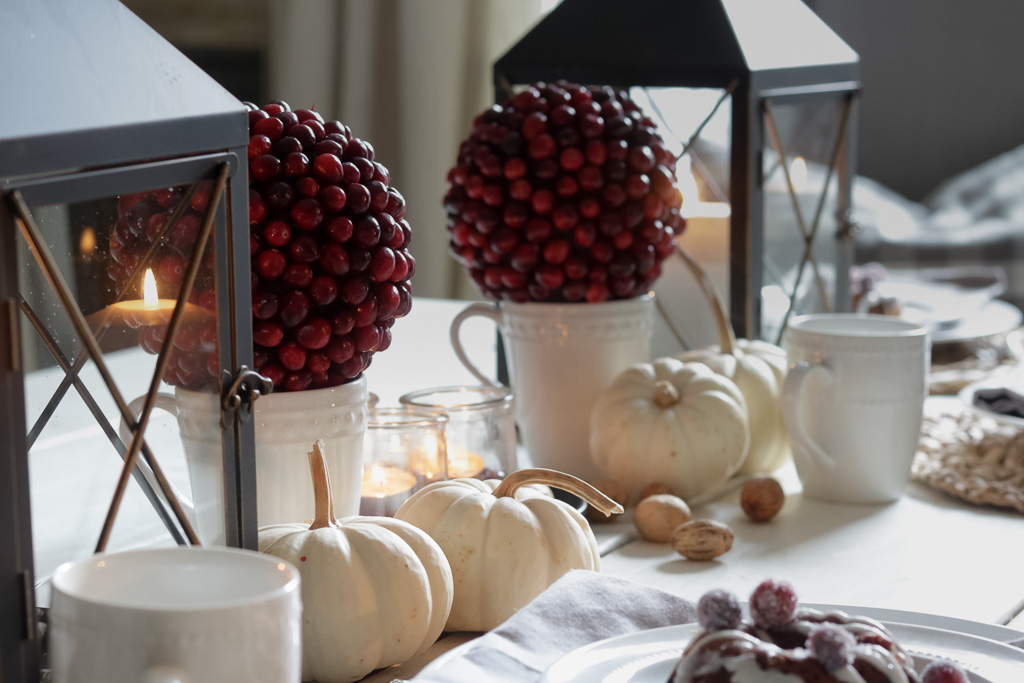 Cranberries and cranberry products are a healthy, delicious addition to Thanksgiving meals, even in your desserts! Here's the details for on This Cranberry Apple Crisp. It was so yummy when I ate it at the event in NYC, that I had to make it myself. I decided instead of the traditional cake, I wanted to make the dessert impressive (since this is my strong suit). Here's how to impress your guests!  Bake this delicious dessert in a mini bundt pan and drizzle some homemade sugar icing. Add some sugared Ocean Spray cranberries for garnish to give the cake more dimension and style. I think when you present well, it makes you look like you got it all together which is what we all want to do for our first hosting. Impress your guests! See Recipe link below!
Cranberry Apple Crisp
See recipe HERE!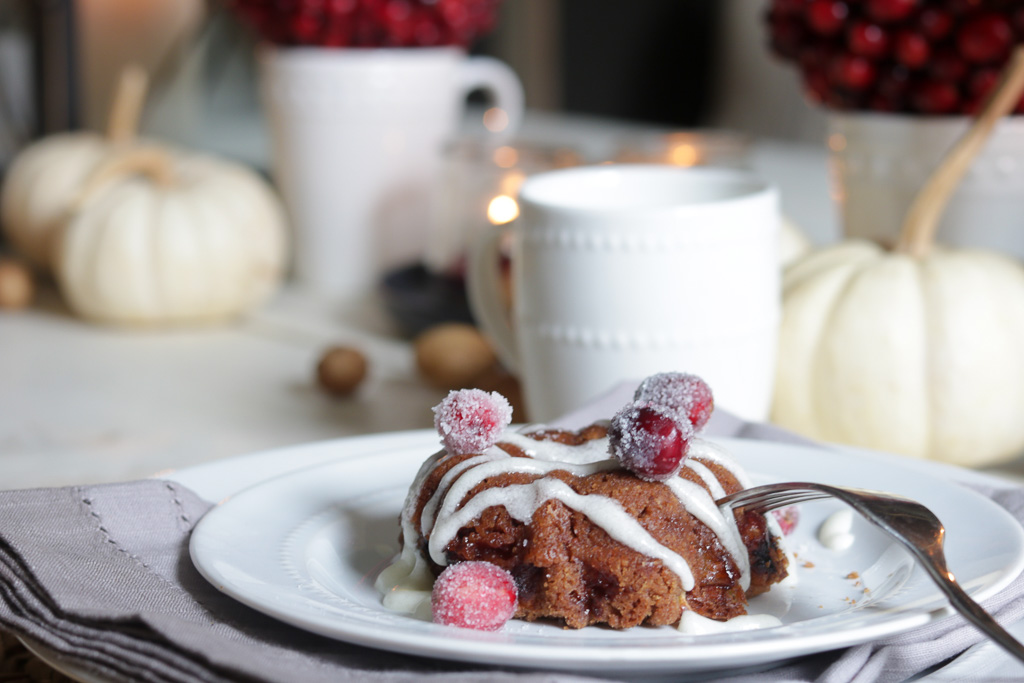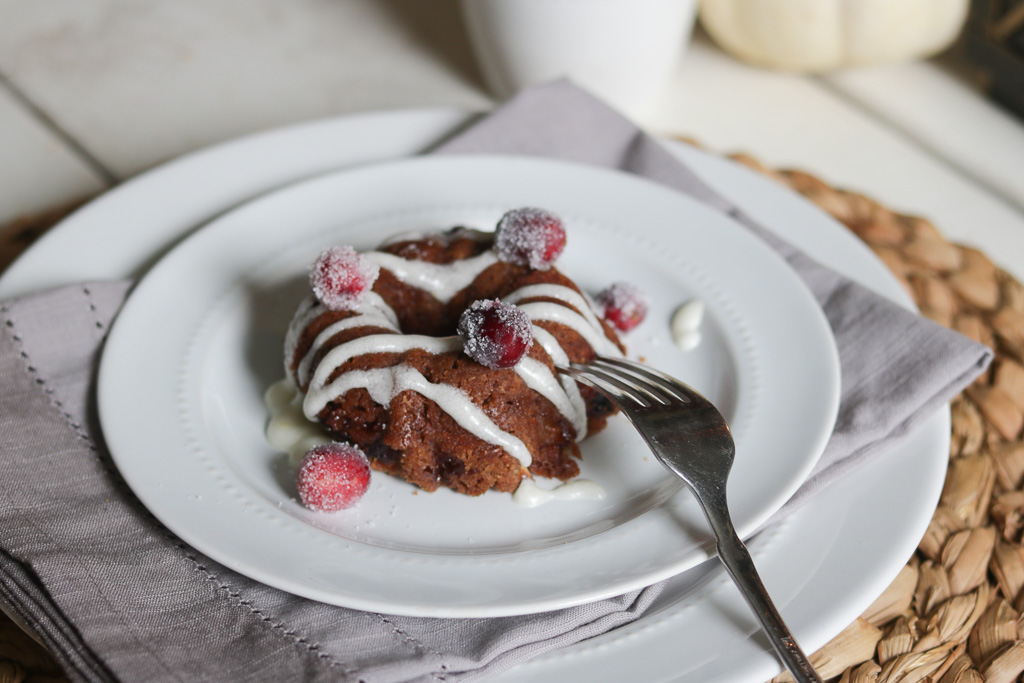 *Tip when creating icing pour it into an empty ziploc bag and snip the end to make drizzling the icing easy.
Just a recap on what I learned from the Ocean Spray event last week to help with your holiday hosting:
Bake ahead of time
Use excess trays to not have to re-use bakeware over and over again.
 Greet your guests with a delicious festive drink
Use a brine bag to create a juicy turkey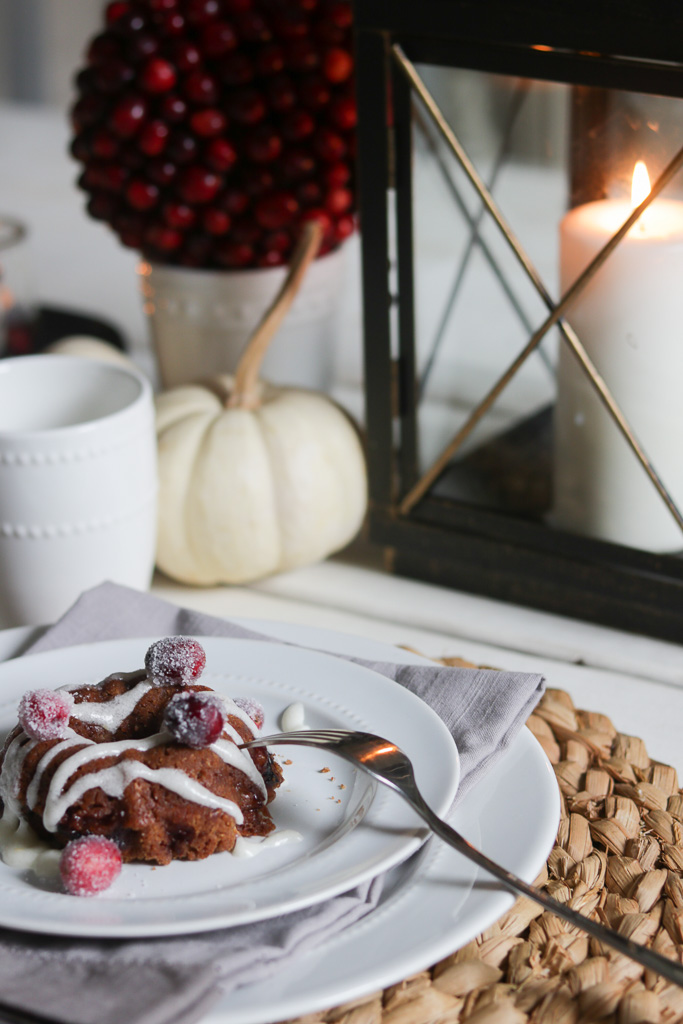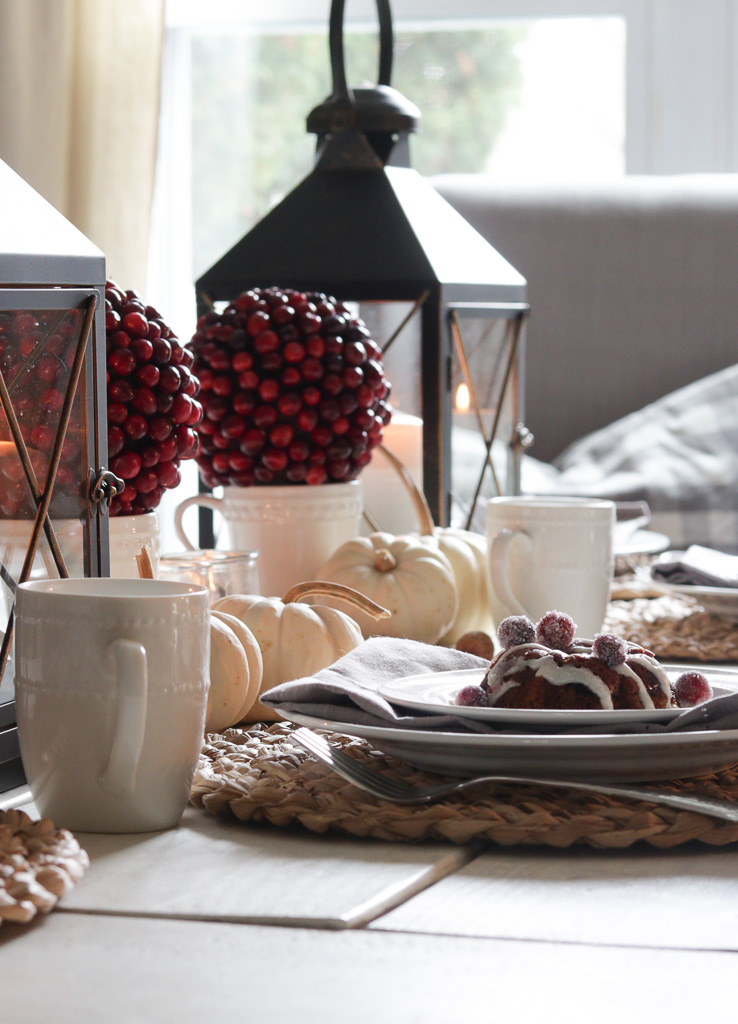 I hope this was helpful for all you first time hosts or those that needed a little boost to get to hosting again this year! Always be confident and be prepared! Tomorrow I will be sharing how to make these adorable cranberry topiaries.
First-time Thanksgiving host? Have questions on how to make your dinner perfect? Chat with CranMa's anytime   https://www.facebook.com/oceanspray/
Please Pin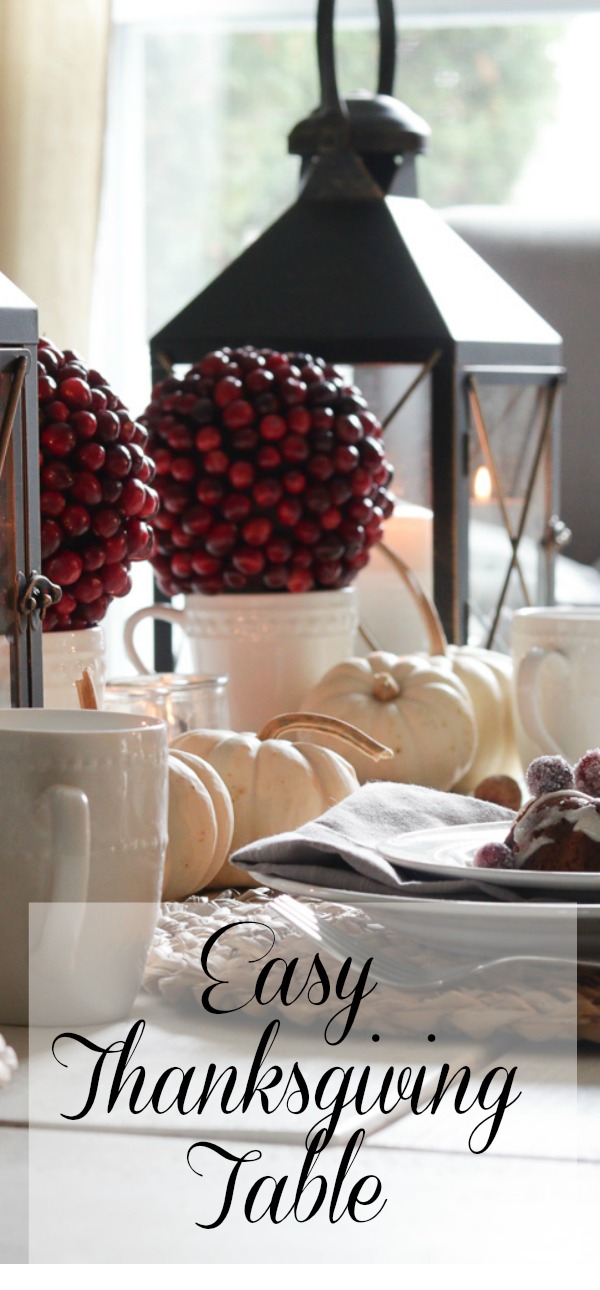 This is a sponsored conversation written by me on behalf of Ocean Spray. The opinions and text are all mine.