Painting Nesting Tables
What is more special then having a piece of furniture that has been passed down for generations to now land a spot in your very own home? Recently my parents moved and they handed a few things down to us considering they had downsized and have been doing a few renovations. I had shared a while back how we updated our kitchen using their hand me down cabinets.-A total score since cabinets are pricey and these added a great new layout and storage to our existing kitchen.So, more recently my mom gave me this set of nesting tables that had belonged to my Nonna (my grandmother) and were in my parents home for all the years that I could remember. I mean, a simple and cute set of tables that always sat in a corner with some plant on top or more recently their pet bird. The style was for sure outdated with hand painted flowers. Not terrible, but not suitable for my house. So I wanted to give the piece a bit of a makeover with Paint the Nesting tables with some gray paint that I had left over in my garage. One of those "I'm feeling bored kind of days that I need to paint something".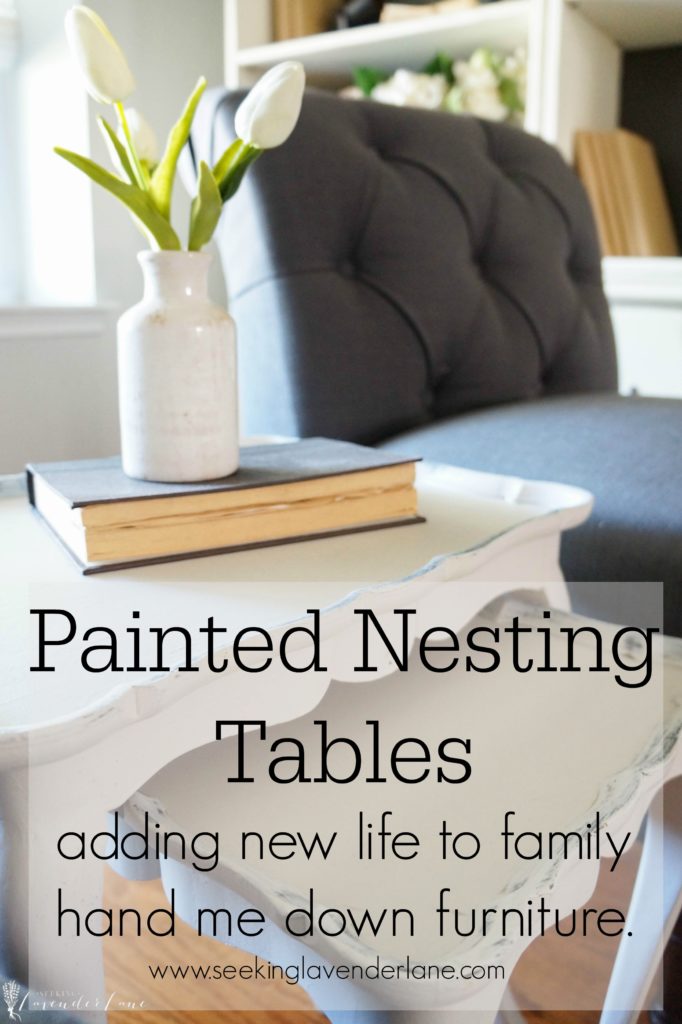 So here ya have the before, I'm thinking this set may have been from the 60's or 70's. (you can see my little one sitting on the chair here)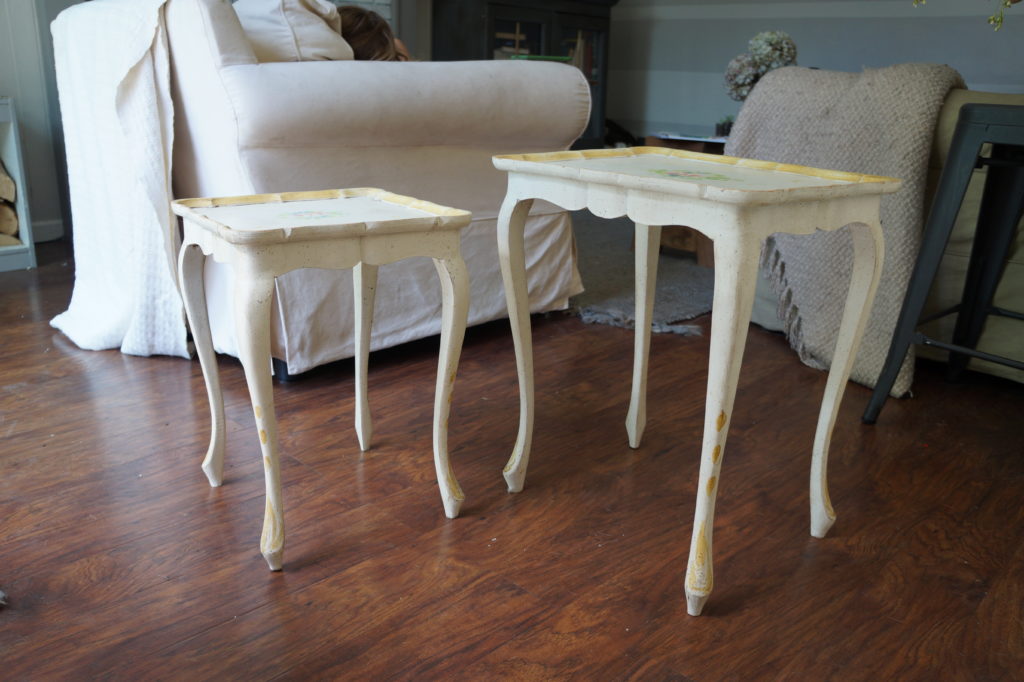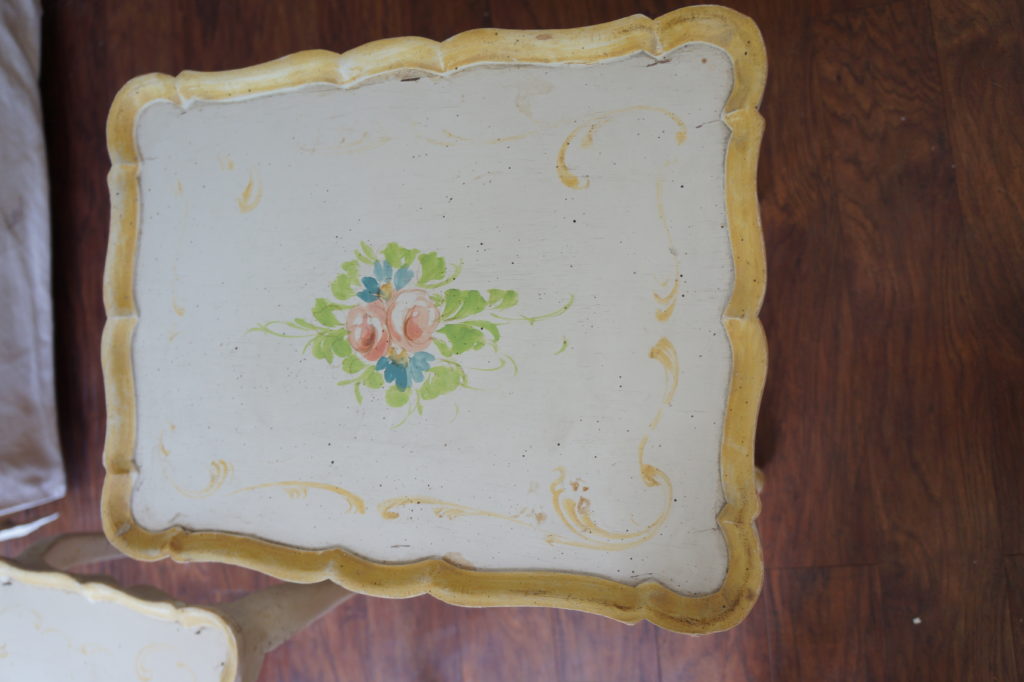 See, really cute…but not quite working with my style.
I'm not gonna lie I felt a little sad covering this up since I've known this piece my entire life. Fortunately, my mom kept the top table at her house for the bird still, so at least there is one remaining in it's original beauty.
So I guess what is really hard about family hand me down furniture is how to incorporate it into your own home. How to use the pieces that are "outdated" and use them with your taste and your mix of furniture. Well…
Rule #1 Don't take just anything! Be sure it is something that you like and something that you need. I think one big mistake is taking furniture or decor to help your family de-clutter and the next thing you know you now have pieces floating around in your garage or closets.
Rule #2 Ask your family if you took the piece if they were okay if you painted it or gave it a makeover. Don't just assume that now it belongs to you that you can do just about anything with it. They may very much have sentimental attachment to it or who knows it could be worth something!
Rule #3 Once you've agreed to it all, make it work! Paint it a color that matches your decor, pair it with other furniture to give your room eclectic life, and/or leave it as is and work with it not around it.
So here's how my tables turned out, and how they now pair nicely with my existing decor.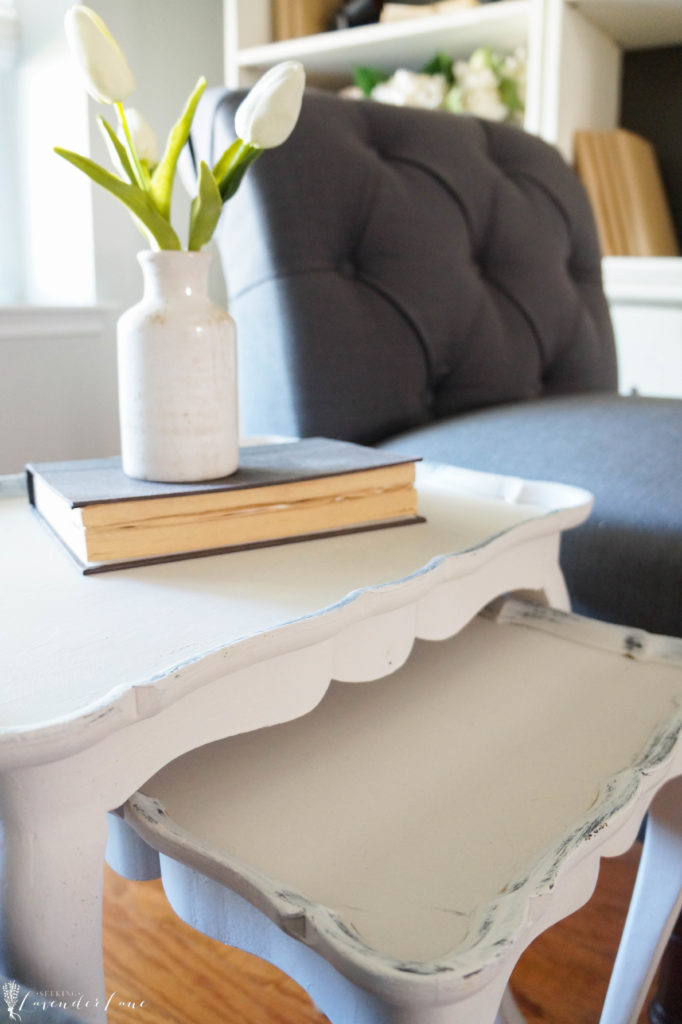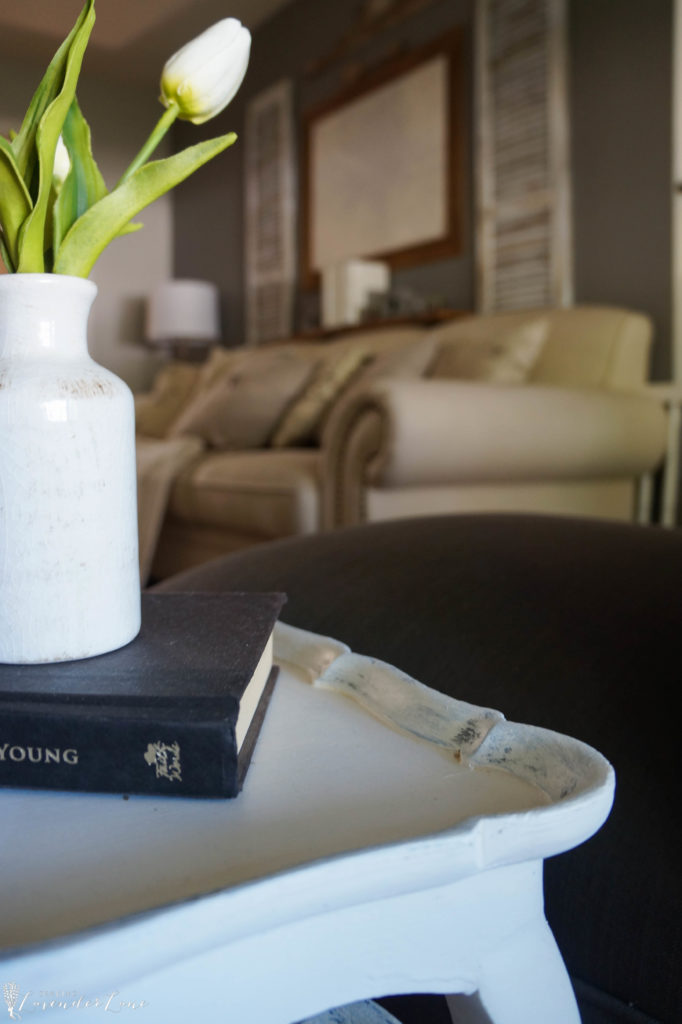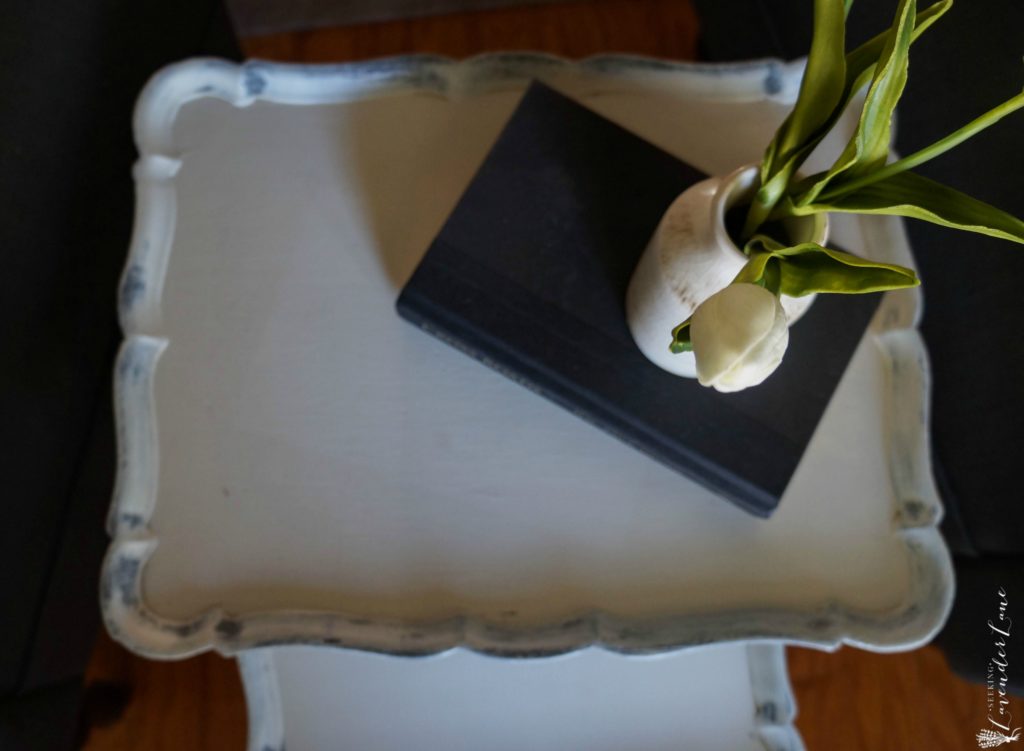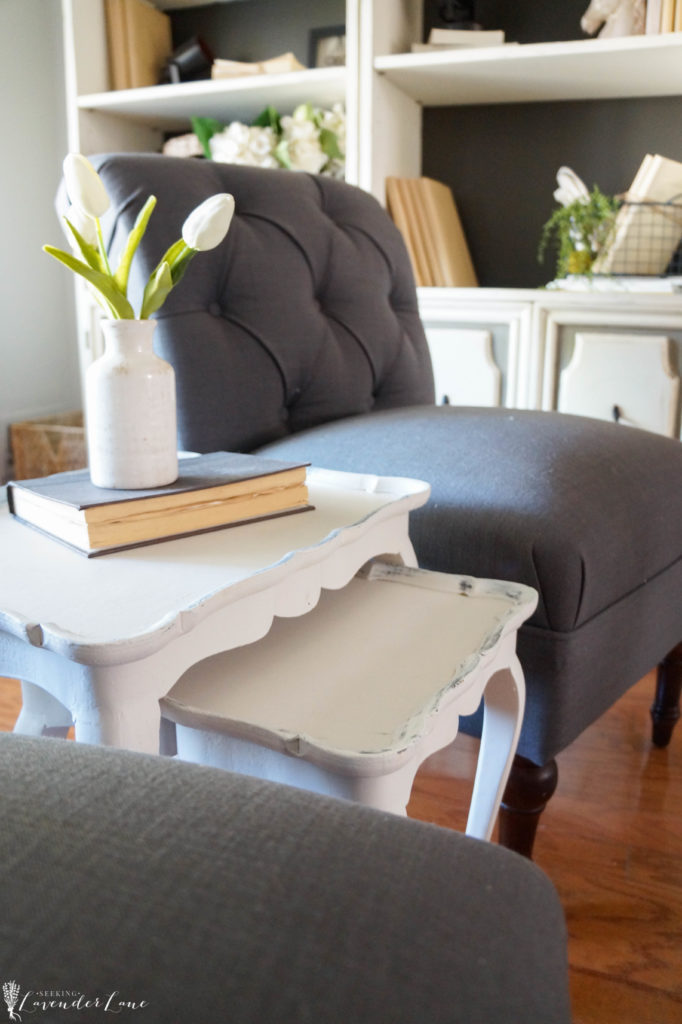 Supplies:
Pale Oak: Benjamin Moore (base)
Relic: American Decor
 affiliate link (trim)
 I originally painted the entire piece with the Pale Oak, but I wanted a little interest to it so I painted the trim with the Relic color. After I painted the trim it felt a little "cheesy" so I decided to just dry brush over the edges with some of the Pale Oak, and I kind of loved it. A super basic and super easy little project. If you find yourself a set of nesting tables at your next thrift store shopping trip pick them up give them a fresh paint job and place them just about anywhere in your home.  I'm loving them between these two chairs…but they could be great on the porch or in any little corner in the house. I thought about stenciling the top with a cute saying…but for now I think I'll leave them. They are kind of just a clean slate that I could really do anything with them if I ever change my mind or have another one of those bored days. Let's be honest…bored days don't happen too often around here with two kids, a crazy dog, a PT job in NYC, and running a blog…but creative moments need to happen to keep my sanity! Ya' here me!
So be brave and cheap take on those family hand me down projects and make new memories and pretty homes!
PLEASE STAY A WHILE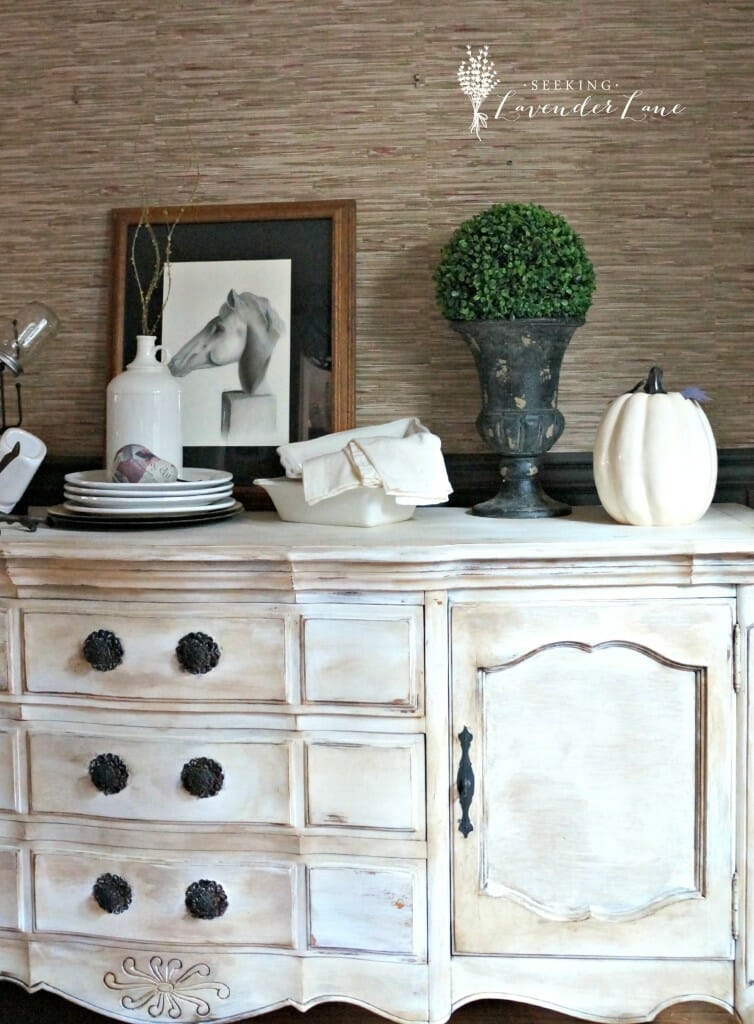 Painted Buffet