Well, we can say the Christmas Countdown has begun. If you are more of a after Thanksgiving Christmas planner and celebrator then hold out on this post, pin for now, and read it in a few weeks : ) Also, I know not everyone is into changing their decor every year, and some are more about using their traditional decor year after year (which is not a bad thing). I am talking to the girls/guys who's up for changing out their decor and be on Trend year after year. So let's talk about what is trending this year for Christmas and what we may not be seeing much of this year. The Christmas tours are going to start rolling out in the next few weeks…so why not have a head start on what you will start seeing and what you will start seeing less of.  I have lined up 10 Trending Christmas Decorations for 2017. These are the different trends we are going to be seeing, I wouldn't recommend mixing most of them, but picking one direction to go in.
This post contains affiliate links for your Convenience. I make a small commission from each purchase with no added cost to your product.
What's Hot in Christmas Decorations 2017
1. Brass and Brass "vintage" Bells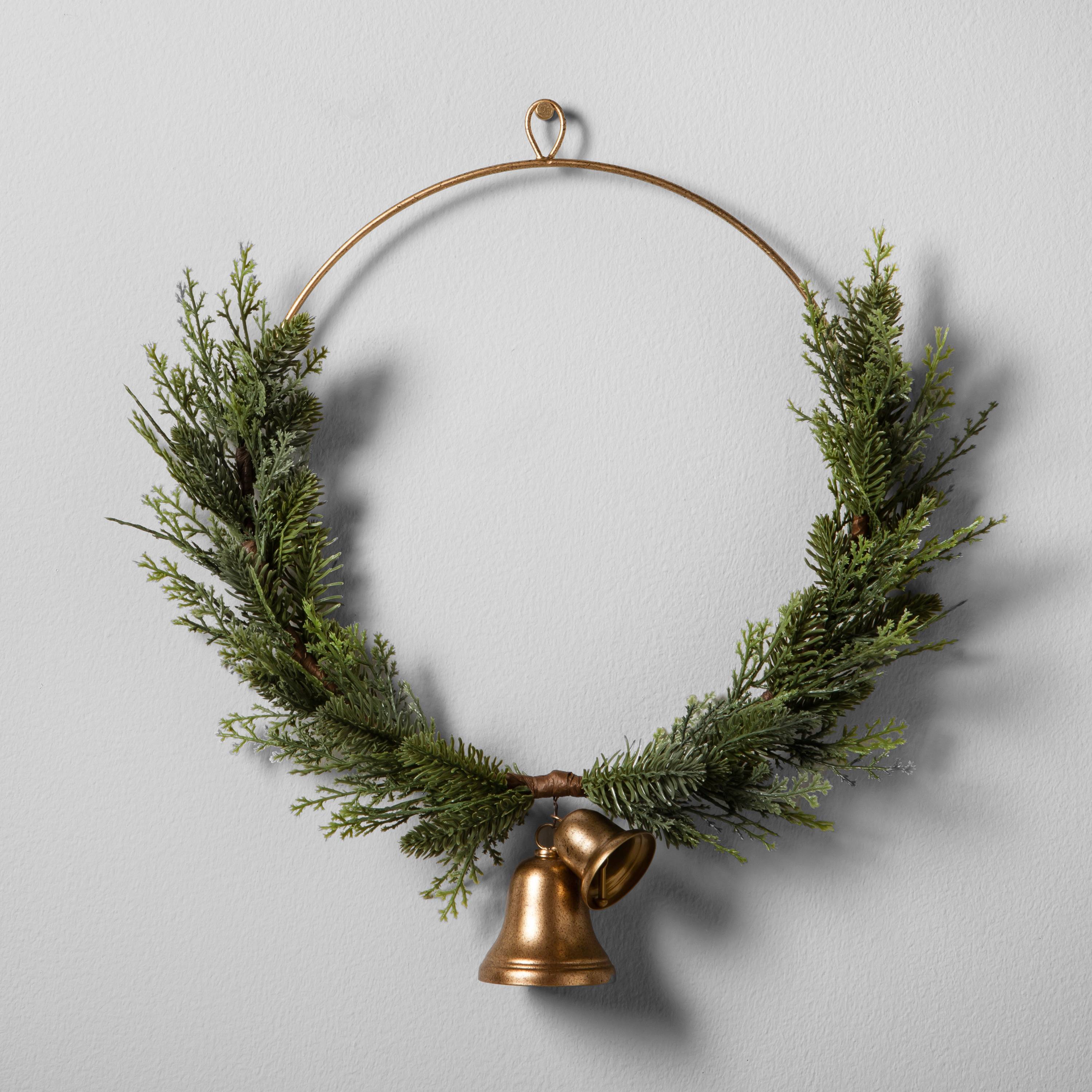 I have been loving brass!!!!! and I have been dreaming of tons of brass vintage bells for Christmas this year. When I saw the new Hearth and Hand line from Target come out with all these Brass bells, I felt like they must have read my mind!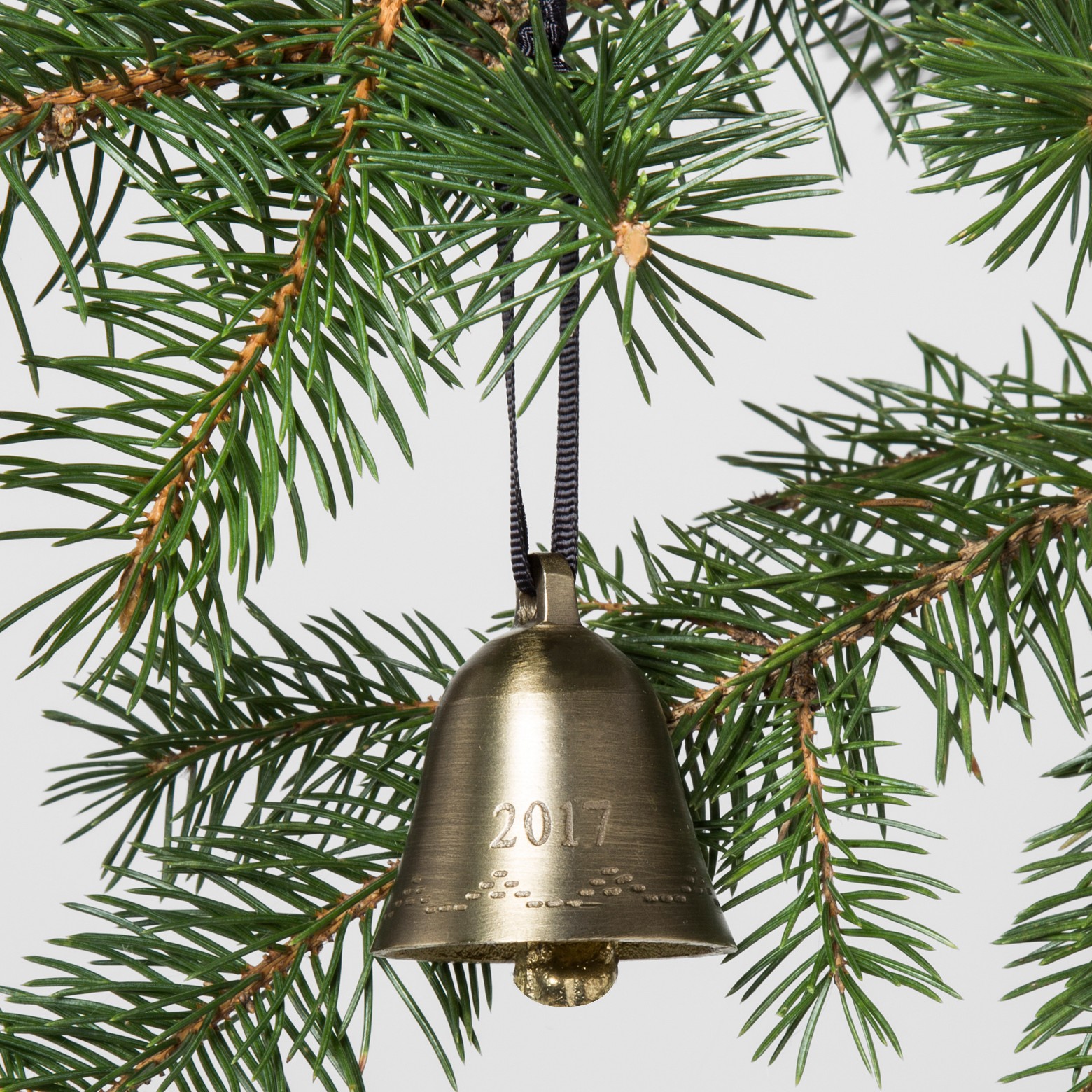 2. Green!!!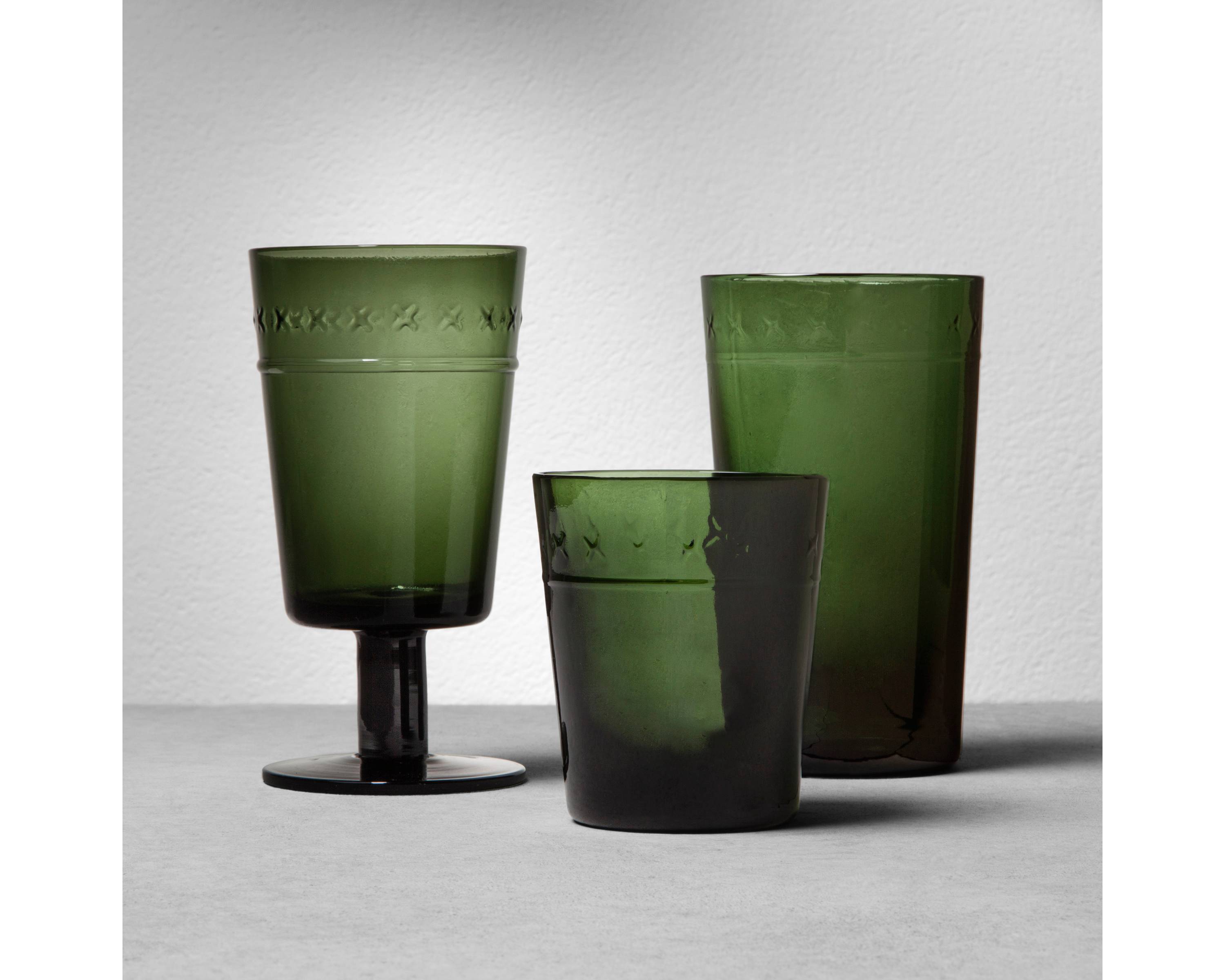 I adore these even more so, because I just picked up 8 vintage green glasses from the Country Living Fair last week. They will be the perfect touch of green to any holiday table!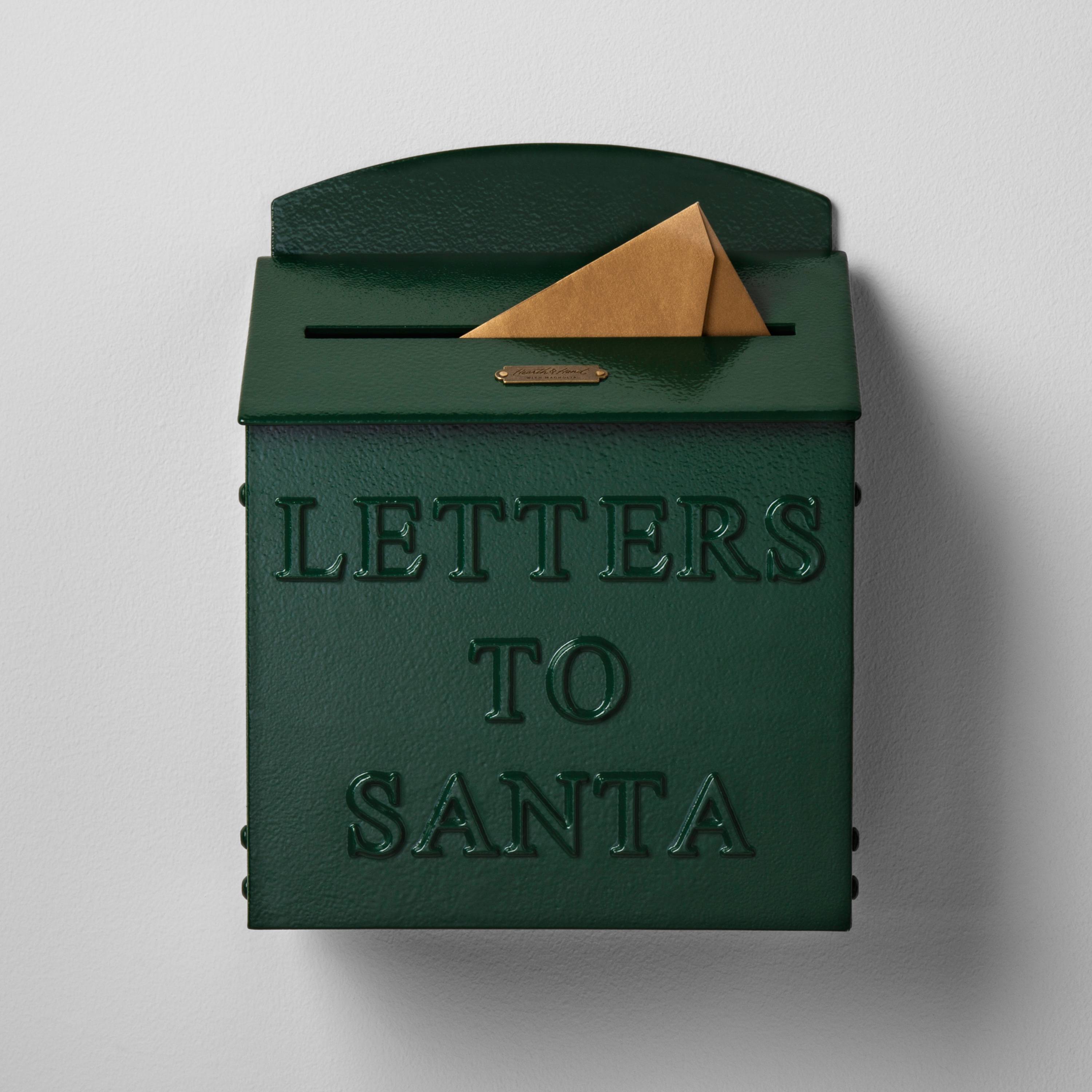 How adorable is this green mailbox???
3. The Naked or Sparse Tree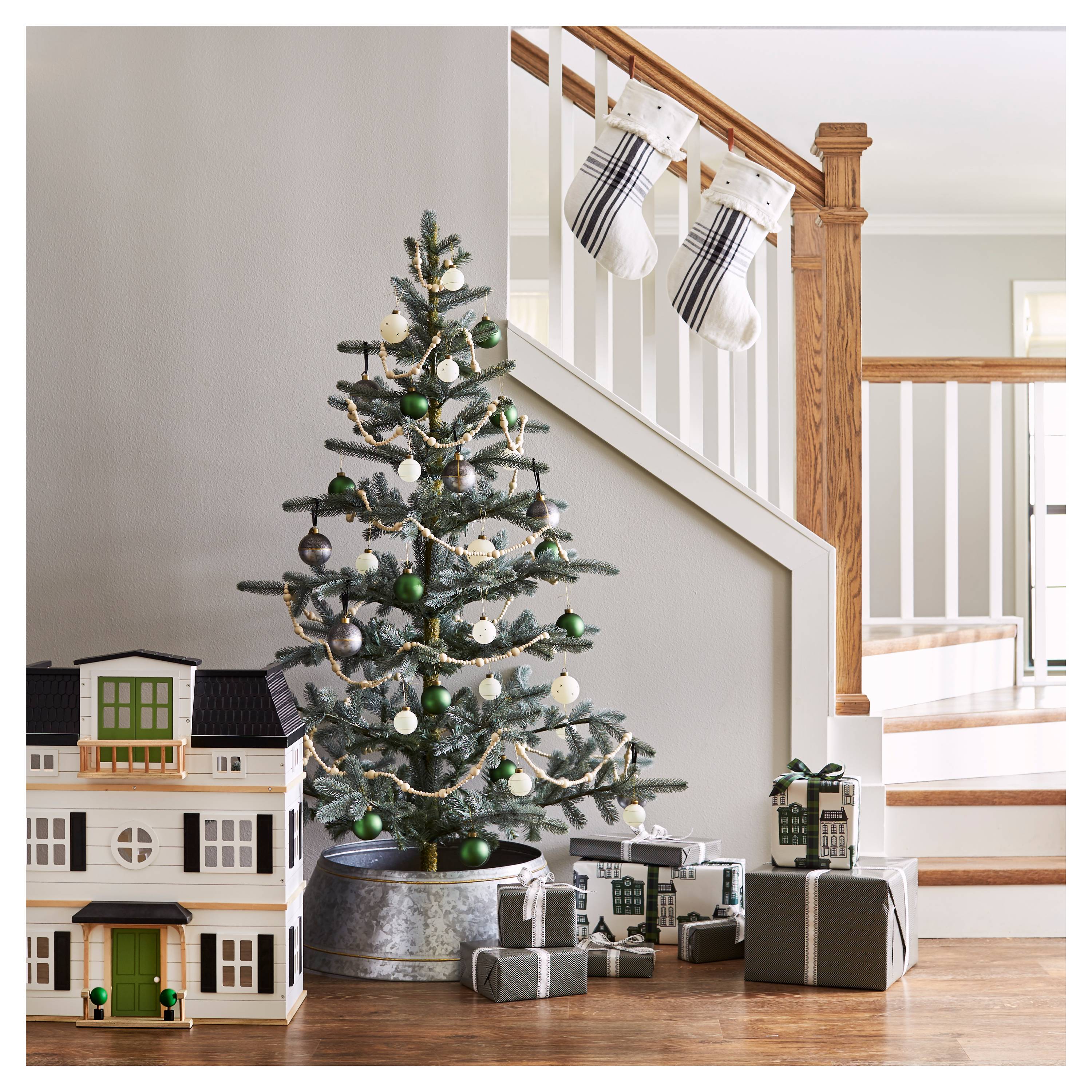 Love this one from Target, I almost took it home with me today in my shopping cart, glad I didn't it's cheaper online!!!
Or a naked real tree like this gorgeous one, from Dreamy White Lifestyle.
4. Gingerbread 
Create Some Gingerbread houses to add to a cute Kitchen Shelf
Love the look of these Gingerbread Cookies together! (no source found)
5.  Touches of red for Christmas
These plaid Stockings are so adorable!
This simple "ho-ho-ho" pillow has just a subtle touch of red.
6. Mercury Glass
These adorable votive mercury glass holders would be beautiful gathered on a coffee table or on a mantel.
7. Flame-less Candles
These candles are beyond real looking…imagine an entire mantel decorated with these gorgeous candles!
Like these from Ella Claire!
8.  White on White
White seemed to be a big hit this year, so why not some white on white decor for Christmas! I'm all about a beautiful white Christmas!
Elizabeth Heier show this gorgeous Christmas white on white Christmas Table.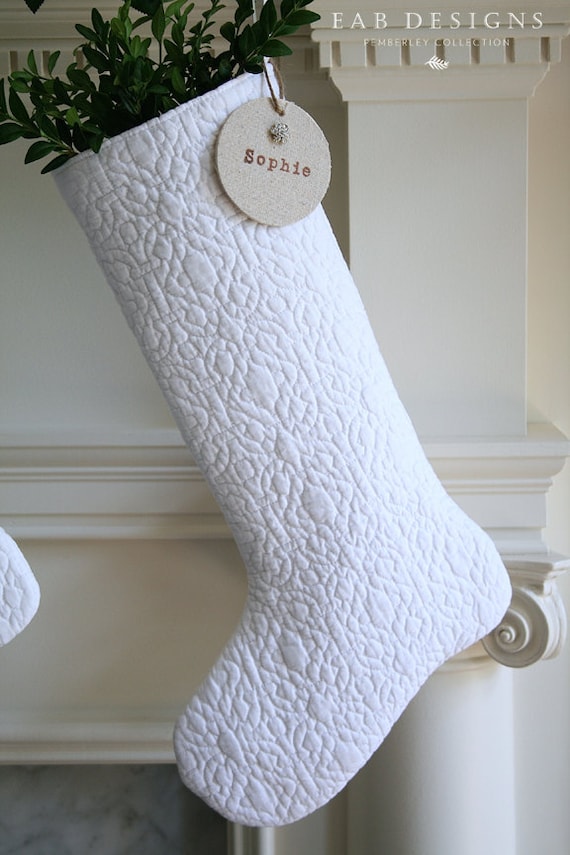 Add these stunning Quilted White stockings to any mantel.
9. Plaid and Buffalo Check
Add some bold patterns in a throw pillow, or in your tree skirt! Keep it black and white or add some pretty red check pattern!
Loving these patterns and styles and price tag from Pottery Barn.
This will look super sharp under any tree!
10. Eucalyptus
Eucalyptus seems to be hot the last couple of years, and seriously what's not to love about it! Whether you find some beautiful natural eucalyptus or shop for realistic faux stems, they add such a nice change of greenery for the season. I love too how they work well in fall and Christmas.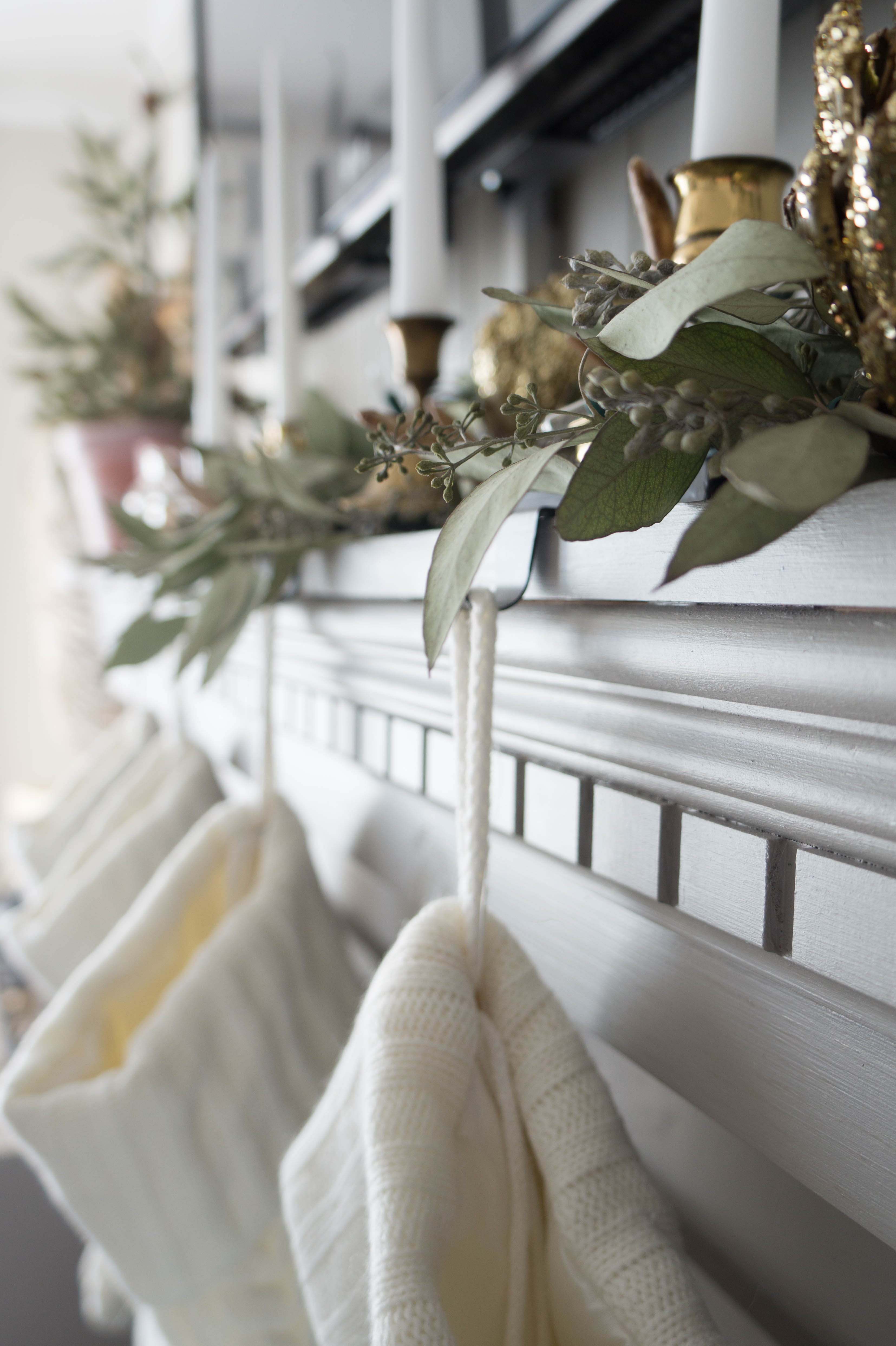 Last year I added some beautiful dried eucalyptus to our mantel with white lights.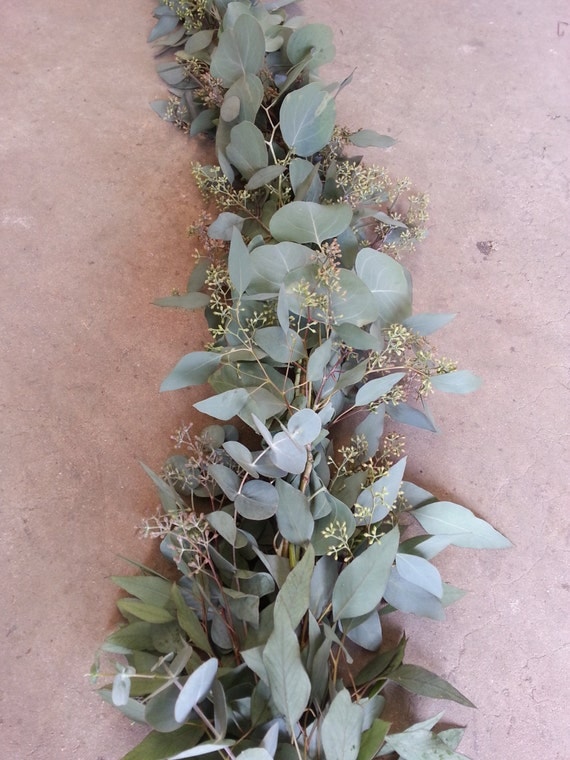 Love this real eucalyptus Garland, from The Garland Guy.
What We are Seeing Less of in 2017
1. The Flocked Christmas Tree
2. The woodland Christmas Tree
3. Burlap
4. Non-traditional color Christmas (example Turquoise and purple)
5. Copper
Once again, just because these are losing their trend doesn't mean you can't do what you love! I still love Copper and the flocked Christmas Tree is gorgeous! I just think these are trends that are leaving us this year…so maybe if you have not yet bought yourself some woodland creature ornaments I would pass on doing this, this year.
Please Pin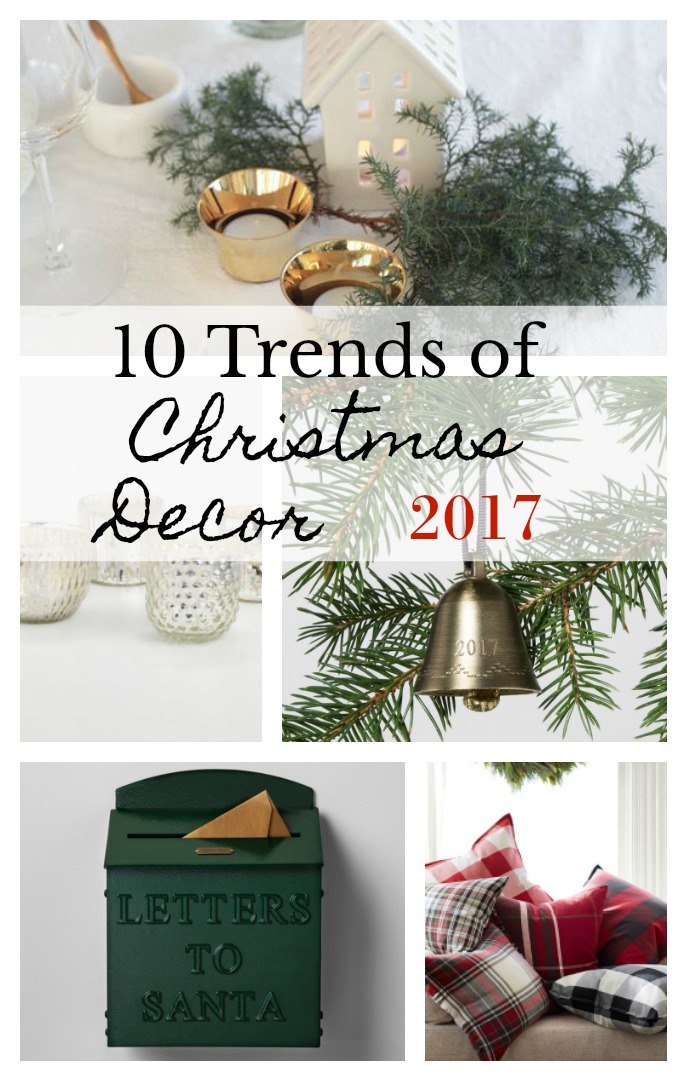 (Visited 1,818 times, 1 visits today)