Dining Room Decor
Hello Friends, if you have been following along, I've been completely stumped on what to do with my more than awkward dining room. See, the dining room in our house is part of the original house and when working with our floor plan, the dining room ended up working the best in the middle of the house. It totally works and it's very comfortable and casual. The problem is the basement door, the french door to the office, the pantry entrance, and the stairs upstairs all lead off of this room. Definitely different, but a little busy. I wish I had a great wall to add a hutch to or something, but we have worked with what we have. Well, I have felt like something was missing and I couldn't figure out just what it was. The room just wasn't pulling together enough for me so I had challenged myself. I wanted to really create more of a cohesive space for this awkward dining room and change the dining room decor and possibly paint color. The only issue with changing the paint color was that it's an open concept space and it would be slightly odd having a different color in here since it does open up to the rest of the house. Also, big issue there is no true window in this room so going darker would definitely create a darker space, and that's not what I wanted. I should also bring up the basement door again…it's such an eye sore to me, and I really wanted it to blend in somehow. So, thinking made me crazy, but then I finally pulled the trigger.
BEFORE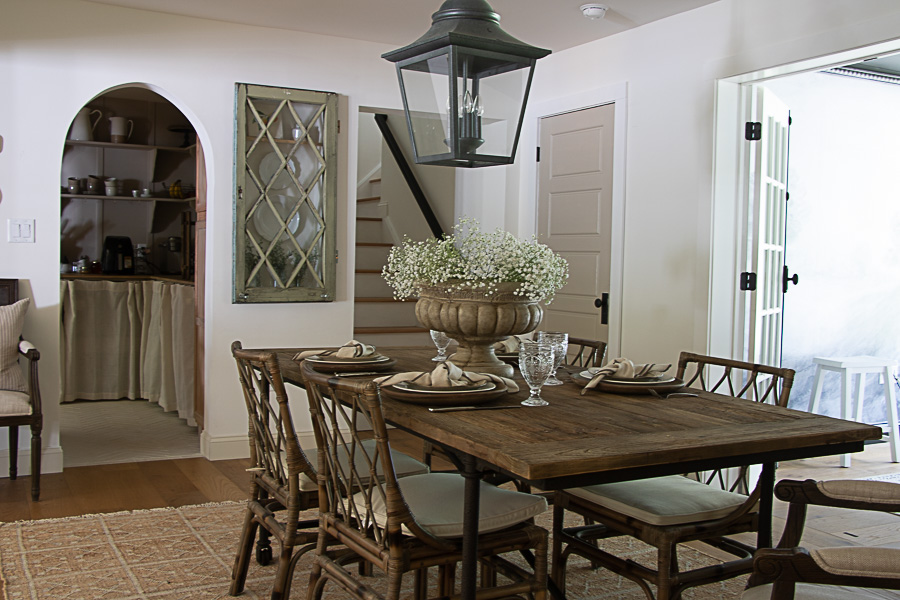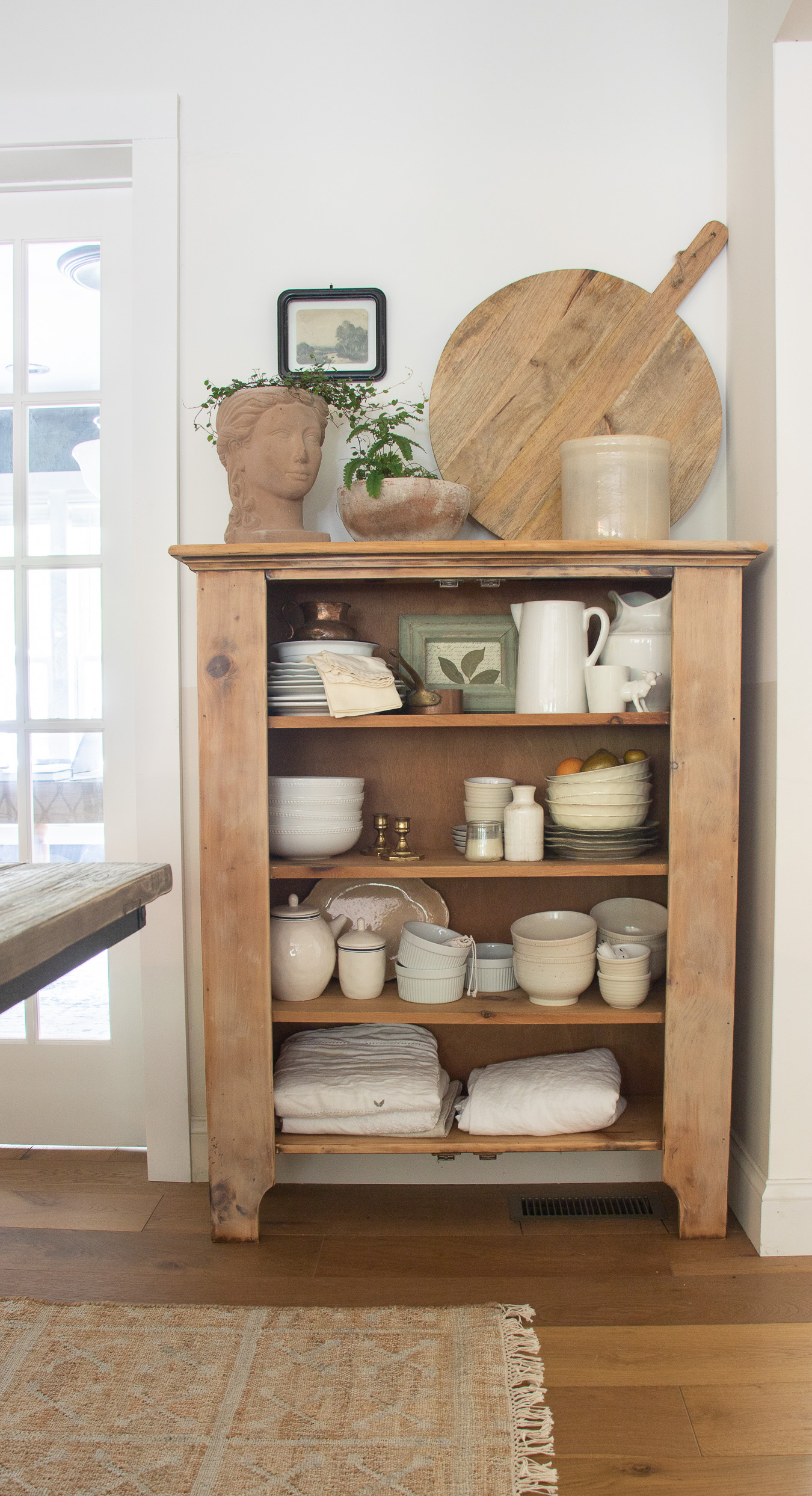 You can see in the photos how it just seemed a little plain, and the door color on the basement door (though pretty) was clashing with the green, and then the white french doors…it just felt like it wasn't meshing.
So, I picked up Repose Gray from Sherwin Williams on a whim while at Lowes. I am usually a Benjamin Moore girl, but I was desperately trying to get this space done. I  picked up a paint color I liked and figured I would eventually use it, if it didn't work in this room. So, I got home and after already days of staring at other paint samples on my wall, I added this one more. What was interesting is that the color looked different than I had thought but surprisingly beautiful. A little blue and a little green and a little gray. Which I was looking for something more cooler toned to pull in with my green vintage window I have hung on the other wall (oh I think I forgot to mention that). Also, the light fixture is a cool gray and I wanted something to work with that too. So low and behold the color works! Now-what???? (below is the swatch of repose gray which looks totally different on my walls so be sure to test out your color first)

Well, the decision came down to me painting the entire room, wall, or something else??? I decided to just add some wood 3/4 of the way up the wall to match the lines on the door. To create almost a "board and batten" feel without the batten lol. The wall was so broken p already that it  didn't really need it, but having the wall painted below the wood and around the trim and door I thought would do the trick. I had nothing to lose at this point, so I went for it! and after frustration, contemplating, paint colors all over my walls…it was perfect! I love the cooler tone and it work well with the rest of the house still. The color brings the greens together in this space, and the wood tones. The photos don't even do it justice (because this room is tough to photograph with all it's shadows and awkward natural light), but I am in  love! Also best part, the dining room makeover only cost me $20!!!! Yep, that's it! I had the wood already, and the can of paint was all I needed for this major update. Another painting project that proves paint can certainly make a drastic difference in design.
Wall Makeover and Dining Room Decor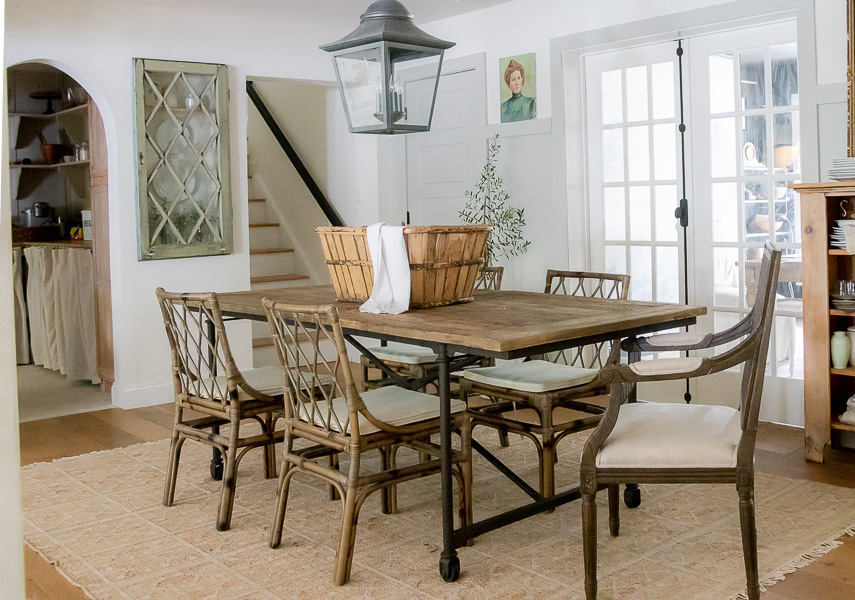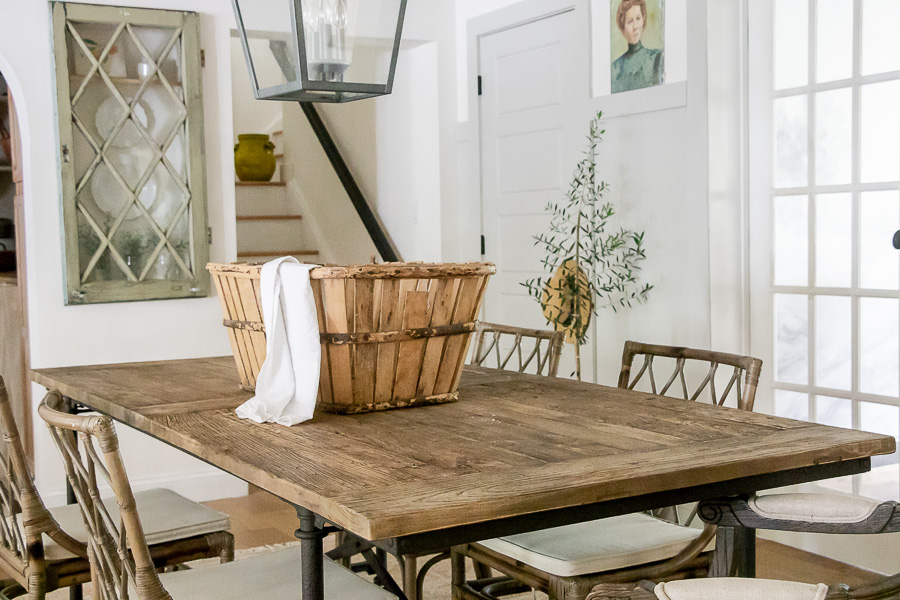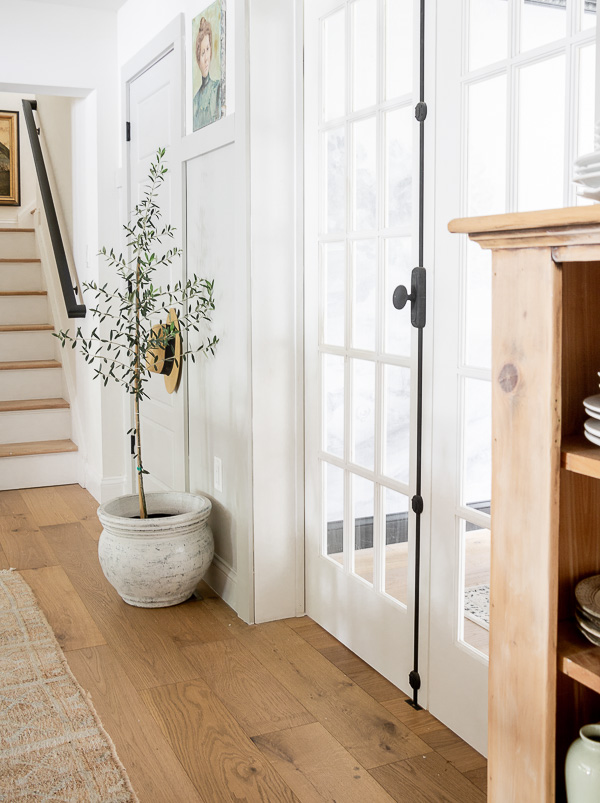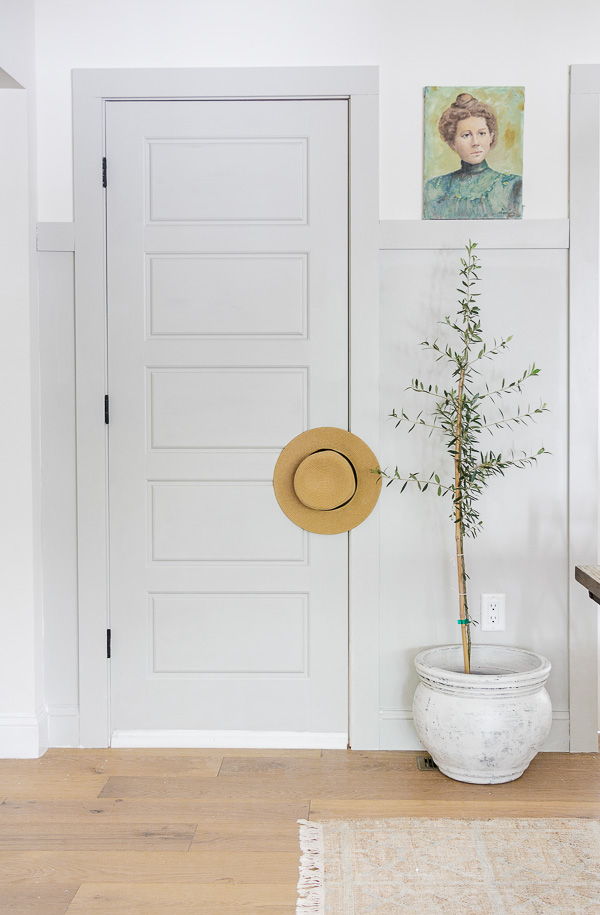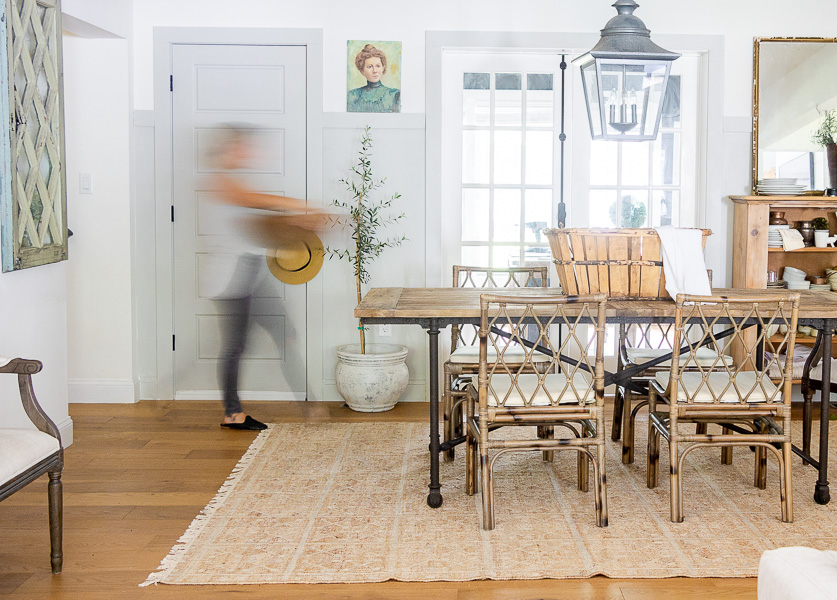 Source List: 
Dining Room table: Restoration Hardware
Cremmon Bolt (door hardware)
Light Fixture: Fergusons