Happy Almost 4th of July Weekend!
We had a wonderful weekend celebrating our little Gemma turning 2! Just a quiet little barbecue with friends and family and some Minnie Mouse decor. This week we are getting ready and looking forward to Thursday and Friday for some 4th of July fun! I, unfortunately have to work Saturday and Sunday but we are going to make the best out of the two days we have together. I promised the hubs I would not bombard him with projects and just have some fun with the kids…I am sure we will sneak at least one project in there though ; )
I think he is a little tired from all the catch up projects we were doing last week with getting the house ready for the party. As I mentioned in previous posts we were prepping for the party we had for Gemma and doing a few small projects to get the house ready since this would be the very first party we are hosting at our house. One project I posted about on Thursday was our Super Easy Industrial Style Ceiling Fan, a great way to update our very 80's oak and brass style ceiling fan in our family room that I was too embarrassed to have everyone see. Today I am going to show you my DIY Chalkboard that I added to our empty wall in the entryway. I once again for months have been  planning this project in my head. Figuring out the details and deciding on how I was going to break the news to the hub that we were going to do another "silly little project" that I of course knew was going to make quite the difference for such a small $.
If you follow my Instagram I am sure you saw the first glimpse at the chalkboard on there!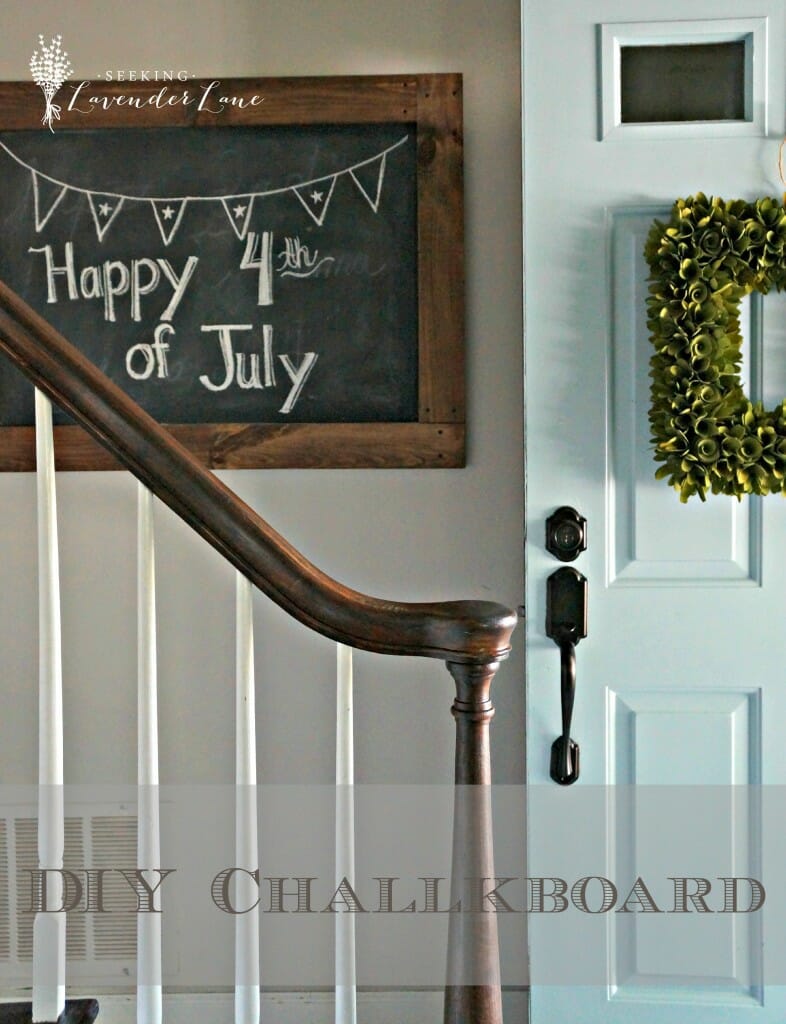 Here is what I used to create our chalkboard:
One large 1×4 to make the frame (Thicker than the plywood but the right size so it will be flush against the wall and not become too heavy)
A pre-cut or a large sheet of Plywood with smooth surface. (My Chalkboard measures 30×40 so we had to have our piece cut to size right at Lowes.)
Directions:
Measure each piece to create the frame. I chose to do a staggered look to keep with a rustic feel.
Once each piece is cut to the right size measure to make sure it fits perfectly on top of the plywood.
Stain or Paint the Frame whatever look you are deciding to go for. It was a toss up for me on this one if I wanted to paint the frame grey or stain it to match the stairs. Mr  convinced me that we should stain it and I think it was a great choice. Paint the plywood with chalkboard paint (about two coats should work).
Once everything is dried ( I was to impatient to wait for everything to completely dry), screw the frame onto the plywood. I went with a pattern on mine which I felt added once again to the rustic feel I was going for. Once this was done we screwed it right into the beams and waited until the next day to draw on it.
Another really easy week night projects that only took us about an hour to complete.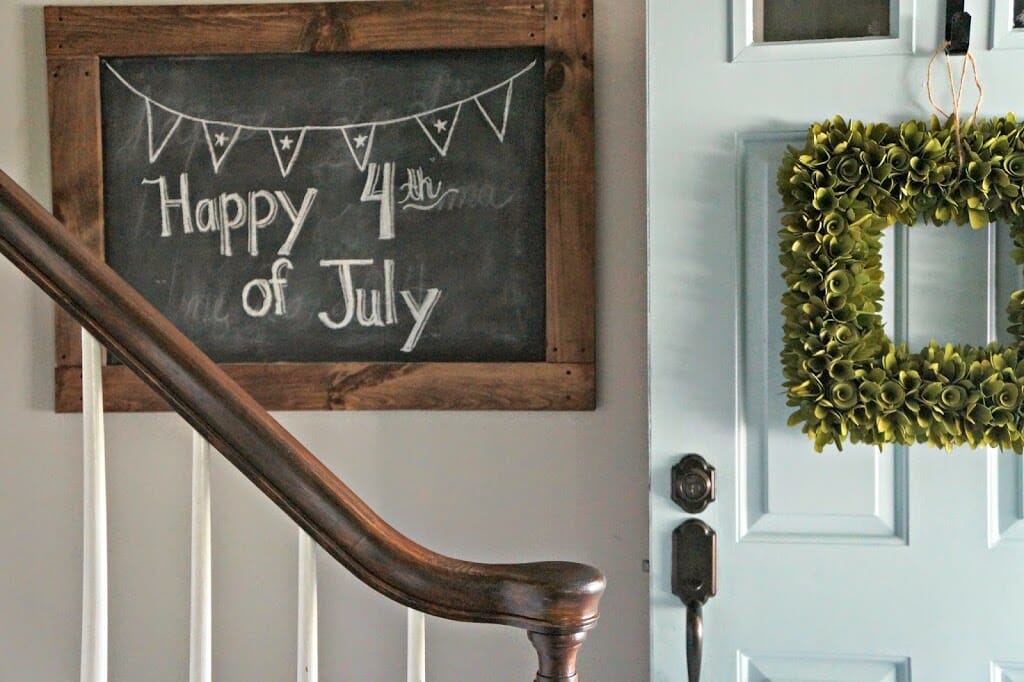 With Door open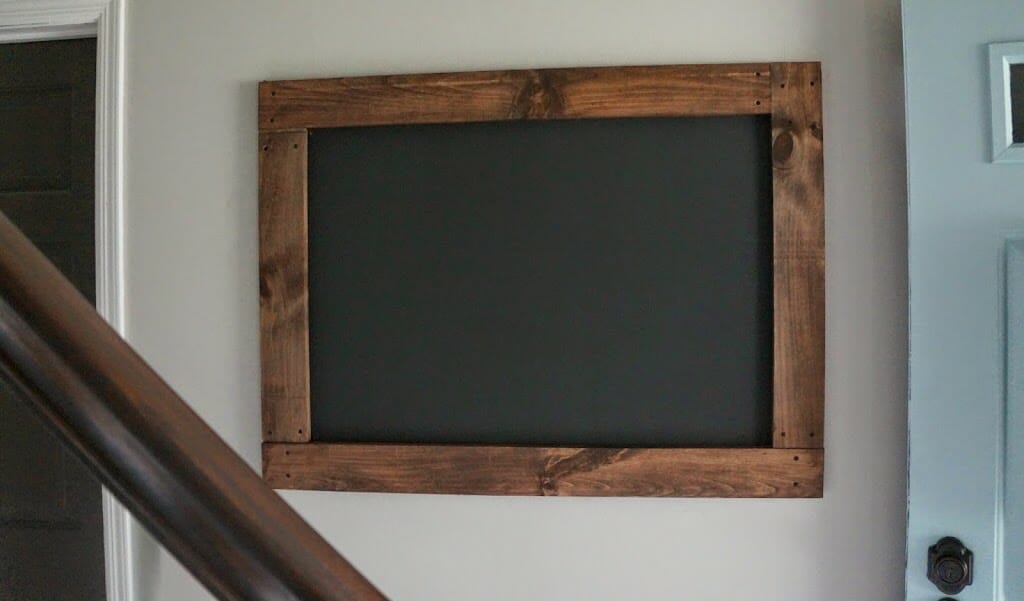 Blank Chalkboard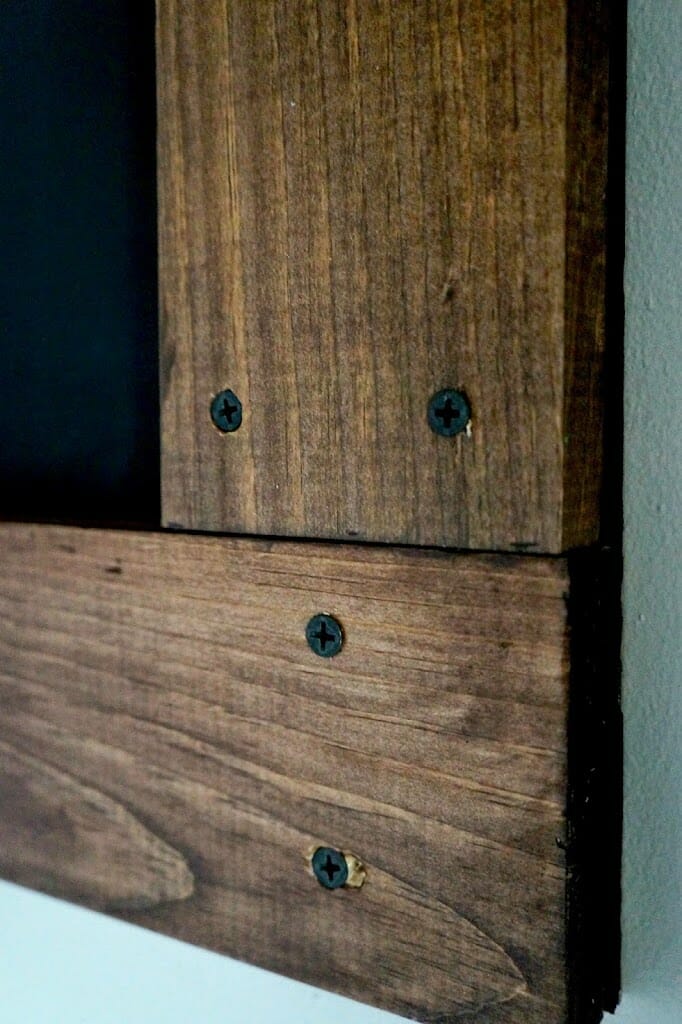 Details of Wood and Screws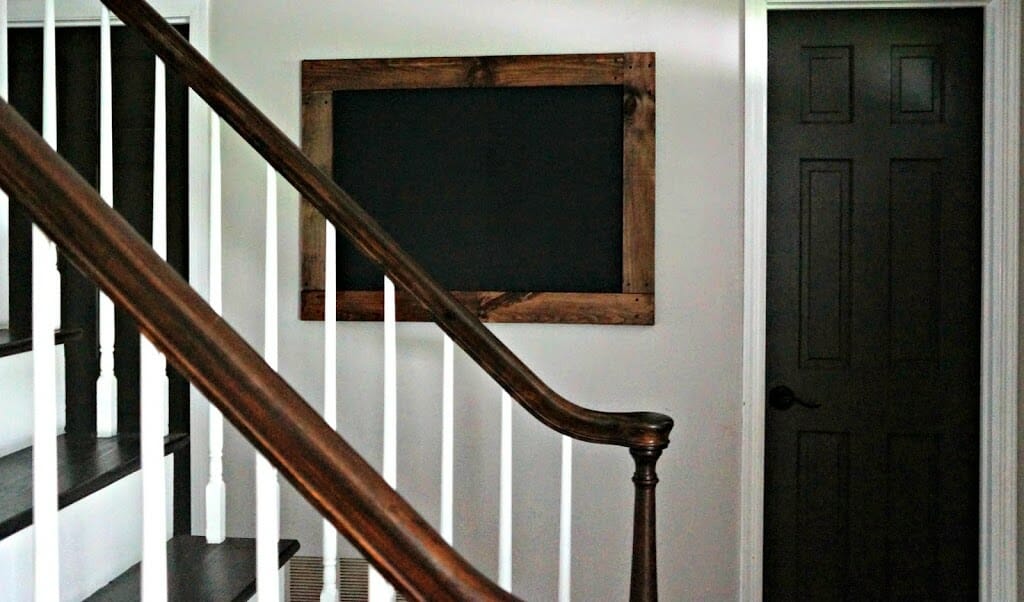 Closed Door