Restoration Hardware Look for a DIYer's budget
 This project is one that I can go back to last August when I was planning my kids colors and decor ideas out for the new bedrooms and came across this extremely unique and quite marvelous wall shelf that is hung by a very industrial style conduit bar and rope. Where would I find such an awesome piece? RHbaby Catalog of course! As all of us DIYers know…no point at looking at an RH price tag…I totally got this with a little help from the hubby!
Well…9 months later and my dreams came true…the shelf is done and yep it looks pretty industrial and marvelous too me : )
I thought since this project was pretty much put together by my man I'll have him fill you in on all the details and materials to make this one possible. I have to admit I would be a pretty sad DIYer without him. He is not only my best friend but now he's my partner in DIY!
Let me introduce you to the man behind the scenes…my hubs Dan!
How you doin' How you doin', So I'm the unsung hero, the Offensive Lineman and my Wife is the quarterback. I do all the work and but she gets all the glory! So I relished this opportunity to guest star on this family sitcom of DIY and reveal how the magic happens…
First off I must say that every time Wifey leans over to me, in the middle of me watching the game, and says "Babe this is so cute, I'm obsessed, We have to do this!" I begin thinking how ridiculous this next brilliant idea will be and how much it will most likely frustrate me. So I wait…A silent protest if you will… Naturally, it will take her 3 or 4 times to get my attention as I sit there in my vegetated state hypnotized by how much the NY Mets drive me crazy. Then I tell myself "Don't make eye contact" The same type of eye contact you should never make with a puppy at a pet shop, because when you do…you fold like a lawn chair.
So in this case, I accidentally made eye contact with "the look" and I could not resist the piercing eyes and pretty eyelashes batting at me coupled with that angelic smile… Yeah, I folded…However not before I was able to negotiate a deal…I'll just leave it at that, lol.
Now the project. She showed me a picture of this shelf thing. Looks so easy, doesn't it! To a decorator – Yes, to a Builder – No.
Here's what I first thought:
-How do we make the shelves level by tying knots in rope?
-Where am I going to find pipe the same size as the shelves?
-How am I going to make this heavy pipe frame sturdy hanging off the wall?
-Why do people like Jello…?
So off to Loews I go to begin my Quest! Below is exactly what I bought:
-Pipe aka Conduit. They only come in certain sizes so I picked the length that most resembles the size of the shelf. 1 longer and 2 shorter
-90 degree (angle) Elbows to connect the pipes.
-2 Flanges
to screw to the wall to hold everything
-Toggle bolts – this is key! do not use screws and plastic anchors, it's not strong enough. Use toggle bolts which you fold down the wing nut and push it through the wall (and the flange of course) and then it opens up like an umbrella behind the wall for a stronghold.
-Wood for shelves – I took the pieces of pipe I bought and put them all together to make the frame, got a piece of wood, brought it to the Cutting Machine in Lowes, and asked the guy: Do you like Jello?? No answer, so then I told him to cut me out 2 shelves the exact size of this pipe frame that I made. Of course, he looked at me curiously…so I said: "My wife made me do this." Right then he totally understood and smiled and shook his head; symbolic that he understands my pain…Its a guy thing…
I'm home now ready to build, Wifey is beyond excited. So here's how the magic happened:
-Hold the pipe frame up to the wall (with flanges on) and mark out the holes with a pencil.
-Disassemble Pipe frame
-Put toggle bolts through the flanges, then put the wingnuts on behind the flanges.
-Line them up with holes, insert toggle bolts, screw tightly, but not to tight.
-Re-Assemble frame – a bit tricky actually because one section will not be able to be tightened fully, so you will have to tighten one pipe halfway between two points. No matter how I explain this it makes absolutely no sense, but just do it and you'll see what I'm sayin'
-Drill 4 holes in each shelf (the size of rope) A small spade bit works well.
-Tie 4 long pieces of rope to pipe frame (the sides) Good luck with the fancy knot at the top, if your an eagle scout your good, if you have fat fingers like I do, you tie one giant knot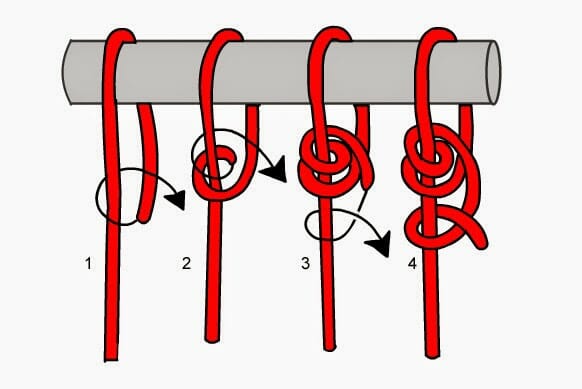 Hitch Knot is what we attempted
-shove rope through holes of the first shelf.
-Use a level while tying knots under the shelf to ensure even
-do again for the second shelf
-Pour mixture into a bowl, add 2 cups of water, whisk vigorously, set in the fridge and be amazed the next day.
That's how it's done, I look forward to chatting with you all next time! Enjoy some photos of the shelves.
Yep! That's my man…did I get the jello joke? nope! but that would be Dan's sense of humor…complete randomness.
Thought I would mention that the wood we bought to create the shelves I grey washed with a mixture of half grey latex paint and half water. Then I dry brushed grey marks and dry brushed white marks to give the wood a distressed feel. You can do just about any finish on the wood. Stain it dark, paint it white, or blue…so many options to make it your own. The one thing I wish I had done before assembling is dip the rope in some stain just to give it a more aged look.
All together this project probably cost us around $45. We did already have the rope
and paint or else it may have been closer to $60. Quite the steal considering the RHbaby shelf cost just about $300
Hope this inspires others to flip through RH catalogs, tap your hubby on the shoulder, bat those eyelashes, and create a pretty awesome piece just like this.
PLEASE STAY A WHILE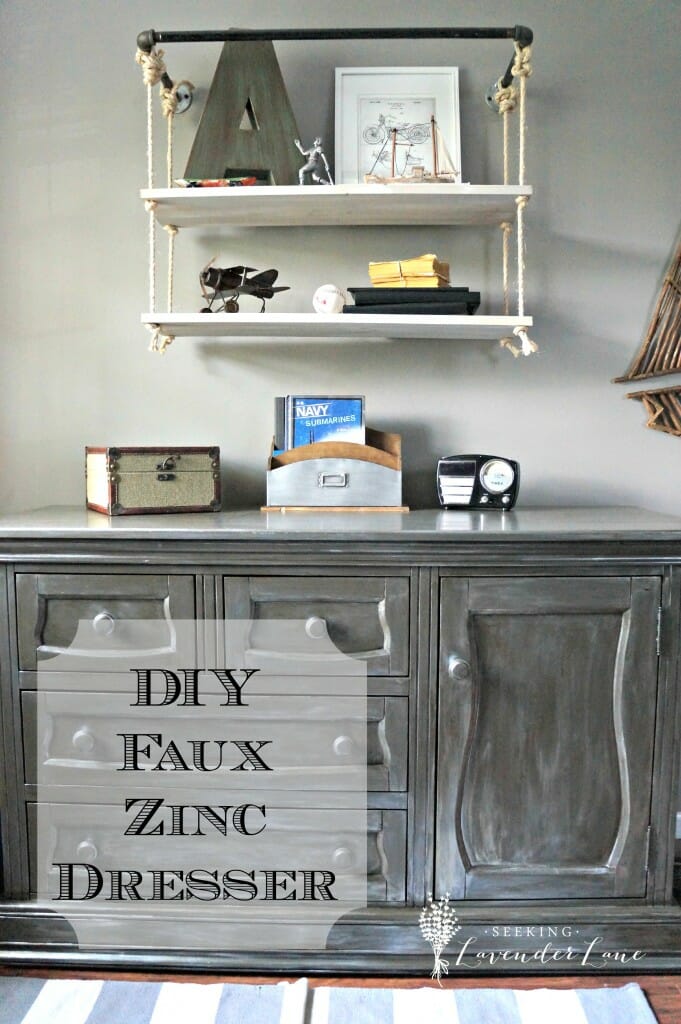 (Visited 1,130 times, 1 visits today)