Fall 2016 can officially start, now that I've had my first official Pumpkin Spice latte. Welcome to my second Fall Home Tour 2016. It's a perfect night to start this post, as I'm sitting here typing this out curled up in a blanket with the chilly air coming through the window. I can not believe how quickly the Fall crisp nights just come out of no where. It turns September and bam…fall nights! I can't complain I do like the feeling of the coolness and turning the AC off. So I think with the fall air and the pumpkin spice latte…the Fall Tours can officially begin for 2016. I know all you non-bloggers probably think us bloggers are crazy for starting so early, but we got to get a head start. And I haven't stopped…so maybe there will be a Fall Home Tour part 3. If you did not catch my first home tour you can see that here.
This post contains some affiliate links, that I make a small commission from. This does not change the pricing for you…but just helps support this little blog!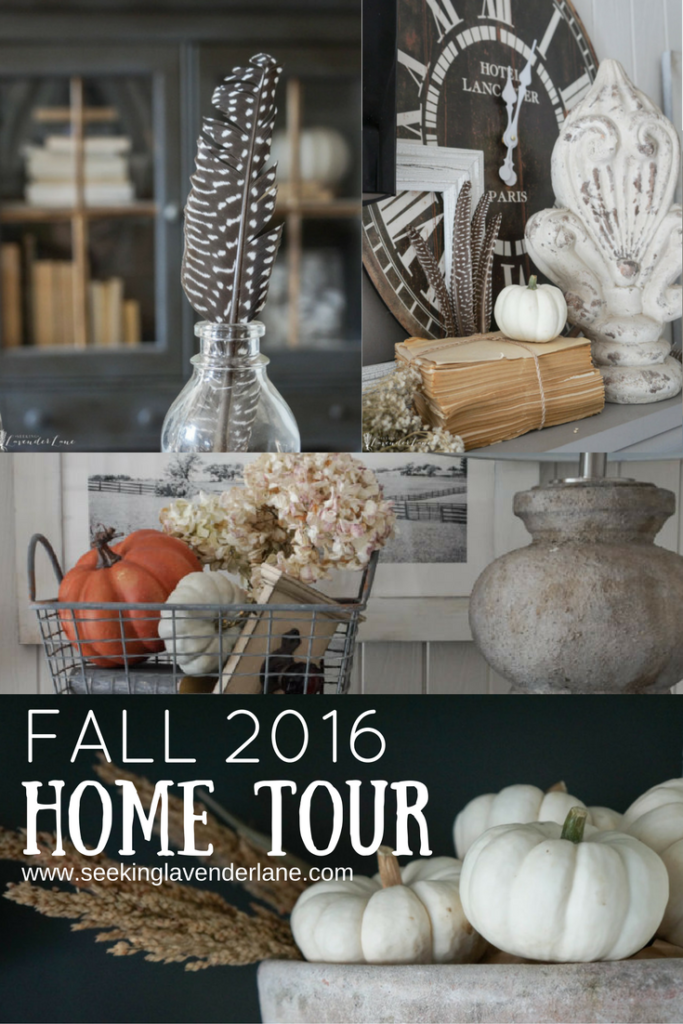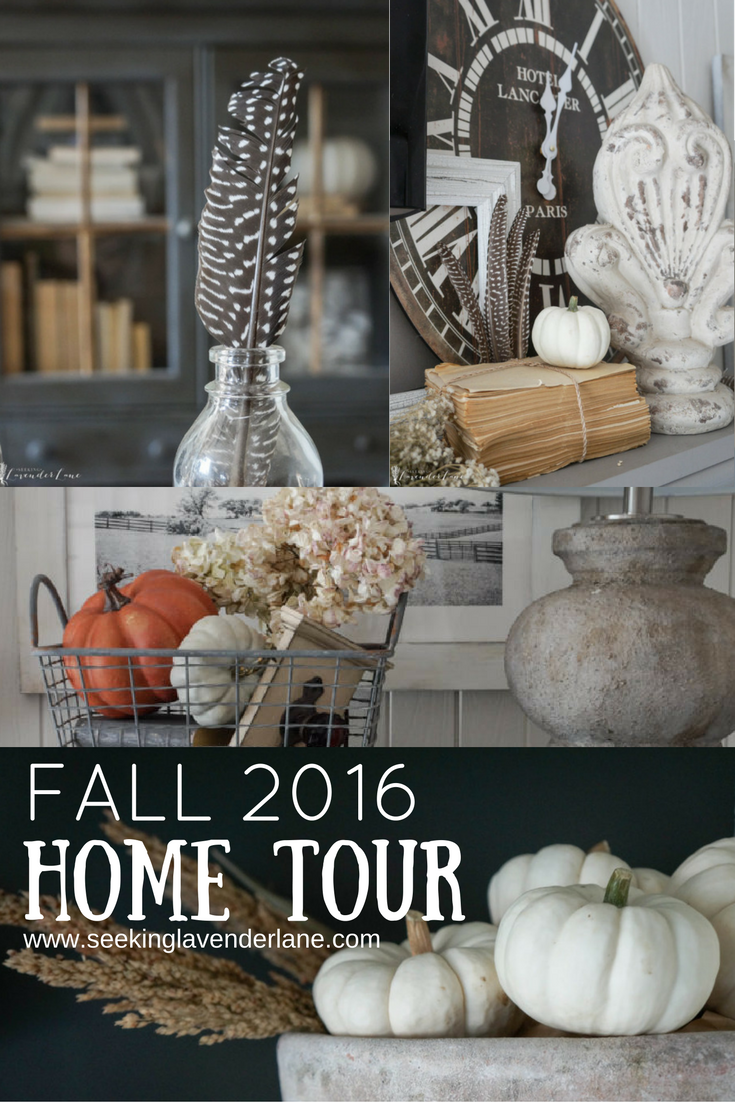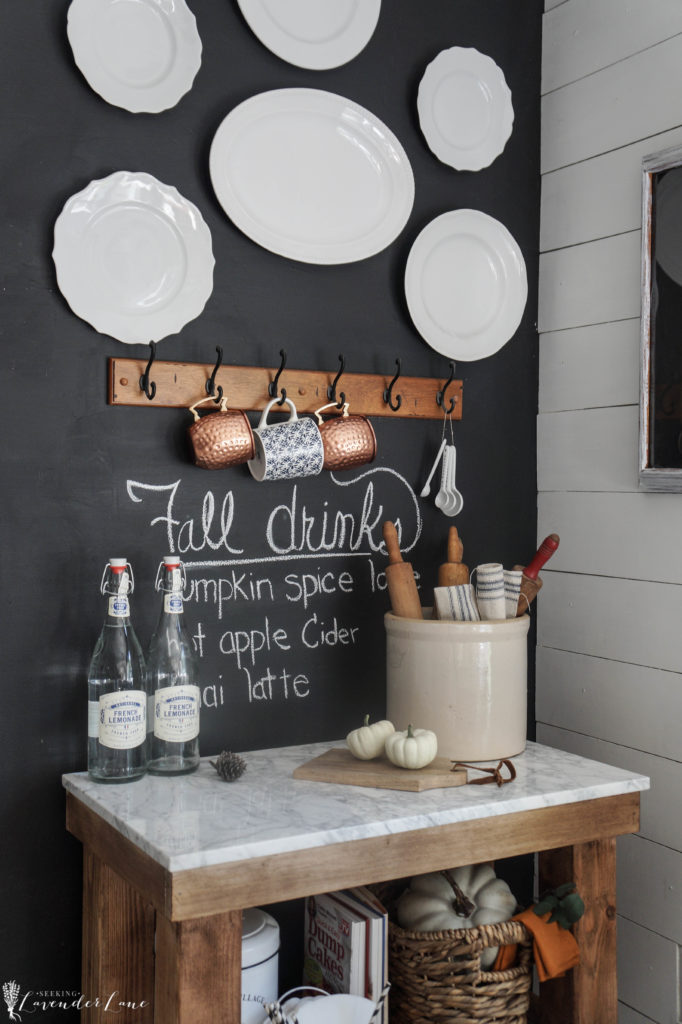 So I have to say thanks to Meg, from Green With Decor for hosting this Fall Home Tour series. She's such an awesome blogger and person. I had the privileged of meeting her this past August and truly loved her in person as I do behind the computer screen. She is hosting this tour along with I believe 25 other wonderful talented ladies. So be sure to see the bottom of this post and stop by their home tours for tons and tons of ah-mazing ideas and decorating for your homes this Fall. Please share with your friends and pin away!
So of course here is some more images of my Kitchen. I just truly love this space. I think it's my favorite room in the house, it feels most like my taste these days. I think in this room I don't feel like I have any design compromises, (besides the floor) but that will be done!! I truly love the white shiplap and the white chippy table and that little coffee nook and chalkboard wall. It feels like a cozy french pastry shop in here for me. I especially love switching out my decor in the kitchen so many ways to change it up for the season. Currently,adding copper mugs, pears, and pumpkins are a perfect nod to the season.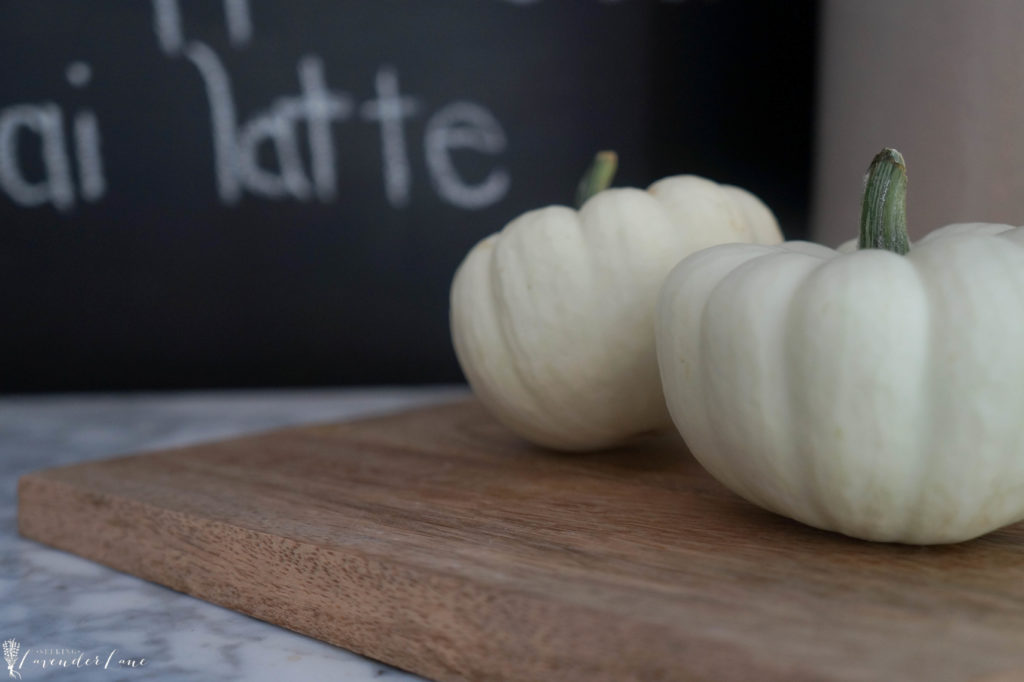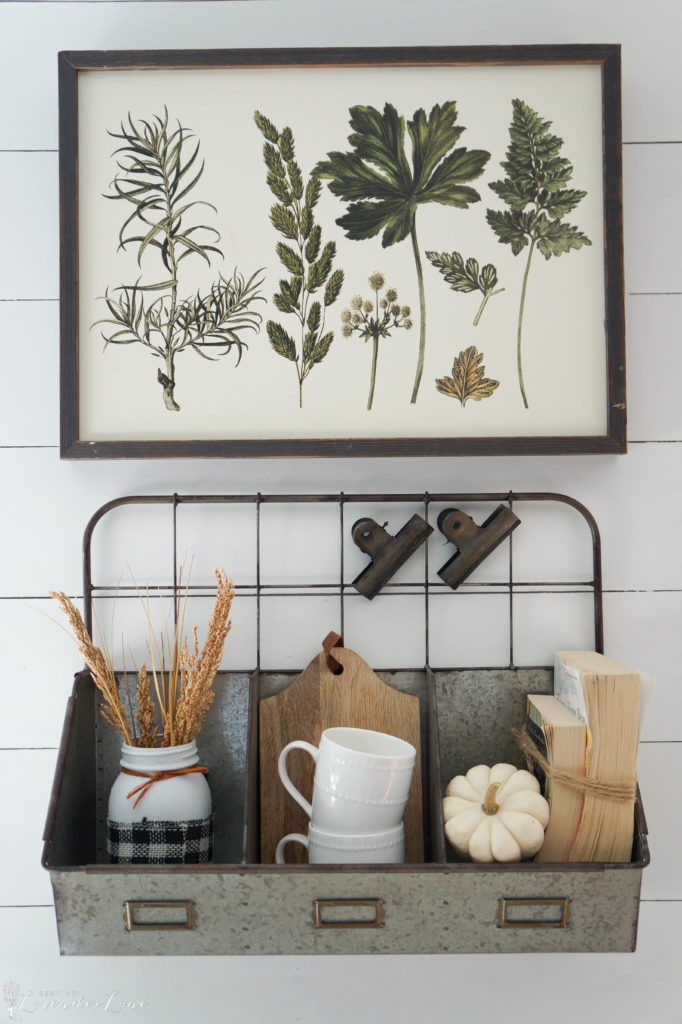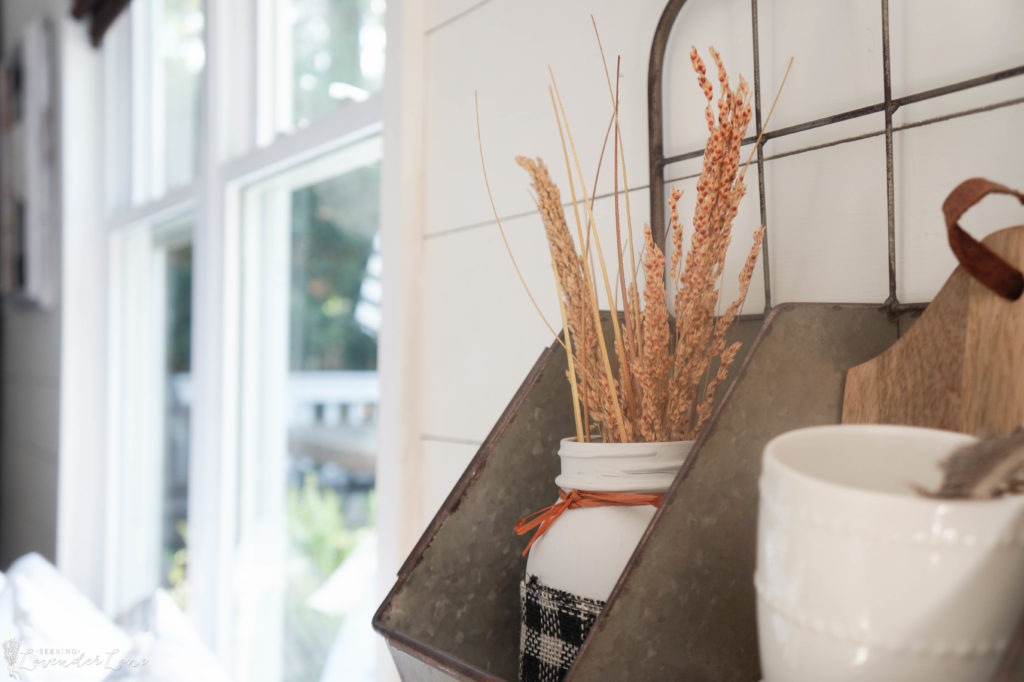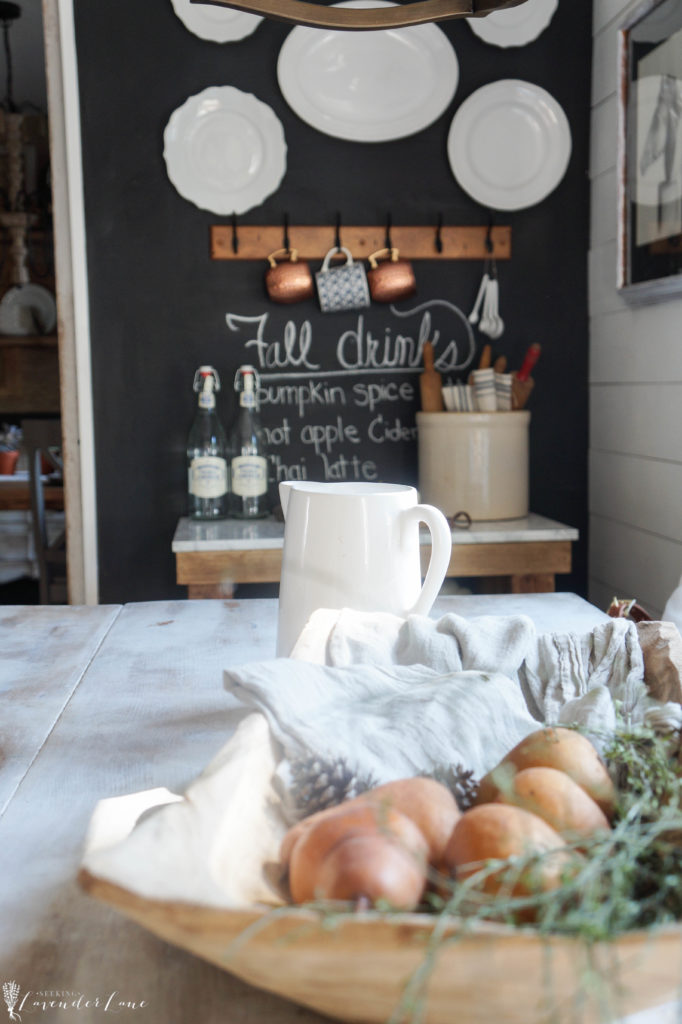 Onto the cozy family room. I just love my neutrals in this space, and the mantel is always a fun spot to add seasonal touches. Anyone else's TV a sore thumb in the room. Unfortunately sometimes we have to compromise good design for what works for the family. If I was single or an empty nester…I would probably not have this TV here, but got to make it work for now. Mixes of real pumpkins and faux are working in here. I love having mostly neutrals and a few pops of burnt orange to warm up the space.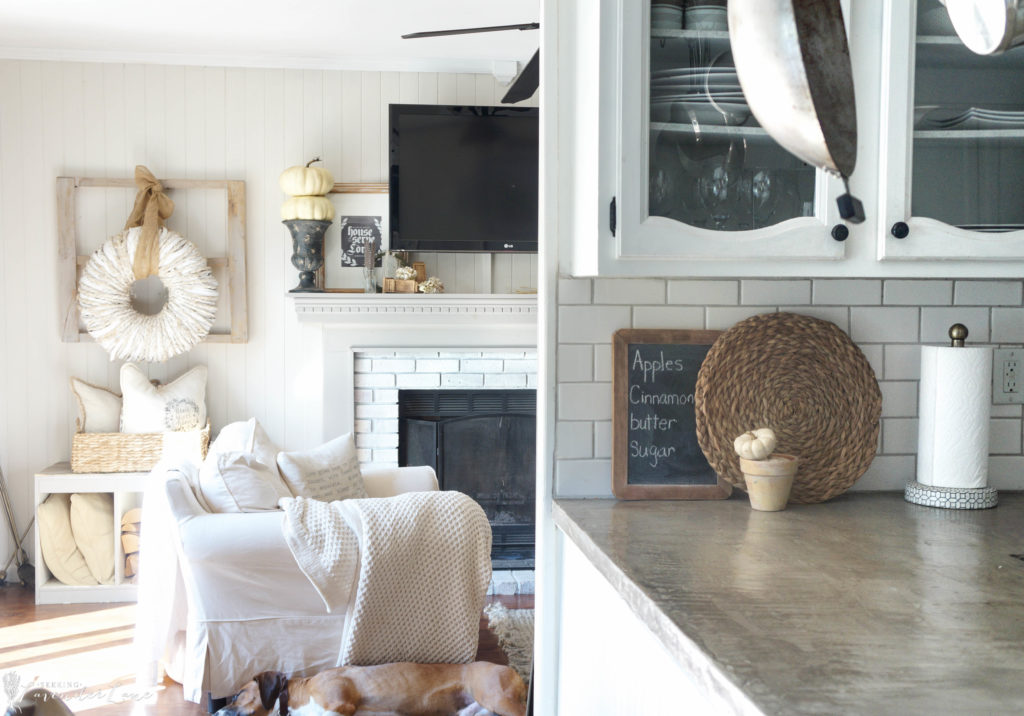 Even Mr. Luca is getting cozy here.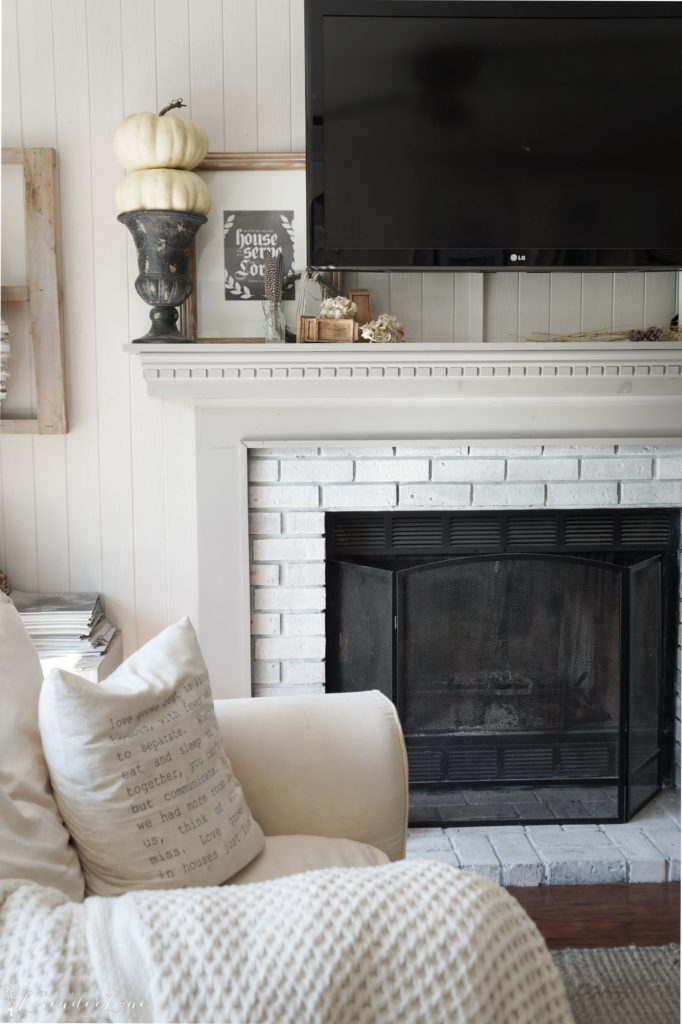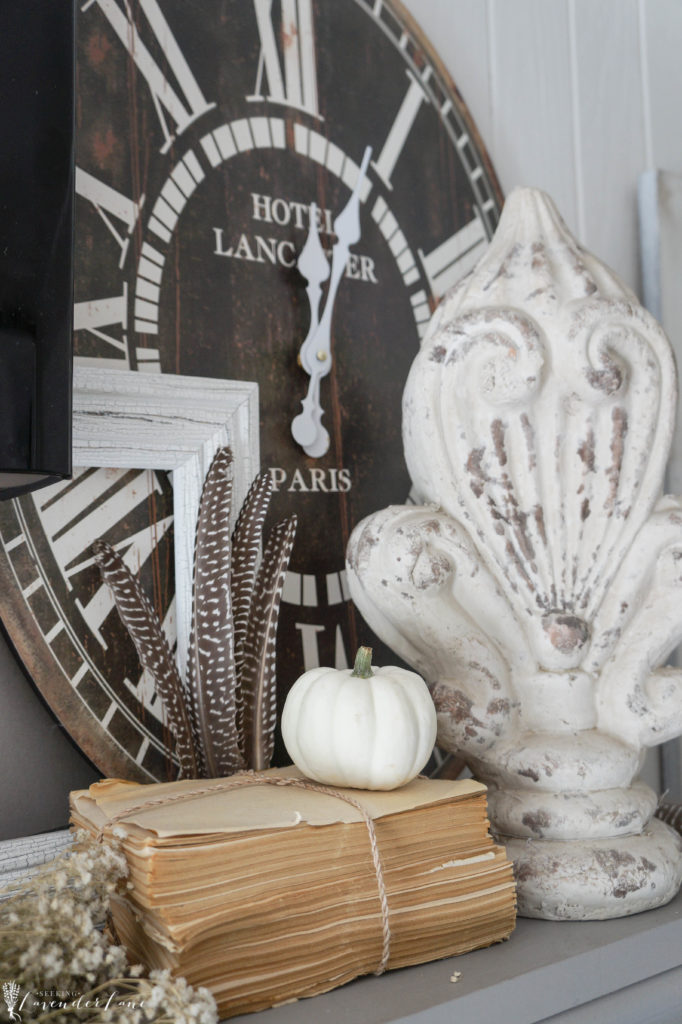 It's all about textures and layers, whether you decorate in neutrals or color.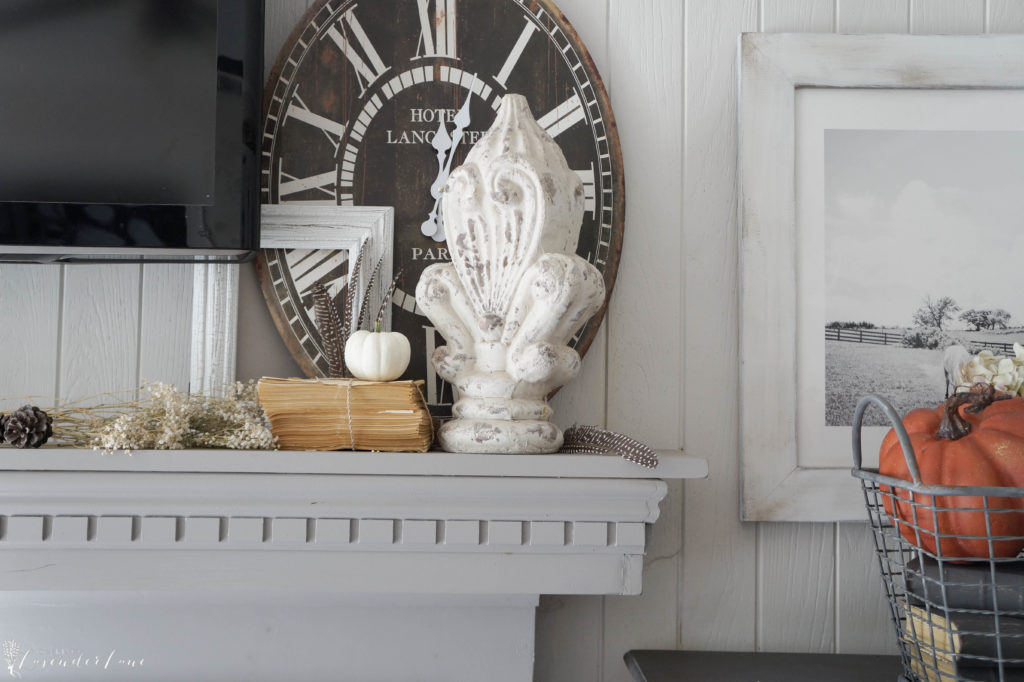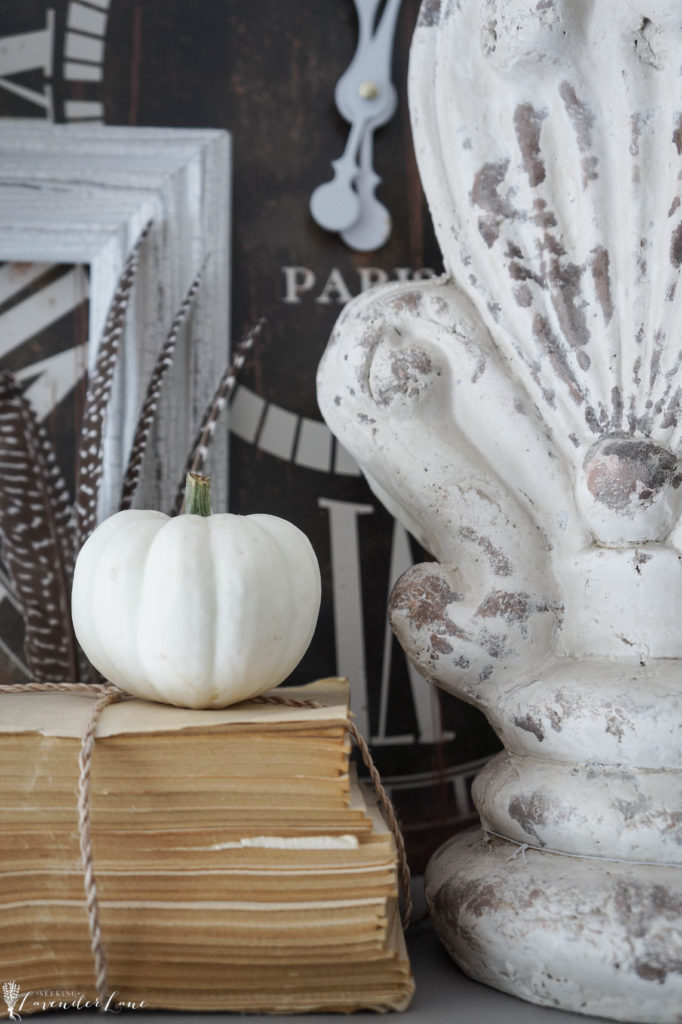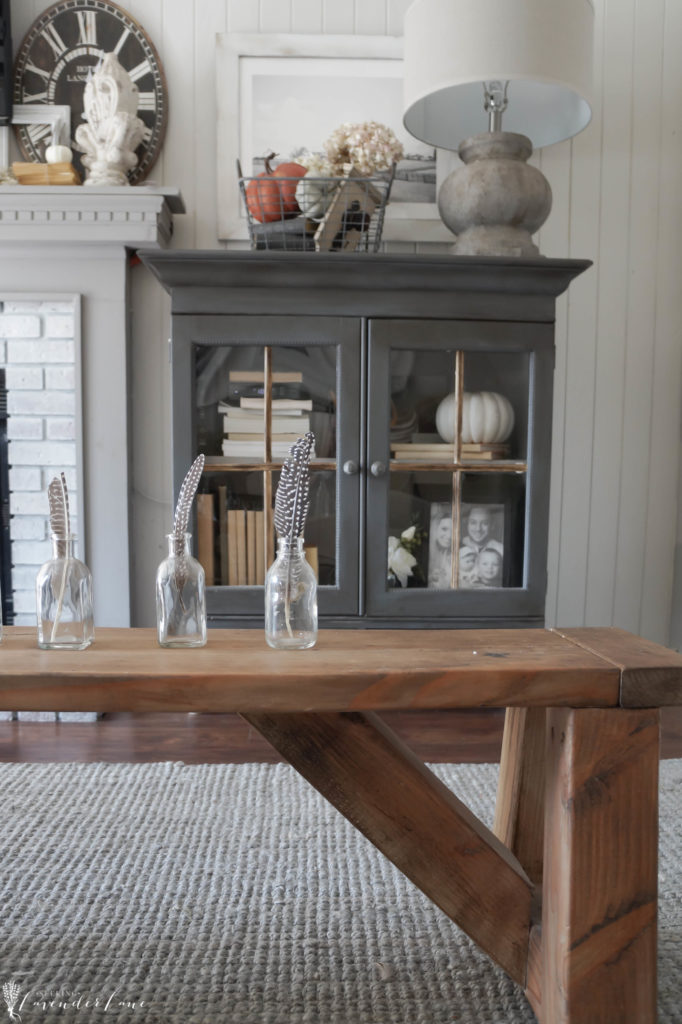 Loving feathers this season. I've tucked them in a few places to coordinate together. Add some feathers to miniature vintage jars, or stick them between some stacked books. I love finding ways to add small elements of Fall such as with feathers.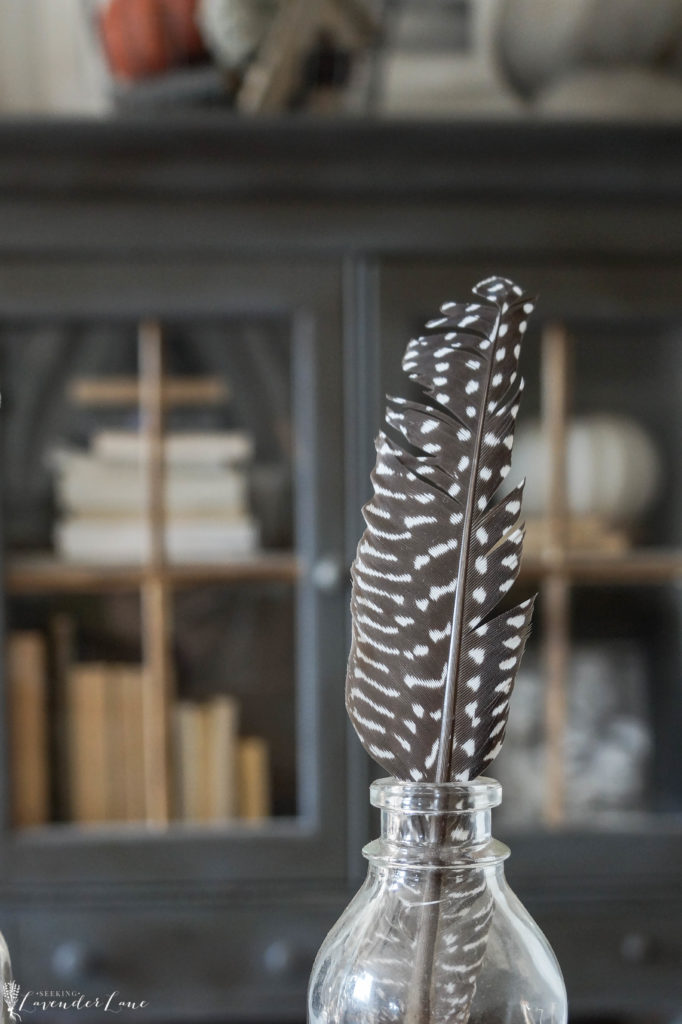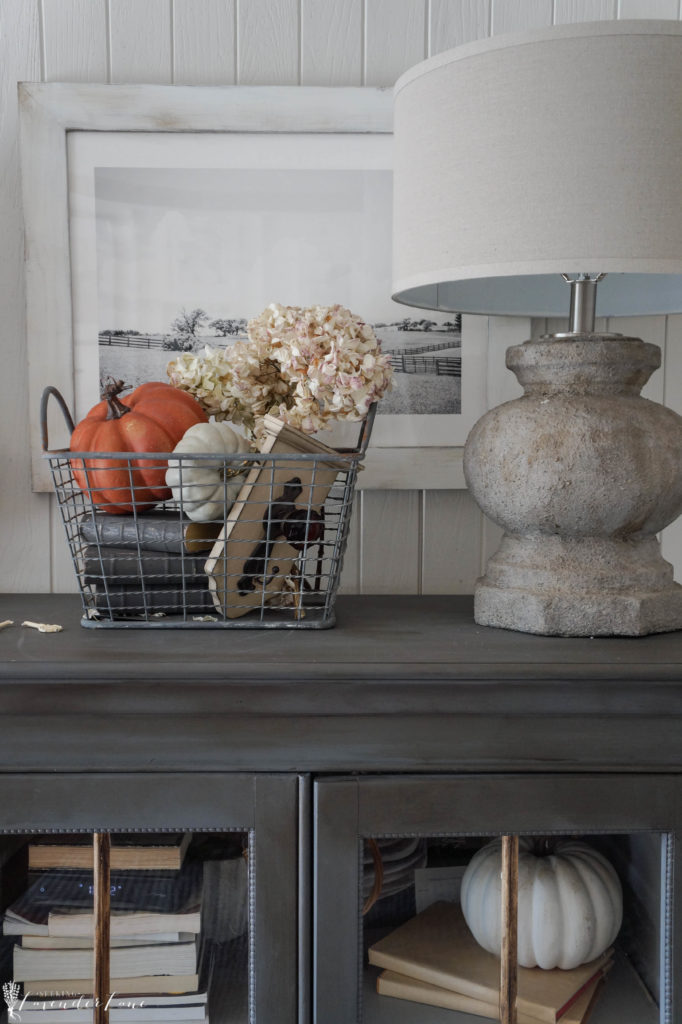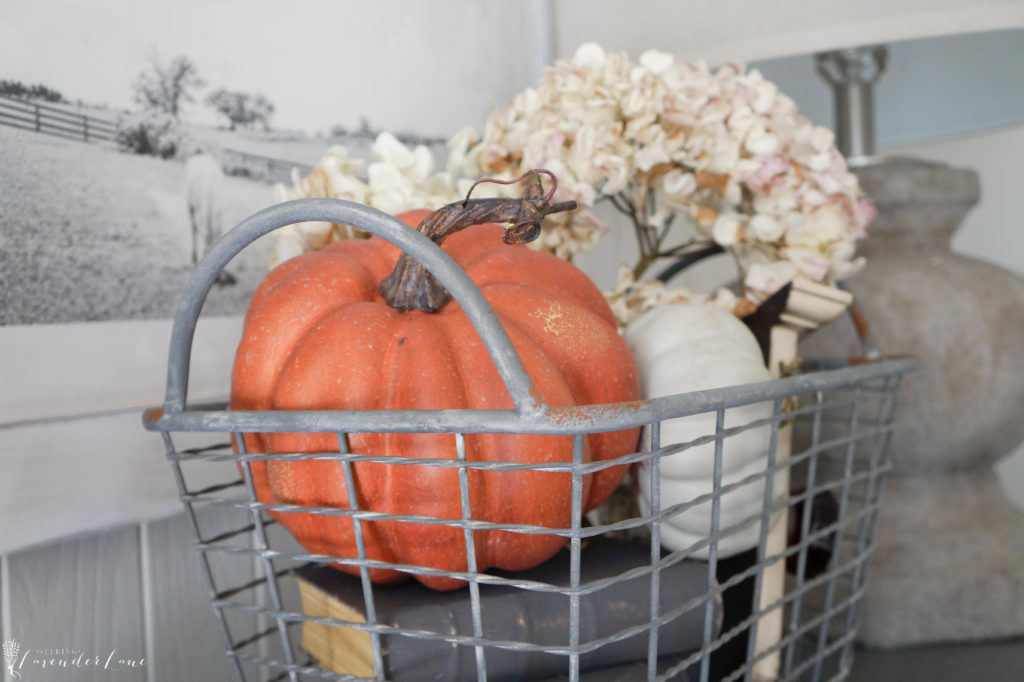 A basket of tossed pumpkins and hydrangeas brings interest to this little corner.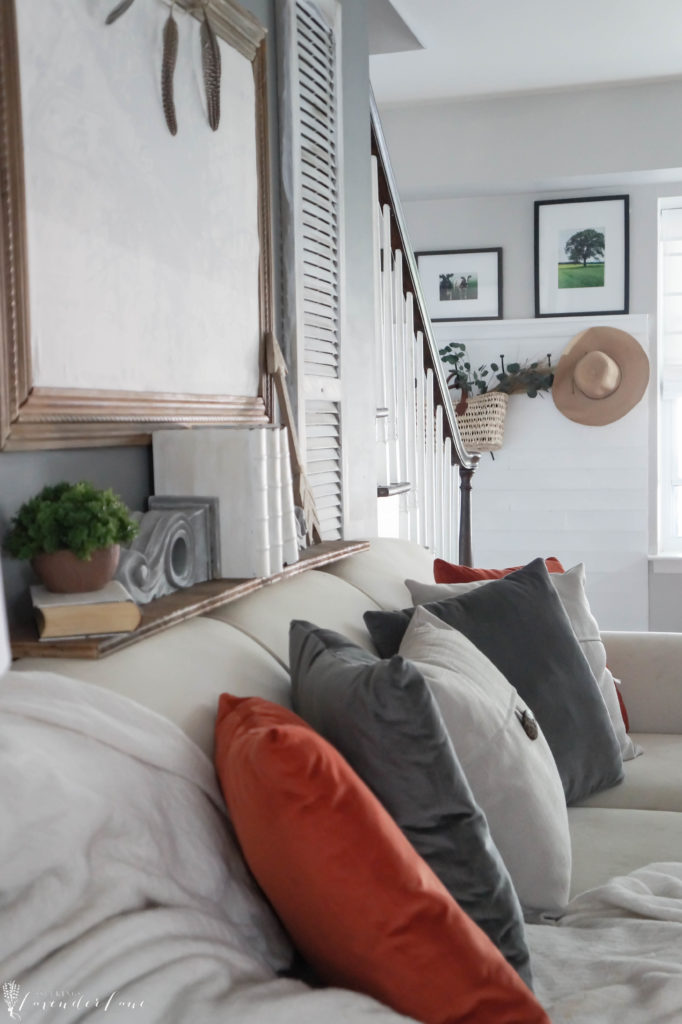 My living room is also a neutral meets burnt orange combo. These pillows I picked up from World Market were an affordable way to change up the sofa for the season. Usually pillows are an expensive decor, but these were only $10 each, and I lOVE that they are velvet…just cozies up the space even more so for the cooler months. They are also hubby approved!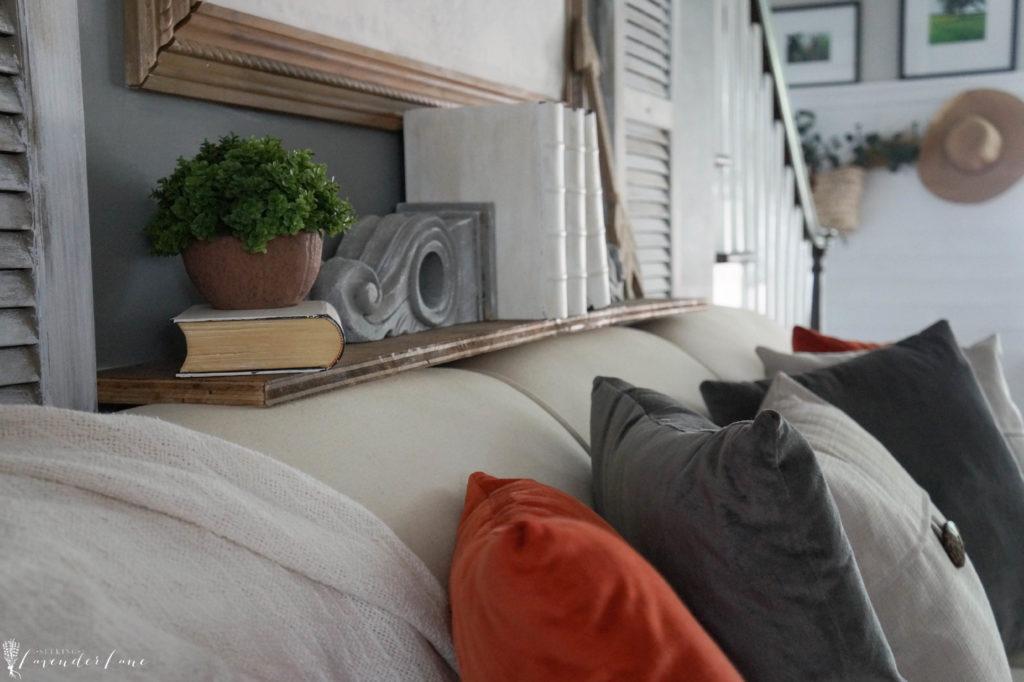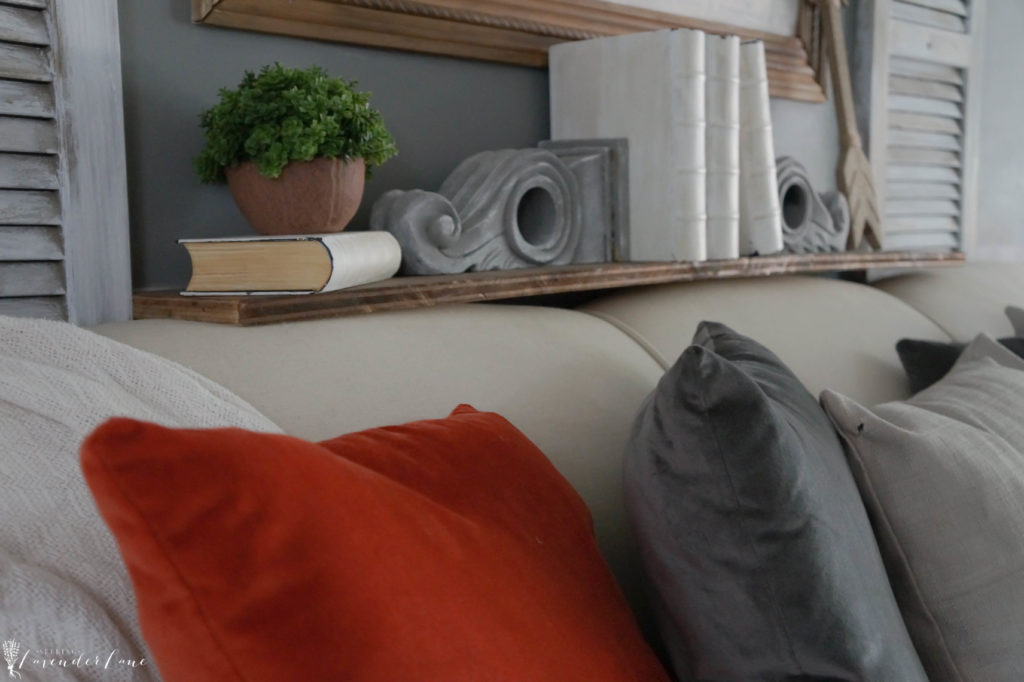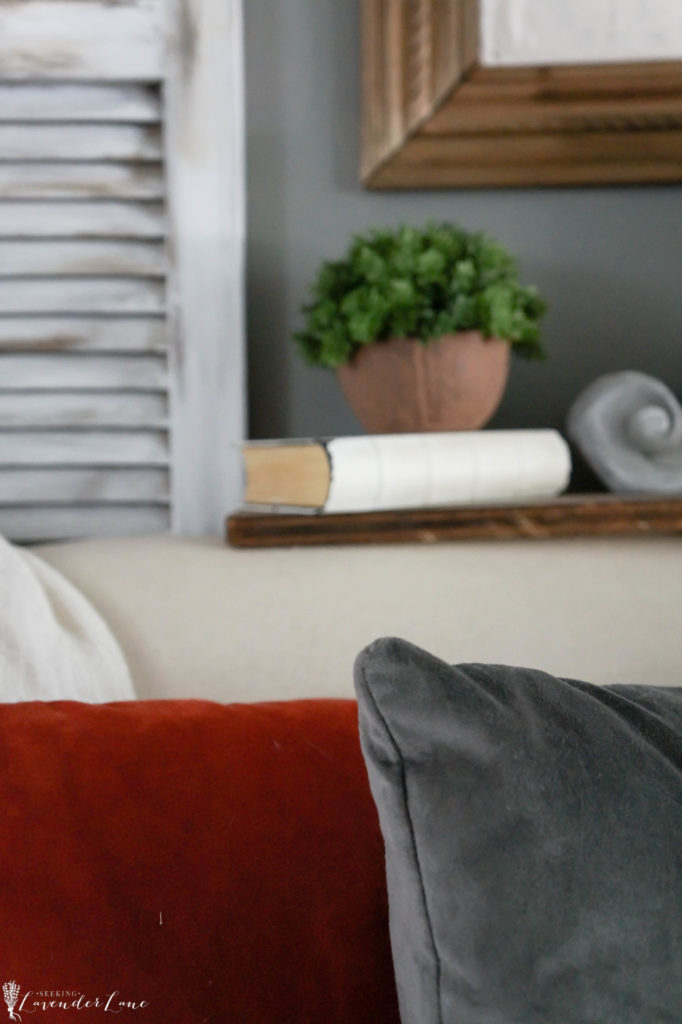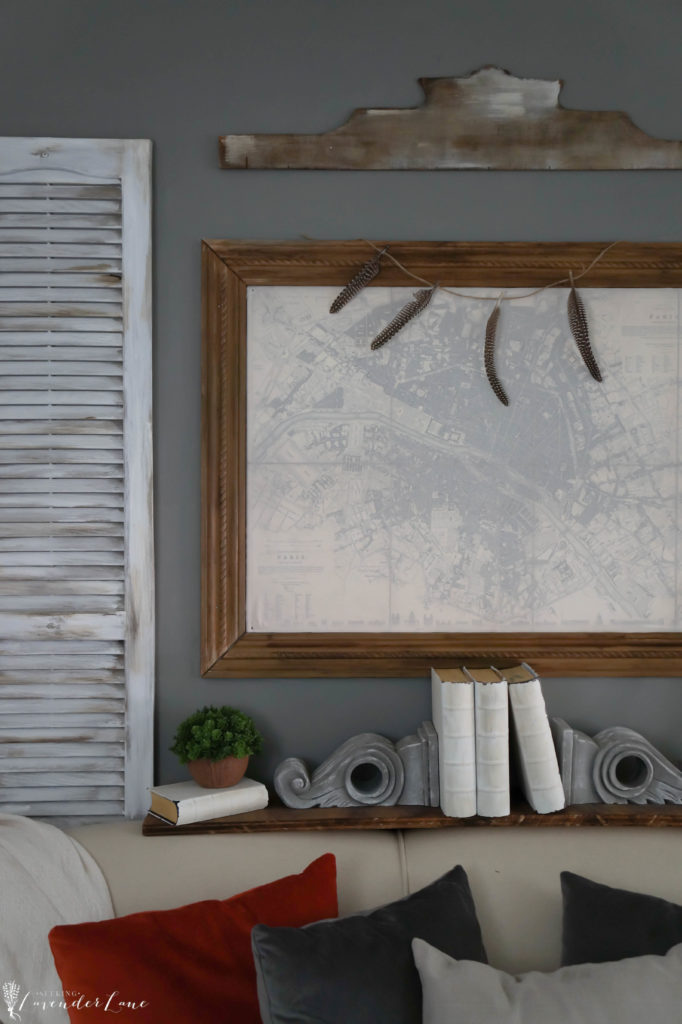 Everything on this wall was DIY'd!! We used some exterior shutters and gave them a little distressed look with some paint, added this wooden floating shelf, DIY'd the Paris map, and recently (yet to share) I created this pruvost sign to complete the look. I also gave these storage boxes some restoration hardware updates with some paint, see that here.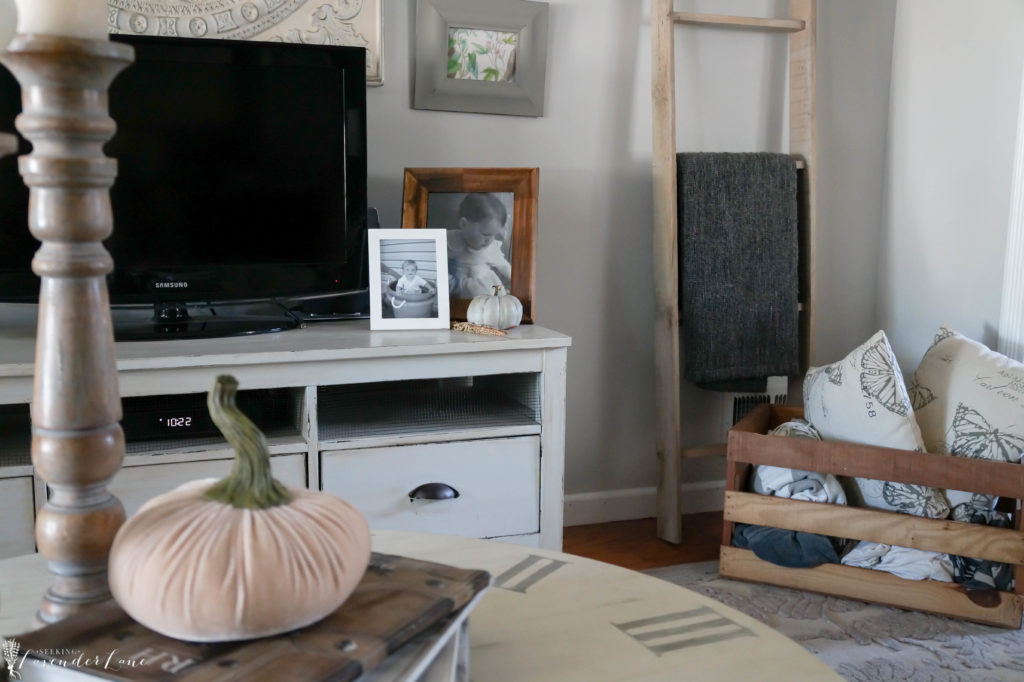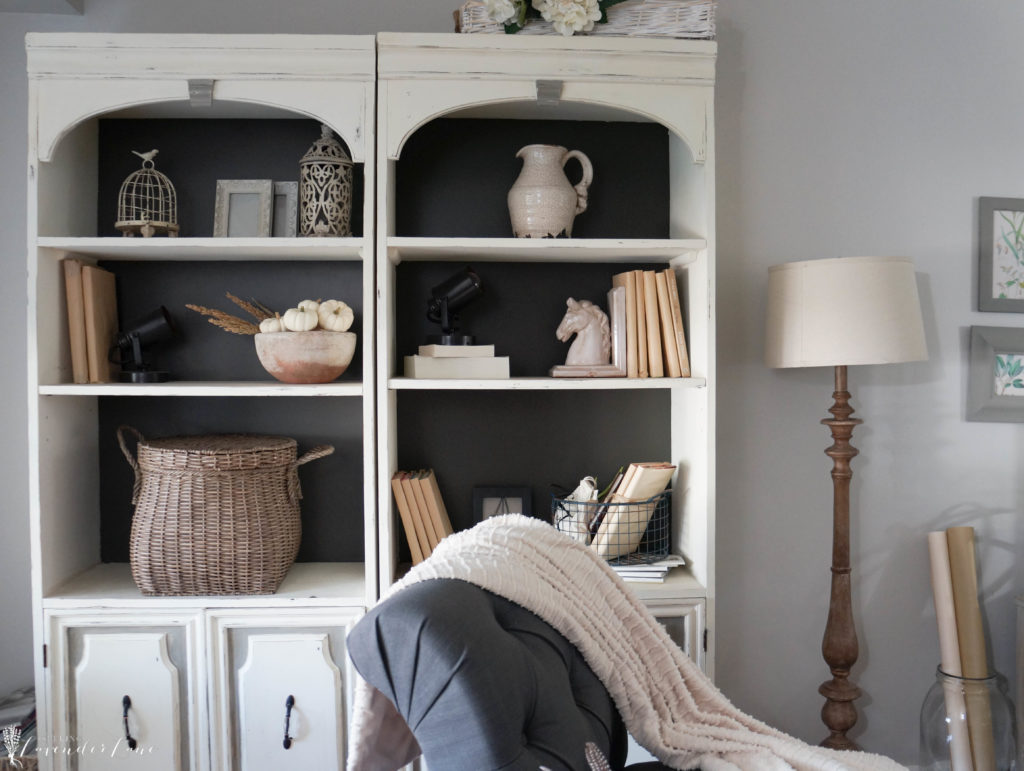 A few tossed pumpkins on the bookcase, and fur throw…and you got yourself a cozy fall space.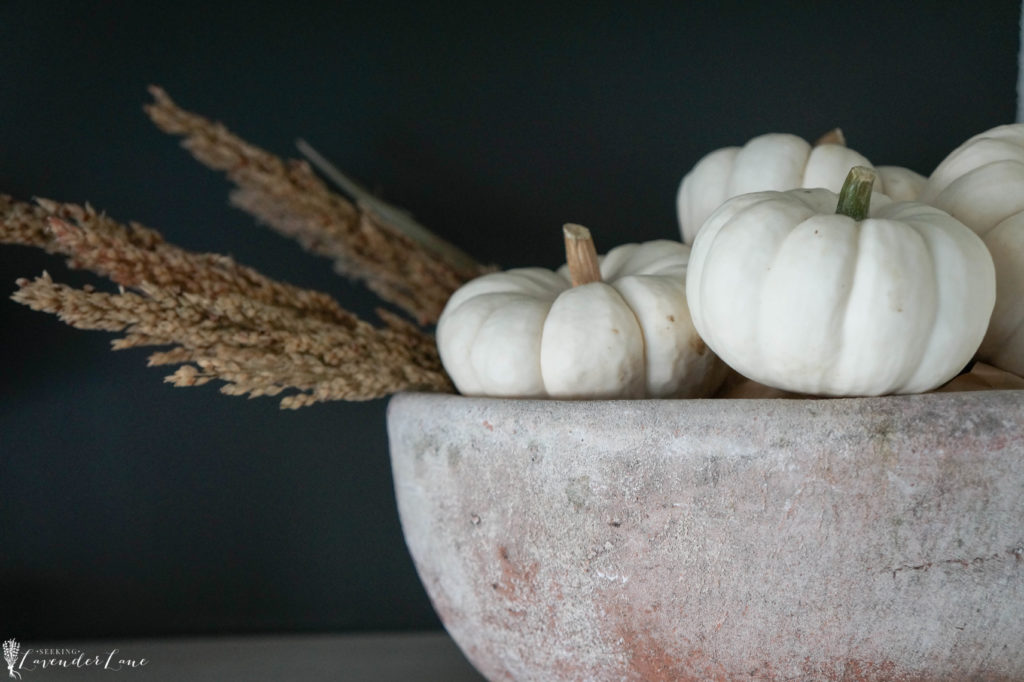 Oh…and white pumpkins are always a must!
Get Farmhouse Fall Decor Started Here

Please Visit all the other Fall Home Tours
Monday
Tuesday
Wednesday
2 Bees in a Pod – Vicki's house
Thursday
2 Bees in a Pod – Jenn's house
Friday
(Visited 2,873 times, 1 visits today)