Farmhouse Fall Decor
Fall is just around the corner, and the cozy textures, colors, and patterns are back. I love a pretty plaid throw blanket, and the smell of some great fall recipes, along with the scattered touches of pumpkins throughout the house. This year I've been layering my "farmhouse" with fall decorating little by little, especially since the pumpkins are not quite at the local markets yet. I was excited to be the first customer the other day purchasing pumpkins from a local garden spot. They still had the pumpkins on the truck and I think the employees there looked at me like I had 3 heads asking for pumpkins on a 90 degree day. It was my only struck of luck though. Still awaiting for more pumpkins to come, but until then  I got some faux pumpkins I gave a little makeover to. I am especially excited for this years decor since my Kitchen feels more Farmhouse then ever. I truly love great Farmhouse decor for Fall.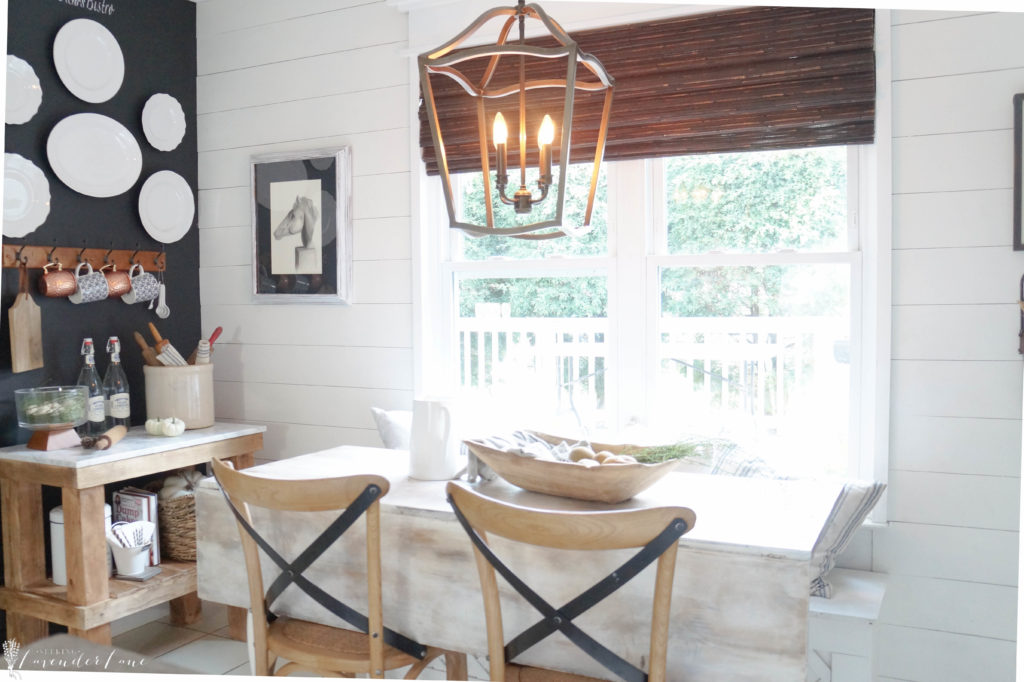 If you haven't been here in a little while, or this is your first time stopping by…I updated our Kitchen this past spring for the ORC. You can see all the details there of our shiplap walls, and our vintage drop leaf table that I made over. This week I shared our Rustic Bar Cart that we made and  just loving in this space.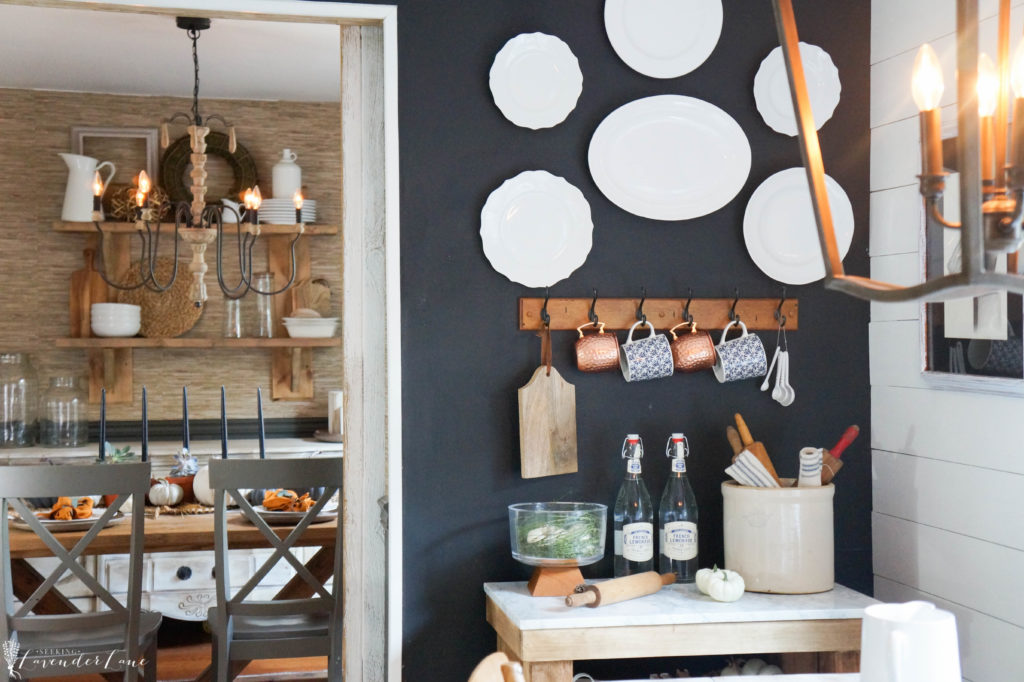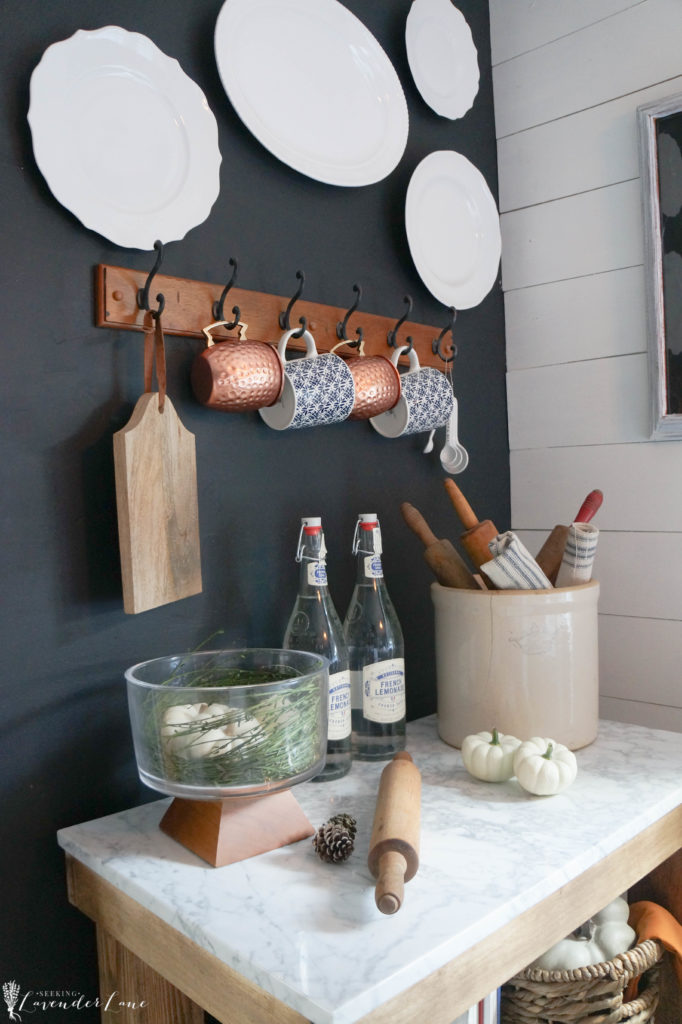 I really wanted to play up on different colors this year, and mix coppers and neutrals, along with some touches of blue. You can see some of the blue in the grain sack fabric, the mugs, and also on the bottles I picked up from World Market.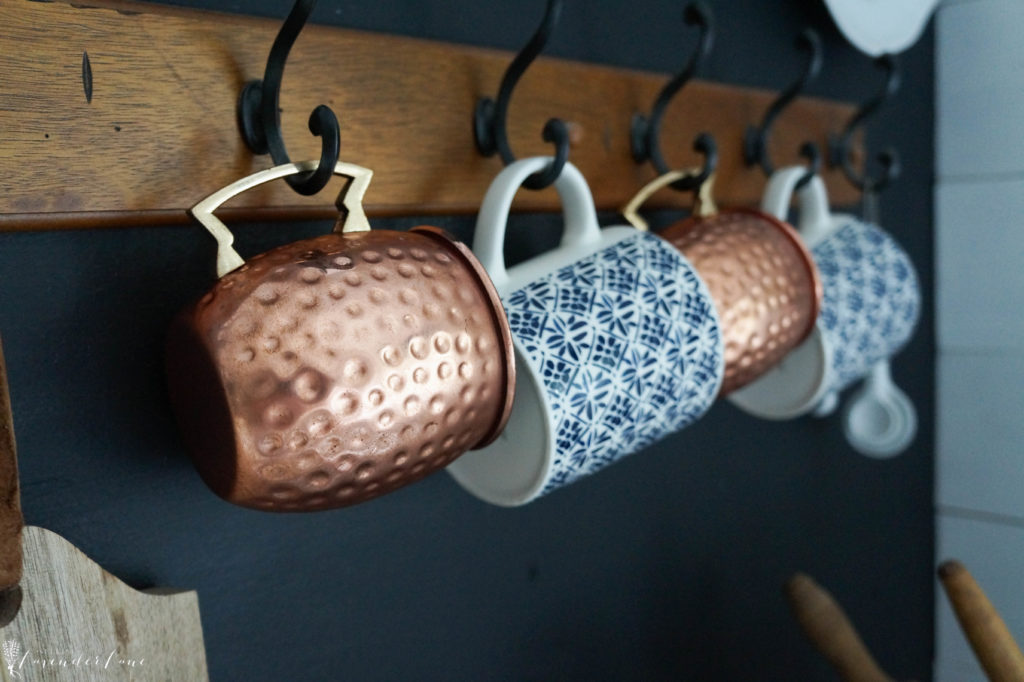 The copper mugs I could not refuse this year and snagged these  at TJMAXX.  I added a little dark wax to them, to eliminate some of the luster of the cup. I wanted them to feel more antique, and I think it worked. So of course these probably won't be a cup we use or wash but that's fine with me, because I'm happy with them standing out against this chalkboard wall.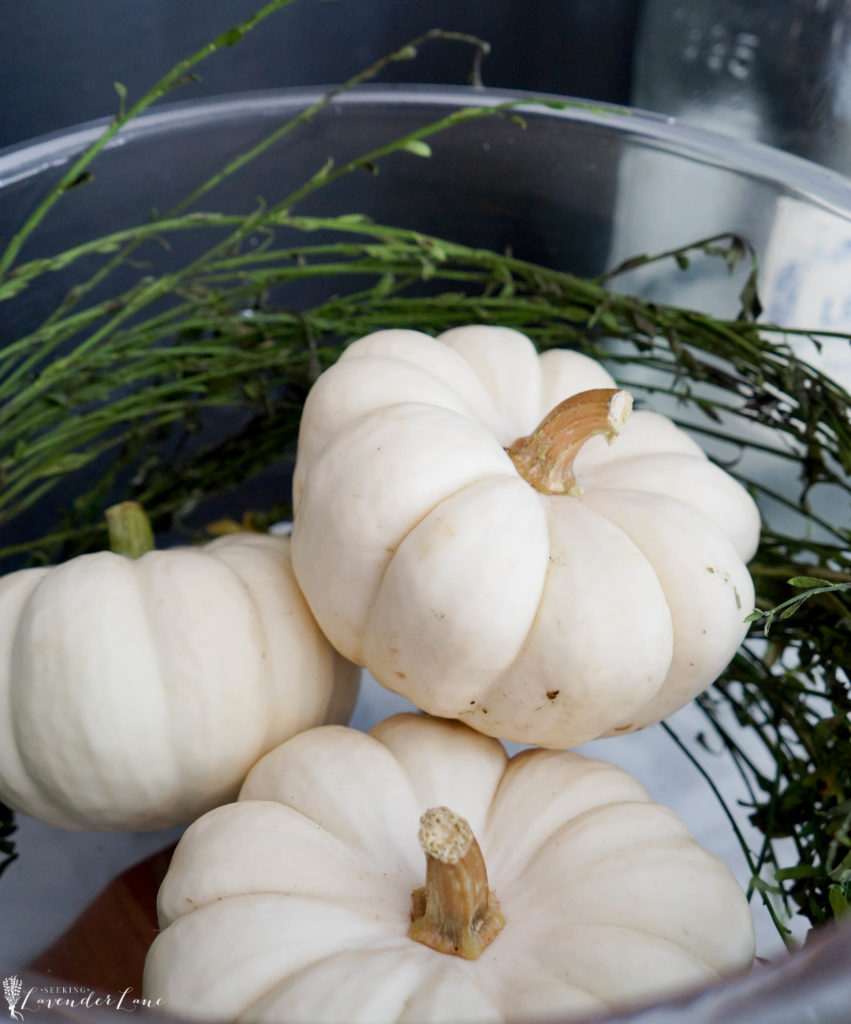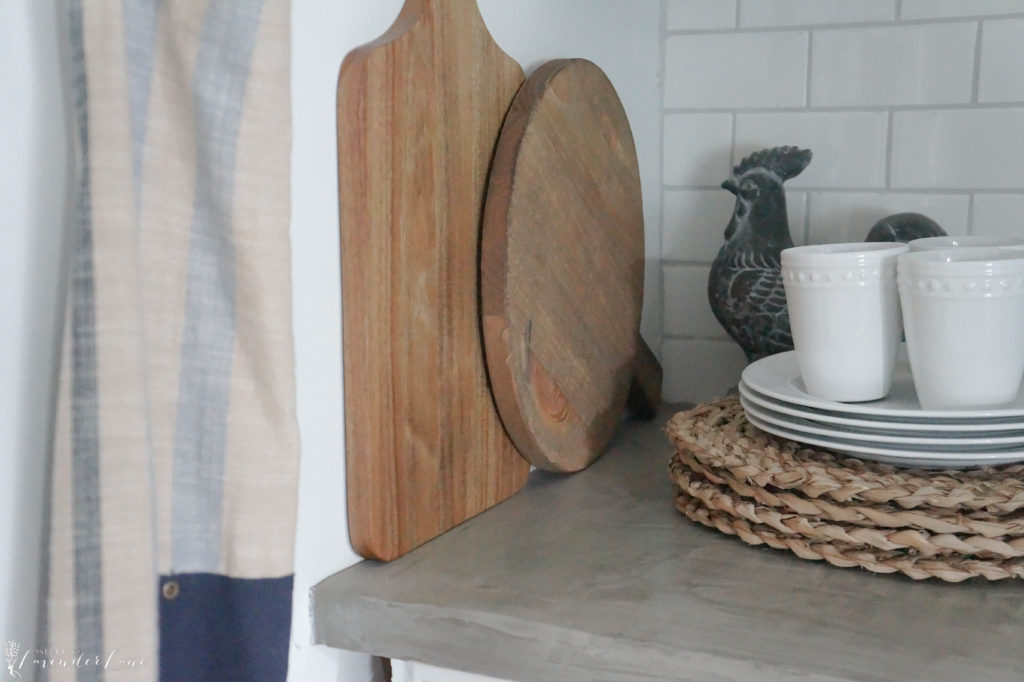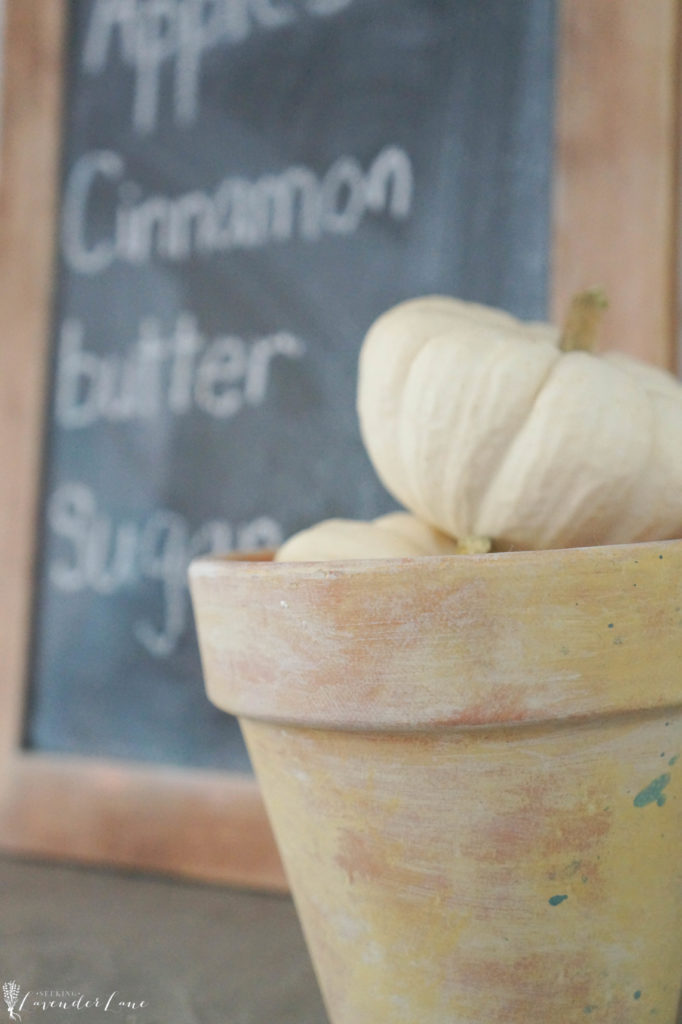 Little story behind this clay pot… I actually painted this at Haven last month with Miss Mustard Seed. It was such an exciting opportunity to take her class and finally try out some of her paints. I love how it turned out and I thought the yellow would be a great nod to the warm tones of the fall season.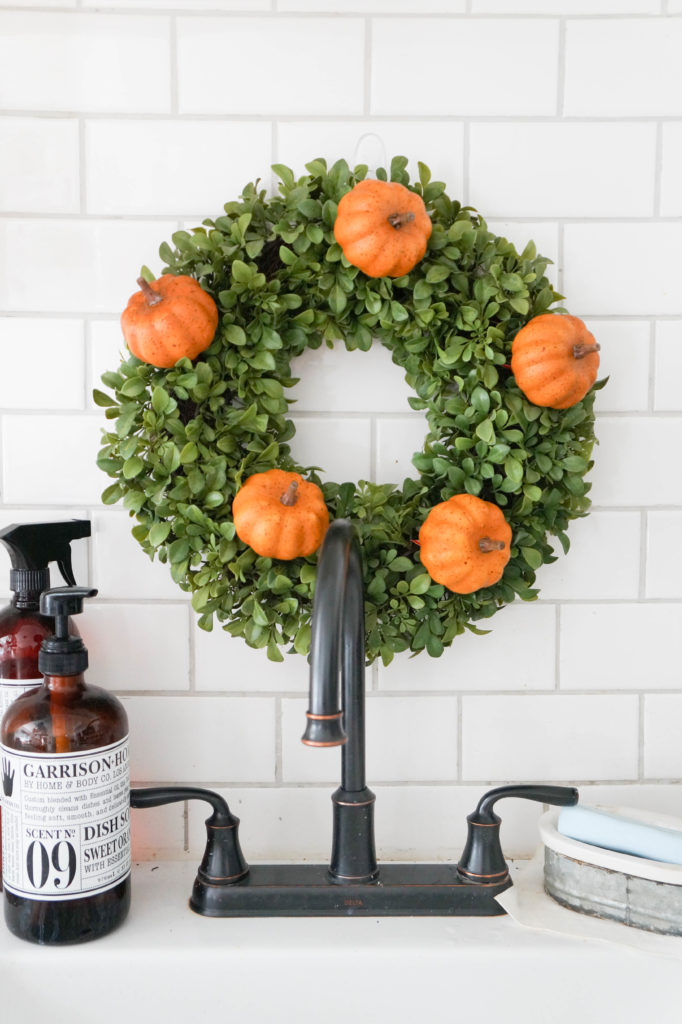 In the kitchen I wanted to incorporate a little greenery still. I updated my Summer wreath with some faux pumpkins, for an affordable update.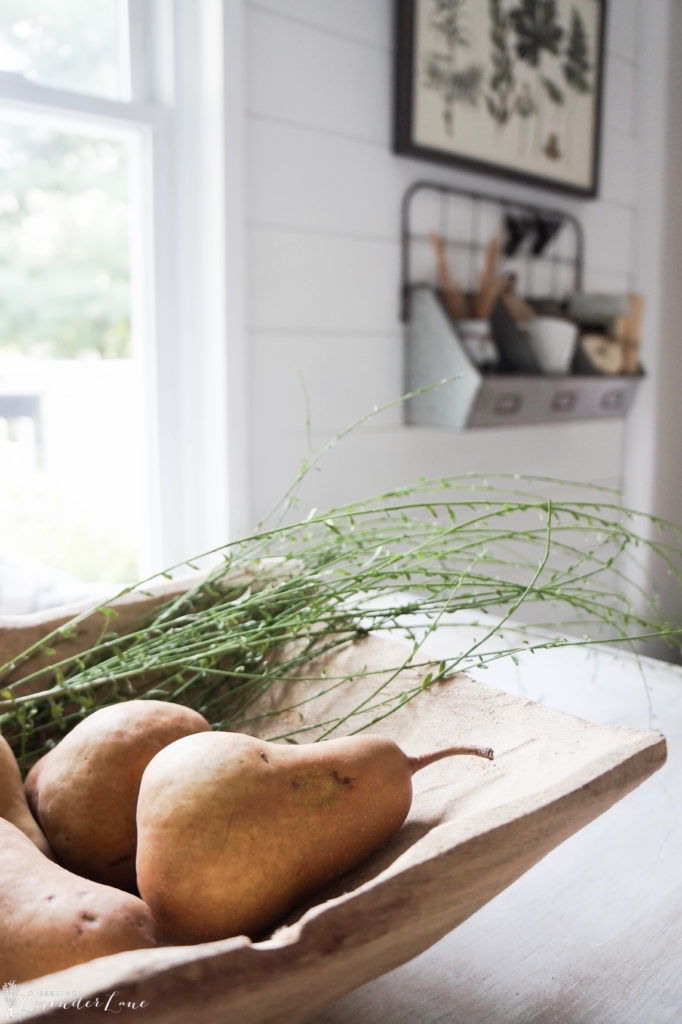 Pumpkins, are not the only way to decorate for Fall. I just love adding some pears in for the Holidays and fall season. Having a dough bowl with some pears thrown in is a great way to decorate for rustic farmhouse decor.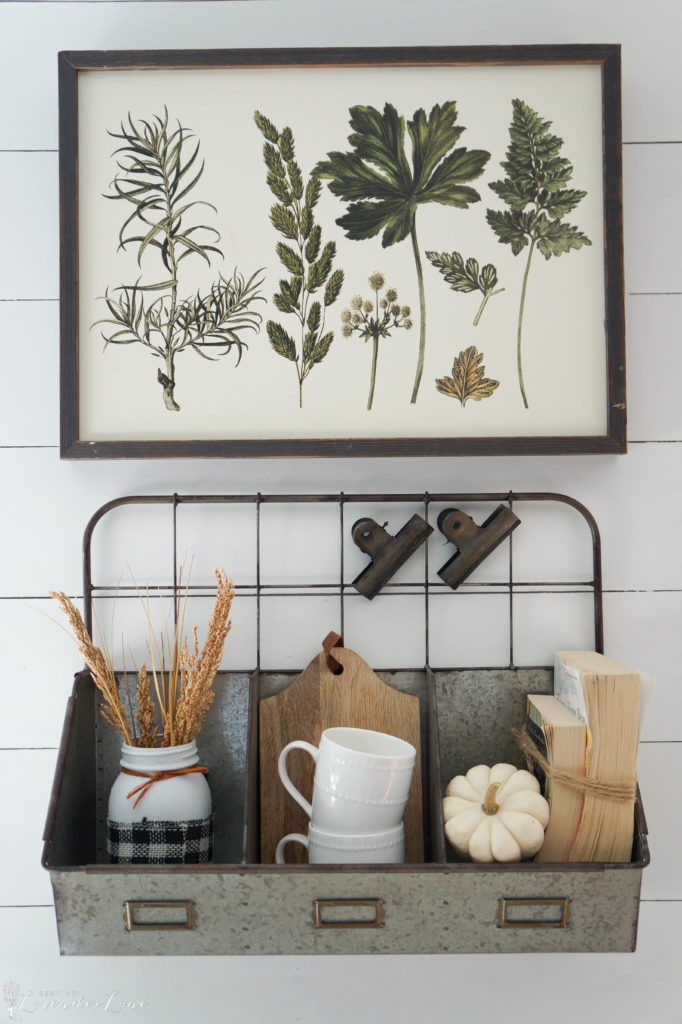 This is my new-new addition to the kitchen, just received this last week from Antique Farmhouse. Just one more little nook and shelf to add some farmhouse style too. Loving how this truly captures Fall Farmhouse style.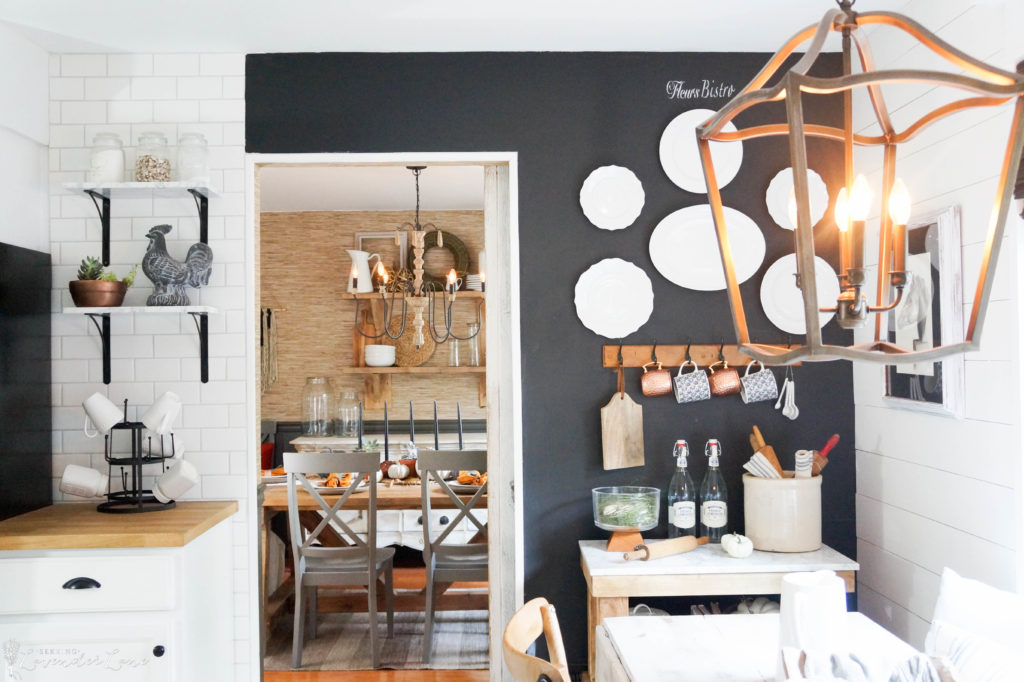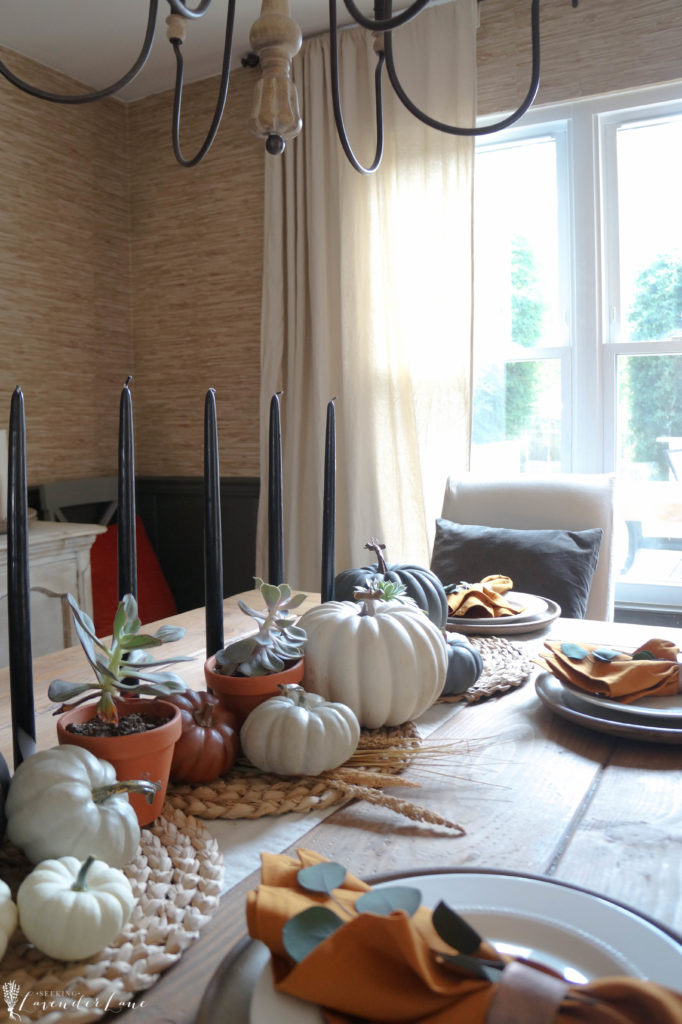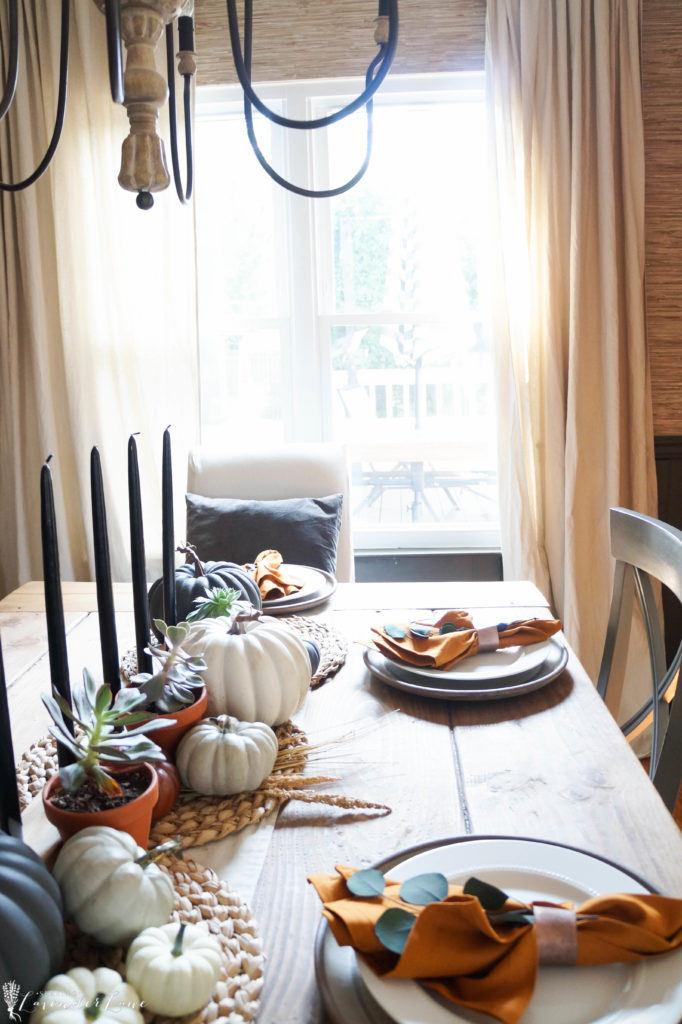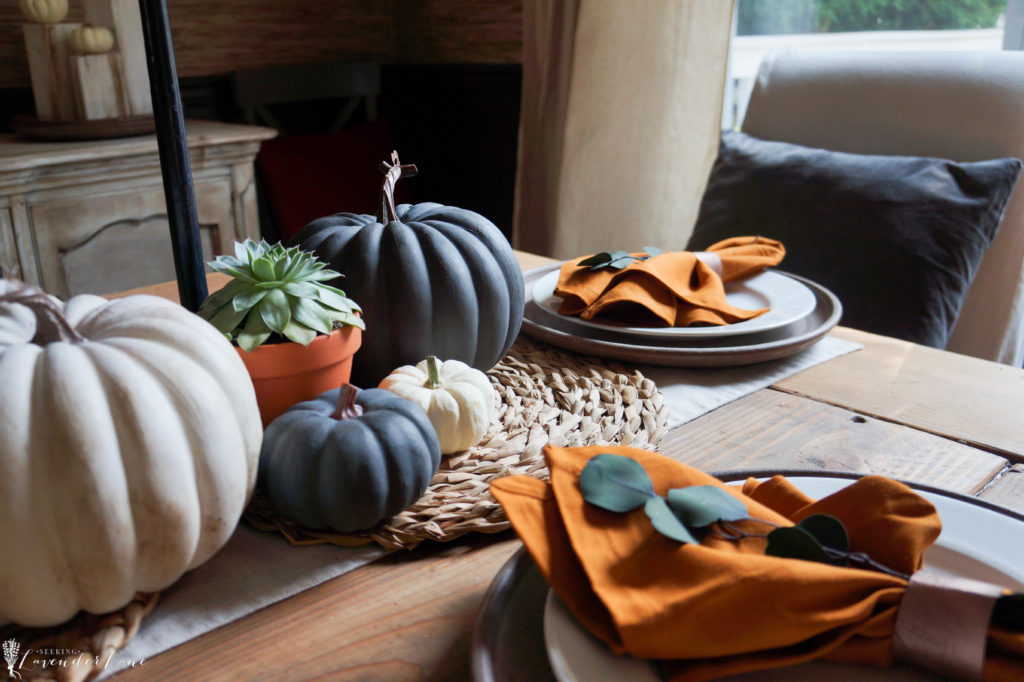 The dining room I was going for moody and rich tones. I don't even like color and some how I keep falling for orange in this room the past two fall seasons. I guess since I know it's temporary and this space already has some warmth with the grass cloth wallpaper…it just works. And the succulents I thought were a fun twist to fall.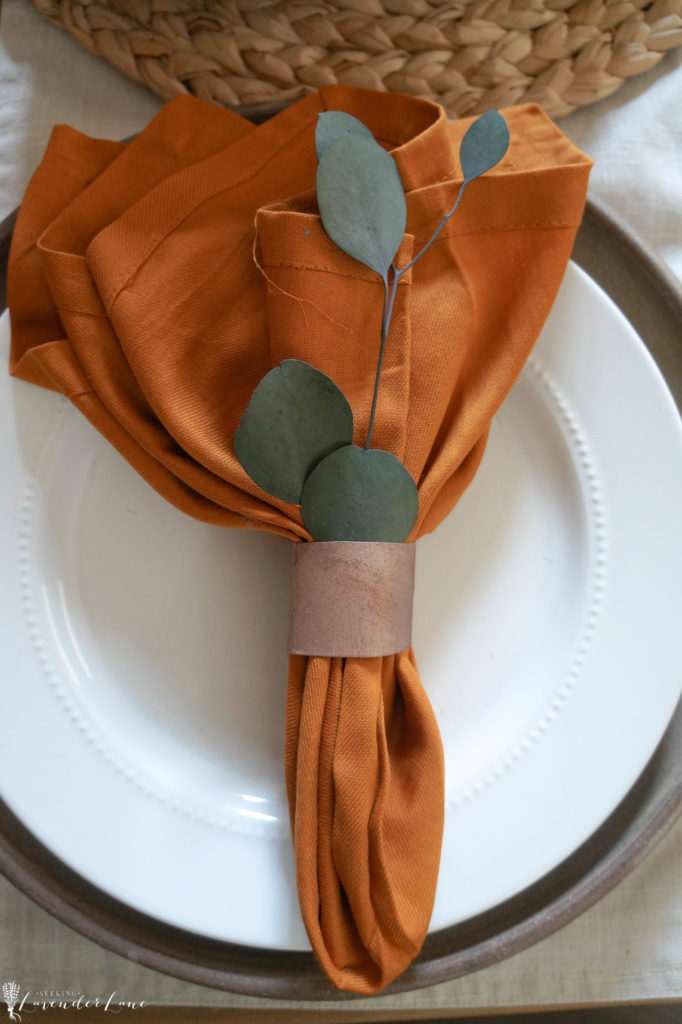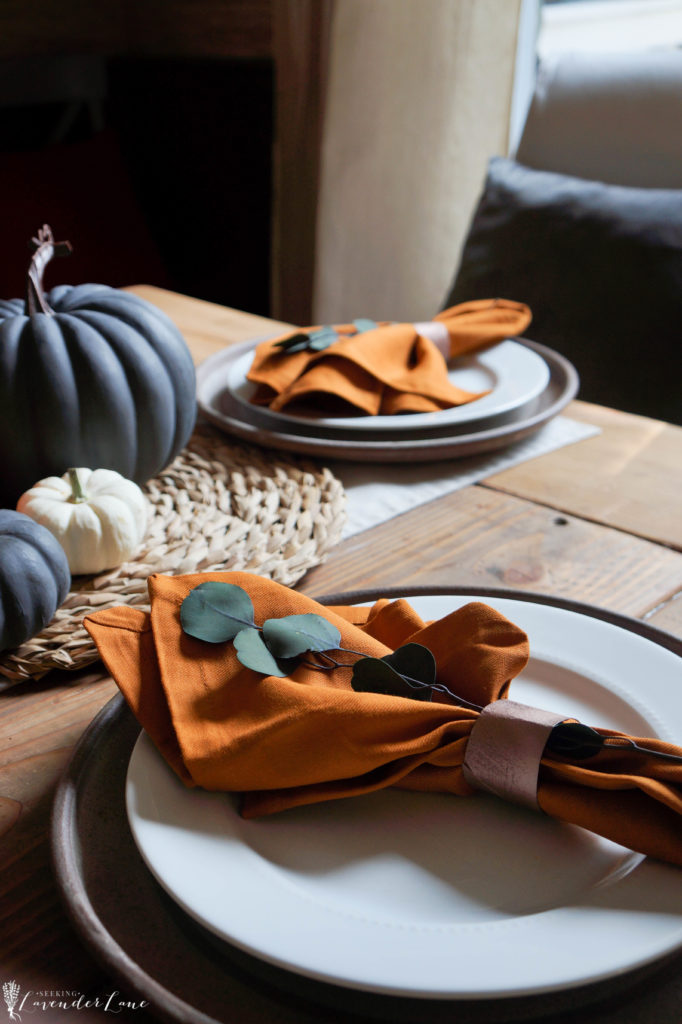 and my dining shelf, which is always evolving.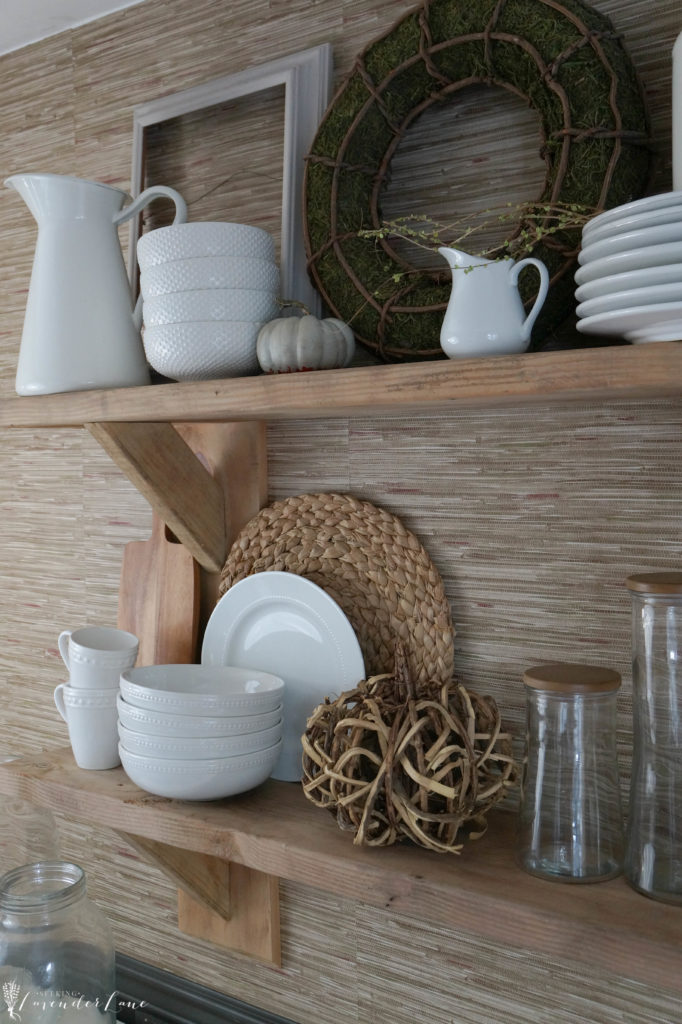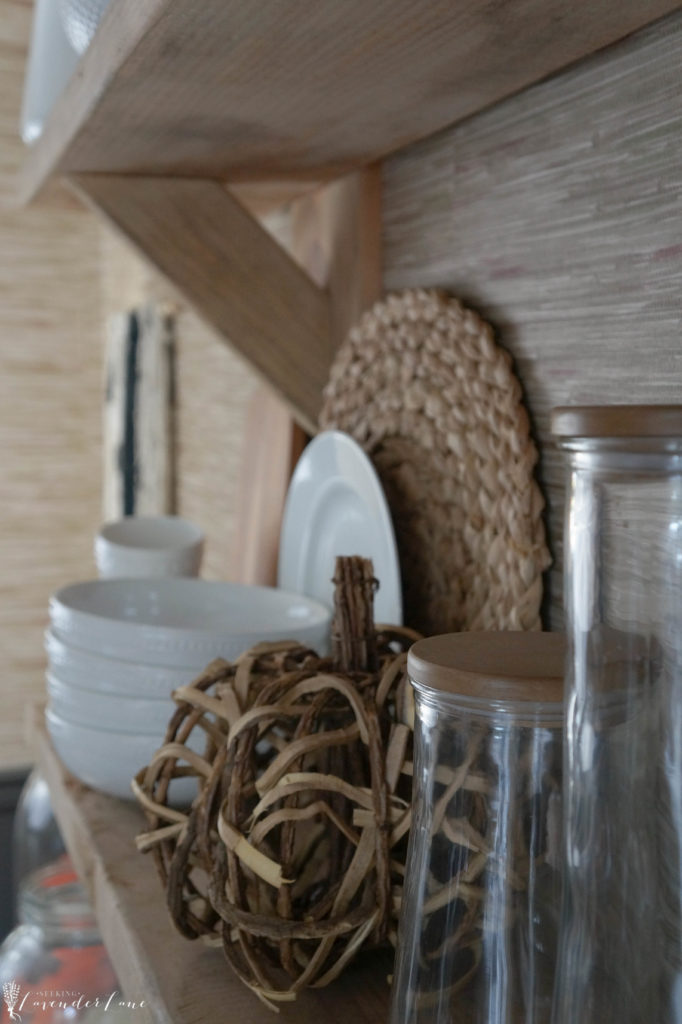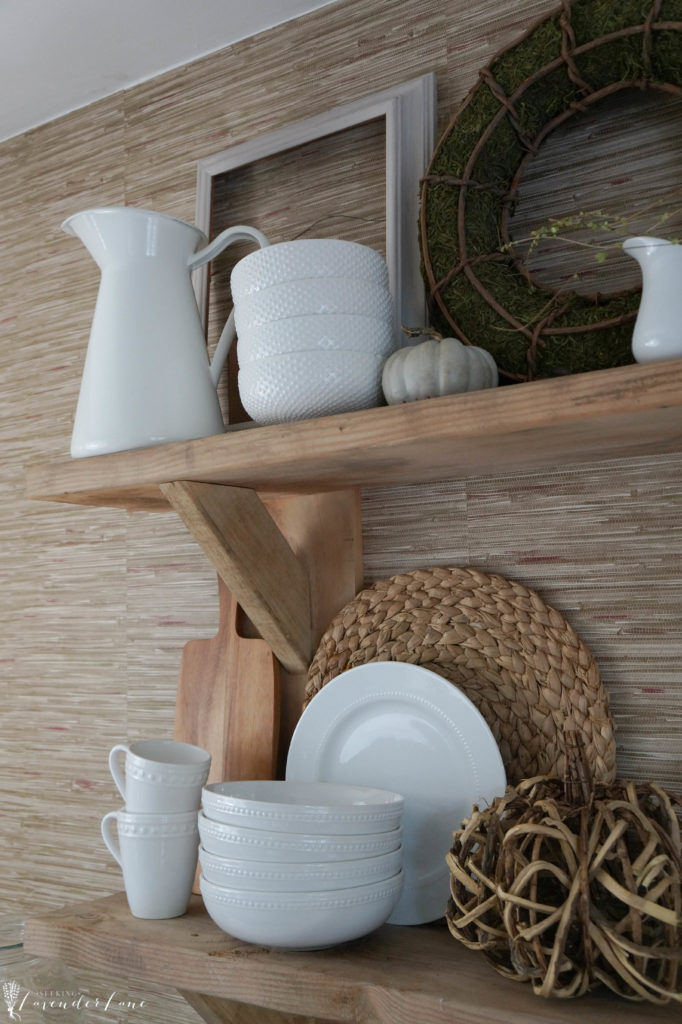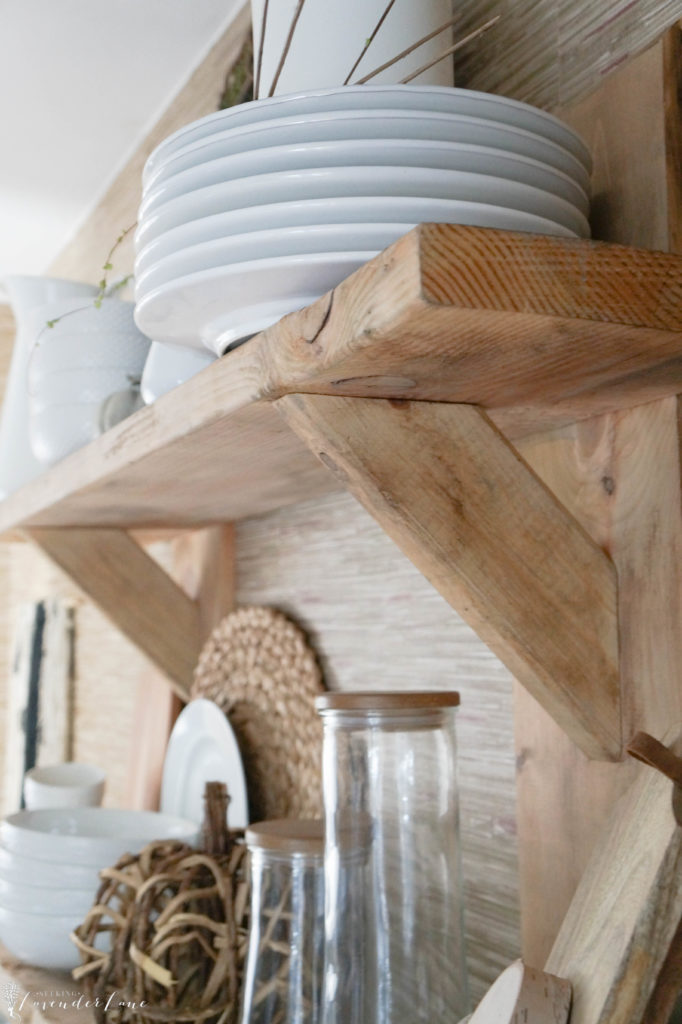 Remember this is all with budget decorating, with home decor, DIY, and tons of Farmhouse charm!
Stop by some more gorgeous Farmhouse's below!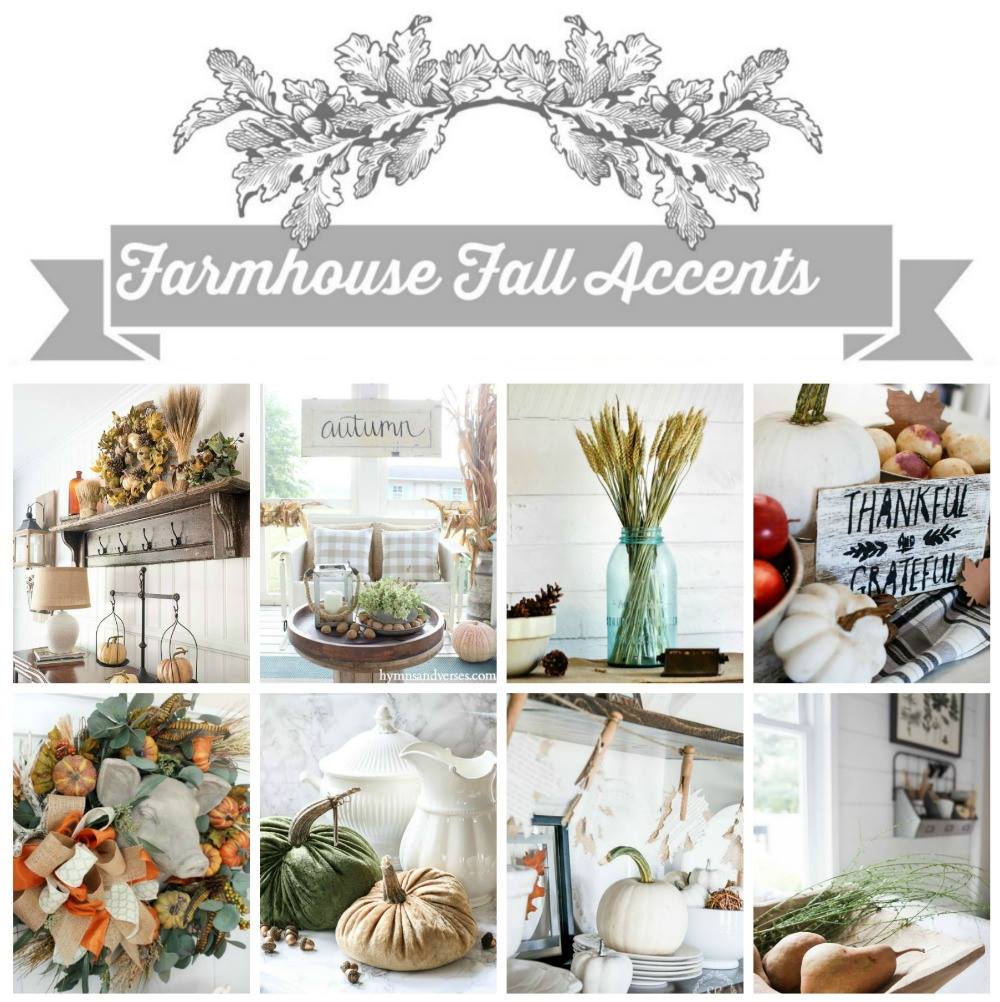 Decorating on a Budget for Autumn @ Knick of Time
Books and Pages Fall Farmhouse @ Hunt & Host
Fall in My Farmhouse Dining Room @ Worthing Court
Fall Open Shelves @ Stone Gable
Fall Wreath Update Using Floral Picks @ The Everyday Home
How to Make Velvet Pumpkins @ She Holds Dearly
Farmhouse Fall Decorating @ Seeking Lavender Lane
Autumn on the Porch @ Hymns & Verses
More Farmhouse Fall Decor