Charcter can be hard to find if you don't buy an older home. Having an older home is not always practical for every family. It requires some more work then a newer home and may not always be in a desirable family neighborhood. My home has no character AT All! It's a 1980's home with as little charm as you can find. So adding charm has been a must for me…especially since I love older homes and farmhouse style. So we've been adding character to our kitchen and this week I'm sharing how to add shiplap and a DIY built in bench.
If you've been here a while you know that we have the "shiplap" or as I called it "plank-wall" in our front entrance. It's honestly one of my favorite projects to date (I think I say that about everything), but it truly is. It made such an impact in our front entrance, and it has been so functional as well. So since then I've been craving more shiplap (since that's what we call it now) and the Kitchen has been calling for some, for a very long time. It was just a matter of convincing the hubby to help me out and so when this room's makeover was in the plans that shiplap wall was at the top of the list.
So, after reading through a few tutorials we kind of knew where we were going with this and for sure wanted to try a wider size for this wall. I didn't want to go so narrow as I had with the other wall and using a 1/4″ thick plywood cut down to 6″ wide pieces seemed like the best solution.
HERE IS THE BEFORE (okay I know it's a lot worse because it's a night shot)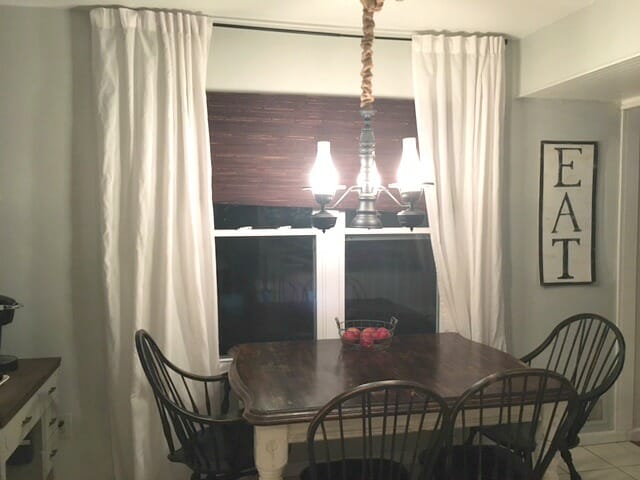 STEP 1: Remove Curtains and window molding.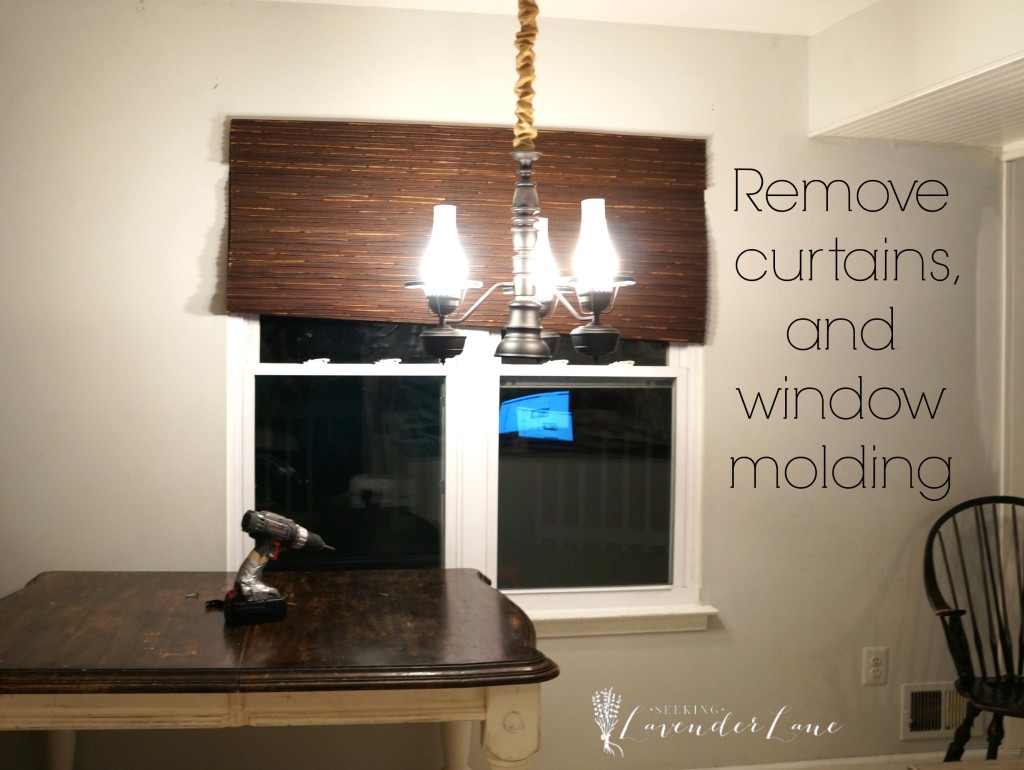 STEP 2: Cut 6″ Strips of 1/4″ plywood. We had Lowes cut some down for us, but be careful because they are not always so consistent with their cuts. We ended up cutting more at home.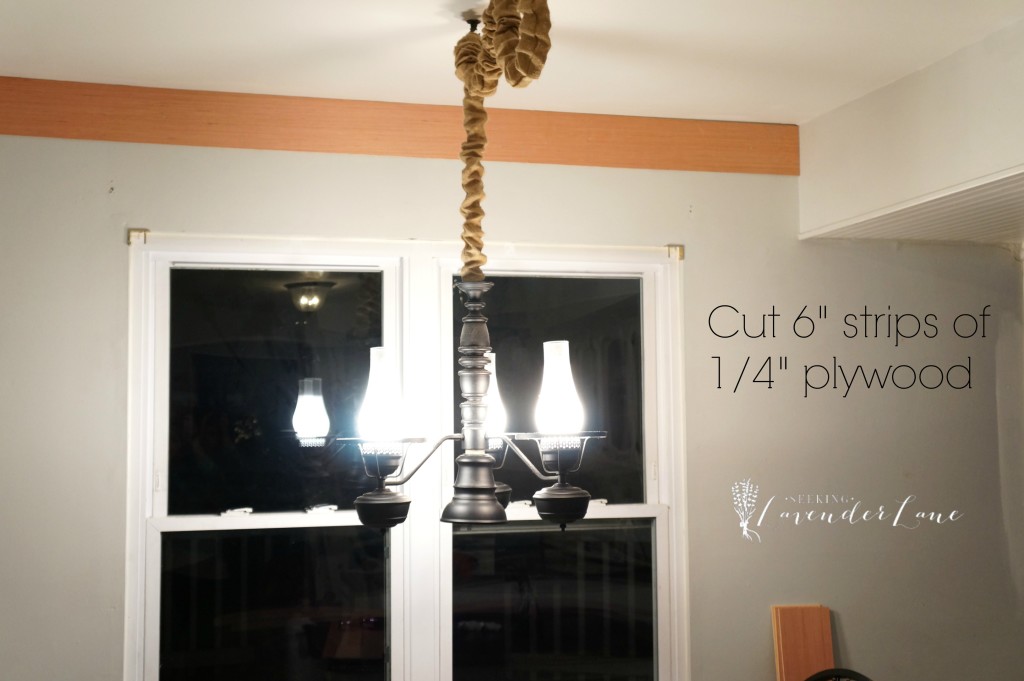 STEP 3: We had it easy since both sides of the window were the same size. The hubby cut those to size, and I installed. This is when a nail gun would come in handy…but since we don't have one I stuck with the old fashion hammer and nails.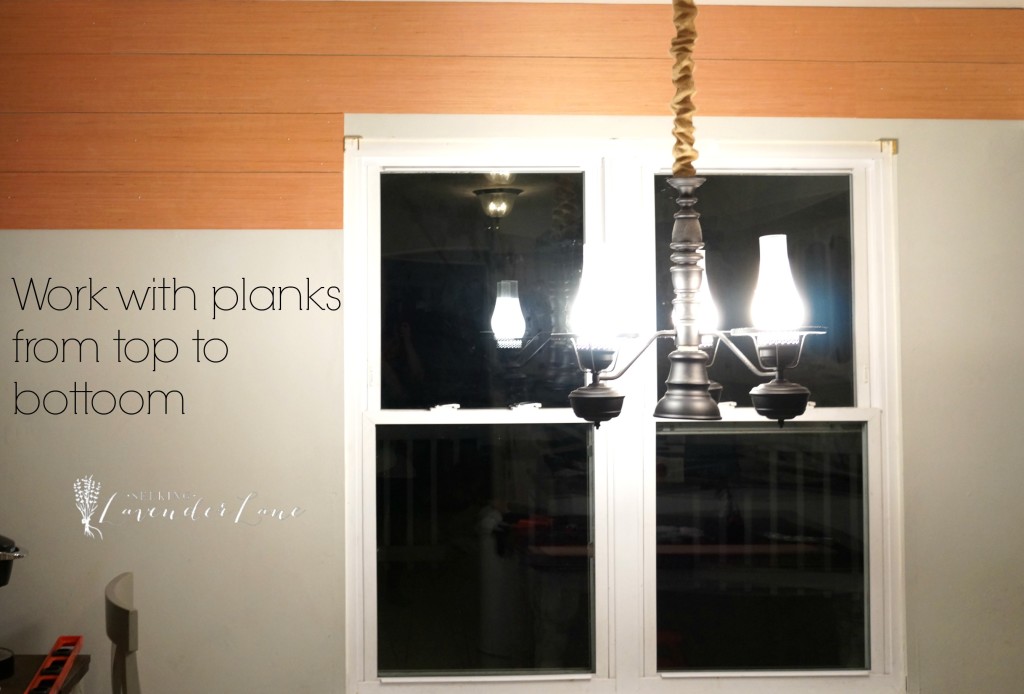 STEP 4: Be Sure to space each plank with a few coins in between. This helps to keep the gap the same all around.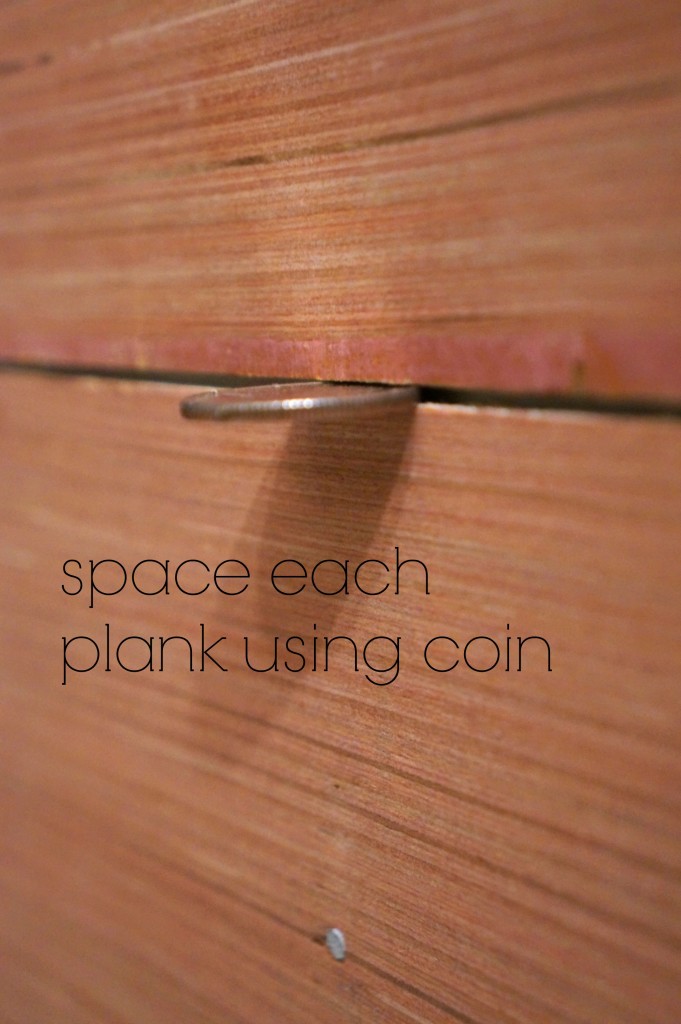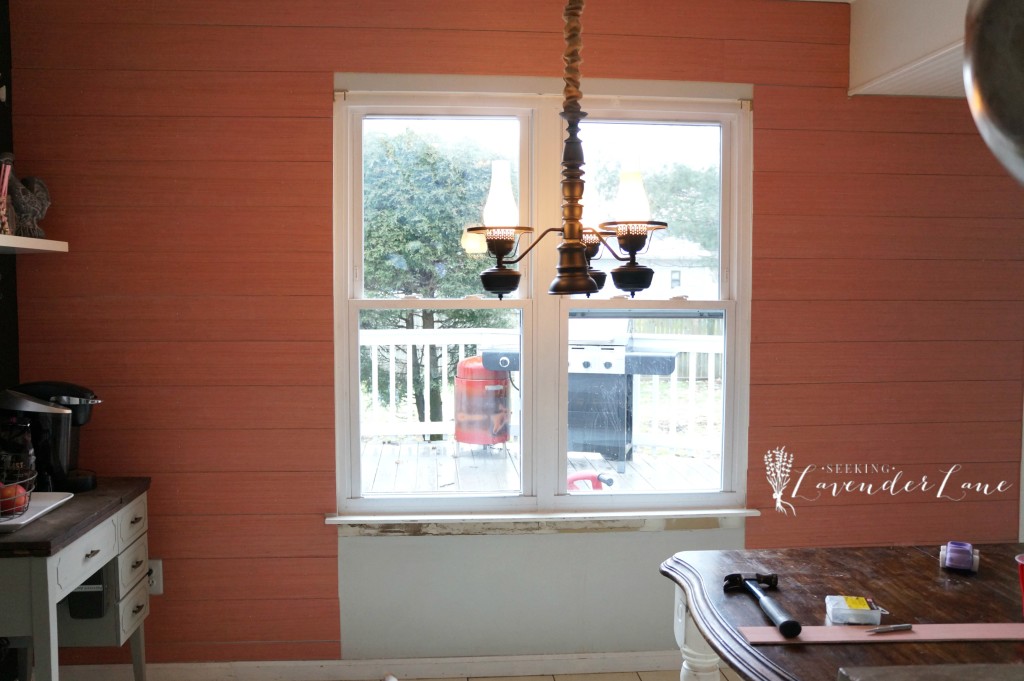 This is how the wall looked the next day. Now, we kept the bottom blank because part 2 of this post you will see that we actually added something here ; )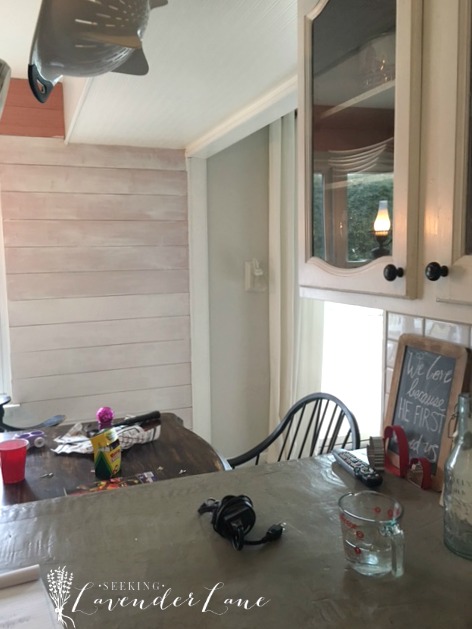 Time to paint! It took about two coats for the Sherwin Williams HGTV Pure White to cover the planks.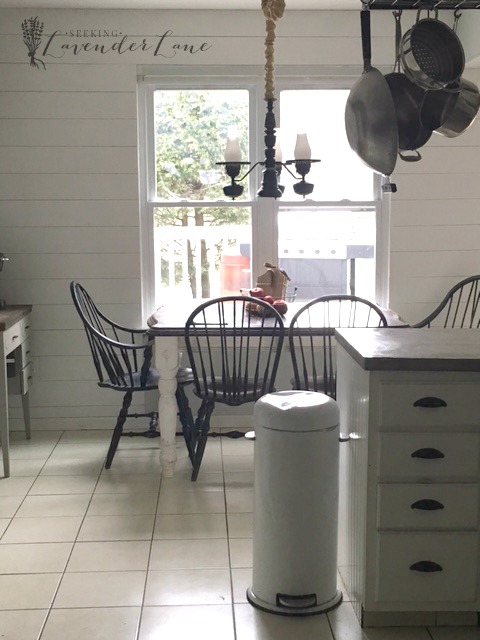 Here is the Finished planks, pre-window molding. We ended up doing a "farmhouse" window frame here, but I kind of skipped on snapping photos.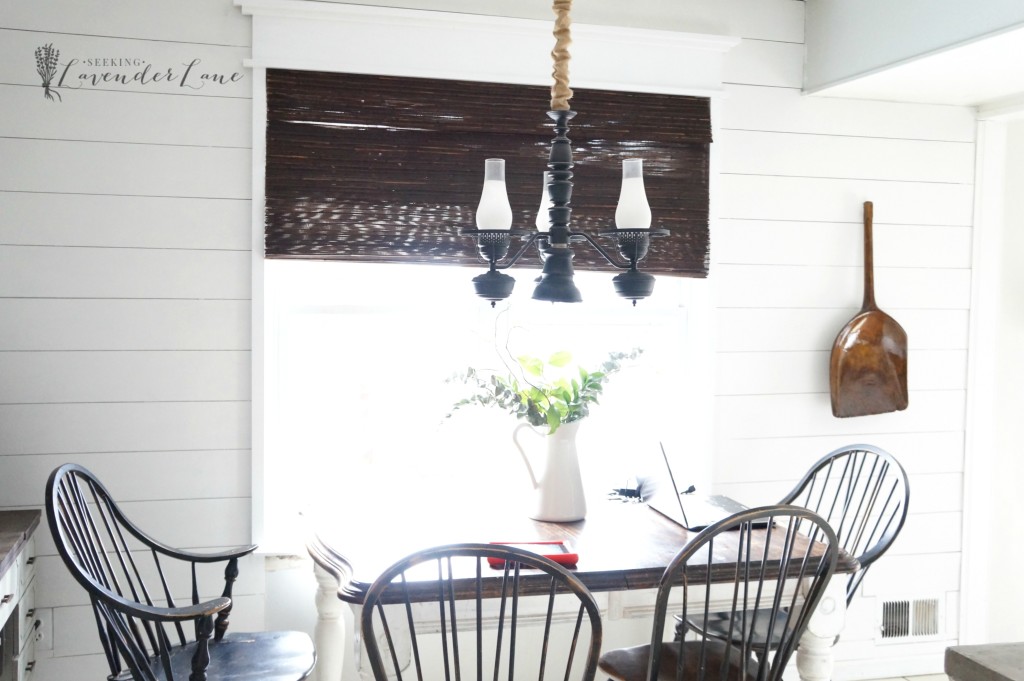 Here's the after with the old light fixture.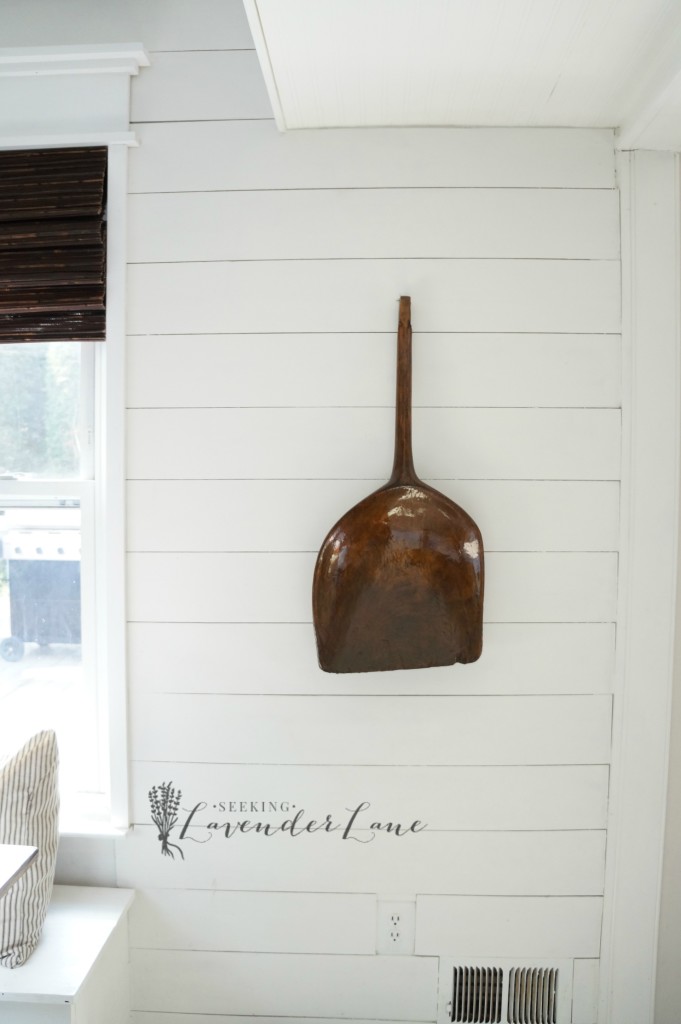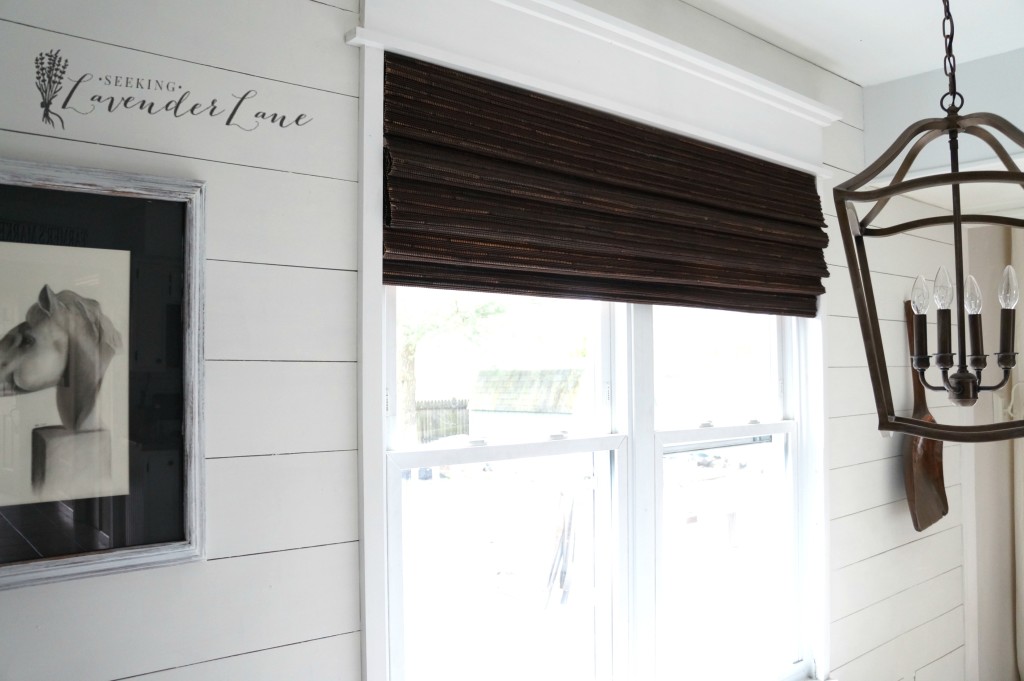 Oh hello, gorgeous lantern from lamps plus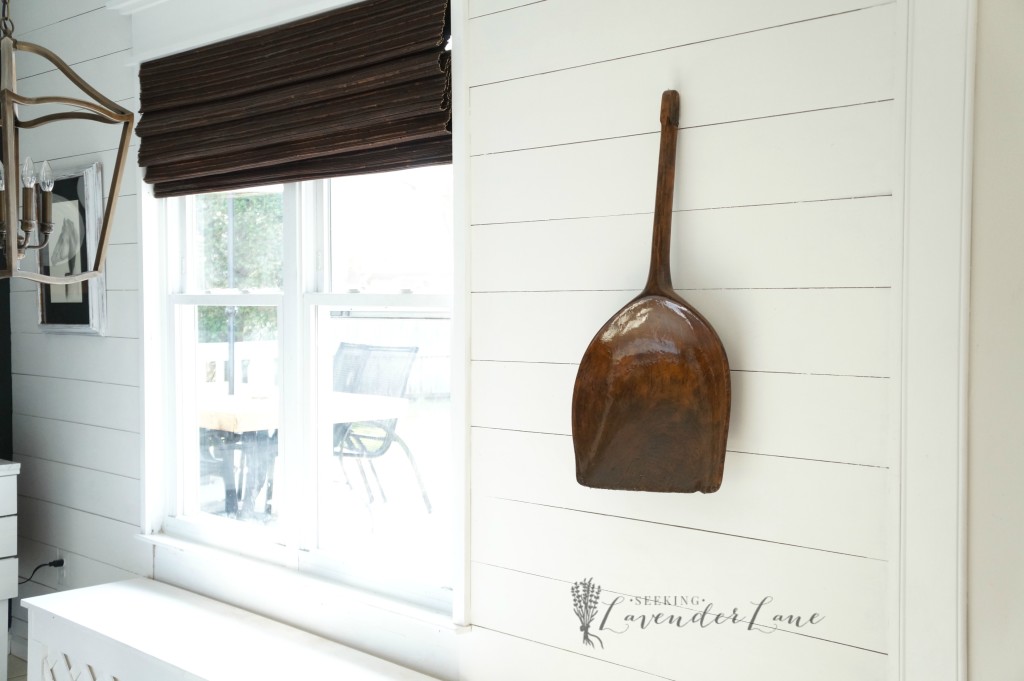 Yes, you probably now know what part 2 is leading to…
Part 2 (week 4) ORC
Built in Bench
So, I have always, always wanted a built in bench in this space. I mean that was my initial plan before we even moved in, but then once we bought our table it just was too big. So my plan was to now update the table to something smaller where a bench would fit perfectly in the kitchen. and with storage!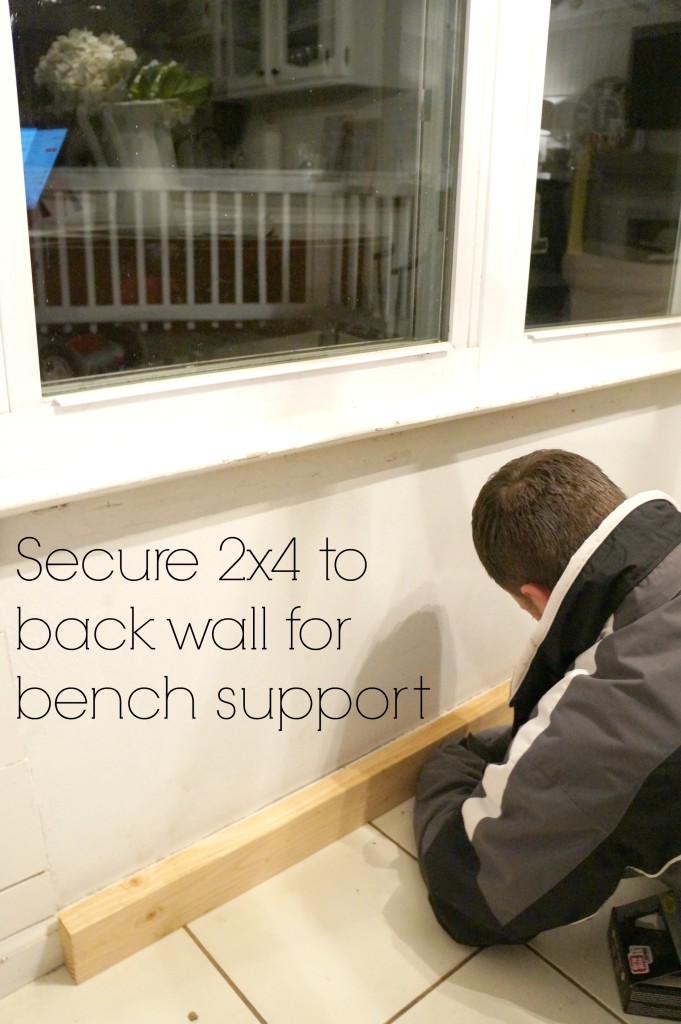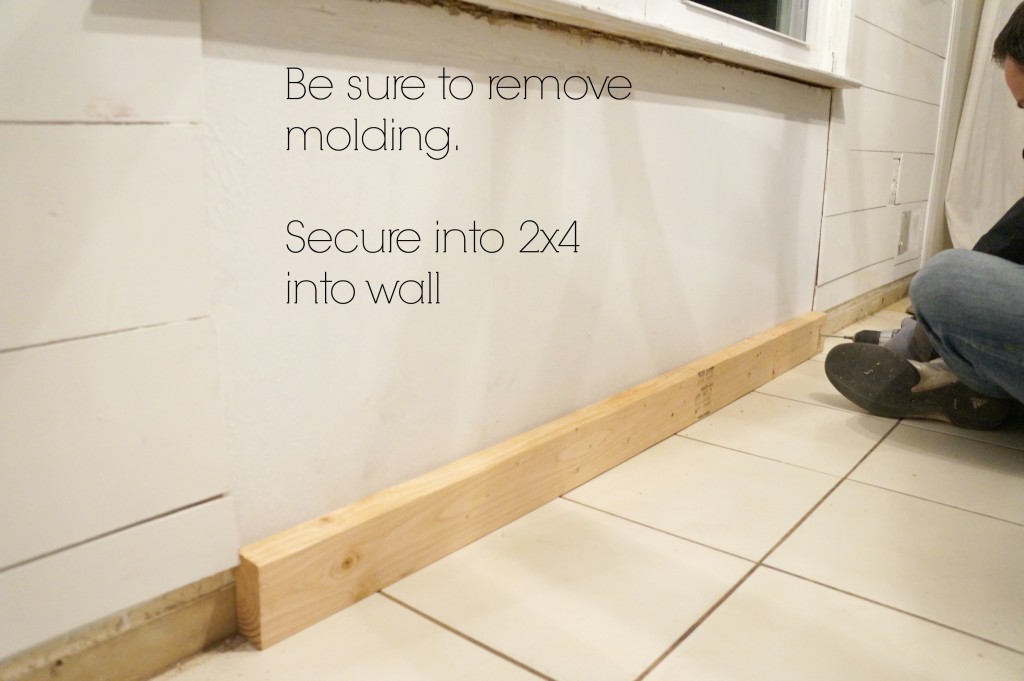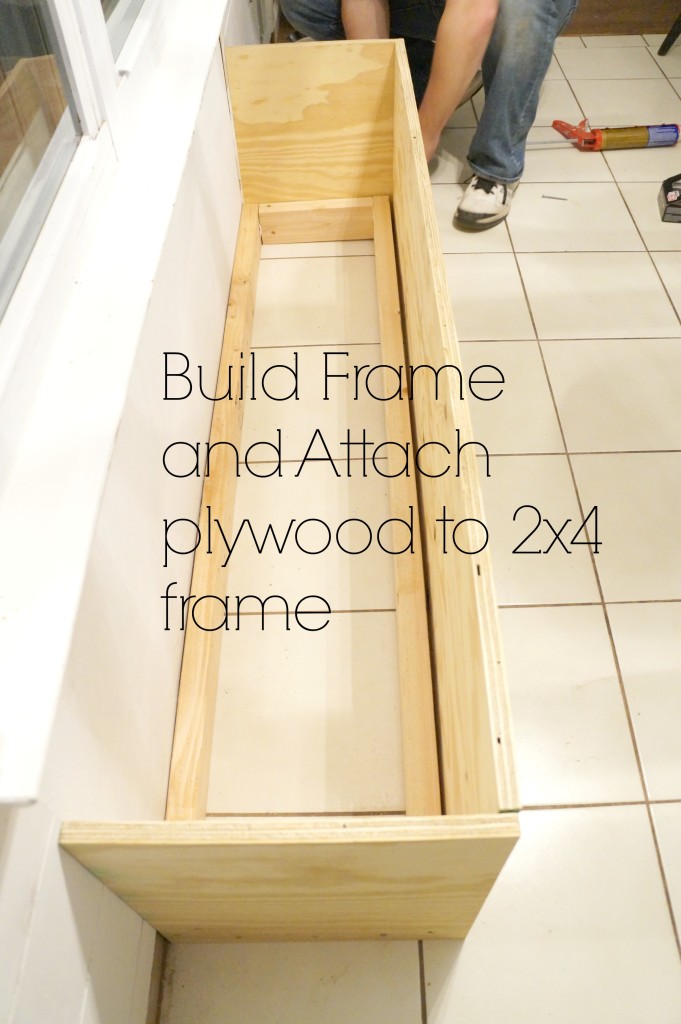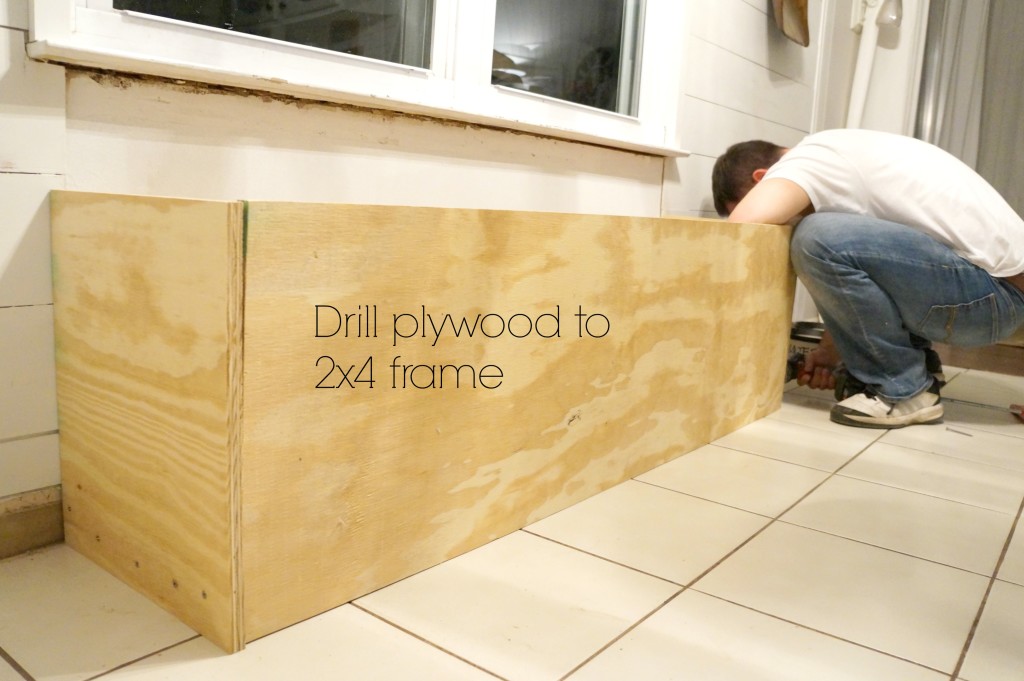 Once, the frame was up, we added the lid with hinges.
Then, applied a frame to the front, with some added trellis for decorative purpose. It was a lot easier then we had hoped it would be. Also, easy to remove if we ever change our minds or move.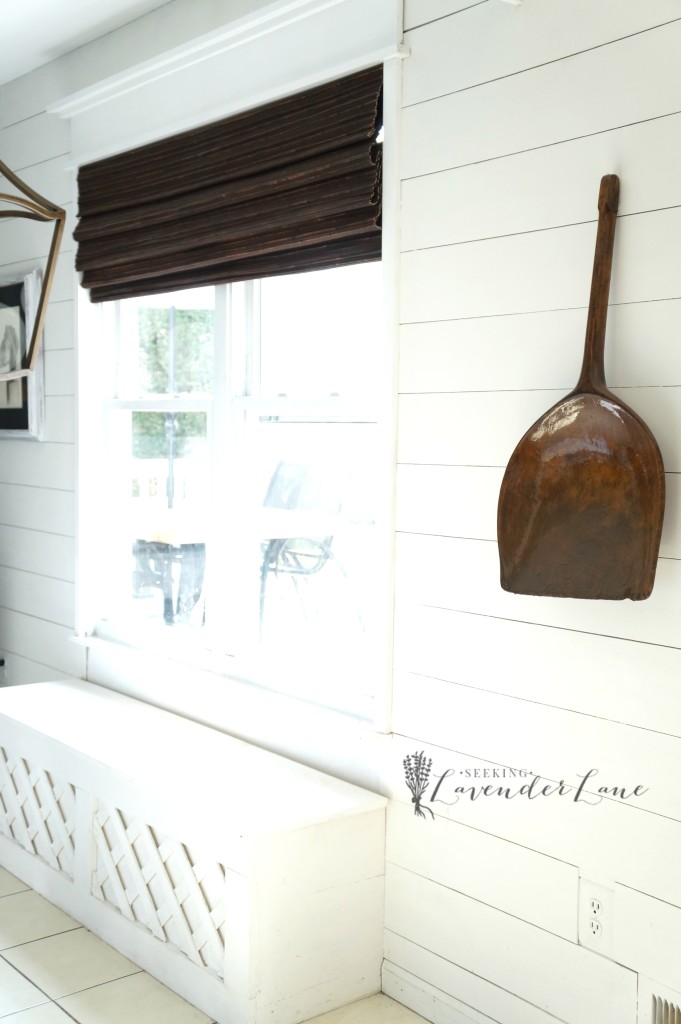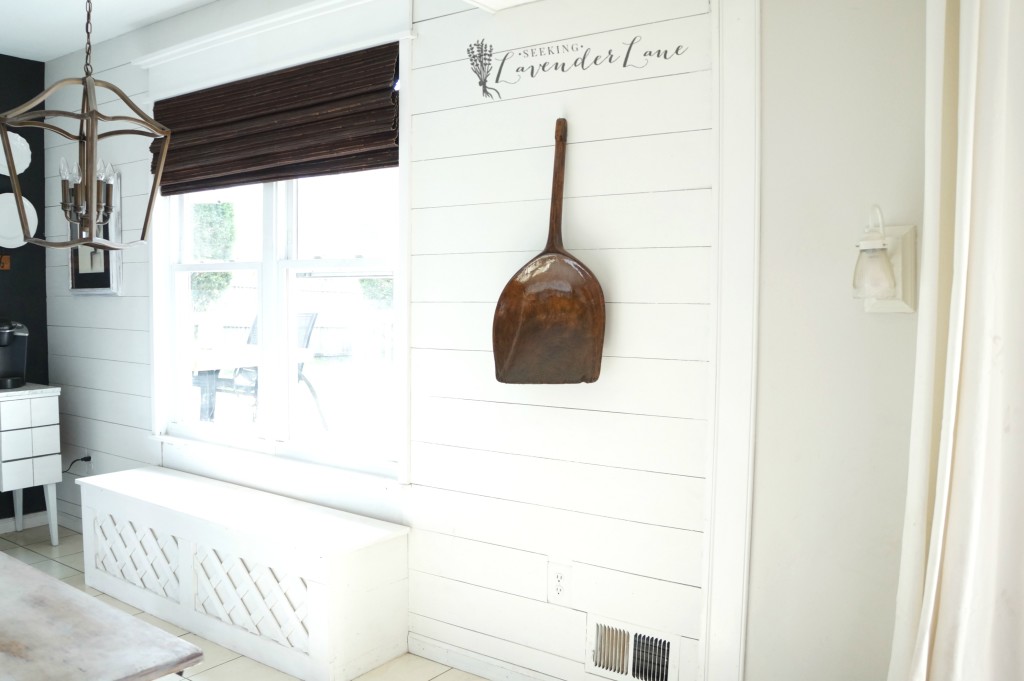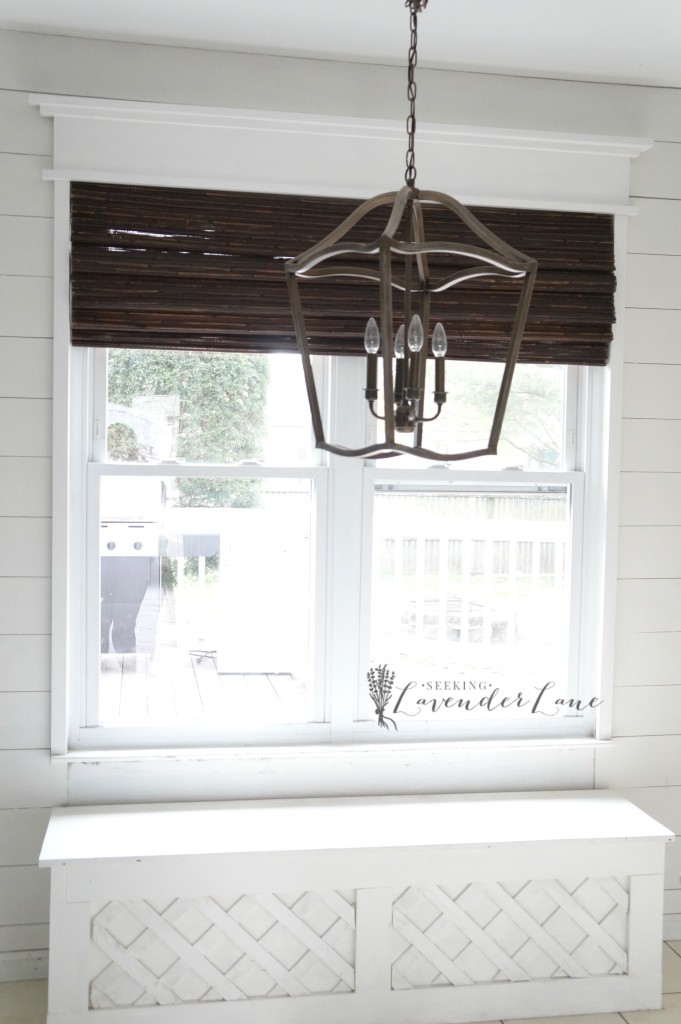 I originally, had planned to leave the trellis natural (wood), but I did not like it after a while and painted it all white. (now just to keep this clean)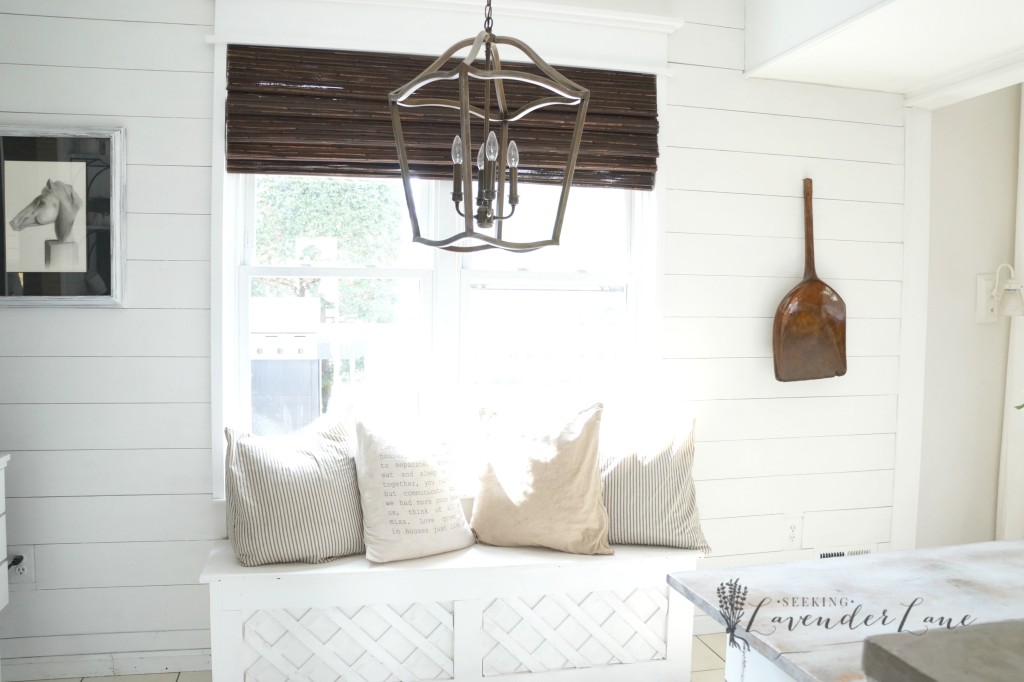 and some pillows of course! Love this one pillow from Burlap and Bows (etsy shop)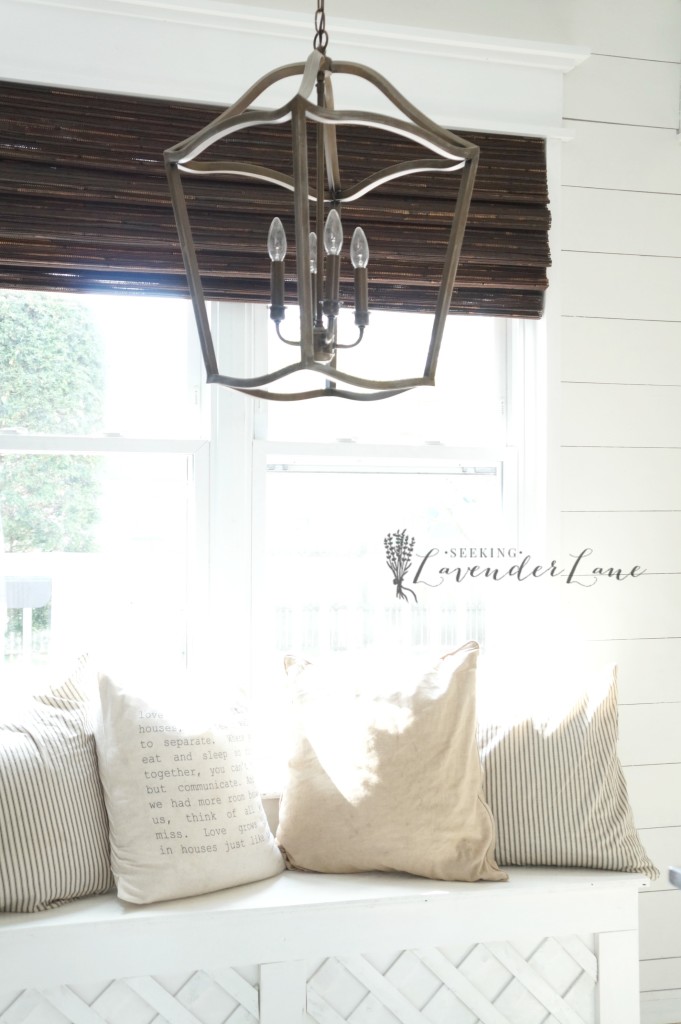 How about an all white wall? It's everything I had hoped it would be. Can't wait to share next week my table makeover for this little kitchen nook!
Source List:
Light Fixture: Lamps Plus
"Love Grows Best" Pillow: Burlap and Bows
Paint: Sherwin William HGTV Pure White
Thanks to those companies, who helped make this makeover possible!

Did you Miss the first few weeks of the One Room Challenge, see below links

 

Also, be sure to stop by all the other week 4 link up here
(Visited 1,418 times, 3 visits today)